Streusel Kuchen (German Coffee Cake)
on Apr 27, 2019, Updated Feb 24, 2021
There's something special about family recipes, and most of us have a couple of them that seem to be almost a part of who we are as a person.
This German Coffee Cake is an old Mennonite delicacy that goes back to the earliest part of my memories of growing up in a big farmhouse.
Headquarters, for my beautiful mom who was always tending her expansive garden or preparing for the next onslaught of hired men and family members who would soon take over our big kitchen table.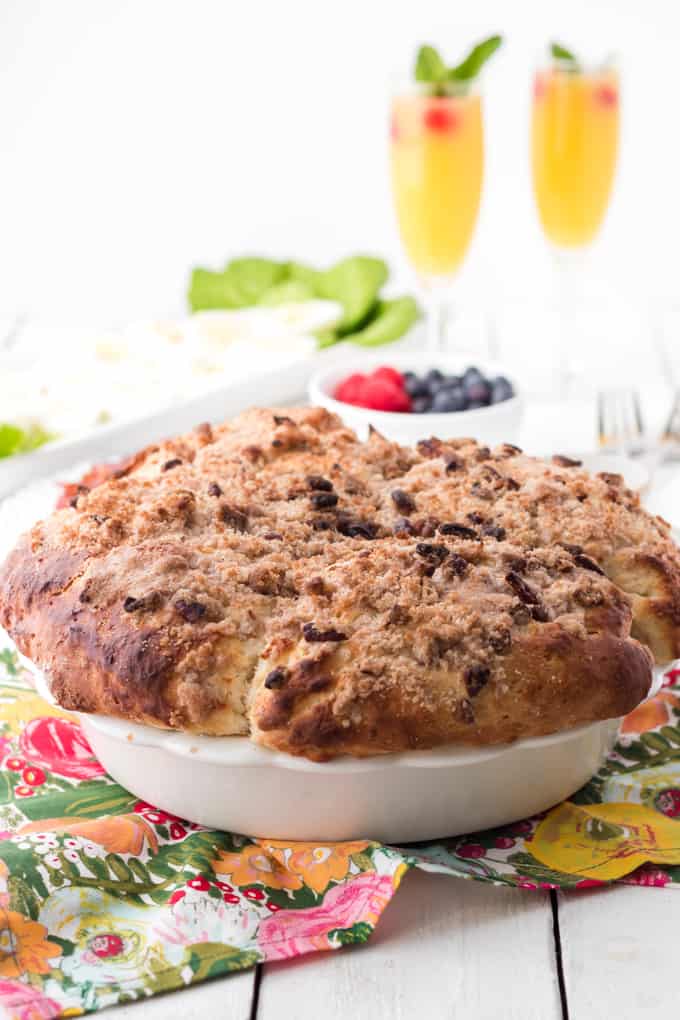 Jump to:
What is it?
Growing up, I don't think the word brunch was in our vocabulary.
So much has changed since those days but certain things like this Amish recipe for coffee cake from the Mennonite Community Cookbook remain timeless.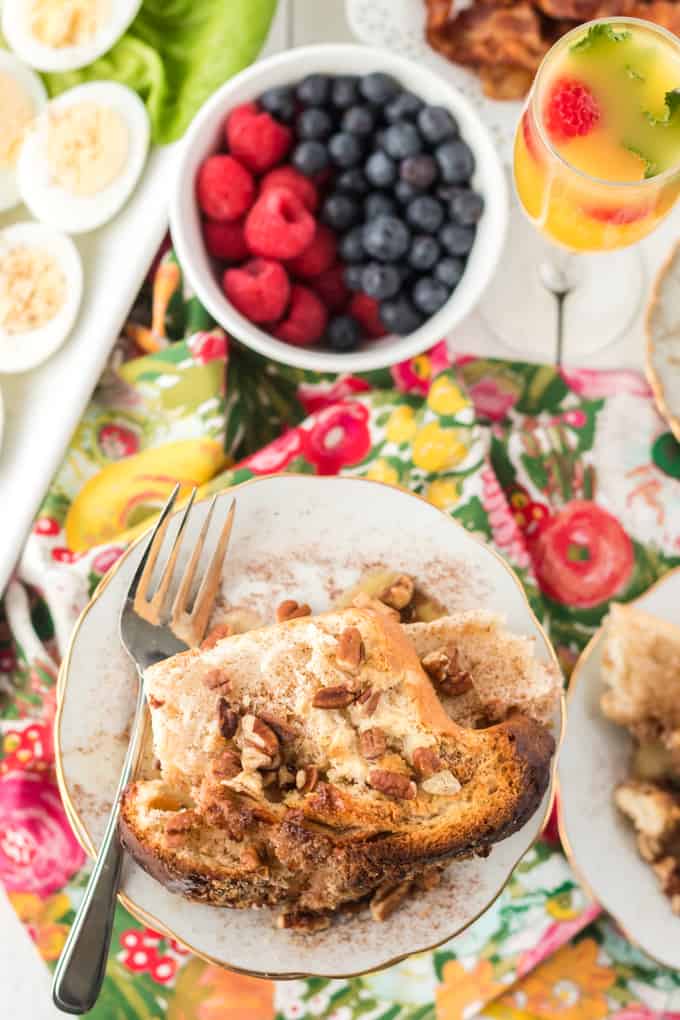 That's all well and good because today I'm pretty familiar with the term and this coffee cake is tailor-made for a brunch of any occasion.
What makes this different?
The thing that distinguishes this German coffee cake from other classic coffee cake recipes is that there is yeast in this Kuchen, which is the German word for cake.
Not only does it give you a high crumble but this old fashioned coffee cake recipe also yields four coffee cakes. If this doesn't make you the most popular baker on your street, then nothing will!
Ingredients for German Coffee Cake (Streusel Kuchen)

Milk
Shortening
Egg
Flour
Salt
Yeast
Warm Water
How to make it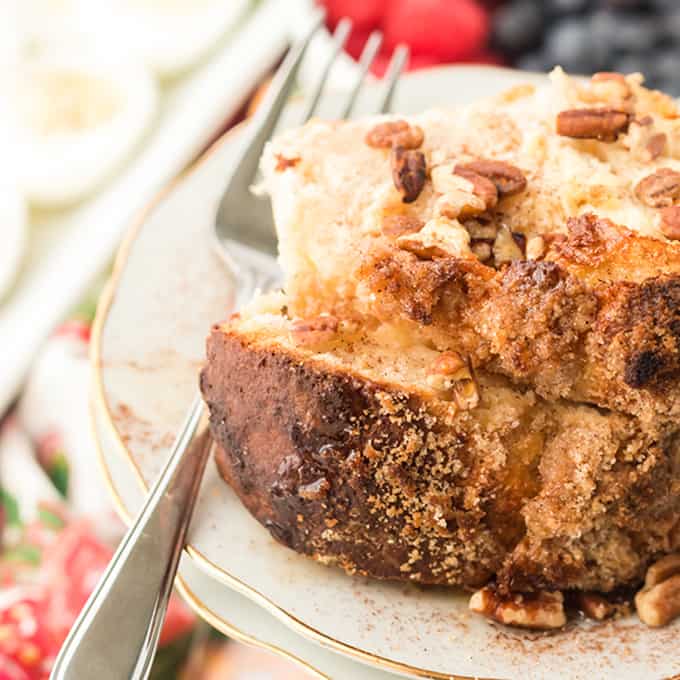 You're going to start making this coffee cake by heating some milk in a double boiler. A sure sign of an old-fashioned bread or cake recipe!
There are a few reasons why old recipes instruct you to scald milk before adding it, these include:
For health reasons, back in the days before you could buy

pasteurized milk

.
Milk is a good carrier of flavors, so heating it and infusing it with other ingredients like vanilla, fresh mint, or any number of other dried or fresh ingredients can enhance the recipe.
Heating or scaling milk can cut back on cooking or baking time.
Health reasons aside, the most important reason for heating milk in bread and cake recipes is that the heat will neutralize the whey protein in milk that can weaken the gluten and keep the dough from rising sufficiently.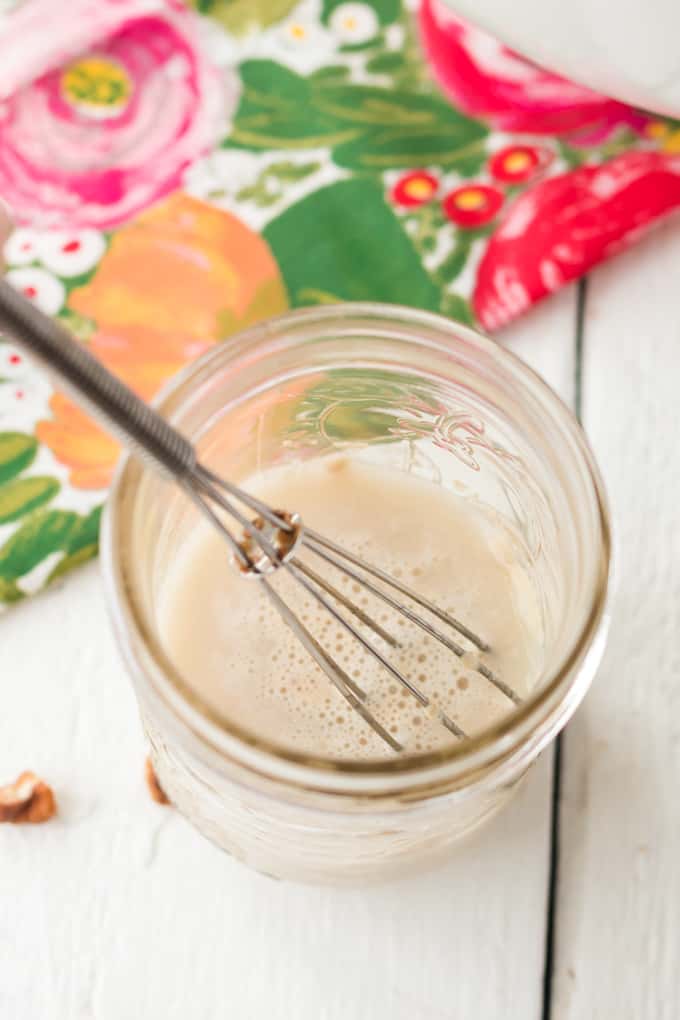 While you are allowing the milk to cool you can cream the butter and sugar mixture. If you have a stand mixer with a dough hook, this is the way to go!
Next, you will dissolve the yeast in some warm water and allow it to proof.
Those little bubbles that rise to the surface are telling you that the yeast is alive and well and ready to do its job by making this coffee cake rise to the heavens.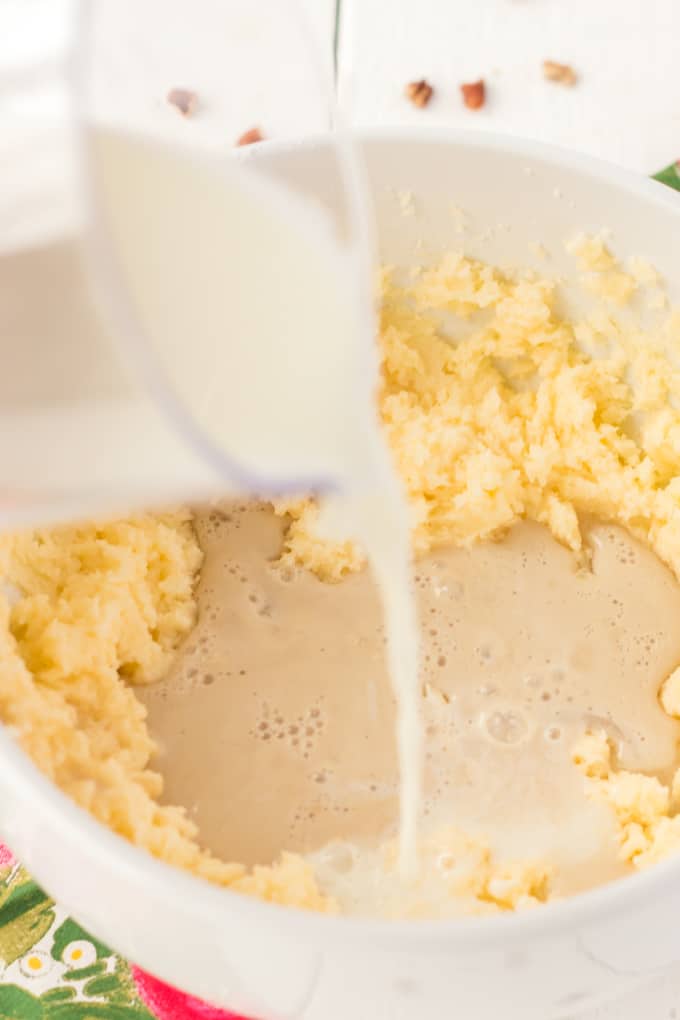 Once the milk is cooled to a lukewarm temperature, start adding it into the creamed sugar mixture.
Add a little flour, a little milk, more flour, and more milk, and a beaten egg white to the coffee cake batter.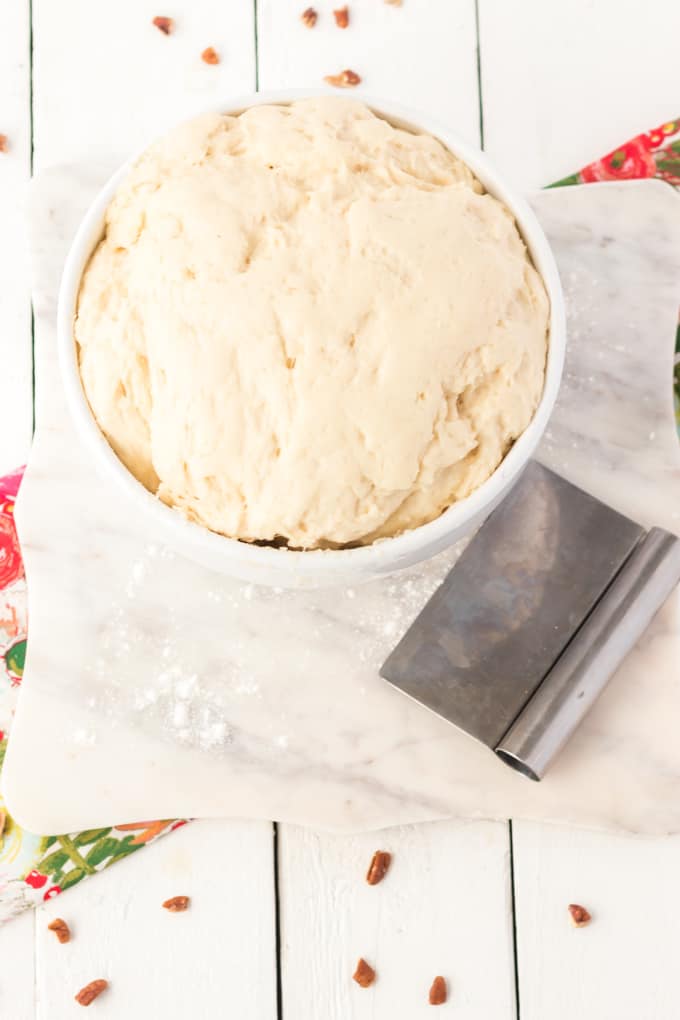 Cover the bowl and allow the dough to rise for a few hours, or overnight in the refrigerator.
This first rising of dough is when flavor and texture develop, thanks to the fermentation process of the yeast.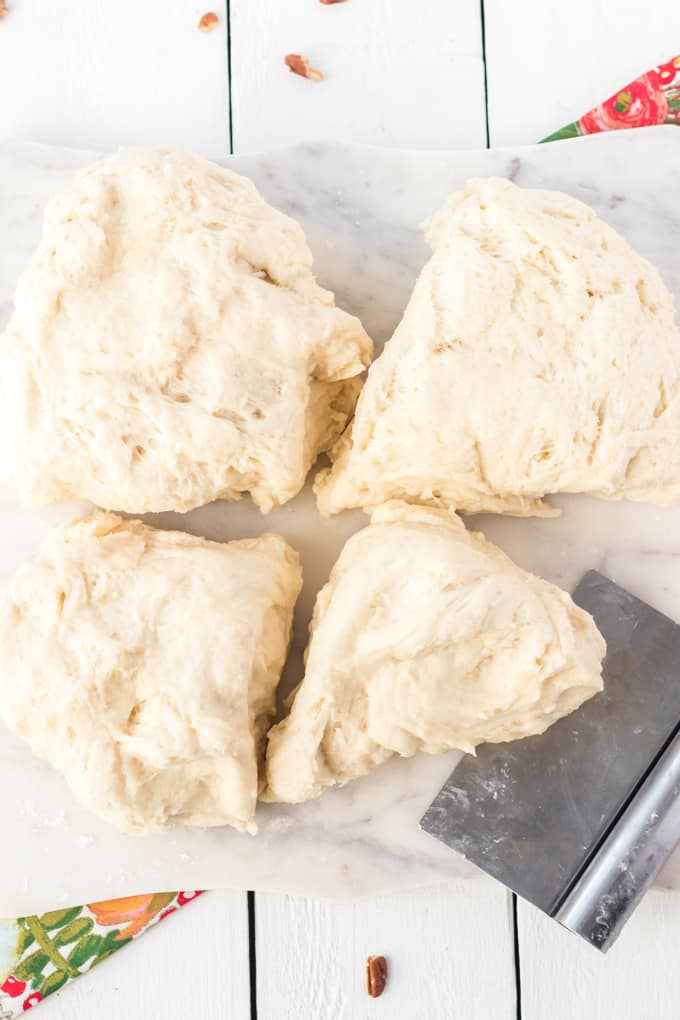 Once the first rising of dough is complete, you can divide into four portions and place each of them into their own pie pan and let them rise for another 90 minutes.
The second rising is what is referred to as proofing the dough.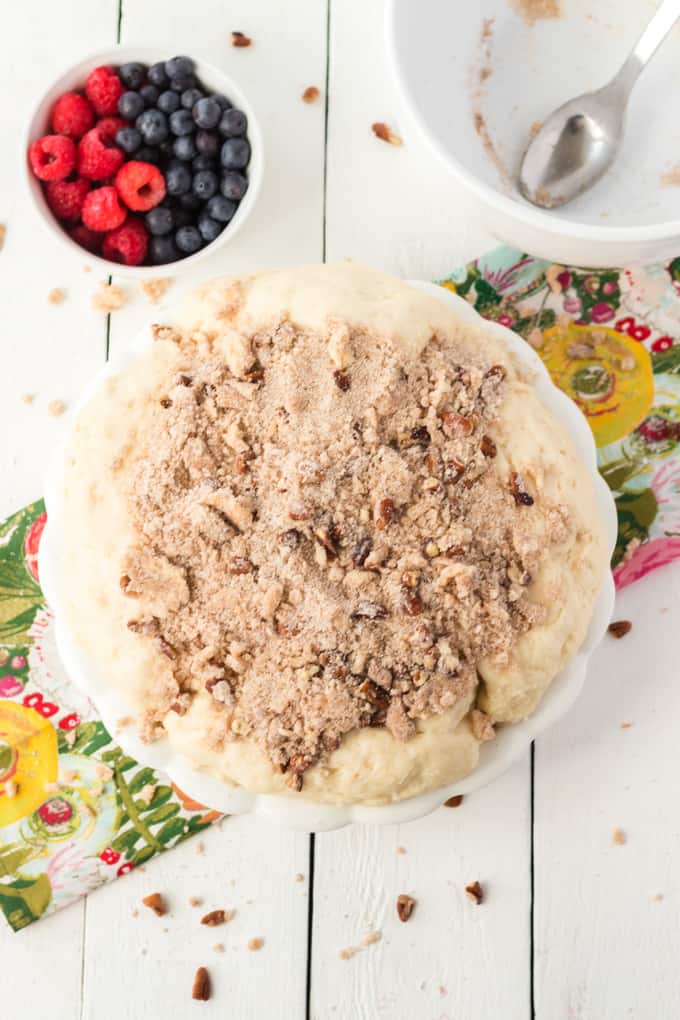 Once the dough is proofed from it's second rising, it's time to make and add the streusel crumbs for this streusel kuchen, or German coffee cake.
Crumb Topping Ingredients for Streusel Kuchen



Sugar
Cinnamon
Flour
Vanilla
Butter
Chopped Nuts
Each of the four coffee cakes should bake for about 20 minutes in a 425° oven.
Although you will be tempted to slice and eat this coffee cake as soon as it comes out of the oven, let it set to cool just a bit before eating!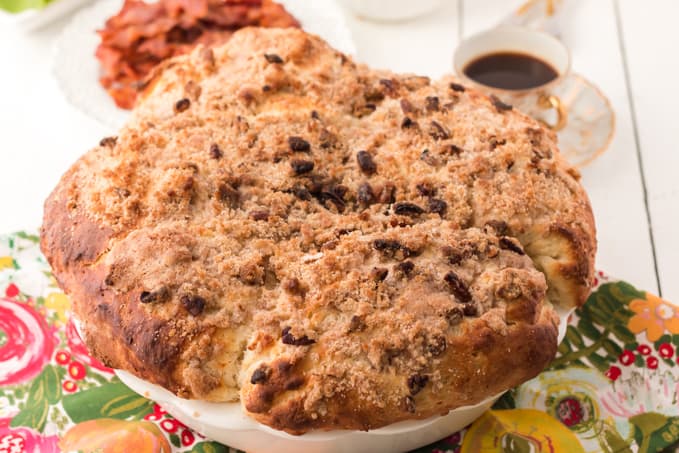 There is one more important addition to this streusel kuchen that you won't find written in any recipe.
This coffee cake was never served without pure maple syrup.
Not. Once.
It's mandatory.
I won't eat it any other way.
Its how my mom made it.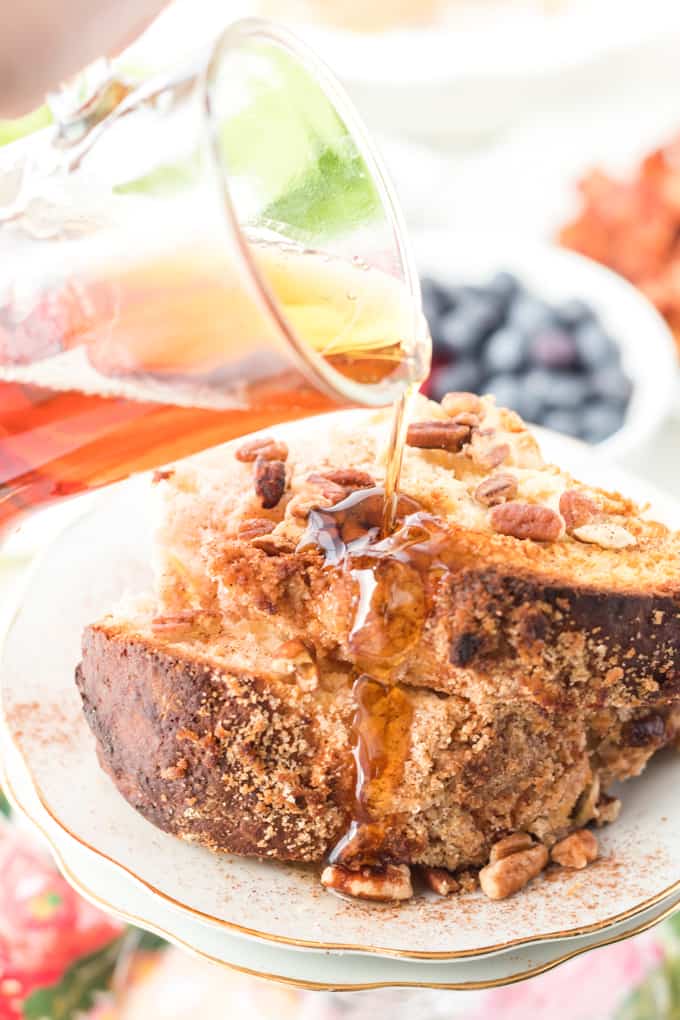 If you are lucky enough to add maple syrup to this coffee cake, make sure it is the real thing: PURE MAPLE SYRUP.
Look for light color and high grade, it isn't cheap, but it's so worth it!
Fun food fact: It takes forty gallons of sap to produce a single gallon of maple syrup!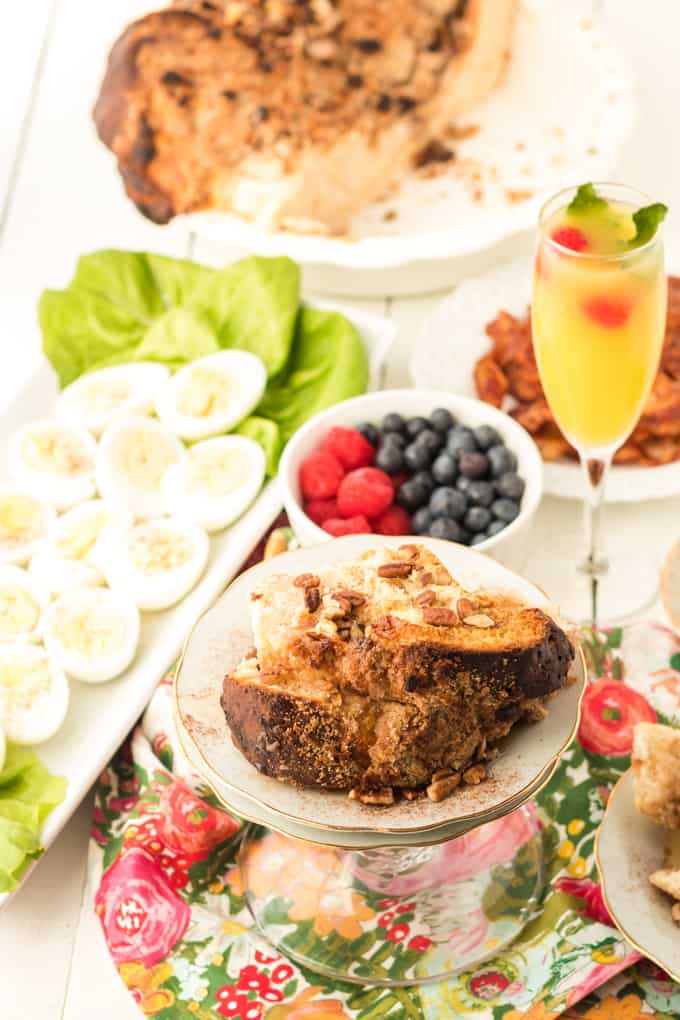 Give this coffee cake a try, and be sure to top it with a little maple syrup, and although my mom never served mimosas with hers, I highly recommend it!
If you follow a gluten-free diet, you should try this gluten-free coffee cake; it's OMG delicious!
More Brunch Ideas from Platter Talk
Special thanks to Dixie Crystals for generously sponsoring this coffee cake recipe.
If you've tried this Coffee Cake or any other recipe on Platter Talk please let us know your thoughts in the comments below, we love hearing from you! You can also FOLLOW US on FACEBOOK, INSTAGRAM and PINTEREST to see more delicious food and what we have cooking.
Other delicious cake recipes
Try more of our Coffee Cake Recipes!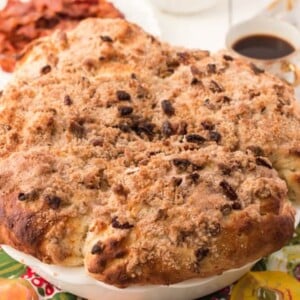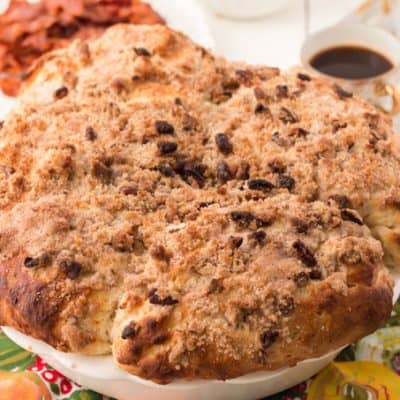 Streusel Kuchen (German Coffee Cake)
This overnight coffee cake comes from the Mennonite Community Cookbook.

Ingredients
For the Coffee Cake
For the Streusel
1/2

cup

Sugar

1

tsp

Cinnamon

1/4

cup

Flour

3

tbsp

Butter

,

soft

1/2

tsp

Vanilla extract

3

tbsp

Chopped nuts
Instructions
For the Coffee Cake
Heat milk to boiling in the top of double boiler and let it cool until lukewarm.

Cream together the butter, sugar, salt, and egg yolk. Add milk and flour, alternately, to the above mixture.



Place yeast in the warm water, stir to dissolve and then add to the mixture. A Beat egg white until stiff and add to batter. Allow to rise in covers bowl overnight or until light.

Divide into 4 parts and pat each into a greased pie pan. Let rise 1 1/2 hours.

Combine the coffee cake streusel topping ingredients in a separate bowl and use a fork to make a crumb mixture. Evenly sprinkle the crumbs over each coffee cake. Bake for 20 minutes at 425° F.

Nutrition
Calories:
188
kcal
,
Carbohydrates:
30
g
,
Protein:
3
g
,
Fat:
5
g
,
Saturated Fat:
1
g
,
Cholesterol:
9
mg
,
Sodium:
55
mg
,
Potassium:
55
mg
,
Fiber:
0
g
,
Sugar:
10
g
,
Vitamin A:
65
IU
,
Calcium:
24
mg
,
Iron:
1.3
mg
Nutrition information is automatically calculated, so should only be used as an approximation.
Platter Talk greatfully acknowledges the following sponsors for sponsoring Brunch Week

: Dixie Crystals, Cabot Cheese, Sweets & Treats, Joyjolt and Torani for providing the prizes free of charge. These companies also provided the bloggers with samples and product to use for Brunch Week recipes. All opinions are those of Platter Talk's alone.