Keto Chocolate Cake
on Apr 15, 2019, Updated Jan 03, 2021
Our keto chocolate cake is a low carb chocolate cake that will satisfy even the most severe chocolate addicts, including yours truly.
Trust me; I qualify to make such a statement.
I was rushed to the emergency room as a young boy for an unintentional chocolate overdose. True story.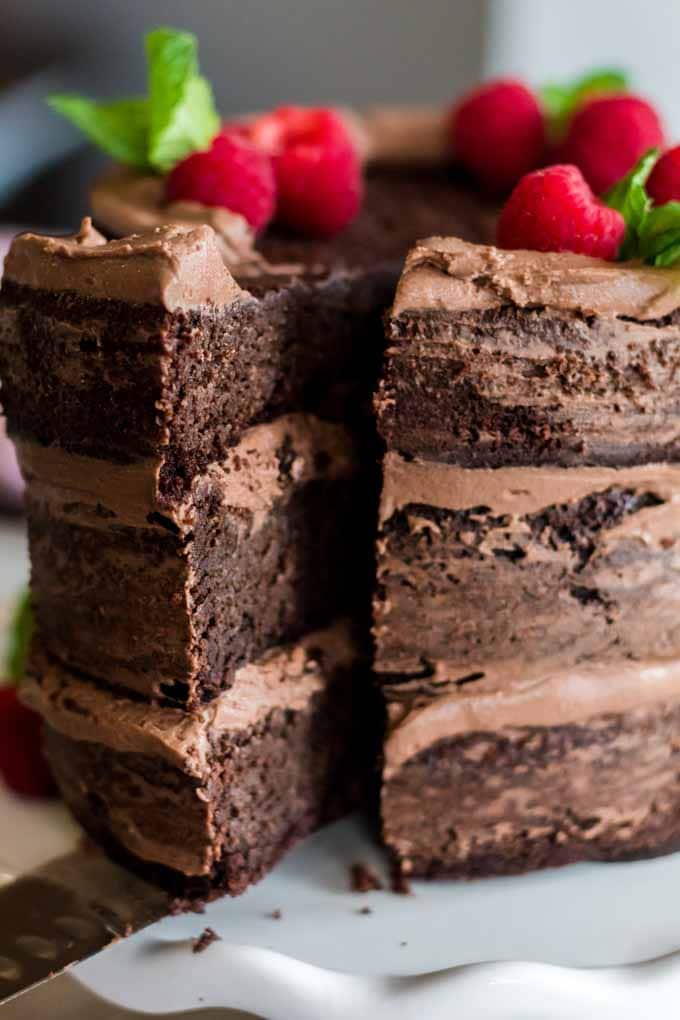 About this keto cake

You don't have to be on a keto diet to swoon over this low carb cake.
At just 13 grams of carbs per serving it's the ideal local carb chocolate cake for those who are trying to watch their carbohydrate intake.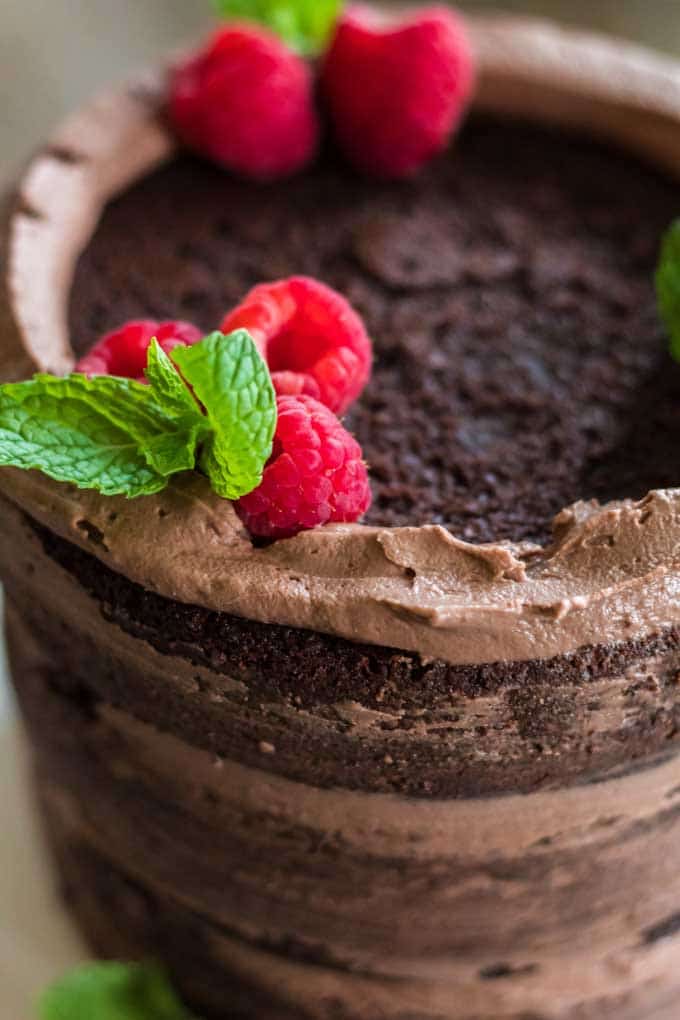 It may cost a bit more to find quality no sugar added chocolate, but some things are definitely worth it, such as this keto chocolate cake.
For a quick chocolate fix or for recipes that use low carb chocolate, we prefer ChocZero and Lily's Sweets.
Turn Your Kitchen into a Keto Bakery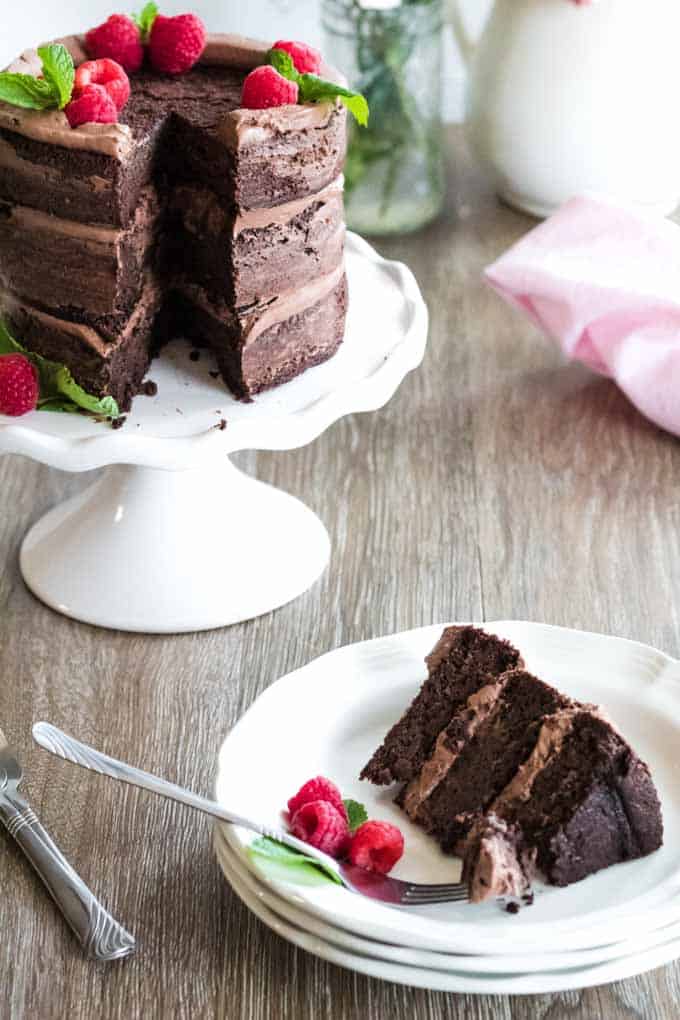 Just like any thought-out food plan, a keto diet takes some planning.
The above links for no sugar added chocolate and Hershey's Special Dark Cocoa are great starters for planning recipes that use keto chocolate.
Low carb chocolate cake ingredients

Almond Flour
Unsweetened Cocoa Powder
Baking Powder
Vanilla Extract
Eggs
Almond Milk
Cream Cheese
Heavy Whipping Cream
How to make it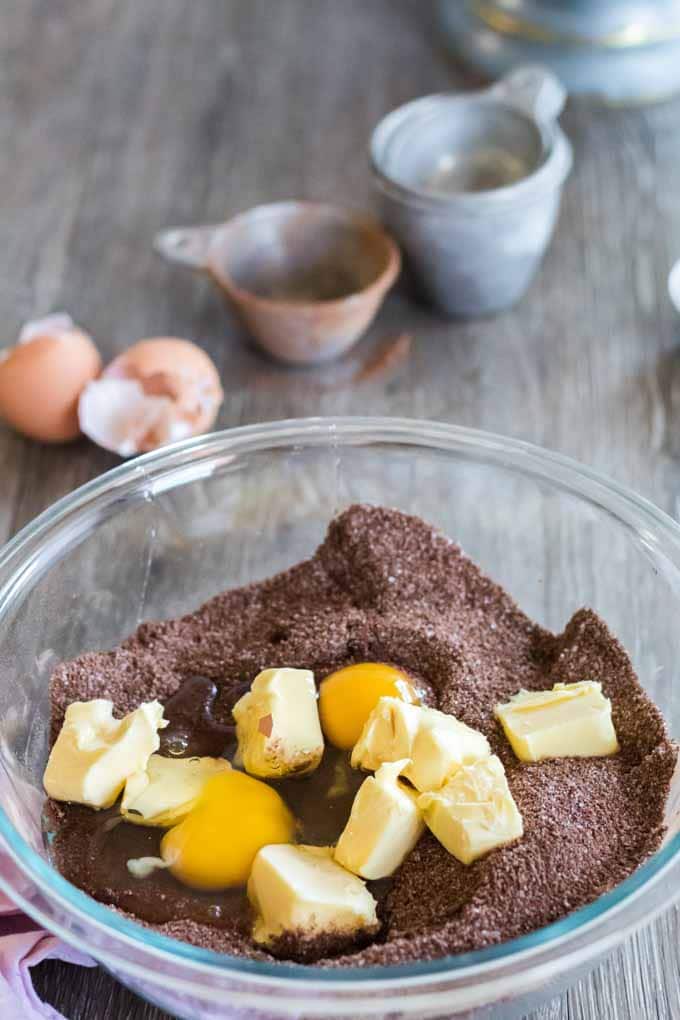 Like all cakes recipes from scratch, this low carb cake starts with the batter.
Use the highest quality ingredients you can find, including organic eggs from cage-free chickens and organically sourced butter from grass-fed cows.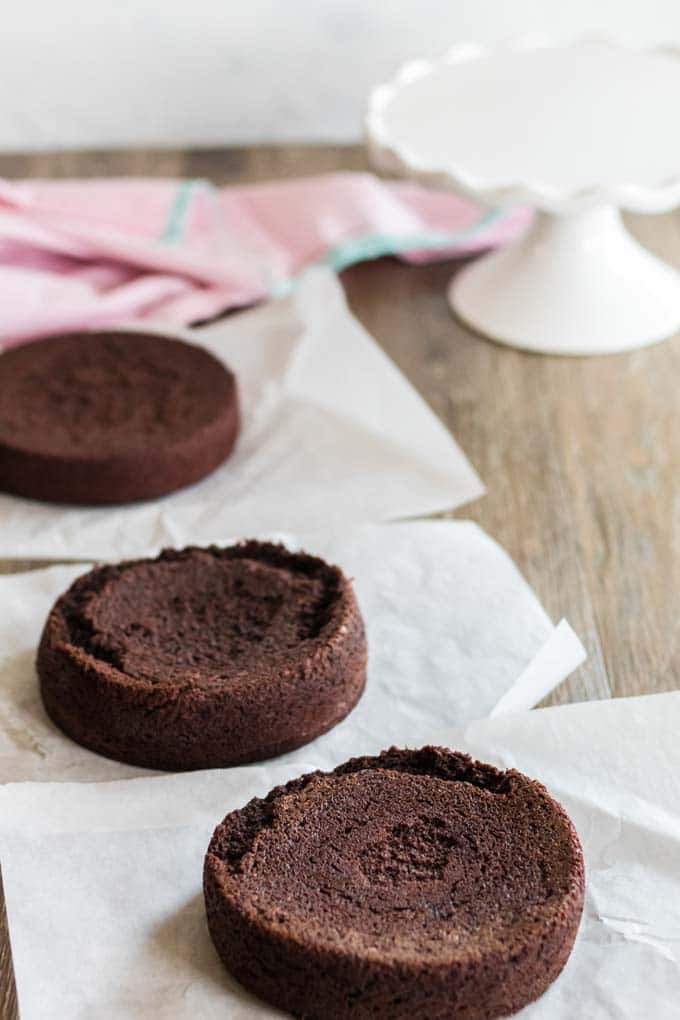 You will use three six-inch cake pan for this keto cake, and as you can see, cake batter can get a little sticky when it's time to come out of the pan.
Fortunately, it's pretty easy to mask these imperfections by using a little extra filler, aka, frosting, when it's time to finish the recipe. Don't judge me.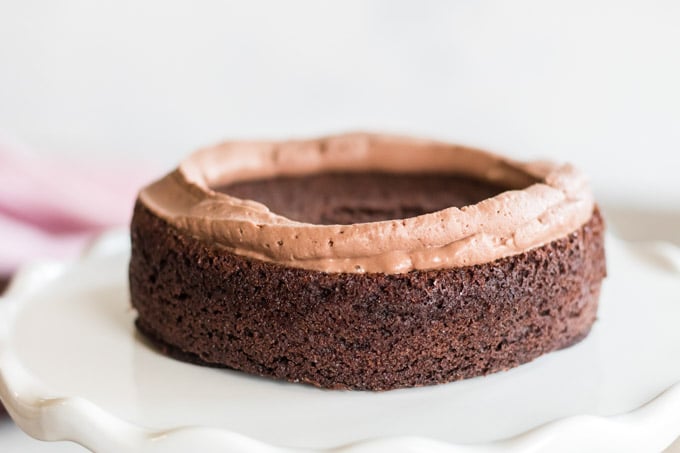 Be sure and take a look at the video that Scott put together that will show you how to grease a cake pan.
Let these keto chocolate cake layers cool in the pan and then for best results, refrigerate them overnight. This will help prevent them from falling apart.
This decadent keto chocolate frosting has a base of cream cheese and a couple of tablespoons of heavy whipping cream in it.
By now if your mouth isn't watering, please have someone check for a pulse.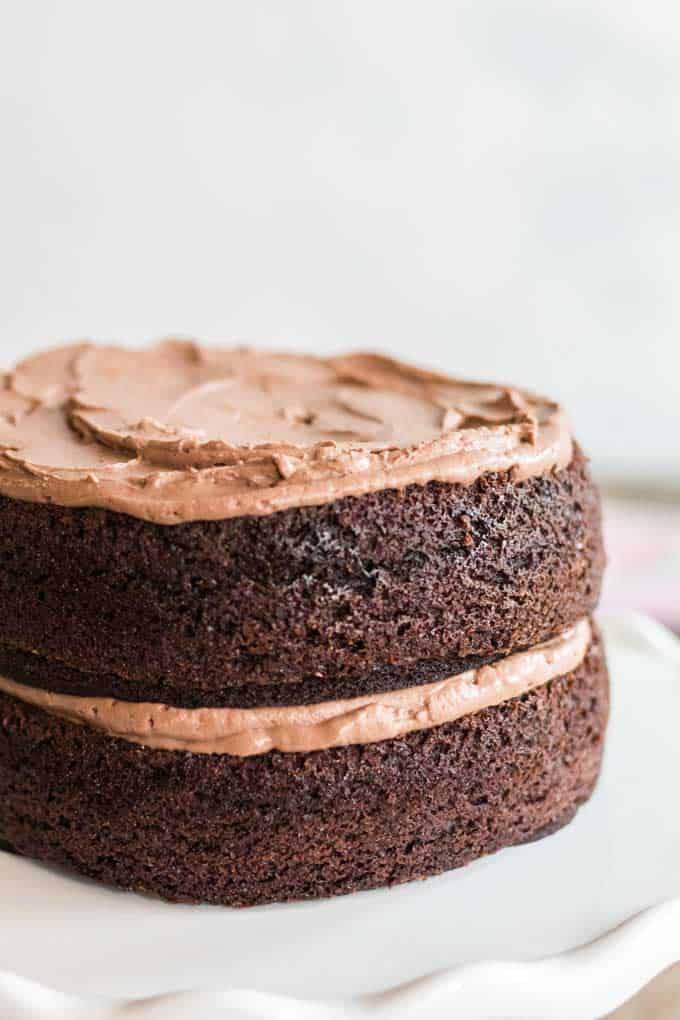 We're almost to the finish line for making this keto chocolate cake.
It's just a matter of stacking the cake layers and gluing them together with the frosting.
This is my kind of construction project!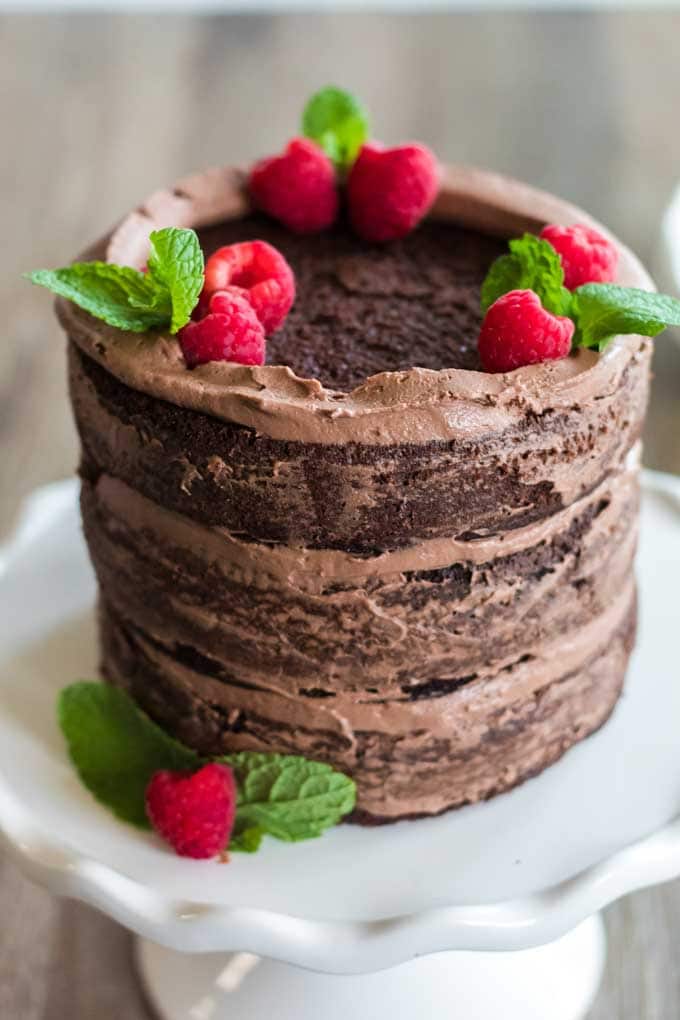 We garnish this chocolate keto cake with raspberries, but other choices include blackberries, blueberries, keto chocolate chips and on and on.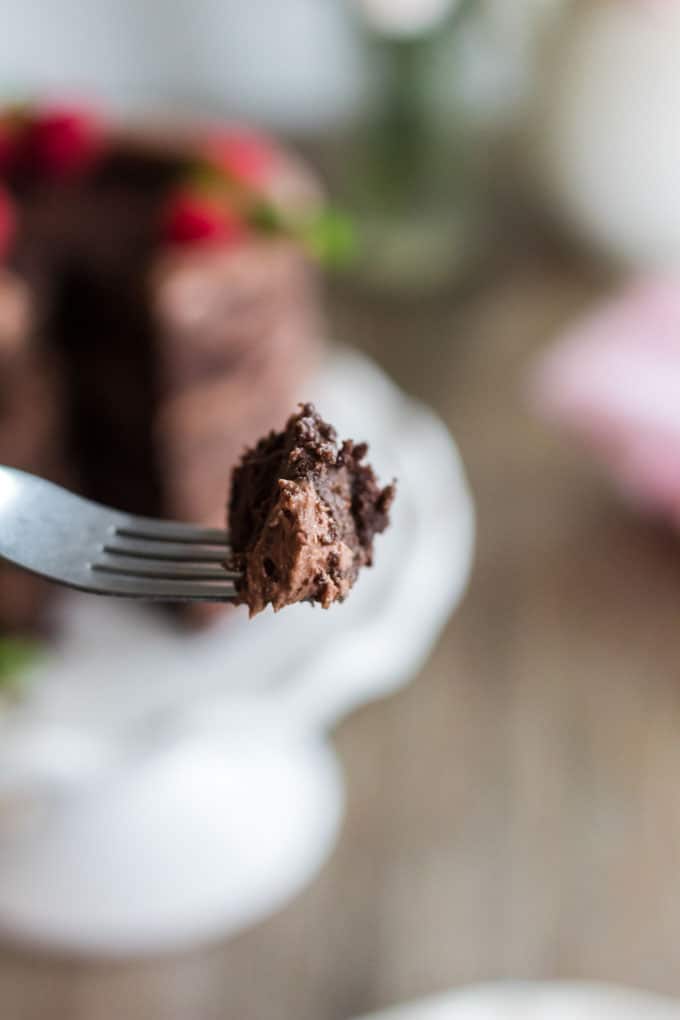 Feel free to adjust the portion sizes of this low carb chocolate cake, depending on your macro nutritional goals.
If you don't want to mess with the different layers and effort involved in cake building, it's easy to make this a recipe for keto chocolate cupcakes as well.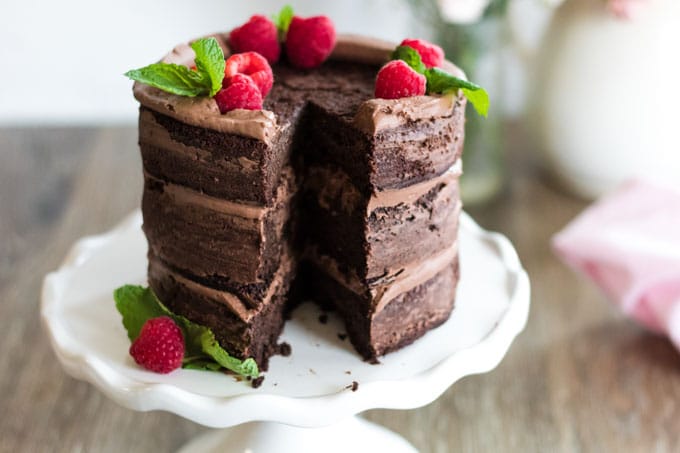 More cake recipes
Some of the links above are for our Amazon store, and any purchases you make through those links help to cover the cost of this chocolate cake recipe.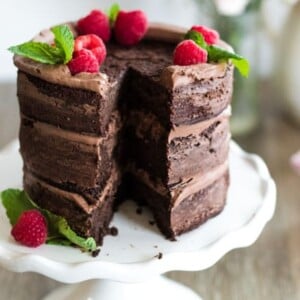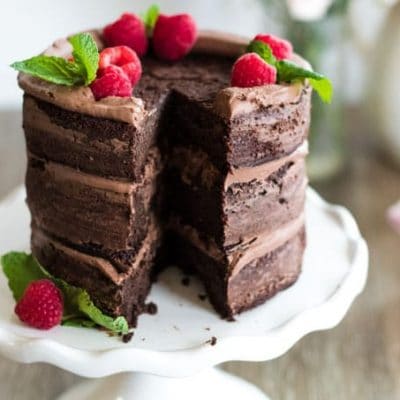 Keto Chocolate Cake
This low carb chocolate cake is ideal for a keto birthday cake and makes wonderful keto chocolate cupcakes as well. Recipe adapted from Hey Keto Mama.

Ingredients
For the Keto Chocolate Frosting
Instructions
For the Cake
Preheat your oven to 350° F. Using a large bowl, combine the almond flour, erythritol, cocoa powder, and baking powder and stir until well mixed. Add the butter and vanilla and then crack open the eggs into the bowl, stirring until well combined. Add and stir in the almond milk.

Use three 6-inch round cake pans and apply a generous coat of butter or non-stick spray to each one, to prevent the cake batter from sticking. Evenly distribute the batter in each pan. If you don't have three pans, you can work in batches.

Bake each pan for 20-25 minutes, until the top of each cake layer springs back after being touched and/or a toothpick comes out clean after being inserted in the center.

Allow the cakes to cool completely before removing from pan. Otherwise it will fall apart. For best results, after cooling, place each cake pan in the refrigerator for several hours or overnight.
For the Frosting
Use a large mixing bowls and combine all of the frosting ingredients. Whip the frosting ingredients together until fluffy.

Assemble the cake by placing the first layer on a clean work surface and spread about 1/3 frosting over the top. Repeat this process with the second and third layers, assebling them over the bottom layer.

Garnisih and drizzle with keto-friendly toppings of your choice.
Notes
Macro Breakdown:
Calories: 410
Carbs: 13 grams
Proteitn 9 grams
Fat 39 grams
Nutrition
Calories:
410
kcal
,
Carbohydrates:
13
g
,
Protein:
9
g
,
Fat:
39
g
,
Saturated Fat:
16
g
,
Cholesterol:
107
mg
,
Sodium:
267
mg
,
Potassium:
201
mg
,
Fiber:
5
g
,
Sugar:
1
g
,
Vitamin A:
835
IU
,
Calcium:
169
mg
,
Iron:
2.3
mg
Nutrition information is automatically calculated, so should only be used as an approximation.