The BEST Whiskey Cake
on May 11, 2020, Updated May 09, 2023
Whiskey cake is one of many New York Times recipes we love. If you're looking for a dessert that will make your taste buds sing with delight, then this is for you.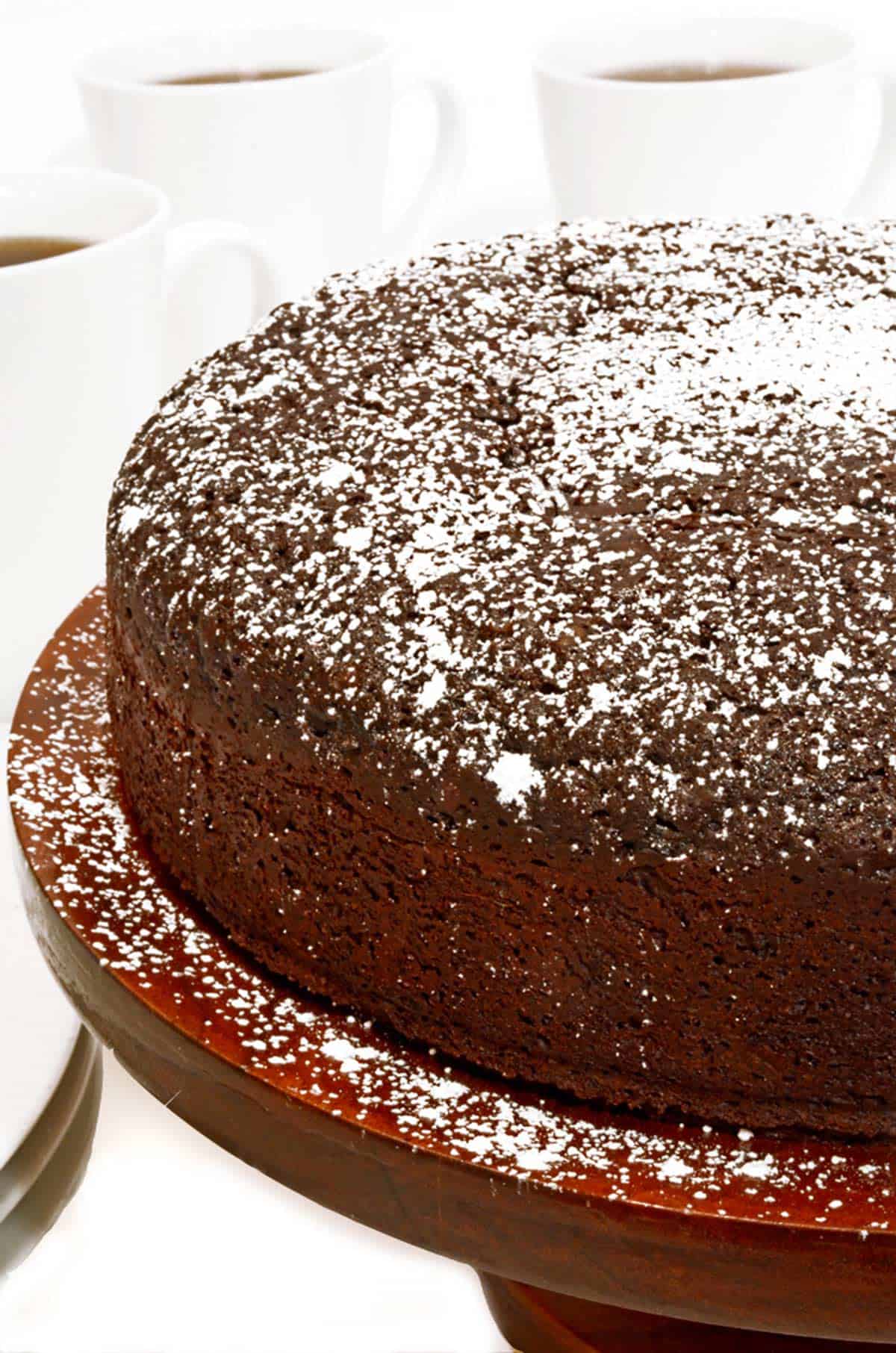 This indulgent treat combines the rich, decadent flavor of chocolate with the warmth and kick of whiskey, creating an irresistible dessert. Read on to learn why it's one of my all-time favorite cake recipes!
About this
This Irish whiskey cake recipe is a no-frosting cake. It combines chocolate, strong coffee, and Irish whiskey. The black pepper and clove undertones support this chocolate cake, almost like a warm kiss with each bite.
I'm a huge fan of great desserts, but I especially love cake recipes. In fact, it dawned on me recently that they are my favorite thing to make in the kitchen.
This was somewhat of a relief because, for years, others asked me what recipes I enjoyed making the most. Now, I have a solid answer! And it's a delicious one.
What are my favorites? Well, that's a loaded question! I can safely say that our upside-down rhubarb cake, this chocolate chiffon cake, and this small chocolate cake recipe all rank very high in my book!
Each of these homemade cakes, including our easy almond cake, are perfect for Mother's Day or just about any special occasion that involves food.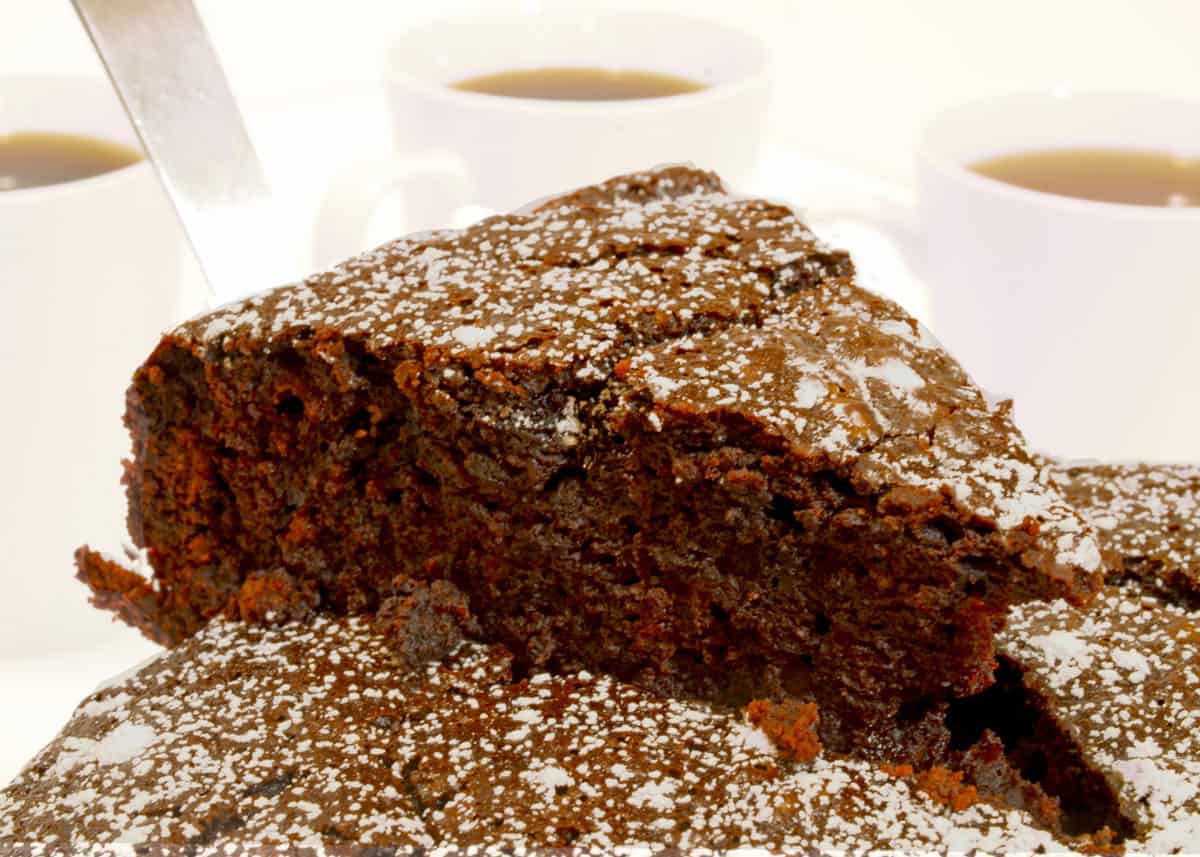 Those who know me best are aware that I overdosed on chocolate at the tender age of five. True story. This incident involved a trip to the emergency room, which sealed my love of chocolate. Forever.
You can make this chocolate whiskey cake in about the time it takes you to run to a bakery and back. Maybe less! The rich combination of flavors will leave everyone thinking that you're a pastry chef and it took you all day to make it; only we know better. It will be our little secret.
Whiskey cake ingredients
Unsweetened cocoa powder and semi-sweet mini chocolate chips make up the backbone of this rustic and easy whiskey cake recipe. The ingredients that bring it to life include:
Coffee
Irish whiskey
Black pepper
Ground cloves
Here's a list of everything you need to make the best whiskey cake at home!
Butter: Yummy, creamy butter makes the cake soft and moist.
Cocoa Powder: Cocoa powder is made from cocoa beans, adding a rich, chocolatey flavor to the cake. You'll use this to dust the pan to keep the sides of the cake from sticking after it cools to room temperature.
Coffee: Strong coffee makes the cake extra flavorful and delicious. In the words of Forrest Gump, coffee and chocolate go together like peas and carrots.
Irish Whiskey: Irish whiskey is a type of alcohol that is added to the cake to give it a special kick. Jameson whiskey, Bushmills, Tullamore D.E.W., Redbreast, Powers, and Kilbeggan. Note: Don't add more than one half-cup whiskey to this recipe, as it will overpower the other flavors. Like in our brandy chocolate pie, a little bit of booze goes a long way when baking.
Granulated Sugar: Granulated sugar is a sweet ingredient that makes the cake taste scrumptious.
Light Brown Sugar: Light brown sugar is a type of sugar that has a warm, caramel-like flavor that makes the cake taste even better.
All-Purpose Flour: Flour is a powdery ingredient that is used to help the cake rise and stay together.
Baking Soda: Baking soda is a special ingredient that helps the cake rise and become fluffy.
Fine Sea Salt: Salt is a seasoning that enhances the flavor of the cake and balances out the sweetness. Regular table salt can be used as well.
Black Pepper: Black pepper adds a unique, slightly spicy flavor to the cake.
Ground Cloves: Cloves will give a warm, sweet taste and add a special touch to this whiskey cake recipe.
Eggs: Eggs help the cake rise, become fluffy, and give it a rich, creamy texture. I also recommend that you use room-temperature eggs when baking. This will help ensure that the cake bakes evenly throughout. Here is a great way to quickly bring eggs to room temperature. Finally, I prefer to bake with jumbo eggs or extra-large ones. Always look for cage-free organic eggs if you can find them.
Vanilla Extract: Vanilla extract is made from vanilla beans and adds a sweet, delicious flavor to the cake. Always look for real vanilla extract. It's a bit pricier but it's so much better than the stuff made in the chemical factory!
Mini Semisweet Chocolate Chips: These tiny chocolate chips add a burst of chocolate flavor to the whiskey cake recipe and make it even more irresistible.
Powdered Sugar: Powdered sugar is a type of sugar that is very fine and powdery. It can be sprinkled on top of the cake to make it look pretty and add a touch of sweetness. Use a small fine mesh strainer to evenly sprinkle it. This little touch will add a lot of curb appeal to this beautiful cake!
Expert Tip: To add even more beauty, flavor, and decadence to this easy whiskey cake recipe, do this! After it has cooled to room temperature, and before you garnish it with powdered sugar, add a sprinkle of fresh lemon zest and/or some chocolate shavings.
Then lightly dust the whiskey cake with the white powdered sugar. I like to use this zester as it's compact and gives you long, beautiful strands of bright citrus zest. Use dark chocolate for the optional shavings, and this is a good chocolate shaver to use for this purpose.
How to make a whiskey cake
(See the full directions in the recipe card below.)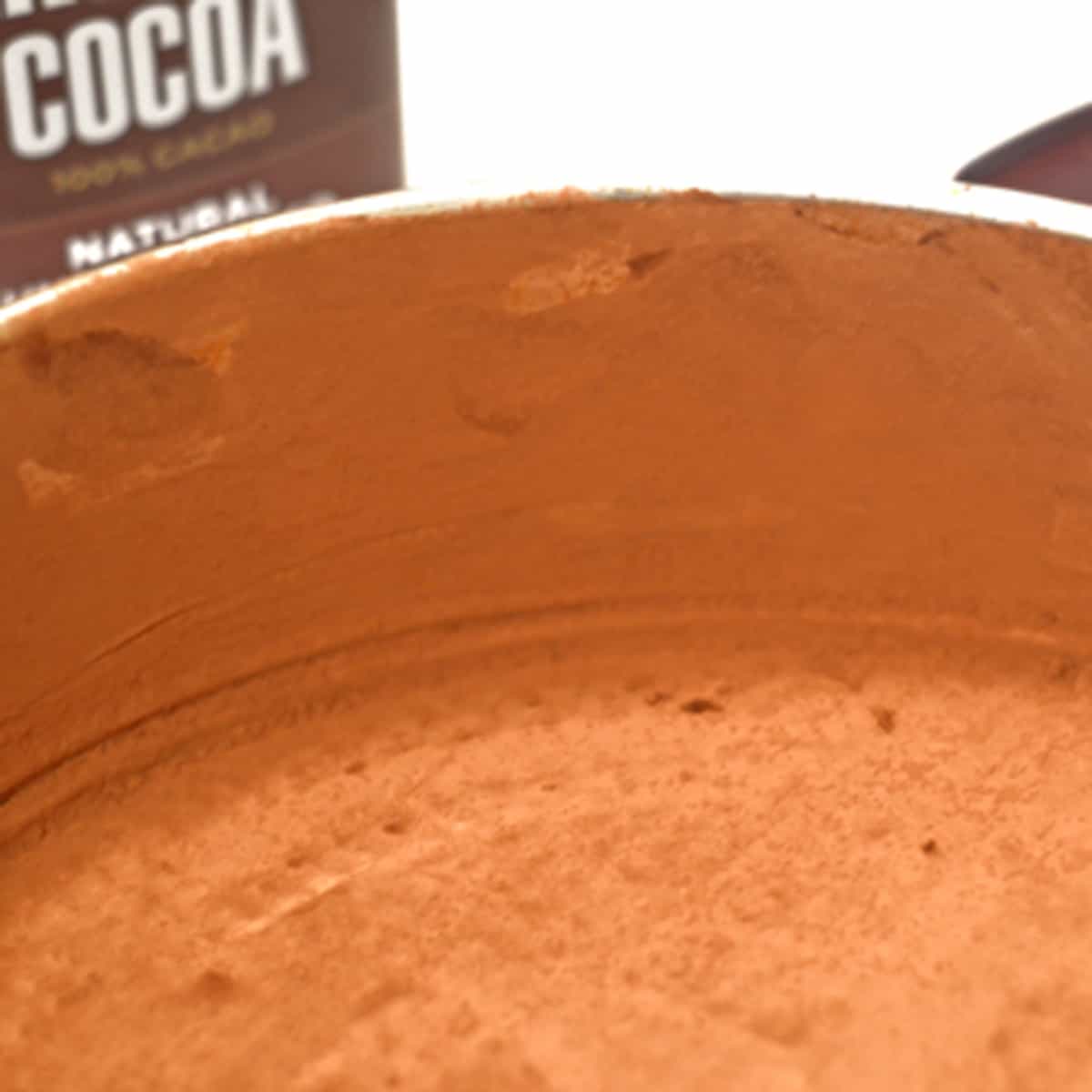 To make this scrumptious whiskey cake, gather all the ingredients I listed above. Also, you'll need to have the following kitchen tools to make this:
Large mixing bowl
Measuring cup
Electric mixer or stand mixer with the paddle attachment and whisk attachment
Cooling rack (a baking essential!)
Start with a preheated oven at 325 degrees. Then, use some butter to grease a 10-inch springform pan and dust it with 2 tablespoons of cocoa powder.
In a small saucepan over low heat, warm up a mixture of coffee, Irish whiskey, 12 tablespoons of butter, and cocoa powder while occasionally whisking until the butter is melted. Add the sugars, whisking until they are dissolved. Remove the mixture from heat and allow it to cool to room temp.
Use a large bowl to whisk together the flour, baking soda, salt, black pepper, and ground cloves. In another bowl, whisk together eggs and vanilla. Slowly whisk the egg mixture into the chocolate mixture. Add the dry ingredients and whisk to combine. Fold in mini semisweet chocolate chips.
Pour the batter into the prepared pan and transfer it to the oven. Bake until a toothpick inserted in the center emerges clean, which should take around 55 to 65 minutes.
Let the cake cool on a wire rack, then remove the sides of the pan. To give it an extra touch of elegance, sprinkle some powdered sugar on top of the cake before serving.
Variations and substitutions
If you don't have Irish whiskey in the house, things like Scotch whiskey and bourbon whiskey will work just fine. Jack Daniels, featured in our Jack and Coke recipe, can also be used to make a Jack Daniels whiskey cake.
If you don't want to use alcohol in this recipe, you can leave it out or use a non-alcoholic substitute. You'll want to use some vanilla extract or milk mixed with a little water to replace the liquid content.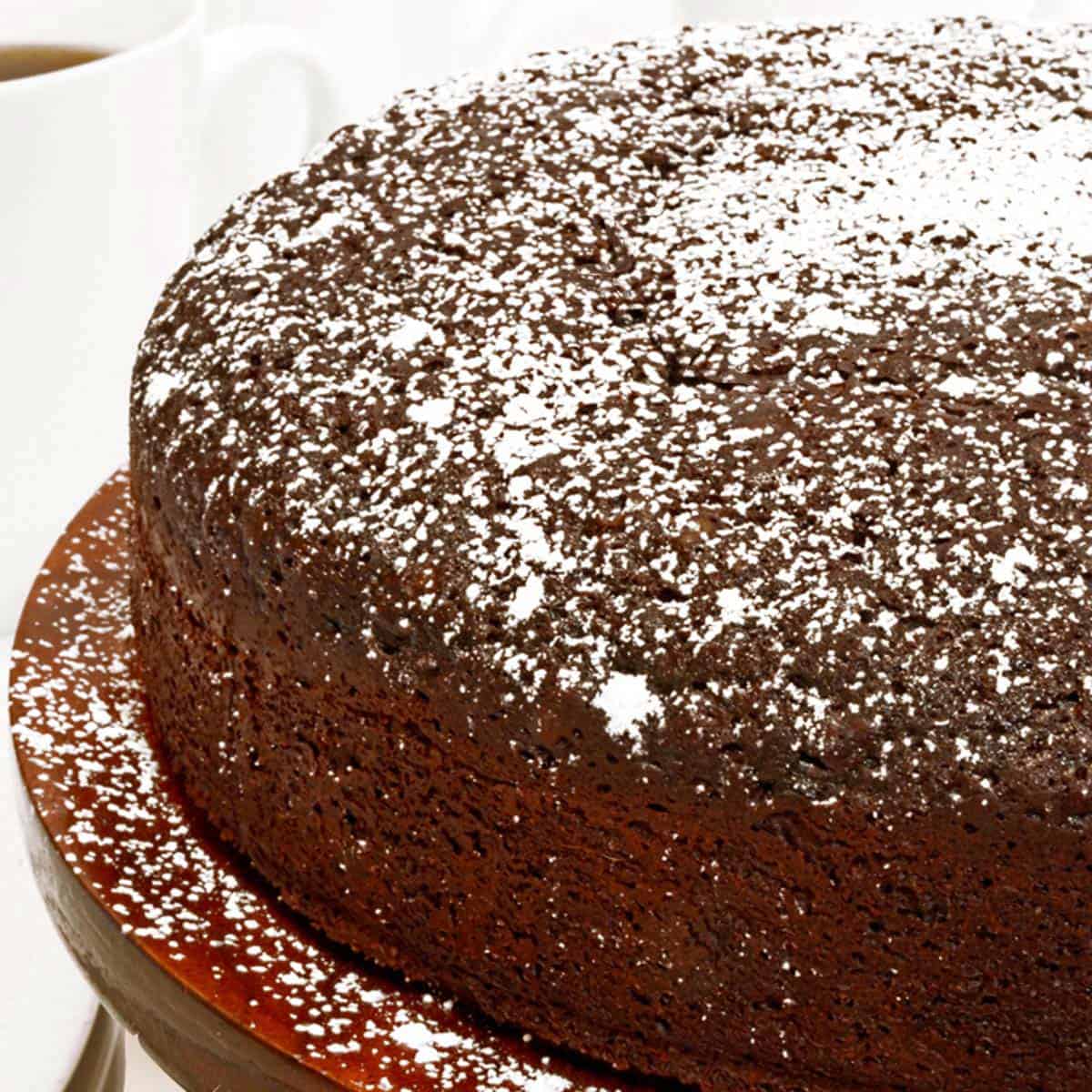 Common questions
How do I make this a non-alcoholic recipe?
You can use apple, grape, or cranberry juice instead of whiskey, which will give a slightly different flavor but still work well in the recipe
How do I store this?
Wrap it tightly in plastic wrap or aluminum foil and place it in an airtight container. You can store the cake at room temperature for up to 3 days.

This will also stay good in the refrigerator for up to a week.
If you want to freeze the cake, wrap it tightly in plastic wrap and aluminum foil and place it in a freezer-safe container. You can freeze the cake for up to 2 months. When you're ready to serve the cake, let it thaw at room temperature for a few hours before unwrapping and slicing.

How do I know when cake is done?
There are a couple of ways to do this.
You can insert a toothpick or a wooden skewer into the middle of the cake. If it comes out clean, it is done.
Another way is to lightly press the center of the cake with your finger. If it springs back, take it out of the oven.
Look at the edges of the cake. If they are pulling away from the sides of the pan and are golden brown, this is likely done.
Check the temperature of the whiskey cake using an instant-read thermometer like this one. The temperature should read 200°F (93°C) when it is fully baked.
Expert Baking Tip: Remember that oven temperatures may vary, so it's best to rely on a combination of these tests rather than just one to ensure the cake is fully cooked.
When I first saw this whiskey cake recipe, I knew it wasn't if I would recreate this dessert but rather when. Let's just say I didn't wait very long. Maybe a few hours.
Don't wait as long as I did to make this whiskey cake. Life's too short! Grab the ingredients and turn that oven on!
More cake recipes
(we have nearly 40 of them on Platter Talk!)
---
Pro baking tips
Use a kitchen scale to measure ingredients. Measuring cups and measuring spoons can vary in size. A kitchen scale is an affordable investment to give you better results!
This recipe starts with chocolate right from the beginning. It's what you will use to dust your cake pan to make sure the cake batter doesn't stick. Scott does a great job showing you how to dust a cake pan. Be sure to check it out!
👨‍🍳 Tried this Recipe? Please leave a ⭐⭐⭐⭐⭐ rating in the recipe card below and leave a comment. We love hearing from our readers!
⏩ Stay in touch with us on social media by following us on Facebook, Pinterest, Instagram, and YouTube!
📬Get our Recipes delivered to your inbox for FREE!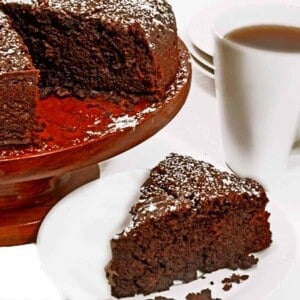 The BEST Chocolate Whiskey Cake Recipe
This whiskey cake recipe is a tasty and indulgent dessert. Made with rich cocoa powder, brewed strong coffee, Irish whiskey, and all-purpose flour, this cake is a crowd-pleaser. Topped with a dusting of powdered sugar, it's perfect for any occasion or celebration. Store leftovers in an airtight container for up to 3 days at room temperature or up to a week in the refrigerator.
Ingredients
12

tablespoons

unsalted butter

,

cut into 1-inch pieces, more for pan

85

grams

unsweetened cocoa powder,

about 3/4 cup plus 2 tablespoons

1 ½

cups

brewed strong coffee

½

cup

Irish whiskey

200

grams

granulated sugar

,

about 1 cup

156

grams

light brown sugar,

about 1 cup

240

grams

all-purpose flour

,

about 2 cups

8

grams

baking soda,

about 1 1/2 teaspoons

3

grams

fine sea salt

,

about 3/4 teaspoon

¼

teaspoon

black pepper

⅛

teaspoon

ground cloves

3

large eggs

2

teaspoons

vanilla extract

1

cup

mini semisweet chocolate chips

Powdered sugar

,

for serving (optional)
Instructions
Heat oven to 325 degrees. Butter a 10-inch springform pan. Dust with 2 tablespoons cocoa powder.

In a medium saucepan over low heat, warm coffee, Irish whiskey, 12 tablespoons butter and remaining cocoa powder, whisking occasionally, until butter is melted. Whisk in sugars until dissolved. Remove from heat and cool completely.

In a bowl, whisk together flour, baking soda, salt, pepper and cloves. In another bowl, whisk together eggs and vanilla. Slowly whisk egg mixture into chocolate mixture. Add dry ingredients and whisk to combine. Fold in chocolate chips.

Pour batter into prepared pan. Transfer to oven and bake until a toothpick inserted in the center emerges clean, 55 to 65 minutes. Let cool on a wire rack, then remove sides of pan. Dust with powdered sugar before serving.
Notes
My Top Tips for Making a Whiskey Cake from Scratch
Make sure your ingredients are at room temperature: Before beginning your cake recipe, make sure your ingredients are at room temperature. This will allow them to mix together more easily and create a smoother batter. Cold ingredients can also cause the cake to bake unevenly.

Don't overmix the batter: When adding the dry ingredients to the wet ingredients, be careful not to overmix the batter. Overmixing can result in a tough and dense cake. Instead, mix until just combined, then fold in the chocolate chips.

Don't overbake it: Overbaking can result in a dry and tough cake. To avoid this, check your cake a few minutes before the recommended baking time is up. Insert a toothpick or cake tester into the center of the cake, and if it comes out clean, the cake is done. If there is still batter on the toothpick, let the cake bake for a few more minutes before checking again.
Nutrition
Calories:
460
kcal
,
Carbohydrates:
59
g
,
Protein:
6
g
,
Fat:
21
g
,
Saturated Fat:
12
g
,
Cholesterol:
72
mg
,
Sodium:
304
mg
,
Potassium:
291
mg
,
Fiber:
4
g
,
Sugar:
36
g
,
Vitamin A:
420
IU
,
Calcium:
45
mg
,
Iron:
3.4
mg
Nutrition information is automatically calculated, so should only be used as an approximation.
Dan updated from the original post of March 9, 2016.