Old Fashioned Molasses Cookies
on May 10, 2020, Updated Jun 26, 2021
This molasses cookies recipe is old. We first published it just days after starting Platter Talk.
Looking back, it is probably no coincidence that I chose these old-fashioned molasses cookies as one of my first posts. They are one of my favorite cookie recipes.
Read on and learn how to make the best molasses cookies in just 20 minutes.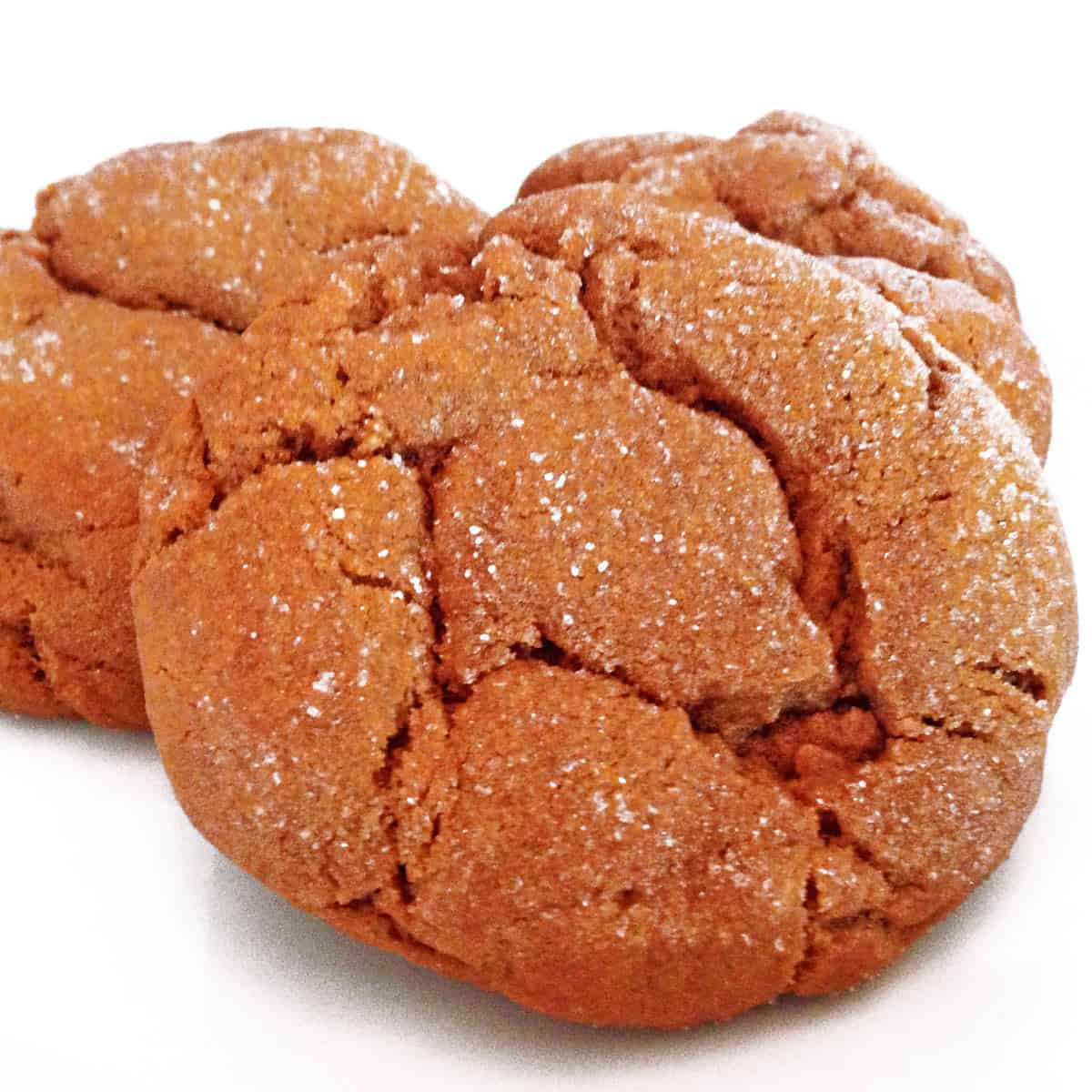 Jump to:
About these
I grew up with these old fashioned molasses cookies because they were one of my mom's specialties. Mother's Day seems like the perfect time to update this post because this recipe is as much about my mom as it is about the cookies.
Growing up, I had no idea what a lucky kid I was. My carefree boyhood revolved around our big family farm which in turn revolved around our family of six kids. And, their kids, countless aunts, uncles, cousins, and church friends, among others.
Throughout it all, it seems my mom was never far from my sight. Nor was I from hers.
Her sugar cookies, Toll House cookies, date-filled cookies, and endless other recipes permeated my growing up. Along with these old fashioned molasses cookies.
It only seemed natural that as soon as I could wear an oversized oven mitt, my mom was helping me learn my way around the pantry. From there, things always seemed to lead to the oven.
What are they?
Old fashioned molasses cookies are often compared to ginger snaps. The two have similar warm flavor profiles. Sometimes molasses cookies have ginger and cinnamon in them as well. But not in this recipe.
This version is plain but true, just like the lady who taught me how to make them. With just a few ingredients, these old fashioned molasses cookies emit comforting tones of warmth and truth, so much like the heart of my Mennonite mom.
Part of what makes these so good is the small number of ingredients that we use to make them.
What's in molasses cookies?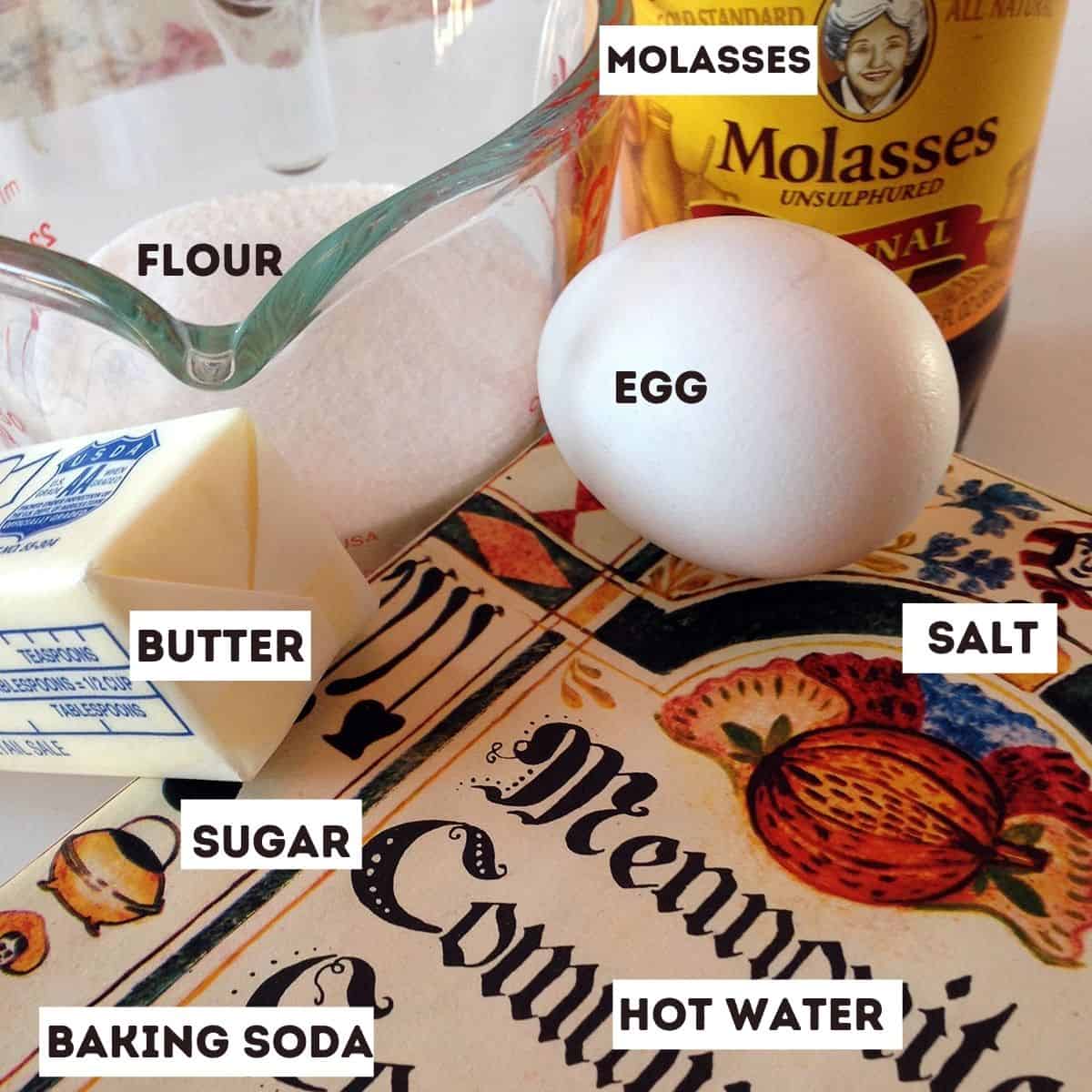 Most of the ingredients to make these are already in your pantry. Here are a few notes about them.
For the Molasses – You can use either light or dark, depending on your personal taste and what you have on hand.
Butter – The original recipe calls for shortening, but my mom always used lard that was rendered from our pigs. You likely don't have pigs and if that's the situation, you're in luck. Regular butter works just fine. Salted or unsalted works; make sure it is at room temperature.
Flour – Use all-purpose flour. My mom taught me how to measure flour using a measuring cup, and I'm passing that wisdom on to you!
Using a kitchen scale is the most accurate way to measure anything, but if you're using a measuring cup, here is how to measure flour.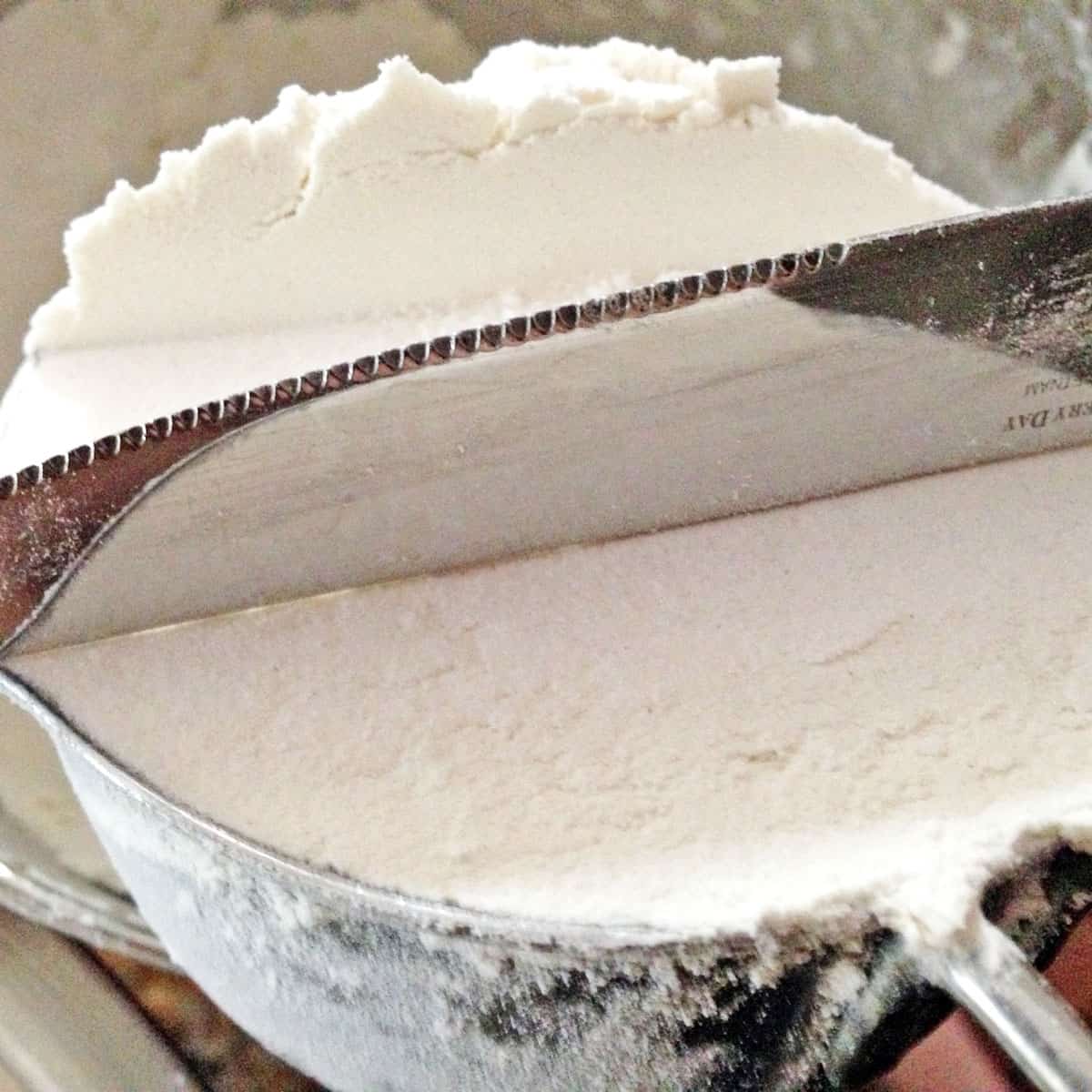 Do not pack the flour into the measuring cup (as you would do with brown sugar.)
Use the flat side of a table knife to level-off the flour at the top of the cup.
Egg – You'll need an egg for these molasses cookies. Use a large one and always have it at room temperature before baking.
Pro Kitchen Tip – How to quickly get eggs to room temperature. It's important to use eggs at room temperature when baking different recipes. You don't want to put cold ingredients in a hot oven. This will cause a delay in baking and also an uneven baking process. (Some parts of the recipe will be done before others.) To quickly get eggs to room temperature, just set them in a bowl of warm water for 10 minutes! Easy-peasy!
This is a popular Christmas cookie recipe but I guess I was lucky. My mom made molasses cookies all year-round.
How to make old fashioned molasses cookies
(Full recipe at the end. If you are new to baking or an experienced baker, take a look at our in-house professional chef's post on how to bake cookies for beginners. It's a great review for all!)
As with any recipe, take a quick inventory of your pantry to make sure you have everything you need. This old fashioned molasses cookies recipe calls for dark molasses, but you can use the lighter stuff as well. These photos show both kinds being used.
First, you'll start by cutting the butter or shortening into the flour. You should be able to do this with a regular table fork. Set that mixing bowl aside.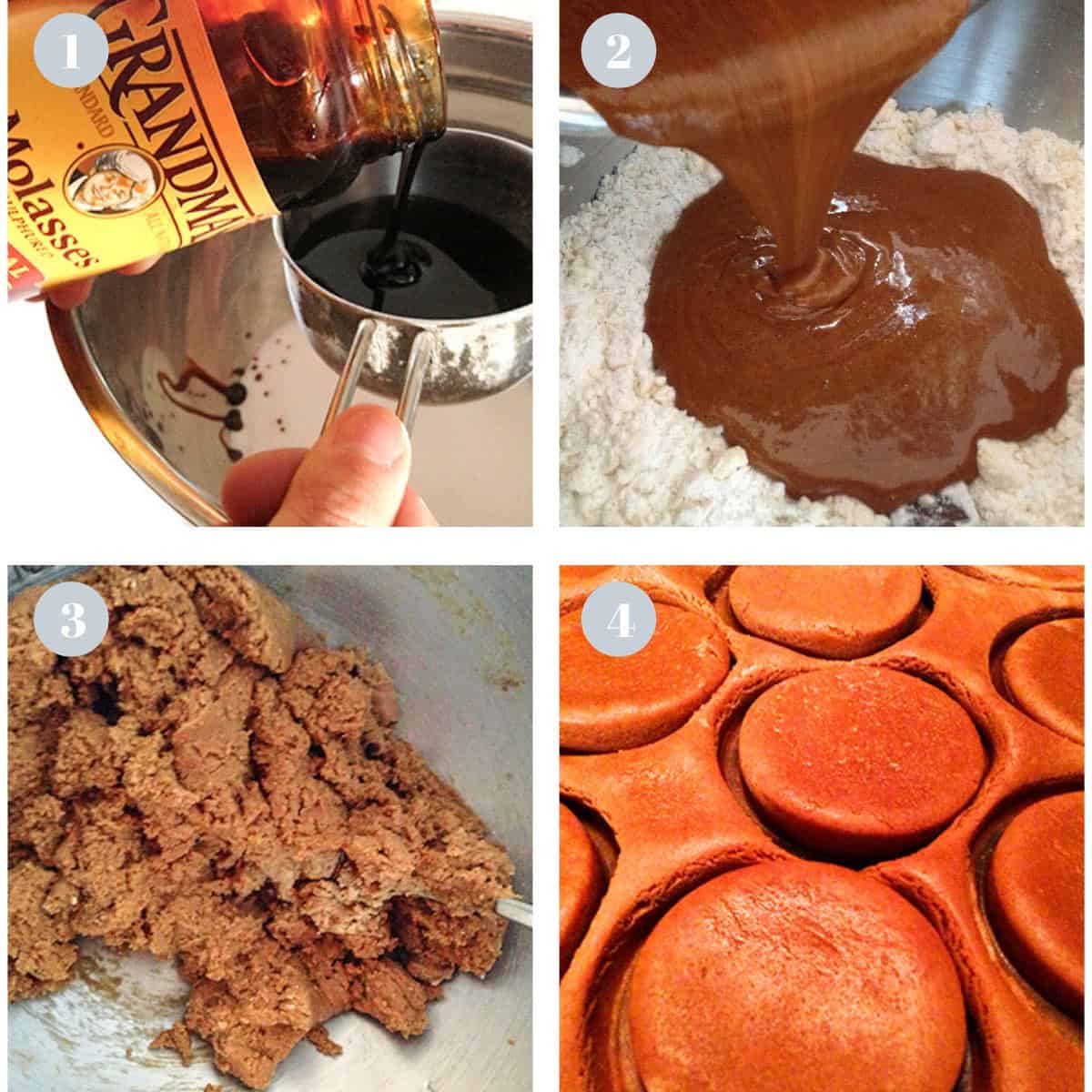 Add the molasses to the sugar and add an egg and mix it together along with baking soda and hot water
Combine the wet and dry ingredients.
Stir the cookie dough thoroughly. Place some plastic wrap over the dough and refrigerate for at least an hour.
Roll the chilled dough on a lightly floured surface. Then use a cookie cutter or mason jar or drinking glass to cut out the cookies. You'll want these to be approximately 2 inches in diameter. Bake these cookies bake at 375° for about 10 minutes.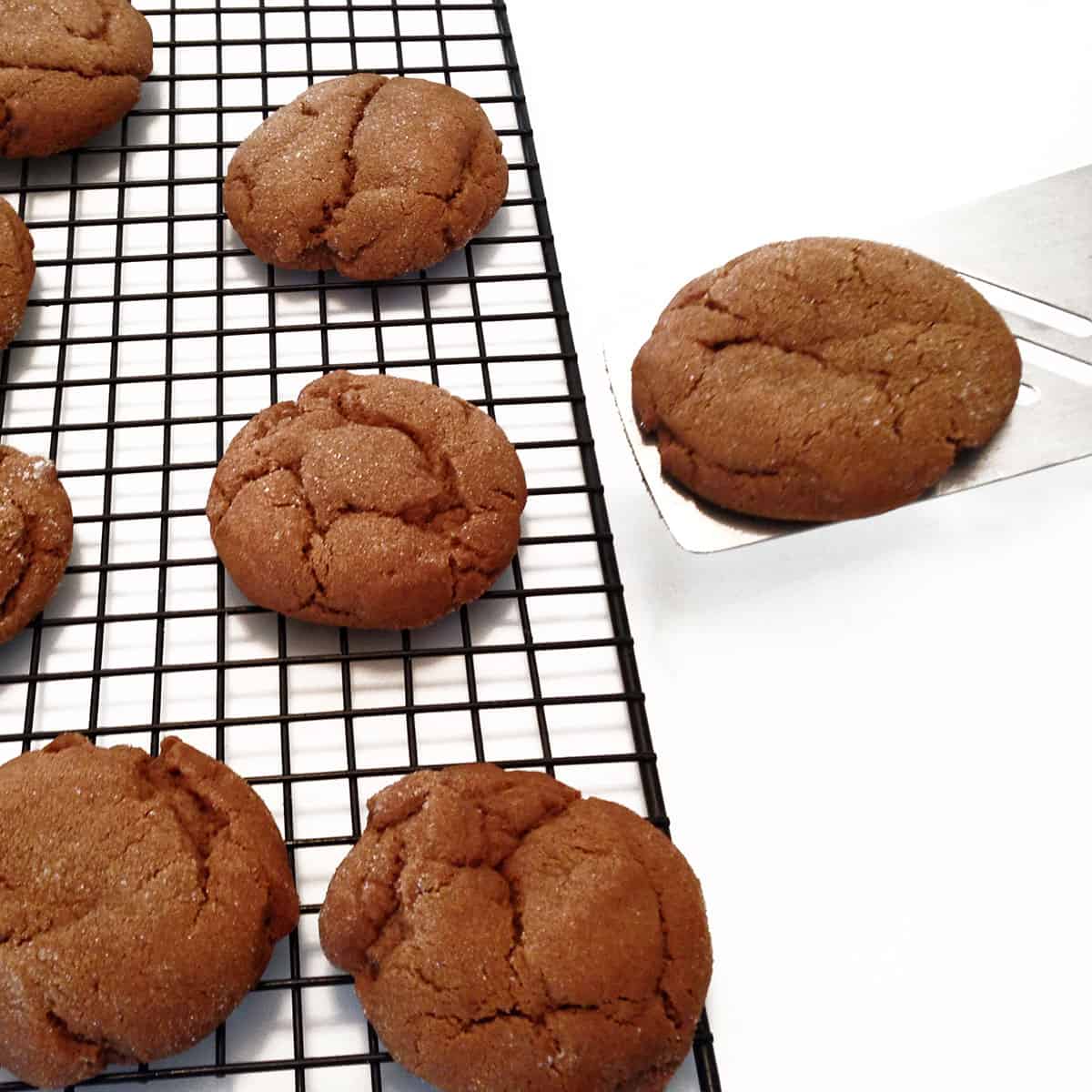 I had a helper for this batch of molasses cookies when I first made them for Platter Talk. Our son Joe was is almost 10.
While we were putting these together I shared with him some stories from my boyhood. How I loved giving my mom a hand at when making these treats were called old-fashioned way back then.
As Joe and I were nearing the end of our project he remarked that someday maybe his son would help him make old fashioned molasses cookies. I hope. Give this recipe a try. Someone will love you for it.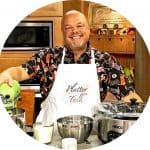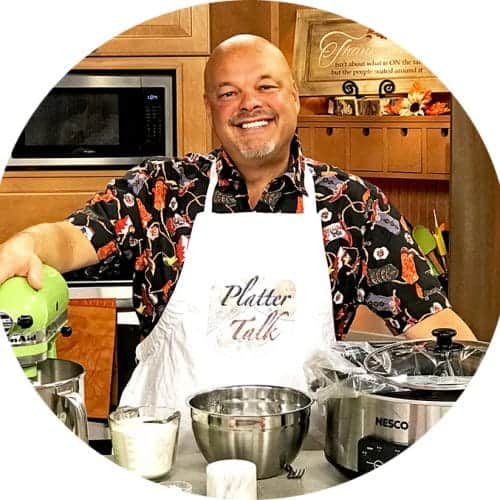 What are some of your favorite stories about food and your memories of your mother? Leave a comment down below!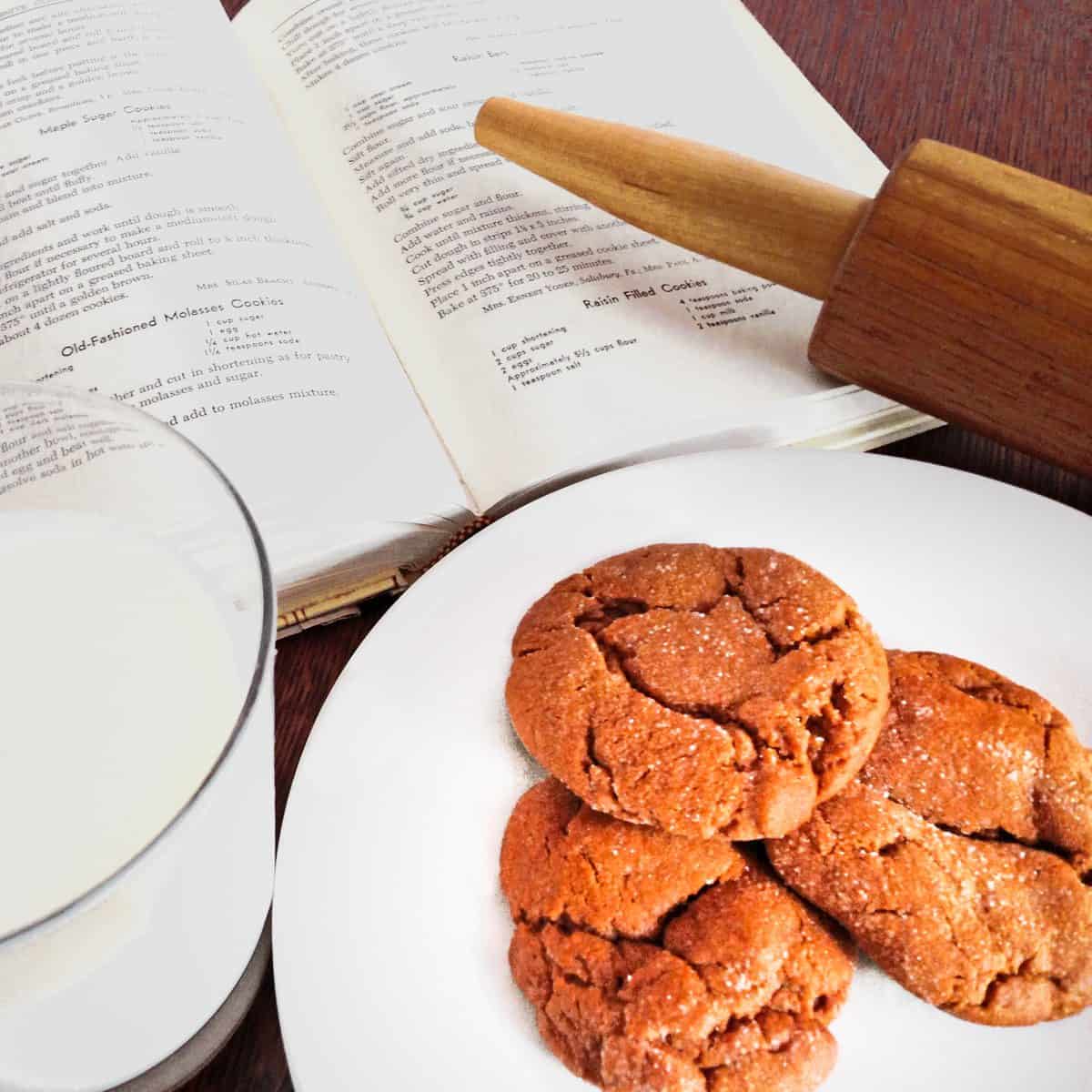 Common questions
What is Molasses?
The dark and thick byproduct of the sugar-making process is what we know as Molasses. It is made from sugar cane and sugar beets. The syrup from the concentrated cane or beet syrup that is leftover from extracting the sugar crystals is molasses. Most of the type we use is made from sugar cane and it is the type of Molasses that we use in baking
What Are the Different Types of Molasses?
Molasses is categorized into three different types: Light, Dark, and Blackstrap.

1. Light Molasses – Most baking recipes use light molasses for its sweet and mild flavors that compliment but don't overpower other ingredients of a recipe.

2. Dark Molasses – The dark kind is good for dishes that need a bigger and bolder flavor boost. Recipes for baked beans and gingerbread often call for this type.

3. Blackstrap Molasses – This type isn't used much for baking. Sometimes gingerbread recipes will use it. Otherwise, it is used to make rum, barbecue sauces, and the like. Interestingly, there are some health benefits of blackstrap molasses. It sometimes used to treat stress and treat some cancers. It also can help to regulate diabetes!

Light and dark molasses can sometimes be substituted for each other. Although, you don't want to use blackstrap molasses for either of the other two.


What is the difference between sulfured and unsulphured molasses?
Unsulphured molasses is made from naturally sun-ripened sugar cane. It is the highest quality of molasses because it comes from mature sugar cane.

Sulfured molasses is the product of immature and green sugar cane that is treated with sulfur fumes during the process of sugar-making.
Can I freeze these?
Molasses cookies will keep well in the freezer for up to 3 months. Use an air-tight container to store them. They will also last for up to a week on your counter. Put them in a cookie jar or other covered container.
Mennonite Community Cookbook
The Mennonite Community Cookbook was our kitchen Bible, growing up. The same held true for almost all my huge extended family, and likely the hundreds of other Mennonite families in northern New York State.
It is a compilation of recipes and kitchen tips from Mennonite women from around the United States. From Candies and Confections to Poultry and Fish, it was and still is the only cookbook that many people will ever need.
We have other Mennonite recipes, be sure and take a look at them. A few of my favorites Mennonite recipes that we feature:
This was what I remember as my Great Aunt Kate's signature dish. Hints of sweetness in warmth with a light and crunchy crumble topping, My mom became well known for her version which we always served crowned with pure maple syrup. Made from our sugar bush, of course.
– One of my favorite treats from my mom's kitchen, She didn't make these as often as cookies but when she did, they never lasted long! Fun note: She always fried these in our home-cured lard, stored in ceramic tubs in our "cellar". (The word basement was not a part of our vocabulary.)
Amish Sugar Cookies – This recipe came from my beautiful Aunt Marion. They are one of the most popular cookies on our site. I think of her every I see that people are looking at this recipe.
---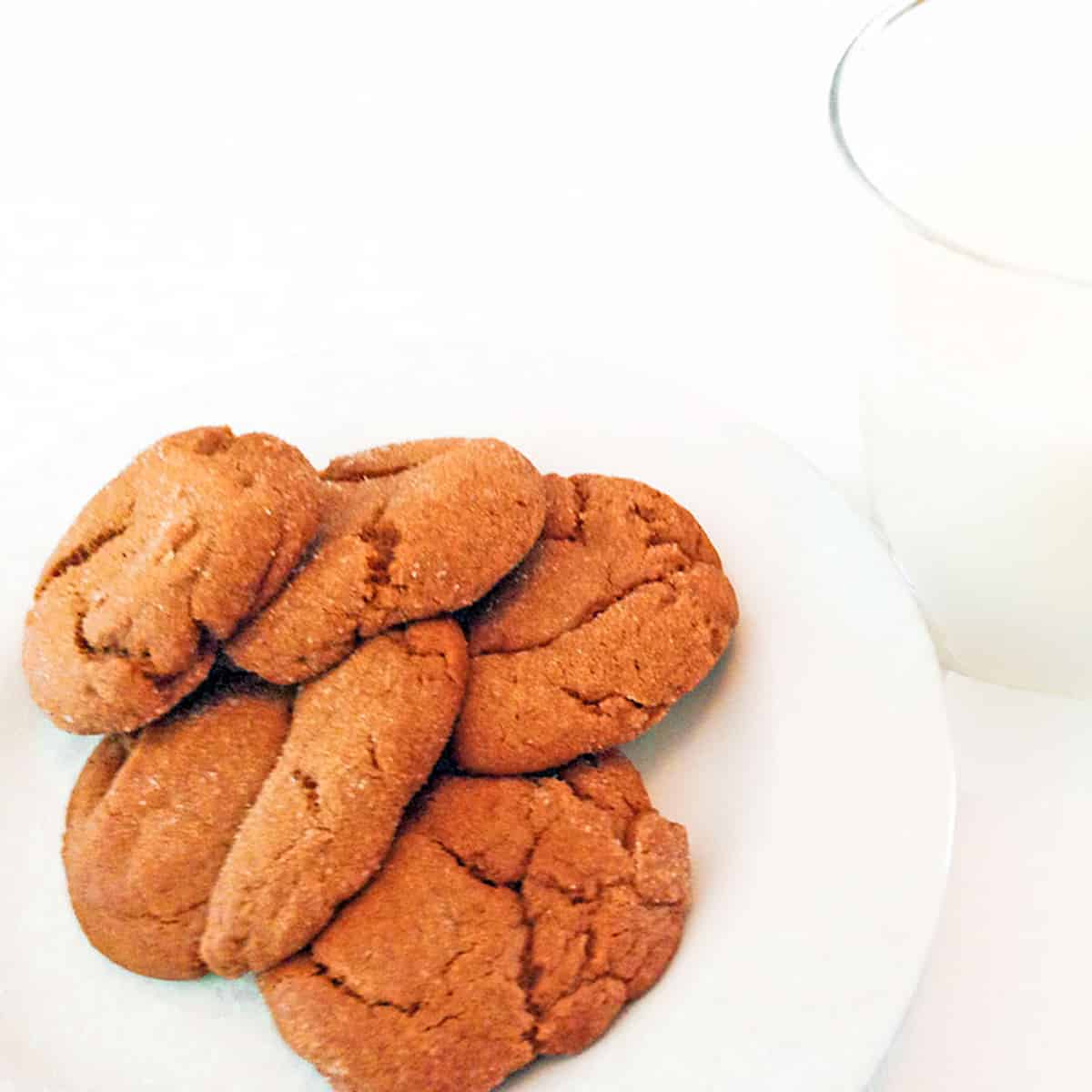 Some Fun Family Stories About this Cookie Recipe
I baked a lot as a kid. I was also an active 4-H club member. Through 4-H, I entered scads of things in the county fair. Vegetables, rabbits, photographs, an occasional calf, and TONS of cookies.
Through the years, I accumulated hundreds of prize ribbons, and the bluest of these were always from my baking entries. One year, the county fair judges deemed my molasses cookies worthy of the New York State Fair. It was a pretty big deal to me.
When my mom volunteered to put the batch for the state fair together on my behalf, I agreed. She was trying to lend a hand to a busy boy with too many irons in the fire.
When we made the 110-mile trip to Syracuse and hastily searched for all of my entries, all had blue ribbons attached to them. Except for my molasses cookies which donned a red ribbon for second place.
Confused and maybe a bit disappointed, we read the judges' feedback. After all, these were my mom's cookies. How could anyone award her anything less than first prize? Their explanation: "These would have been first-place cookies, but you should have used dark molasses instead of light molasses."
My whole family had a good laugh over this, and I learned to always make my own cookies after that!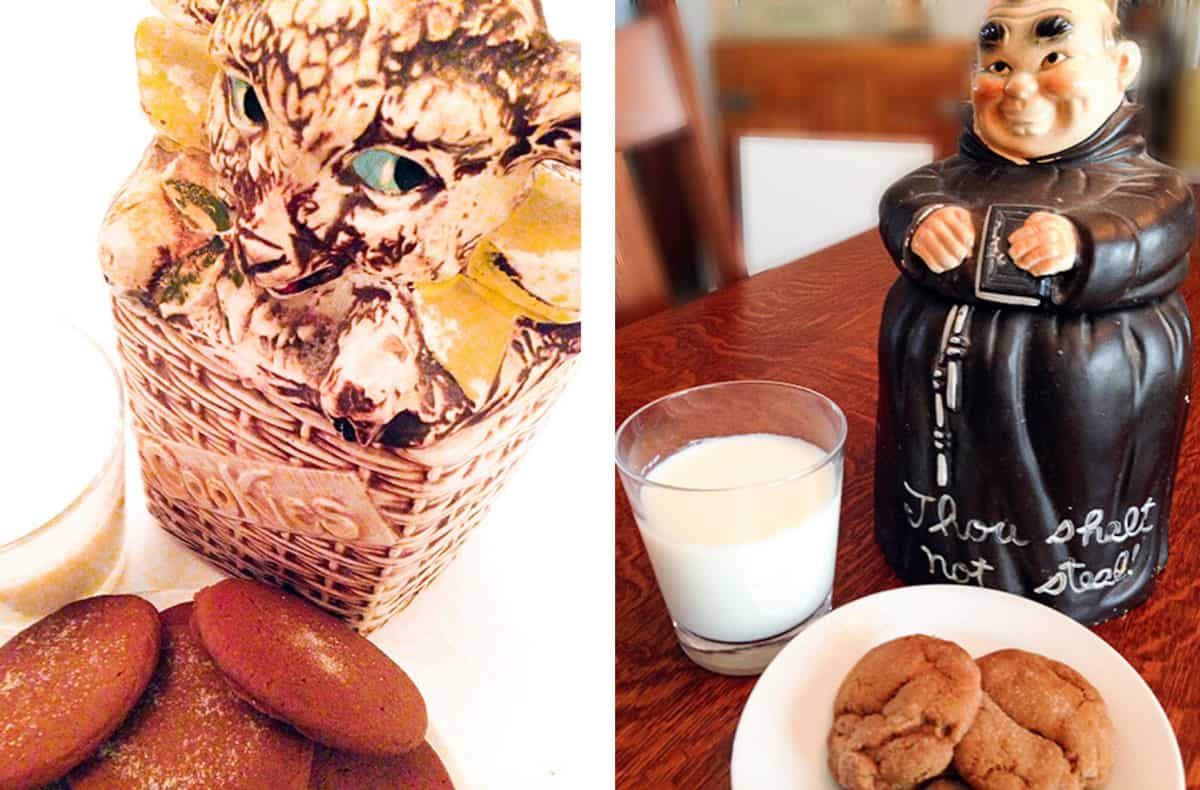 There was always a cookie jar in our big Mennonite farmhouse. The one on the left was always a bit of a mystery to me. I could never decipher what kind of animal I had to deal with to get a cookie or two.
Decades later looked up the origins of this mysterious but affable figure. It is a McCoy Pottery cookie jar made between 1956 and 1957. It is called Lamb on Basketweave. Pretty cool stuff, eh?!
When I was probably 10 or 11, I was shopping with my mom one day, probably at the original Woolworths, in Watertown, NY. My eyes were drawn to the robust monk and the message he was giving.
I'm not sure why my mom agreed to buy it, maybe because of its mix of humor, religion, and cookies. I'm not sure. But both cookie jars live in a glass cabinet that holds some of my most treasured memories of long ago. And of my mom, Sarah.
Similar Recipes
👨‍🍳 Tried this Recipe? Please leave a ⭐⭐⭐⭐⭐ rating in the recipe card below and leave a comment. We love hearing from our readers!
⏩ Stay in touch with us on social media by following us on Facebook, Pinterest, Instagram, and YouTube!
📬Get our Recipes delivered to your inbox for FREE!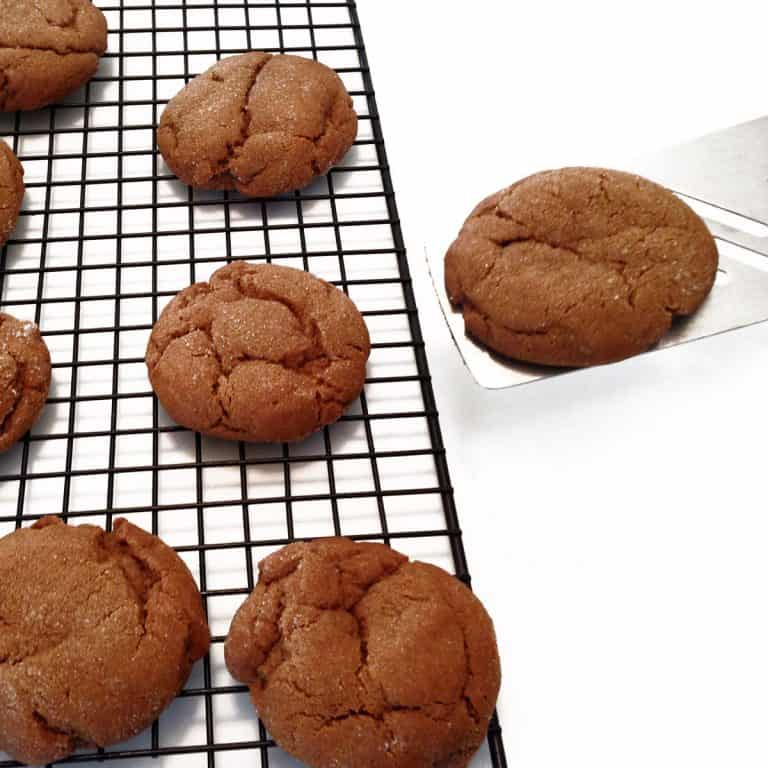 Old Fashioned Molasses Cookies
Molasses Cookies Recipe From Mennonite Community Cookbook
Ingredients
1

cup

shortening

4

cups

flour

1

cup

sugar

1

egg

1/4

cup

hot water

1 1/4

teaspoon

baking soda

1

teaspoon

salt

1

cup

dark molasses
Instructions
Preheat oven to 375 degrees.

Mix flour and salt together and cut in shortening as for pastry (Mennonitese for pie.)

In another bowl, combine molasses and sugar.

Add egg and beat well.

Dissolve soda in hot water and add to molasses, egg, and sugar mixture.

Combine crumbs and molasses mixture and stir until well blended.

Chill dough for several hours.

On a lightly floured board, roll cookie dough to 1/4 inch thickness. Use a 2-inch cookie cutter or drinking glass to cut the cookies from the dough.

Place on a greased cookie sheet and bake until a deep rich brown, about 10 minutes.

Makes about 4 dozen cookies, probably not nearly enough for your liking.
Notes
Use either light or dark molasses for this cookie recipe.
Bake these cookies on a grease cookie sheet.
Serve with ice-cold milk!
Nutrition
Calories:
113
kcal
,
Carbohydrates:
17
g
,
Protein:
1
g
,
Fat:
4
g
,
Saturated Fat:
1
g
,
Cholesterol:
3
mg
,
Sodium:
81
mg
,
Potassium:
115
mg
,
Fiber:
1
g
,
Sugar:
9
g
,
Vitamin A:
5
IU
,
Calcium:
16
mg
,
Iron:
1
mg
Nutrition information is automatically calculated, so should only be used as an approximation.
This is updated from the original post of March 30, 2013