Mint Chocolate Chip Cookies
on Aug 08, 2019, Updated Jan 01, 2021
This mint chocolate chip cookie recipe is part of our journey to find the perfect chocolate chip cookie.
Depending on your tastes, these mint cookies may just qualify.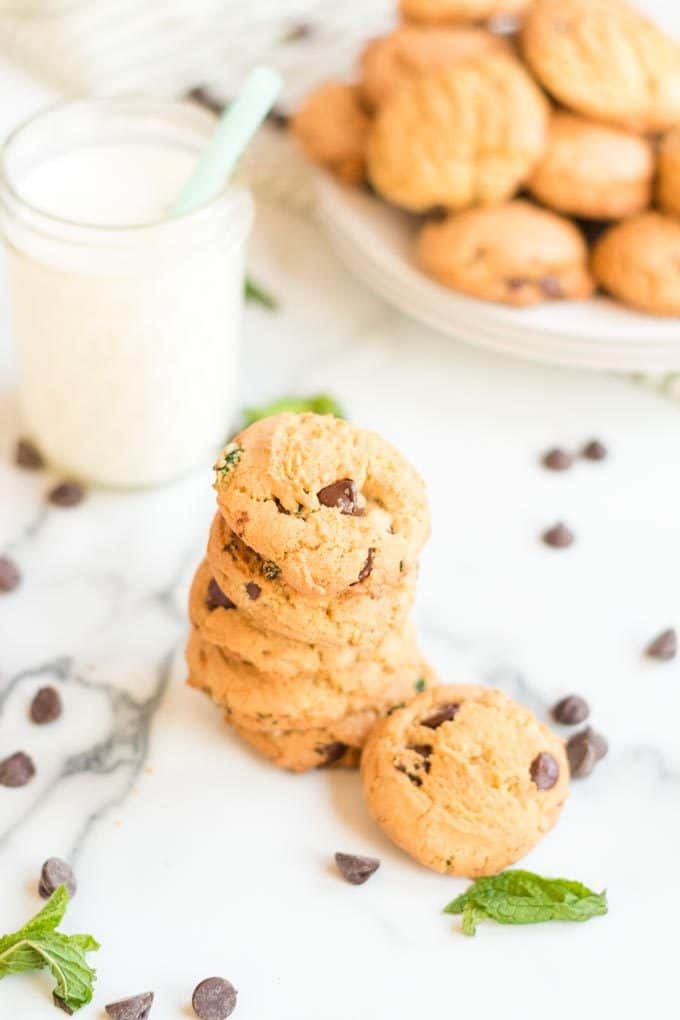 About these

Chocolate Chip Cookies are part of what I consider to be a very good life.
I'm a lucky man. I love my job and almost everything about it.
But it's my coworkers that make my job enjoyable.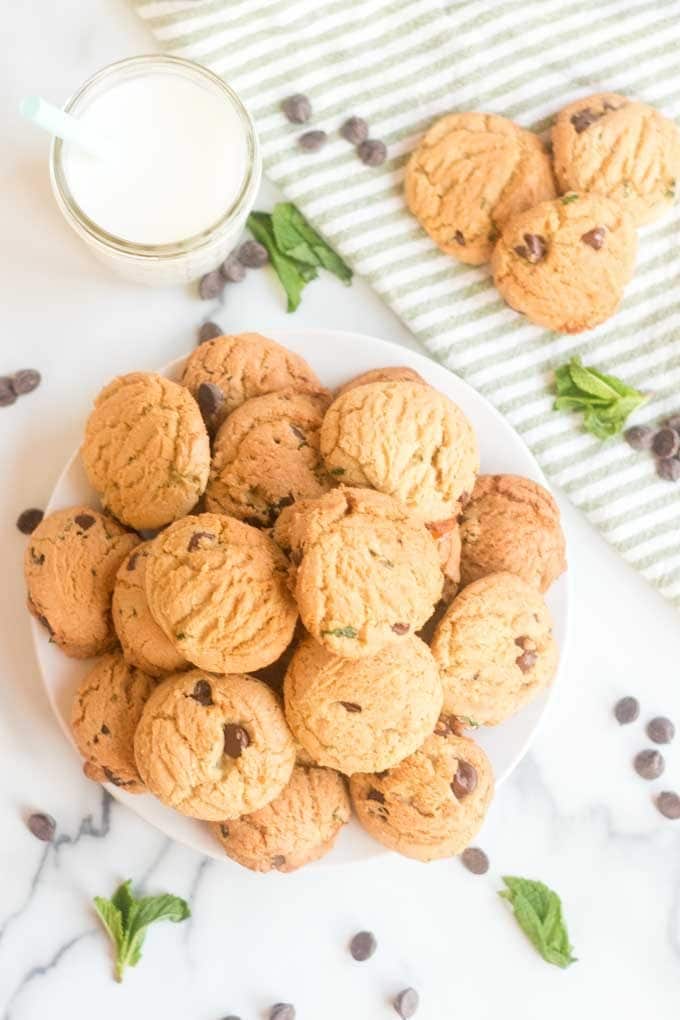 If there is one downside about my job, though, it is the perpetual presence of great-tasting food.
There is Sara's beer dip recipe (she's so dedicated she divulged once that she has prepared it in the parking lot to ensure freshness).
And then we have things Bonnie's meatball recipe and Heather's chicken wing dip.
I could go on and on and on.
For our recent administrative assistant appreciation day, we all signed up to bring something yummy.
Except me.
I never know what I feel like making until the eleventh hour.
As with this chocolate chip cookie recipe, nobody ever seems to mind.
How to make these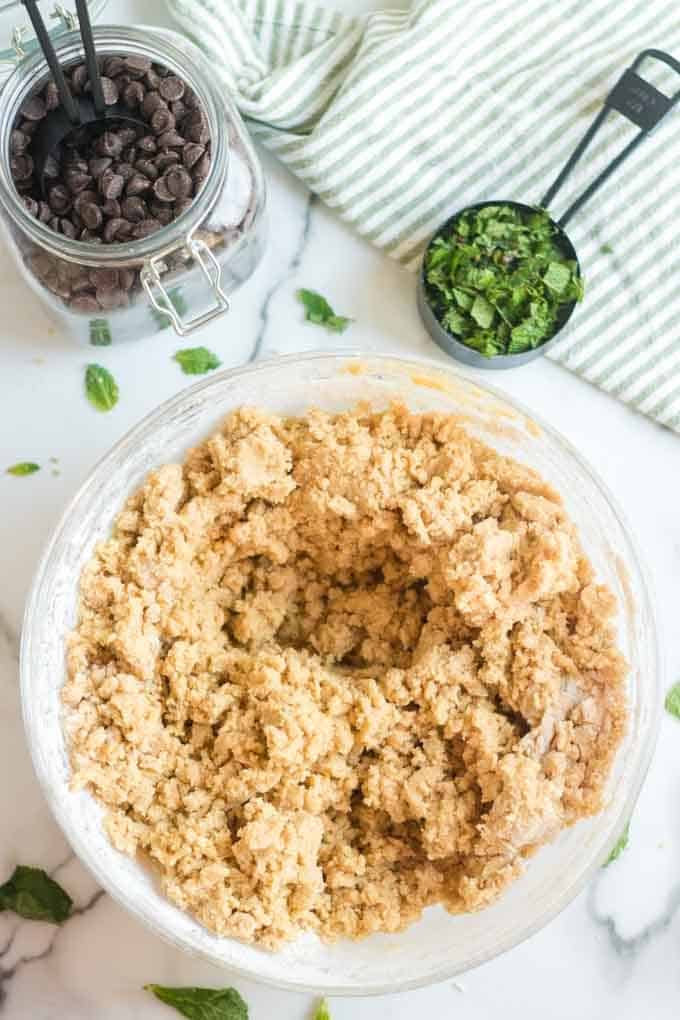 As with all cookie recipes, start by preheating your oven (375° F for these) and then assemble the things that you will need:
Baking Tip

When using eggs for baking recipes, be sure they are at room temperature.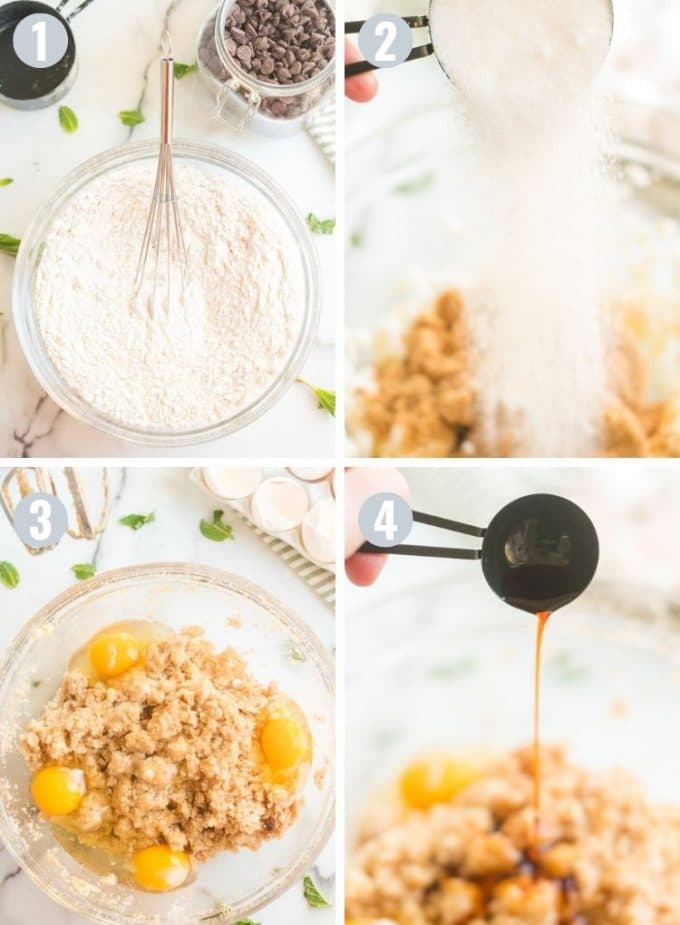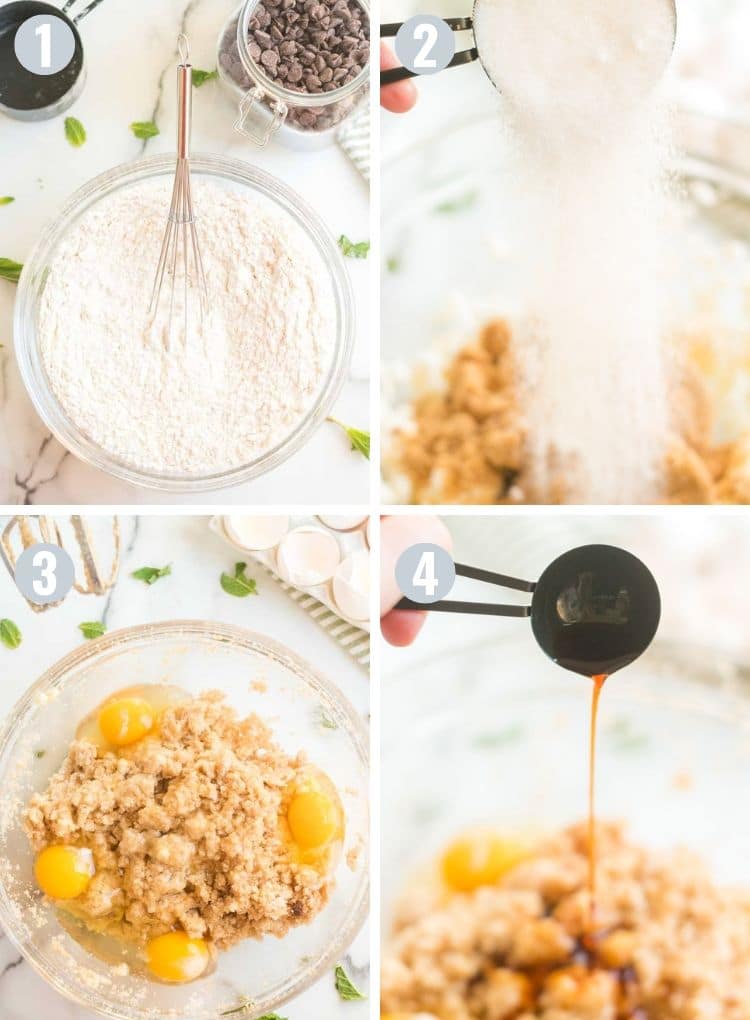 1. Start by using some all-purpose flour.
2. Add some brown sugar and white sugar and white sugar to a combination of butter (room temperature) and shortening.
3. Add some eggs, remember at room temperature.
4. Use some pure vanilla extract for these cookies and toss in some baking soda and salt.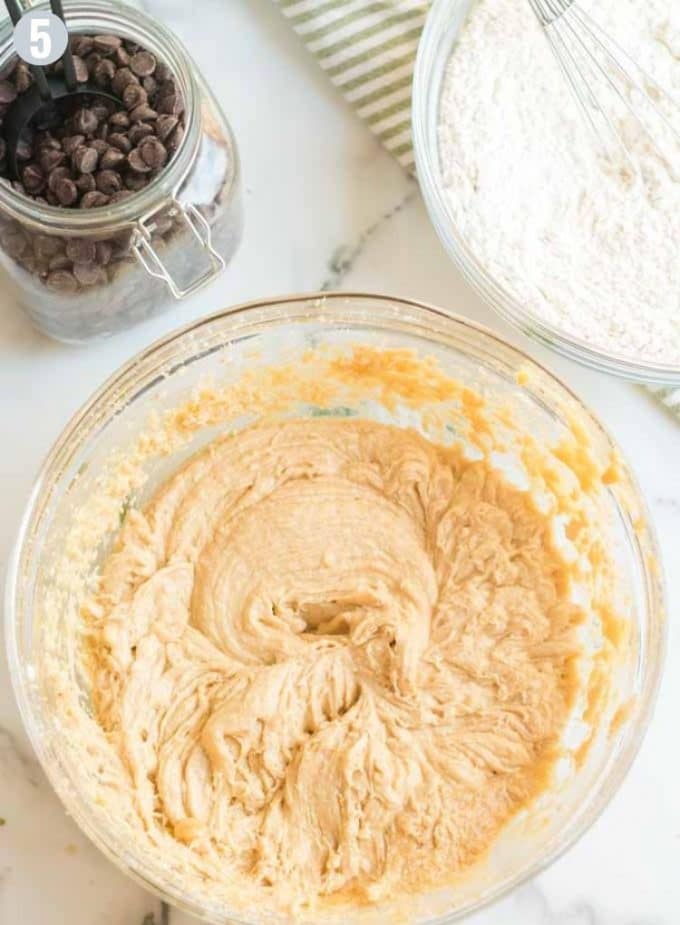 5. The chocolate chip cookie dough should have a consistency of medium-thickness. Creamy but shapable.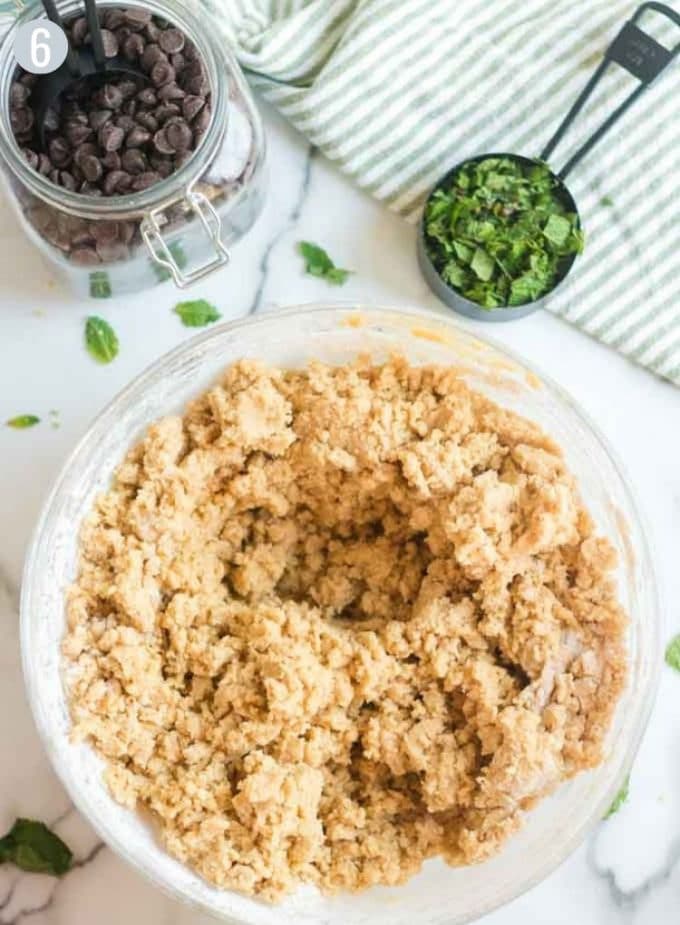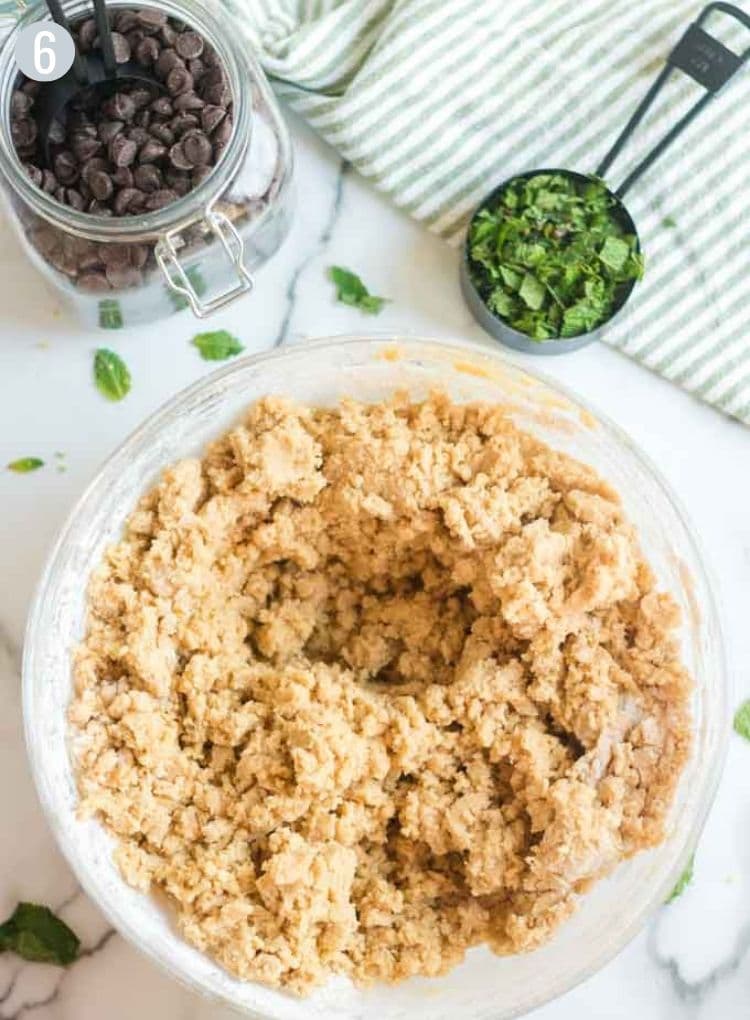 6. Finely chop about a half of a cup of fresh mint leaves.
Be sure to wash and rinse the mint before chopping it.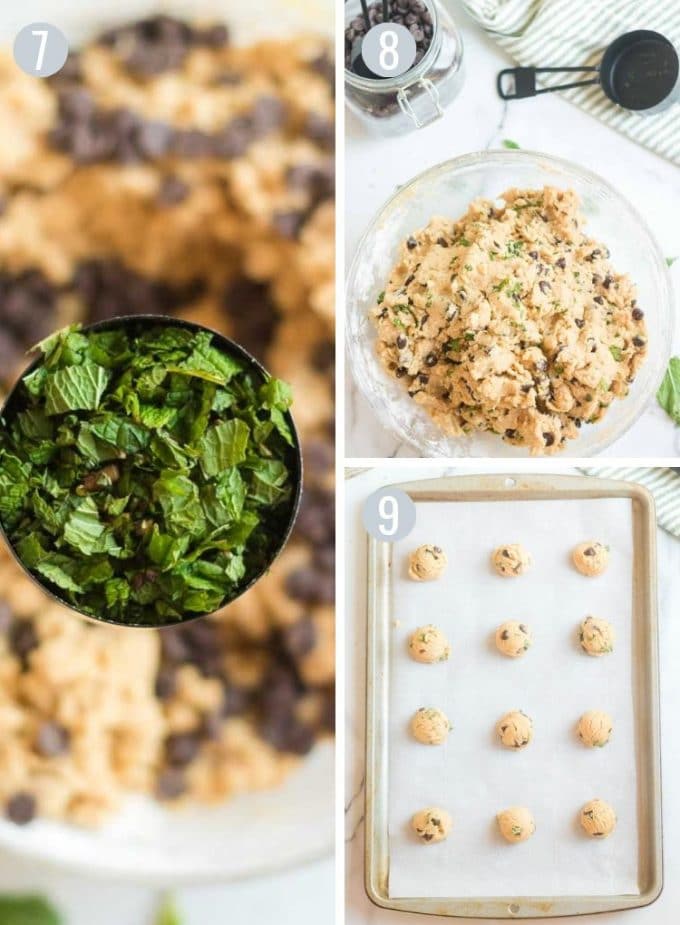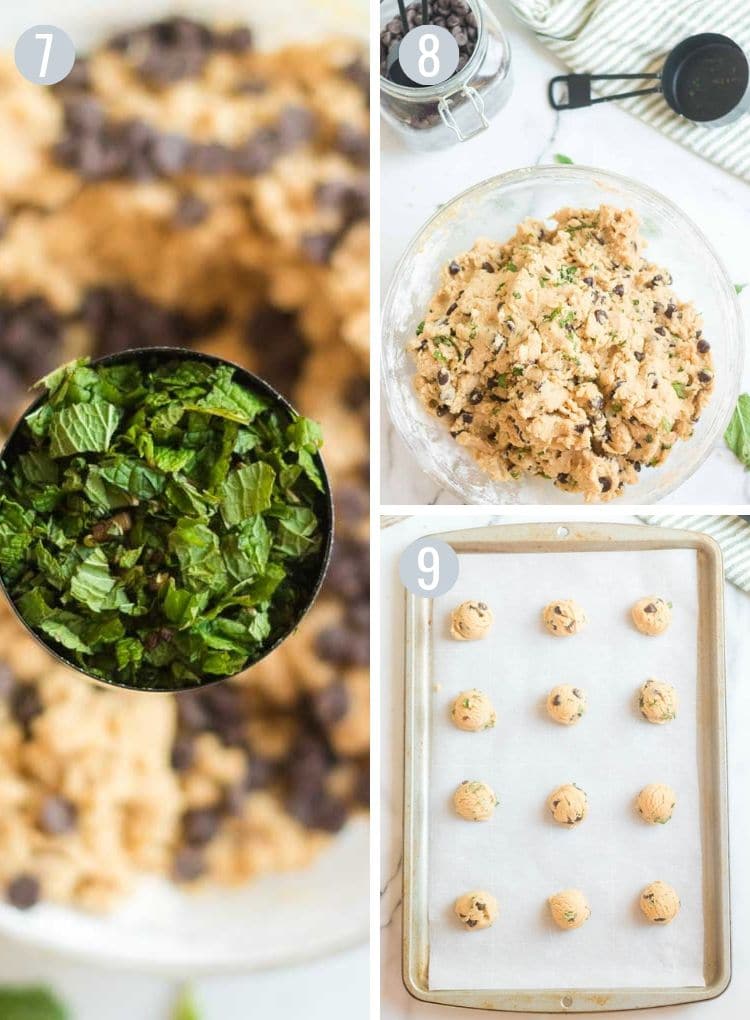 7. Stir in the chopped fresh mint leaves, along with the chocolate chips.
8. Mix the cookie dough one more time, being sure that the chocolate chips and mint are well distributed.
9. Round the dough into teaspoon-sized portions and place them on a parchment paper-lined baking sheet.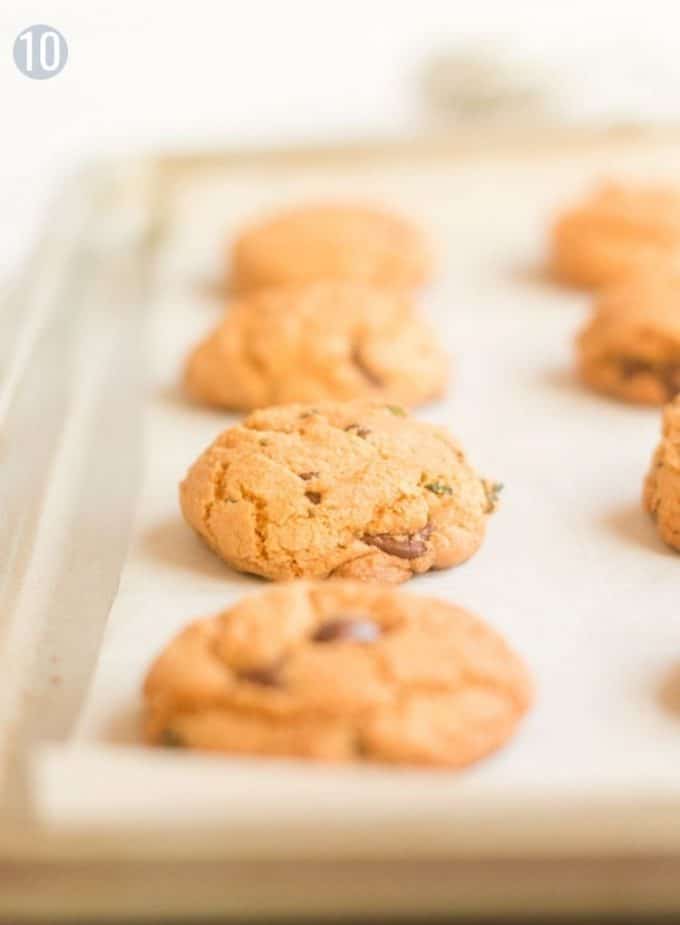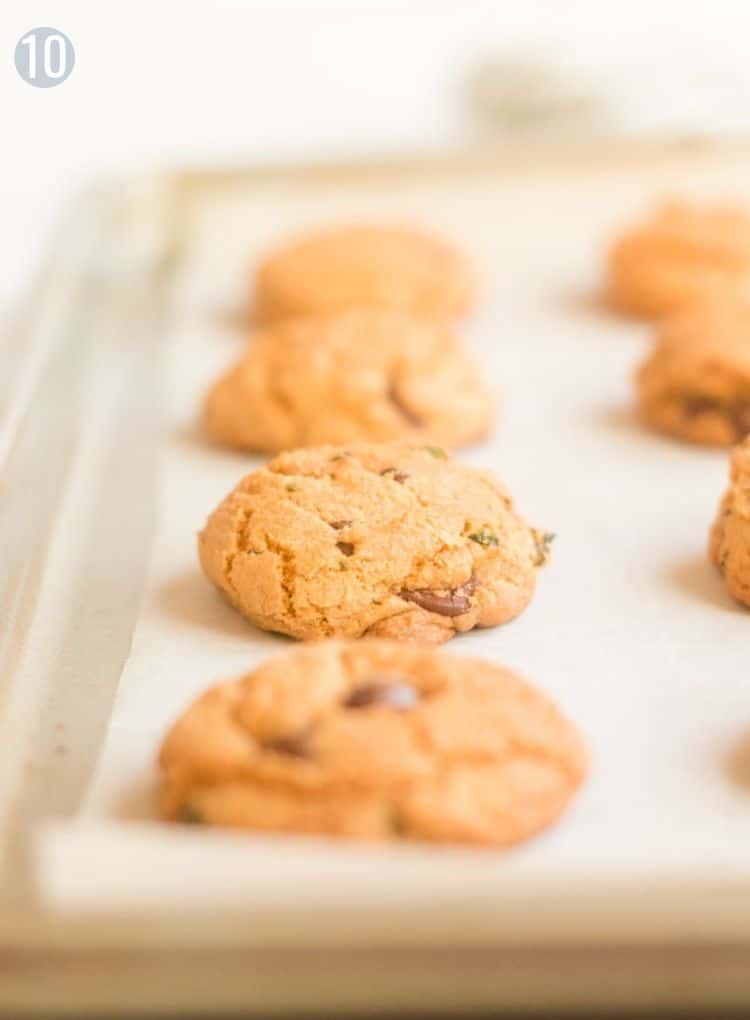 10. Bake on the center rack of your oven for 15 to 18 minutes, until golden brown.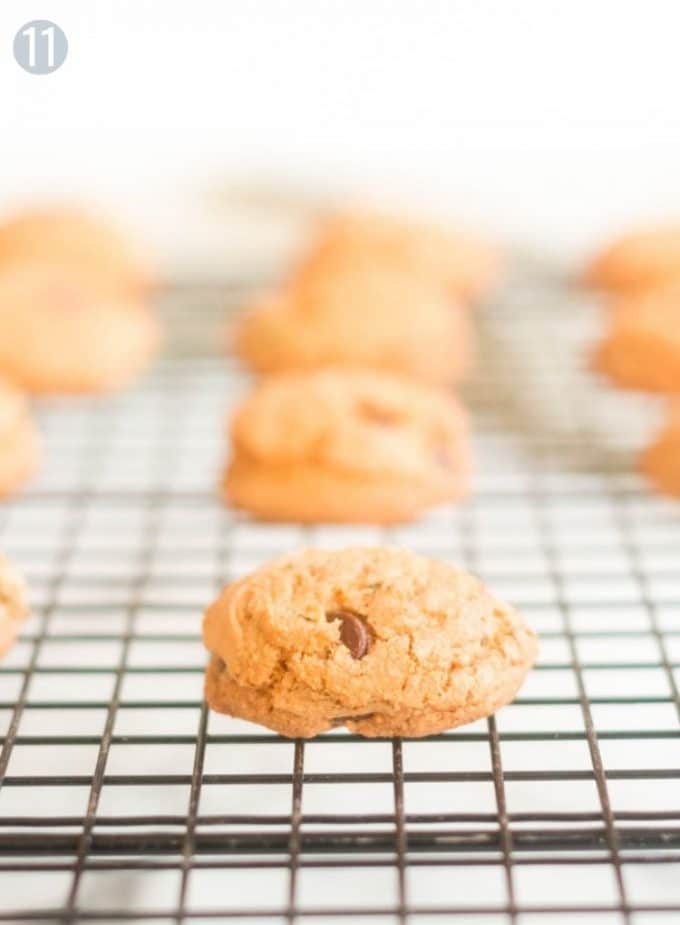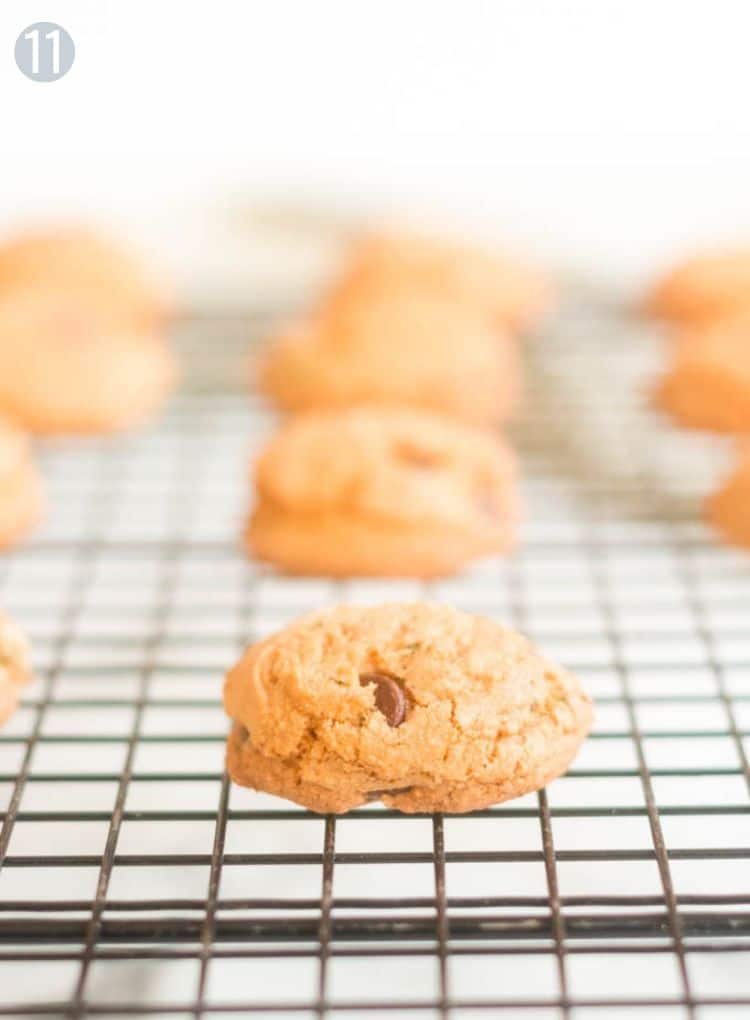 11. Transfer to a wire cooling rack and allow to cool for a few minutes.
For a fast and easy transfer of cookies, just slide the entire sheet of parchment paper to the cooling rack, with the cookies still on it.
The most important step for any chocolate chip cookie recipe.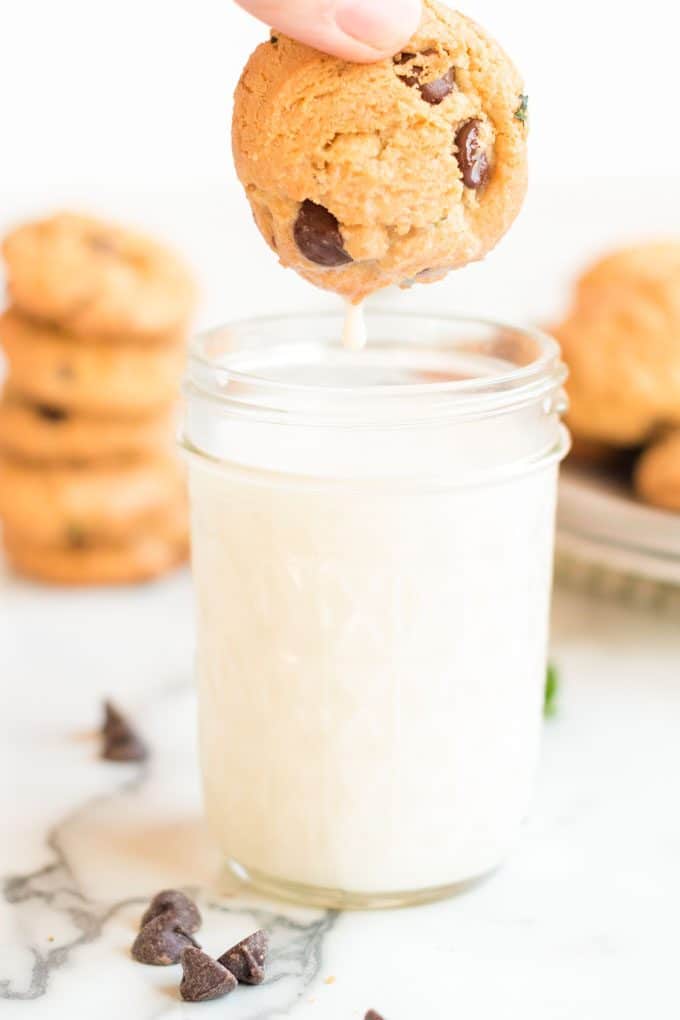 Are you a dunker?
I find dunking to be life-changing.
Like a good massage. Or a perfect glass of lemonade.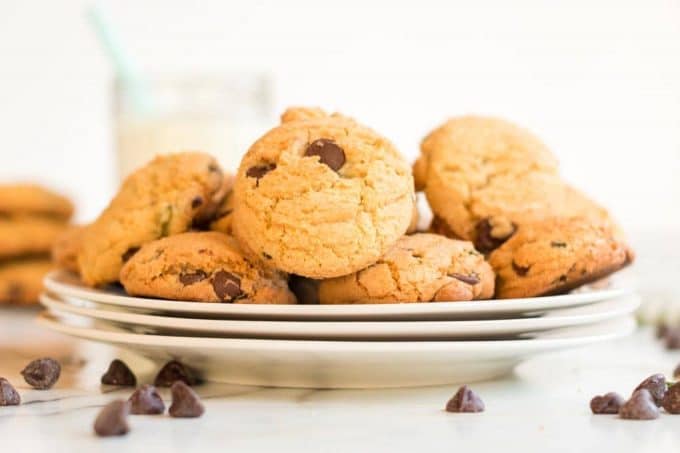 I had a second and powerful motive for putting this easy cookie recipe together.
My KitchenAid stand mixer had been inoperative for over a year.
It seems the worm gear had broken or rather functioned properly in its act of self-sacrifice to save the main motor, exactly what it's meant to do under heavy stirring conditions.
Here is a short video that I put together to explain to you how to use a KitchenAid stand mixer when making a dough.
Finally, there was another motive for making these cookies yesterday afternoon.
Our boys.
I can't recall the last time I've made cookies, something I am frequently reminded of by our constantly coming and going troop of six who have given us serious consideration of erecting a small barn to grow livestock and the such to help fuel these guys.
Enjoy and live well. Leave me a comment below and let me know your thoughts on these fresh mint chocolate chip cookies.
Other delicious cookie recipes
You can also FOLLOW US on FACEBOOK, INSTAGRAM, and PINTEREST to see what we have cooking!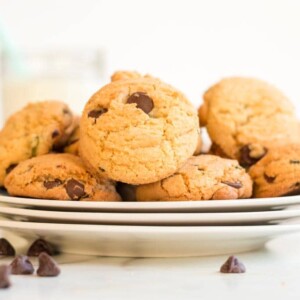 Mint Chocolate Chip Cookies
This chocolate chip cookie recipe uses fresh mint leaves for that classic flavor paring of chocolate and mint.
Ingredients
5

cups

all purpose flour

1 1/2

cup

white sugar

1 1/2

cup

brown sugar

1/2

cup

butter

1/2

cup

shortening

4

large eggs

2

teaspoons

baking soda

2

tablespoon

vanilla

1

teaspoon

salt

12

oz

semi-sweet chocolate chips

1/2

cup

fresh mint leaves

,

finely chopped
Instructions
Cream shortening, butter, and sugars in large
mixing bowl. Add eggs and vanilla and thoroughly mix. In a separate
bowl, combine flour, salt, and baking soda, mix well.

Gradually add flour mixture to moist ingredients and blend in chocolate chips and
mint. Mix thoroughly.

Place well rounded teaspoon-size cookie dough portions on baking sheet and bake 15 to 18 minutes until golden brown.


Allow to cool for 3 to 5 minutes then dunk immediately in milk. Place well rounded teaspoon-size cookie dough portions on baking sheet and bake 15 to 18 minutes until golden brown.

Allow to cool for 3 to 5 minutes then dunk immediately in milk.
Notes
Use quality ingredients. I recommend

Ghiradelli chocolate chips

. They are pure chocolate without waxy additives and other synthetic and taste-leeching ingredients.
Use quality ingredients. I recommend

King Arthur Flour

. When you decide to get serious about what's going in your oven, King Arthur is the way to go.
Play with the recipe. Originally, I used about 1/4 cup of the chopped mint. I wanted to err on the side of too little thinking that more can be added in subsequent batches. To this end, I recommend 1/2 cup of freshly chopped mint leaves, as listed in the ingredients.
It's never a bad idea to make a "test" cookie. This gives you the opportunity to evaluate consistency, size, temperature, etc. etc. It also gives your kids a chance at sneaking one in early.
I almost always use a

pizza stone

for baking cookies. This helps ensure an even distribution of heat and enhance carry-over baking. A lot of times, to help prevent the cookies from being over-done, I'll take them out of the oven a couple of minutes early, and the baking stones do a nice job of subtly finishing the process.
Nutrition
Calories:
145
kcal
,
Carbohydrates:
21
g
,
Protein:
2
g
,
Fat:
6
g
,
Saturated Fat:
3
g
,
Cholesterol:
15
mg
,
Sodium:
95
mg
,
Potassium:
57
mg
,
Fiber:
1
g
,
Sugar:
13
g
,
Vitamin A:
82
IU
,
Vitamin C:
1
mg
,
Calcium:
13
mg
,
Iron:
1
mg
Nutrition information is automatically calculated, so should only be used as an approximation.
Updated from the original post of April 24, 2013