Herb Pork Pinwheels with Apple Butter and Chevre
on Oct 20, 2015, Updated Oct 15, 2021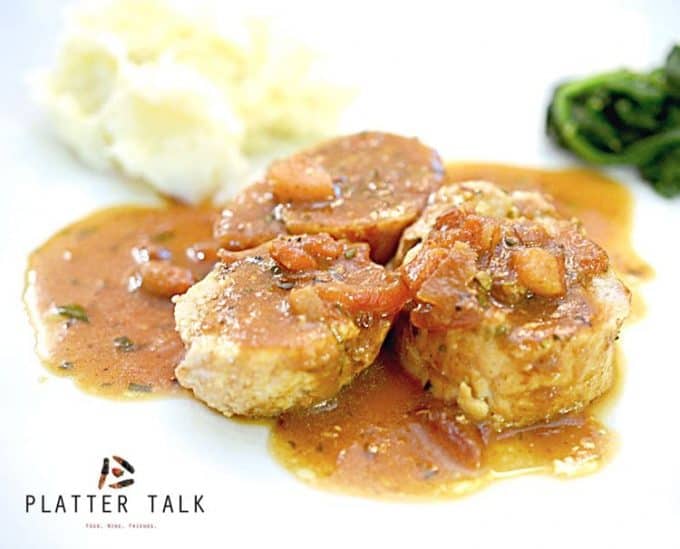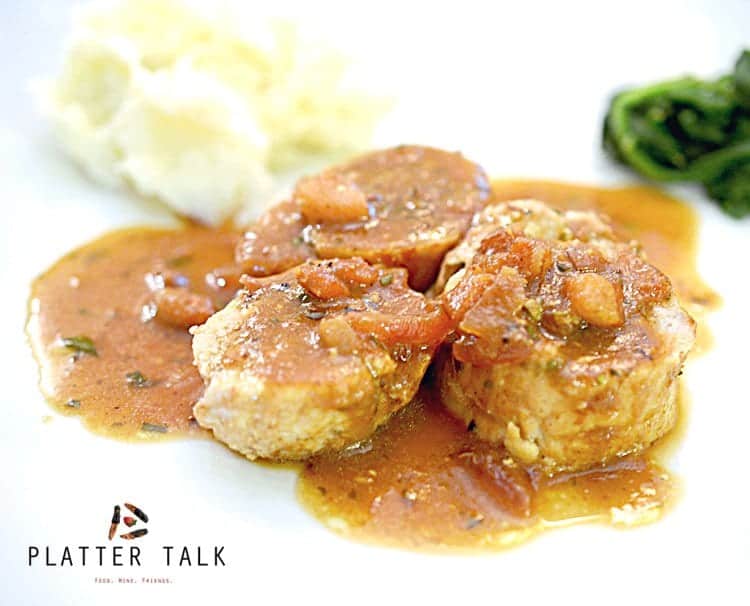 Herb Pork Pinwheels with Apple Butter and Chevre– are easy enough to make for a simple weekday meal but elegant enough to serve at your next dinner party.
Herb Pork Pinwheels with Apple Butter and Chevre
Well, you know my M.O. by now. I use what I have on hand when making dinner for the family. True to form, this past weekend while cleaning out our freezer at our little cottage in the middle of Nowhere, Wisconsin, I stumbled across a pack of boneless pork chops. Those pork chops then made the journey back to our home in town and were destined to become a meal for the work week. However, what that meal was going to be I wasn't certain. Then on Monday, while sitting in the 2nd two hour meeting of the day, it hit me. I knew that I was going to try and create a new recipe and it was going to be Herb Pork Pinwheels with Apple Butter and Chevre.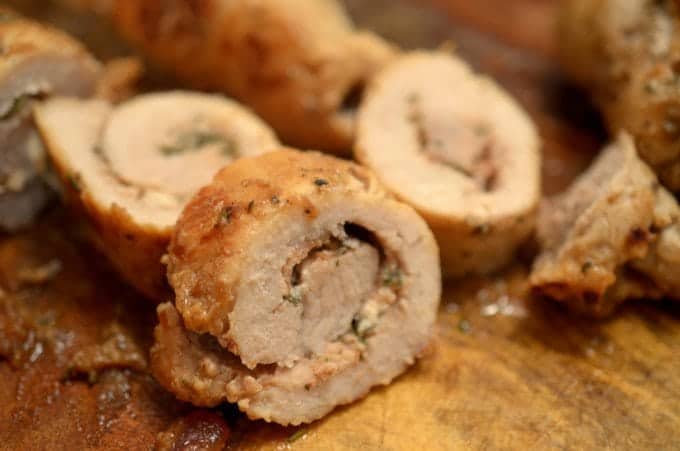 It was if a light bulb went off in my head….use flavors of the fall season. We already had apple cider in the refrigerator and the delicious apple butter that Dan had made the week before. This would be a great start. Wanting to bring a depth of flavor, one of my favorite cheeses was introduced, chevre, goat cheese. The flavors of the apple and goat cheese paired beautifully. Without giving it another thought, the addition of some fresh herbs were added and a sauce was then created. This meal spoke to me and Herb Pork Pinwheels with Apple Butter and Chevre almost created itself. Did I mention how easy was to put together? If I didn't….it's a snap.
Next time you have some pork chops that you don't know what to do with, think outside of the box and try something round….Herb Pork Pinwheels with Apple Butter and Chevre. Whether you are making this for your family or for your friends, they will all ask for more. Enjoy! -Scott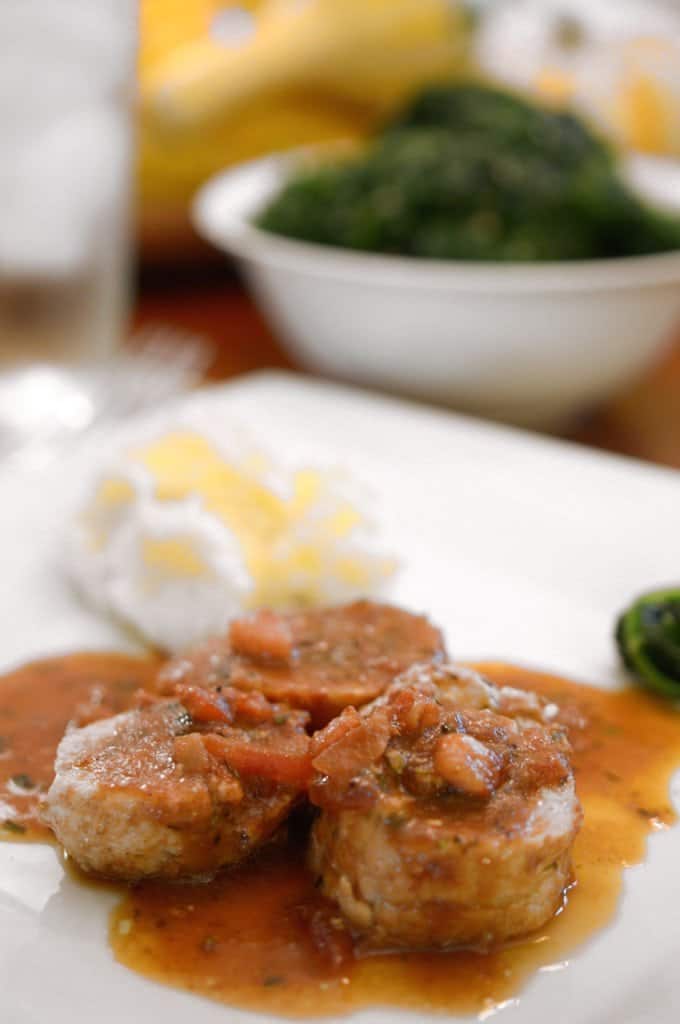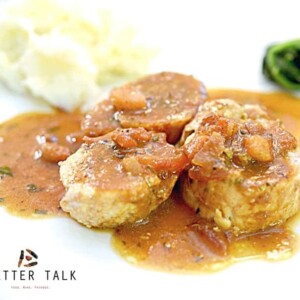 Herb Pork Pinwheels with Apple Butter and Chevre
delicious pork pinwheel with apple butter
Ingredients
4

Boneless Pork Chops pound thinly

2

Tbs

Fresh Rosemary finely chopped

2

Tbs

Fresh Thyme finely chopped

2

oz

Goat Cheese

1/4

cup

diced red onion

1

oz

Diced Pancetta

1/2-3/4

cup

Apple Butter

2

Tbs

Apple Cider Vinegar

1/4

cup

Apple Cider

1/4

Beef Broth

2

Tbs

Olive Oil

1/4

tsp

ground nutmeg

Salt and Pepper

kitchen twine
Instructions
Preheat oven to 350 degrees.

Using the flat side of a meat tenderizer, pound pork chops to a thin flat consistency.

Season each pork chop with salt and pepper and a pinch of rosemary and thyme.

Spread a layer of apple butter over the pork.

Crumble a little of the goat cheese down the center of each pork chop.

Starting from the long end of the pounded pork, roll to the other end of the pork.

Cut 12 pieces of kitchen twine to appropriate lengths (twine needs to fit around the pork).

Using 3 of the cut pieces of twine, tie one piece of twine around each end and around the middle of the pork to keep the pork from unrolling while cooking.

On the stove heat olive oil in a skillet over medium high heat.

Place rolled pork in the skillet and brown each side (about 5 minutes total).

Remove pork and set aside.

In the same skillet, add onion and pancetta.

Cook until onions are tender and pancetta has taken on color.

Add apple cider vinegar and scrape bottom of the skillet clean.

Stir in apple cider, beef broth, remaining apple butter, remaining rosemary and thyme, remaining goat cheese and nutmeg to skillet.

Cook until goat cheese has melted and is incorporated into the sauce.

Add pork rolls back to skillet.

Place a lid on the skillet and put into preheated oven.

Cook until pork is cooked thoroughly (about 10 to 15 minutes depending on thickness of roll.

Remove kitchen twine prior to serving.

Cut pork into rounds and serve with sauce.
Nutrition
Calories:
407
kcal
,
Carbohydrates:
17
g
,
Protein:
33
g
,
Fat:
22
g
,
Saturated Fat:
7
g
,
Cholesterol:
101
mg
,
Sodium:
243
mg
,
Potassium:
561
mg
,
Fiber:
1
g
,
Sugar:
14
g
,
Vitamin A:
146
IU
,
Vitamin C:
1
mg
,
Calcium:
34
mg
,
Iron:
1
mg
Nutrition information is automatically calculated, so should only be used as an approximation.