Sage & Apple Butter Pasta Sauce with Gnocchi
on Nov 07, 2014, Updated Oct 13, 2021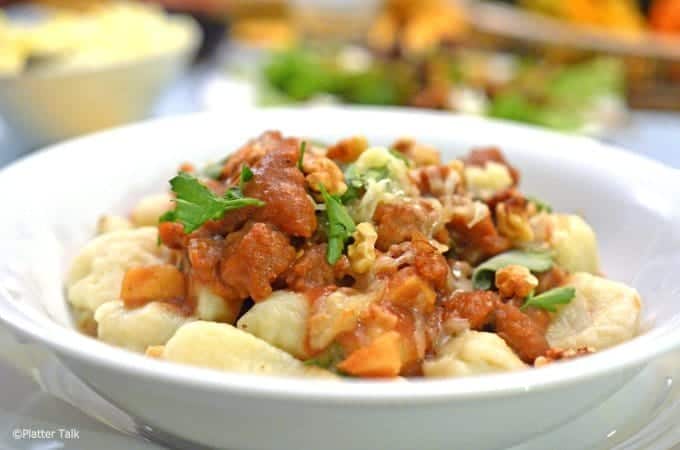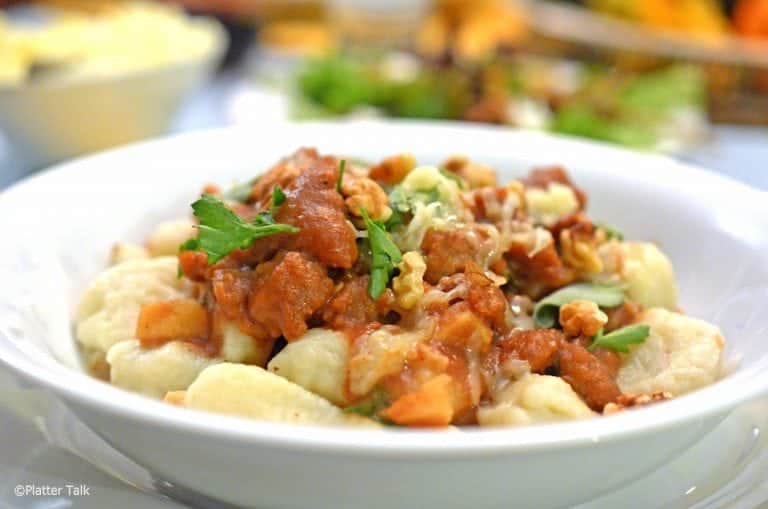 I have a couple of friends who are kitchen masters. Not professionally, per se, yet they are every bit as good or indeed more talented than many of those who have prepared for me and then charged a veritable king's ransom for something that really wasn't "all that." I'm talking raw talent, passion, and a natural aptitude for creating culinary goodness. Lucky for me I'm married to one of those types of people and furthermore I'm good friends with a couple of other such marvels who live just a few miles from us. Aside from their talent and friendships that I treasure, each one of my foodie friends provide me with something I can never get enough of, inspiration. Imagine my delight when just the other day, the husband of one of them delivered to me a small truckload of freshly made gnocchi. Not immediately sure what I was going to do with it, I gave it a day to contemplate. The wait was more than worth it and this was the result: Sage & Apple Butter Pasta Sauce with Gnocchi.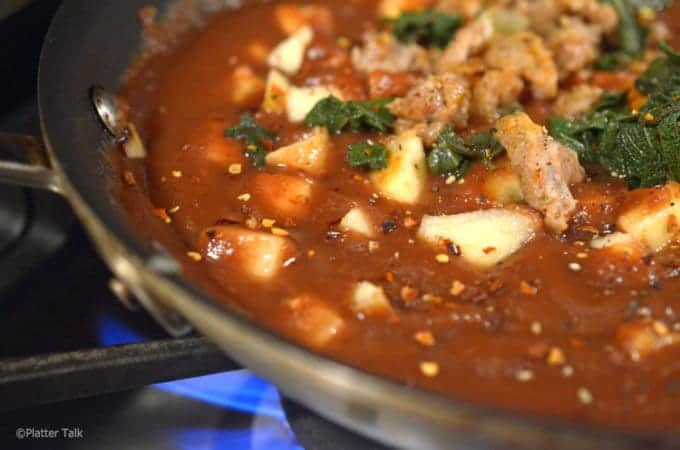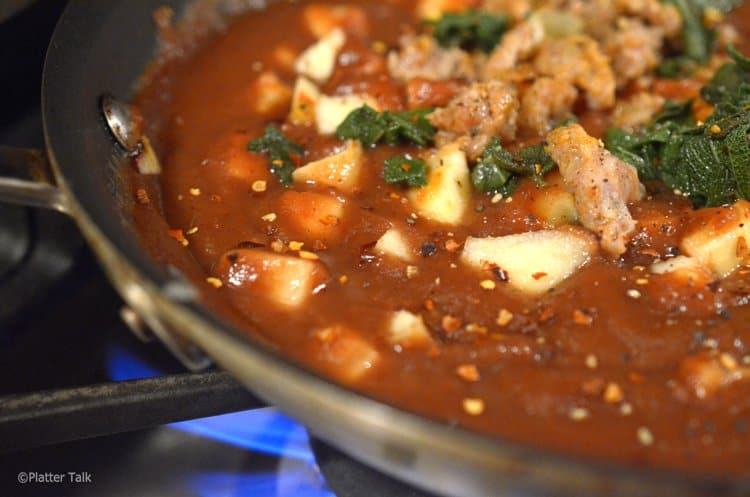 It seems that by mid-afternoon on the second day of my possession of this homemade gnocchi that was so generously gifted to me, my thoughts had returned to the recurring theme on which we have been focusing lately here on Platter Talk: Apple Butter. We've been so focused on Apple Butter over the past few weeks we decided to try making our own. I'm going to go ahead and toot my own horn here and just put it out there.; Our Apple Butter is the best I've ever tasted.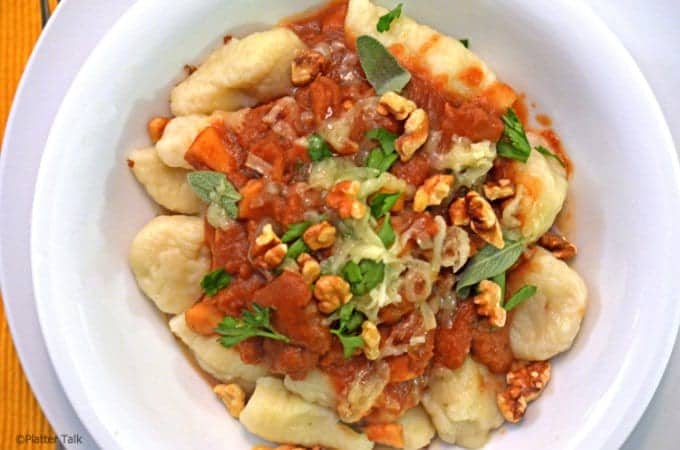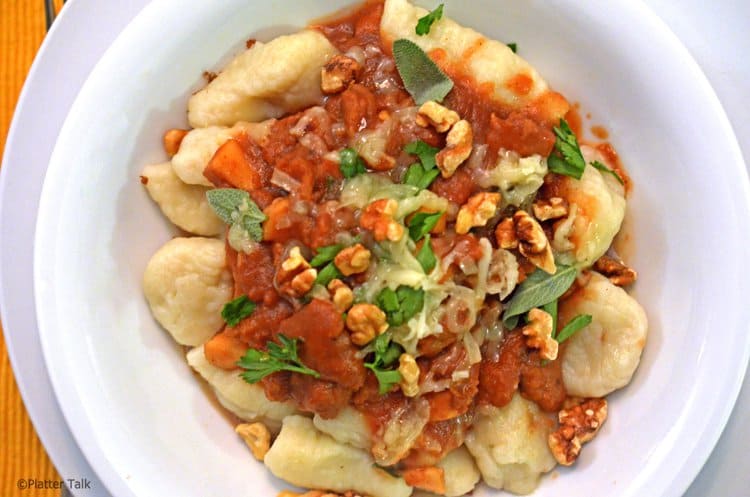 "What would this gnocchi taste like with an apple butter base?" I asked myself. I can't remember ever having an apple based sauce for pasta or the such. After this evening's meal I won't be able to forget it. Ever.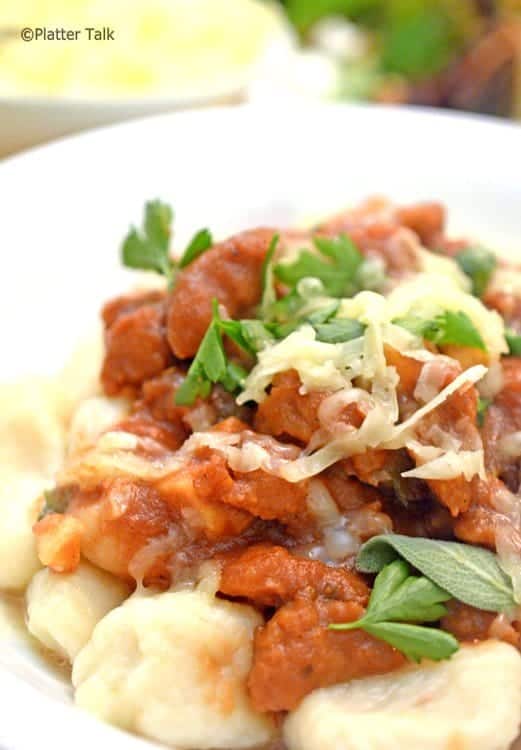 We browned some sweet, savory Italian sausage, incorporated some cream and a splash of Chardonnay, and then supplemented with some fresh butter-softened sage leaves, fresh apple cider, and a dash of crushed red peppers. Toasted walnut pieces and the addition of a coarsely cut honey crisp apple thrown into the sauce helped cover all bases providing for a rich, warm and savory sauce that was replete of all tings fall and comfort. The soft crunch of the apple along with the other flavors that stimulated my palate, end to end and side to side, all combined to make for a taste sensation that was second to none. If you don't have gnocchi, this savory autumn sauce would be suitable for pasta, pork, or even spaghetti squash. If you don't have foodie friends, find some. Happy fall. -Dan
Other delicious entrees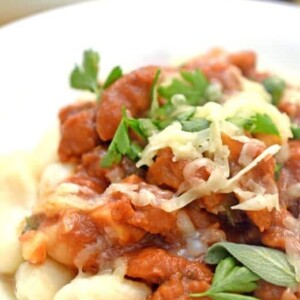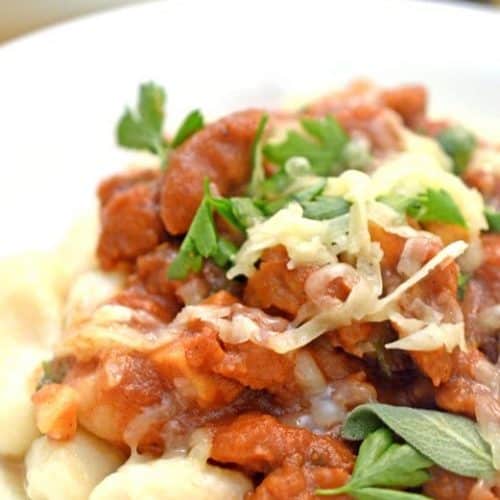 Sage & Apple Butter Pasta Sauce with Gnocchi
A Platter Talk Exclusive
Ingredients
8

oz.

sweet Italian sausage

1/2

medium sized shallot

,

coarsely chopped.

1

tablespoon

unsalted butter

10-12

sage leaves

,

washed, patted dry, coarsely torn. Plus more for garnish if desired.

2

cups

apple butter

1/2

cup

heavy cream

1/3-1/2

cup

fresh apple cider

1

splash

,

2-3 tablespoons Chardonnay

1

dash crushed red peppers

fresh black peppercorn

,

to taste

1

large honey crisp apple

,

peeled, cored, and coarsely diced.

1

tablespoon

chopped Italian parsley leaves. Plus additional for garnish if desired.

1/4

cup

toasted walnut pieces

grated Havarti cheese for topping
Instructions
Using large skillet, brown sausage over medium heat.

Midway through browning process, add shallot and sauté till soft and translucent and sausage fully browned. Remove from heat and set sausage and shallot mixture aside.

Using same skillet, over low heat melt butter and add sage. Stir and sauté gently for about 2 minutes, do not overcook, remove from heat and set aside sausage mixture.

Using same skillet, over medium-low setting, heat apple butter. Add cream and slowly but thoroughly stir until homogenous.

Add wine and cider and stir in.

Add sausage, shallots, and sage to sauce.

Stir in crushed red peppers, black pepper, and parsley leaves.

Add apple and continue to stir over low heat.

Prepare gnocchi as directed.

Serve in warm bowls, top with toasted walnuts and grated Havarti.

Garnish with optional sage and Italian parsley if desired.
Notes
Adjust consistency of sauce with cream, wine, or cider, as the sauce cooks and you are preparing the gnocchi.
Salad suggestion: Mixed greens with sautéed fennel, tasted walnuts, and crumbled goat cheese,j topped with an aged balsamic vinaigrette.
Nutrition
Calories:
674
kcal
,
Carbohydrates:
72
g
,
Protein:
12
g
,
Fat:
38
g
,
Saturated Fat:
16
g
,
Cholesterol:
95
mg
,
Sodium:
480
mg
,
Potassium:
405
mg
,
Fiber:
4
g
,
Sugar:
57
g
,
Vitamin A:
746
IU
,
Vitamin C:
6
mg
,
Calcium:
86
mg
,
Iron:
2
mg
Nutrition information is automatically calculated, so should only be used as an approximation.