Garlic and Basil Shrimp over Angel Hair Pasta
on Sep 05, 2014, Updated Nov 02, 2021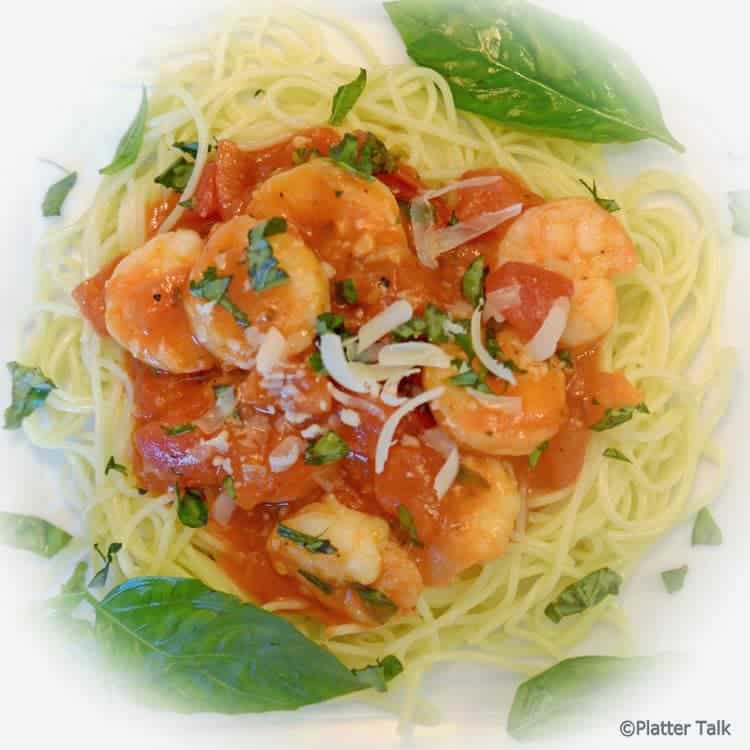 For many years the only pasta that I would eat was the classic spaghetti with a hamburger tomato sauce. You know the kind that I am talking about. My mom, as I am sure that your mom did as well, made this almost every week. We grew up on this meal and myself and my six brothers and sisters loved it. As I have grown older, my palate has grown as well. Don't get me wrong, I will happily eat a big plateful of the good old fashioned pasta any day of the week. But sometimes, I want to mix it up a bit and put a new twist on this age-old favorite.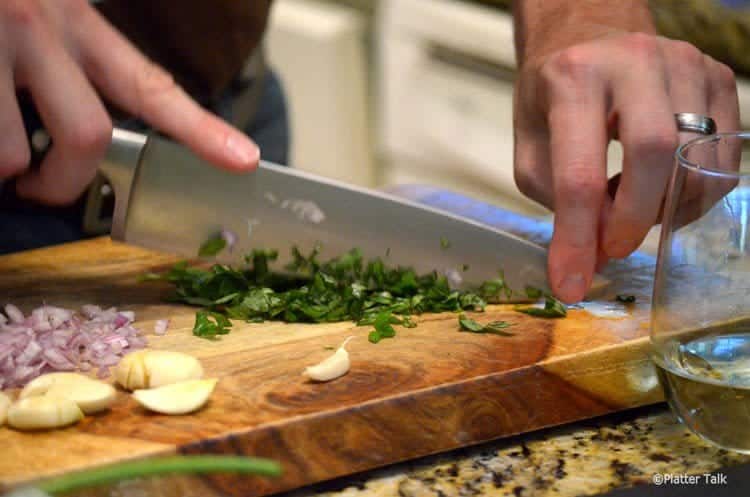 As I was walking through the supermarket the other day, I passed the meat counter. The friendly butcher asked if I needed anything and that's about the moment that I spotted some beautiful shrimp on sale. I quickly asked for a pound of those curled beauties, not knowing what the end result would be. The newly found treasure was placed in the cart and I continued on my way. Without a conscious effort, I started to place in my basket the makings of a fabulous meal: Fresh basil, garlic, shallots, Italian diced tomatoes, and angel hair pasta.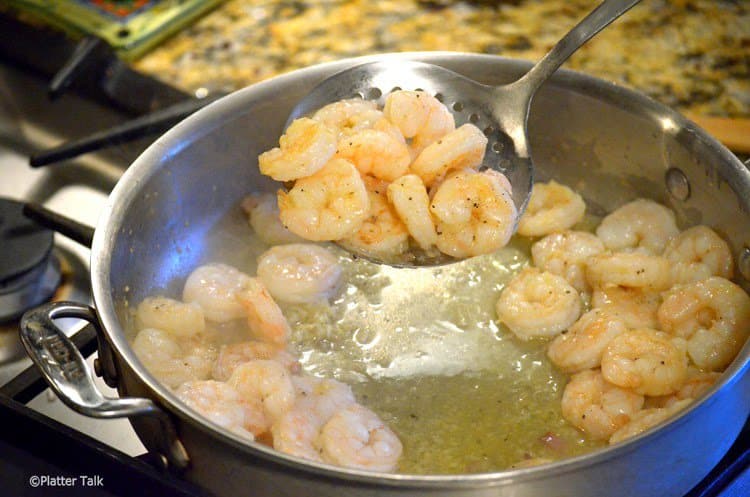 When I got home, I opened up a bottle of our favorite white wine and went right to work on this simple dinner. While I have never made this meal before, I knew that it would be delicious. How could it not with all of these fresh ingredients? As the shallots and garlic sautéed, Dan's interest was clearly peeked. Just before meal times, our children often ask, "What's cooking and when will dinner be ready?" It was only a matter of a few short minutes that Dan started to sound like one of our boys – not that I minded. True to form and before I knew it, his camera appeared and a Platter Talk post was born.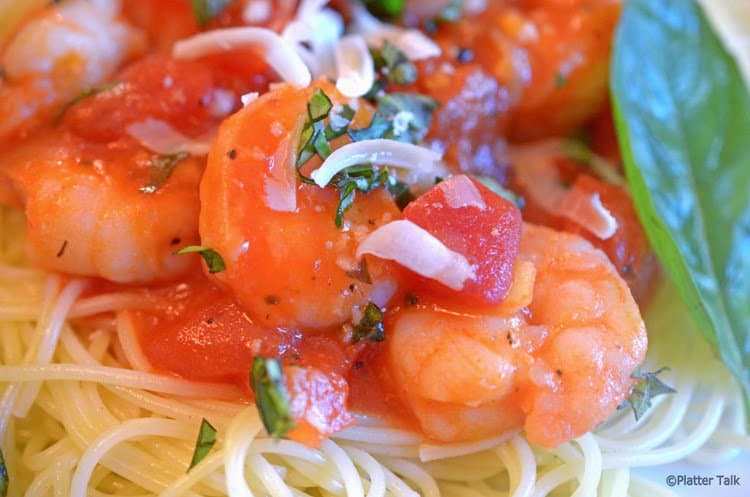 A glass of wine for the cook and another for his best friend and life partner. Great conversation began and the house filled with wonderful aromas. This meal went together quickly, but the indelible evening that we shared will remain in our memories for a long time to come. -Scott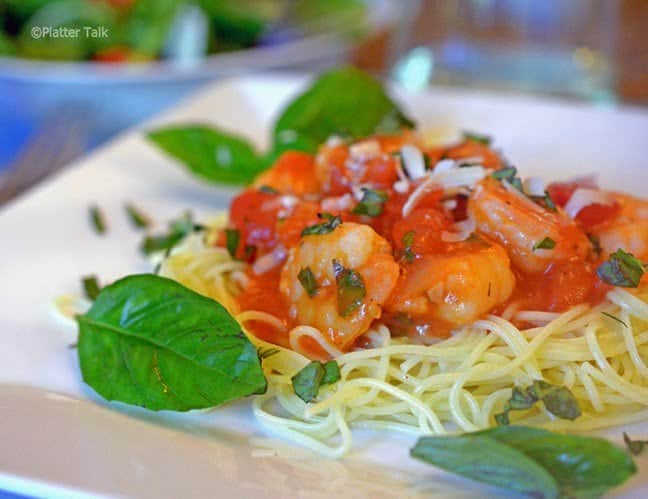 Other delicious pasta recipes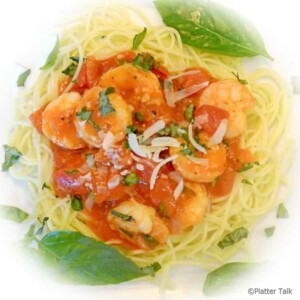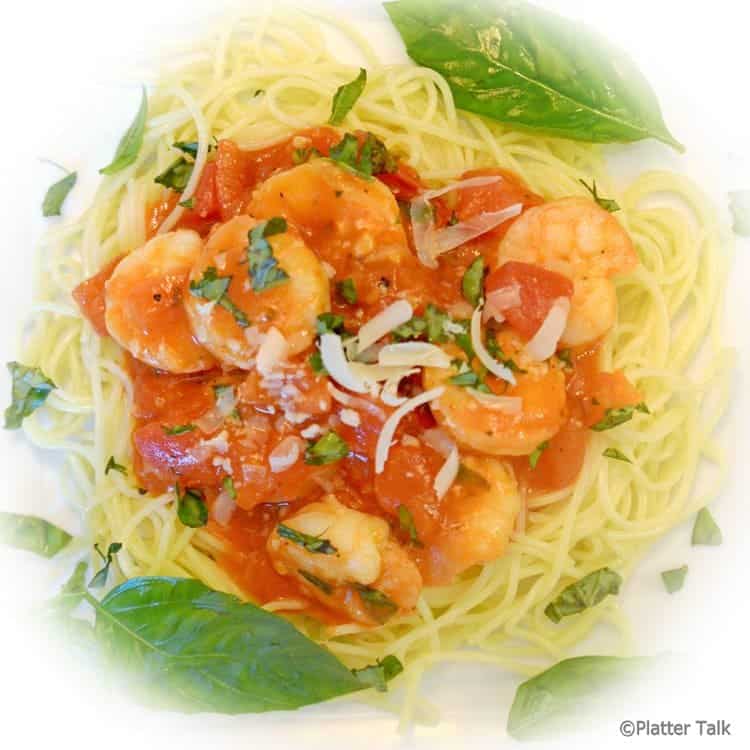 Garlic and Basil Shrimp over Angel Hair Pasta
Sauteed shrimp basked in fresh basil and a light marinara.
Ingredients
1/4

cup

Olive Oil

4

Garlic cloves finely chopped

1

small shallot finely chopped

1

lb

raw shrimp cleaned and deveined

1 28

oz

Diced Italian tomatoes

1/4

cup

fresh basil chopped

3

oz

tomato paste

1/2

cup

white wine

salt and pepper to taste

grated Parmesan cheese for garnish

Angel hair pasta
Instructions
Over medium heat, add olive oil to a saute pan.

Place the garlic and shallots in pan and cook for approximately 2 to 3 minutes. Make certain to stir the garlic and shallots so that they will not burn.

Add shrimp and cook for 3-5 minutes.

When shrimp have firmed and become slightly pink, remove from the pan and place to the side.

Stir into the pan the tomatoes, tomato paste, basil, white wine and salt and pepper.

Cook for approximately 8 -12 minutes. Your sauce should slightly thicken.

Place the shrimp back in the pan and allow to reheat for 2-3 minutes, or until the shrimp are warm.

In a stock pot, cook angel hair pasta according to directions on the box.

When the angel hair pasta is cooked, strain in a colander and rinse with cold water.

Plate the pasta and sauce and garnish with Parmesan cheese and some additional chopped basil.
Nutrition
Calories:
914
kcal
,
Carbohydrates:
84
g
,
Protein:
62
g
,
Fat:
32
g
,
Saturated Fat:
5
g
,
Cholesterol:
572
mg
,
Sodium:
2274
mg
,
Potassium:
1838
mg
,
Fiber:
9
g
,
Sugar:
20
g
,
Vitamin A:
4231
IU
,
Vitamin C:
77
mg
,
Calcium:
412
mg
,
Iron:
9
mg
Nutrition information is automatically calculated, so should only be used as an approximation.