Spaghetti Pie Casserole with Homemade Sauce
on Dec 29, 2016, Updated Jan 01, 2021
Spaghetti Pie Casserole with Homemade Sauce is an easy to make family meal that will make a kitchen hero out of you.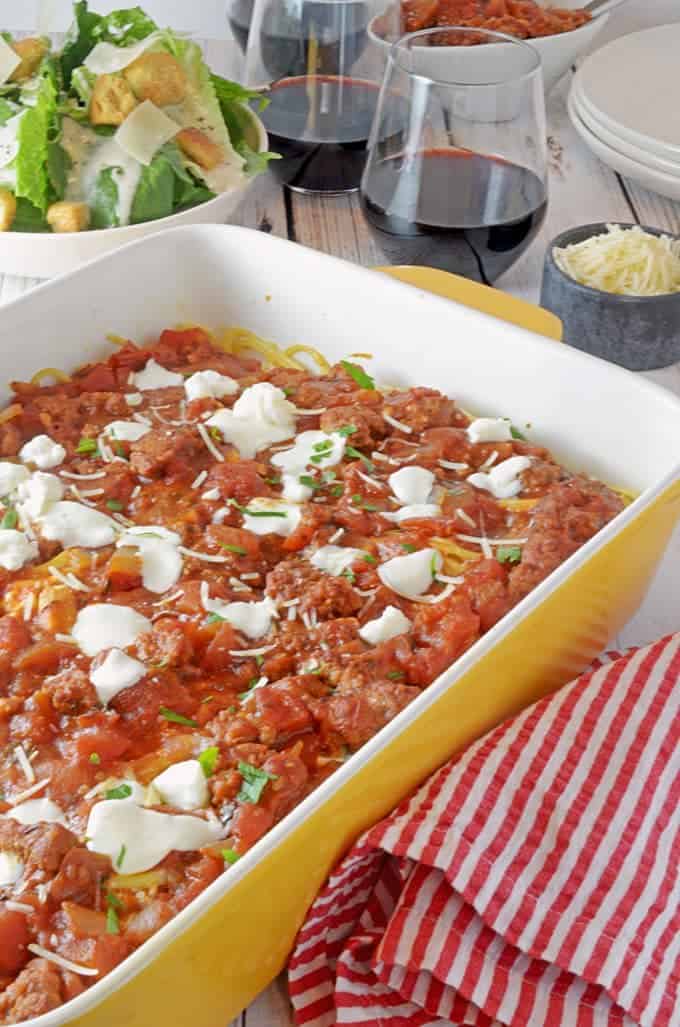 About this recipe
This Spaghetti Pie with Homemade Sauce starts with the sauce. A good spaghetti sauce takes hours to develop and by the same token, allowing it to gradually meld together overnight can make it even better.
Furthermore, don't be afraid to let your sauce spend the night in the refrigerator, prior to serving.

How to make the sauce
Using a dutch oven or skillet, brown 1 lb of ground beef or pork and then remove from pan with slotted spoon and set aside.

Sautée aromatics. For this recipe we used:

Onions

Garlic

Anchovy fillets

Seasoning

Caramelized tomato paste

Deglaze the pan with red wine.

Add chopped or crushed tomatoes, reserved meat, bring to low simmer and then Cover. Reduce the heat and finally let it meld baby!
Pro tip
One of the best spaghetti sauces I ever made had a pork bone in it. As the sauce cooked and developed over time, marrow and flavor leached from the bone, therefore giving depth and palpable structure to the sauce. I still get goosebumps when I think about that particular spaghetti sauce.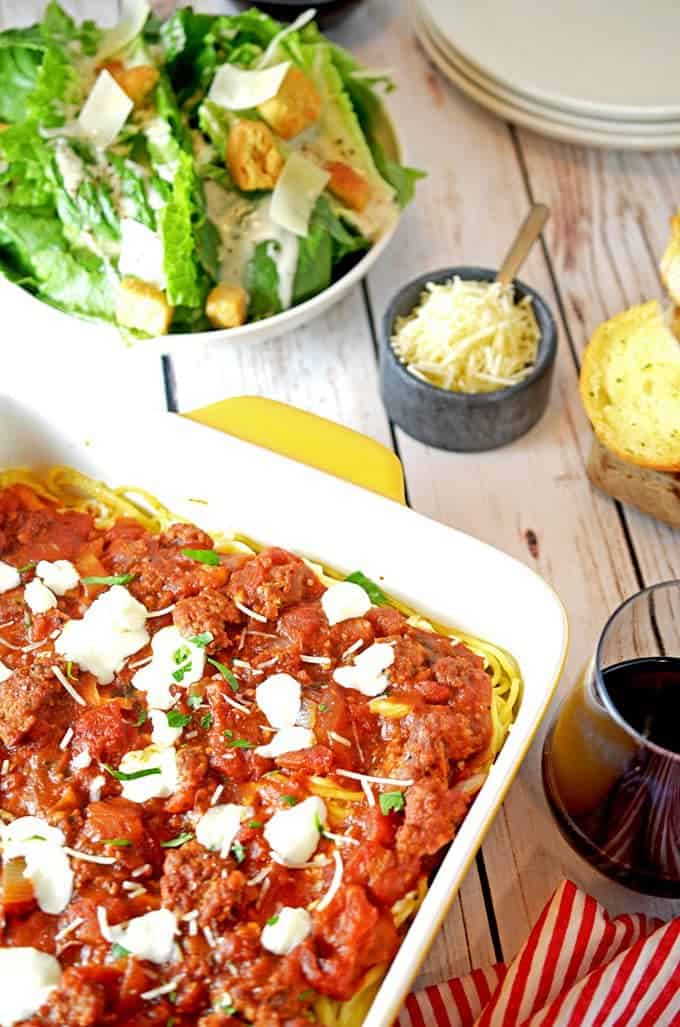 Spaghetti ranks high in the food preferences of our family and because of this it is a frequent flier on our dining room table. In fact, I dare say it is the number one favorite of at least half our six boys. Perhaps they get this trait from their dear old dad, since we are related!
I grew up eating my mom's spaghetti and homemade sauce. She didn't even know what canned sauce from the grocery shelf was, back in the day. Although her version wasn't necessarily classic
Italian by any stretch, it came from her and it was made with pure love, and her own canned tomatoes. She always used the fat spaghetti noodles and if only I could taste that meal from her just one more time.
My mom was robbed from us by the horrors of ovarian cancer, almost three decades ago. Although my sauce is nothing like hers, I know in my heart she would love it. While there's nothing better than good ole' fashioned spaghetti and meatballs, sometimes it's fun to put some fresh lipstick on an old classic.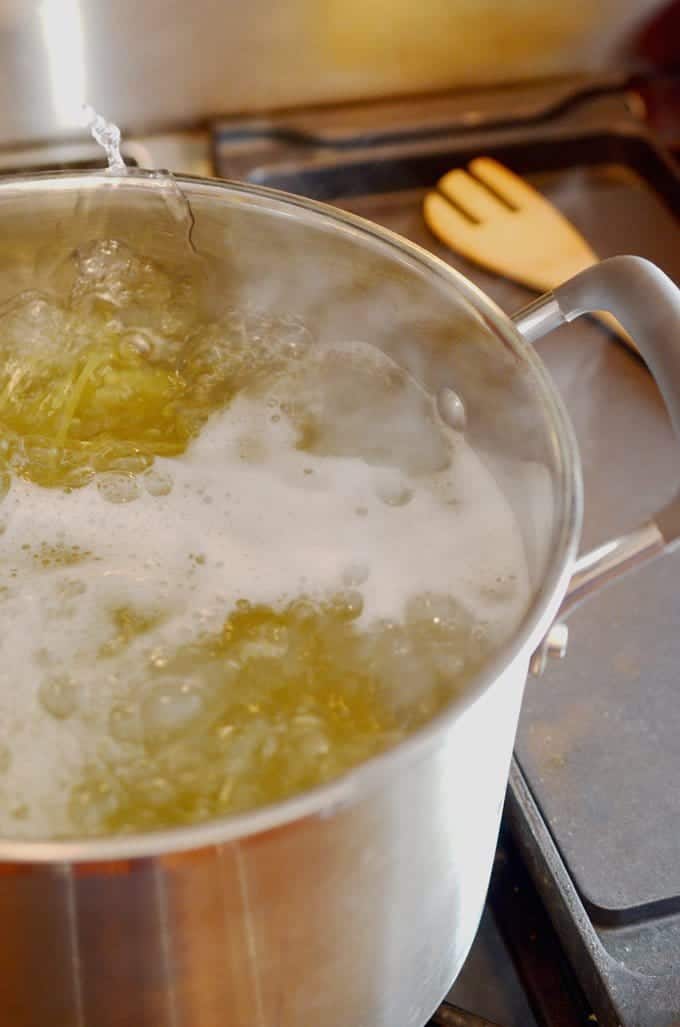 When cooking the spaghetti, you'll want take care not to overcook it. Since you want a firm (to the tooth – al dente) noodle you'll want to stay on top of it while it cooks. To achieve this, try a strand at the six minute mark, and then every thirty seconds thereafter.
By the way, do you add salt and oil to your water prior to boiling? I have good news for you from good authority that you can skip both of these kitchen myths. My good friend Paola, daughter of Italia and creator of our Viva Italian Series tells us that this practice is absolutely not necessary!
This Spaghetti Pie Casserole is full of ease and flavor. Although there are eggs in the recipe, it's not a classic carbonara.
To avoid cooking the eggs when mixed with the pasta, it's important that the spaghetti is cooled.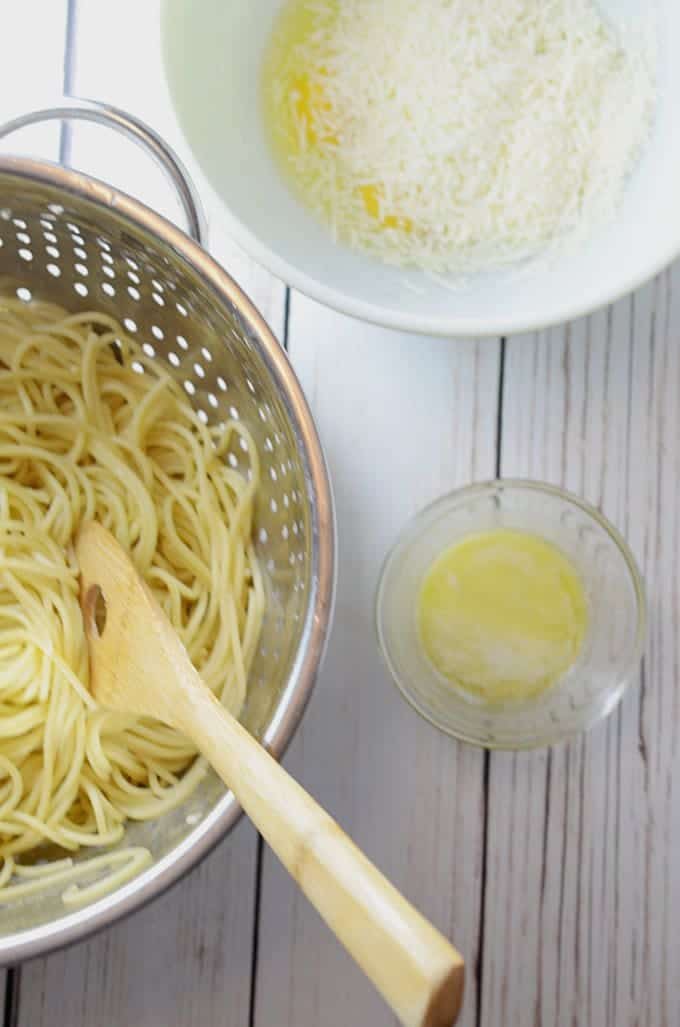 Once your sauce is ready and your pasta is prepared and blended, it's time to assemble this Spaghetti Pie Casseole. Just follow these four simple steps and soon dinner will be ready!

Blend the egg, butter, and cheese mixture together and then spoon a small amount of sauce into a greased casserole pan.

Add the spaghetti to the casserole pan while taking care to evenly distribute it. Add a cup or so of cottage cheese and use the back of a spoon to spread it evenly over the pasta.

Ladle the sauce over the cottage cheese layer while being sure to reserve some to serve with the finished dish.

Once you're at this stage, you can finally even sprinkle some fresh Mozzarella on the top layer.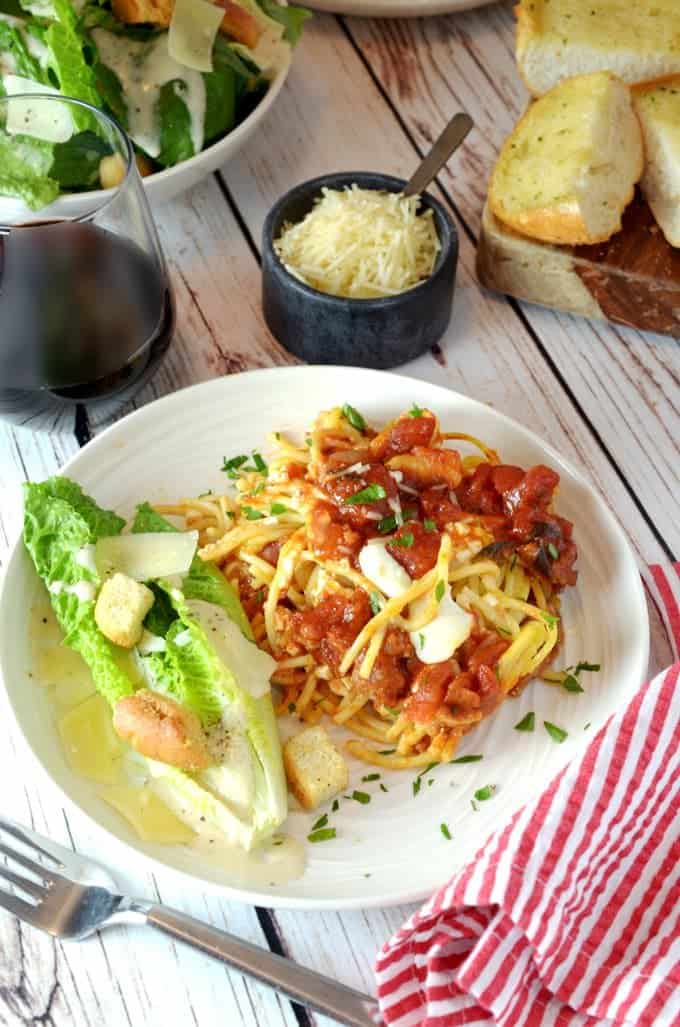 Although there's nothing better than good ole' fashioned spaghetti and meatballs, sometimes it's fun to put some fresh lipstick on an old classic.
Give this Spaghetti Pie Casserole with Homemade Sauce a try soon. As much as you may have loved your mom's spaghetti, It likely is nothing like hers. Still, I'd bet just about anything she would love it. Peace to you, and thanks for reading Platter Talk. -Dan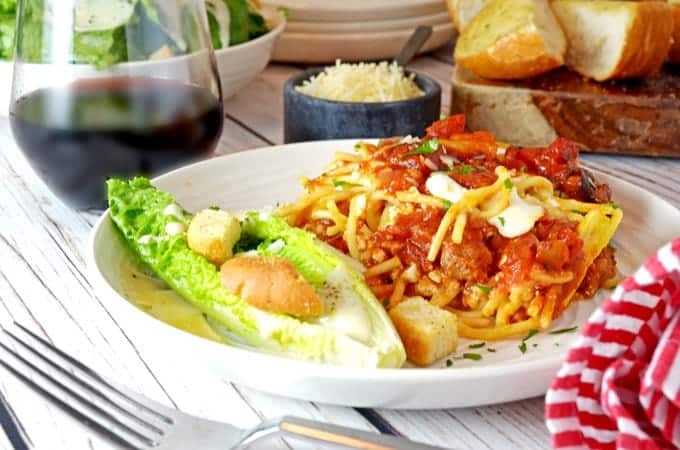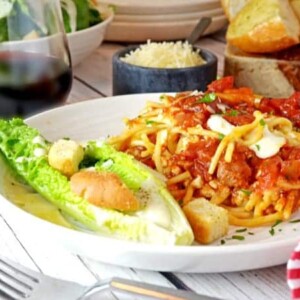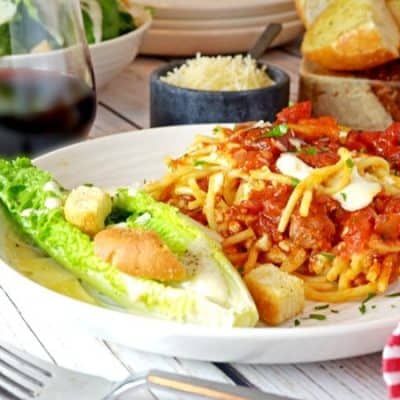 Spaghetti Pie Casserole with Homemade Sauce.
A fast and easy family favorite!
Ingredients
1

lb

ground beef or sausage

2

tablespoons

olive oil

1

sweet onion

,

coarse dice

3

gloves garlic

,

peeled and crushed

1

small tin flat anchovy fillets

,

drained

pinch crushed red pepper

2

tablespoons

fresh Italian parsley

,

fine chop. (More for garnish, if desired)

fresh ground black pepper

2

tablespoons

tomato paste

1

cup

red wine

pinch of sugar

1

teaspoon

salt

1 28

oz

can crushed or diced tomatoes

,

add another 14 oz if you want a lot of sauce

3

eggs

1

cup

cottage cheese

2

tablespoons

butter

,

melted

1/2

cup

grated Parmesan cheese

1

lb

spaghetti

,

cooked to al dente

1/2

cup

fresh Mozzarella cheese torn into small pieces
Instructions
Preheat oven to 350° F.

In large skillet or Dutch oven, brown meat over medium high flame. Remove from pan and set aside.

Heat olive oil over medium high flame in the same pan used for the meat. Sautée onions until soft and translucent. Add garlic, anchovies, crushed red pepper flakes, black pepper and parsley. Stir and heat until anchovies have melted away.

Brown tomato paste in pan, about three minutes while stirring constantly. Add wine to pan and then deglaze, scraping up all the brown bits in the pan. Reduce to half volume. Stir in tomatoes, sugar and salt and then bring to low simmer. Reduce heat to low and stir in reserved meat. Cover and allow to meld for a few hours if possible.

Prepare spaghetti as directed on package. While spaghetti is cooking, add eggs, butter and Parmesan cheese to medium size mixing bowl and stir together. Drain spaghetti and rinse with cold water. Add spaghetti to egg and cheese mixture and stir thoroughly and rapidly.

Apply non-stick coating to casserole pan and then ladle one scoop of sauce and evenly distribute on bottom of pan. Evenly distribute spaghetti in pan. Using back of spoon, spread cottage cheese over spaghetti. Cover cottage cheese layer with sauce (reserving some if you made extra) and then sprinkle fresh Mozzarella cheese on top.

Place in oven and bake for 20 minutes and then garnish with additional parsley and cheese if desired, serve with optional reserved sauce.
Notes
As with all recipes,follow your own tastes preferences and therefore make this one your own. We used about 1.5 cups of cottage cheese simply because we had it on hand. If you don't care for cottage cheese then consider using ricotta. Most people can't even tell there is cottage cheese in this recipe and thus we arrive at our next commentary note...
If you think that don't like anchovies then you just need to try this recipe, with the anchovies! They add depth as well as structure to a tomato sauce and therefore in the end you'll never believe how good it is. This is one of our kids' favorite meals but of course we don't share this one secret ingredient with them! you think?
Nutrition
Calories:
584
kcal
,
Carbohydrates:
56
g
,
Protein:
28
g
,
Fat:
25
g
,
Saturated Fat:
10
g
,
Cholesterol:
125
mg
,
Sodium:
788
mg
,
Potassium:
777
mg
,
Fiber:
4
g
,
Sugar:
10
g
,
Vitamin A:
681
IU
,
Vitamin C:
14
mg
,
Calcium:
206
mg
,
Iron:
4
mg
Nutrition information is automatically calculated, so should only be used as an approximation.