Spaghetti alla Carbonara
on Sep 25, 2013, Updated Apr 07, 2020
Spaghetti carbonara may have a fancy name with a fancy taste, but this authentic Italian recipe could not be any more simple.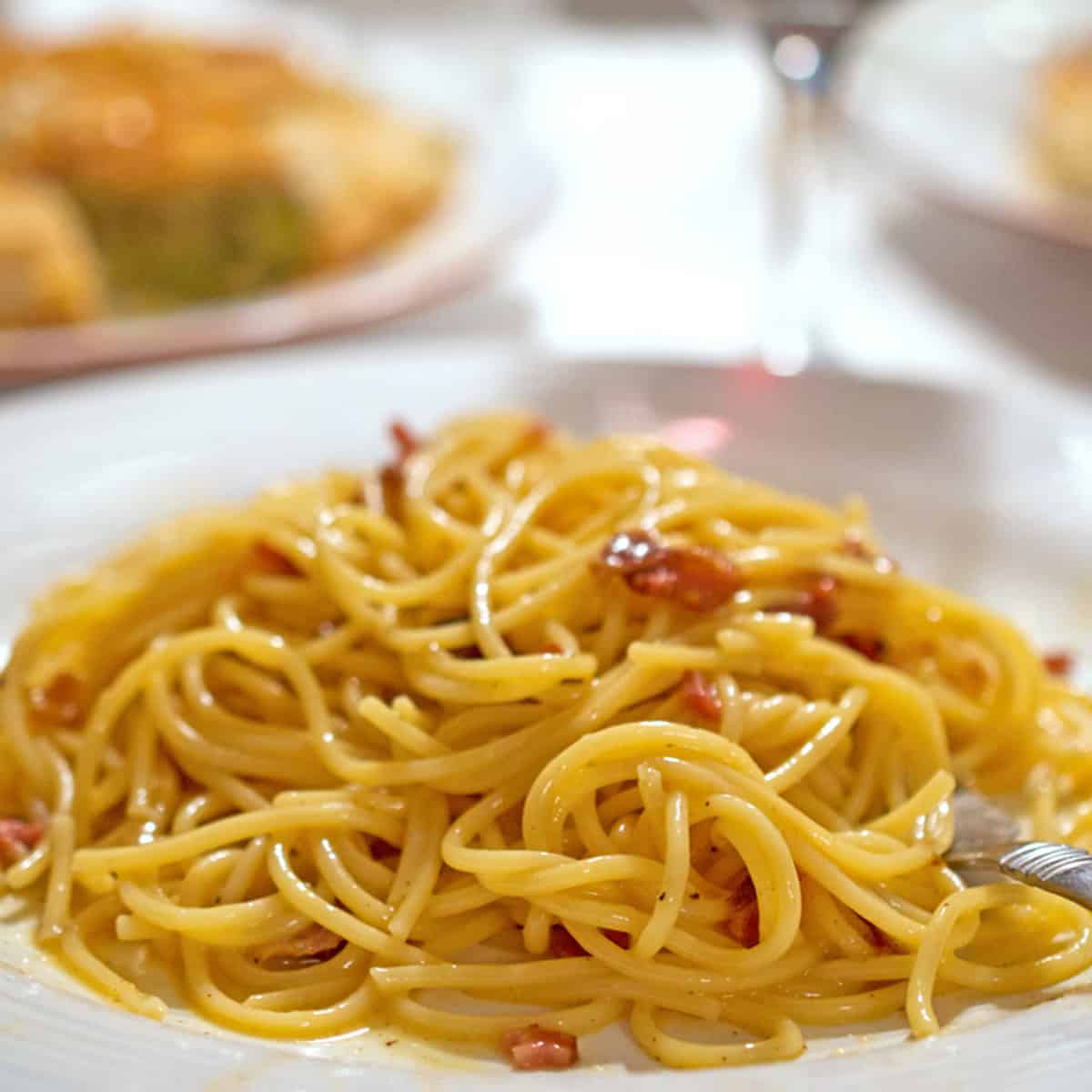 Once again, we are featuring a dish that is the most basic of basic: Eggs, bacon, and cheese, all cooked by fresh, piping hot pasta. Couldn't be any simpler right? Our dear friend and native daughter of Italia, Paola, calls it spaghetti alla carbonara. I call it otherworldly.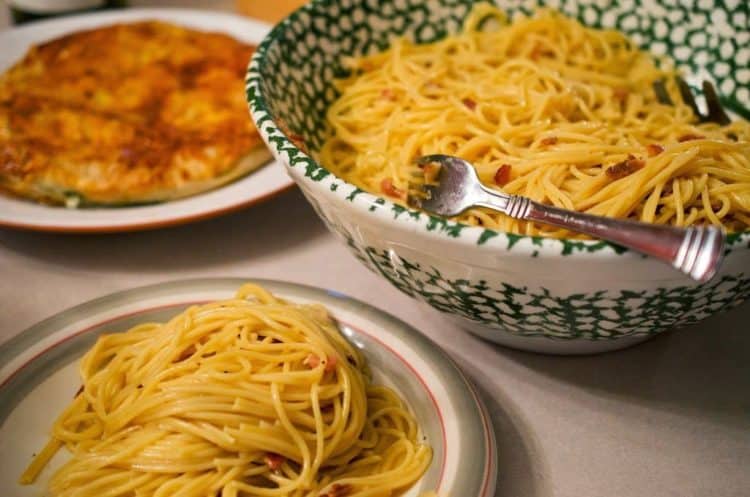 Over the next few weeks here on Platter Talk, we are featuring the multi-course menu that Paola will be preparing and serving for Viva Italia, the annual and major fundraising event for The Family Church here in Neenah, Wisconsin. As Pastor of that church, Paola does a bang up job of feeding people spiritually and as I think you will see, physically as well. We started the series last week with three incredibly delicious Italian Savory Pies which will be featured appetizers, or as Paola prefers, antipasto. Today we are move on to a featured entree, and it's a good one: Spaghetti Carbonara.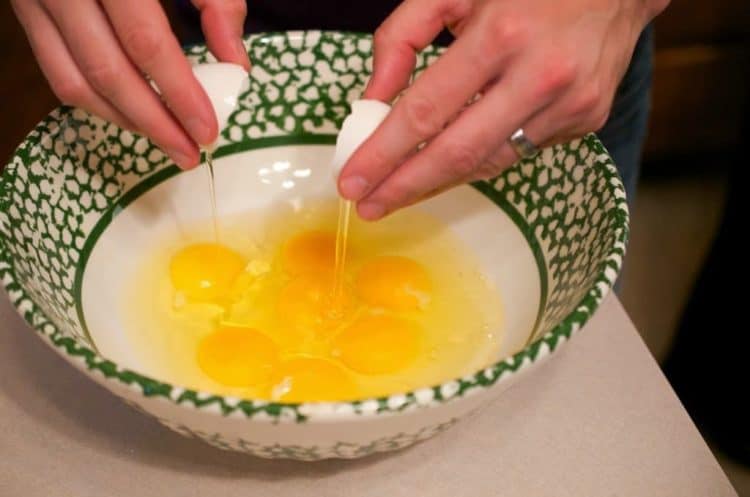 In spite of its exotic-sounding name, spaghetti carbonara has some pretty humble roots. As an entity unto its own, it is not well documented until after the second world war, when it was first described as a Roman dish, when many Italians were eating eggs and bacon supplied by troops from the United States.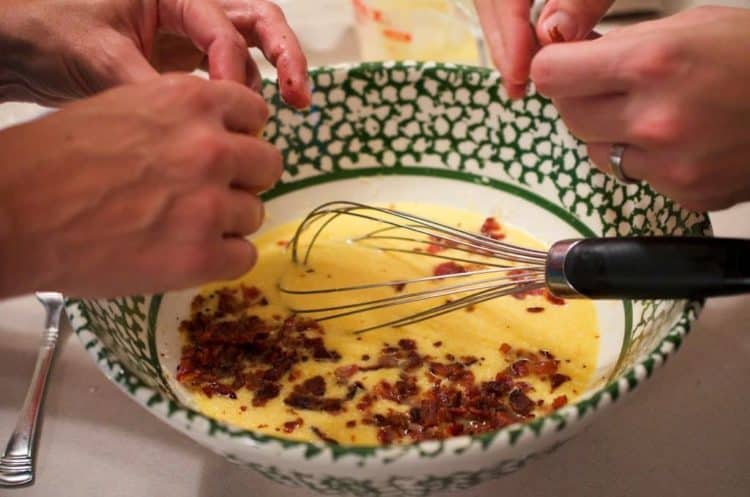 Prior to doing this post, I had eaten spaghetti carobonara but had no idea how it was made. I was fascinated to learn the carbonara isn't cooked in a pan over a stove. If you were as clueless as I was, and even if you have experience with this dish, this short clip of Paola making the carbonara gives you a pretty good idea of just how it is done.
While watching Paola demonstrate her technique of cooking the carbonara, you probably noticed a couple of other people in the background. There are always people in her kitchen. Friends, family, various folks from the community, they're all there. Like many of our kitchens, Paola's is the unofficial center of her family's home. When we go to Paola's, we always eat, and we always socialize, often times while helping her make something under her watch. It all happens in the kitchen; it's where we catch up, it's where we make plans, it's where we share our lives.

Good food always tastes great when you share it with others. For this batch of carbonara, Paola used 2 lbs of pasta, 10 eggs, a pound of bacon, and a good amount of cheese. Of course the recipe will be at the end of this post; my point is simply that this was a lot of food but as I alluded to earlier, there was a table full of hungry people.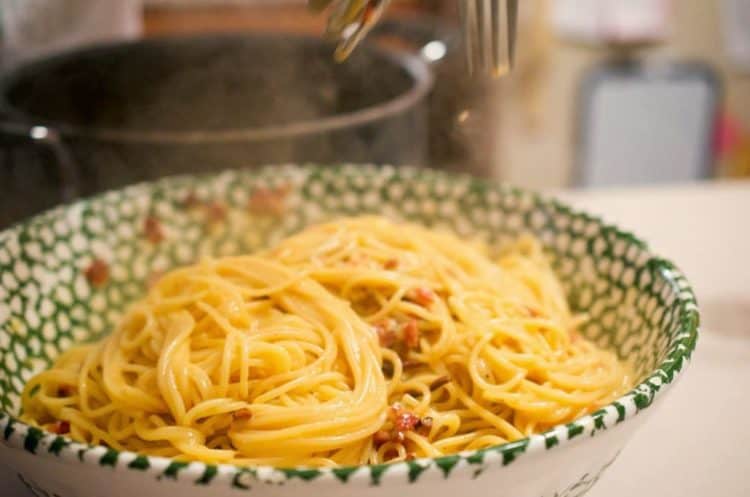 If you are in the area, and you are looking for some really tasty and authentic Italian cuisine, I hope you will consider buying a couple of tickets for this special dinner.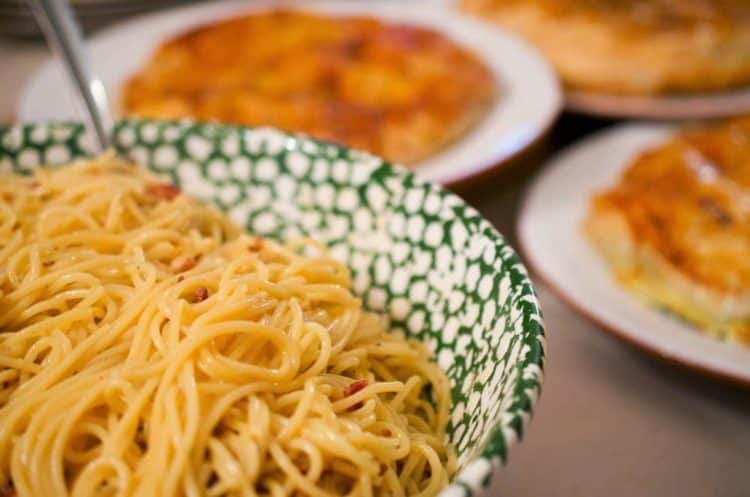 Regardless of where you are and whether you attend Viva Italia, I also hope you will pick up a dozen eggs, a pound of spaghetti, and some "good" bacon, (as Paola specifically calls for in her recipe), and some cheese as indicated.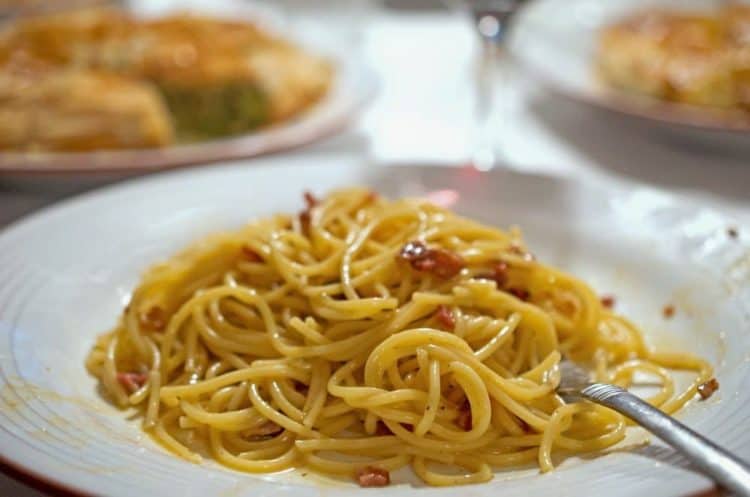 Next, I hope you will call up a couple of friends, invite them over and make this together. By the end of the night I predict two things will transpire: Any preexisting hunger will be alleviated, and the friends who came to your home for dinner will leave as better friends.
Sharing something this special brings people closer together, it is part of the magic in all of our homes, it's called the kitchen.
👨‍🍳 Tried this Recipe? Please leave a ⭐⭐⭐⭐⭐ rating in the recipe card below and leave a comment. We love hearing from our readers!
⏩ Stay in touch with us on social media by following us on Facebook, Pinterest, Instagram, and YouTube!
📬Get our Recipes delivered to your inbox for FREE!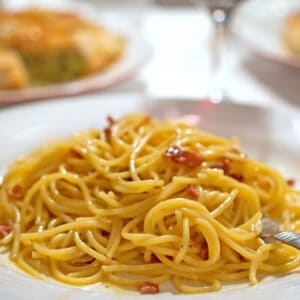 Spaghetti alla Carbonara
From Paola Benechhi
Ingredients
1

lb

dry spaghetti

8

oz

good bacon

1

cup

grated pecorino romano cheese

1

cup

grated Parmesan cheese

4

eggs

2

teaspoons

salt

Fresh ground peppercorn to taste.
Instructions
Fry bacon until crispy and golden brown, set aside and reserve the fat.

When bacon is cool, break into small pieces

Bring large pot of water to boil and add salt.

Cook spaghetti as directed, until tender yet al dente.

Whisk eggs in large mixing bowl.

Add the cheese and crumbled bacon pieces and mix well.

Drain cooked spaghetti and put back in pot.

Add the hot spaghetti, a little at a time, to the egg sauce, tossing pasta in mixture while adding. (See video clip in post.)

Incorporate a small amount of bacon fat while adding spaghetti (optional)

Season with fresh ground peppercorn

Grate additional cheese over top (optional.)

Serve immediately.
Nutrition
Calories:
607
kcal
,
Carbohydrates:
43
g
,
Protein:
18
g
,
Fat:
39
g
,
Saturated Fat:
17
g
,
Cholesterol:
135
mg
,
Sodium:
937
mg
,
Potassium:
186
mg
,
Fiber:
2
g
,
Sugar:
2
g
,
Vitamin A:
368
IU
,
Calcium:
265
mg
,
Iron:
1
mg
Nutrition information is automatically calculated, so should only be used as an approximation.
Inspired by Paola Benecchi