Bûche de Noel (Yule Log) is a classic
Christmas recipe
that you need to make this holiday season.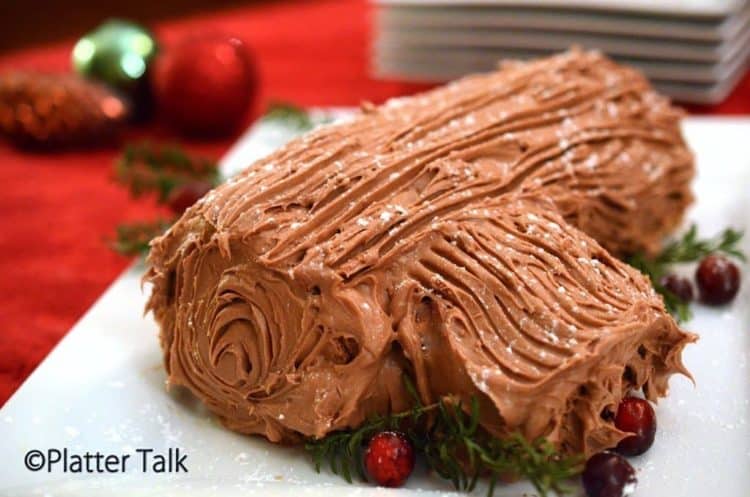 When most of us think of holiday treats, traditional Christmas cookies come to mind, in all of their variations of color, glitter, and flavor.
For me though, there is but one festive holiday dessert that signifies the Yule season like no other: The traditional Bûche de Noel, or Yule Log.
What is this?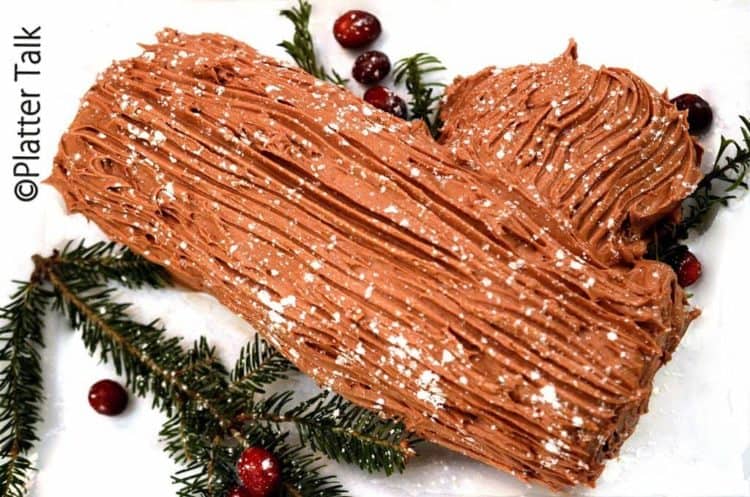 I can't remember when I fell in love with the Bûche de Noel. I'm pretty certain that it started in my high school days with the stellar French teachers, Kay Harris Doyle and George Laribee, that I was fortunate to study under.
Both of these educators were passionate about their subject and gave their all to the students under their watch. Through them, a love of all things French took seed in me at a young age.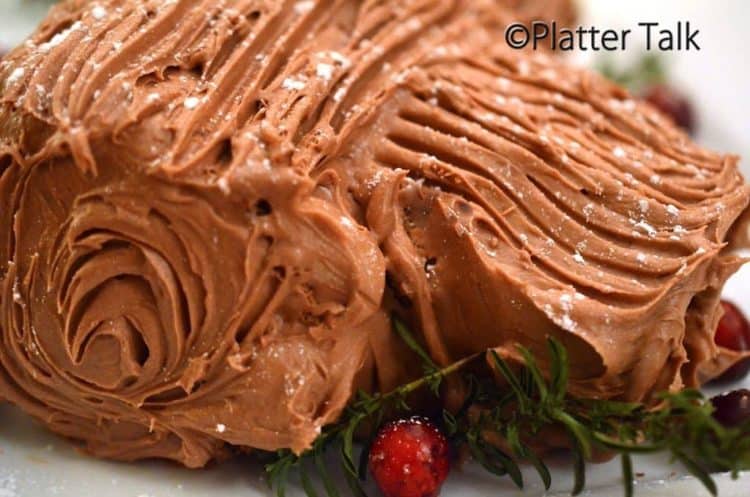 In all honesty, I was predisposed, perhaps genetically predetermined, to develop such a high affinity for this dessert. My well known issues with chocolate are of no secret to those who know me, even on a peripheral level.
I initially learned about this dessert in French class, and then I really learned about it by preparing this in my sister's kitchen when she was the chef at The Candlelight Restaurant at Snow Ridge Ski Resort, in Turin, New York. It was, shall we say, love at first bite.
My sister loved it, the guests loved it, and at the age of 16 or so, I discovered the first culinary creation for which I was pretty good at putting together and indeed for which a demand became created.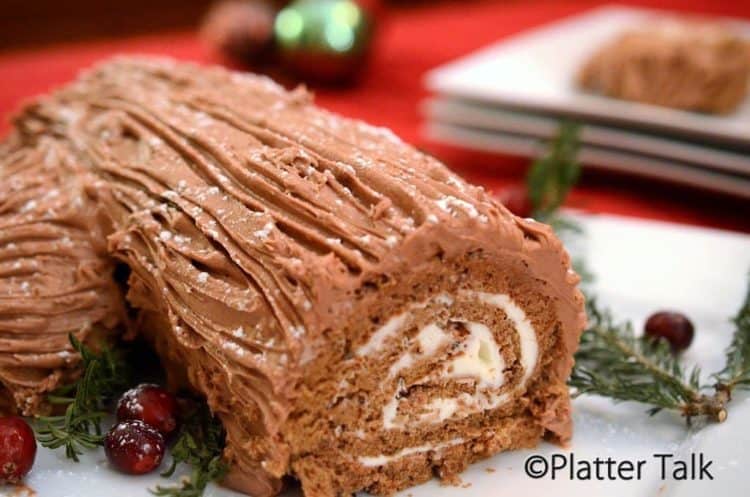 Over the course of a couple of holiday seasons, I made scores of these Christmas logs at Snow Ridge. It was a thrill for me, to have anything I needed to make these at my disposal.
Additionally, the kitchen in The Candlelight was huge, with work space galore. I would put these together in my own little area while the other staff did their thing; salads, soups, lunches, sandwiches, and of course dinner entrees.
Usually there was music playing, kitchen banter going on and always anticipation of creating an impressionable dining experience for the evening guests.

I always marveled a bit at the beauty of these logs, but the real thrill always came (with a bit of a wonder) when dinner guests specifically asked for this dessert; even when it wasn't on the dinner menu.
Slices of these logs freeze exceptionally well, when wrapped properly. Eventually, we learned to keep a supply of this in the expansive walk-in freezers. Still, it was always bitter-sweet when we sold out.
Eve though we did our best to always have this available, there was an intangible feeling of delight and accomplishment each time the realization was made that our supply of Yule logs had been exhausted.
As time went on, with some regret, I took a reprieve from making these. A pretty long reprieve, as in maybe 20 years or so.
When I initially attempted to get back in to the "Yule Log groove," I found it wasn't the same. My sister was no longer at The Candlelight, I was living 1,200 miles to the south in Sarasota, and I seemed to have lost my mojo.
I shelved the idea of making these again, instead I decided to keep those special memories of way back when, front and center.
Until last week. All I can say, I was in a bûche de Noel kinda mood. Oddly enough, this one came together just like it was nobody's business.
Looking back, I think I wasn't paying attention to a few critical points when making this, in the past. Baking can sometimes be unforgiving and there are few greater examples than when putting one of these together.
Oven temperature is critical as is removing the cake from the oven at the right time, while it is light and spongy and before the edges begin to harden.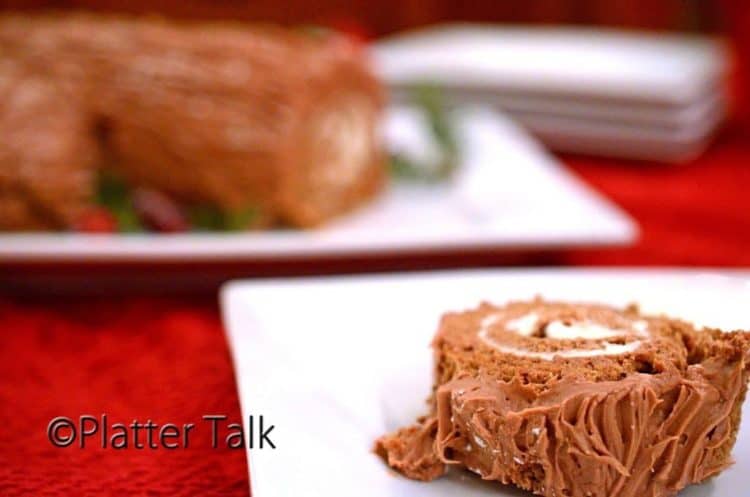 The name of this recipe literally translates as "Christmas log," referring to the traditional Yule log burned centuries past. Traditionally, in France and other parts of Europe, the yule log cake is served at the midnight feast that follows Mass on Christmas Eve.
Take a look at the recipe below, and the tips. Then, give this classic and sensational holiday treat a try; your success will embolden you for more kitchen adventures and your family and guests will be wowed by your ability.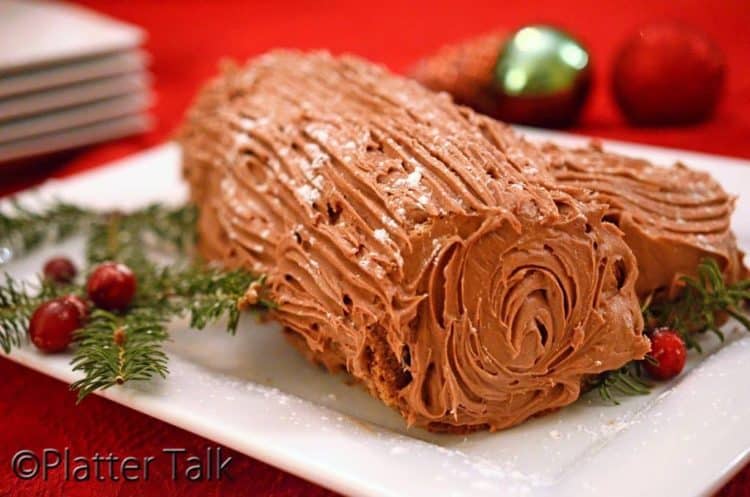 📖 Recipe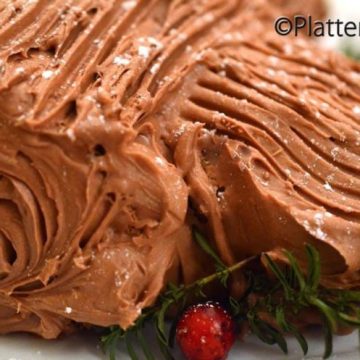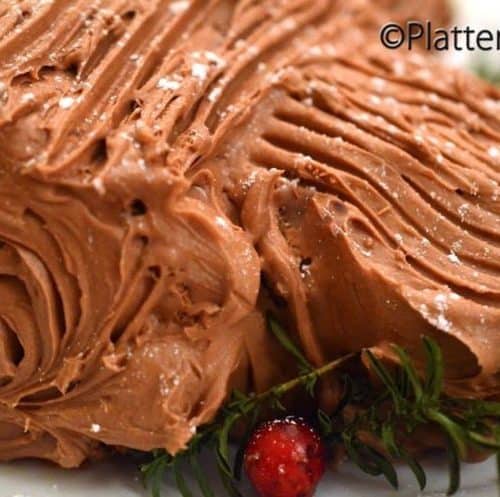 Bûche de Noel (Yule Log)
Bûche de Noel (Yule Log) adapted from Better Homes and Garden
Print
Pin
Rate
Ingredients
for the genoise
⅓

cup

all-purpose flour

⅓

cup

cornstarch

¼

cup

unsweetened cocoa powder

¼

teaspoon

baking soda

¼

teaspoon

salt

4

eggs at room temperature

4

egg yolks at room temperature

1

teaspoon

vanilla

¾

cup

granulated sugar

powdered sugar

1 ½

tablespoons

instant coffee granules

optional
for the frosting and filling
8

ounces

cream cheese

softened

½

cup

butter

softened

2

teaspoons

vanilla

4 ½

cups

powdered sugar

½

teaspoon

almond extract

optional

⅓

cup

unsweetened cocoa powder
Instructions
for the genoise (cake)
Preheat oven to 375 degrees F. Grease a 15x10x1-inch lipped cookie sheet or baking pan. Line pan with waxed paper. Generously grease waxed paper. Set aside.

Stir flour, cornstarch, and cocoa powder in a medium bowl. Stir baking soda, salt, and optional instant coffee into flour mixture. In a large bowl beat eggs, egg yolks, and vanilla with an electric mixer on high speed for 4 to 5 minutes or until thick and lemon-color. Gradually beat in granulated sugar, beating on high speed about 2 minutes more or until sugar is almost dissolved. Sprinkle flour mixture, one-third at a time, over egg mixture; using a large rubber spatula, gently fold in flour mixture just until combined. Evenly spread the batter in the prepared baking pan. Bake about 12 minutes or until cake springs back when lightly touched.

Remove the cake from the oven. Cool cake in pan on a wire rack for 3 minutes. Loosen the edges of cake with a small knife or thin spatula and turn cake out onto a clean towel generously sprinkled with powdered sugar. Carefully remove the waxed paper; discard.

While cake is warm, roll up the cake and the towel into a spiral, starting from a short side* of the cake. (It is important to roll the cake while it is still warm to avoid cracking.) Cool on a wire rack. Unroll cake; remove towel. With a thin metal spatula, spread the white Cream Cheese Frosting and Filling on the cake to within 1 inch of the edges.

Carefully roll up cake (without the towel) starting from a short side. Place, seam side down, on serving platter; chill for 30 minutes. With a serrated knife, diagonally cut off a 3-inch slice from one end of the cake. Place the diagonally cut edge of piece against the side of longer roll on the serving plate. This forms a "branch" on the "log.

Frost the entire cake with the chocolate Cream Cheese Frosting and Filling, carefully "cementing" the limb to the trunk with frosting. If necessary, chill until frosting firms. With the tines of a table fork, create a pattern of "rings" on the cut ends of the roll, and "bark" on the rest of the log. If desired, garnish log with Sugared Cranberries and rosemary sprigs. Sprinkle lightly with powdered sugar to give it that "just snowed on" look. Chill until ready to serve.
for the frosting and filling
In a large bowl beat cream cheese; butter; and vanilla with an electric mixer on medium speed until soft and fluffy.

Gradually beat in powdered sugar.

Place half of the mixture in a separate bowl; if desired, beat in almond extract. Set aside.

Beat unsweetened cocoa powder into the remaining cream cheese mixture.
Notes
Carefully monitor temperature of oven and time, while genoise (cake) is baking. It should be baked completely but just barely.
The frosting does miracles in terms of covering of the sins of the genoise. Cracks can easily be repaired and then covered with the frosting.
Nutrition
Calories:
525
kcal
|
Carbohydrates:
81
g
|
Protein:
6
g
|
Fat:
21
g
|
Saturated Fat:
12
g
|
Cholesterol:
193
mg
|
Sodium:
271
mg
|
Potassium:
171
mg
|
Fiber:
2
g
|
Sugar:
69
g
|
Vitamin A:
787
IU
|
Calcium:
52
mg
|
Iron:
2
mg