Braised Garlic Chicken & Capers with Lemon-Anchovies Sauce
on Aug 11, 2016, Updated Oct 14, 2021
Braised Garlic Chicken & Capers with Lemon-Anchovies Sauce is a robust flavor party for your dinner table. Easy-to-make and economical, this recipe is a fancy looking meal that is composed of simple and ordinary ingredients.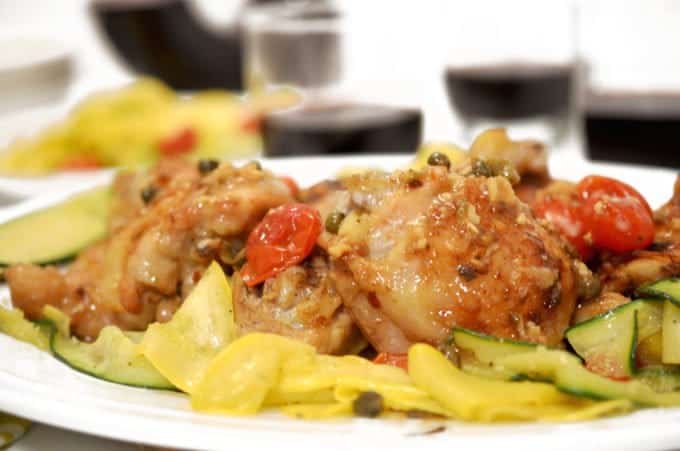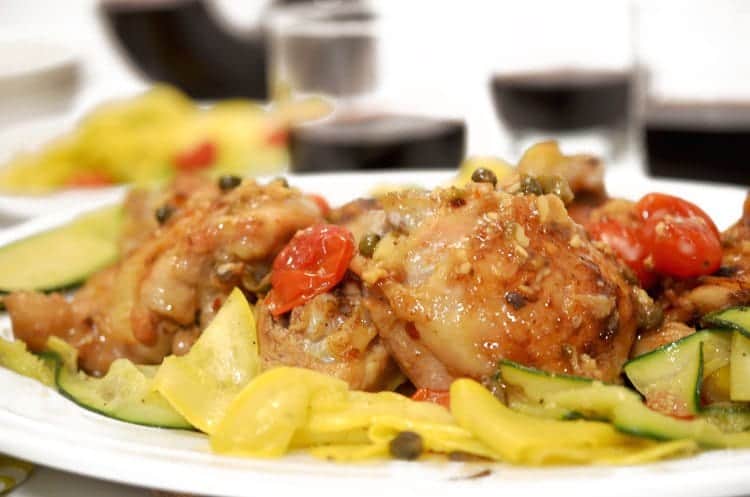 Braised Garlic Chicken & Capers with Lemon-Anchovies Sauce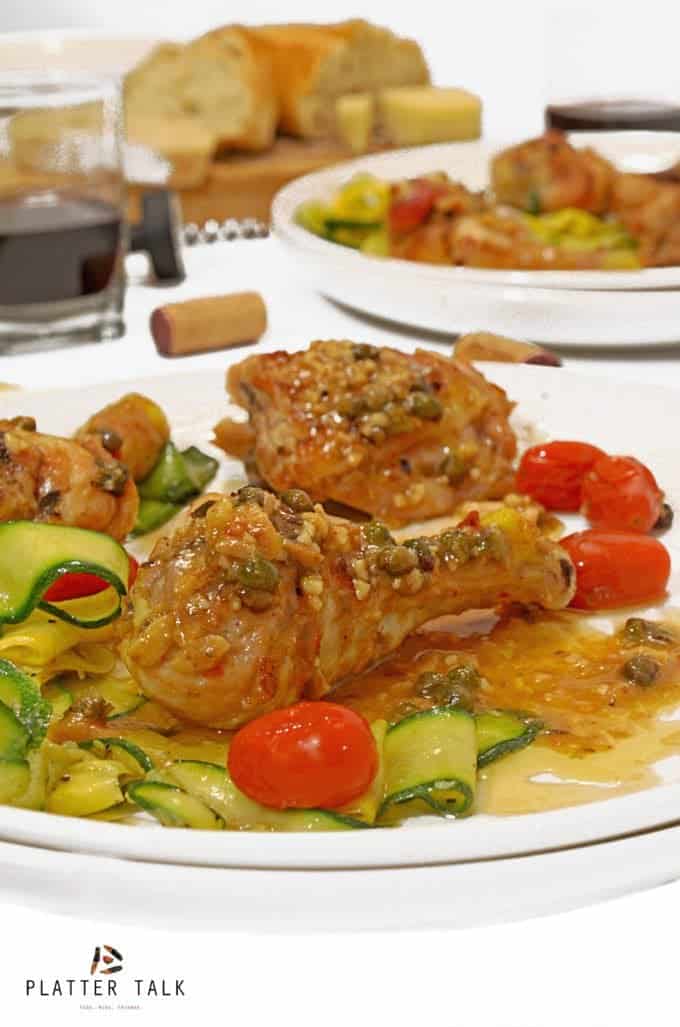 We receive a ton of recipes via email, each and every day. Many are bookmarked, a few are discarded, and some are moved to the top of the "make right away" list. This recipe for Braised Garlic Chicken & Capers with Lemon-Anchovies Sauce was inspired by one of our favorite sources, Melissa Clark, food columnist for the New York Times.
We've learned that braising is not only fun, it can really make you look like you know what you're doing in the kitchen and importantly, it is so easy to do!

How to Braise
---
Four Basic Rules for Braising Anything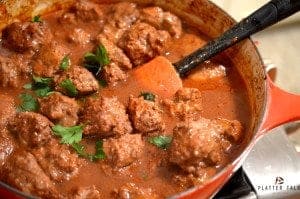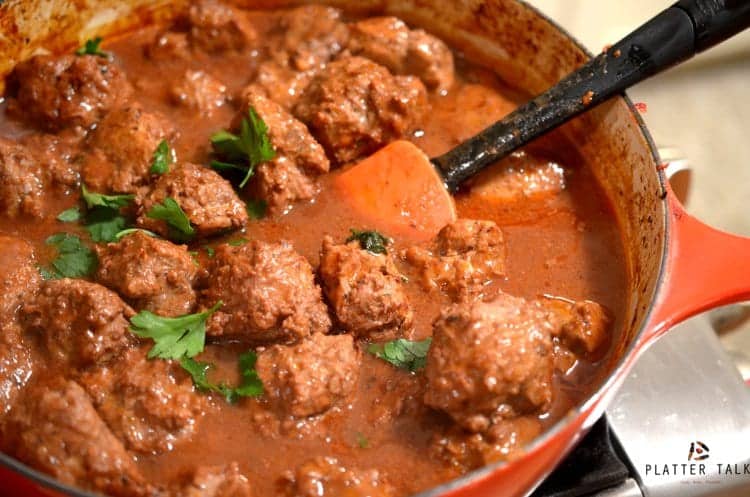 SEAR THE MEAT

Season your meat well on all sides.
Use a heavy-lidded pot like a dutch oven.
Pour oil into pot, over medium high heat.
Add meat to pot and brown on both sides.
Remove the meat from pot and set aside and tent loosely with aluminum foil.
SAUTE THE MIREPOIX

Classically composed of two parts onion to one part carrots and one part celery, a mirepoix can be made up of whatever vegetables or aromatics with which you want to flavor your meat.
Use the drippings from the meat to saute, once again over medium-high heat.
Brown the mirepoix to a golden yellow, without scorching the ingredients.
DEGLAZE YOUR POT

Stir your liquid into the pan, typically a broth, wine, or juice.
Scrape up and stir well, to incorporate the brown bits that are leftover from searing process. These are concentrated flavor bombs and will add immense depth and flavor to your finished dish.
BRAISE THE MEAT

Put the meat back into the pot, with the liquid and mirepoix.
The meat should be surrounded by the liquid but not submerged within it. Avoid diluting the flavor by using too much liquid. If necessary, reduce the liquid prior to adding the seared meat.
Bring the liquid to a simmer, cover the pot then slide it into an oven pre-heated to 325° F.
BONUS STEPS

Bring your braise to the next level by these two simple but optional steps:

If your recipe includes added vegetables, place them in the pot minutes before the meat is done. If your pot is low on liquid, less than an inch or so, add a splash more.
Once your meat is fork-tender, remove it from the pot and skim the fat from the top of the liquid. Then, reduce your liquid to a thick and flavorful sauce. Once it coats the back of a spoon, place your meat back in the pot and allow heat through.
---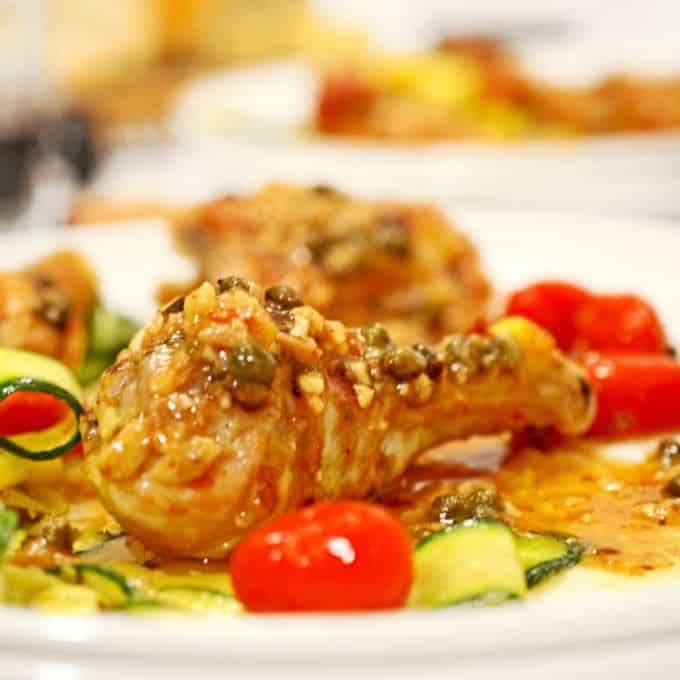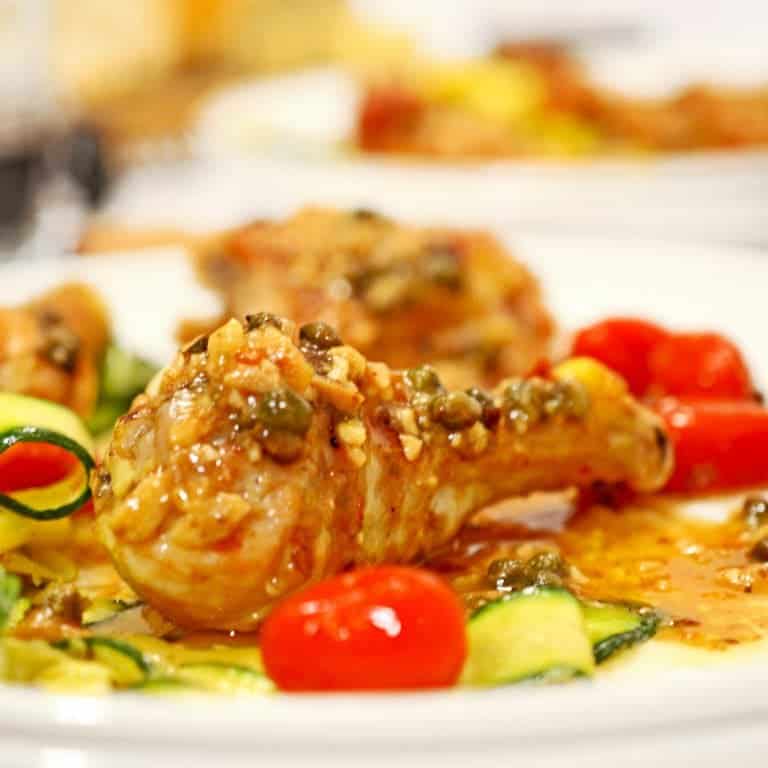 If you think you don't like anchovies or you have never cooked with anchovies before, it's time to put your big girl (or boy) pants on and give them a try! Anchovies provide depth and character to their dishes like no other ingredient.
Here are just a few examples of dishes that are greatly enhanced by anchovies:
The combination of garlic, anchovies, and lemon give this Braised Garlic Chicken & Capers with Lemon-Anchovies Sauce a deep and complex flavor that you're going to love. We hope you give this chicken dish a try and as always, please let us know how you like it! -Dan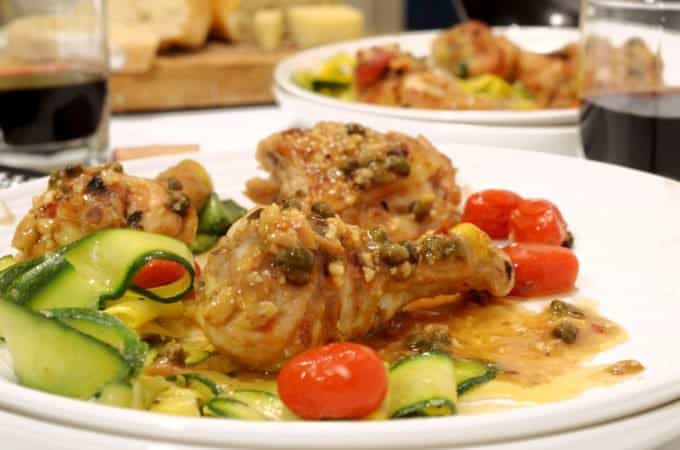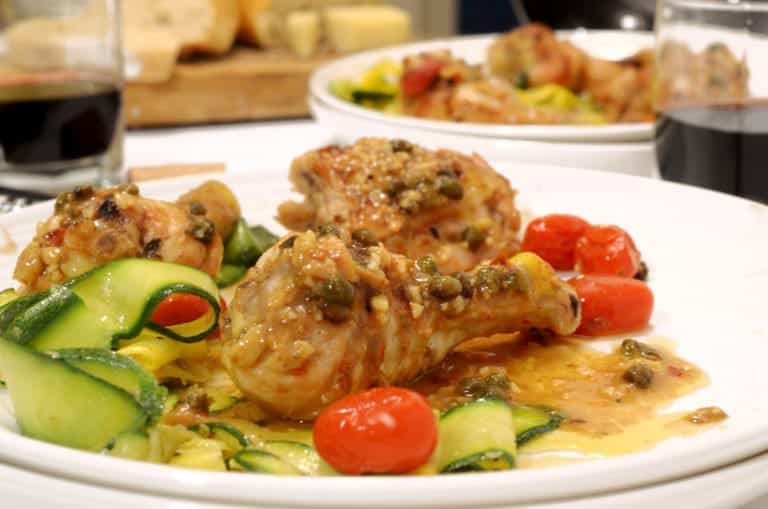 Braised Garlic Chicken & Capers with Lemon-Anchovies Sauce
Inspired by Melissa Clark from The New York Times
Ingredients
2

lbs

chicken thighs

,

chicken thighs and drumsticks

Kosher salt and black pepper to taste

1

head of garlic cloves

,

peeled and smashed

Extra-virgin olive oil

,

about 1/4 cup

1

tin

anchovies

,

flat

2

generous tablespoons of drained capers

,

patted dry

1

large pinch crushed red pepper flakes

Juice from 2 fresh lemons

1

cup

dry white wine

1

tablespoon

minced garlic
Instructions
Pre-heat oven to 350° F. Season chicken on all sides, with salt and pepper then set aside while you prepare the mirepoix of garlic, anchovies, and capers. Using a dutch oven or other oven-proof skillet, heat oil over medium-high setting. When the oil is hot, add the smashed garlic, the anchovies, capers, and red pepper flakes. Stir and saute until garlic is browned and anchovies have melted away, about 3 to 5 minutes.

Add the chicken to the pan, sear evenly on all sides until lightly browned, then remove from pan and set aside.

Add lemon juice and wine to pan, stir and deglaze, scraping up brown bits on bottom and sides of pan. Bring to quick simmer for about 30 seconds and turn burner off and stir in minced garlic.

Return chicken to pan. Cover pan and place in oven for about 30 minutes or until it is done. Place chicken on heated serving platter. Reduce liquid to thicken if necessary. Cover chicken with resulting sauce and serve.
Notes
As shown, we served this chicken with a side of sauteed zucchini and yellow squash, accented with roasted cherry tomatoes, which we allowed to cook in the pan at the end of the braising process.
Nutrition
Calories:
565
kcal
,
Carbohydrates:
2
g
,
Protein:
39
g
,
Fat:
38
g
,
Saturated Fat:
10
g
,
Cholesterol:
230
mg
,
Sodium:
311
mg
,
Potassium:
560
mg
,
Fiber:
0
g
,
Sugar:
0
g
,
Vitamin A:
175
IU
,
Vitamin C:
0.2
mg
,
Calcium:
44
mg
,
Iron:
2.2
mg
Nutrition information is automatically calculated, so should only be used as an approximation.