Escarole and Roasted Broccoli Salad with Tapenade Dressing
on Mar 22, 2017, Updated Jul 24, 2020
Escarole salad is a great way to familiarize yourself this this versatile and delicious form of endive. Versatile, healthy and green, you need to try this salad today.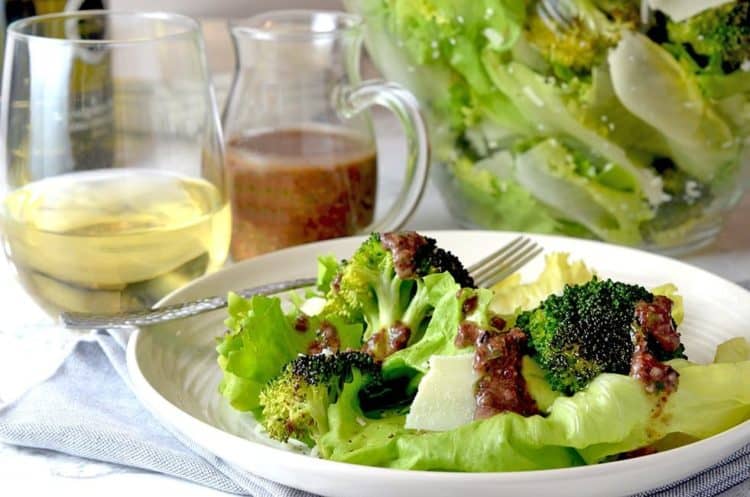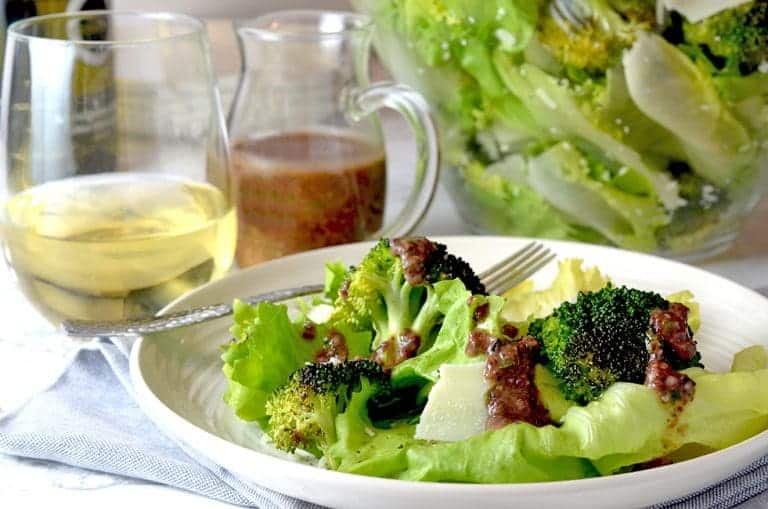 What is this?
This past weekend, Scott and I helped put together a fun little project that we have been discussing for a couple of years now. Teaming up with one of my work colleagues, we formed a Saturday night dinner club.
For our inaugural dinner, we decided to start with four couples and the hosts would prepare the main entrée with each of the other couples bringing an accompanying course. I quickly put my dibs in for the salad course and this Escarole Salad seemed to be a good choice to lend support to the short ribs recipe that the Larry and Margaret were planning on making.
Main ingredients

Escarole
Roasted Broccoli
Lemon Juice
Garlic
Parsley
Marjoram
Asiago Cheeses
Kalamata Olives
Salt and Pepper
My favorite part of this salad is the roasted broccoli. Confession time:
Part 1: I have never roasted broccoli before putting this escarole salad together.
Part 2: I can't wait to roast broccoli again.
While the roasted broccoli was cooling, fresh out of the oven, our boys were picking it off the baking sheet and popping the warm, crisp vegetables into their mouths. Our boys don't like broccoli. On that afternoon, our boys discovered a new fondness of broccoli. It's that good.
The original recipe that I found for this escarole salad calls for anchovies and several egg yolks. Raw egg yolks. Knowing that a member of our dinner group has a fish allergy, I decided to substitute capers for the anchovies. After mixing in the second or third egg yoke, I said to myself, "Wait. A. Minute. What happens if I poison this group of foodie friends with salmonella?"
I asked Scoot to do some last minute research on the use of raw eggs and the associated incidence of salmonella occurring. His results were non-reassuring to say the least (up to 23%) and so down the drain went my first batch of dressing and from somewhere in the depths of my imagination came this version, which I found to be more flavorful and unquestionably safer.
I scraped the egg component of this dressing, all together. In lieu of anchovies (or capers) I used kalamanta olives. The result was a tapenade-flavor of dressing that worked just fine. Most telling, all eight salad plates at the dinner party were eaten clean by the end of the meal. Always a good sign.
Be sure and taste our Back Olive Tapenade
Stay tune for some of the other delicious recipes from that evening, we can't wait to share them with you!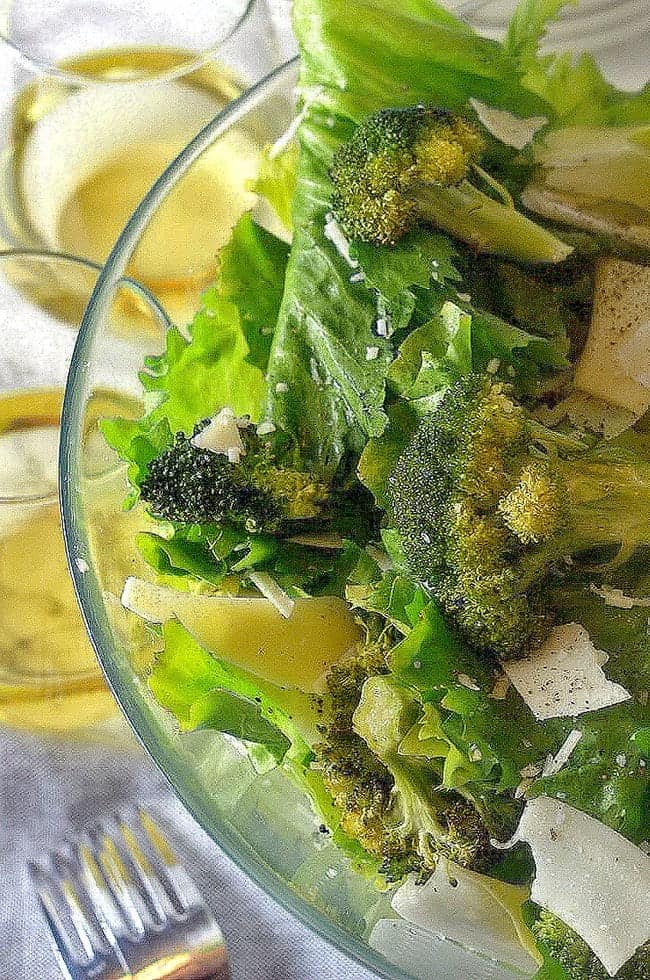 More easy salads
WP Recipe Maker #12558

remove

Escarole Salad with Roasted Broccoli Salad and Tapenade Dressing

A flavorful green salad that is full of health and flavor.

Course: Salad

Cuisine: American, Mediterranean

Keyword: broccoli, escarole, tapenade

Prep Time: 10m

Cook Time: 18m

Total Time: 28m

Servings: 8 servings

Author: <a href="https://www.plattertalk.com/who-we-are/" target="_blank">Dan from Platter Talk</a>

– 1 cup kalamata olives

pitted

– 4 cloves garlic

– 1 lemon

juiced

– 1 cup olive oil

extra virgin, light

– 1/4 cup parsley leaves

fresh, Italian

– 1 tbsp marjoram

fresh

– 1 tsp salt

kosher. Salt to taste.

– 1 lb broccoli florerts

– 1 head escarole

tender pale green and yellow leaves only, torn into large pieces

– 1/2 cup Asiago cheese

fresh grated

1) Preheat oven to 450° F. In a food processor, blend the olives, garlic, lemon juice, and parsley. With the machine on, add the olive oil and stir in the marjoram and season with salt.

2) Using a rimmed baking sheet, toss the broccoli with about 2 tablespoons of oil; spread on baking sheet in a single layer. Season with kosher salt and roast for 18 minutes, until the florets are just tender. Allow to broccoli to cool.

3) In a large salad bowl, toss the escarole with the broccoli along with the dressing. Sprinkle with cheese and then serve

Adjust the amount of olive oil to y0ur desired consistency for the dressing.

calories 109

carbohydrates 8

protein 5

fat 7

saturated_fat 1

cholesterol 4

sodium 686

potassium 403

fiber 4

sugar 1

vitamin_a 1860

vitamin_c 64.4

calcium 152

iron 1.4