Ginger Mac 'N Cheese
on Apr 22, 2013, Updated Nov 21, 2020
This easy recipe for ginger macaroni and cheese uses fresh ginger and lots of love. It's the perfect twist for a classic family meal. As a bonus, your kids will love this easy recipe!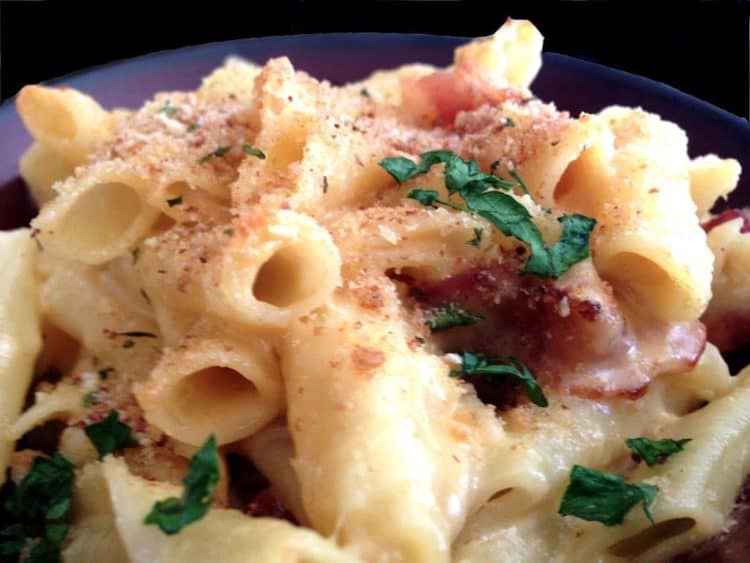 Ginger Macaroni and Cheese Recipe
According to all of my calendars, it is mid-April and thus well into the spring season. Go ahead and ask Mother Nature, however she's going to tell you a completely different story here in the mid-west. In good weather and bad, we make every effort possible to spend weekends at our small cottage on a small lake in the middle of Nowhere, Wisconsin.
The photo below gives you a perspective from the dining area which was a comfy 75 degrees, thanks to the magic of our pellet stove. To my disbelief, the outside temperature was 50 degrees less. Through the windows, we could see open patches of blue water and bare grass. An occasional robin, presumably acting as a scout, would roost briefly on the nearby branches as well. I took these all as signs that in spite of a seemingly unending winter and cold, wet spring, more seasonable weather is surely on its way.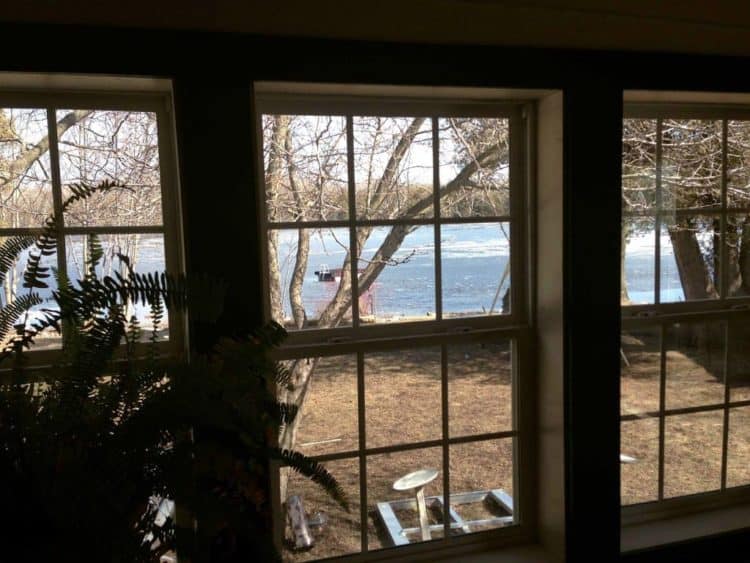 A chicken potpie (post to follow) was already in the works for Saturday dinner, and with the accepted invitation of a friend and his dog Fernando, an additional dish of mac and cheese sounded like a good compliment for the evening meal. With the arrival of our guests came some smoked salmon and salsa to snack on, and as dinner time approached we talked about warmer climates, upcoming travels, and the peace we all felt while being off-line and off the beaten path.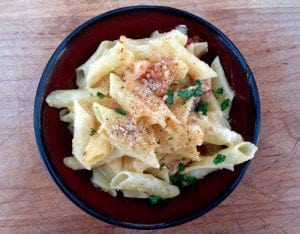 Having a house full of kids, macaroni and cheese is truly a standard in our family. Back in the day when I was a kid, my mom would make mac n cheese only a few times a year, always with fresh cheddar cheese from our local "milk station" where the area dairy farmers sent their milk. She usually used sharp cheddar and it was always sublime. As I grew into my college days, I grew into larger and larger jeans, thanks in no small part I am sure, to Kraft macaroni and cheese. A box of that whipped up and a few chopped up hot dogs in the mix, I would it serve to my rare guest and really thought I was living large.
I'm not sure when I decided to make the jump from boxed to authentic but once the transition occurred I never looked back. I've tried different techniques through the years and different ingredients. Like most other things that I've made in the kitchen, I subsequently ended up with different results. One caveat I have learned the hard way: it is possible to use too much cheese with this. Our boys are my most honest critics. If it's good they tell me, if it's not-so-much they tell me, and I have been put on notice by them in the past that I used too much cheese, once or twice.
Speaking of ingredients, I learned to incorporate a nutty cheese, usually gruyere, one of my personal favorites. Variability of cheese is of course somewhat of a luxury, dependent upon what is in our cheese drawer. Good ole' cheddar, straight up, will always do the trick. No matter what cheeses go into this, I have learned to always use some measure of cheddar as a flavor base. The accompanying varieties lend support and interest to the palate, once again giving a new twist to an old standard. For this recipe, I mixed in approximately equal parts of aged cheddar, smoked Gouda, and gruyere. Our newly licensed 16-year-old was more than willing to drive me the mile and a half up the road from our cottage to Hennings Cheese Factory. The normally quiet place was buzzing and Jake and I enjoyed ample samples before picking up some fresh curds along with the cheese for one of our two main courses. Don't be afraid to play around with the pasta of your choice for this dish as well. The long and hollow tubular varieties work best as they are well-suited to hold the cheese. Today I used mostaccioli and it served nicely.
You may have noticed by the title of this post, there is ginger in this recipe. I have slowly been incorporating ginger into some of my dishes, almost always with pleasant-tasting results. In this dish, the ginger adds a light "zip", not enough to offend even the youngest eaters but enough to add flavor and interest to the overall taste.
Maybe you can imagine the taste from the photos, but even if you can – I think you should try this recipe for yourself. The addition of the ginger was a first for me, but believe me – it's a keeper.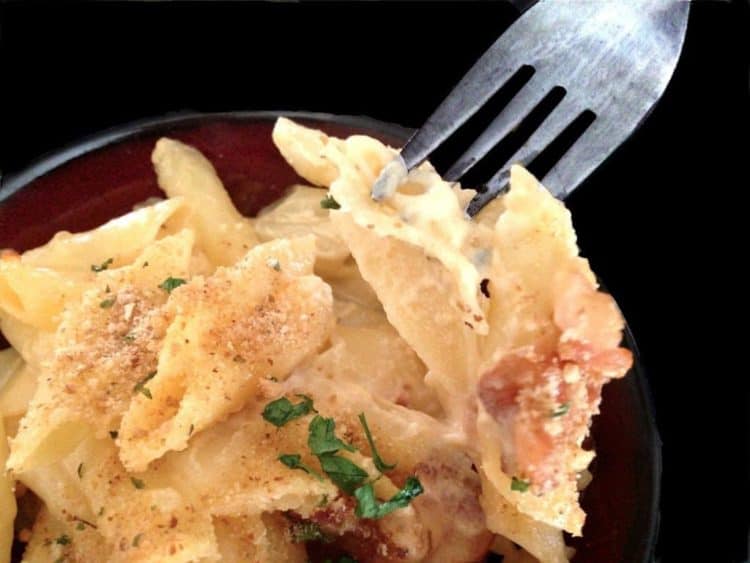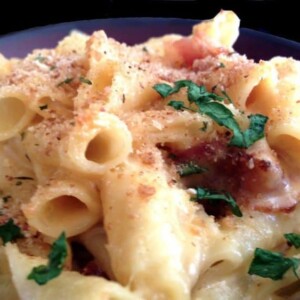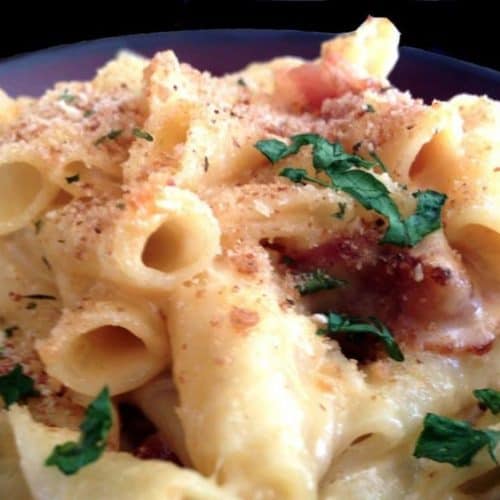 Ginger Mac 'N Cheese
This recipe using fresh ginger is a delicious twist on classic baked mac and cheese!
Ingredients
16

oz.

pasta noodles of your liking.

16

oz.

heavy cream

16

oz.

total of cheese.

1

tablespoon

flour

1/3

lb

bacon

,

chopped and fried

1

tablespoon

dry mustard

1

teaspoon

olive oil

1

square inch fresh ginger

,

peeled and thinly sliced.

3

tablespoons

Italian parsley

,

chopped

2

teaspoons

kosher salt

fresh peppercorn

,

crushed to taste.

2

tablespoons

breadcrumbs
Instructions
Preheat oven to 350 degrees F.

Fill large pan with 6 quarts of water.

Add 1 teaspoon olive oil and a pinch of salt. Bring to full boil, add pasta, reduce heat and prepare according to directions.

In a large saute pan over medium-low heat, add sliced or grated cheese, ginger, and cream. Heat and stir until cheese is completely melted.

Add flour to help thicken roux.

In large mixing bowl, combine cooked pasta with cream and cheese roux.

Add remaining ingredients except breadcrumbs and mix in thoroughly but gently enough to as to not tear the noodles apart.

Place mixture into oiled oven-safe baking dish and sprinkle breadcrumbs on top.

Bake for 45 minutes uncovered or until pasta is golden brown.
Nutrition
Calories:
826
kcal
,
Carbohydrates:
47
g
,
Protein:
23
g
,
Fat:
60
g
,
Saturated Fat:
33
g
,
Cholesterol:
155
mg
,
Sodium:
1005
mg
,
Potassium:
236
mg
,
Fiber:
2
g
,
Sugar:
2
g
,
Vitamin A:
1402
IU
,
Vitamin C:
1
mg
,
Calcium:
464
mg
,
Iron:
1
mg
Nutrition information is automatically calculated, so should only be used as an approximation.