Cowboy Christmas Breakfast Casserole Recipe –
It isn't necessary to be a cowboy to make this breakfast entrée. In fact, it doesn't even have to be Christmas. The fact is, anyone can enjoy this Cowboy Christmas Breakfast Casserole Recipe on any day.
Cowboy Christmas Breakfast Casserole Recipe
One of the first food sites that I discovered was Epicurious, way back in the day. We do our share of sponsored posts for different folks that want us to advertise their product or website, in exchange for some sort of compensation. This isn't one of them. There is a plethora of food and recipe sites with searchable data bases that allow users to find any one of a variety of recipes. Epicurious is one of the early players and in my opinion, one of the best. User reviews allow you to see what modifications may have been made by other users to tweak a particular dish. Additionally, and one of my favorite features of the site, is the ability to save the recipes that you like best. I have gone back to my personal Epicurious recipe file time and time again.
In case you haven't figured it out yet, I found this Cowboy Christmas Breakfast Casserole Recipe on Epicurious, many years ago. I've made it on multiple occasions, for holidays and ordinary days alike. It's so simple yet special. It is easy to make and yet deliciously satisfying. This Cowboy Christmas Breakfast  Casserole Recipe can be put together the day before, stored in the fridge overnight and then popped in the oven early the next morning. Your entire house will enjoy waking up to the garlic aroma of sausage and baked eggs, from this Cowboy Christmas Breakfast Casserole Recipe.  As wonderful as that is, they will enjoy eating it even more. Give this one a try and let us know how you like it. We will be featuring more kitchen creations from our personal Epicurious recipe file, down the road. For now, I can't wait for you to give this one a taste. -Dan
Click Here For Your Free and Secure Email Subscription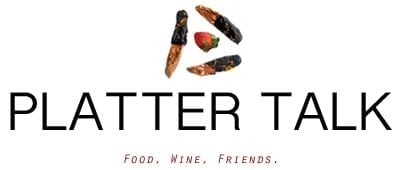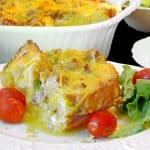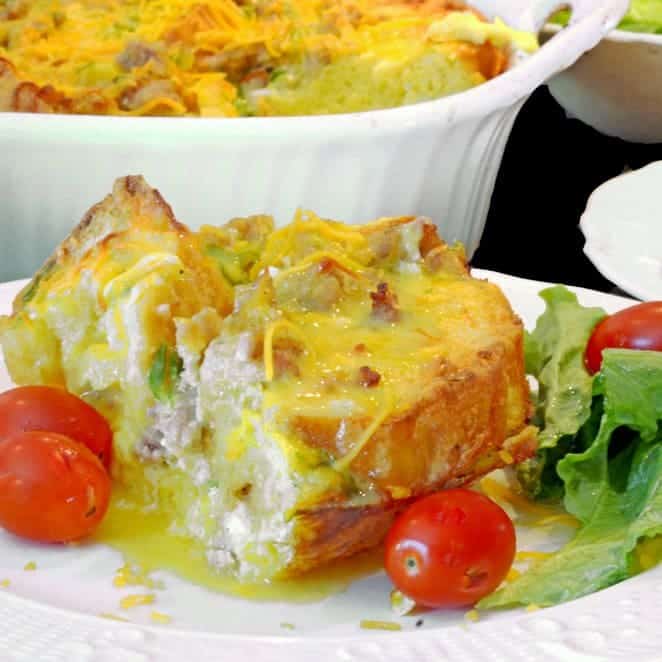 Cowboy Christmas Breakfast Casserole Recipe Platter Talk
from Epicurious
Ingredients
1/2

stick

1/4 cup unsalted butter, softened, plus additional for greasing baking dish

1

1-lb package bulk breakfast sausage (not links)

1

15-inch-long loaf Italian bread (about 4 inches wide)

1

garlic clove

chopped

2

dozen large eggs

1

cup

whole milk

2

teaspoons

salt

1

teaspoon

black pepper

1

large bunch scallions

chopped (1 1/4 cups)

1/4

lb

sharp Cheddar

coarsely grated (1 cup)
Instructions
Put oven rack in middle position and preheat oven to 375°F. Generously butter bottom and sides of a 13- by 9-inch baking dish.

Cook sausage in a 12-inch heavy skillet over moderately high heat, stirring frequently and breaking up any large lumps with a fork, until browned, about 10 minutes. Pour off fat from skillet, then cool sausage to room temperature.

Cut half of loaf into 1-inch-thick slices and reserve remaining half for another use. Pulse butter and garlic in a food processor until smooth. Spread a thin layer of garlic butter on both sides of each bread slice, arranging bread in 1 layer in bottom of baking dish. Sprinkle sausage on top.

Whisk together eggs, milk, salt, and pepper in a large bowl until frothy, then whisk in scallions and half of cheese. Pour egg mixture over sausage (bread will float to the top), pushing down on bread with a spatula to help it absorb liquid. Sprinkle with remaining cheese.

Bake, covered with a large sheet of buttered foil (buttered side down), 30 minutes, then carefully remove foil and bake until top is slightly puffed and eggs are cooked through in center, about 20 minutes more.

Let stand 10 minutes, then cut into 12 squares.