Cranberry-Orange Pancakes with Cranberry Infused Maple Syrup
on Nov 27, 2013, Updated Jan 01, 2021
Cranberry Pancakes made with fresh orange zest.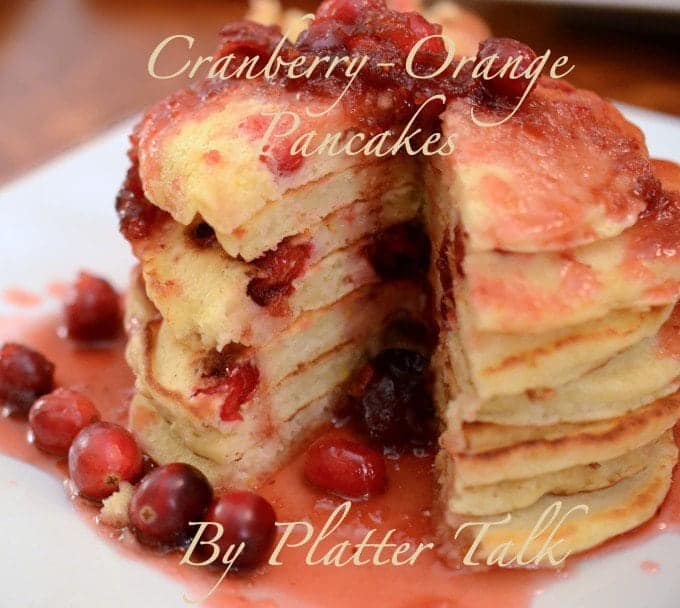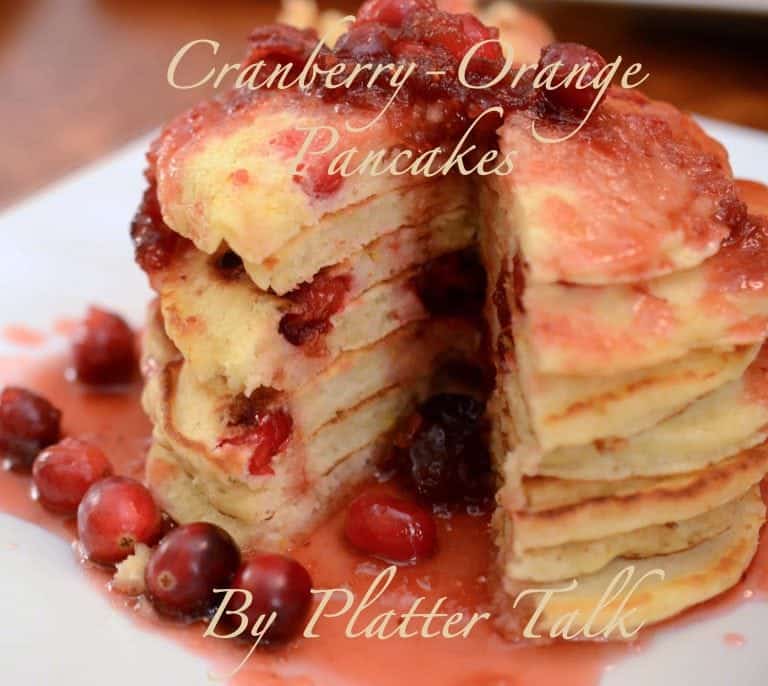 We took one for the team last night and had these cranberry-orange pancakes for dinner. This selfless act was executed for the sole purpose of finding and advocating for a breakfast worthy of you, the readers of Platter Talk.
Back in the day, on the farm, it wasn't unusual for my mom to prepare and serve "breakfast for supper." This experience left me with a lifelong love of breakfast and I have a confession to make: Tonight's endeavor was not all that traumatic, in fact, there is a very good possibility that "suppers" of this caliber could be habit-forming. I think I'm going to chance it.
What are these?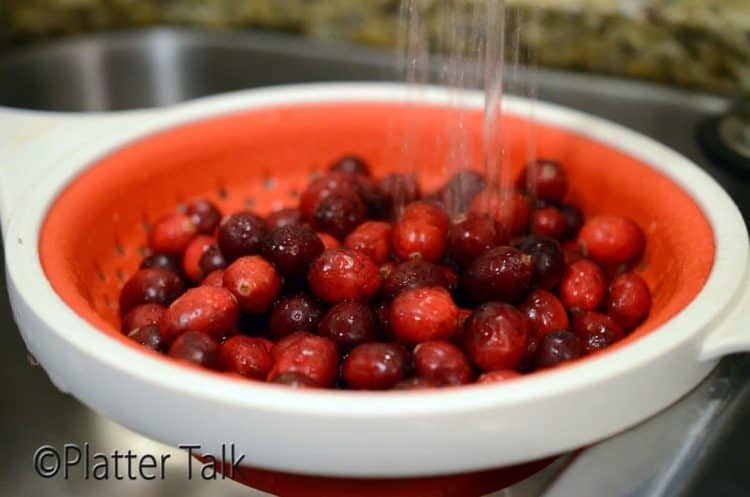 I have found myself exercising a fair amount of personal confession, here on Platter Talk. Here is another one: I have never worked with fresh cranberries, until today. Having lived in Wisconsin for over 15 years now, I have become somewhat familiar with the fact that this state produces more cranberries than any other. One of my son's former teachers came from a family that owns and operates a cranberry bog, somewhere in the western part of Wisconsin. Visiting a bog has since been etched onto my culinary bucket list and should make for an interesting post 🙂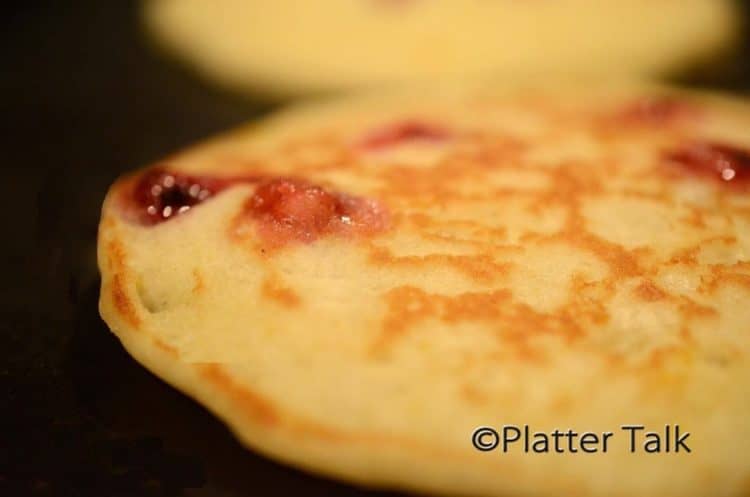 I have mentioned on here, in the past, that I am a native of maple syrup country, northern New York state to be exact, in the foothills of the Adirondack mountains where maple syrup production is second only to Vermont in quantity and second to none in quality. With these pancakes, I put together an accompanying cranberry infused maple syrup. May I just make one reflection? Delicious, with a bold and CAPITAL D. Besides being incredible in flavor, for me it was an experience of my native New York coming face to face with my state of residence, Wisconsin.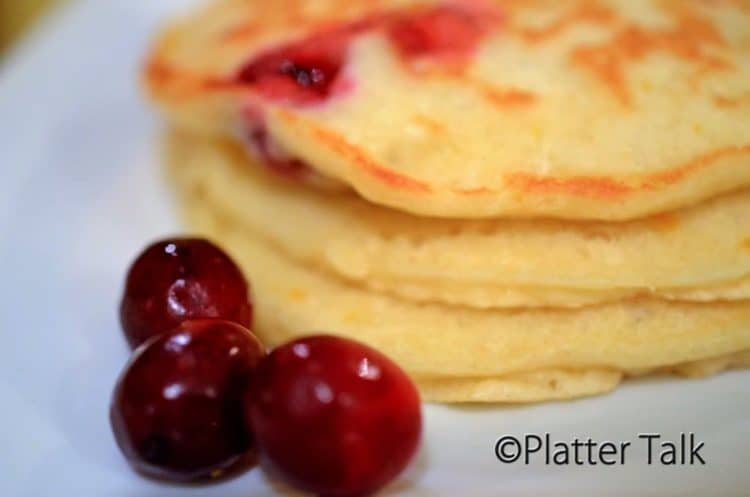 Cranberries and maple syrup get along quite nicely. With a little orange zest thrown into the batter of these cranberry pancakes, it's a bona fide party.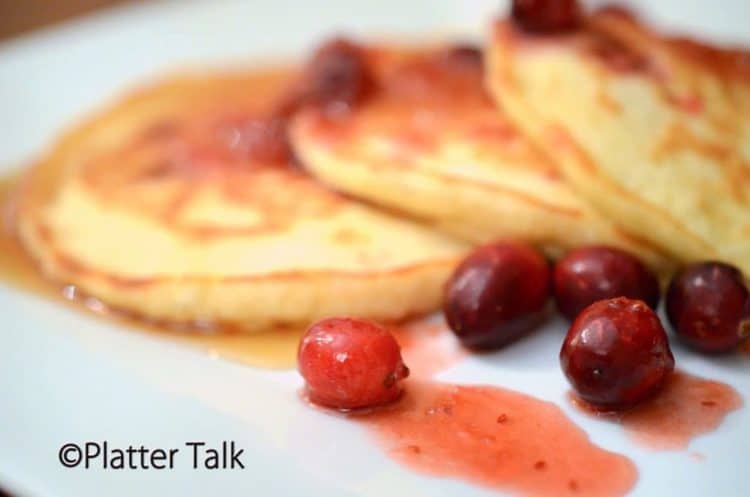 This recipe called for buttermilk. Guess what I had none of, in my kitchen refrigerator? To get around this, I combined one tablespoon of vinegar to a cup or milk – tadah!! Instant buttermilk. My taste buds were none the wiser and I don't think the flavor of these pancakes suffered in the least.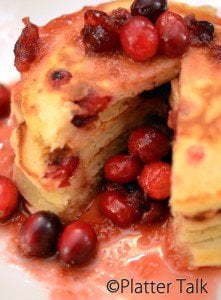 This is an excellent recipe for cranberry pancakes.. Not heavy by any means, the light citrus tones imparted by the orange zest commingle beautifully with the softly cooked cranberries. The two flavors combined provide a perfect balance to the sweetness of the pure maple syrup. These pancakes are an ideal breakfast choice or the holiday season when the family is home. Oh, and by the way, they make a pretty darn good supper too.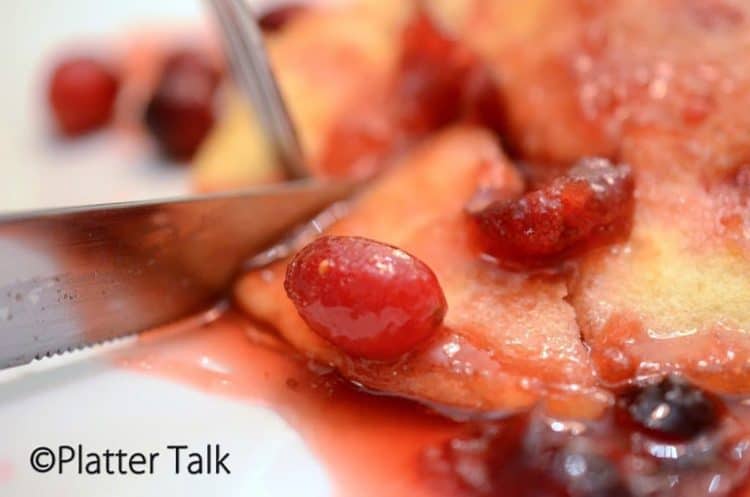 Never miss another great Platter Talk Recipe
Simlar recipes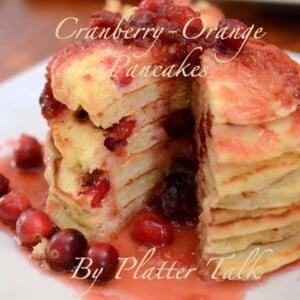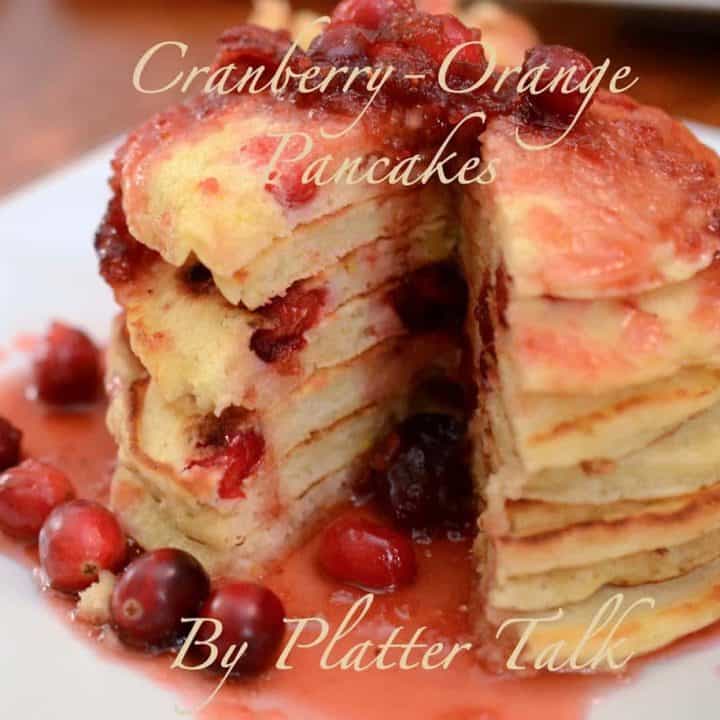 Cranberry-Orange Pancakes with Cranberry Infused Maple Syrup
Cranberry pancakes recipe with maple syrup, features the best of New England cuisine.
Ingredients
for the pancakes
1 1/2

cups

all-purpose flour

2

tablespoons

sugar

1 1/2

teaspoons

baking powder

1/4

teaspoon

baking soda

1/4

teaspoon

salt

1 1/2

cups

buttermilk

1

large egg

2

tablespoons

melted butter

1

teaspoon

orange zest

1

teaspoon

vanilla extract

1

cup

fresh or frozen cranberries

,

thawed
for the syrup
3/4

cup

pure maple syrup

1

cup

fresh or frozen cranberries

,

divided

1

tablespoon

unsalted butter
Instructions
for the pancakes
Whisk together first 5 ingredients in a large bowl.

Whisk together buttermilk and next 4 ingredients in a medium bowl.

Add buttermilk mixture to flour mixture, and stir until just blended.

Stir in cranberries.

Pour 1/3 cup batter for each pancake onto a lightly greased hot griddle or nonstick skillet.

Cook 2 to 4 minutes or until tops are covered with bubbles and edges look dry and cooked; turn, and cook 1 minute or until lightly browned.

Keep warm. Serve with Cranberry-Maple Syrup.
for the syrup
Bring maple syrup and 3/4 cup cranberries to a boil over medium-high heat.

Reduce heat to low, and simmer 3 minutes or until cranberries pop.

Crush cranberries in saucepan using a wooden spoon.

Stir in remaining 1/4 cup cranberries; simmer just until they begin to pop (about 2 minutes).

Add butter, and stir until melted.
Nutrition
Calories:
266
kcal
,
Carbohydrates:
47
g
,
Protein:
5
g
,
Fat:
7
g
,
Saturated Fat:
4
g
,
Cholesterol:
37
mg
,
Sodium:
192
mg
,
Potassium:
258
mg
,
Fiber:
2
g
,
Sugar:
24
g
,
Vitamin A:
250
IU
,
Vitamin C:
4
mg
,
Calcium:
124
mg
,
Iron:
1
mg
Nutrition information is automatically calculated, so should only be used as an approximation.