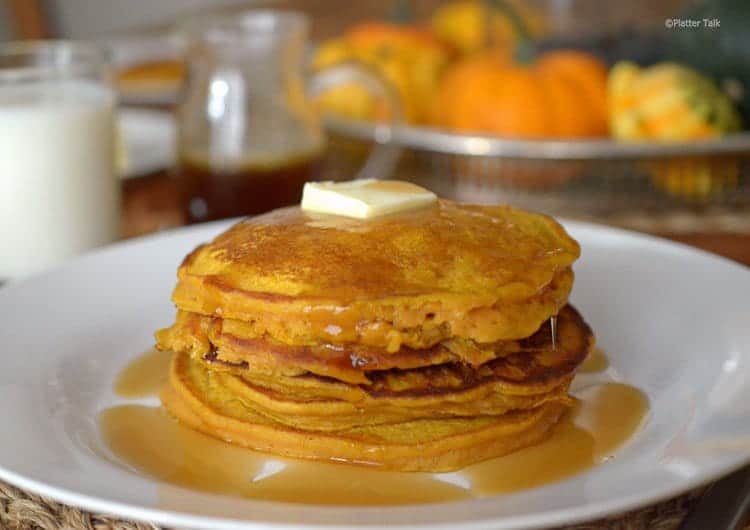 Most mornings find our family in a similar situation as many others all around the world.  Waking kids up, waking spouses up, taking the dogs out, getting ready for school and work and making breakfast.  Typically, during the week our breakfasts consist of a fast bowl of cereal, maybe a slice of toast and a cup of coffee and that's about it.  On weekend though, we have the luxury of no school, no work, and most of the time no worries.  This past Saturday in early fall, it seemed the perfect time for a more seasonal breakfast:  Pumpkin Pancakes, with Apple Cider Syrup.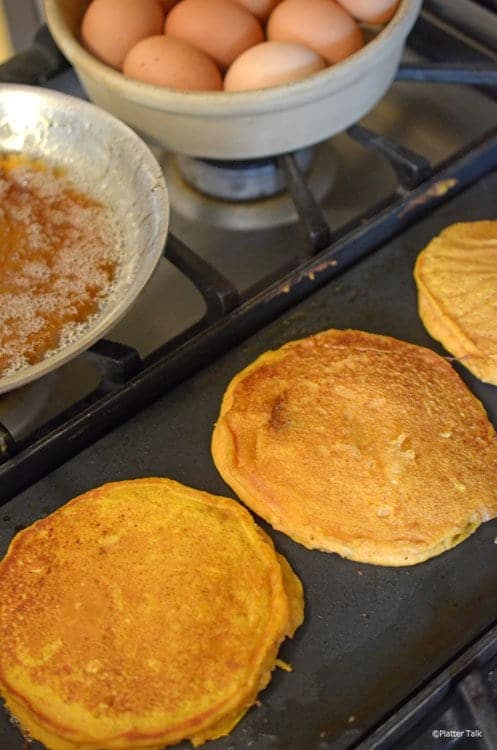 Pancakes rank among the favorite of our kids, for breakfast.  All six of our boys will eat them and in fact enjoy them.  This of course, by default, causes pancakes to rank among the favorite of the dads in our household.  As a bonus, it gives me the chance to use the center griddle of our gas stove at the house.  I can't explain it, but I love to fry bacon on that thing, cook sausage, and make pancakes.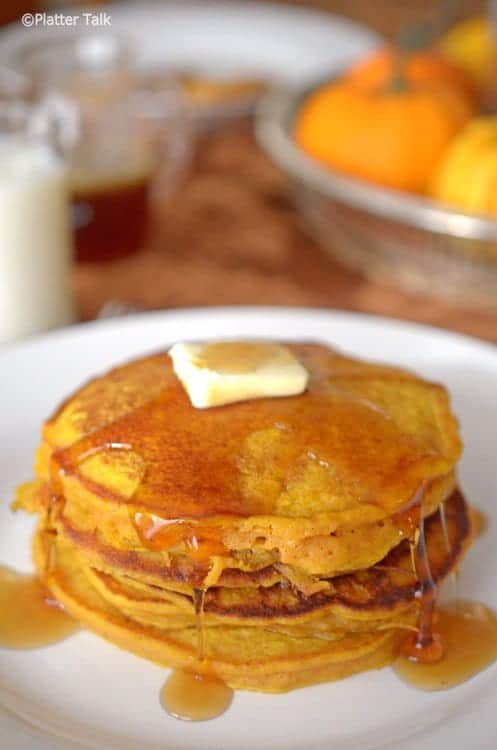 When it comes to pancakes, I have to say that our boys are not picky when it comes to varieties.  After all, what's to be picky about over something that is warm and chewy, delicious, and doused in syrup?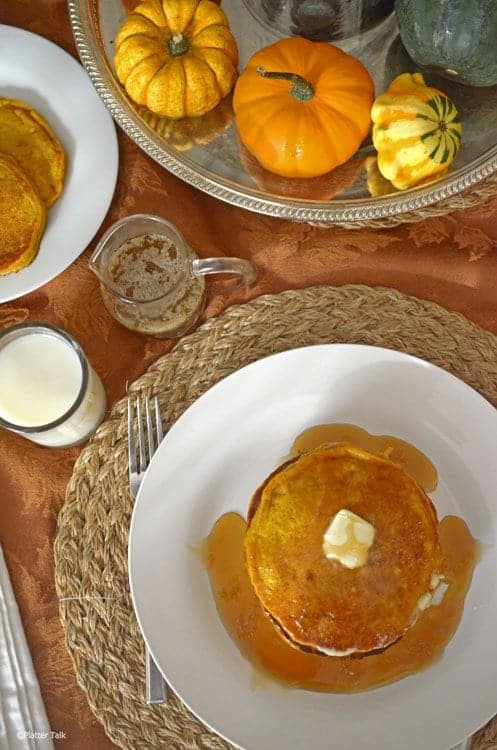 This was a fun pancake to serve them and the reason:  It was something different.  When they asked what kind of pancakes we were having for breakfast, I gave them my rote response, "Guess."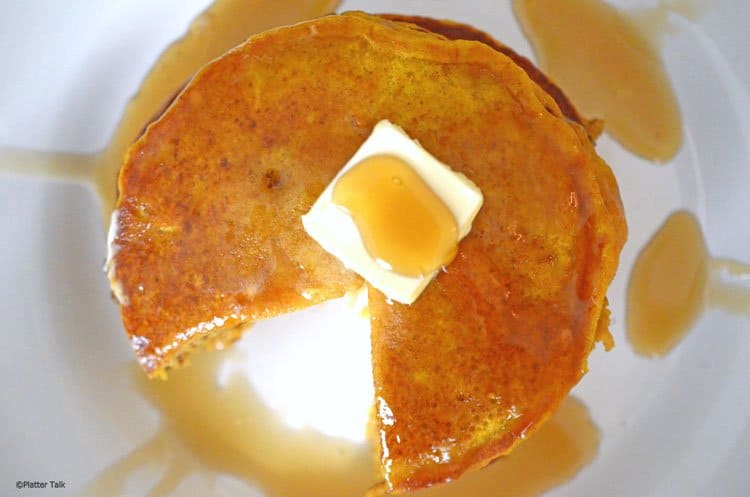 "Pumpkin!" was what came from their lips and hungry little mouths.  There were no ewwwws, no "I don't think I like that," and no "Can we have cereal?"   What kid doesn't like pumpkin?  What kid doesn't like pancakes?  Happily, in our family pumpkin and pancakes rank among their favorites and now the two are together in this wonderful fall breakfast, suitable for kids of all ages, and their parents too.  Happy fall.  -Dan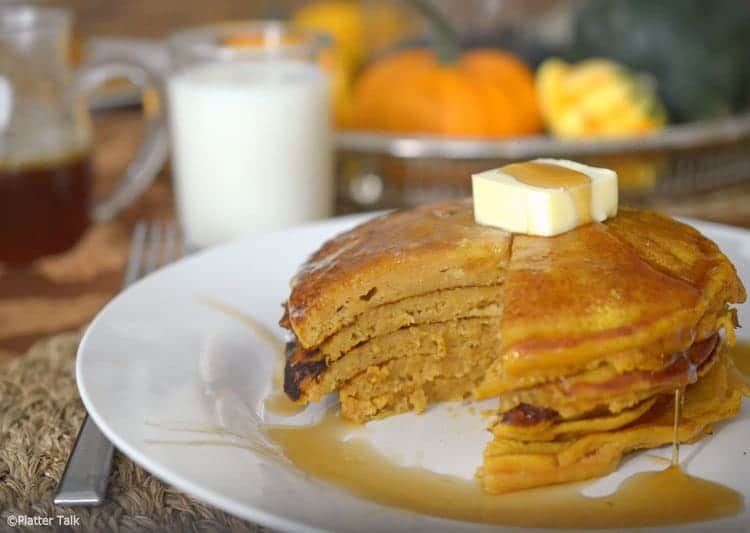 Never miss another great Platter Talk Recipe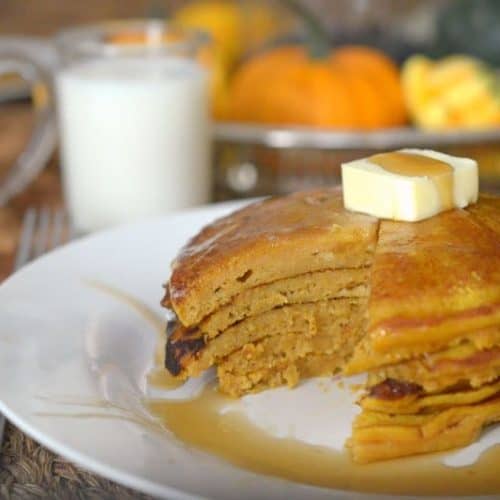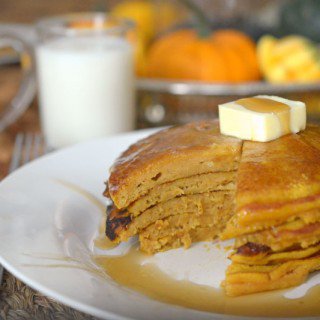 Ingredients
for the pancakes

1

cup

all-purpose flour

2

tablespoons

brown sugar

1

teaspoon

pumpkin spice

1

teaspoon

baking powder

1/4

teaspoon

baking soda

1/2

teaspoon

salt

1

cup

milk

1/3

cup

canned pumpkin

1

egg

2

tablespoons

vegetable oil

1

teaspoon

lemon juice

1

teaspoon

vanilla extract

for the apple cider syrup

1

cup

apple cider

1

cup

dark corn syrup

2

tablespoons

butter

1/2

teaspoon

cinnamon

dash of ground nutmeg

1/2

teaspoon

vanilla extract
Instructions
for the pancakes

Stir flour, brown sugar, pumpkin spice, baking powder, baking soda and salt in a large bowl.

Combine milk, pumpkin, egg, oil, lemon juice and vanilla in a separate bowl.

Beat with a whisk until smooth.

Add to dry ingredients, stirring just until blended. Do not over-beat.

Heat a large skillet or griddle on medium high heat, adding a small amount of oil.

Pour 1/4 cup of batter on griddle for each pancake, repeating to fill griddle.

Cook pancakes until bottoms are brown and tops have bubbles, about 2 minutes.

Flip pancakes and continue cooking until bottoms are browned.

Repeat with remaining batter.

for the apple cider syrup

Combine cider and corn syrup in a small sauce pan on high heat.

Bring to a boil

Reduce heat and cook about 30 minutes s until mixture has a syrupy consistency.

Add butter, cinnamon, nutmeg, and vanilla.