This Pumpkin Snickerdoodle Bread Recipe can make a good day even better. Don't take our word for it thought, try it for yourself!
Pumpkin Snickerdoodle Bread Recipe
This past weekend which started with summer and ended with fall,  found us at our little lake cottage with nothing but good intentions to do some exterior painting.  Sometimes things don't always go the way we plan, and sometimes that's O.K.  Such was the case on Saturday morning when we ran some errands that needed to get taken care of before we broke out the brushes.  Upon our return however, there sat our friend Karen's Explorer, in our driveway.  Next to it stood our friend, and her wet dog at her side, with a bottle of pinot noir in one hand and a loaf of this pumpkin snickerdoodle bread recipe in the other.
As it turned out, Karen was here to paint too.  Responding to a facebook post I had put out earlier in the morning soliciting painters, Karen took my request to heart and made the hour trek from her home in town.  We nearly missed our friend and the incredible treat with which she surprised us.  Not in any great hurry to commence painting, we were making a pit-stop for warmer clothing before heading to Elkhart Lake for a little farmer's market action and perhaps a stop at our favorite weekend eatery, The Lake Street Cafe, per our 10 year-old's not-so-subtle verbal nudging.
If we had drawn up a to-do list and then assessed it at the day's end, we may have declared the day a failure.  No painting (the weather was sub-optimal,) no farmer's market, and no Lake Street Cafe.  The day however was quite the opposite and all because of a surprise visit from a dear friend who we had not seen in weeks, and her frisbee-catching, lake swimming canine, Gibson.  It took us a only a short time to build a fire inside and cut this incredibly delicious pumpkin snickerdoodle bread recipe – flavorful, not too sweet and suitably paired with anything.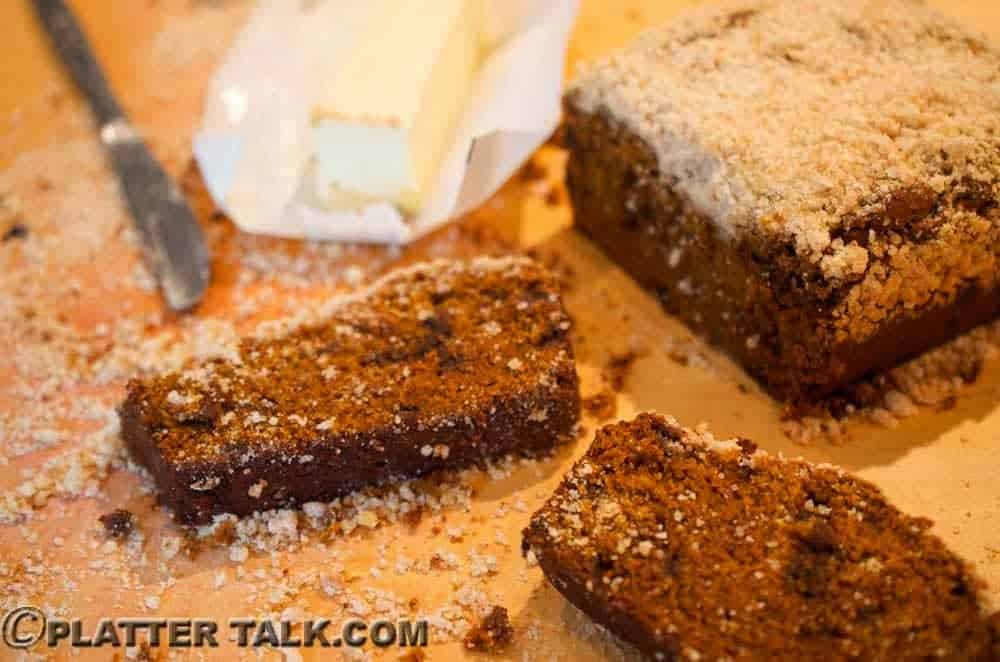 The day continued into the afternoon with a traditional Wisconsin lunch of brats and wieners prepared by Scott, a great bottle of wine, and a good movie.   How often do we take advantage of a Saturday afternoon to spend with good friends, all for no purpose other than to catch up and do nothing but enjoy the day?  I suspect not nearly often enough.   I suggest you give this bread a try sometime, soon.  Make it even better by sharing with a friend.  I'm pretty sure it will add nothing but enhancement to your day, it certainly did the trick for all of us.
Never Miss Another Platter Talk Recipe