Blueberry Cantaloupe Clean Eating Breakfast
on Jun 22, 2018, Updated Jan 01, 2021
This Blueberry Cantaloupe Bowl is a fast and easy clean eating breakfast idea that works for any season. It is one of our favorite vegetarian recipes.
Summer is finally here and although I can't say or write these words too many times. Read on for one of the best breakfast recipes for any season.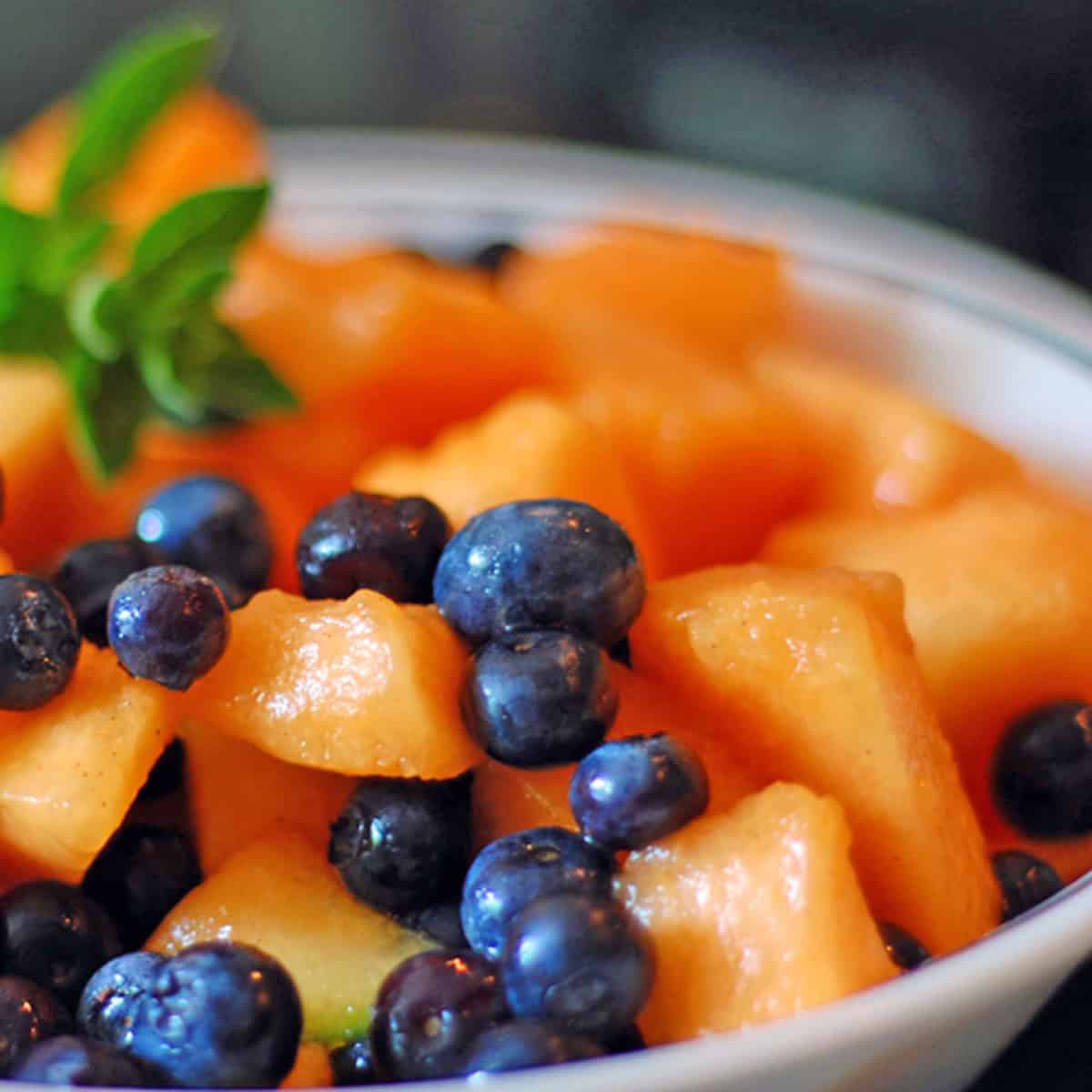 Start your day with this

The brighter skies and greener grass bring with them produce bins full of fresh fruits and berries, themselves brimming with a freshness and color that can't be found in our winter months. As an almost knee-jerk reaction, I fill my carts and refrigerator shelves with this produce, taking advantage of the season of radiance.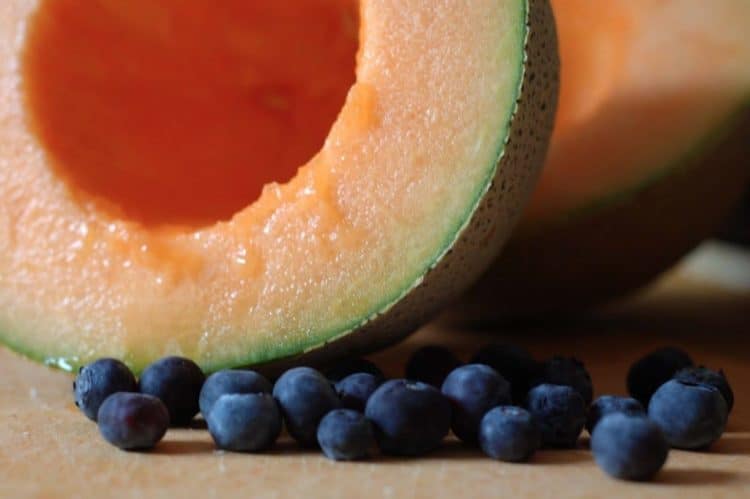 The secret is in your refrigerator

It is with our refrigerator shelves and bins near over-capacity that I scratch my bald head and ask, "What can I do with that? And that?" That and that, of course, happen to be a beautiful and round cantaloupe and a quart of adult-size and luscious appearing blueberries.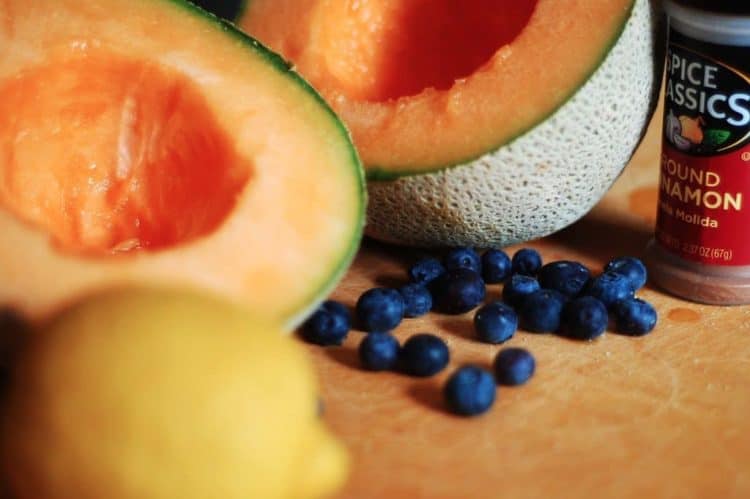 Cinnamon Can be Good for You
Opening the rustic kitchen cabinets of our cottage kitchen, I spy some of my favorite flavorings and seasonings, but it's the cinnamon that catches my eye. As it turns out, cinnamon not only adds a nice warm taste to clean eating recipes, it can actually be good for you.
Benefits of Cinnamon
Cinnamon can lower blood pressure in people with diabetes.
Cinnamon is high in anitoxidants.
Cinnamon is a natural anit-inflammatory.
Cinnamon can help lower your chances of heart disease.
Cinnamon lowers blood sugar and has an anti-diabetic effect.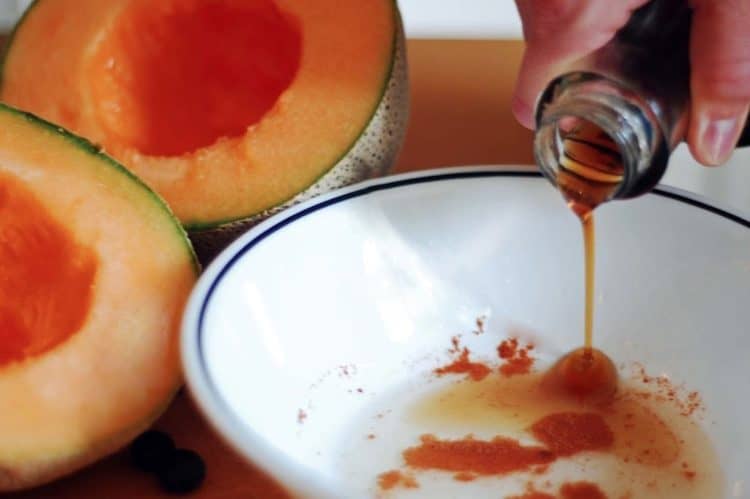 I do a once-over looking for some honey but there is none to be found. Who needs honey?" I ask myself, remembering the just opened quart of real maple syrup nestled away somewhere toward the bottom of our fridge. "Let's just see how well these kids get along…" The answer was of course, quite nicely.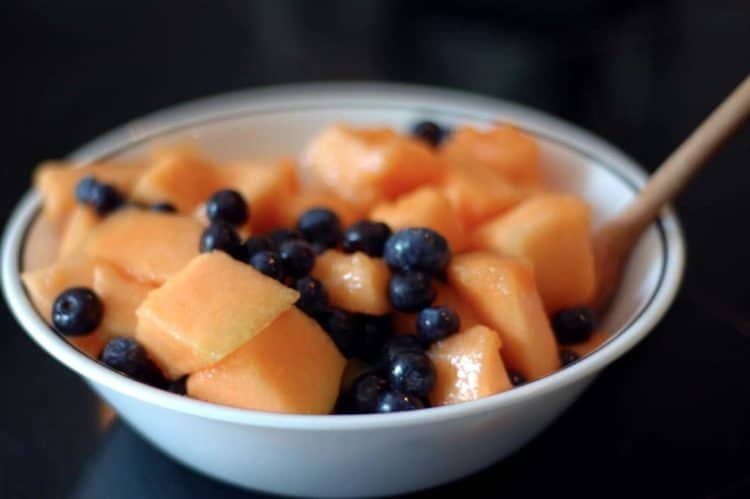 As I discovered, this clean eating breakfast bowl is a fantastic start to a cottage week with the boys. It's a time when we slip together into the first weeks of June and the start of their summer vacation, and into a boy's world of memories that are no doubt, in the making.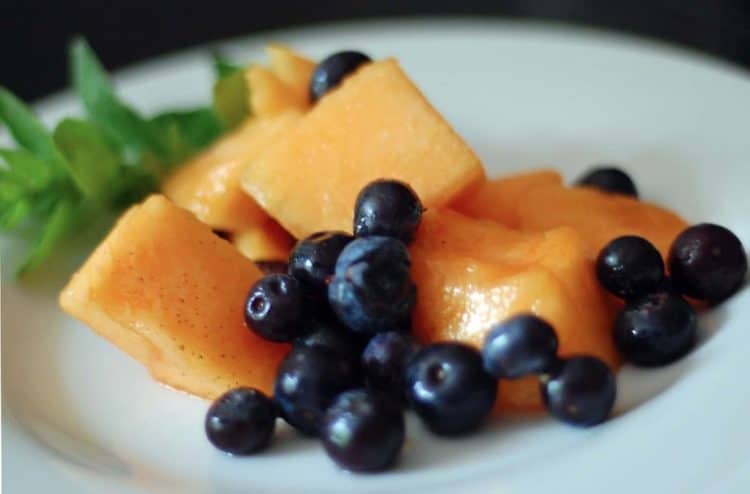 If you're looking for other great ways to enjoy cantaloupe, have a taste of our Chilled Cantaloupe Soup. Also, take a look at all of our blueberry recipes!
Looking for a healthy lunch recipe? You're going to love our roasted kale; so tasty you won't believe that it's good for you! See all of our healthy food ideas!
More cantaloupe recipes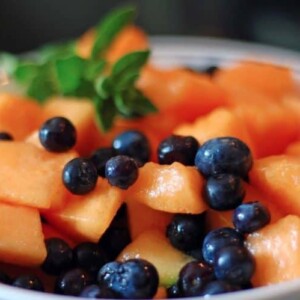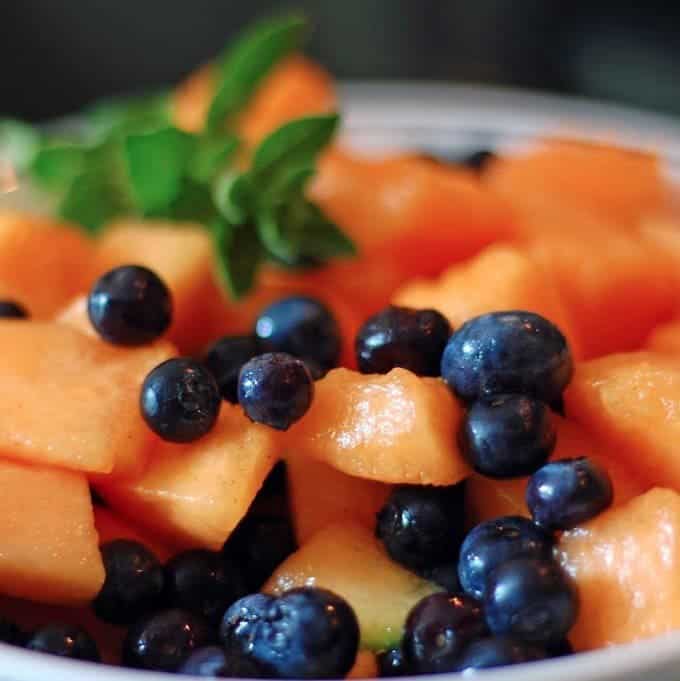 Blueberry Cantaloupe Breakfast Bowl Recipe
This clean eating breakfast idea uses just a handful of common but health ingredients.

Ingredients
1

cantaloupe

1

quart

fresh blueberries

1/4

cup

fresh squeezed lemon juice

1

tablespoon

pure maple syrup

1

teaspoon

cinnamon
Instructions
Slice cantaloupe in half, remove seeds and stringy insides.

Cube into 1 inch squares.

Wash and rinse blue berries.

Combine cantaloupe and berries in medium size mixing bowl.

Add remaining ingredients and gently mix together.

Serve and savor.
Nutrition
Calories:
199
kcal
,
Carbohydrates:
50
g
,
Protein:
2
g
,
Fat:
1
g
,
Saturated Fat:
0
g
,
Cholesterol:
0
mg
,
Sodium:
25
mg
,
Potassium:
577
mg
,
Fiber:
7
g
,
Sugar:
37
g
,
Vitamin A:
4795
IU
,
Vitamin C:
79.5
mg
,
Calcium:
37
mg
,
Iron:
1
mg
Nutrition information is automatically calculated, so should only be used as an approximation.
Updated from original post of June 14, 2013.