Healthy Turkey Wrap Recipe
on Mar 24, 2014, Updated Sep 15, 2020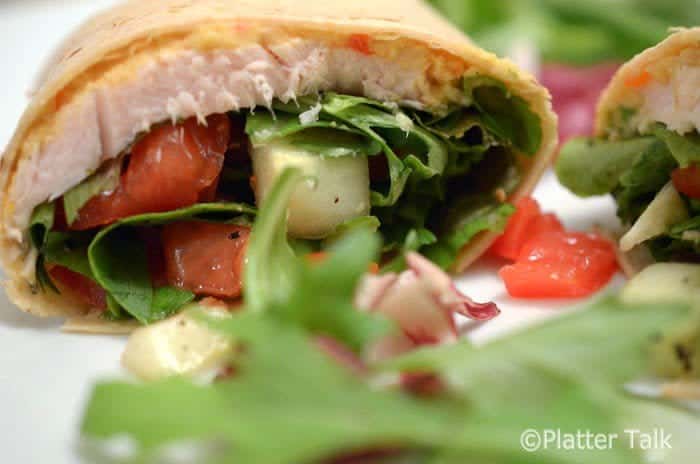 In the past I have been guilty of making lunches for Dan and for our kids, but would somehow forget to pack something for myself. Well, really not forget. Let me be honest with you. If I didn't pack a lunch, then I would have to run out to one of those fast food restaurants that are on every corner of every street in every town. You know, the one that has a yellowish color arch or the one with the man in a crown. These types of restaurants are my weakness, the bane of my existence. My name is Scott and I am fast foodaholic. There I said it, and I feel so much better telling you this. Ever since I can remember I have loved burgers and french fries. When I was younger, I didn't really worry about healthy things. I have always been thin, but as time passed, my metabolism has slowed. Over the last few years, I have added about 15 pounds to my frame and wasn't feeling the best about myself and how I was feeling. It was time to make a change. That meant exercising and finding new and healthy meals, and yes start packing my own lunch. That is how today's feature came about.
| | |
| --- | --- |
| | |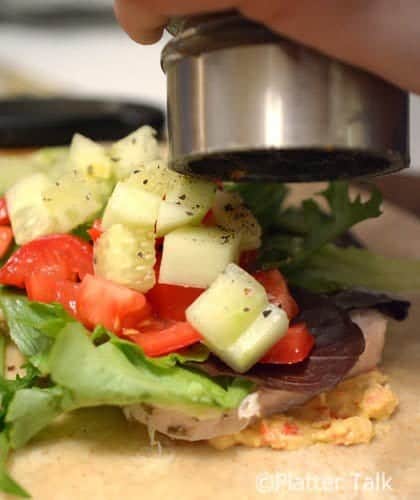 With six kids, a spouse, and an English bulldog in the house, I am about efficiency. That means that I have to plan ahead and use what we have on hand. It also means that I have to be efficient with my time. Things need to be done quickly because I know that someone will need to be driven somewhere, need help with their homework, nose wiped, knee bandaged, etc. So when I needed to make lunch on this day, I did not have the time or luxury to run out to the store. I did what I could. I shopped my fridge, pantry and counter top. I started by searching the fridge to see what we had. I quickly spotted some hummus that was made a couple of days before for a small gathering we had hosted at the house. I love hummus, and so did our friends. Not only is is packed with protein, it just tastes great and is so versatile. So that was definitely going to get used. After pushing aside the eggs and the yogurt I spotted the leftover turkey tenderloins that I made the night before. They could not go to waste. It all started to come together. A bag of spring greens salad mix and cucumber were quickly snatched up from their resting places in the fridge. I moved on to the basket of tomatoes on the counter and then the sandwich wraps in the bread box.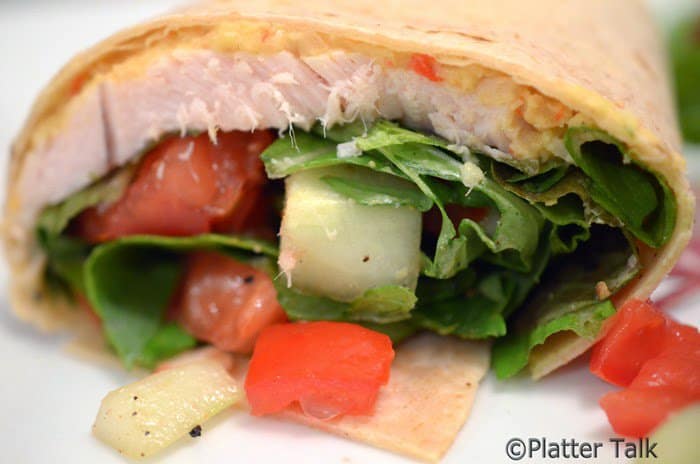 After some quick chopping of veggies, this wrap came together very quickly. I decided to use the hummus as my condiment instead of mayonnaise or mustard. The hummus gave the wrap more flavor and added the extra protein that I wanted, which I knew would keep me more satiated and away from the candy machines at work. I used the leftover turkey, but if you had leftover chicken, that would also be delicious. Or if you wanted to just leave the meat out altogether, you would still be very satisfied.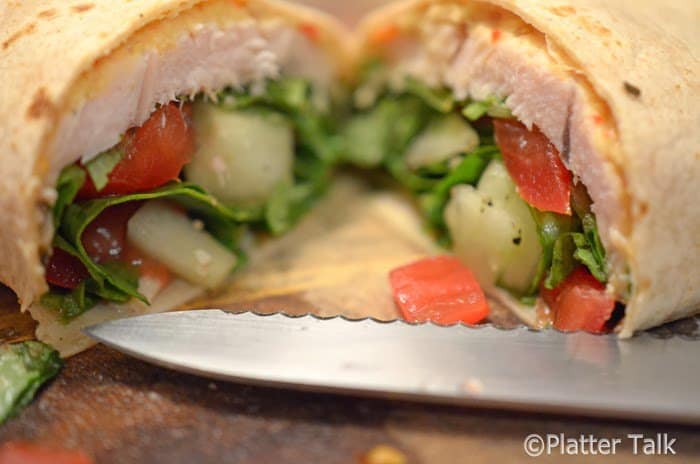 The important lesson that I learned is that you can make a fast, easy, healthy, and delicious lunch right at home. I find that I don't even miss the fast food places at all. I can't say that I will never go back – but everything in moderation. Life is a journey and I am enjoying the new path that I am taking. I hope to see you somewhere along this road. Maybe we can stop for a picnic and enjoy one of these great wraps!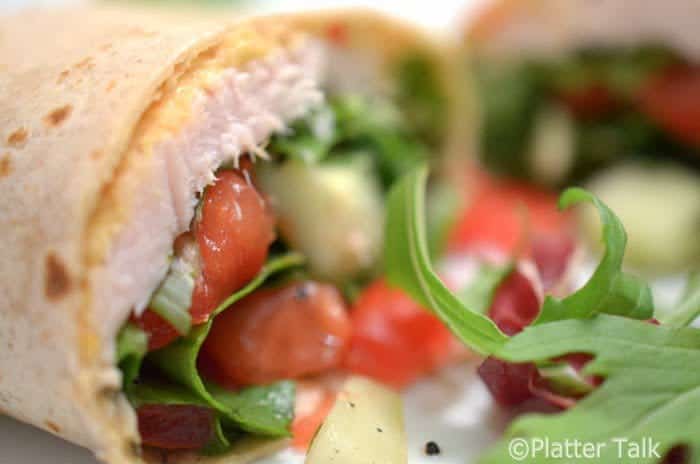 Be Sure and Follow Platter Talk on Facebook and Never Miss A Great Recipe!
Turkey Hummus Wrap
Fresh, light, and nutritious wrap; perfect for any lunch.
Ingredients
4

tablespoons

hummus

,

divided

6

oz

turkey meat

,

divided

1

diced tomato

,

divided

1/4

diced cucumber

,

divided

1

cup

mixed greens

,

divided

2

sandwich wraps

salt and pepper to taste
Instructions
Place wraps on clean surface

Starting with hummus, equally divided ingredients between both wraps

Roll each wrap, and seal tightly in plastic wrap.

Refrigerate until ready to eat.
Nutrition
Calories:
282
kcal
,
Carbohydrates:
28
g
,
Protein:
26
g
,
Fat:
7
g
,
Saturated Fat:
2
g
,
Cholesterol:
57
mg
,
Sodium:
644
mg
,
Potassium:
349
mg
,
Fiber:
5
g
,
Sugar:
3
g
,
Vitamin A:
280
IU
,
Vitamin C:
6
mg
,
Calcium:
107
mg
,
Iron:
3
mg
Nutrition information is automatically calculated, so should only be used as an approximation.