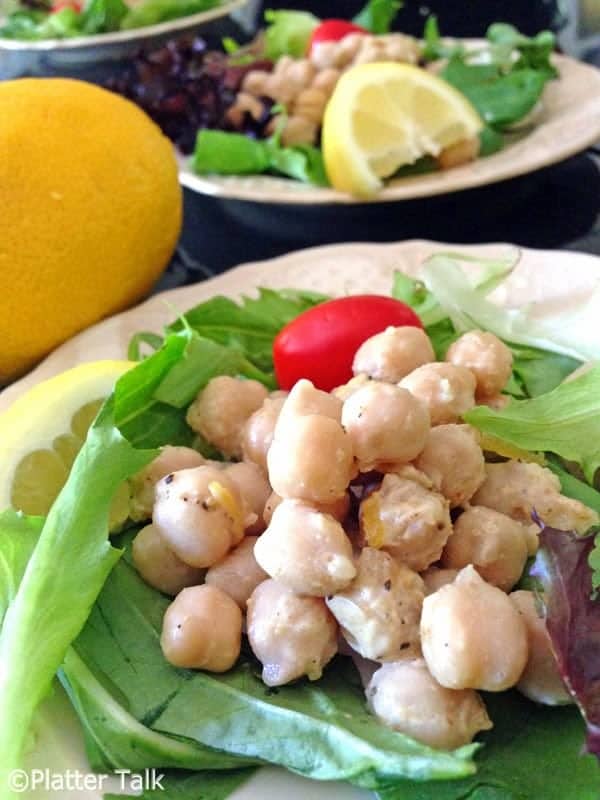 Yes, it's summer here. Finally. Well, perhaps not officially but with sunny skies and temps in the mid-80's, who needs official? I have a love of legumes in general and small round beans in particular. Lentils, black beans, and garbanzo beans, among others. I can eat all of these "plain," by themselves and although this is an activity I partake in rarely, I think I prefer to not know what this penchant says about myself. Regardless, I love all sorts of food from all sorts of origins. Hummus is a delicacy I have learned to love and learned to make. On this sunny Saturday at our small cottage on a small lake in the middle of Nowhere, Wisconsin, I decided to try a different type of hummus. One that is not mashed and blended together. Readers, this is one you must try.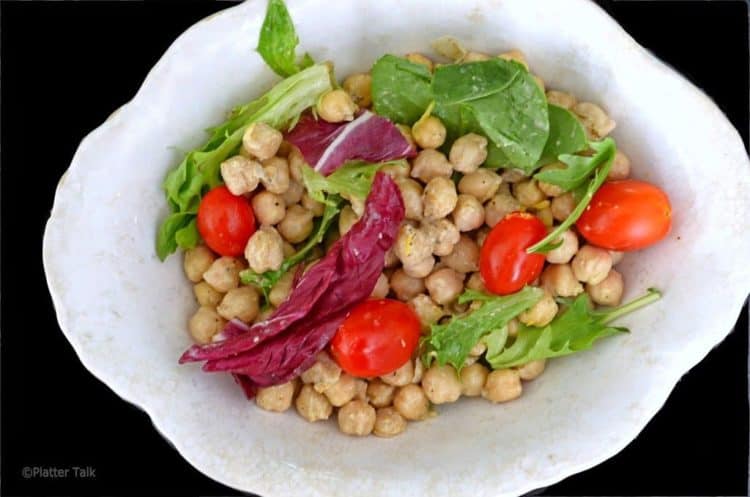 This is a perfect salad for the first day of June, the month when summer officially starts. Oh, wait a minute. Since we have established that official is technically only a guideline when it comes to summer, I think it is safe to say this salad is perfect for any day.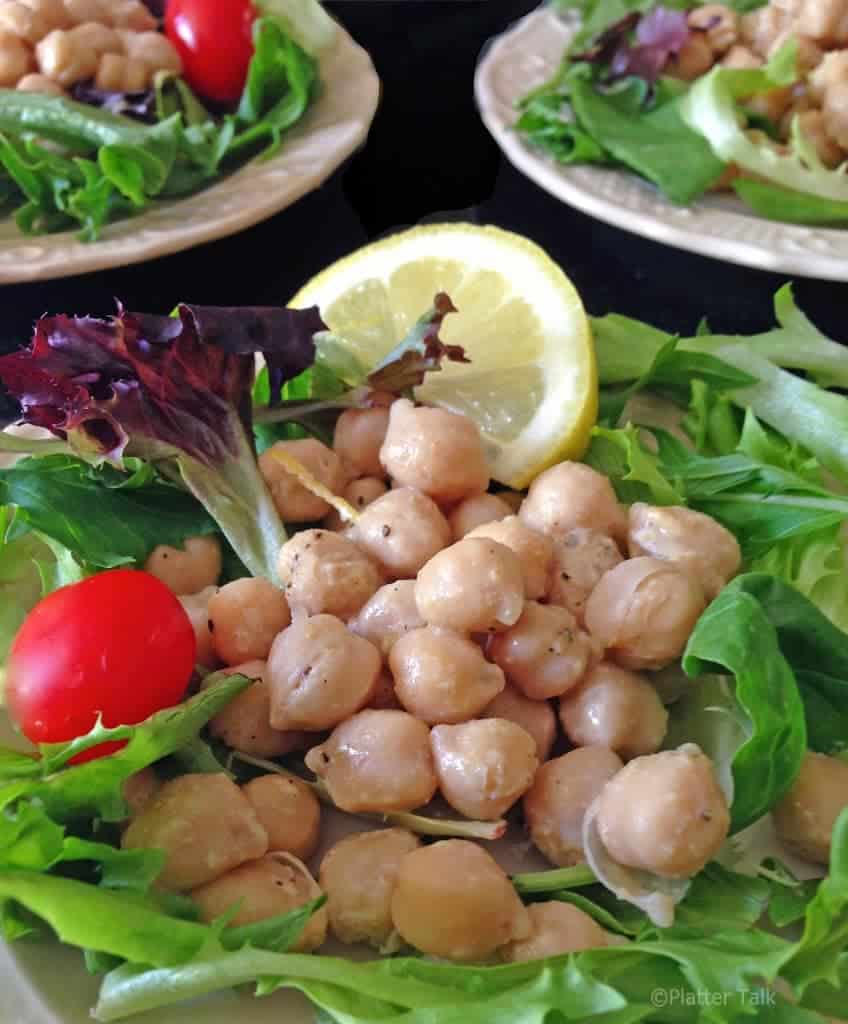 This dish is delicious, it is attractive, and it is is loaded with health. There is one more factor that makes this a winner and in many circles it would be the deciding factor: This deconstructed hummus salad is extremely easy to throw together. It has all the taste of a wonderful hummus, and none of the mess. There is no food processor, chopper, blender, or what have you. It is virtually a one bowl wonder. I love hummus and I prefer to make my own, all the fuss and muss involved sometimes weighs my mind against making it for that reason. Now, we have a new option. Please try this, and no need to thank me. Your smiles and adulation from friends and guests you serve to will be all the thanks I need.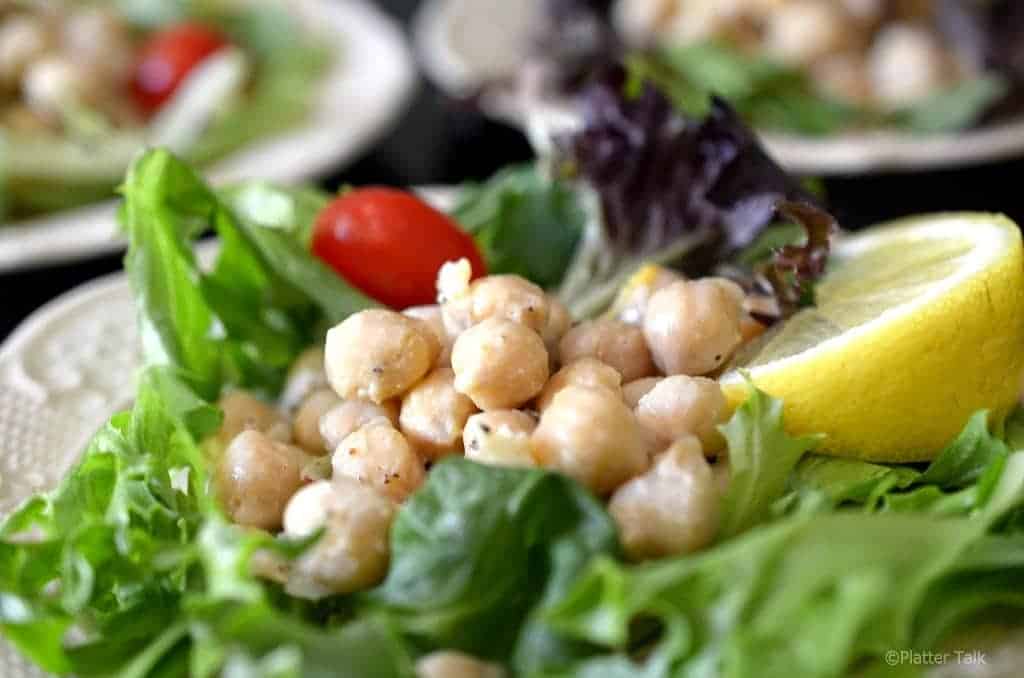 Be Sure and Follow Platter Talk on Facebook and Never Miss A Great Recipe!
Deconstructed Hummus Salad
a Platter Talk Exclusive
Recipe
(yields 4 servings)
Ingredients
1 15 oz can low-sodium garbanzo beans

1 tablespoon ground cumin

pinch of kosher salt

fresh ground peppercorn to taste

1 garlic clove, crushed

1 tablespoon Tahini paste

juice from 1/2 of small lemon

1 tablespoon lemon fresh zest

fresh mixed greens to garnish
Rinse garbanzo beans well, and remove skins if desired. Place beans in medium size mixing bowl.
Gently fold in remaining ingredients and mix until thoroughly blended.
Serve with lemon wedges and mixed greens.
Food Flash! Naked Garbanzo Beans Make Creamier Hummus – See more at: https://www.plattertalk.com/?p=3383#sthash.BP2n1ShO.dpuf