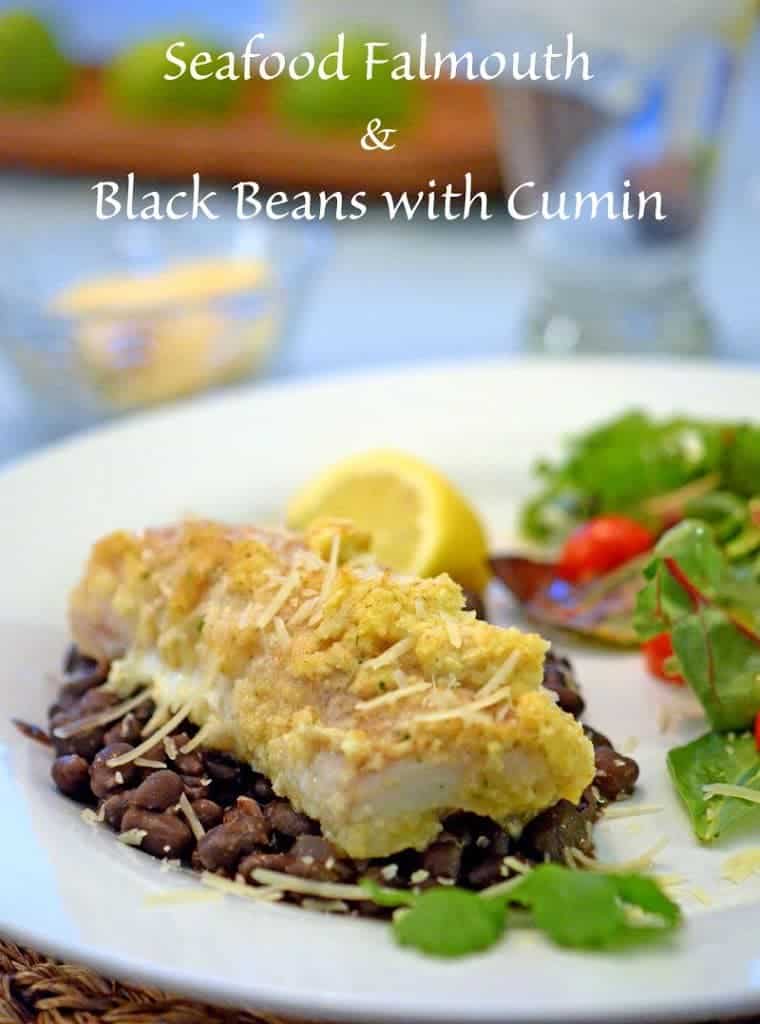 I can't remember a time when I did not enjoy eating fish. I grew up eating it, caught from the fresh waters of the Independence River in the foothills of northern New York's Adirondack mountains, from the gulf coast of southwest Florida, from the waters of Long Island's tip, and even from the freezer of my mom's kitchen. Properly prepared, I can eat seafood on a daily basis and be quite content. Although I don't make it nearly enough in our own home, I put this entree together a couple of nights ago using some cod loin and my love of fare from the sea once once again affirmed.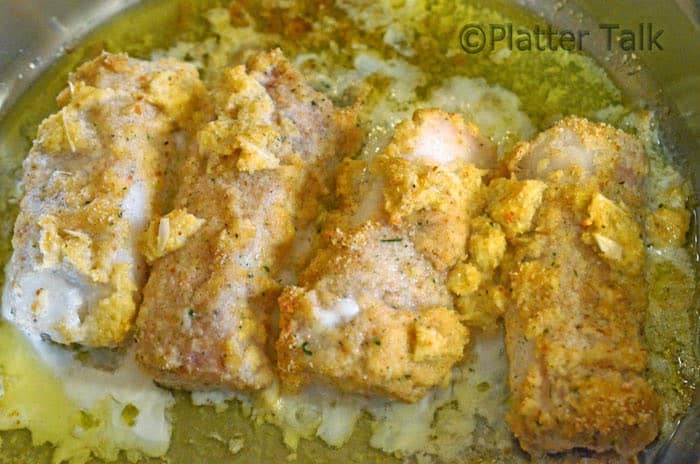 Many of you readers here are aware that I have a sister who is a professionally trained chef. Kathy, who is among the most ardent seafood aficionados that I know (she is convinced she was a sea lion in a previous life,) is also somewhat of a seafood snob – she can smell frozen fish from a mile away. And don't even get her started on Sodium Tripolyphosphate (STPP is the preservative that is often used to make seafood firmer and glossier while at the same time adding water weight to the product and robbing it of it's natural flavor.) As such, it is the bane of her existence.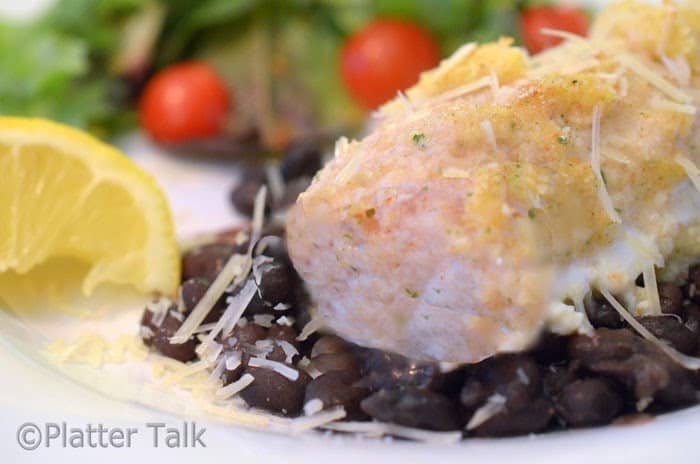 Although I'm 100% on the same page as my sister when it comes to her disdain for STPP, my tolerance for frozen seafood is substantially higher than hers. Perhaps it's because I am landlocked in the frozen tundra of Wisconsin, I can't say for sure. Nonetheless, as long the flavor is there and barring any offensive taste or texture, I can enjoy fish and from nearly any state – fresh, frozen, and most points in between.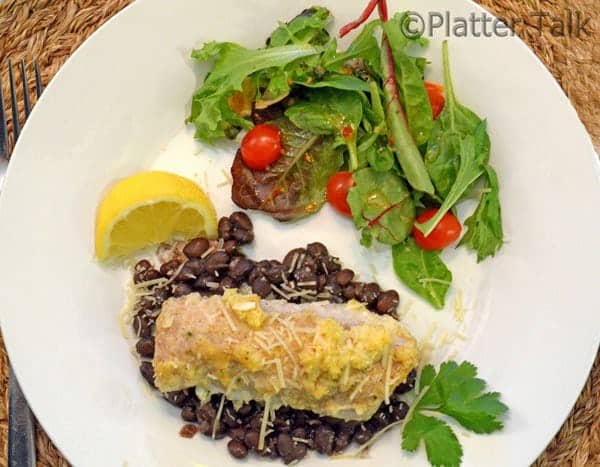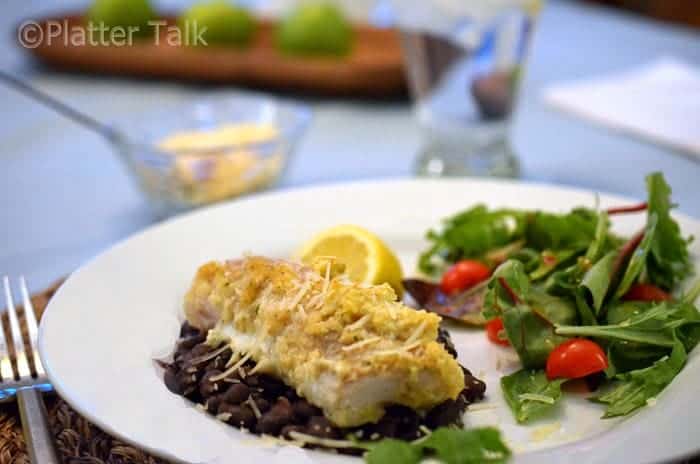 Growing up, my mom was known to make her "Italian fish," clearly coined in the loosest sense of terms. As I recall, she turned her broiler on, placed a couple of frozen piece of cod on a pan, poured some tomato soup over them and added salt and pepper. Et voilà – Italian fish. Or not. Fortunately, growing up, I didn't know the difference and fortunately I always looked forward to times when my mom made this.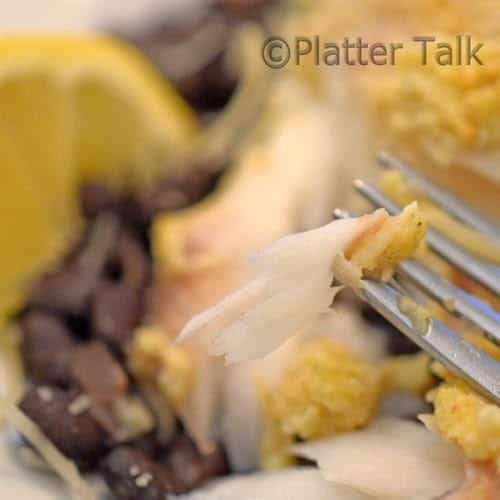 Fast forward quite a few decades: What should I find in the frozen bins of my favorite local grocery store but frozen cod loins, priced at $4.00 for four of them, probably close to a pound in total weight. Other than knowing I was not going to douse these in tomato soup, I had no idea how I would prepare them. Still, I wasn't too concerned because at that price I knew I could make room in our freezer at home.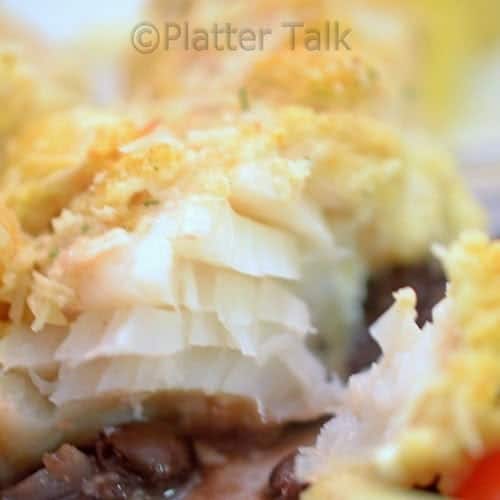 A month or so later (I know my sister is rolling her eyes if she is reading this,) I pulled those babies out of the freezer, along with a few goodies from the basket of aromatics atop the kitchen counter adjacent to the sink.
Enjoy good seafood that's easy to make at home? Be sure and check out some of our favorite eats, from the Sea. Via Platter Talk!
I decided to try something new with this cod and the photos in this post are a pretty good representation of the finished product's appearance. Sadly, you can't taste through these pictures. If that were the case, I dare say a shortage of frozen cod would potentially ensue. It was that good.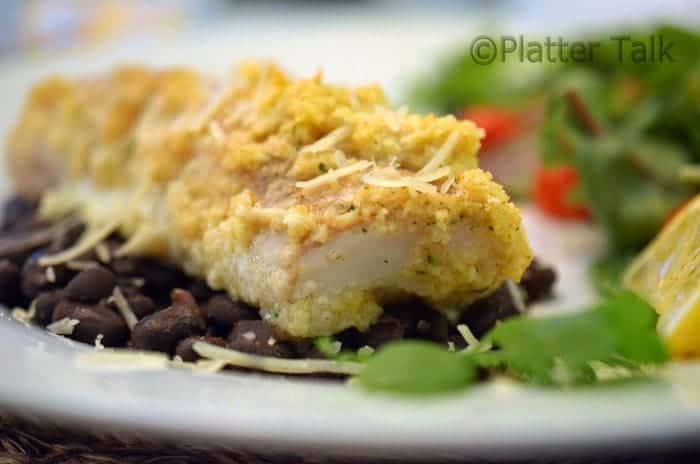 Never Miss Another Platter Talk Recipe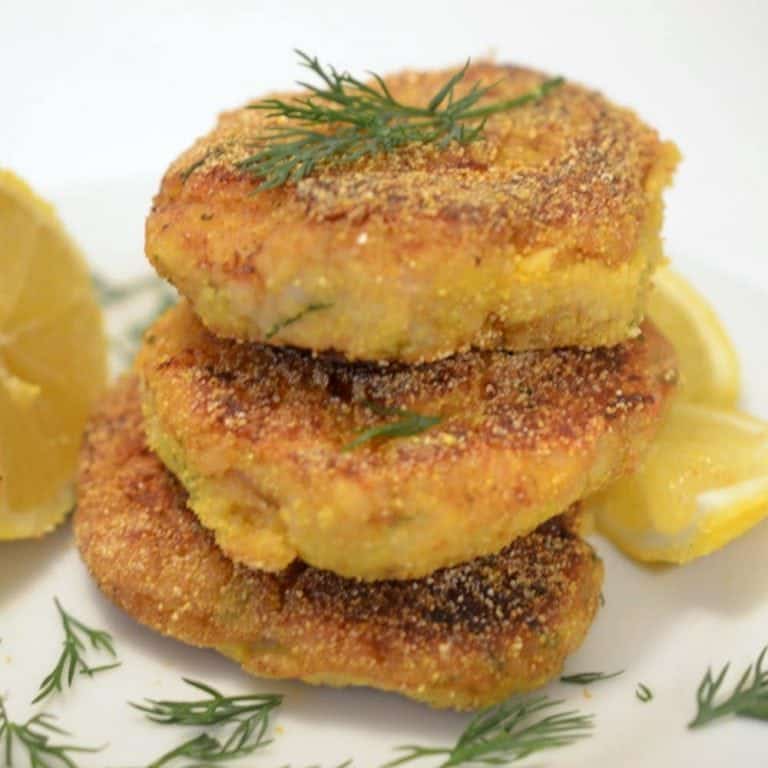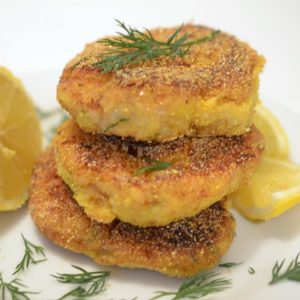 Seafood Falmouth & Black Beans with Cumin
A Platter Talk Exclusive
Print
Pin
Rate
Ingredients
for the fish
16

oz whitefish

in divided portions

¼

cup

olive oil

6

garlic cloves

peeled

fresh ginger root

peeled (½" x 2")

¼

cup

shredded Parmesan cheese

plus 1 tablespoon for garnishing

¼

cup

fresh lemon juice

1

egg

1

cup

panco-style bread crumbs

1

teaspoon

kosher salt

lemon wedges for garnish
for the beans
1 15

oz

can of low sodium black beans

drained

1

tablespoon

olive oil

1

garlic clove

finely chopped

2

tablespoons

finely chopped red onion

2

teaspoons

ground cumin

1

tablespoon

chopped cilantro leaves
Instructions
for the fish
Preheat oven to 375 degrees F.

Use small food processor and pulse-process garlic, ginger and lemon juice.

Add salt and Parmesan cheese to mixture, stir well and place in shallow bowl for dredging.

Beat egg, place in shallow bowl for dredging,

Place breadcrumbs in shallow bowl for dredging.

Heat olive oil in large oven-safe sauté pan over medium heat.

Dredge fish in egg wash, garlic mixture, and finally bread crumbs

Place fish in oven-safe sauté pan and fry for 1 to 2 minutes

Place pan in oven and bake for 15 to 25 minutes (depending on fresh vs. frozen), until warm and flaky throughout.

Serve immediately atop black beans, on preheated plate.

Garnish with lemon wedges.
for the beans
Heat olive oil in small fry pan over medium high heat.

Add garlic and onion and sauté until soft and translucent.

Add black beans and continue to heat, reducing heat to low setting.

Stir in cumin and cilantro.

Continue to heat and stir occasionally, until ready to serve.
Notes
This recipe can be used with any coldwater white fish, even scallops.
When dredging, use hands to cover fish surface as much as possible
Garlic mixture might
Garnish plated entree with shredded Parmesan cheese
Nutrition
Calories:
352
kcal
|
Carbohydrates:
28
g
|
Protein:
25
g
|
Fat:
16
g
|
Saturated Fat:
3
g
|
Cholesterol:
69
mg
|
Sodium:
925
mg
|
Potassium:
541
mg
|
Fiber:
6
g
|
Sugar:
2
g
|
Vitamin A:
84
IU
|
Vitamin C:
7
mg
|
Calcium:
129
mg
|
Iron:
3
mg