New England Cuisine probably ranks highest among my most cherished types of food, making that area one of my favorite parts of the the U.S. Its wide variety of delicious seafood has always been my first choice of entrees. Five out of the six states which makeup New England have the Atlantic Ocean for their Eastern borders, making it a treasure trove for seafood lovers like myself.
New England Cuisine
New England Cuisine naturally includes an abundance of shell fish such as clams, oysters and scallops which are available in assorted varieties. Have you ever had the chance to try fried belly clams? You have not LIVED until you have bit into the intensely rich, sweet, sea flavored morsel, of a crispy, breaded belly clam. Please don't confuse these yummy delights with breaded, fried clam strips.
The later is made with large, shredded ocean clams that often have no choice then to have the texture, taste and tensile strength of a rubber band. Often with a little sand added for good measure. Speaking of clams, let us not forget about clam chowder. Be it creamy, clear or tomato based, it's all delicious but my favorite is the creamy New England clam chowder.
The New England States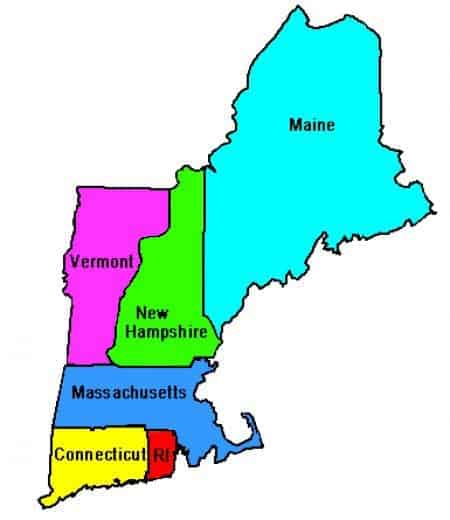 Connecticut

Rhode Island

New Hampshire

Massachusetts

Vermont

Maine
When I think of New England and New England Cuisine, I think of lobster traps and little seafood shacks lining the shore. Maine produces 90% of the US markets lobster supply and if you ever get the chance be sure to enjoy the freshly caught abundance of marine crustacean. They are often ½ the price that you might have to pay in other parts of the country and often come with a cob of corn and a portion cup of melted butter. Once, while driving thru New London CT, I stopped at a McD's (I know… but I was thirsty and had to catch the ferry). To my surprise and delight, lobster rolls were offered on the menu!
Cape Cod, is named after the dense white fleshed, delicately flavored fish that abundantly live in it's surrounding waters. Very close to cod in appearance and flavor is haddock and the 2 can be used pretty much interchangeably. Scrod is the name given to a small cod or haddock. These fish are commonly found prepared as fish in chips, either battered or breaded then deep fried. Cod is also often dried and salted, to later be reconstituted and made into fish cakes or other dishes.
New England Cuisine
These varieties of fish are always happy to jump into a pot of seafood chowder or stew, too. Delicious, when baked with a variety of herbs, spices, wine, lemon and butter, the diversity is almost endless. The trick to preparing really good seafood is to not overcook it. Once the translucent flesh appears opaque, it's done. A very hot oven temperature provides the perfect environment to achieve this goal, along with a short cooking time.
Moving on from my almost pathological love of seafood, New England Cuisine also includes other foods. These include cranberries, (Massachusetts #2 provider in the US), apples, maple syrup (Vermont #1 provider in the US), cheese and other dairy products. Vermont is home to Ben and Jerry's. I've never had the chance to visit B&J's home, but I've seen pictures that friends have taken. Ginormous sundaes and other ice cream creations are offered there so you might want to go on an empty stomach. Just 'saying.
Johnny cake was thought to originate in the NE, a culinary gift of the American Indians who generously introduced the recipe to the new comers from England. Originally called Journey Cakes, as it traveled well and provided needed nutrition, especially when combined with maple syrup butter. Boston is called "bean town" on account of it's famous baked beans. They were started on Saturday in a cast iron pot hung above a fire. The pot contained beans, salt pork, molasses or maple syrup and served on Sunday, often served with it's famous brown bread or Johnny cake.
New England Cuisine
New England is also famous for New England Boiled Dinner. Usually composed of Corned Beef, potatoes, cabbage, carrots, turnip, parsnips and onions. Often served with brown bread and Indian pudding. This delicious dinner is also known as Corned Beef & Cabbage, the dinner we all love to eat on St. Patrick's Day.
We hope you've enjoyed this virtual culinary journey through New England. Do you have a favorite food from New England Cuisine? We would love to hear what it is.  As always, we thank you for reading Platter Talk, it means the world to us.  – Chef Kat
Click Here For Your Free and Secure Email Subscription