Alton Brown Scallops are the cat's meow of seafood recipes. Pan-seared, this easy dinner has just four other ingredients. Including the salt and pepper.
I'm going to show you the master's technique for making this high-end dinner for a fraction of what you'll pay in any restaurant. Spoiler: These will probably taste better too!
Jump to:
What are scallops?
A treasure from the sea, they are members of the bivalve mollusk, just like clams, mussels, and oysters. The beautiful fan-shaped shells that line our sandy beaches are often the former homes of scallops.
This Alton Brown recipe uses sea scallops. Those are big ones. The smaller bay scallops are great for soups, pasta dishes and so much more.
Ingredients
Like many of my favorite recipes, this one has just a few ingredients. Other than the main one, you probably already have everything else you need to make this meal.
Sea Scallops
Butter
Olive Oil
Salt and Pepper
How to sear scallops
Searing these will provide a light and sweet crust finish. It's a super simple technique but there are a few key steps you need to follow.
The first thing to do when getting ready to sear these is to pat them dry with a paper towel. This will remove excess moisture and is a critical step in attaining a good sear.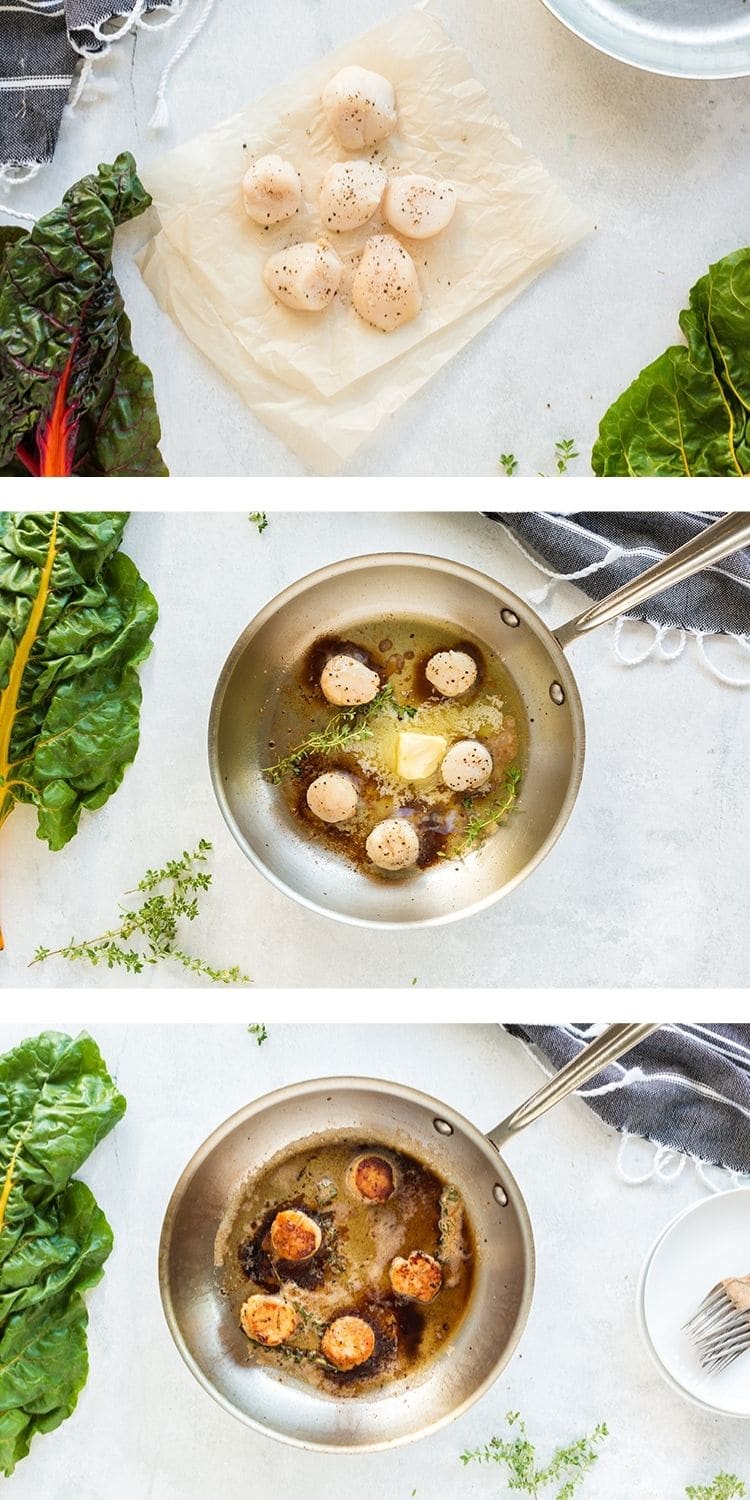 After blotting dry, season them with salt and pepper.
Use a frying pan and heat the butter and olive oil just until it begins to smoke.

Place them in the hot fat, without crowding.
Sear them for 1 ½ to two minutes.

Flip each one and sear on the other side for the same amount of time.
Pro Cooking Tips:
While they are searing, do not move them around or touch them until you flip them. Allow the searing process to form a crust.
While the first side is searing in the olive oil and butter, gently tilt the pan and use a tablespoon to coat the tops of the uncooked sides with the hot fat. This will give a sweet, pre-sear coat to each one.
How to Pick Out Scallops
Fresh is always best but most of us don't have access to them. Instead, we only have frozen ones available.
Avoid Preservatives
We see sea scallops in the seafood cases of all the major grocery stores throughout the U.S. and they appear ever so plump and juicy, just begging to be taken home and enjoyed.
The very sad part of this scenario lies in the fact that many times their plumpness and juiciness lies not in their natural goodness, but rather in the taste sucking evils of a preservative that goes by the name of sodium triphosphate (STP).
Besides being used as a preservative for much of the seafood we see in our grocer cases, it's also a primary component of detergents. Nice eh? Not.
Look for Dry-Packed
Dry-packed means they are shucked, packed up, and shipped on ice without chemical additives.
These taste better than wet-packed alternatives, which are soaked in water and STP, meaning they become bloated with water and food additives, resulting in a dull flavor.
Scallops with too much moisture are also less successful in the pan, since excess water seeps out, preventing a flavorful crust from forming on the outside as it cooks.
The dry-packed variety may also have a stickier texture and a slightly more pronounced smell, which is nothing to worry about. They cost more but have a naturally sweeter taste.
FAQ
How Do You Thaw Scallops?
Frozen scallops should be thawed in the refrigerator. Do not thaw them at room temperature and be sure to rinse them before cooking.
Why do You Soak Scallops in Milk?
Milk will help tenderize them and get rid of their fishy taste and odor. It can also help extra particles of sand. To do this, rinse with cold water and then soak them for one hour and then blot dry as directed above.
Pro Cooking Tip: After soaking the scallops, pour the milk into a freezer bag (using care to leave any sand behind.) Freeze it and reserve for later use to make a seafood or clam chowder.
Can it get any simpler? Can it be any tastier? I hope you'll try this recipe for scallops from Alton Brown. Be sure and leave a comment below and please tag us @platterttak on social media. Thanks for reading Platter Talk, it means the world to us!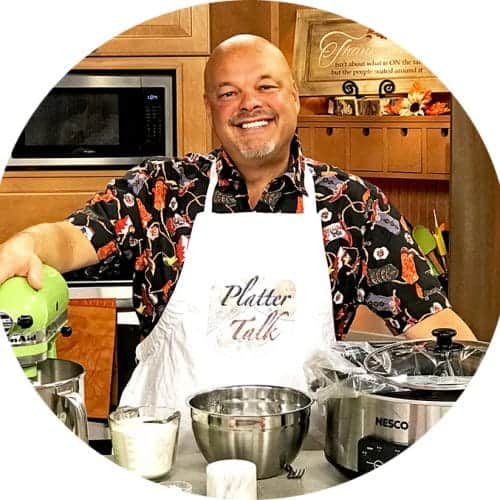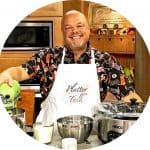 More Tasty Seafood Recipes
📖 Recipe
Alton Brown Scallops Recipe
Learn how to make the perfect pan-seared scallops.
Print
Pin
Rate
Ingredients
1 to 1 ¼

pounds

dry pack sea scallops

approximately 16

2

teaspoons

unsalted butter

2

teaspoons

olive oil

Kosher salt

Freshly ground black pepper
Instructions
Remove the small side muscle, rinse with cold water and thoroughly pat dry.

Add the butter and oil to a 12 to 14-inch saute pan on high heat. Salt and pepper the scallops. Once the fat begins to smoke, gently add the scallops, making sure they are not touching each other. Sear the scallops for 1 ½ minutes on each side. Each one should have a ¼-inch golden crust on both sides while still being translucent in the center. Serve immediately.
Notes
Drying the scallops (with paper towels) is critical when searing.
Warm serving plates in the oven to preserve and maintain the heat of the entrée.
Nutrition
Calories:
227
kcal
|
Carbohydrates:
7
g
|
Protein:
27
g
|
Fat:
9
g
|
Saturated Fat:
3
g
|
Cholesterol:
65
mg
|
Sodium:
889
mg
|
Potassium:
464
mg
|
Sugar:
0
g
|
Vitamin A:
125
IU
|
Calcium:
14
mg
|
Iron:
0.9
mg
Updated from original post of October 3, 2014