What to Serve with Smoked Salmon – 21 Easy Recipes
Smoked salmon recipes can be enjoyed for every meal of the day. Today I'm showing you some delicious meal ideas that you can eat for breakfast, lunch, and dinner. We even show you how to store smoked salmon to use for these delicious serving ideas.
Plus, you'll find a table full of the best side dishes and salmon appetizer recipes that I could find. Read on and discover your new favorite way to make a healthy fish recipe!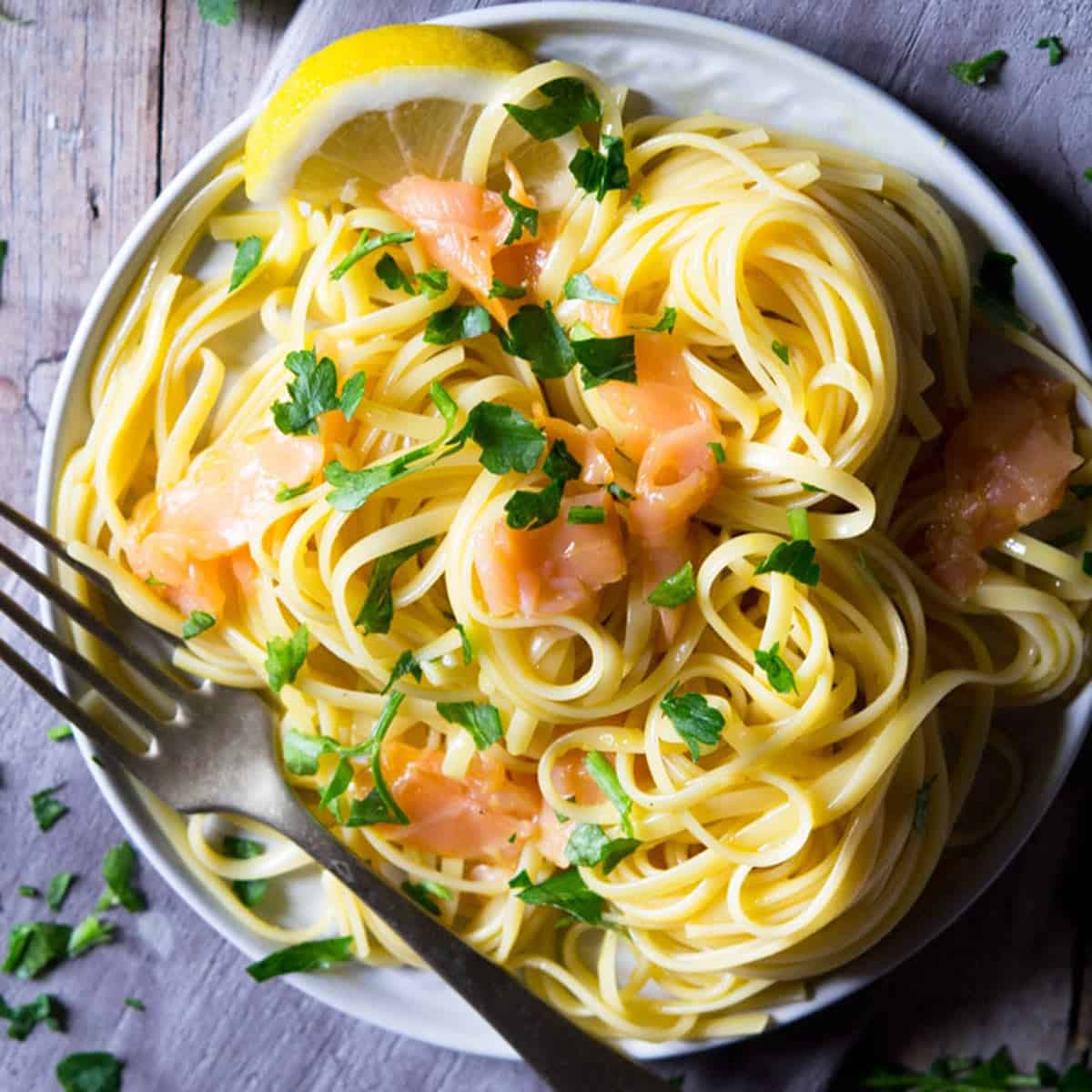 Jump to:
About this
We are big fans of this fish and I'm always looking for a great way to serve it. You can make your own or take the easy way out and pick some up at a grocery store. (Remember, we never judge!)
Whether served as cold-smoked salmon in the form of lox or as a hot-smoked salmon, there are many ways to enjoy this fish beyond the smoker.
The smoking process brings out the natural sweetness of this healthy fish resulting in a very friendly additive to many food ideas.
We've come a long way over the years in using it as part of a delicious meal and bringing it to a whole new level. Now you can serve this in some of the best side dishes, and of course as the perfect appetizer.
It makes for a beautiful presentation at dinner parties, a cocktail party, or a fancy brunch.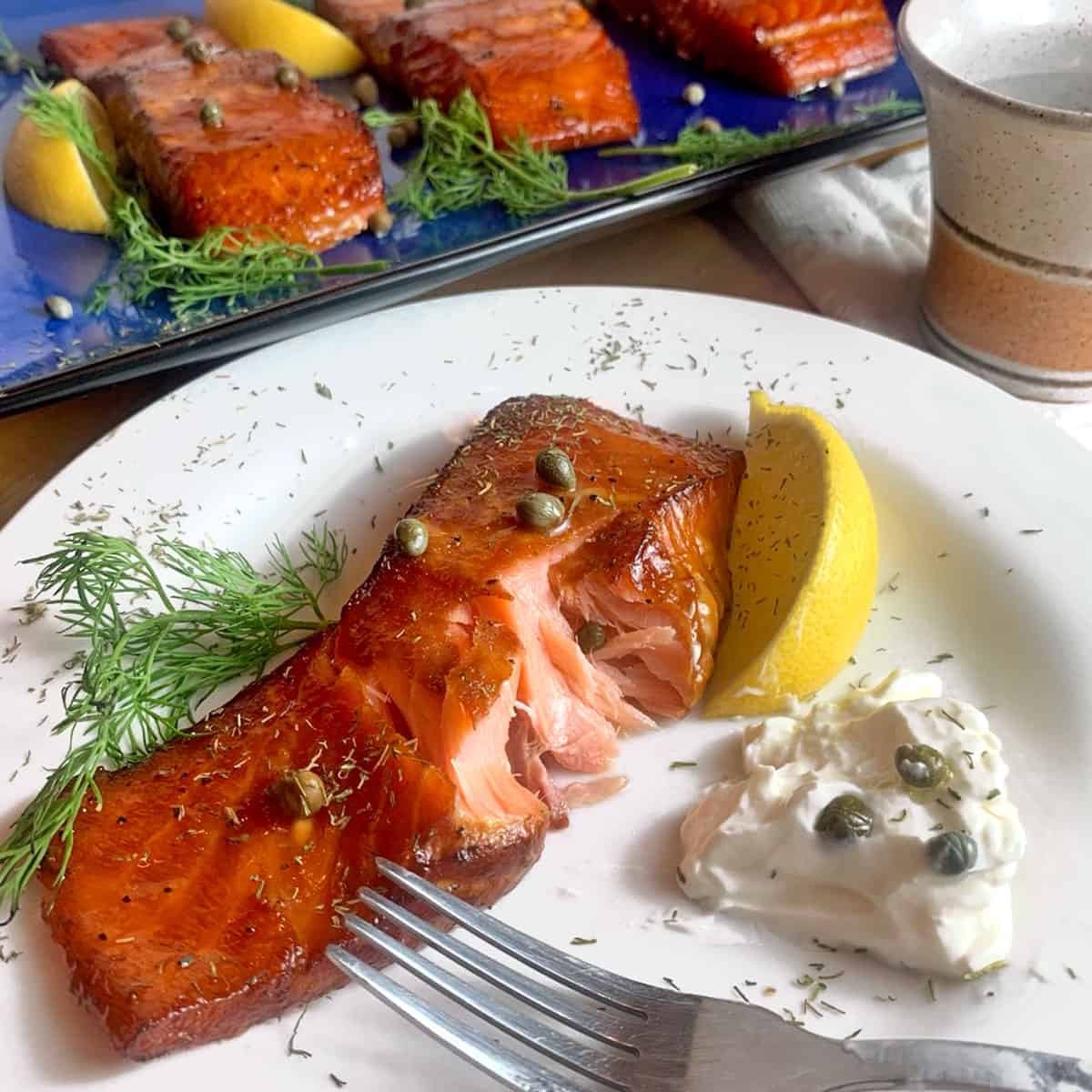 You'll find many of these as a great way to use leftover salmon and bring it to a whole new level. First, find out how long is leftover salmon good to eat?
Common ingredients
Certain other foods pair especially well with smoked fish. Soft cheeses, fresh herbs, and lemon juice are classic examples.
You'll notice a few common ingredient themes in many of these dishes. Any of these will help you figure out what to serve with smoked salmon. Things like:
Cream cheese
Red onion
Black pepper
Sour cream
Lemon wedges
Green onions
Dijon mustard
Kosher salt
Hot sauce
As a healthy breakfast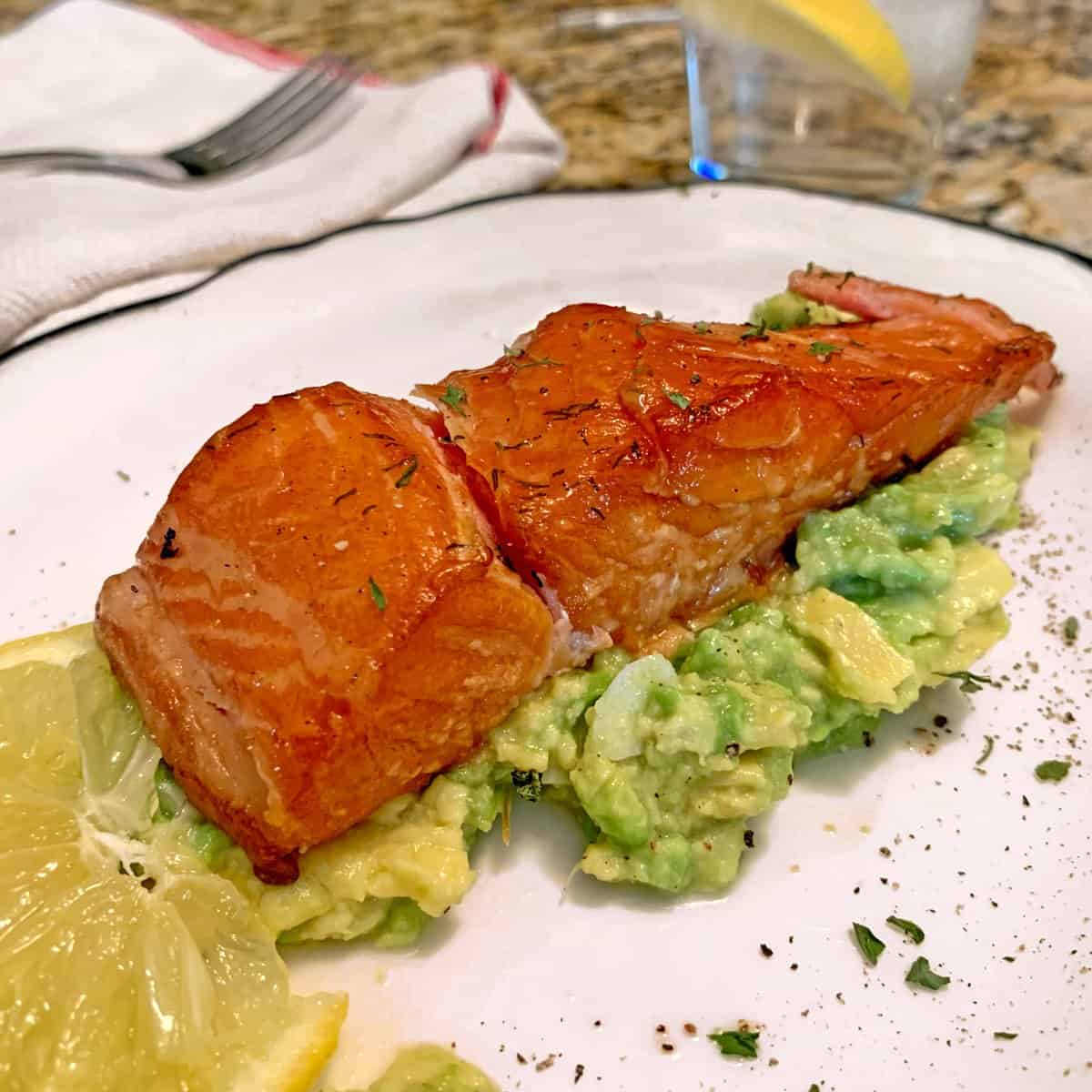 Back in the day, a salmon bagel was about as good as it got for breakfast. In fact, that idea still seems a bit on the fancy side to me. Heaven knows it can get on the pricey side if eating out!
Things have come a long way over the years. Here are some delicious breakfast ideas for what to serve with smoked salmon.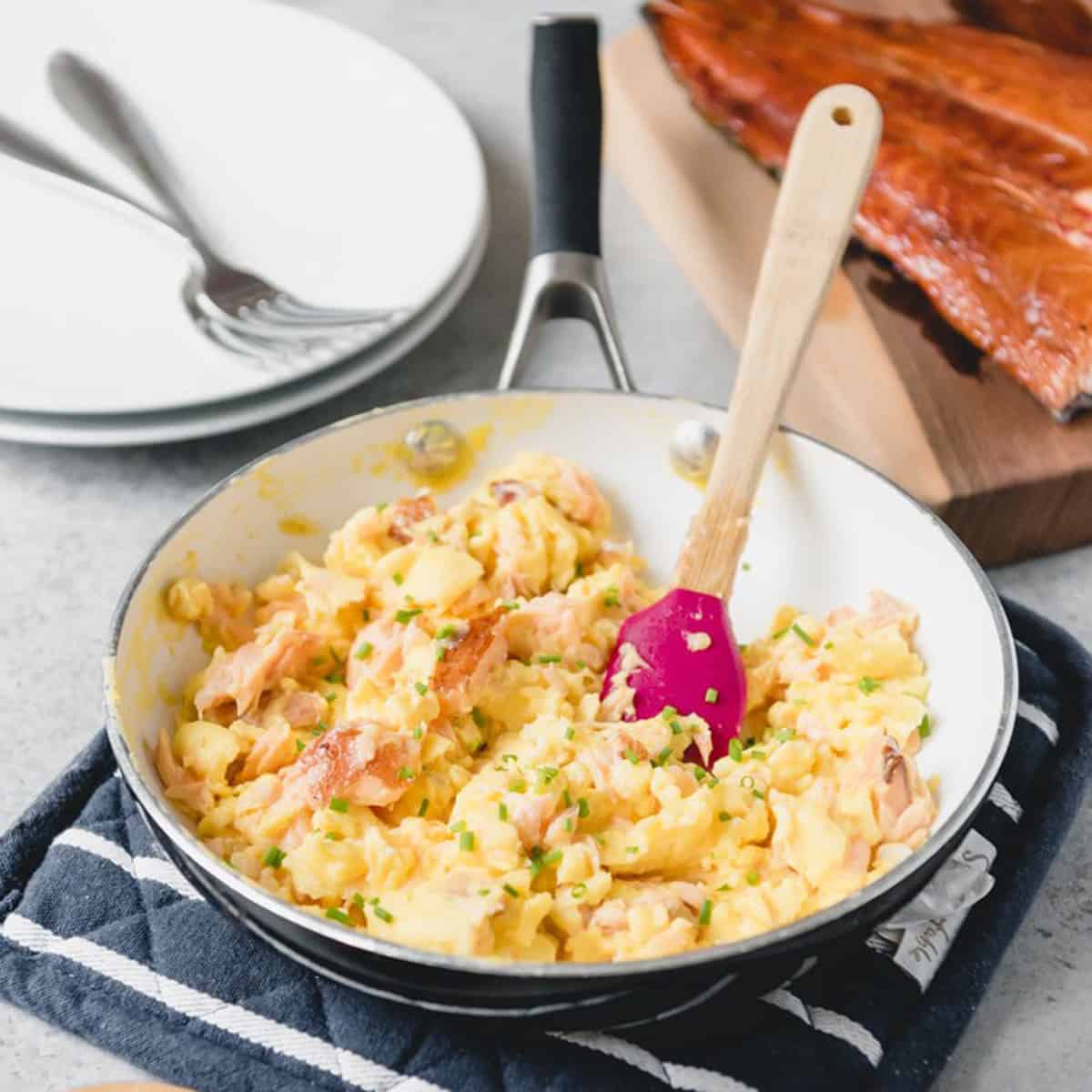 Skip the sausage with this frittata and use our featured seafood, for a delicious and healthy breakfast or brunch option.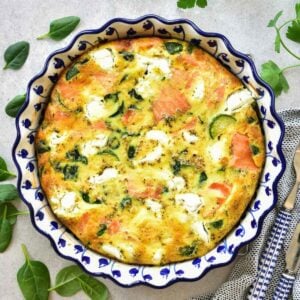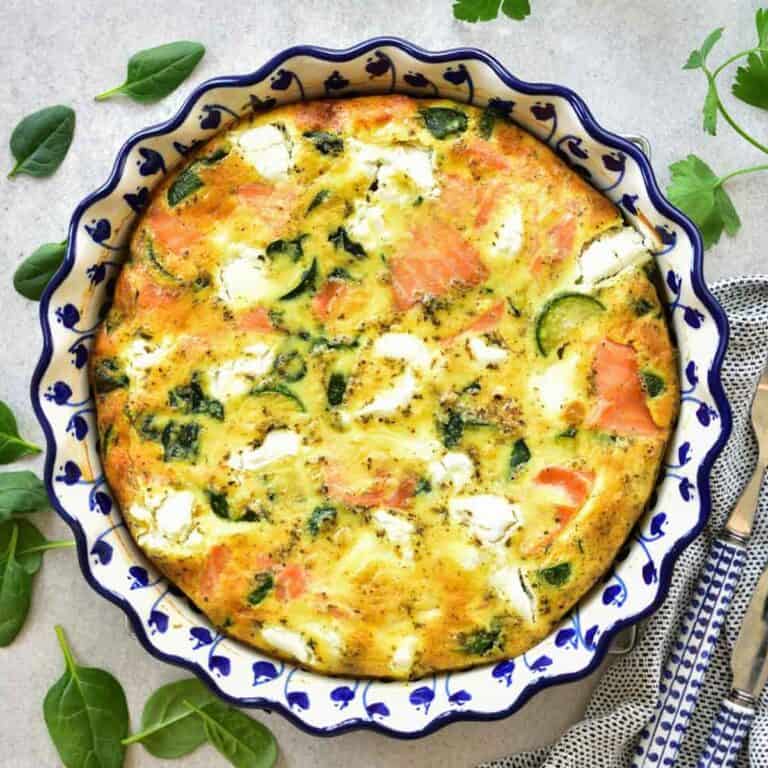 Healthy Breakfast Frittata
Use in in this frittata, mixed with zucchini, spinach and goat's cheese.
View Recipe
Add this healthy seafood to an already healthy breakfast option. With all the extra omega-3 fatty acids in this next recipe, you may just turn into a superhero! This is perfect for any leftover lox you might have in the fridge.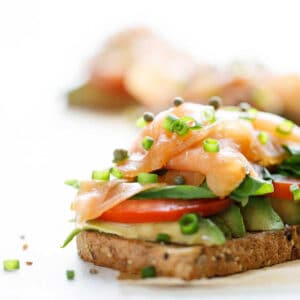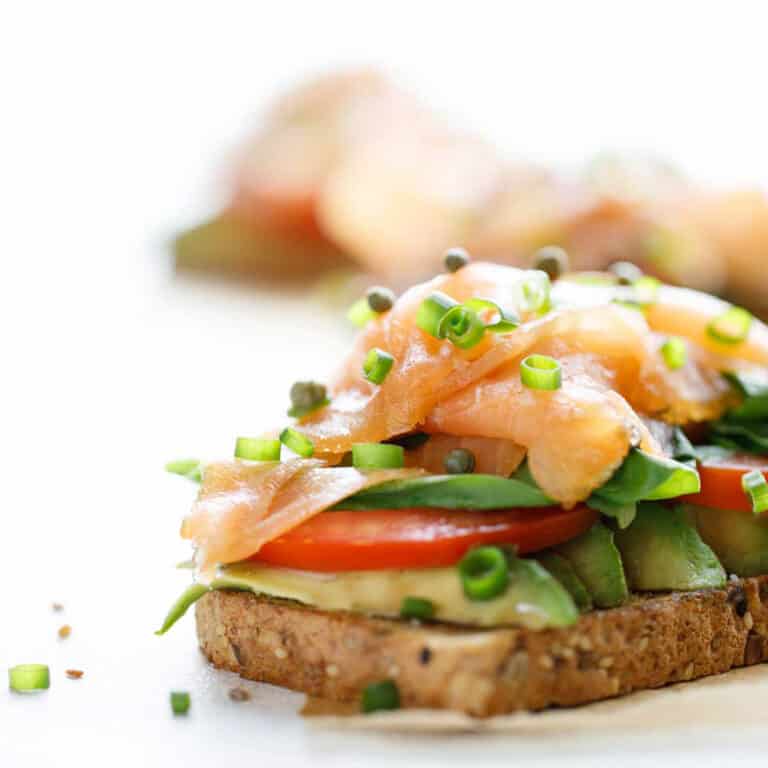 5-Minute Healthy Avocado Toast with Smoked Salmon
A luxuriously delicious way to fuel up for a busy day! Make this in just 5 minutes
View Recipe
Crepes are a fun and delicious way to dress up your breakfast or brunch! This seafood twist adds flavor and extra health. Plus, you'll have the feeling of being in an expensive restaurant but in reality, you're at home in your own kitchen. That's where the food always is best.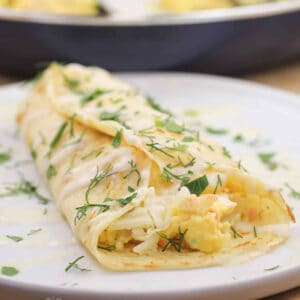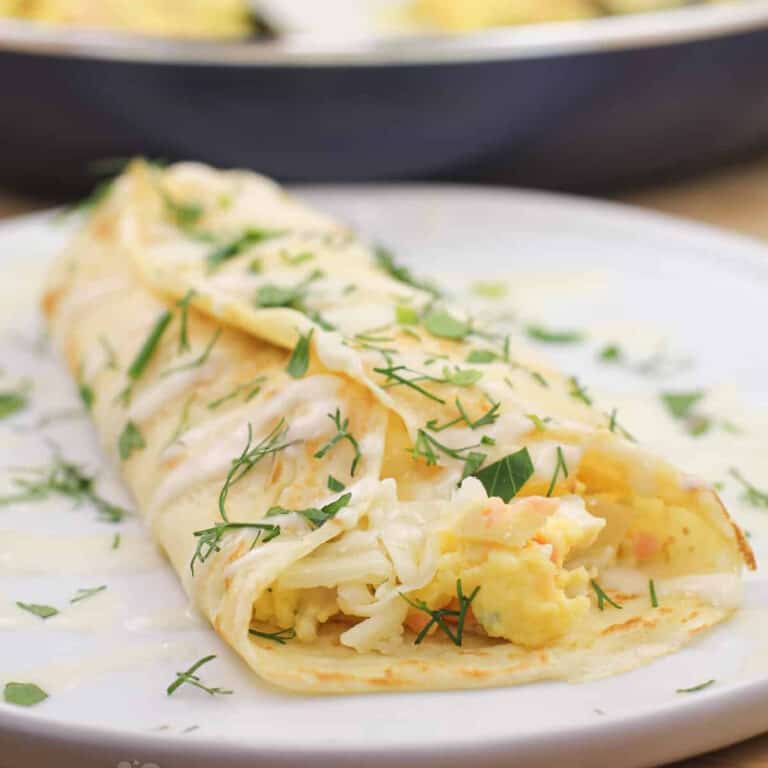 Seafood Crepes
Served in a combination of eggs, shallot, and cheese in crepes with white wine sauce. This special recipe is elegant but easy!
View Recipe
Add it to Eggs Benedict for a taste of the good life. If you live to eat like I do, then this is one you have to try. PS: Be sure and pour yourself a tall glass of fresh OJ to wash this down!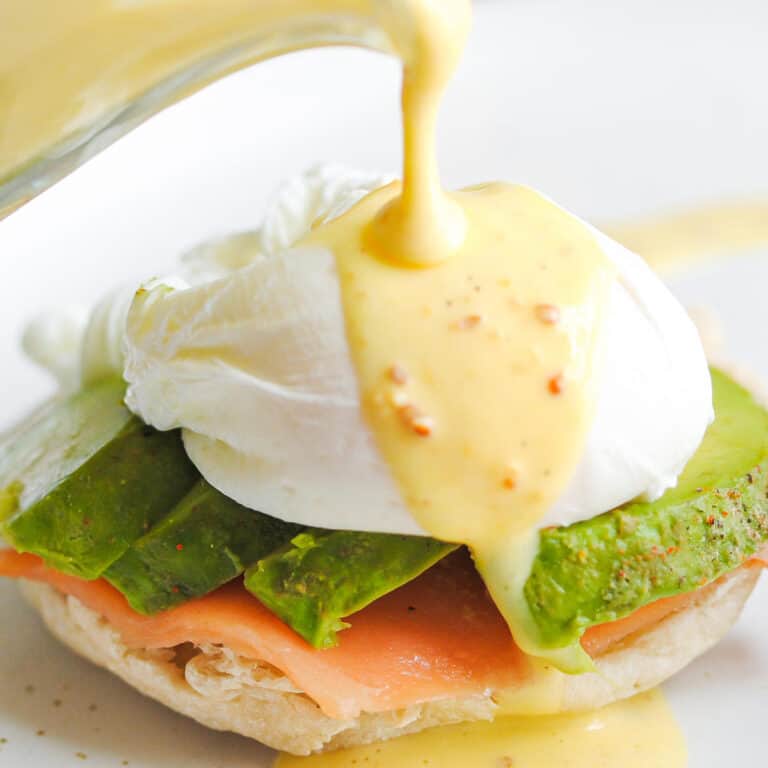 Heavenly Smoky Eggs Benedict
This s one of those treat-yourself breakfasts (hence the claim "heavenly") perfect for birthdays, Christmas morning, or Sunday brunch with friends.
View Recipe
How to serve it for lunch
If you're still wondering what to do with smoked salmon, it goes well in soups, salads, and of course sandwiches. The possibilities are endless. Again, this is the perfect place for your leftover lox or fish from the smoker.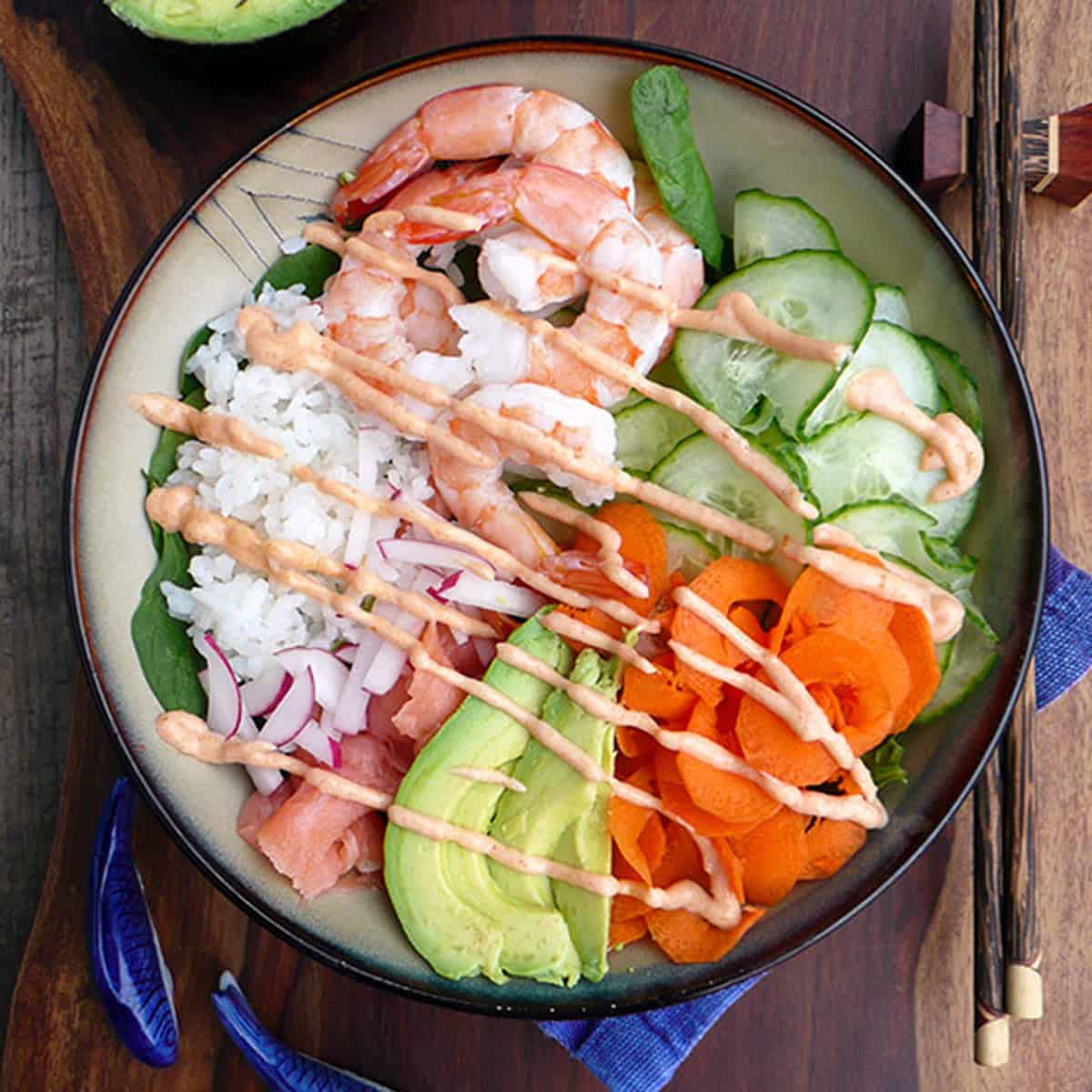 Make a delicious seafood chowder out of this, using a creamy base and some flavorful herbs. A warm bowl of soup will taste good any time of the year!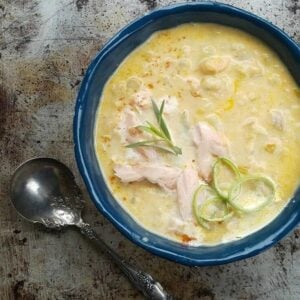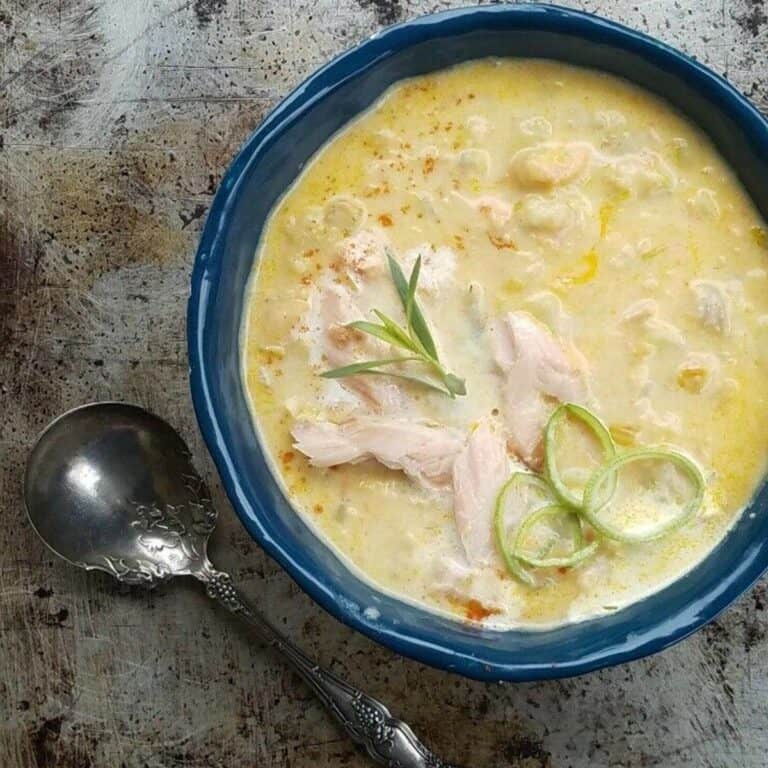 Creamy Seafood Chowder
Serve it in a a rich bowl of comforting decadence; each ingredient carefully chosen to complement the delicate, smoky salmon and allow it to shine.
View Recipe
If you're a sandwich fan, this makes another great option. Packed with health and flavor, you should try this for lunch this week.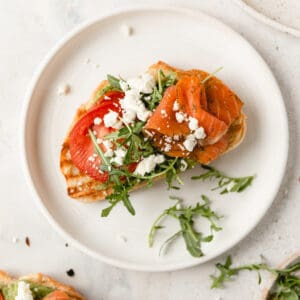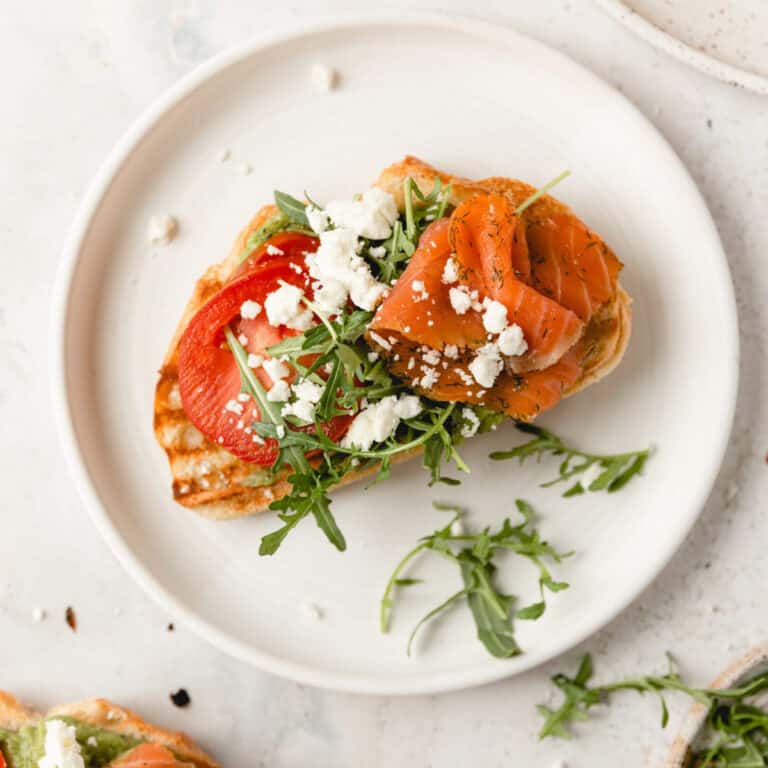 10 Minute Smoked Salmon Sandwich with Avocado and Feta
Use this as a lunch meat option instead of the traditional turkey or ham. It's a lean protein with tons of flavor, especially when it's smoked!
View Recipe
Turn it into a side dish
Add some color to your meal plans with a healthy salad or serve it as a warm and savory risotto. The side dish possibilities are many with this special seafood.
You can serve this with a variety of salads. It adds so much color and flavor to any protein-friendly combination of greens and veggies. Try it in a Caesar salad too!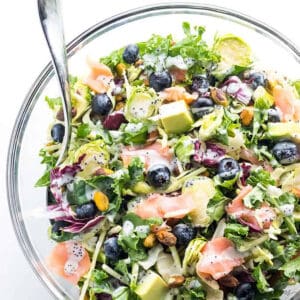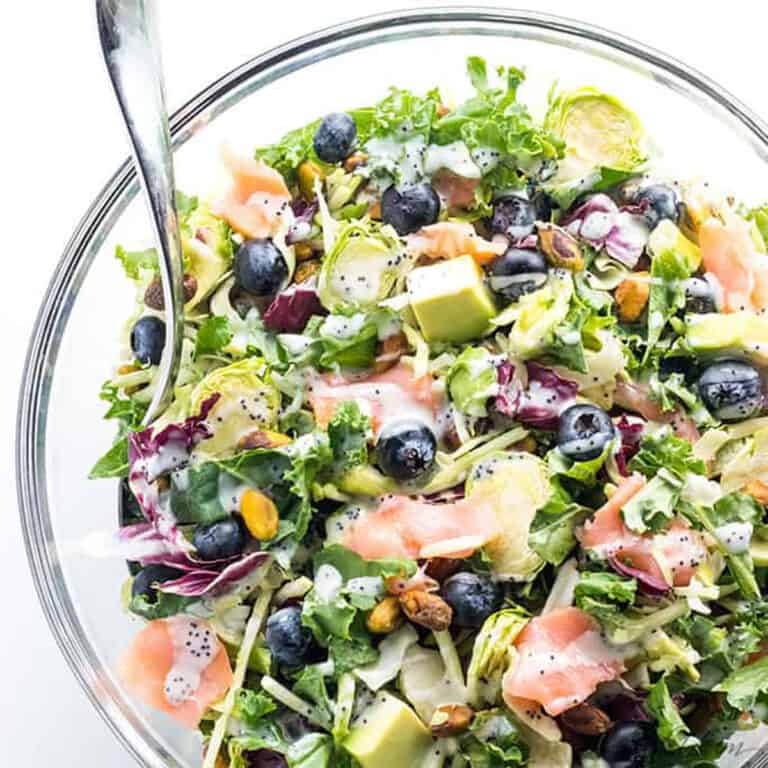 Salmon Kale Superfood Salad Recipe with Creamy Lemon Vinaigrette
Mix it in this easy sweet kale superfood salad with lemon vinaigrette and avocado. It's like a better Costco kale salad. 5 ingredients, plus 5 in the dressing!
View Recipe
Eat the rainbow and toss some of this healthy fish on top!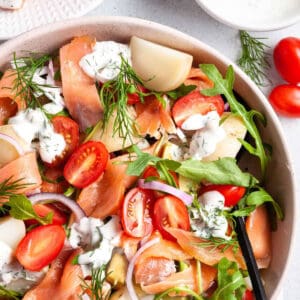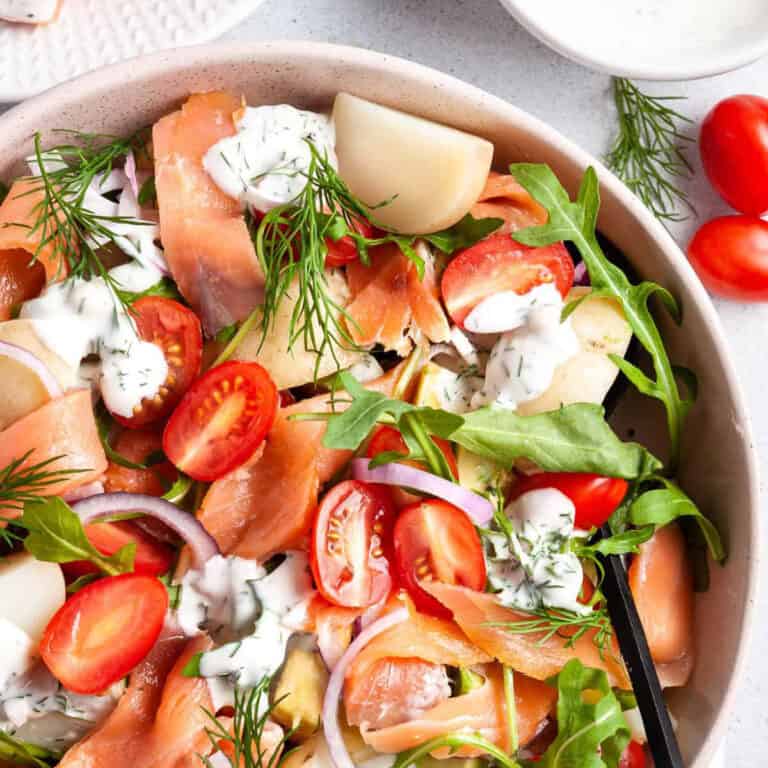 Smoked Seafood Tomato Salad
This healthy and delicious salad is full of fresh, vibrant flavors and great textures. It features slices of cold smoked salmon, tender baby potatoes and tomatoes, on a bed of rocket leaves. Combined with a creamy fresh dill dressing, this salad is hearty, tasty and simple to prepare.
View Recipe
For a main dish
Main dish recipes are the perfect way to use your leftover smoked salmon. It pairs especially well with your favorite pasta and a few extra ingredients. Make this as healthy as you want, or go for the maximum decadence!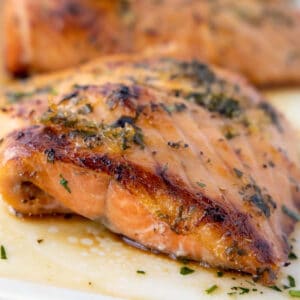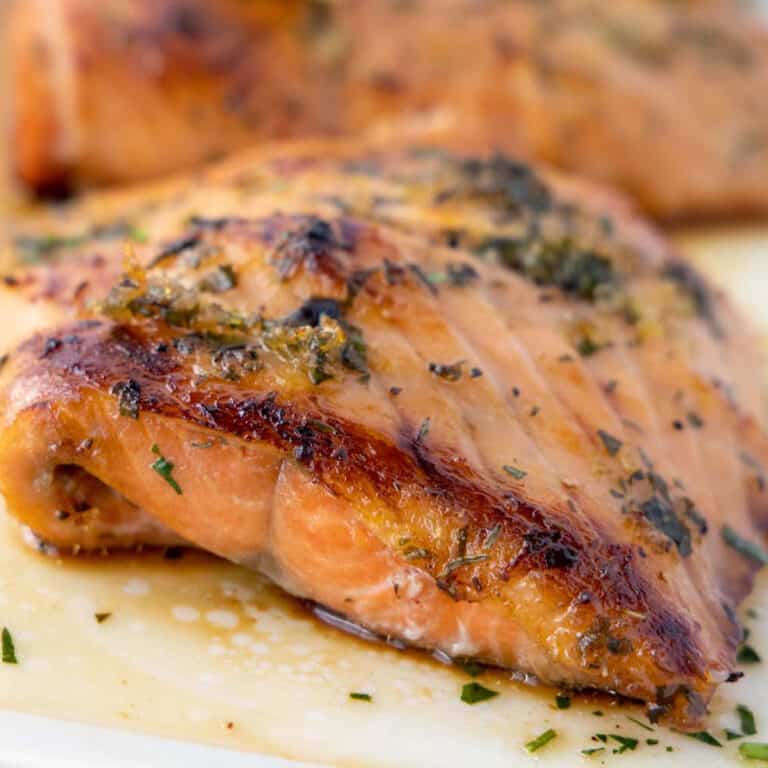 Irish Whiskey Salmon
The flavors that the whiskey/honey marinade imparted to the fish are incredible. And the smoked sockeye adds another layer of deliciousness to this amazing dish!
View Recipe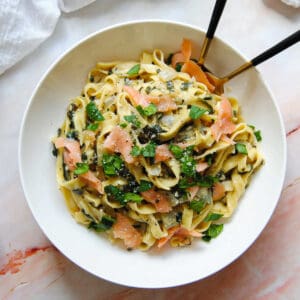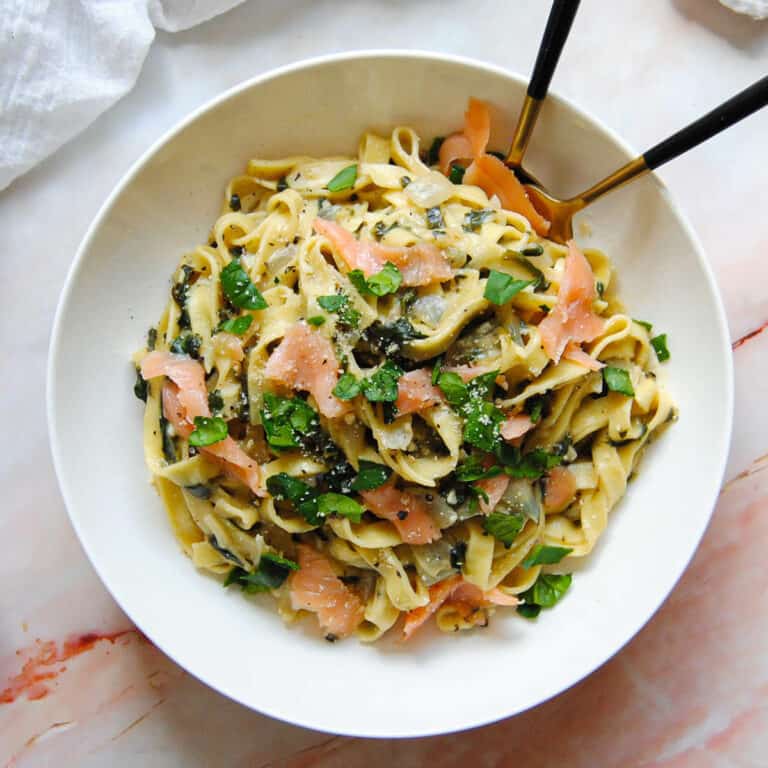 One-Pot Smoked Salmon Pasta with Parmesan
This one-pot wonder with Parmesan is cozy and warm and while it's made to feed 4, there are never any leftovers in our house. It's a put-on-your-sweats-before-you-feast kinda meal.
View Recipe
As an appetizer
There are many great options to serve this before, during and after a great meal. Whether as a pâté or as part of a smoked salmon appetizer platter, It's a great way to make good food even better.
For some of these, you'll want a food processor. If you don't have one, coarsely chopped ingredients will work just fine with their chunkier texture.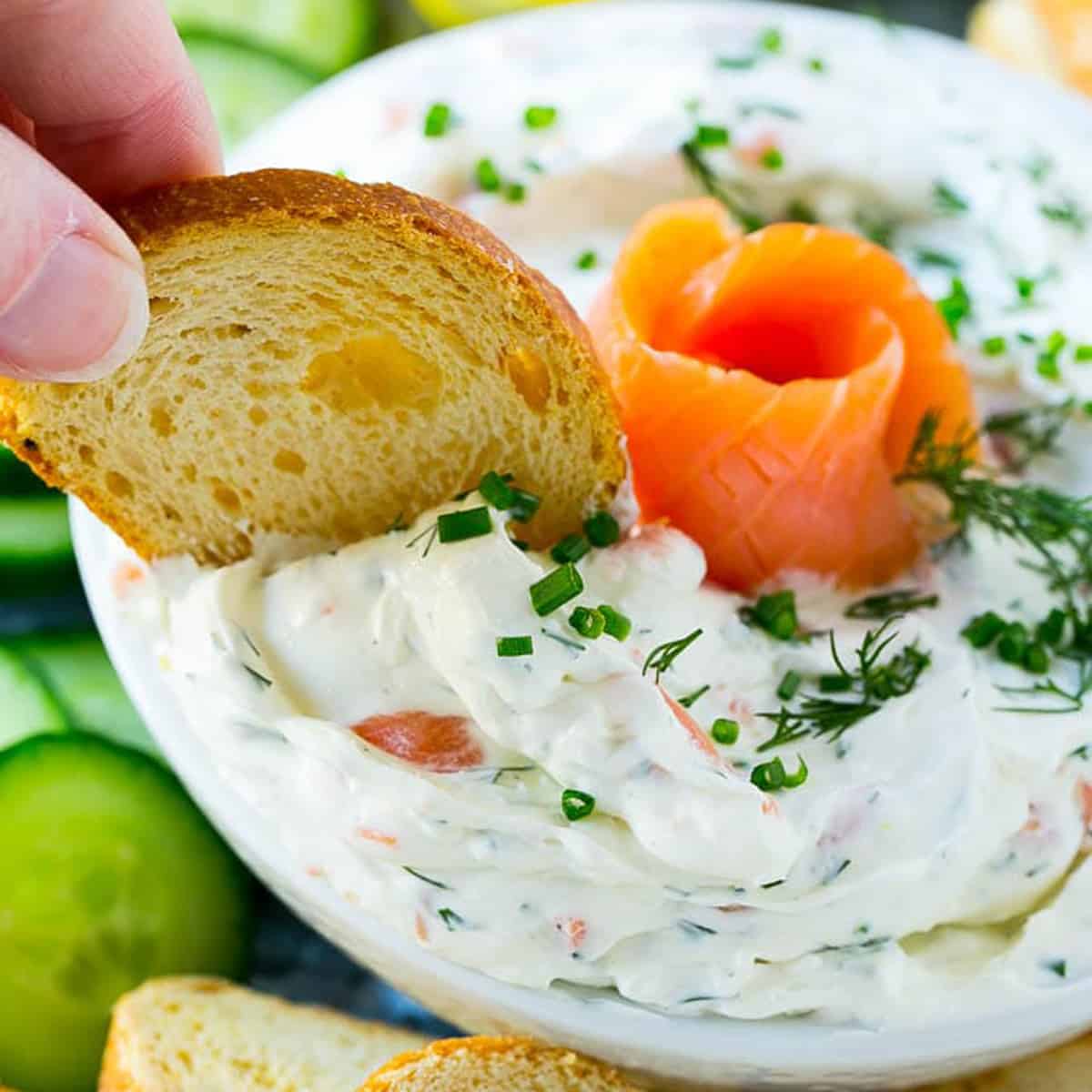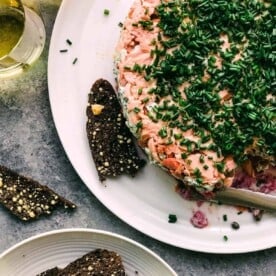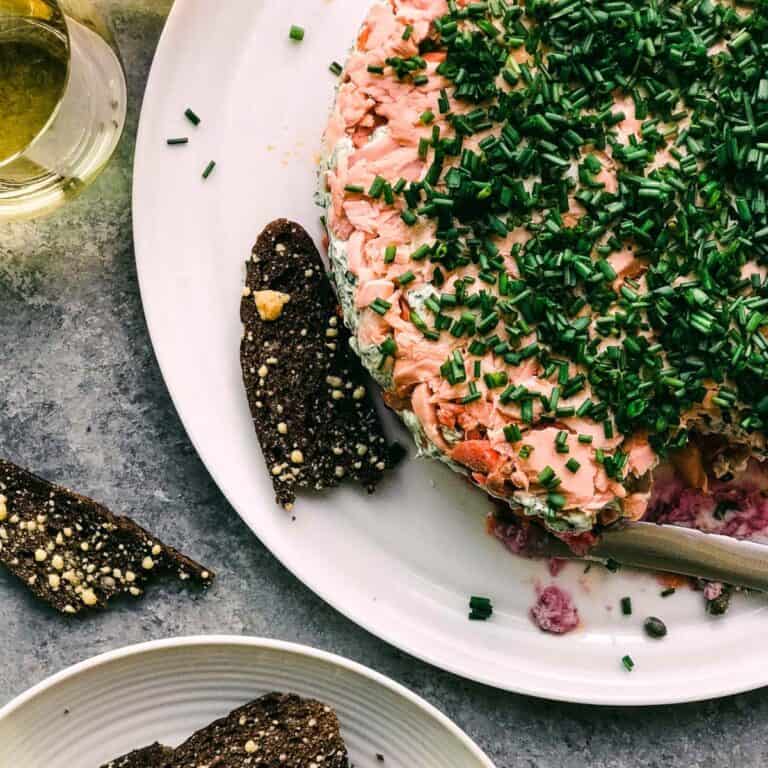 7 Layer Smoked Salmon Dip Recipe
7 Layer because everybody needs a show stopping appetizer up their sleeve for the holidays, am I right? This Scandinavian inspired layered dip can be made a day ahead, and it only improves as it hangs out in the fridge ~ perfect for any holiday party like Thanksgiving, Hanukkah, Christmas, or New Year's Eve!
View Recipe
Use it to top your favorite fresh and crispy vegetables. Think of using things like zucchini, squash wedges, and of course slices of fresh cucumbers.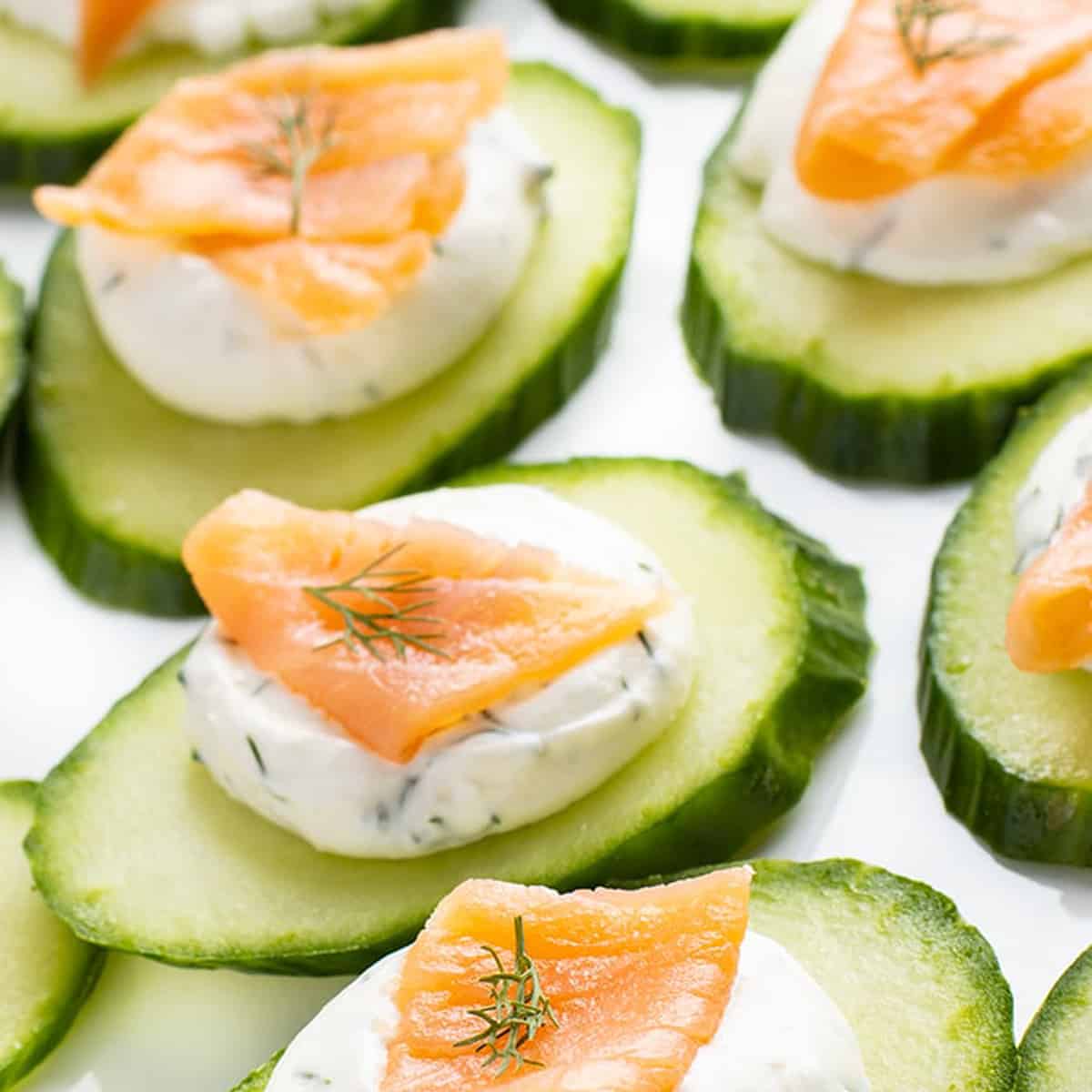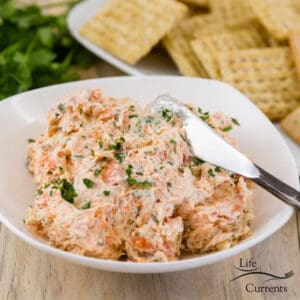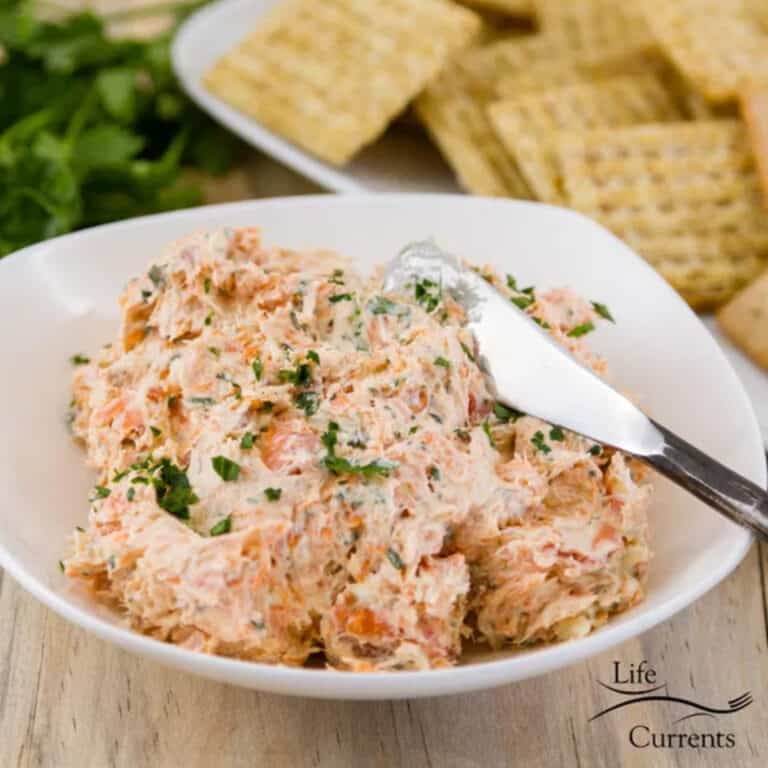 Smoked Salmon Pate
This easy seafood appetizer is easy to make and delicious on crackers, toasts, and holiday canapés.
View Recipe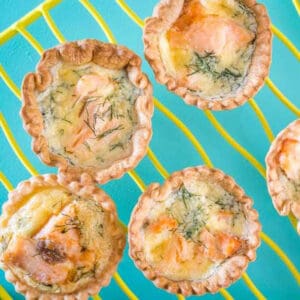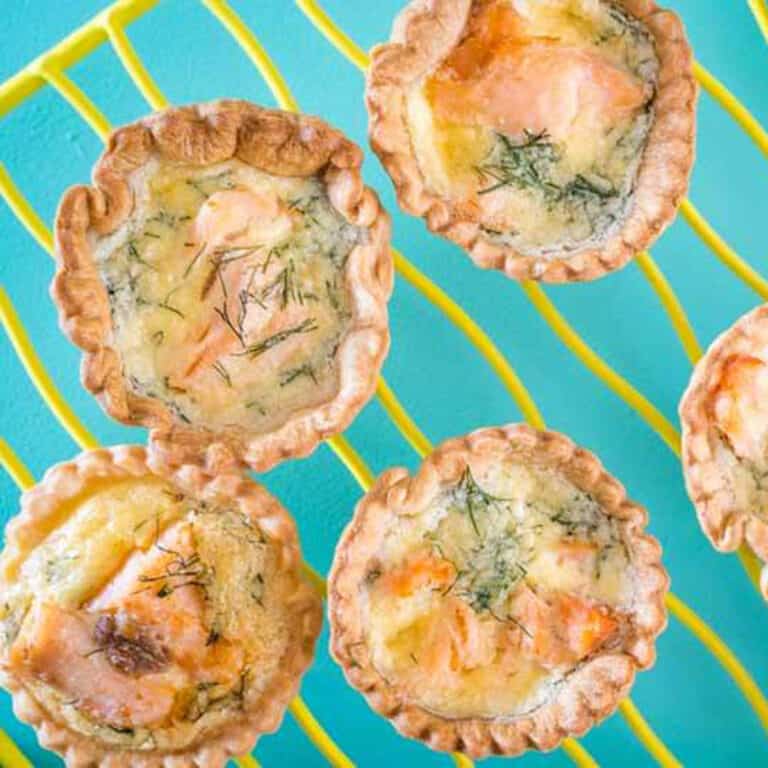 Smoked Fish and Dill Tartlets
These yummy tarts are perfect for an appetizer, or lunchbox snack. Dill perfectly compliments this oily fish and adds to the flavor.
View Recipe
There are so many things that go with smoked salmon. From the start of your busy day to the end of a fun get together with friends. Its versatility in the kitchen may just be the best part of this super food from the deep blue sea.
Similar recipes
Common questions
Is smoked salmon good for you?
Yes, like many things, when eaten in moderation. It is high in protein and high in heart-healthy fats.
👨‍🍳 Tried this Recipe? Please leave a ⭐⭐⭐⭐⭐ rating in the recipe card below and leave a comment. We love hearing from our readers!
⏩ Stay in touch with us on social media by following us on Facebook, Pinterest, Instagram, and YouTube!
📬Get our Recipes delivered to your inbox for FREE!