These easy fish tacos are a fast and simple recipe that is full of health and flavor.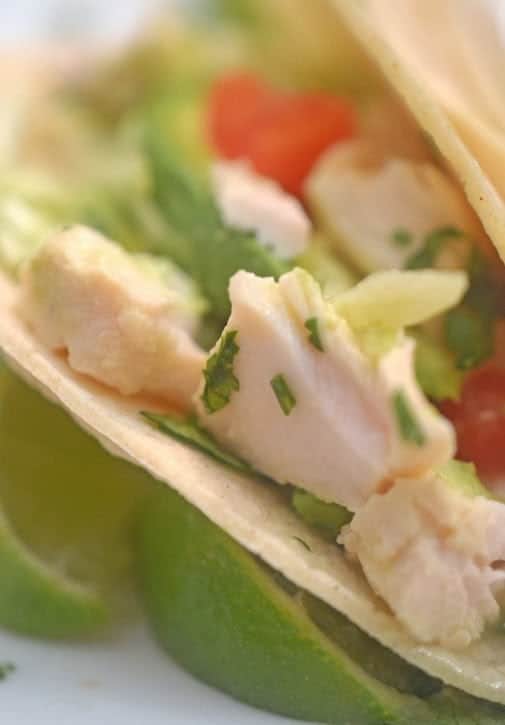 Simple Fish Tacos
I'm one of those people who has been a lover of seafood, almost from day one.
From the fish we pulled out of the Independence River, growing up at our summer place in northern New York's Adirondacks, to digging for clams on Florida's gulf coast in the wee hours of low tide,  our family didn't just fish for the fun of it, almost without exception we would eat what we caught.
Fast forward a few years, (O.K., a few decades.)   Things haven't changed a great deal for me in the love of seafood department.
Although we did not catch this mahi-mahi,it still helped make for a healthy and delicious tasting fish taco, just a few nights ago.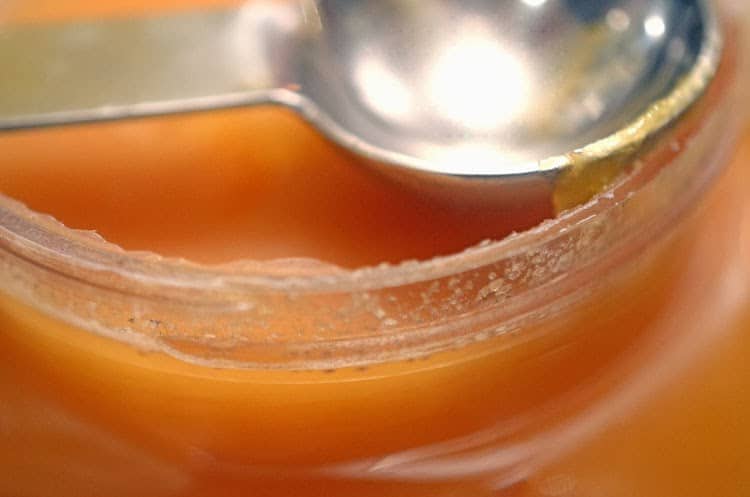 This was a dish Scott put together, somewhat on the fly.
Scott has admirably (and bravely) taken it upon himself to spearhead the quest for a healthier lifestyle for our family.
Making a concerted effort at eating "better" is a major component of this endeavor.
This healthy and easy fish tacos recipe calls for just a few ingredients, some of which we use frequently, and some of which have never been in our kitchen until this evening; principally raw honey and mahi-mahi.
What is raw honey?
In short, it's honey that is procured and marketed to the consumer in its most natural state, completely unprocessed and unpasteurized.
We have enjoyed mahi-mahi, many times in a variety of forms.
It's an item that frequently appears on the menus of many places in one of our favorite places on earth, Costa Rica.
Mild tasting and versatile, mahi-mahi is packed with protein and low in fat.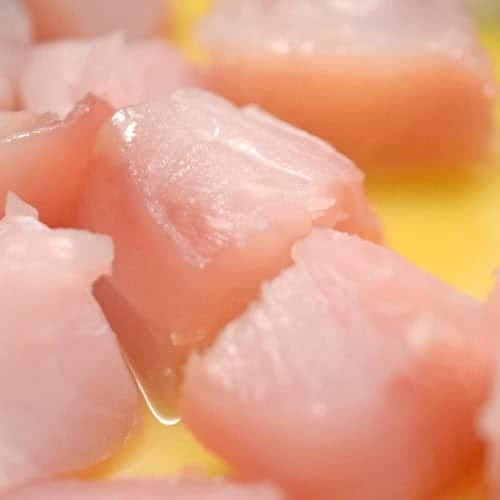 This easy fish tacos recipe calls for the mahi-mahi to be baked in the marinade.
We opted to remove the skin and dice the fish before baking it in the marinade.
This proved to be a simple process, and
this video
provides a great tutorial on how to remove the skin.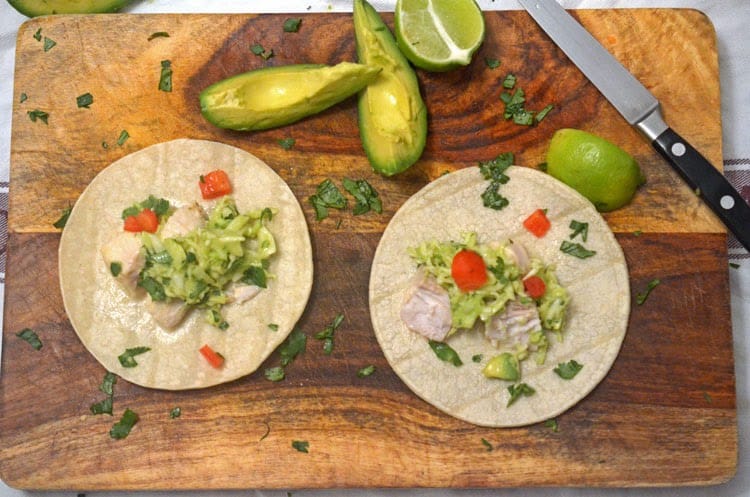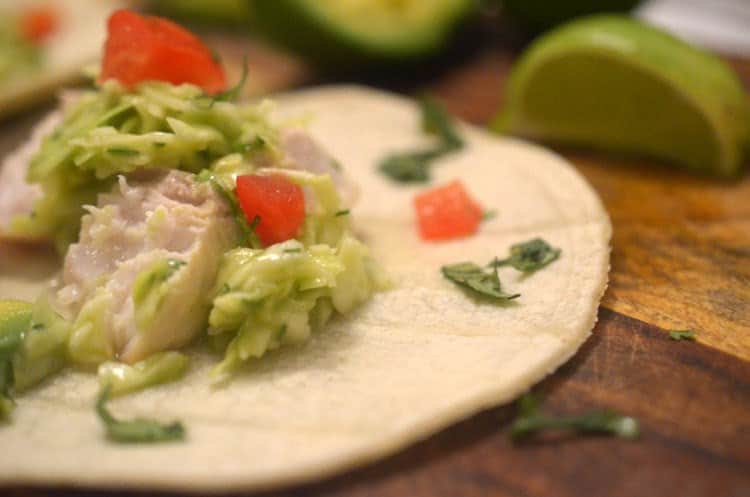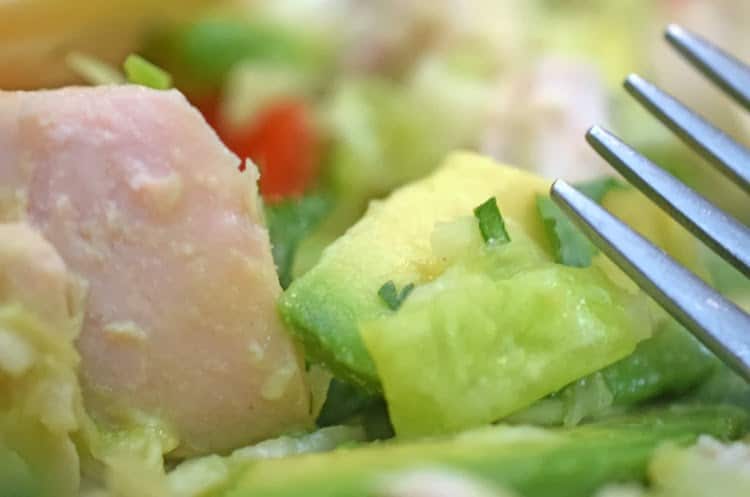 For these easy fish tacos, the citrus marinade is used for both baking the mahi-mahi and dressing the accompanying toppings.
This is a great little meal to put together full of health, nutrition, crunch, and taste; it's light on both effort and calories.
What's not to love?  Give this a try, doctor it up to your taste preferences and let us know what you think!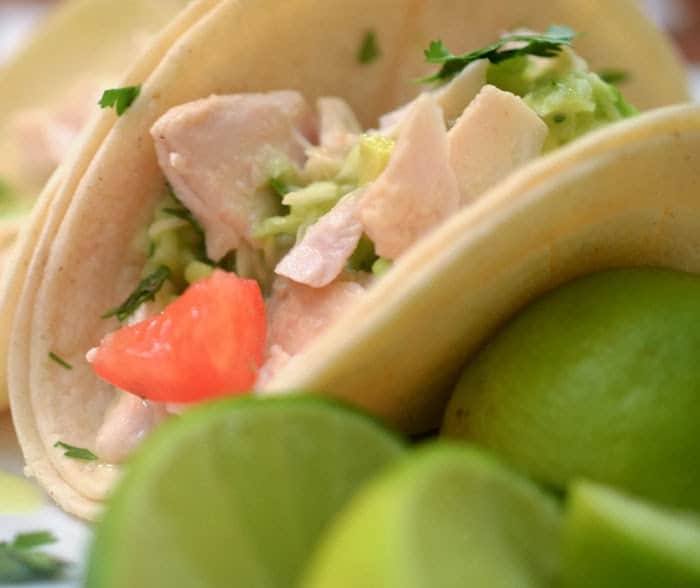 3 Tblsp fresh 100% orange juice
2-3 Tblsp fresh squeezed lemon juice
1 Tblsp lime juice ( optional )
1 tsp raw honey
2 tsp dijon mustard
2 Tblsp Olive oil
combine orange juice, lemon juice & honey in a bowl, whisk to blend, add in mustard and whisk, slowly whisk in oil & store in the refrigerator
– See more at https://www.livelovefitness.com/nutrition/focus-t25-nutrition-guide#sthash.rIEkGufE.dpuf
Grilled Fish Tacos with cabbage citrus slaw
6 oz. white fish ( cod, halibut, mahi-mahi, etc.)  season with Himalayan or sea salt then marinate in a citrus dressing
slaw for a taco:  shredded cabbage, 1/4 avocado, shredded jicama, fresh cilantro mix in bowl and dress with Citrus Marinade
Grill fish or bake at 375′ for 15 minutes
put fish and slaw in 2 corn tortillas, rice wraps or whole grain pitas
– See more at https://www.livelovefitness.com/nutrition/focus-t25-nutrition-guide#sthash.rIEkGufE.dpuf
If you've tried these Easy Fish Tacos or any other recipe on Platter Talk please let us know your thoughts in the comments below, we love hearing from you! You can also FOLLOW US on FACEBOOK, INSTAGRAM and PINTEREST to see more delicious food and what we have cooking.
Easy Fish Tacos with Cabbage Citrus Slaw
This simple fish tacos recipe is adapted from T25 Nutrition Guide
Ingredients
For the Tacos
6

oz.

white fish

cod, halibut, mahi-mahi, etc., lightly seasoned with sea salt

1

cups

shredded cabbage

1

avocado

diced

1/4

cup

chopped cilantro

washed and stemmed

1

Roma tomato

seeded and diced

2

corn tortilla wraps
For the Citrus Marinade
1/4

cup

fresh orange juice

juice from 1 fresh lime

3

tablespoons

fresh lemon juice

1

teaspoon

raw honey

2

teaspoons

Dijon mustard

2

tablespoons

olive oil
Instructions
Preheat oven to 375 degrees F.

Prepare marinade by combining all marinade ingredients together in medium size mixing bowl.

Divide marinade in half, set aside.

Cube fish in 1 inch cubes, removing skin if necessary.

Add fish to 1/2 of reserved marinade, swish around until fish is thoroughly covered.

Add fish (with marinade) to 9 x 9 baking dish, bake for 15 minutes.

Meanwhile, combine cabbage, avocado, cilantro and tomato and mix together with second half of reserved marinade.

Remove fish from baking pan with slotted spoon and place in tortillas, reserve residual marinade

Top with slaw mixture.

Top with residual marinade, if desired.
Nutrition
Calories:
461
kcal
|
Carbohydrates:
29
g
|
Protein:
21
g
|
Fat:
31
g
|
Saturated Fat:
4
g
|
Cholesterol:
42
mg
|
Sodium:
123
mg
|
Potassium:
951
mg
|
Fiber:
8
g
|
Sugar:
7
g
|
Vitamin A:
600
IU
|
Vitamin C:
39
mg
|
Calcium:
42
mg
|
Iron:
1.4
mg