Greek-Style Grilled Shrimp
on Jun 19, 2018, Updated Jun 10, 2021
This Greek-Style Grilled Shrimp can be made over a bed of hot coals or under your oven broiler. As if that isn't good enough, this Mediterranean dish that features a coating of garlic and feta cheese can be on the table in under 30 minutes. Read on to see just how simple this flavorful meal is to make!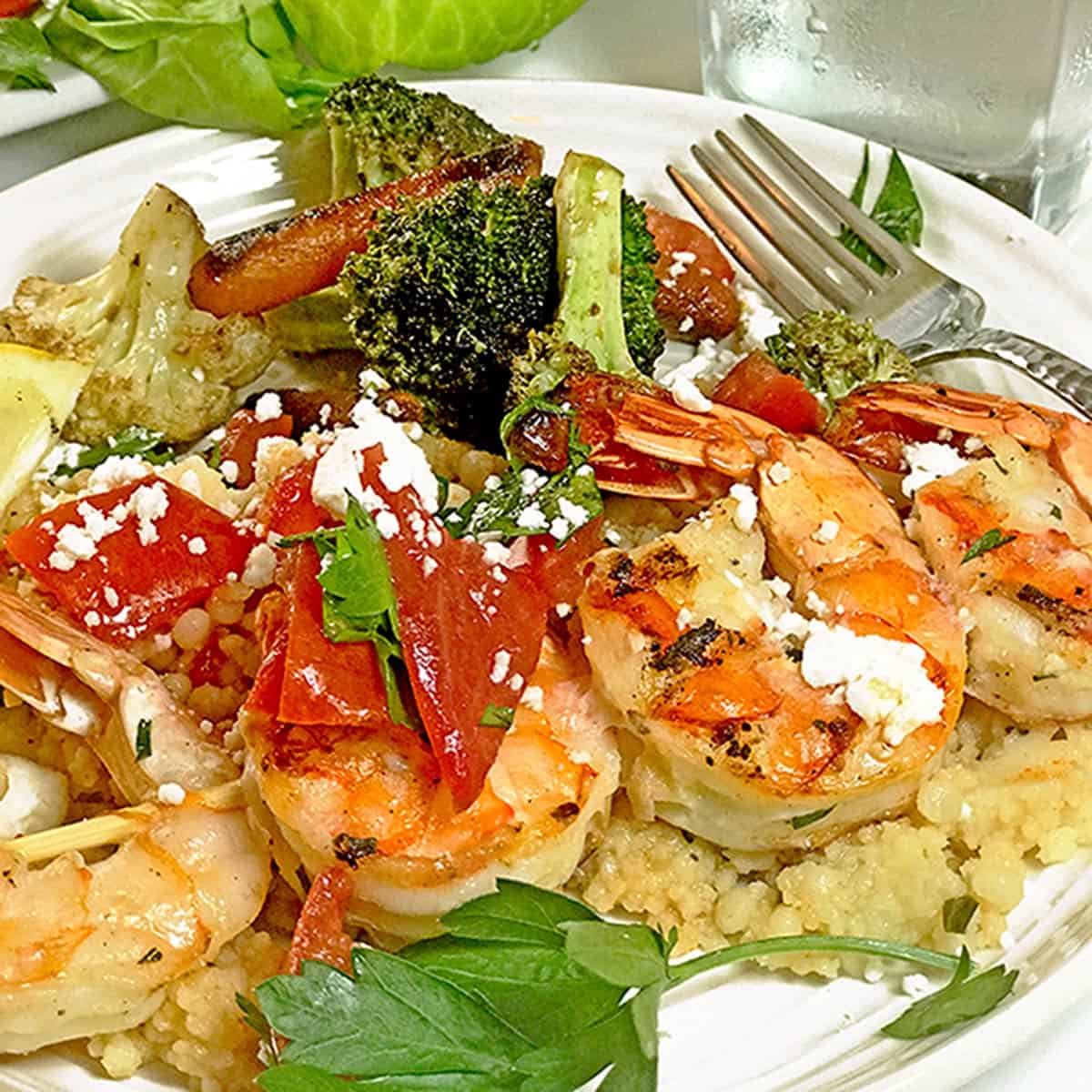 This marinated grilled shrimp is light and flavorful.
Jump to:
What is this?
I love shrimp and nearly anything else the comes from the ocean or swims in lakes and rivers. This Mediterranean-inspired grilled shrimp recipe is our latest example of easy and delicious seafood recipes here on Platter Talk. You can do a little prep work ahead of time to get this easy shrimp recipe on the grill and to your dinner table in a matter of minutes.
Use Jumbo or Large Shrimp for this Grilled Shrimp Recipe.
How to make it
Start by peeling and de-veining about a pound and a half of jumbo or colossal size shrimp. Be sure to leave the tail of the shrimp on, when peeling.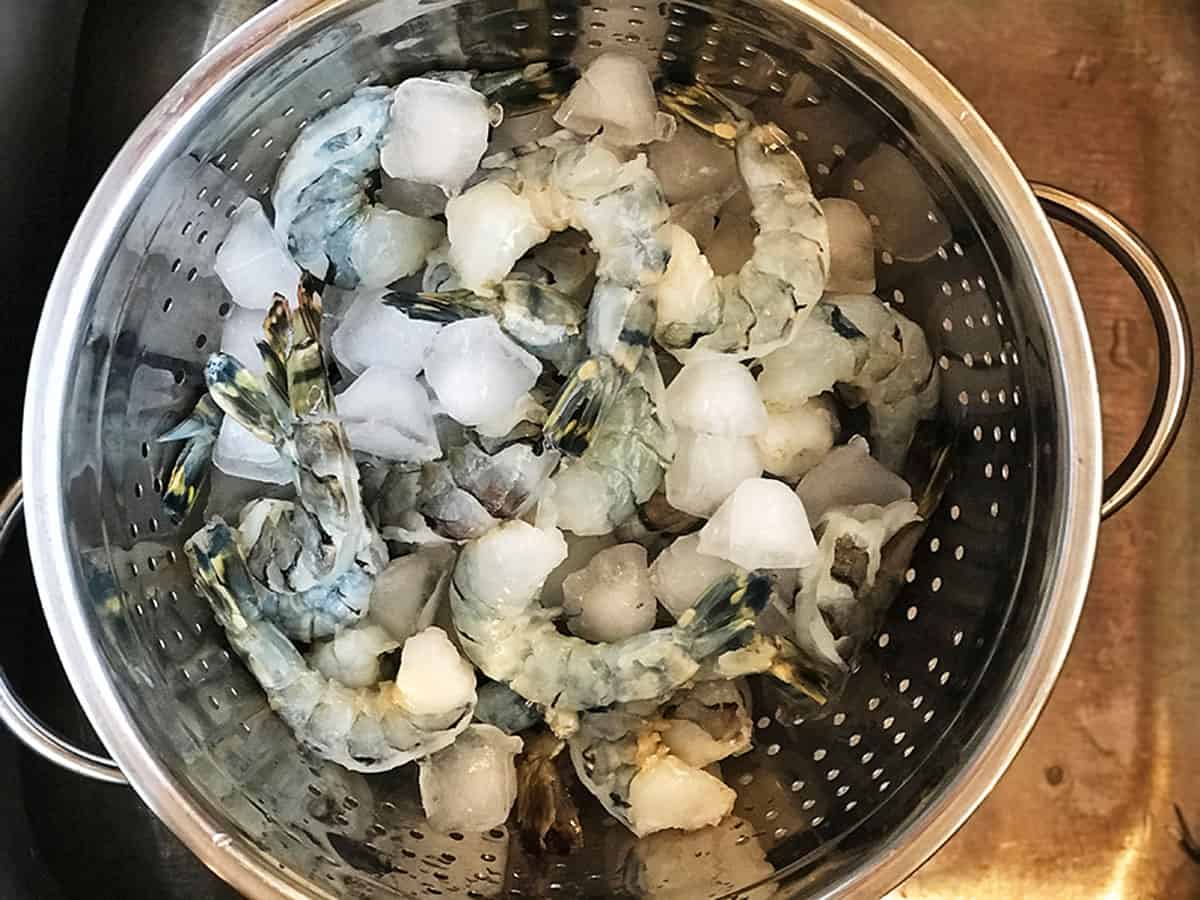 Fresh shrimp are always the best to use but if you're landlocked like we are here in Wisconsin, find some good frozen shrimp and let them thaw out in the refrigerator overnight or run them under some cold water for a few minutes. They thaw out fast and once thawed, need to be used quickly or returned to the refrigerator and preferably packed on ice.
Here is a nice video to show you how to devein shrimp. Also if you ever wondered what all those numbers mean when buying shrimp, in the United States shrimp are sold by count per pound. Depending on the shrimp recipe you are making, you will want to use the appropriate size shrimp.
It's best to use count per pound when buying shrimp, since one store's "Jumbo" may be another store's "Large".
Once you have the shrimp peeled and deveined, you want to keep them cold until ready to use. For this recipe, layer the prepared shrimp in ice, inside of a colander. Put the colander on a plate and keep in your refrigerator until you are ready to rock and roll.
Make the marinade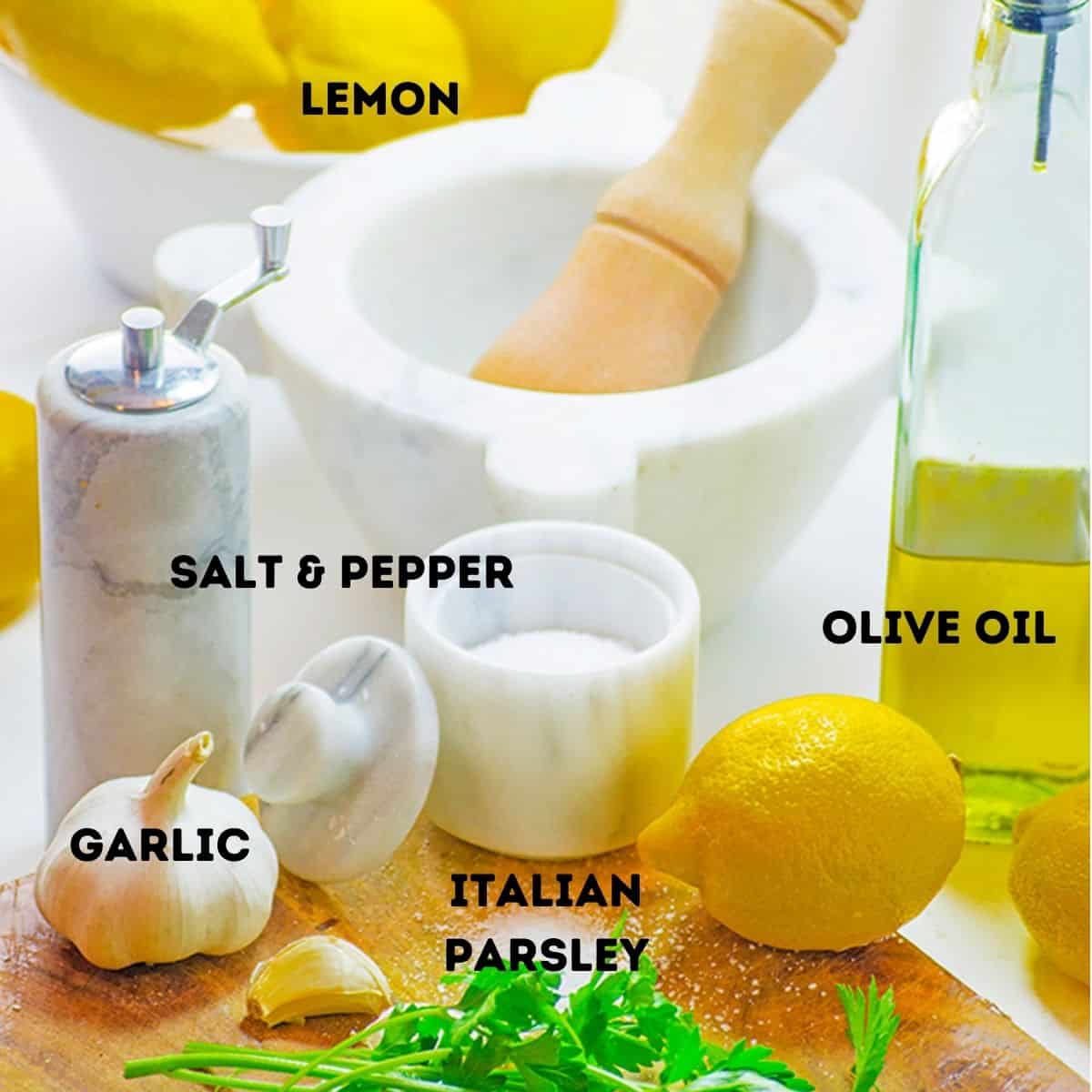 Take these ingredients and use a mortar and pestle if you have one. If you don't have one of these, you can use a small food processor as well. Grind the marinade ingredients to a paste and grab the prepared shrimp out of the fridge.
I take each shrimp and place it in the pestle with the marinade paste and spread a layer of paste on each one. Then, return the shrimp to a small bowl and seal it with plastic. Once again, return this marinade-covered shrimp to the refrigerator, encased in ice.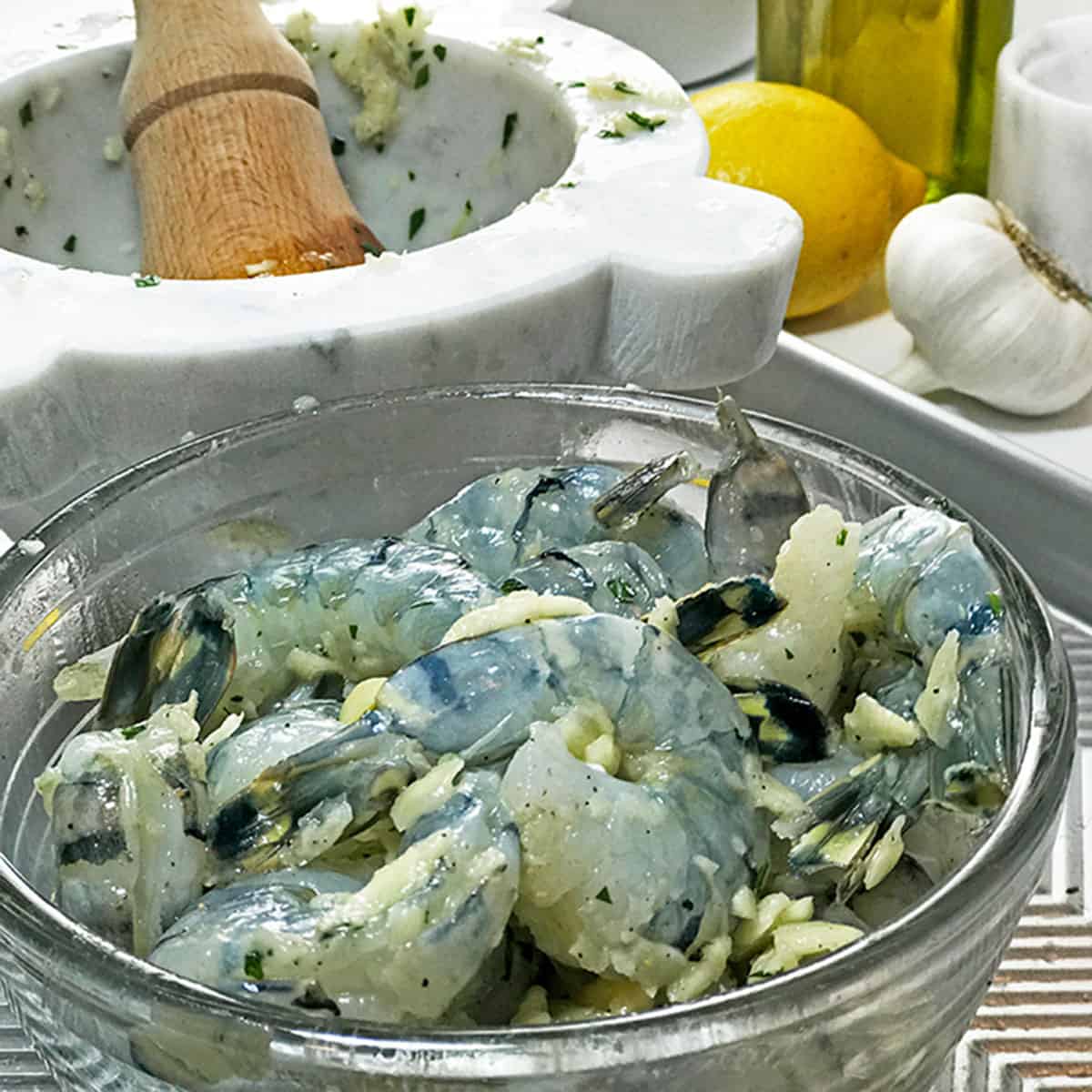 Keep the marinated shrimp cold by sealing the bowl with plastic wrap and encasing the bowl with ice and then refrigerating.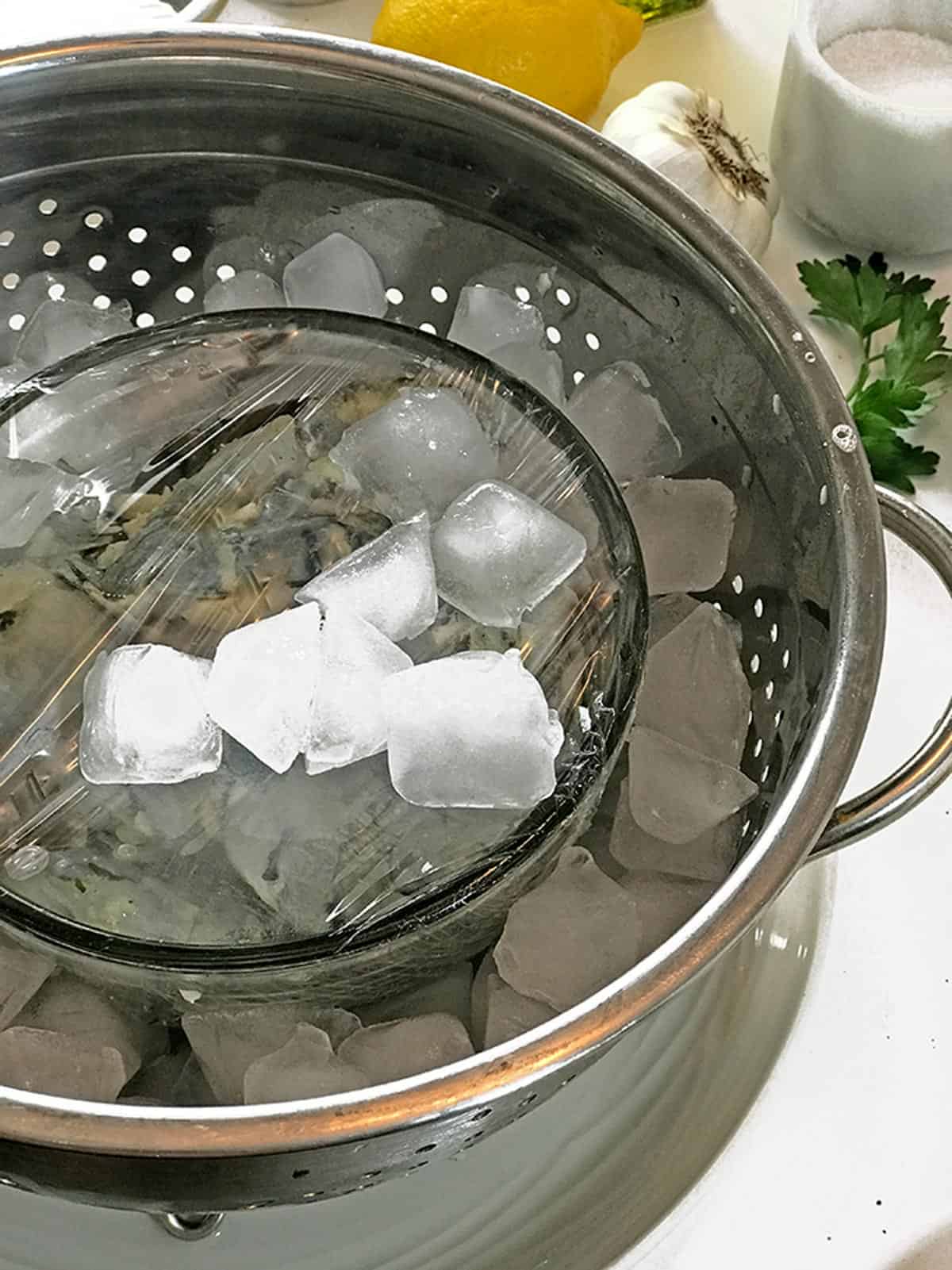 At this point, you can work on other things or have a glass of lemonade or crisp white wine. The shrimp will be good to go for a couple of hours until you're ready to light the grill. In the meantime, the marinating shrimp are soaking up some pretty fine flavors.
Light the grill
About a half hour or so before you are ready to eat, light your grill, or oven broiler if you want to make this grilled shrimp recipe in the oven.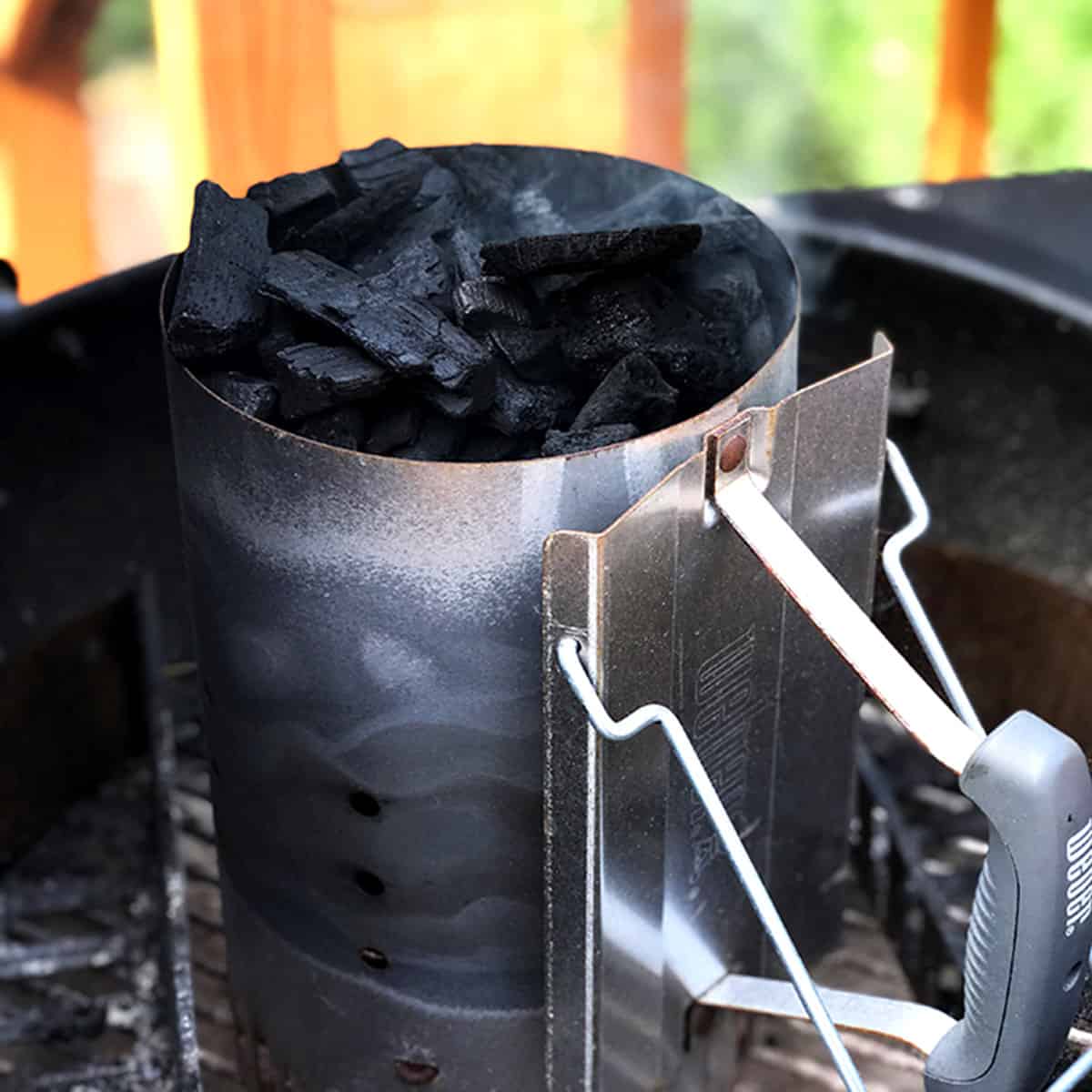 I have to confess that I just starting using a charcoal chimney a year or so ago when I began to take my grilling a bit more seriously.
A charcoal chimney ensures that your charcoal lights and burns evenly and helps you to avoid the use of liquid igniting charcoal starter. That stuff is nasty! It's filled with harmful chemicals and gives an unpleasant taste to the food that you've worked so hard to prepare!
If you are one of those people who stays away from charcoal and instead use a gas grill because of time and ease, get over it! It really does not take much longer to prepare a good charcoal grill than it does to light your over-priced gas and chemical-powered grill. Besides, take a break and drop your shoulders. The whole idea behind grilling is to enjoy the experience and savor the moment!
How to grill shrimp
As I mentioned earlier, larger shrimp work better for grilling because they're easier to handle Look for U/15 or U 16/20 for grilled shrimp. you're also going to want to use skewers to easily handle and turn the shrimp while grilling.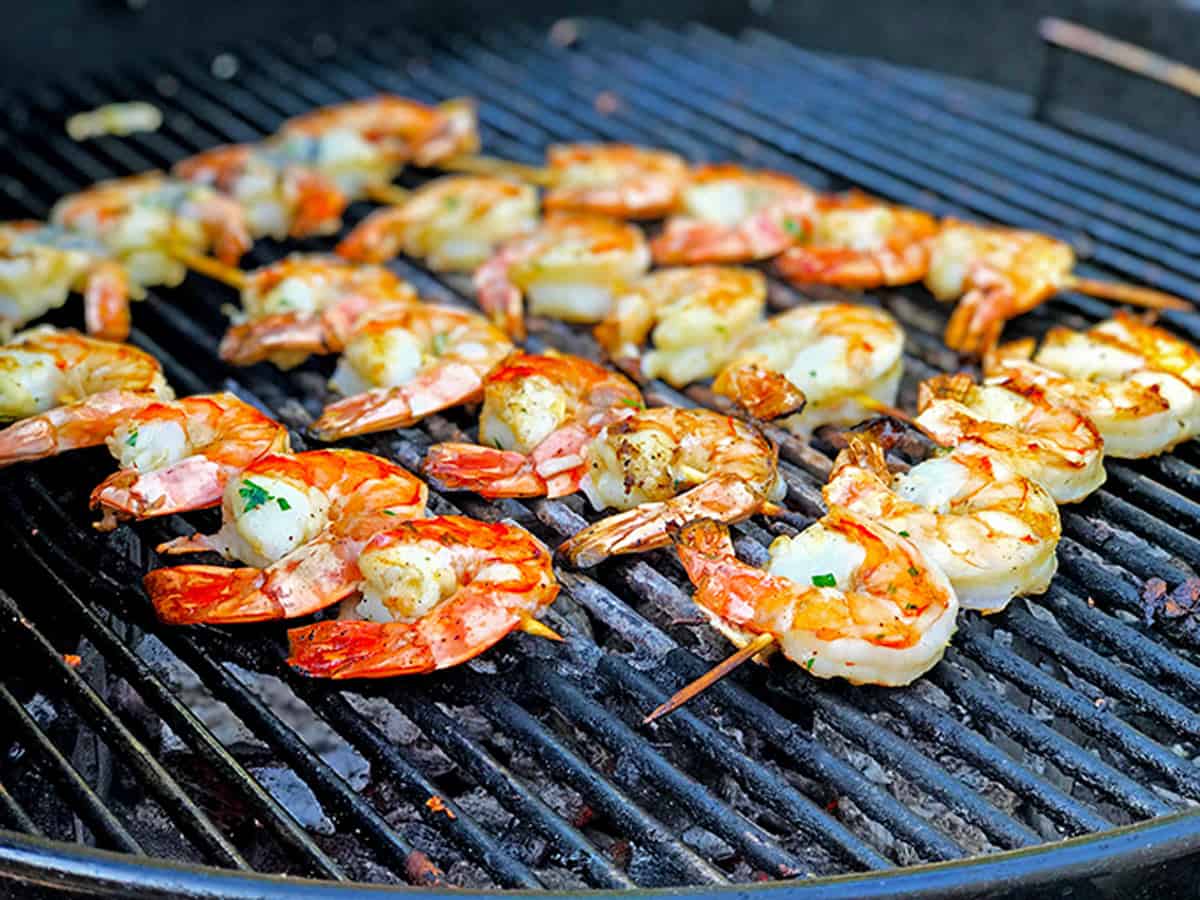 About shrimp skewers
Use wooden skewers when grilling shrimp. They're inexpensive, easy to dispose of, and won't give you a painful burn if you touch them while grilling your shrimp. Importantly, pre-soak the shrimp skewers to keep them from burning while you are grilling the shrimp. Use a jelly roll pan or large rectangular casserole pan to soak your skewers.
Grilled shrimp should be placed over direct heat.
When making grilled shrimp, you want to think hot and fast. Therefore, place the skewered shrimp on a hot grill and over direct heat. You'll want grill the shrimp for about 5-6 minutes total. Once the underside starts to turn pink, turn those babies over and finish the other side.
We serve this Greek-Style Grilled Shrimp over a bed of garlic and herb couscous.
What to serve with this
We serve this grilled shrimp over a bed of couscous and lettuce greens. Next, sprinkle a handful of crumbled feta cheese, some diced tomatoes, and some fresh lemon juice over the whole tray. Finally, a bit of fresh chopped parsley adds color and flavor to this Mediterranean-inspired shrimp on the grill.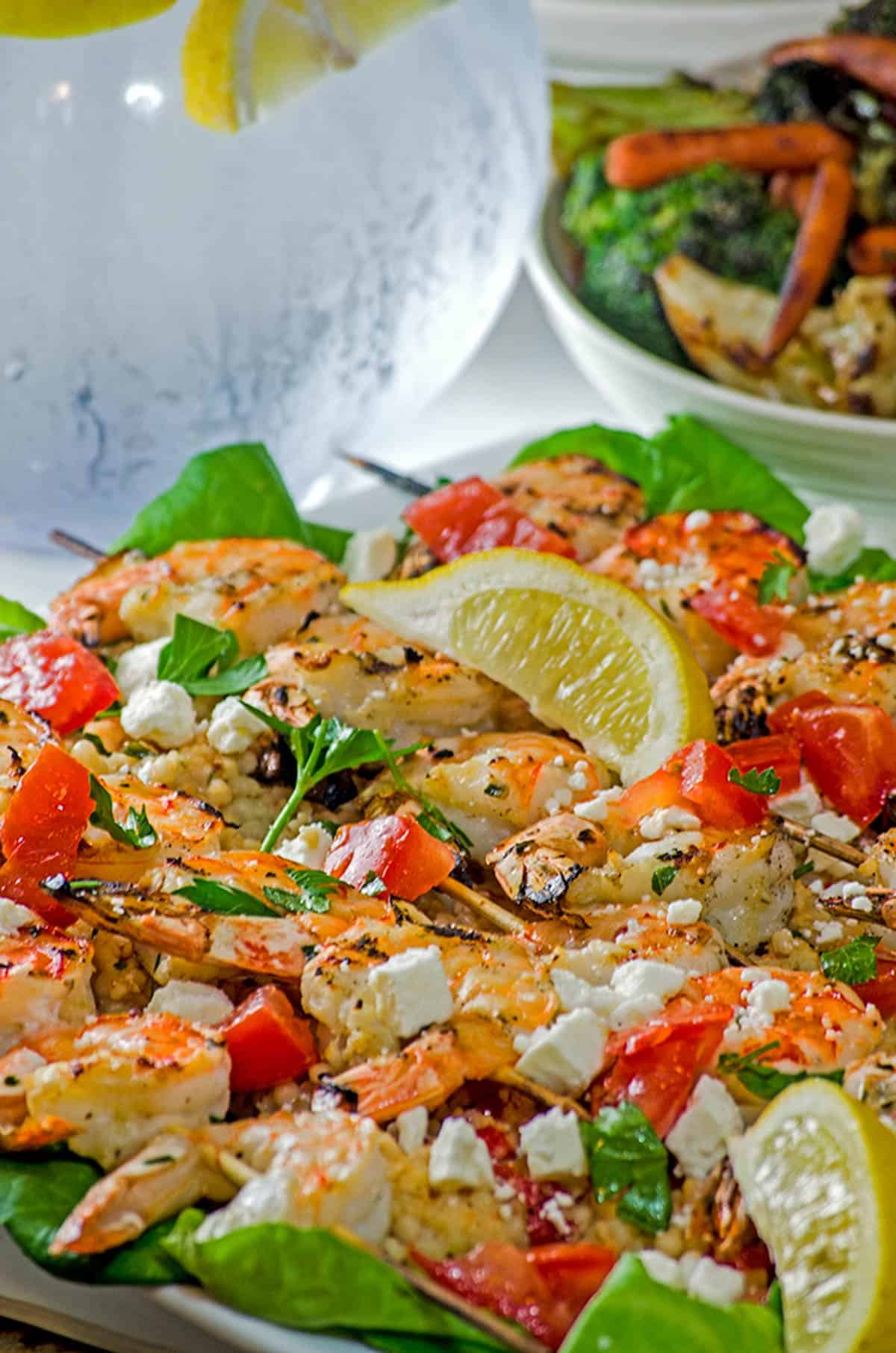 We cherish every minute of outdoor grilling weather here in the mid-west and have quite a few other grilled recipes. Here are a few of our most popular recipes for the grill:
Our family enjoys this grilled shrimp and yours will too!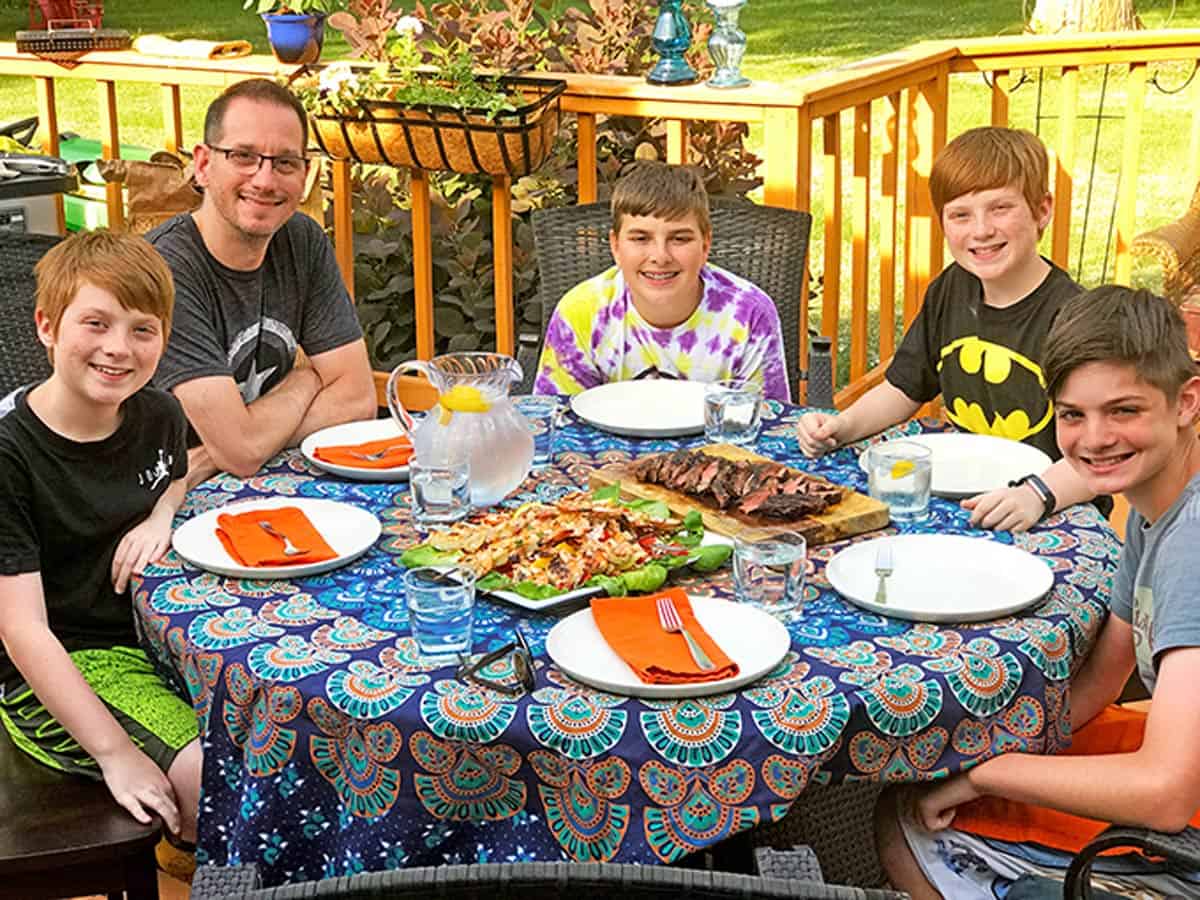 👨‍🍳 Tried this Recipe? Please leave a ⭐⭐⭐⭐⭐ rating in the recipe card below and leave a comment. We love hearing from our readers!
⏩ Stay in touch with us on social media by following us on Facebook, Pinterest, Instagram, and YouTube!
📬Get our Recipes delivered to your inbox for FREE!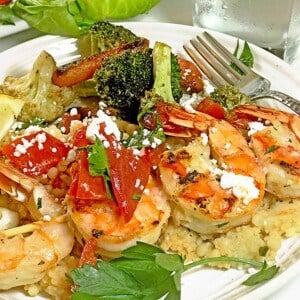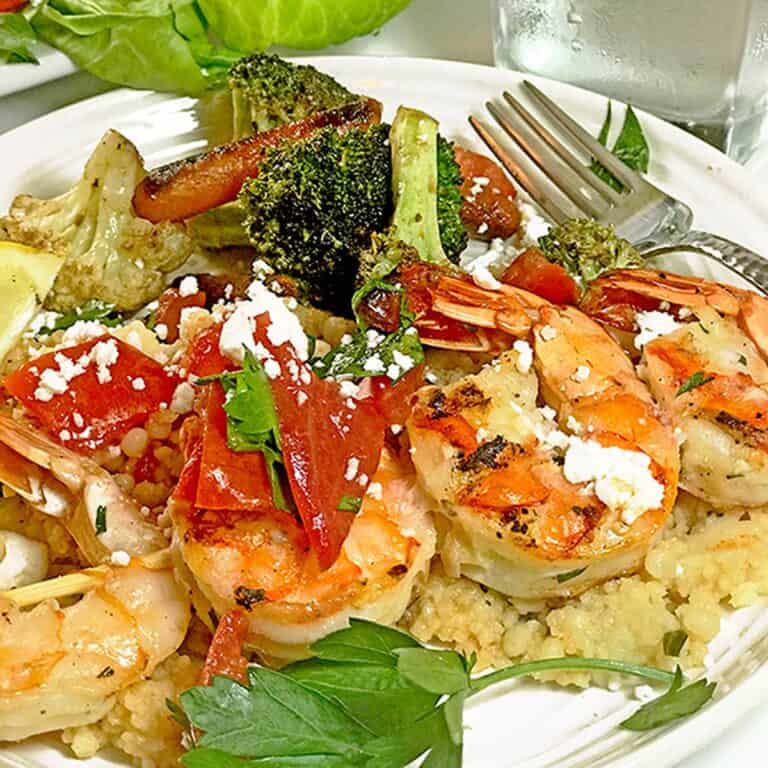 Greek-Style Grilled Shrimp
This easy grilled shrimp recipe can be made over a bed of hot coals or in the oven under your broiler. This delicious family meal is inspired by Mark Bittman via the New York Times.

Ingredients
For the Marinade
1

head

garlic

,

peeled

2

tbsp

olive oil

1/2

lemon

,

juiced

1

pinch

kosher salt

black pepper

,

fresh ground

1

tbsp

Italian parsley

,

coarse chop
For the Shrimp
1.5

lb

shrimp

,

peeled and deveined

1/2

cup

Feta cheese

,

crumbled

2

tomatoes

,

seeded and diced
Instructions
Light grill to high setting.


Use a mortar and pestle and crush garlic. Add olive oil, lemon, salt and pepper. Grind to a paste and stir in parsley.


Rub the past over the prepared shrimp. Then skewer the shrimp with pre-soaked wooden skewers.


Place shrimp skewers on grill over direct heat, grilling each side for 2-3 minutes. Remove from grill and place on serving platter. Sprinkle crumbled Feta and diced tomatoes over shrimp and garnish with additional parsley if desired. Serve immediately.

Notes
If using the oven broiler method, place oven rack at highest level. Place shrimp on a cookie sheet, broil each side for 2-3 minutes. Remove from oven and garnish with Feta and tomatoes.
Nutrition
Calories:
204
kcal
,
Carbohydrates:
4
g
,
Protein:
25
g
,
Fat:
9
g
,
Saturated Fat:
2
g
,
Cholesterol:
296
mg
,
Sodium:
1030
mg
,
Potassium:
226
mg
,
Fiber:
0
g
,
Sugar:
1
g
,
Vitamin A:
395
IU
,
Vitamin C:
16.5
mg
,
Calcium:
241
mg
,
Iron:
2.7
mg
Nutrition information is automatically calculated, so should only be used as an approximation.
Pin this grilled shrimp recipe for later.