Easy Grilled Mini Pizzas
on May 15, 2017, Updated Apr 07, 2020
These mini grilled pizza recipes are the perfect way to celebrate outdoor grilling, in excellent taste.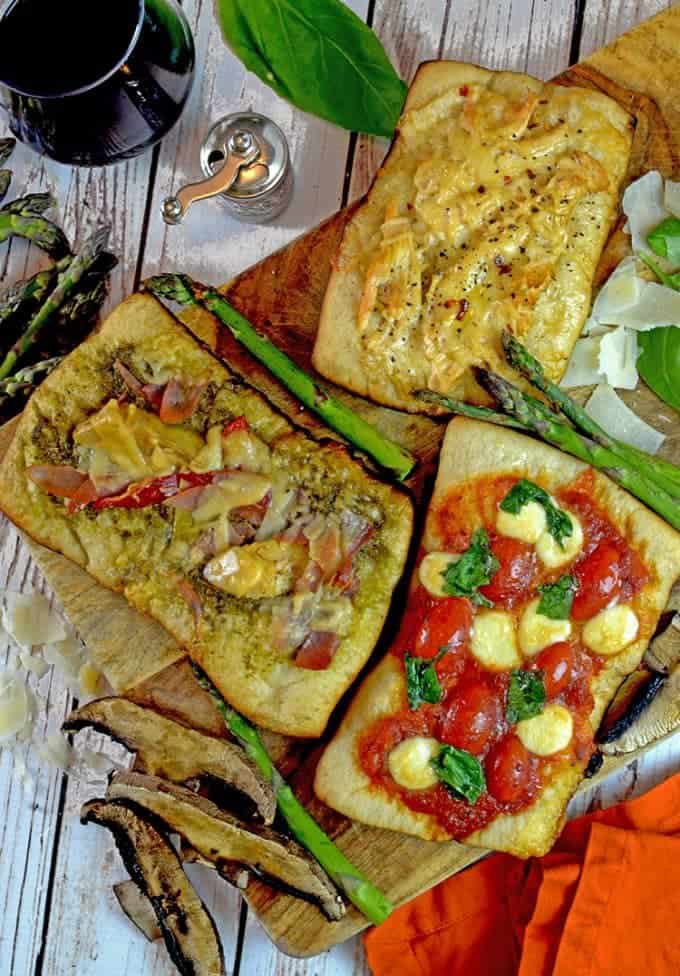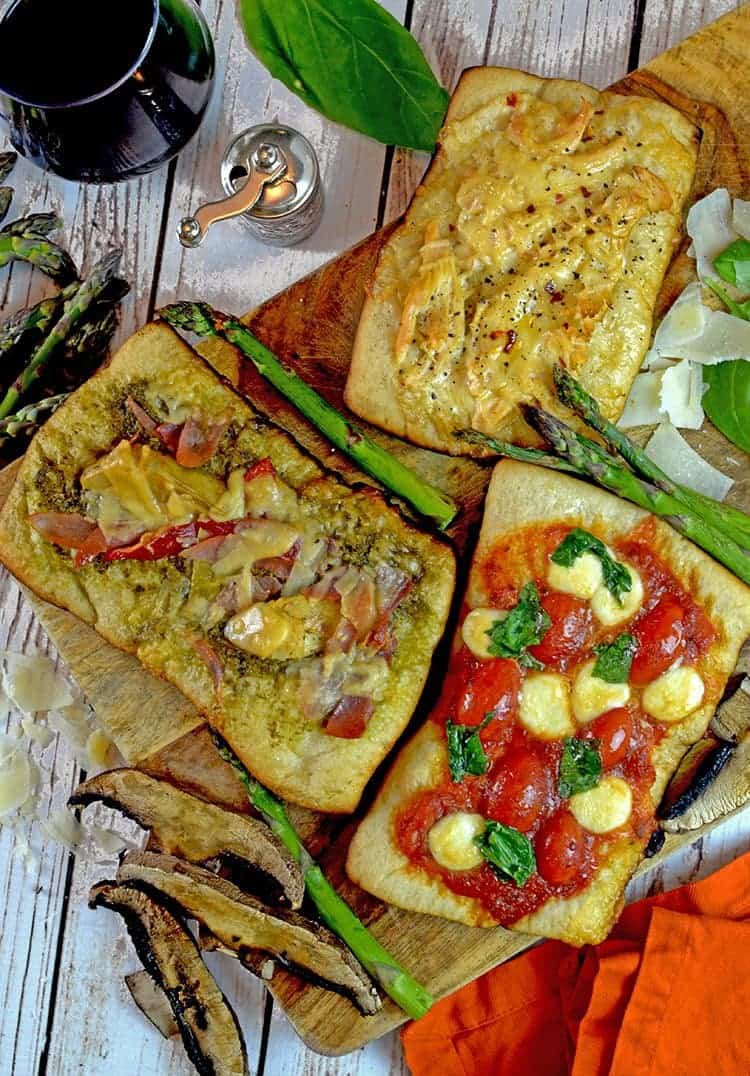 As the weather warms up, my thoughts begin to think about the many chores that have to be completed outside. Mowing the lawn, weeding the flower beds, planting a garden, just to name a few. The other thing that I find myself thinking about is grilling. I will try to grill anything once. Sometimes you grill a winner and sometimes, not so much. Today's post is a winner, with these Easy Grilled Pizza Recipes.
About these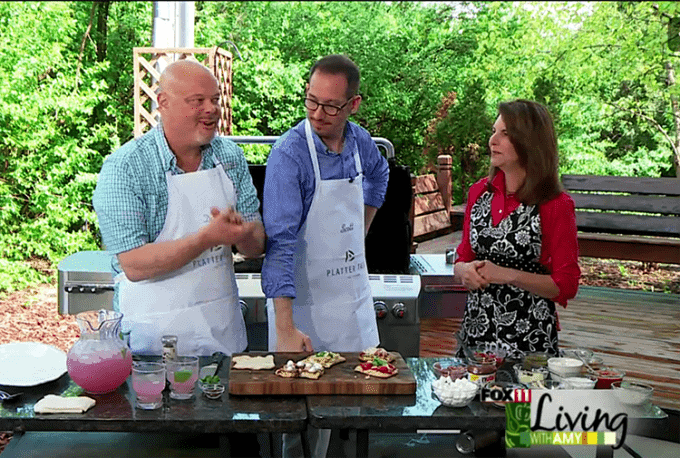 Watch the Platter Talk Guys, making these grilled pizza recipes live, on Living with Amy!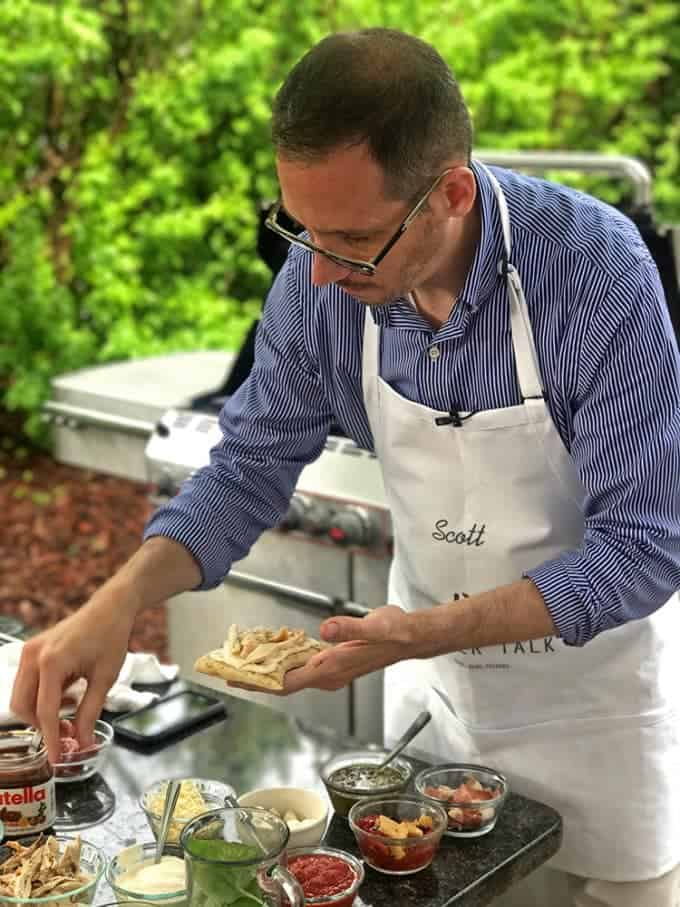 Recently at our little cottage in the middle of Nowhere, WI, the kids wanted pizza. A stomach wants what a stomach wants, so I couldn't blame them. Still, sadly when we are at the cottage where we lose some modern conveniences like pizza delivery.
Now, I could have taken the typical approach and baked a pizza in the oven but as I said earlier, I will try grilling anything once. So why not pizza?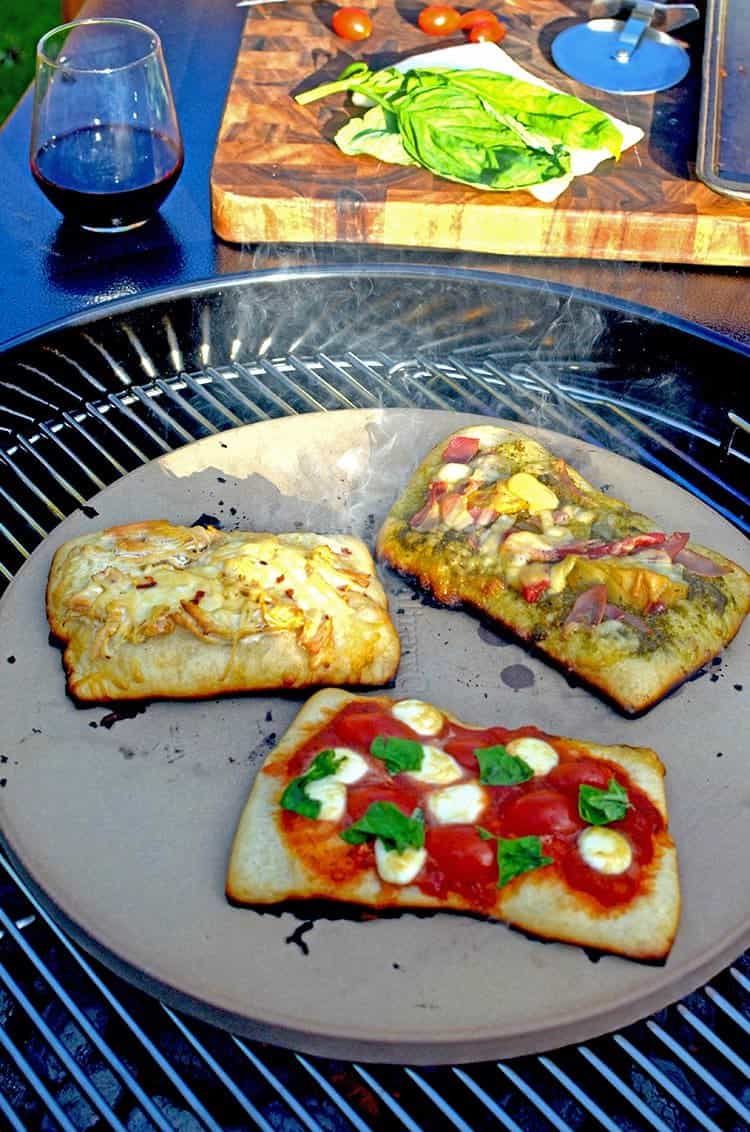 After taking a quick road trip to the local grocer, the boys and I found the ingredients that they wanted to use for their grilled pizzas. We found something that I did not even know existed, pizza dough in a can. Have you seen this? It truly is amazing.
What you need to make them

A can of refrigerated fresh pizza crust
Your favorite toppings
A hot grill
A nice summer day (preferable, not mandatory!)
All you do is pull the paper off of the cardboard tube, press at the seam and presto, you unroll a fresh pizza crust. I decided to cut the pizza dough into 6 pieces. This allowed the kids to make their own personal pizza.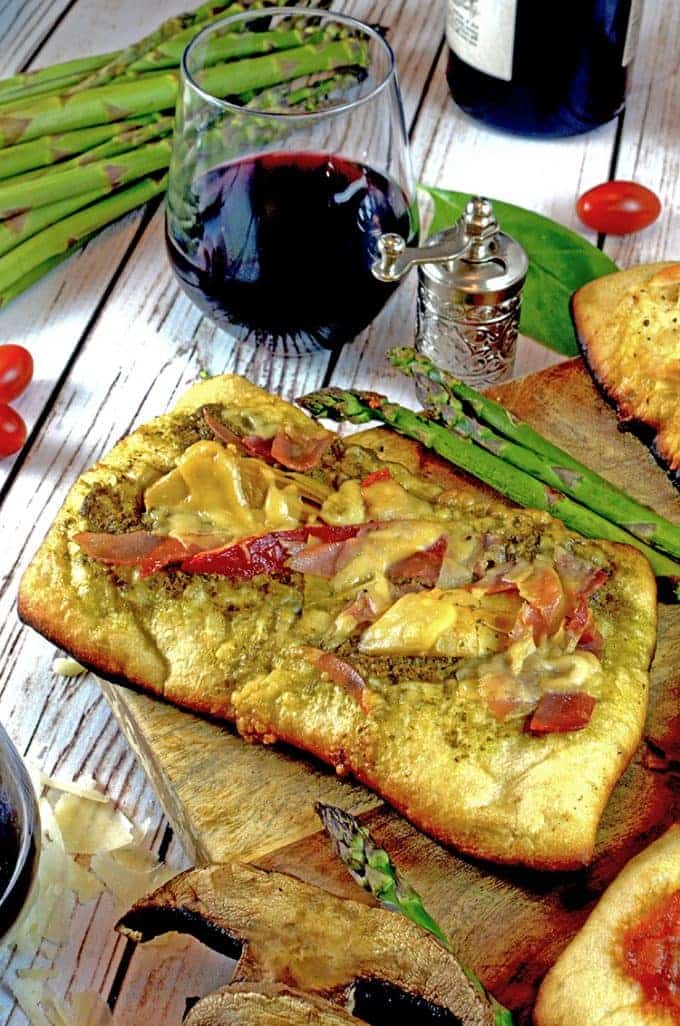 The steps can't be any easier. After firing up the grill, I made sure that my grates were lightly oiled. I put each small pizza crust on the grates to cook, making certain to just lightly brown each side.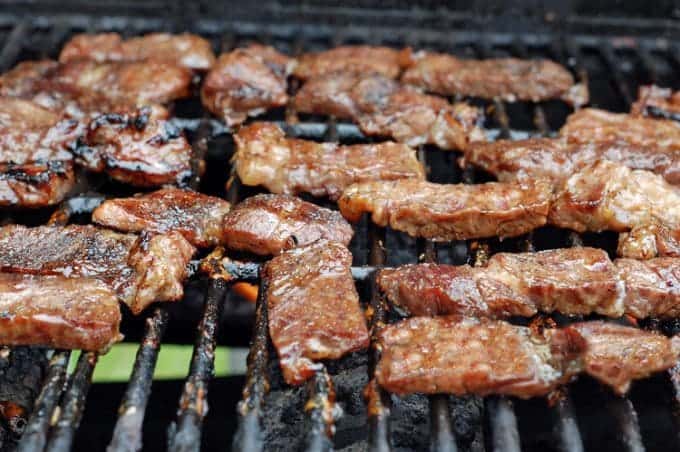 Love to grill outside? Don't miss some of our other grilled recipes.
You want to make sure the grill isn't too hot, or you will burn the crust. I learned this the hard way. Once the crust was "pre-cooked", I took them off of the grill and allowed the kids to put on their sauce and toppings.
Most of the kids are traditionalists and prefer either cheese and pepperoni or just cheese. After they adorn their pizzas, I then return the pizzas to the grill so that the cheese can melt over the toppings. You can speed the process by closing the lid.
Once again, I would not walk away too far, these little babies don't take that long to finish off.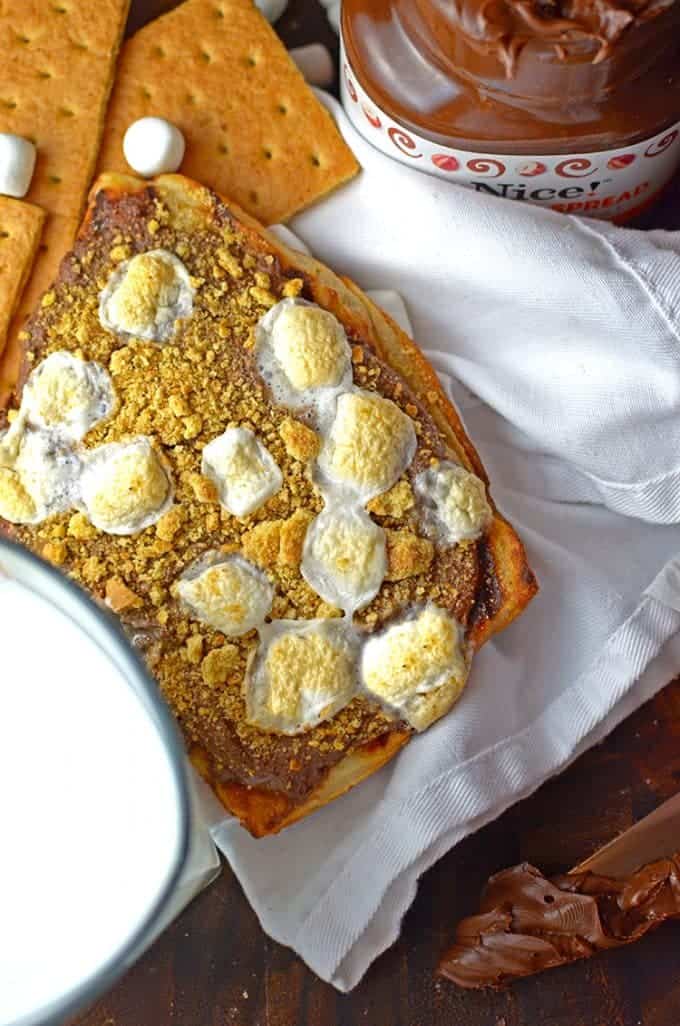 Now, you are only limited by your imagination for these pizzas. How about a chicken Alfredo pizza using rotisserie chicken and jarred Alfredo sauce? Not your thing, how about using marinated artichokes and pesto sauce or a margarita pizza with fresh cherry tomatoes and basil?
Maybe you have a sweet tooth and you make an s'mores pizza using Nutella, crushed graham crackers, and mini marshmallows. Get the picture? Now get grilling and try making your own mini grilled pizzas recipes. Enjoy! -Scott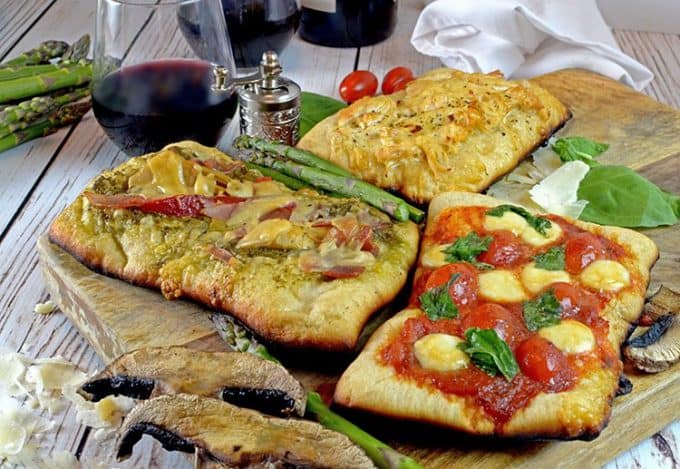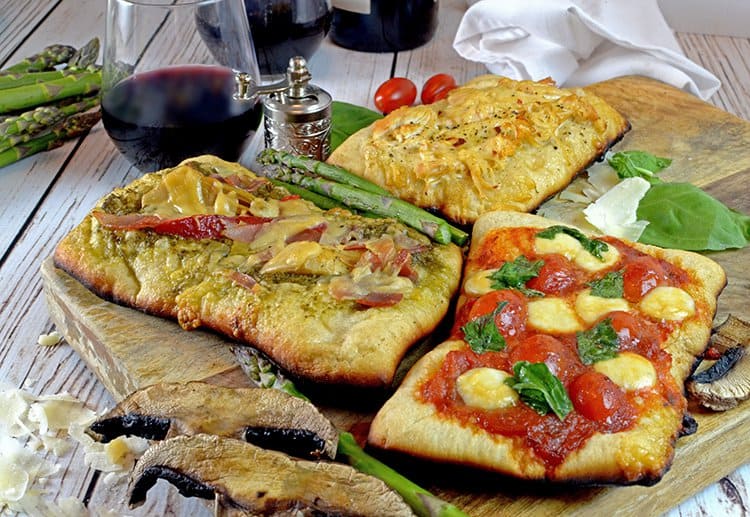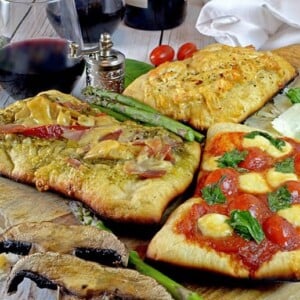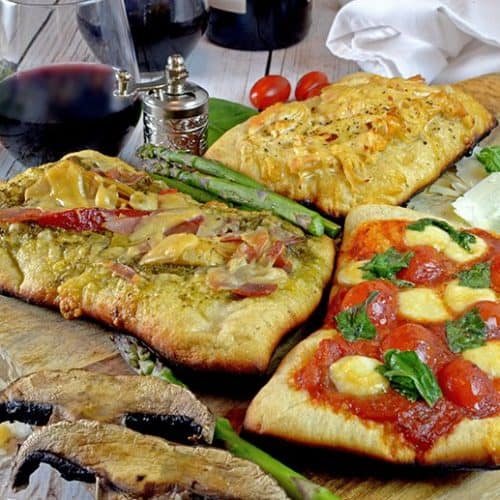 Easy Mini Grilled Pizzas
Easy mini pizzas, perfect for parties!
Ingredients
For the Chicken Alfredo Version
1

can

Pillsbury Pizza crust

,

cut into 4-6 pieces

1/2

cup

rotisserie chicken

,

shredded

1/2

cup

Alfredo sauce

Fresh basil leaves torn into pieces

Shredded Asiago Cheese
For the Margarita Version
1

can

Pillsbury Pizza crust

,

cut into 4-6 pieces

1/4

cup

Cherry tomatoes

,

cut in half

1/4

cup

Pizza sauce (marinara)

1/2

cup

Fresh mini mozzarella pearls

Fresh basil leaves torn into pieces
For Pesto Artichoke Version
1

can

Pillsbury Pizza Crust

,

cut into 4-6 pieces

1/2

cup

Pesto

1/4

cup

Marinated Artichoke

1/3

cup

Panchetta

,

chopped

1/4

cup

Shredded Asiago cheese
For S'mores Version
1

can

Pillsbury Pizza crust

,

cut into 4-6 pieces

3

tbsp

Nutella

Crushed graham crackers

Mini Marshmallows
Instructions
For each pizza, cut raw crust into 4-6 equal pieces.

Grill each side of crust until just lightly browned and firm.

Remove from grill and put on desired toppings.

Return to grill and cook until cheese (or marshmallows) are melted.

Notes
All volumes of ingredients are approximated. Add more or less (or omit/substitute to your personal preference).
Nutrition
Calories:
74
kcal
,
Carbohydrates:
1
g
,
Protein:
6
g
,
Fat:
5
g
,
Saturated Fat:
2
g
,
Cholesterol:
32
mg
,
Sodium:
208
mg
,
Sugar:
1
g
,
Vitamin A:
26
IU
Nutrition information is automatically calculated, so should only be used as an approximation.