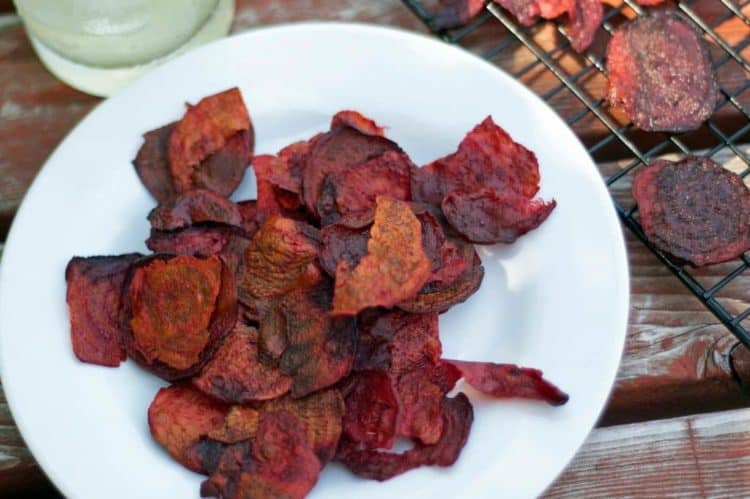 Hi, I'm Dan and I'm a snacker.  Are there any others in our presence among that persuasion?   I see one hand going up – good, good.  O.K., there's another – and another.  Come on people, hands up if you've been known to enjoy a good snack.  I need to share something with all of you who have come to terms with this part of yourself.  It's O.K. to be a snacker, particularly if there are beet chips involved.  If you have never tried these, I think you will be completely and pleasantly surprised by the snackilicious factor of these all natural and all healthy chips.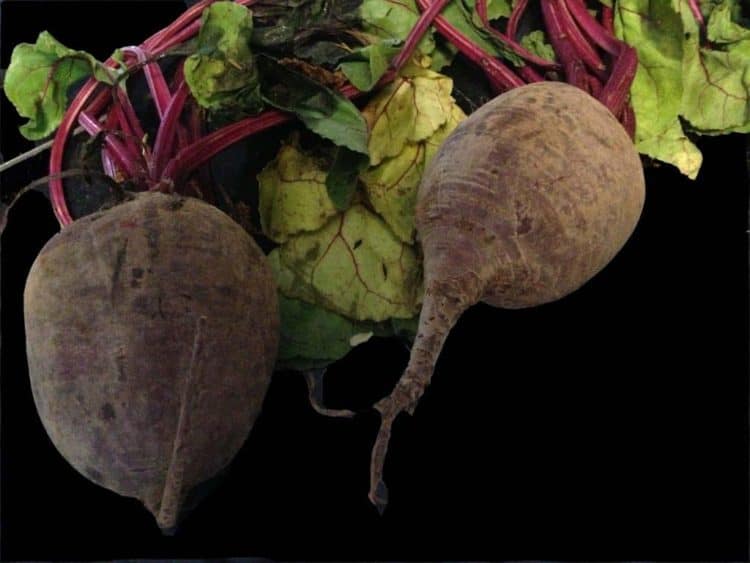 Beets are "one of those things."  It seems, people either love them or do their very best to avoid them.  Thankfully, I fall among the former group and I have always felt some sense of sorrow for those in the latter.  I have some level of affinity for most foods and pickled beets were one of the commodities I grew up enjoying throughout the year, thanks to the gardening, canning, and cooking finesse of my late mom.  I helped plant the tiny seeds each spring, in the fall I would they were harvested, canned, and then they had their very own cupboard in our farmhouse cellar, among the canned beans, canned beef,  canned sausage, and so many other wonderful homegrown edibles.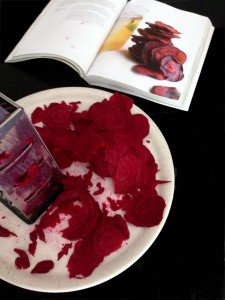 I'm going to skip the nutrition lecture on beets, here.  But in case you have been hanging out on a different planet, it may be of news to you that beets are very, very, very good for you.  They've got all the right stuff:  antioxidant, anti-inflammatory, detoxification, and perhaps most important of all – downright delicious properties an all with virtually no fat to weight them or you down.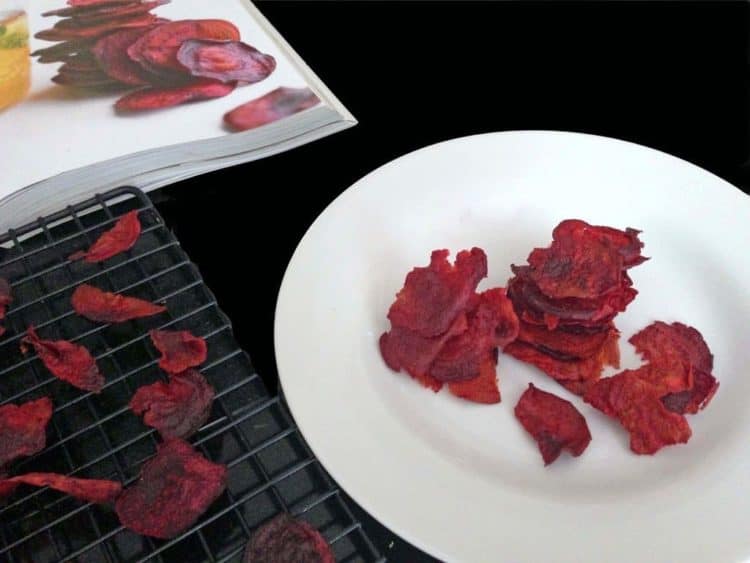 With some regret, I'm not on the farm any more.  That was a long, long time ago.  Happily though beets are still pretty easy to find.  I look for them on salad bars, in delis, and at the juice counter of my favorite natural food store.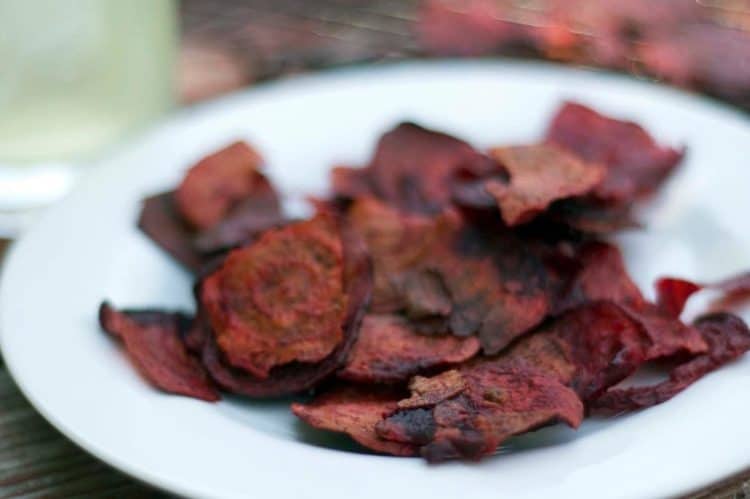 I came across this idea in the book Power Foods.  You may recall that I mentioned this great find, a few posts ago when I put together a really good and really healthy frittata.  It is no coincidence that an idea featuring beets also appears in Power Foods.  Beets are, beyond question, a bonafide power food and so much more.  Give these a shot, then give some to your kids, your partner, your neighbors and your colleagues.  These are simply too good tasting and too good for you to not share.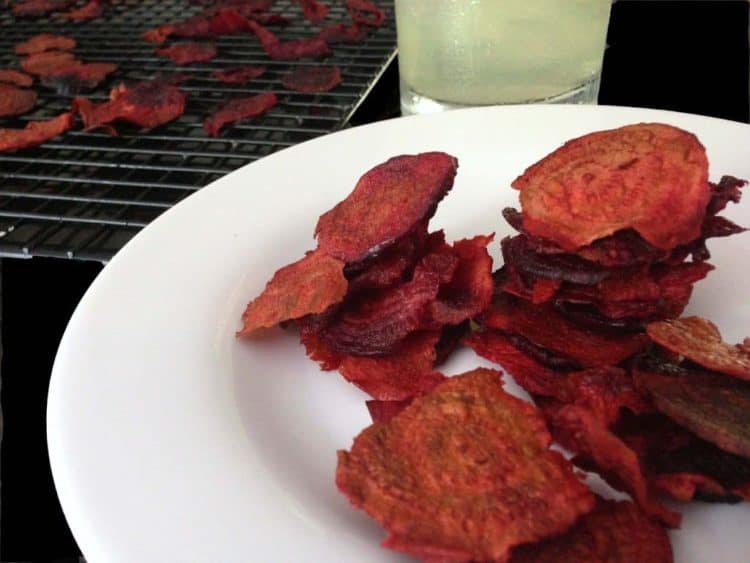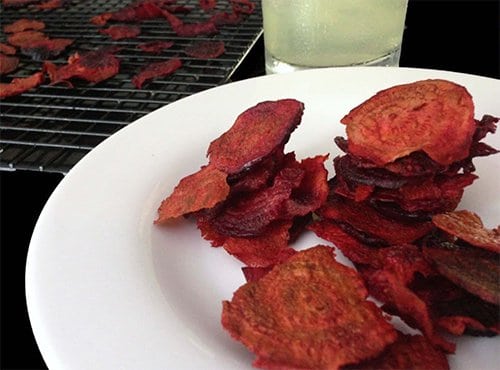 Ingredients
2

Medium

Beets

1

tbsp

olive oil

extra virgin
Instructions
* Preheat oven to 350 degrees, F.

* Wash and peel beets.

* Slice beets as thinly as possible, using a mandolin slicer if you have one.

* Place beet slices in large mixing bowl and evenly distribute olive oil and then gently toss.

* Using two rimmed baking sheets, evenly distribute beet slices in single layer.

* Stack baking sheets on an oven rack.

* Bake until edges start to dry out, about 20 minutes and then rotate baking sheets.

* Continue to bake another 15 to 20 minutes and remove beets slices become light in color.

* Allow to cool on wire rack where beet chips will begin to crisp as they cool.
Nutrition
Calories:
31
kcal
|
Carbohydrates:
0
g
|
Protein:
0
g
|
Fat:
3
g
|
Saturated Fat:
0
g
|
Cholesterol:
0
mg
|
Sodium:
0
mg
|
Sugar:
0
g