Jerked Beef
on Jun 28, 2013, Updated Apr 30, 2021
Jerked beef is a simple and tasty grilled beef recipe that uses just a few ingredients. One of our easy grill ideas, it is is perfect for backyard barbecues of all kinds. Read on and I'll show you exactly how to make this favorite grilled beef recipe of mine!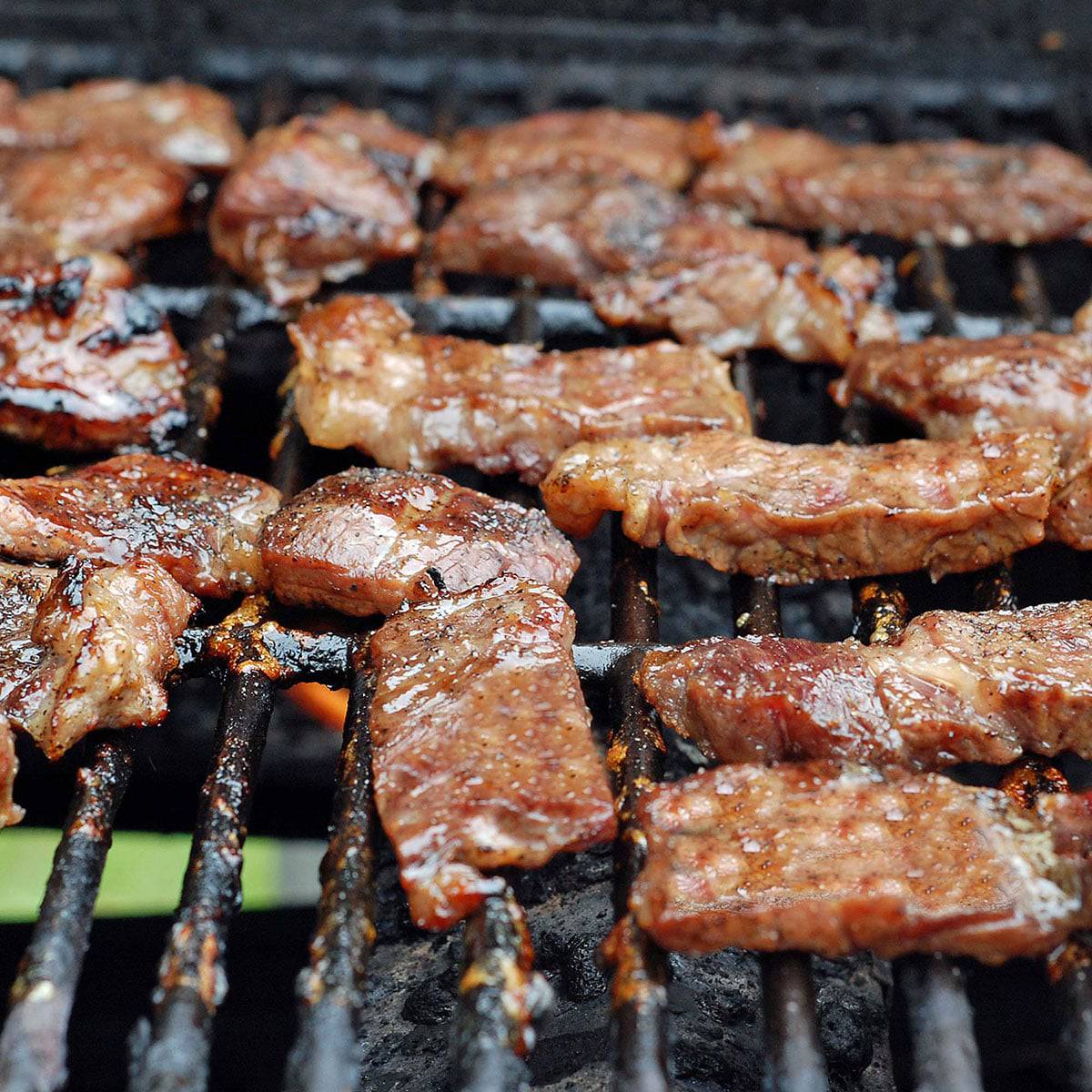 Our jerked beef is a bit different than the classic homemade jerky recipe. One of our favorite beef recipes, it uses only a few ingredients, just like our smoked brisket flat.
If you're from northern New York state, you may or may not be familiar with this version of jerked beef. It's definitely not from the islands but more like the foothills of the Adirondacks.
Among those who are familiar with this style, it is known to be a rite of summer – tailor-made for grilling over hot coals or a propane grill, and delicious with just about any side dish or cold beverage that comes to mind.
Jump to:
What is this?
Jerked beef is made on the grill. The strips of beef roast are flavored with a combination of salt, pepper, and brown sugar.
These simple ingredients create a marinade when allowed to rest on the beef for 24 hours or so, in the refrigerator before going on the grill. The salt and pepper taste is held together by a sweet caramelization from the brown sugar.
The finished dish is a savory bite of beef that is perfectly flavored with a touch of sweet and salty heat.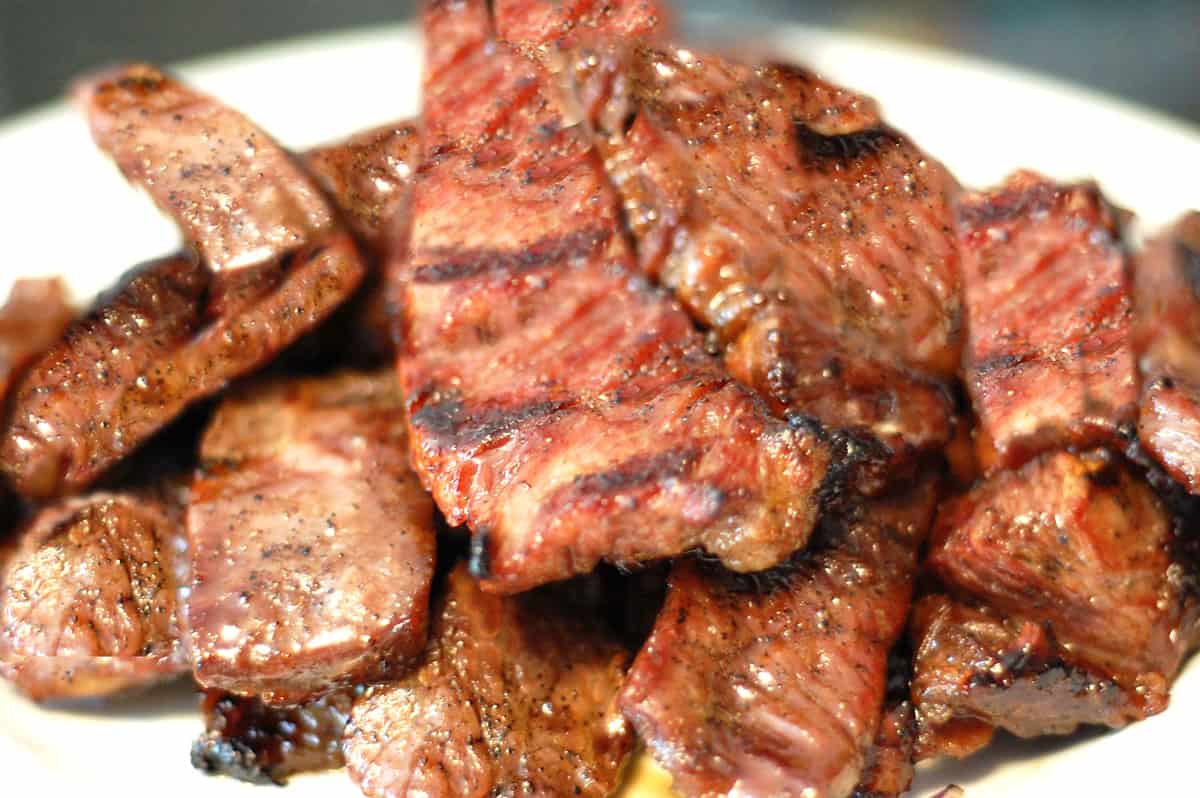 What's in it?
Jerked beef only has four ingredients, including the meat. Of course if you can get an incredible-tasting recipe with just a few common ingredients, that's even better!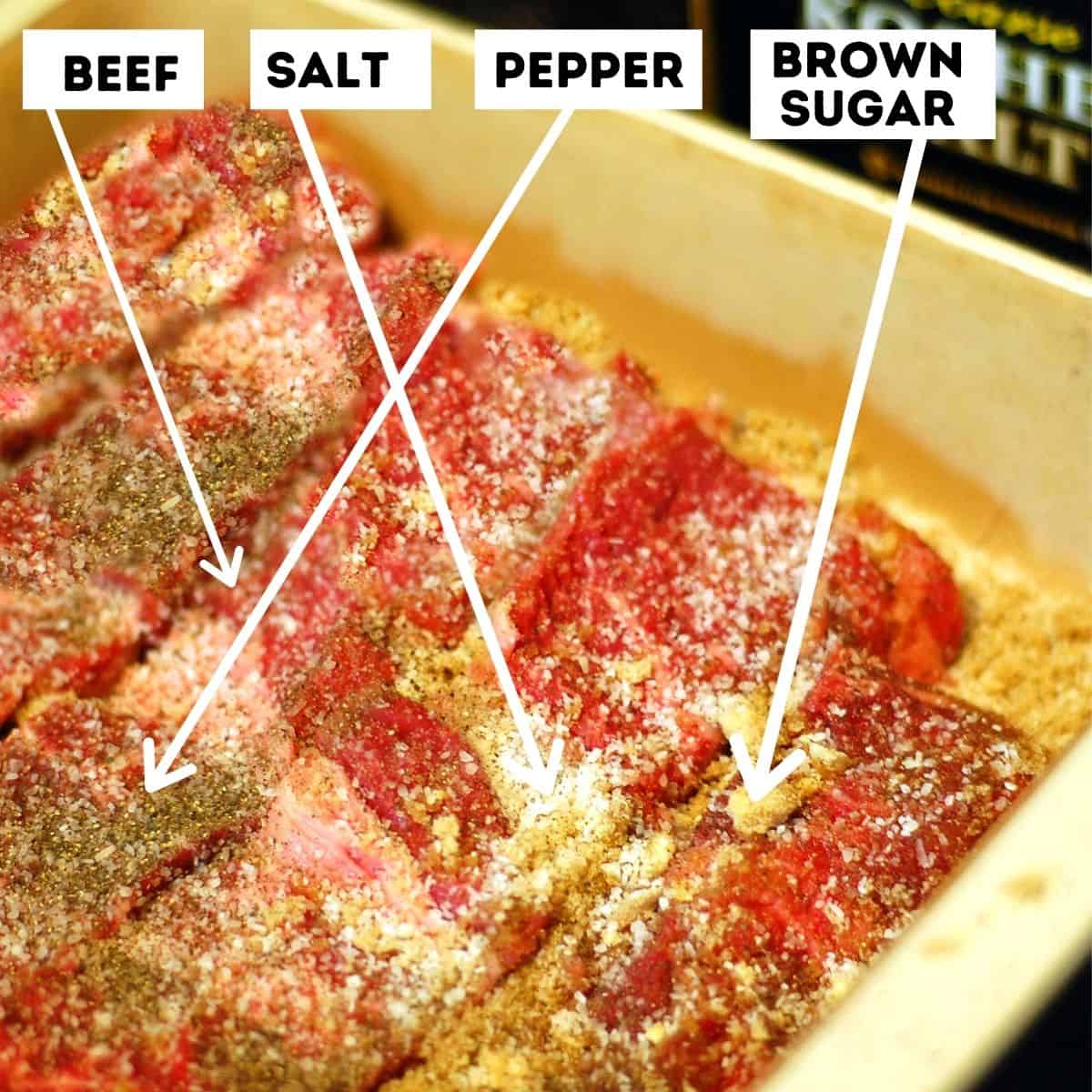 Beef – Use an inexpensive cut of beef like a chuck roast or rump roast.
Salt – Kosher salt works best for making jerked beef because of the increased surface area of its coarse crystals. You can also use regular table salt but you'll get a bigger flavor from the Kosher salt.
Pepper – Regular ground black pepper works great for this jerked beef recipe.
Brown Sugar – You can use light or dark brown sugar with this dish.
How to make it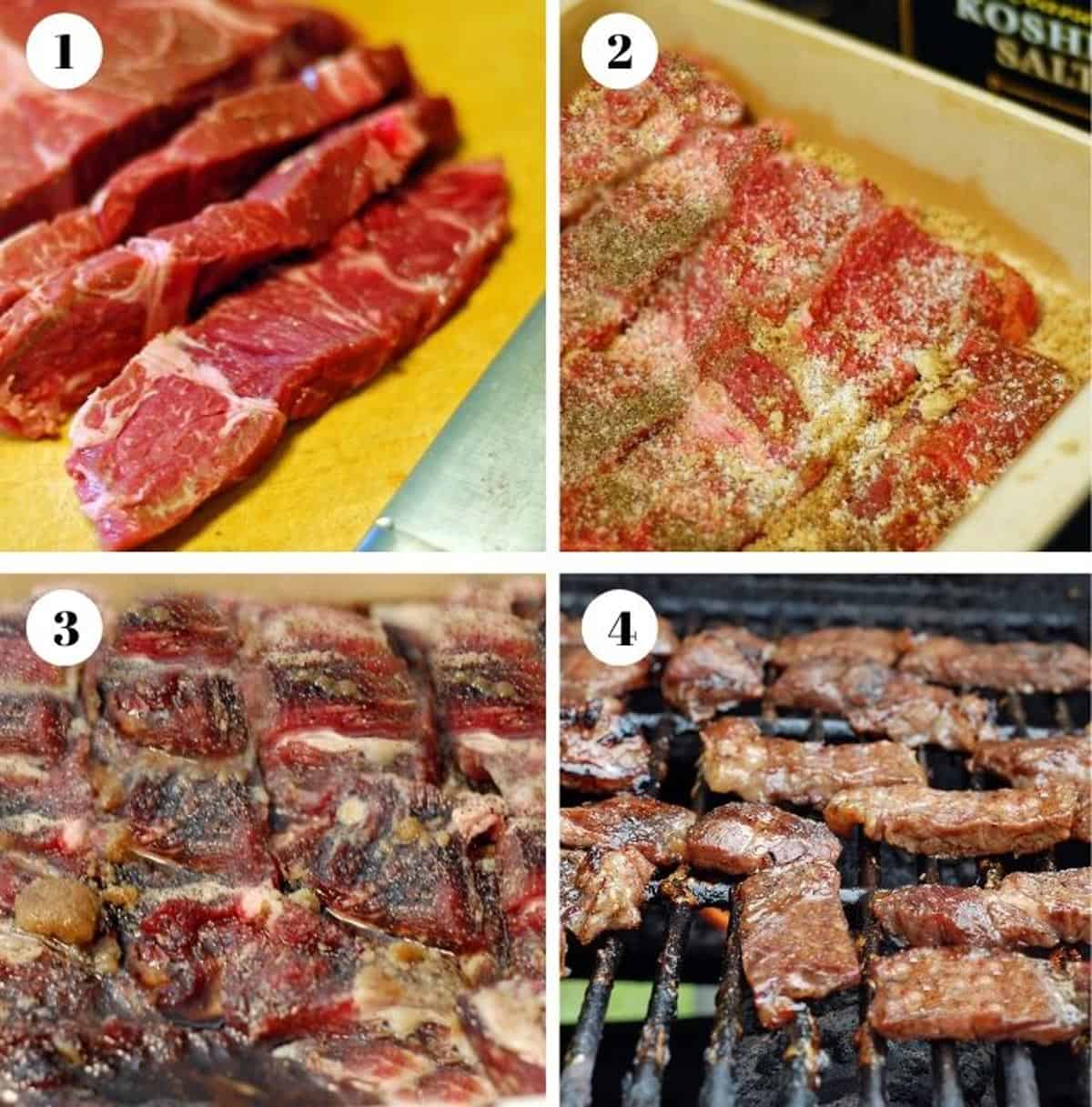 Use a sharp knife and slice a beef roast, 1/2″ to 3/4″ thickness.
Using a baking dish, add a layer of beef strips to it. Then, sprinkle a generous amount of kosher salt, ground black pepper, and brown sugar over the top. Repeat this process of layering the meat and seasoning.
Seal the dish with plastic wrap and allow it to sit in the refrigerator overnight.
Grill over a hot bed of coals or on a gas grill, for about 5 minutes per side.
Pro cooking tip
Apply heavy layers of all three seasonings.
Allow the meat to marinate for a full 24 hours, for maximum flavor. If you can let this soak for 2 days, it's even better than 1 day of marinating.
Take a look at our favorite grilling and smoker accessories. We use these products all the time!
Substitutions and variations
Instead of beef, you can use pork or venison. Both are delicious using this technique.
This natural marinade is produced as a result of the kosher salt extracting the natural juices from the meat.
These juices mix with salt, pepper, and brown sugar and bathe the meat, greatly enhancing the flavor.
Common questions
Be sure and download your free printable short list of ingredients for this grilled jerked beef recipe!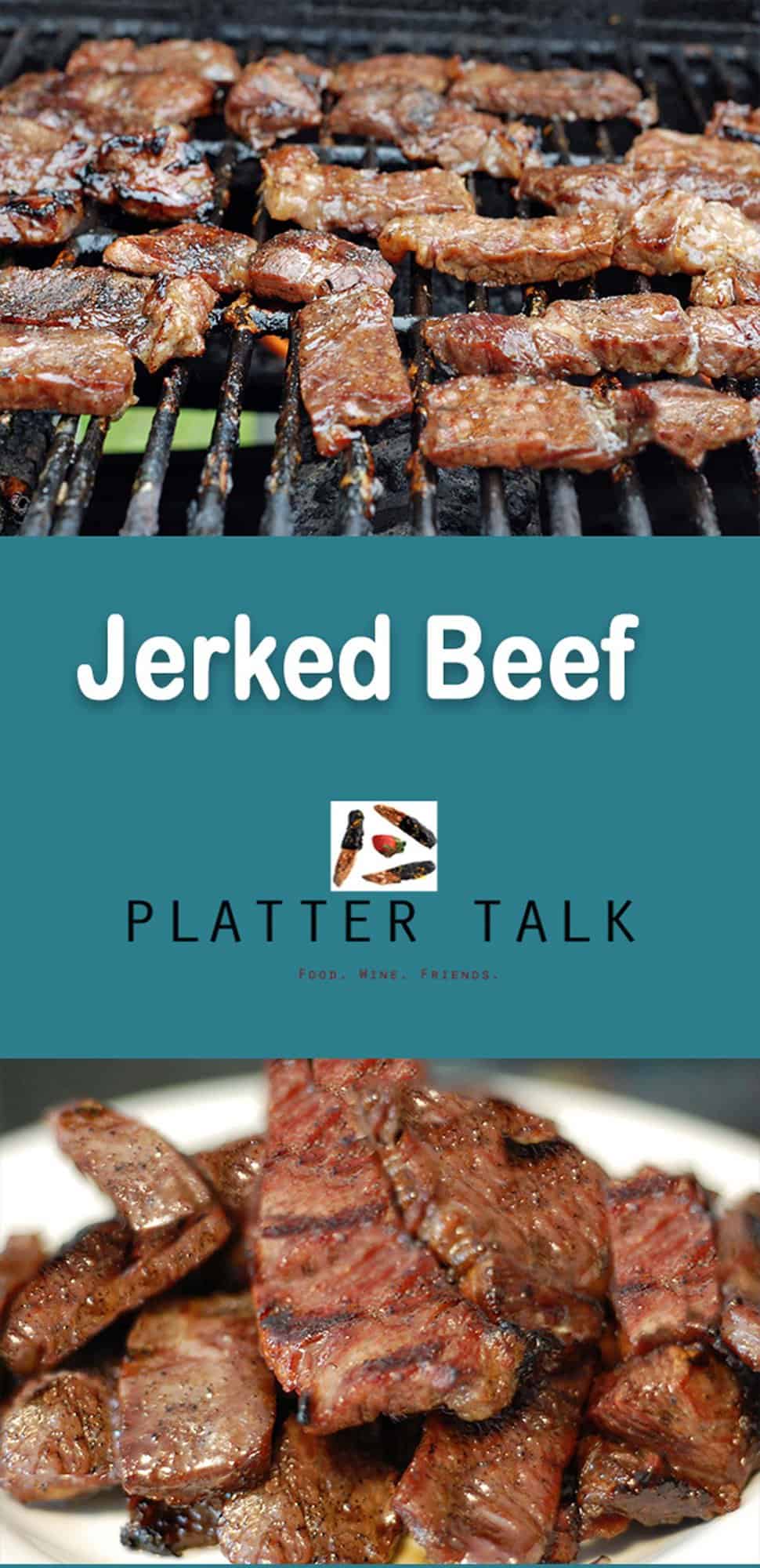 👨‍🍳 Tried this Recipe? Please leave a ⭐⭐⭐⭐⭐ rating in the recipe card below and leave a comment. We love hearing from our readers!
⏩ Stay in touch with us on social media by following us on Facebook, Pinterest, Instagram, and YouTube!
📬Get our Recipes delivered to your inbox for FREE!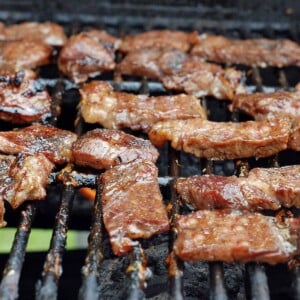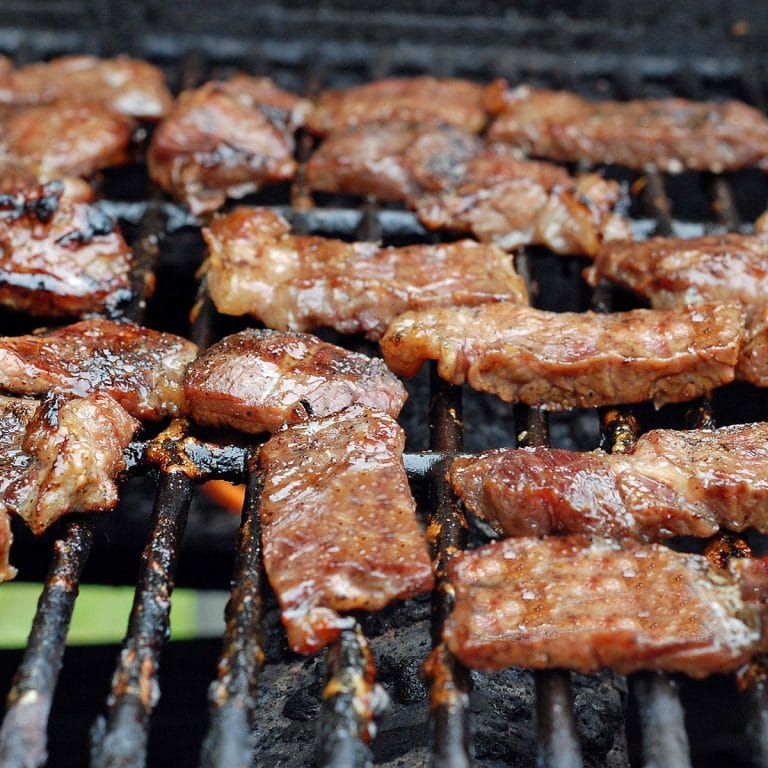 Jerked Beef
A sweet and salty grilled delicacy that can be made with beef, pork or venison.

Ingredients
3

lbs

beef

salt,

kosher is preferred for its size.

pepper

2

cups

brown sugar
Instructions
Prepare beef by slicing into ½ to ¾ inch pieces parallel to muscle fibers. In a glass or ceramic container, spread a heavy coat of brown sugar, salt, and pepper. Place slices of beef, in a single layer, atop of this base of brown sugar, salt, and pepper. Repeat the process, placing dry ingredients on each subsequent layer of beef. When all t he beef is layered and coated, seal container with place wrap so that it is air-tight and refrigerate and allow to marinate for a minimum of 24 hours. Preheat grill to medium high heat and using tongs, place beef on grill and allow to cook on each side for 7 to 10 minutes.
Notes
Use a non-reactive, non-absorbent container to marinate the beef. Growing up, I recall that ceramic crocks were frequently used. If possible, use kosher salt. The larger size crystals do a better job of covering the surface area of the meat, enhancing the self-marinade process and as a result, the flavor as well.
From my late sister Ann, one of the best cooks I've ever known, "Use more salt than you think you will need." That said, go heavy with all of the dry ingredients.
It's O.K. to use different cuts of beef. I like to use an Angus roast. Others prefer sirloin tips or London broil. My sister Marlene recently divulged her preference of pork steak for this.
Have a deer hunter in the family? Try using venison for this, it's delicious and a great use of the meat.
Nutrition
Calories:
854
kcal
,
Carbohydrates:
71
g
,
Protein:
39
g
,
Fat:
45
g
,
Saturated Fat:
17
g
,
Cholesterol:
161
mg
,
Sodium:
3660
mg
,
Potassium:
709
mg
,
Sugar:
71
g
,
Calcium:
104
mg
,
Iron:
4.9
mg
Nutrition information is automatically calculated, so should only be used as an approximation.
More grilled recipes