How Much Brisket Per Person Do You Need to Serve?
on Apr 16, 2023, Updated Jun 25, 2023
How much brisket per person do ou need? If you are a smoker and barbecue recipe fan, this is probably a question you've asked. Smoking brisket is a great choice when cooking for a crowd, but you need to have the right amount of meat.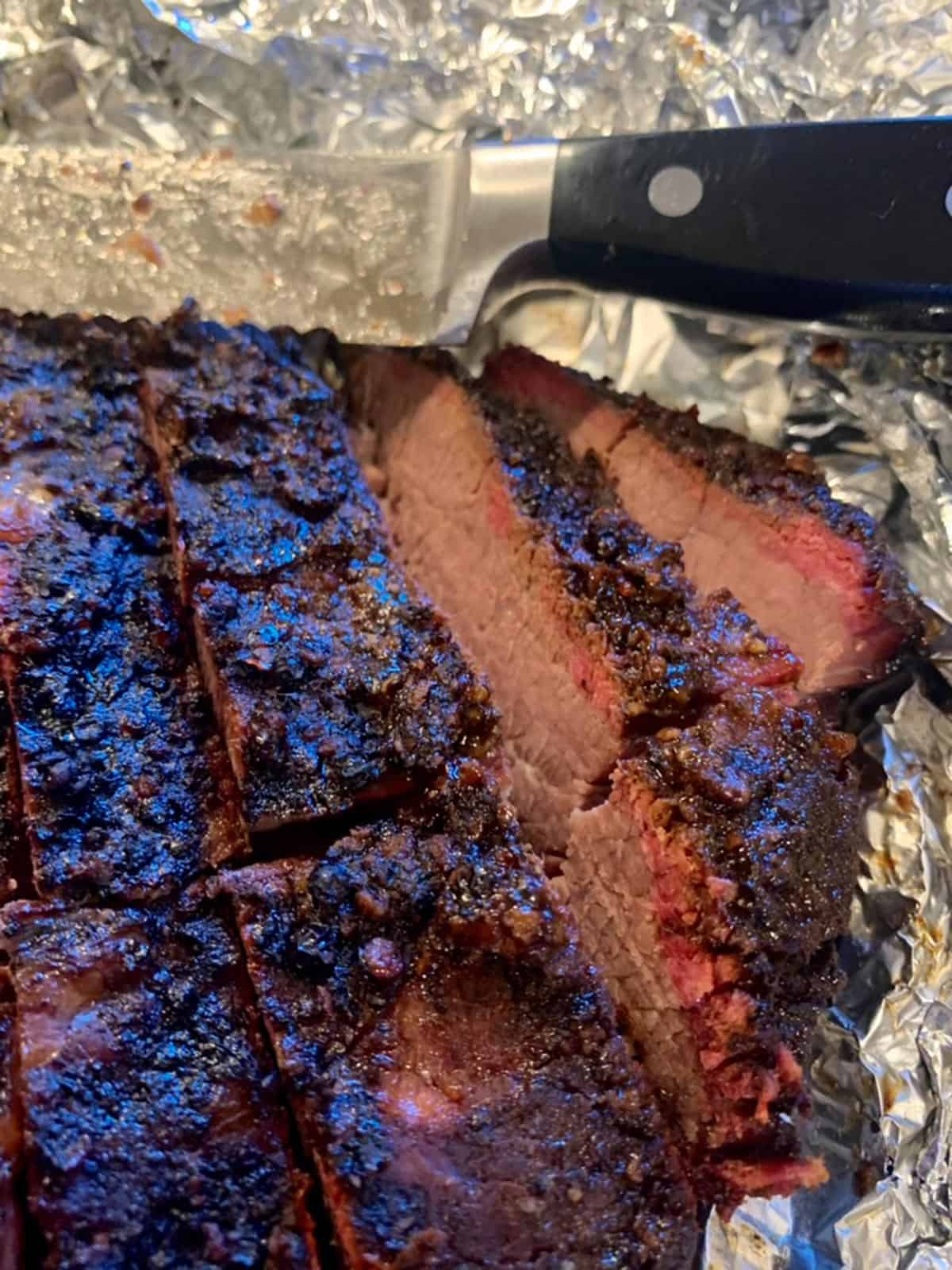 Read on, and we'll show you how to determine the best way to ensure you have enough brisket to feed your hungry crowd. The last thing you want is to run out of the main course when you have a large group of company over!
About this
Brisket is a tough cut of meat that needs slow cooking to break down its connective tissue and make it tender. However, the effort is worth it, as this is a flavorful and versatile meat that can be used in various dishes, from brisket sandwiches to main course entrees.
If you are planning to cook brisket for a dinner party, barbecue, or large crowd, you may wonder how much brisket per person you need to feed.
Today I'll go over the recommended amount of brisket per person, factors to consider when estimating the amount of brisket, and tips on how to cook and serve it.
How much brisket is enough?
As a general rule of thumb, you need 1 pound of raw brisket per person to have enough meat for a serving size. This means that if you have 10 guests, you will need 10 pounds of raw brisket. That's for the average person!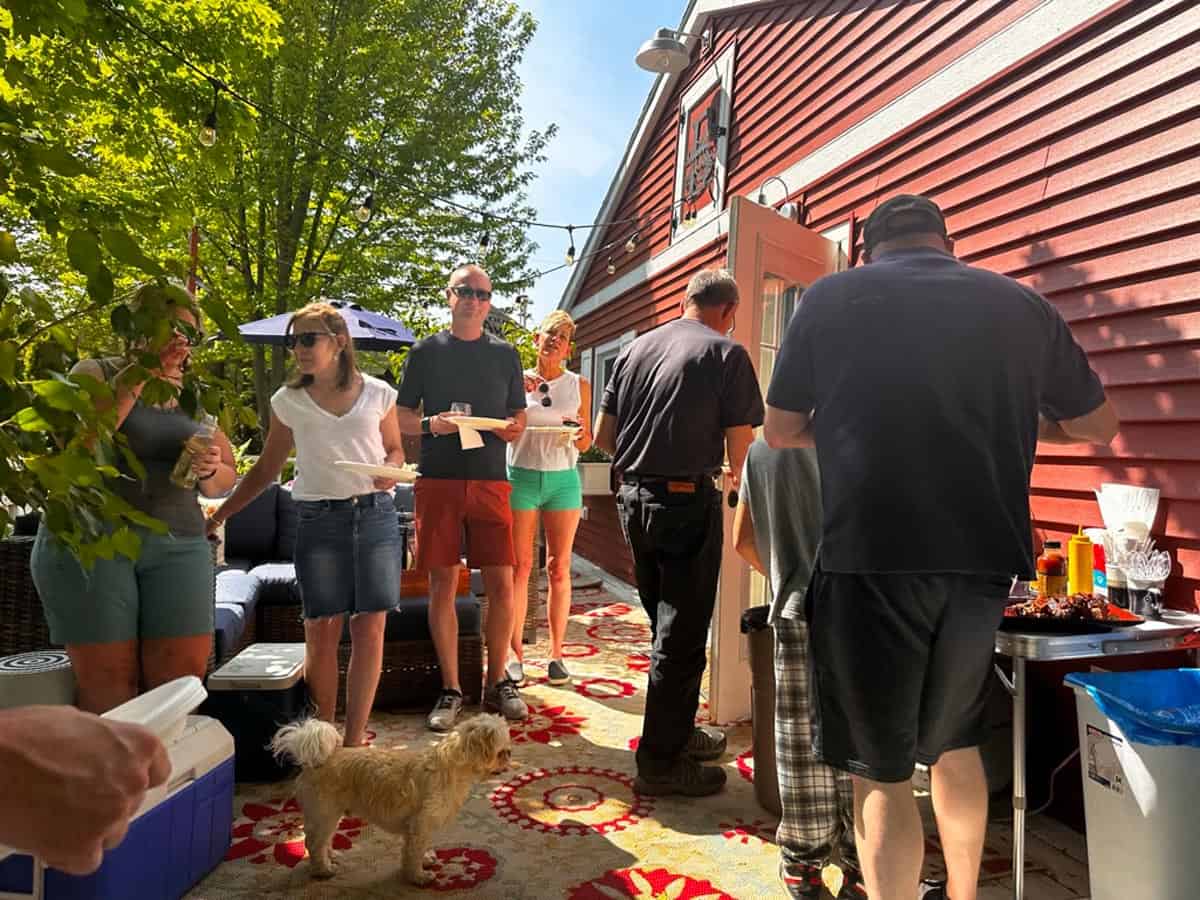 However, if you have big eaters or plan to serve larger portions, you may want to increase the amount to 1 to 2 lbs of brisket per person.
On the other hand, if you have side dishes or other food items, you can reduce the amount to 1/2 pound.
A whole brisket may be a good choice if you are serving a party-size group, as it can yield several pounds of meat. However, keep in mind that untrimmed brisket can have a lot of fat, which may not be ideal if you are watching your weight or prefer leaner meats.
In that case, a flat-cut brisket or a pork butt may be a better option, as they tend to have less fat and are still delicious and flavorful.
Expert Tip: When cooking brisket, it is important to trim the fat cap to prevent the meat from being too greasy. While some fat is necessary to keep the meat moist and tender, too much fat can be unhealthy and unappetizing. Also, keep in mind that red meat, including beef brisket, should be consumed in moderation as part of a balanced diet.
How much is brisket per pound?
Unless you have an unlimited budget, the price of brisket per pound may help you determine how much brisket per person you will want to buy.
The price of brisket can vary depending on various factors such as location, demand, supply, and meat quality. Additionally, prices may vary across different retailers and stores.
To give you an idea of the prices, in 2023, the average price of brisket per pound in the United States is around $3.50 to $5.50, depending on the location and store. Popular stores like Costco, Sam's Club, Kroger, and others may offer different prices for their brisket, depending on the factors mentioned above.
Factors that influence the price include the cut of the meat, the level of marbling, and the overall quality of the beef. For example, the point cut of brisket, which is fattier and more flavorful, tends to be less expensive than the flat cut, which is leaner.
Additionally, the USDA grade of the beef can also impact the price, with higher grades of meat costing more.
How to save money on a brisket
To save money on a brisket, you can look for sales or discounts at local grocery stores or meat markets. You can also consider buying a larger brisket and portioning it out yourself, which can be more cost-effective than buying smaller cuts. Additionally, you can compare prices across different stores and retailers to find the best deal.
Other factors to consider
The number of people on your guest list is the most important factor to consider when estimating the amount of brisket per person that you need. You can use the rough estimate of 1 pound of raw brisket per person to know how much meat you need. However, you should also consider the type of event, time of day, and type of meat.
How much brisket for a main dish?
If you are hosting a dinner party or formal event, you may want to serve larger portions and increase the amount of brisket per person. If you are serving brisket as the main dish, you may need more meat than if you are using it as a side dish or appetizer.
If you have a lot of people to feed, you may need a larger cut of brisket, such as a whole packer brisket or prime brisket.
What cut of brisket are you making?
Another factor to consider is the type of cut of brisket. Brisket comes in two cuts, the first cut (or flat end) and the second cut (or point cut).
If serving just the flat
The first cut is leaner and easier to slice, while the second cut has more fat and flavor. If you choose to serve just a flat, you may need to decrease the amount per person because this is the leaner part of the brisket and will shrink less than the fattier point.
If serving just the point
If you choose the point, you may need to trim some extra fat to avoid a greasy dish. Also, the point will shrink more because of the extra fat, so you may need to bump up the amount of brisket per person you need.
Tips on How to Cook and Serve Brisket
Once you have figured out how much brisket you need to feed your guests, the next step is to cook and serve it. Brisket can be cooked in a variety of ways, such as in a Dutch oven, slow cooker, or smoker.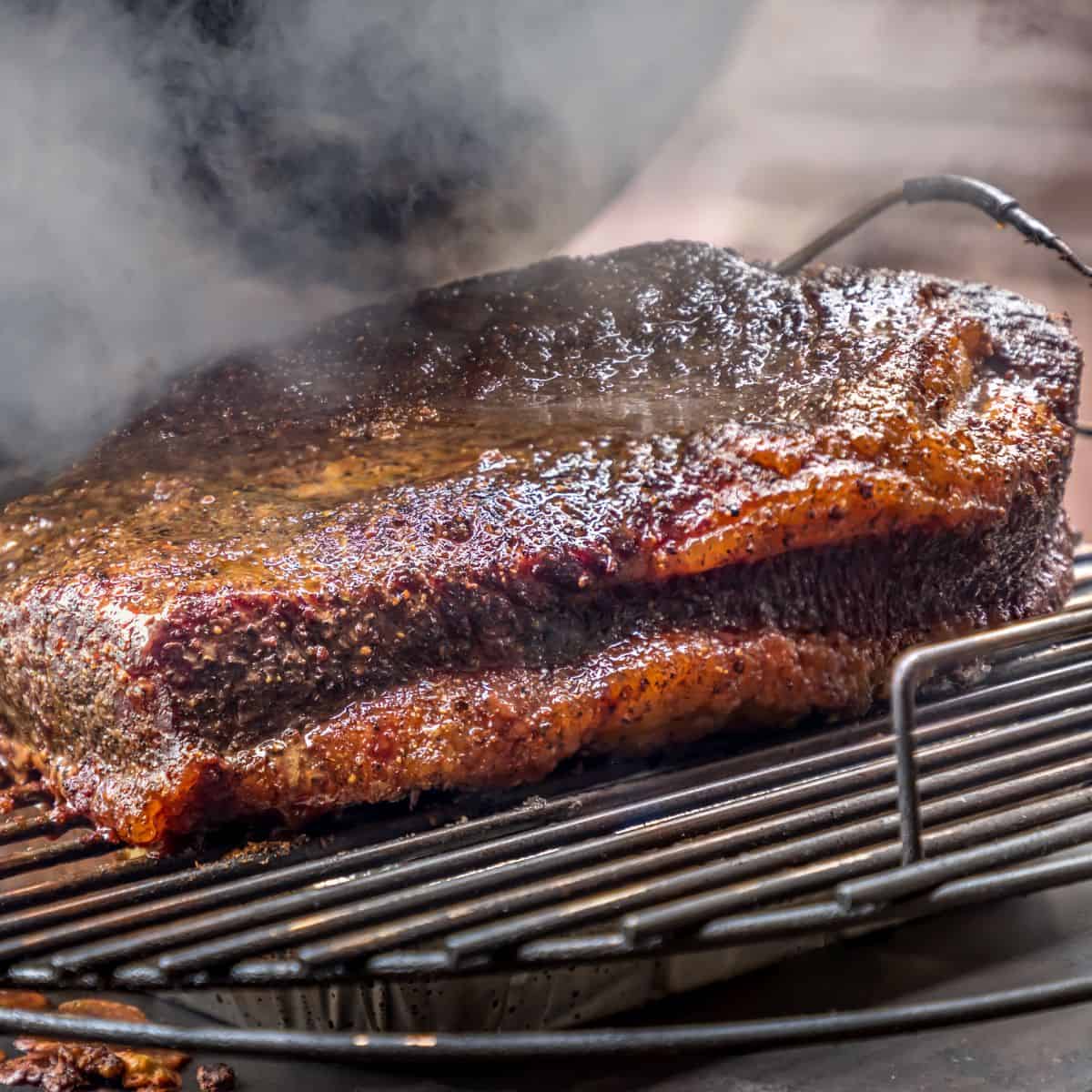 However, the cooking process takes a long time, usually 8-12 hours, so plan ahead and start cooking early. You can also cook brisket in advance and reheat it on the day of the event.
Expert Tip: To keep the brisket moist and tender, you will want to wrap it in aluminum foil or butcher wrap after cooking and let it rest at room temperature for 30-60 minutes before serving. This allows the juices to redistribute and prevents the meat from losing too much moisture.
You can also serve brisket with side dishes, such as potato salad, coleslaw, or baked beans.
How to slice brisket
When serving brisket, make sure to slice it against the grain to make it tender and easy to chew. I like to use a sharp, serrated knife to cut it. The size of the brisket also matters.
More tips
When planning how much brisket per person you need, there are several other things to consider. The last tink you want is to run out of brisket or have too much leftover brisket.
A smaller brisket may cook faster, but it may not yield as much meat as a larger brisket. A larger brisket may take longer to cook, but it may be more cost-effective and provide more leftovers.
If you are not sure how much brisket to buy, you can always ask the meat department at your grocery store for advice. They can help you choose the right size and type of brisket for your needs. You can also look up brisket recipes online for inspiration and ideas.
To be on the safe side, it is always a good idea to have some extra brisket just in case. You can use the leftover brisket in other dishes, such as brisket tacos, brisket chili, or brisket mac and cheese. You can also freeze the leftover brisket for later use.
Choosing the right amount and type of meat is the most important thing when planning a brisket feed.
By taking into account factors such as party size, portion size, and types of meat, you can ensure that you have enough brisket to feed your guests without going overboard.
Remember, smaller portions and leaner meats can be a good thing if you are watching your weight or prefer healthier options. With the right amount of planning and preparation, you can serve up a delicious and satisfying meal that everyone will enjoy.
What goes with brisket?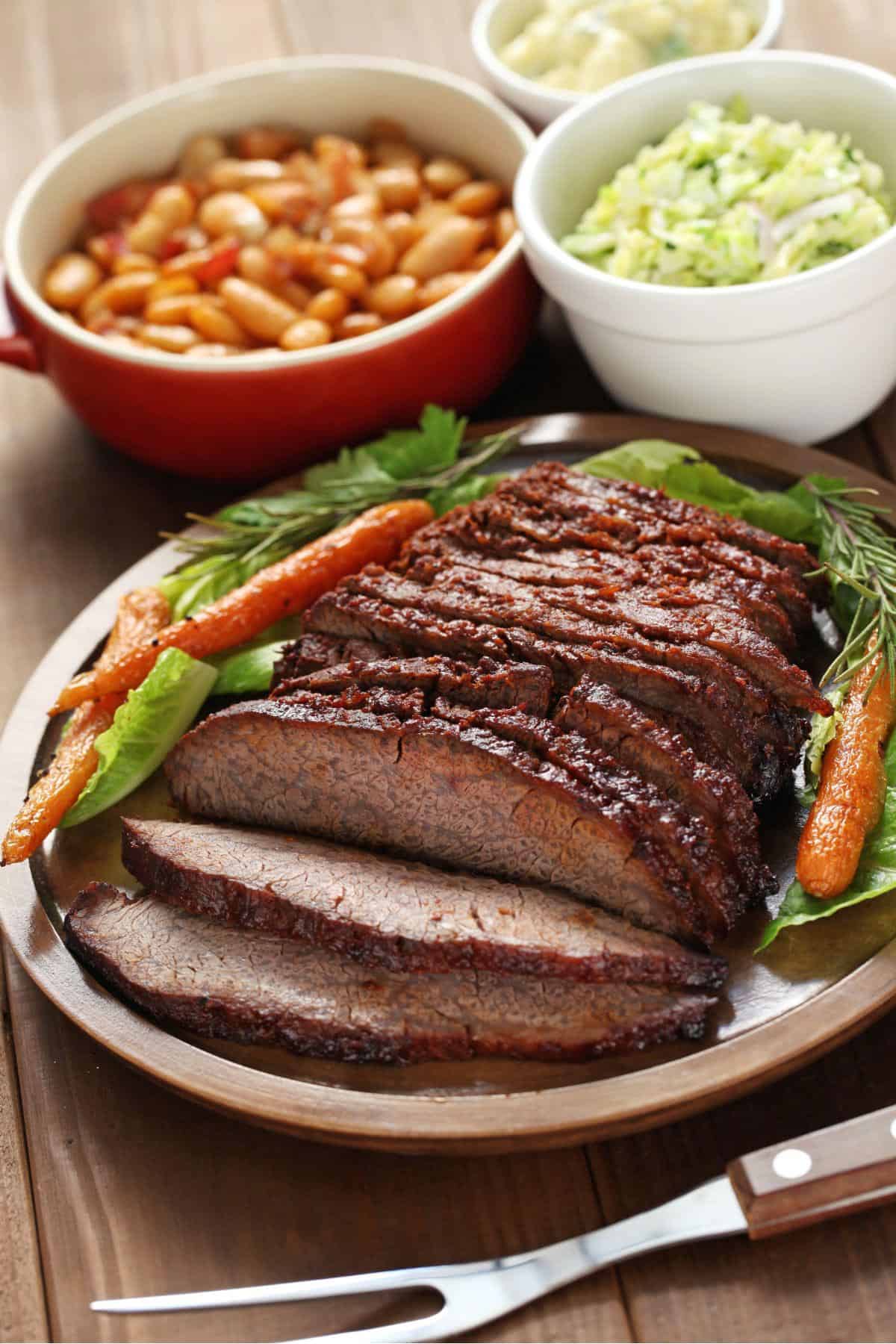 There are many delicious side dishes that can complement a serving of brisket. Here are some classic choices:
Overall, the key to serving great side dishes with brisket is to choose options that balance out the rich and savory flavors of the meat. Whether you go for classic barbecue sides or more unique options, a well-rounded meal for your next barbece will keep everyone happy and satisfied.
Related recipes
👨‍🍳 Tried this Recipe? Please leave a ⭐⭐⭐⭐⭐ rating in the recipe card below and leave a comment. We love hearing from our readers!
⏩ Stay in touch with us on social media by following us on Facebook, Pinterest, Instagram, and YouTube!
📬Get our Recipes delivered to your inbox for FREE!