Read on to discover How to Make Ciabatta Bread. It is a satisfyingly delicious and authentic Italian standard that you can make in your own kitchen, no matter where you live.
How to Make Ciabatta Bread
This was the weekend we've been waiting for, since about September.   This is the weekend when the pier went in the water, the weekend we tooled around in shorts, the weekend we cleaned some perennial beds.  This was the weekend spring finally decided to show up.   I say, "Welcome, and better late than never!"
Our great friends, Jeff and Mandi decided to pay us a visit at the cottage this weekend.  Making the trek from Green Bay, about an hour north of us, we made the decision to have dinner in and therefore spent a good portion of Saturday putting together some good stuff.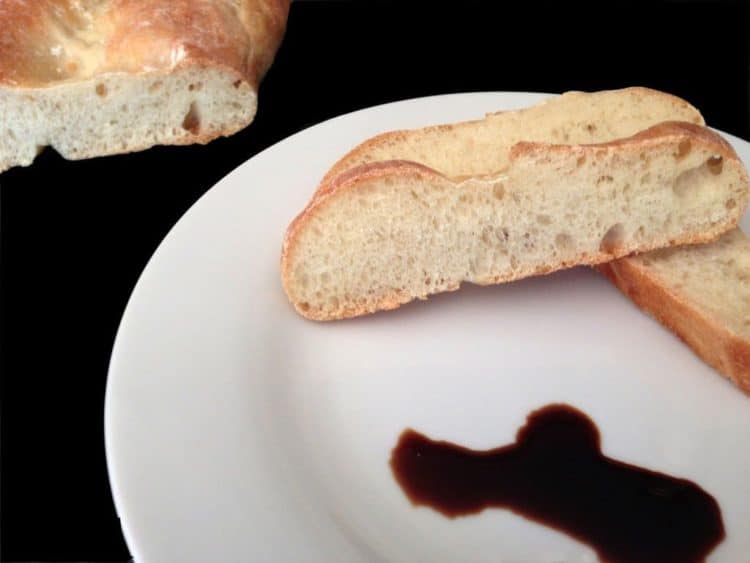 The cottage windows were open and so through them I could hear the boys, outside.  There was some lakefront raking going on, the fire pit was alive with burning lawn debris, and poles had been placed in the water, hopelessly early to catch for any fish but our boys were determined to get their outdoor cottage on, and I wasn't able to blame them even a tiny bit.
The steady breeze coming in from the outdoors was beyond refreshing this of course also added to the mellow energy of the day.  George Jones, who the world had lost just one day earlier, crooned throughout, and Ellie our English bull dog spent much of the day snoring gently on her bed.  This Saturday proved to be a grand entry for the better weather and that is exactly for what we had been pining.
Our dinner turned out very nicely, although I only did this Ciabatta bread and the caesar salad, along with new and creamier version of humus, Scott undertook the lion's share of the cooking and made it seem effortless with delicious results.
We spent the evening catching up, laughing, and ultimately sitting around the big bonfire in front of the moonlit lake. We were friends enjoying a rare stogie together, good wine, and most of all great conversation.  This was how Saturday nights were meant to be.
This recipe is one I've used before.  I'm not an acclaimed bread maker, in fact I consider it one of my most prominent culinary weaknesses.   Fortunately, you don't have to be a master bread smith  to learn how to make ciabatta bread.  We served it with some 25 year old balsamic vinegar and thus it made a great side for a fantastic evening.
There's no need to be a master baker for this easy Italian standard. Try making this one soon and let us know what you think. We love hearing form our readers and your comments always mean the world to us.  -Dan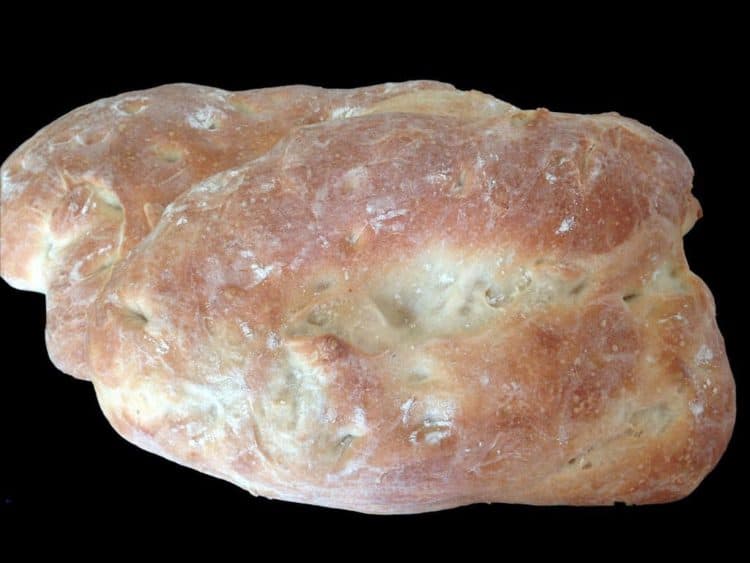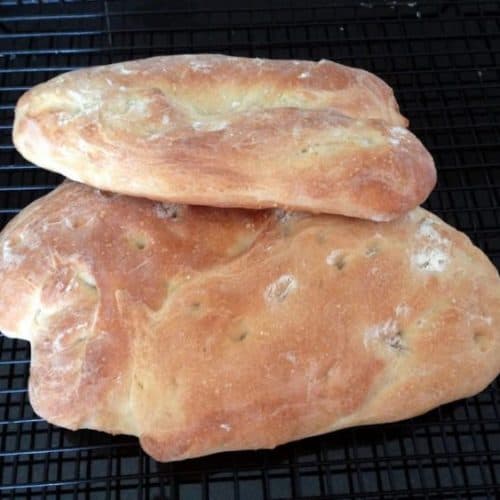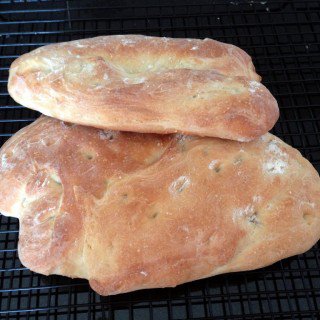 Ingredients
for sponge
1/8

teaspoon

active dry yeast

2

tablespoons

warm water

105°‐115° F.

1/3

cup

room-temperature water

1

cup

bread flour
for bread
1/2

teaspoon

active dry yeast

2

tablespoons

warm milk

105°‐115° F.

2/3

cup

room-temperature water

1

tablespoon

olive oil

2

cups

bread flour

1 1/2

teaspoons

salt
Instructions
for sponge
In a small bowl stir together yeast and warm water and let stand 5 minutes, or until creamy. In a bowl stir together yeast mixture, room-temperature water, and flour and stir 4 minutes. Cover bowl with plastic wrap. Let sponge stand at cool room temperature at least 12 hours and up to 1 day.
for bread
In a small bowl stir together yeast and milk and let stand 5 minutes, or until creamy. In bowl of a standing electric mixer fitted with dough hook blend together milk mixture, sponge, water, oil, and flour at low speed until flour is just moistened and beat dough at medium speed 3 minutes. Add salt and beat 4 minutes more. Scrape dough into an oiled bowl and cover with plastic wrap. Let dough rise at room temperature until doubled in bulk, about 1 1/2 hours. (Dough will be sticky and full of air bubbles.)

Have ready a rimless baking sheet and 2 well-floured 12- by 6-inch sheets parchment paper. Turn dough out onto a well-floured work surface and cut in half. Transfer each half to a parchment sheet and form into an irregular oval about 9 inches long. Dimple loaves with floured fingers and dust tops with flour. Cover loaves with a dampened kitchen towel. Let loaves rise at room temperature until almost doubled in bulk, 1 1/2 to 2 hours.

At least 45 minutes before baking ciabatta, put a baking stone or 4 to 6 unglazed "quarry" tiles (see note, above) arranged close together on oven rack in lowest position in oven and preheat oven to 425° F.  Transfer 1 loaf on its parchment to baking sheet with a long side of loaf parallel to far edge of baking sheet. Line up far edge of baking sheet with far edge of stone or tiles, and tilt baking sheet to slide loaf with parchment onto back half of stone or tiles. Transfer remaining loaf to front half of stone or tiles in a similar manner. Bake ciabatta loaves 20 minutes, or until pale golden. With a large spatula transfer loaves to a rack to cool.