How to Make Ciabatta Bread
on Apr 29, 2013, Updated Aug 08, 2020
If you're wondering how to make ciabatta bread, you have come to the right place. Simple and fast, it is the perfect way to get you started on your bread-making journey. As a bonus, it's super delicious and will give you confidence that we all need when learning how to bake.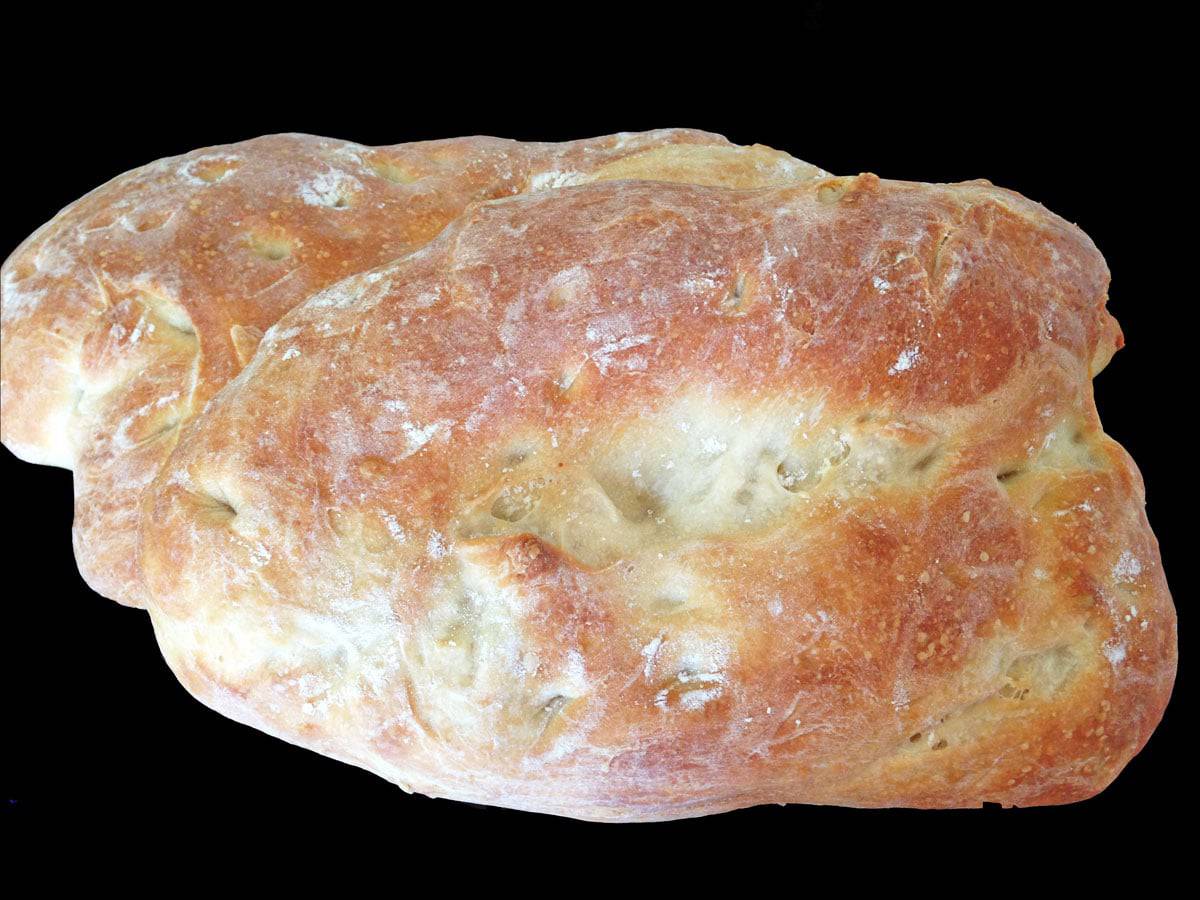 What is ciabatta?
Ciabatta is a long, float Italian bread. It can be made in many variations, but it is known for its big airy holes that fill nicely with butter, olive oil, and so many other yummy additions.
It is made from a sticky, wet dough that give is a rustic look and a special flavor.
This is perfect for dunking into homemade soups, sopping up extra spaghetti sauce on a plate, or dipping into a puddle of aged balsamic vinegar.
What's in ciabatta bread?
The main ingredients for this Italian bread are flour, yeast, and olive oil. This shortlist makes it a popular choice if you're learning how to make bread.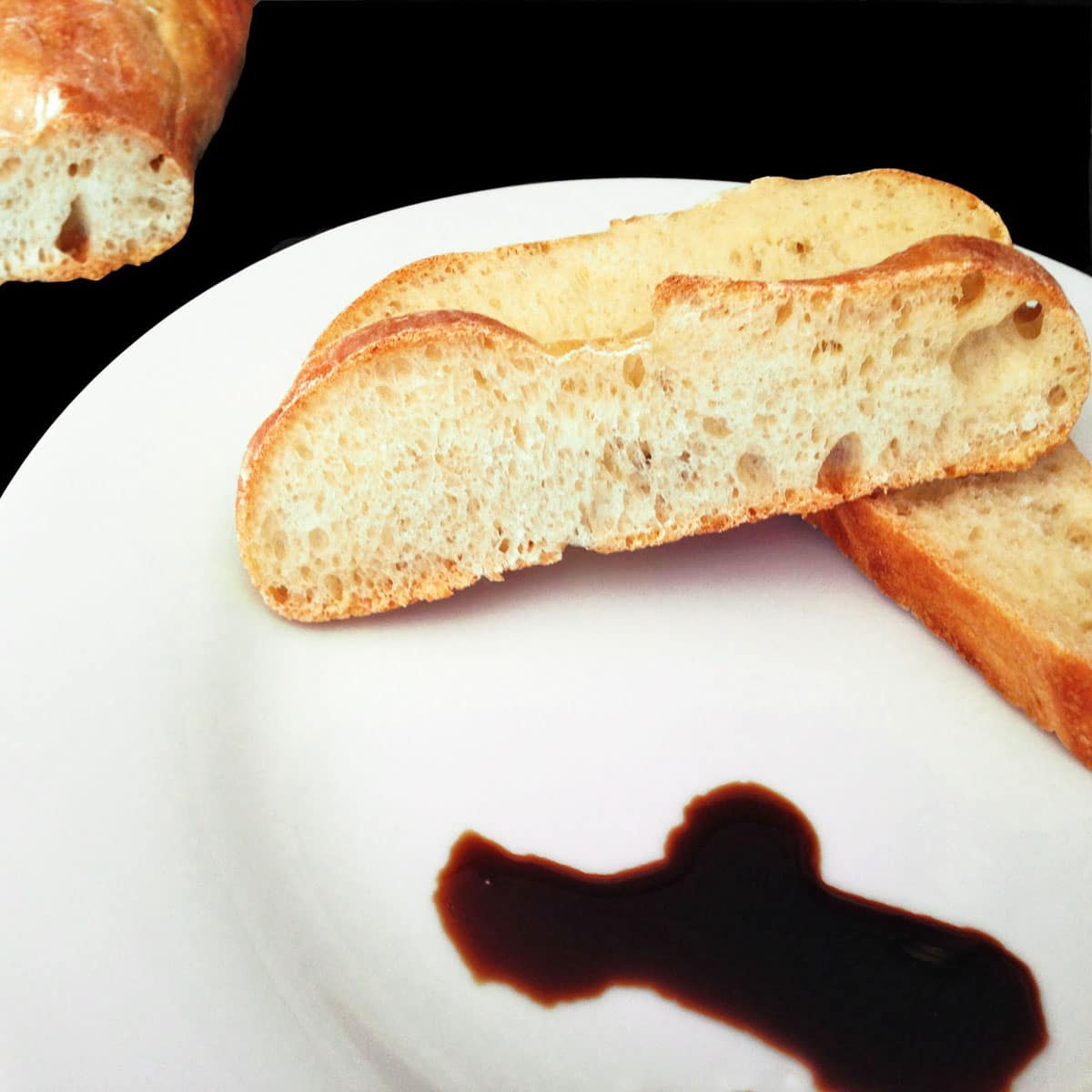 How to make ciabatta bread
This starts with a simple bread sponge which is a simple "starter." A sponge gives the finished bread loads of flavor and helps for a beautiful crusty finish.
Allowing the bread sponge to sit and preferment is where the magic comes from. You should let it sit for a minimum of a couple of hours. I like to make the sponge the night before, seal it, then let it rest in the refrigerator overnight.
When you're ready to bake the ciabatta, it's just a matter of mixing the sponge with the main bread dough. Then you shape a couple of loaves and let them rise for an hour or so before baking.
There's no need to be a master baker for this easy Italian bread. Try making this one soon and let us know what you think. We love hearing from our readers!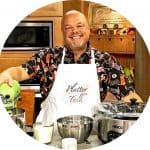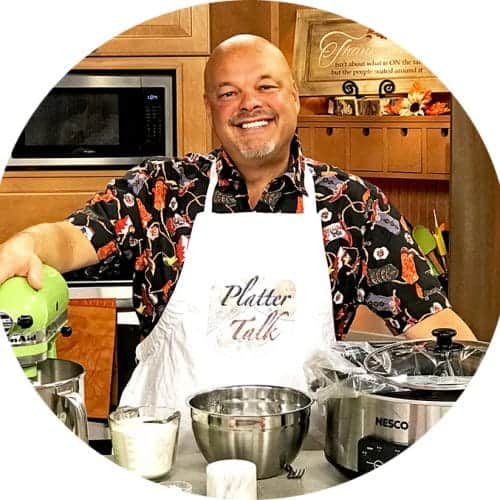 Common Questions
How do you pronounce ciabatta?
Chu-baa-tah! Think of an Italian chef, opera singer, or artist when saying this. It helps!
Why is my ciabatta flat?
It is suppose to be on the flat side, resembling a lady's slipper. Thus, it's nickname!
Can you freeze ciabatta bread?
Yes, ciabatta freezes well. Double wrap in kitchen wrap and then with an outer covering of foil. It should last for 3 months, and beyond, in the freezer.
What can I serve with this?
Extra-virgin oil and balsamic vinegar
Use it to make panini
Serve it with stew
Make salad croutons from stale ciabatta
Recipes that use leftover bread
PS: Be sure and check out our crazy popular Homemade Crusty Bread Recipe!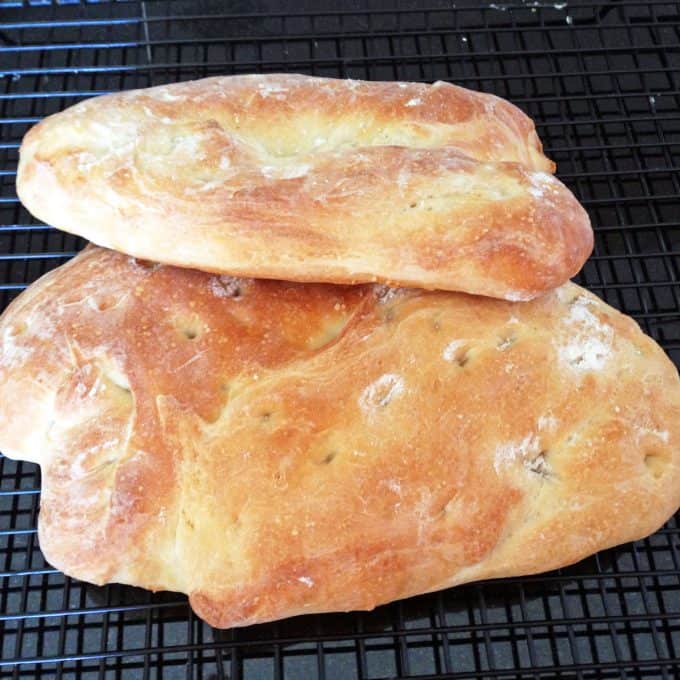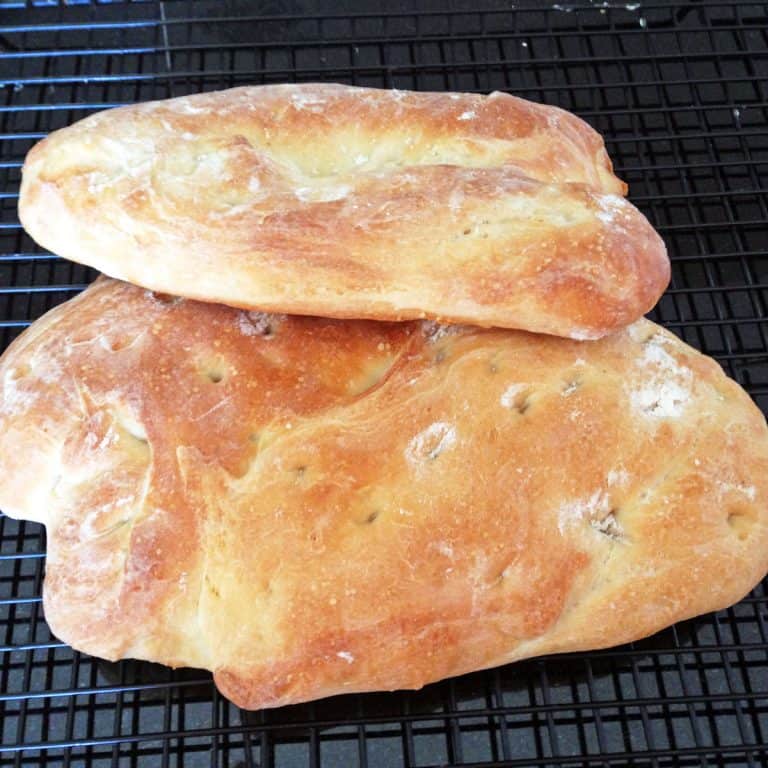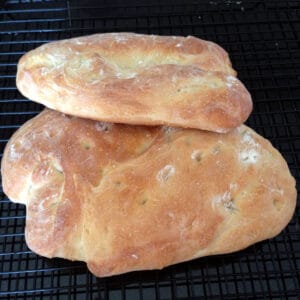 How to Make Ciabatta Bread
This easy recipe for Italian slipper bread is adapted from Epicurious.
Ingredients
for sponge
1/8

teaspoon

active dry yeast

2

tablespoons

warm water

,

105°‐115° F.

1/3

cup

room-temperature water

1

cup

bread flour
for bread
1/2

teaspoon

active dry yeast

2

tablespoons

warm milk

,

105°‐115° F.

2/3

cup

room-temperature water

1

tablespoon

olive oil

2

cups

bread flour

1 1/2

teaspoons

salt
Instructions
for sponge
In a small bowl stir together yeast and warm water and let stand 5 minutes, or until creamy. In a bowl stir together yeast mixture, room-temperature water, and flour and stir 4 minutes. Cover bowl with plastic wrap. Let sponge stand at cool room temperature at least 12 hours and up to 1 day.
for bread
In a small bowl stir together yeast and milk and let stand 5 minutes, or until creamy. In bowl of a standing electric mixer fitted with dough hook blend together milk mixture, sponge, water, oil, and flour at low speed until flour is just moistened and beat dough at medium speed 3 minutes. Add salt and beat 4 minutes more. Scrape dough into an oiled bowl and cover with plastic wrap. Let dough rise at room temperature until doubled in bulk, about 1 1/2 hours. (Dough will be sticky and full of air bubbles.)

Have ready a rimless baking sheet and 2 well-floured 12- by 6-inch sheets parchment paper. Turn dough out onto a well-floured work surface and cut in half. Transfer each half to a parchment sheet and form into an irregular oval about 9 inches long. Dimple loaves with floured fingers and dust tops with flour. Cover loaves with a dampened kitchen towel. Let loaves rise at room temperature until almost doubled in bulk, 1 1/2 to 2 hours.

At least 45 minutes before baking ciabatta, put a baking stone or 4 to 6 unglazed "quarry" tiles (see note, above) arranged close together on oven rack in lowest position in oven and preheat oven to 425° F. Transfer 1 loaf on its parchment to baking sheet with a long side of loaf parallel to far edge of baking sheet. Line up far edge of baking sheet with far edge of stone or tiles, and tilt baking sheet to slide loaf with parchment onto back half of stone or tiles. Transfer remaining loaf to front half of stone or tiles in a similar manner. Bake ciabatta loaves 20 minutes, or until pale golden. With a large spatula transfer loaves to a rack to cool.
Notes
Have a small bowl of water at your side when shaping the bread. This will make the sticky dough easier to handle.
Don't be alarmed if the bread loaves appear flat. They will rise and give you delicious results!
Use a stand mixer to make this recipe. If you mix by hand, you'll have the urge to add more flour in order to make the dough easier to work with. Adding too much flour will give you bread, but not ciabatta!
Nutrition
Calories:
127
kcal
,
Carbohydrates:
23
g
,
Protein:
4
g
,
Fat:
2
g
,
Saturated Fat:
1
g
,
Cholesterol:
1
mg
,
Sodium:
293
mg
,
Potassium:
39
mg
,
Fiber:
1
g
,
Sugar:
1
g
,
Calcium:
8
mg
,
Iron:
1
mg
Nutrition information is automatically calculated, so should only be used as an approximation.