Whole Wheat Irish Soda Bread
on Feb 22, 2018, Updated Apr 28, 2021
This recipe for Whole Wheat Irish Soda Bread couldn't be any easier to make unless you happen to be looking at two recipes at the same time.
Then, things can get a little dicey. Take it from me, I know.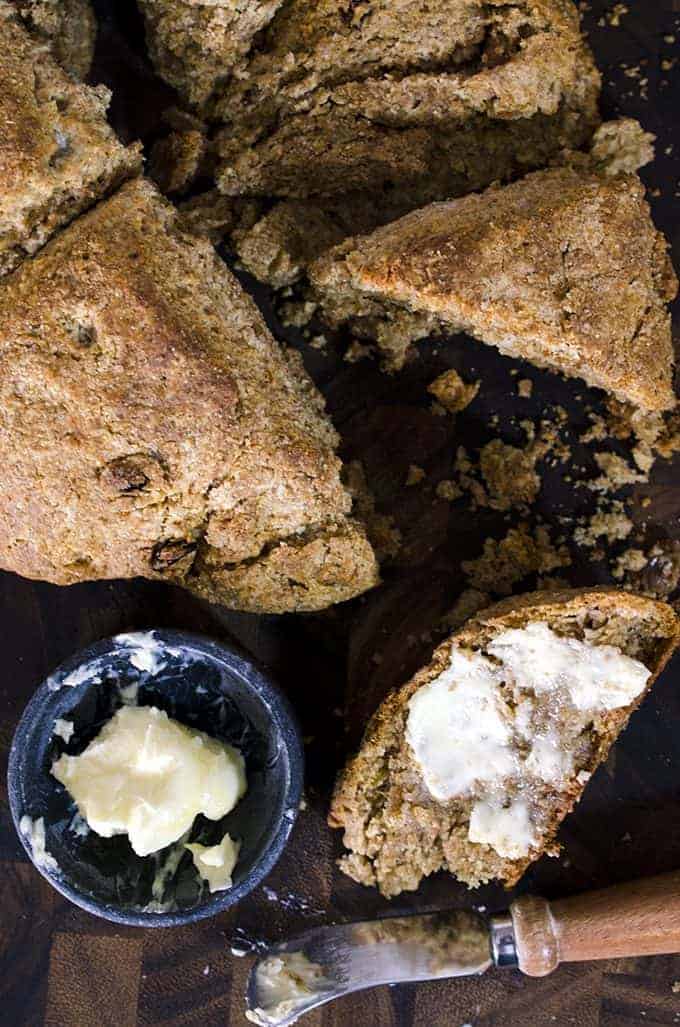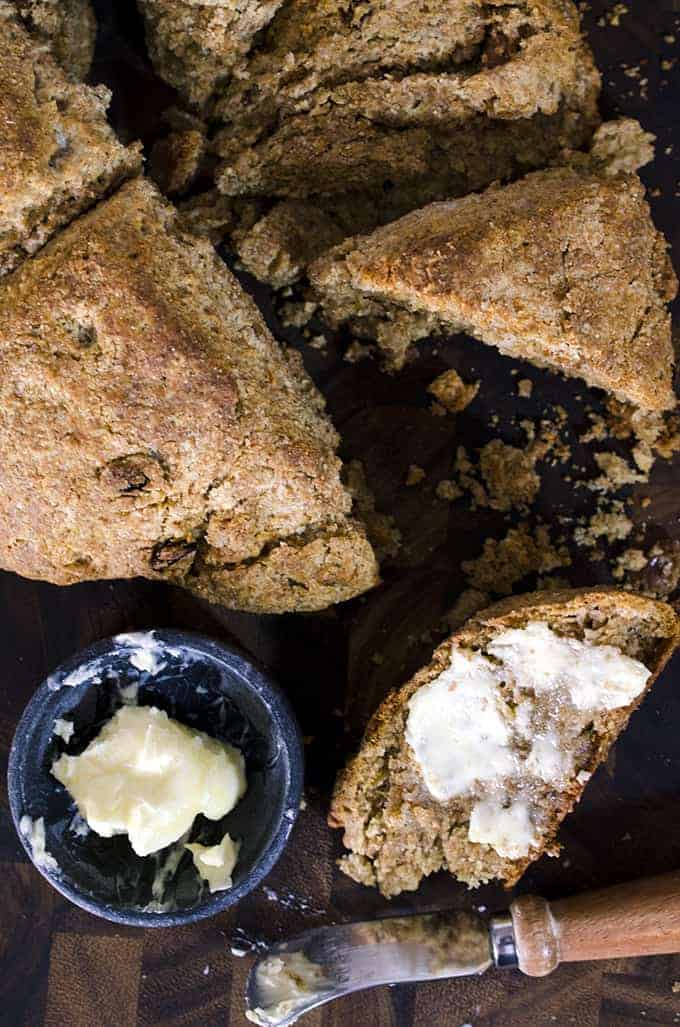 What is this?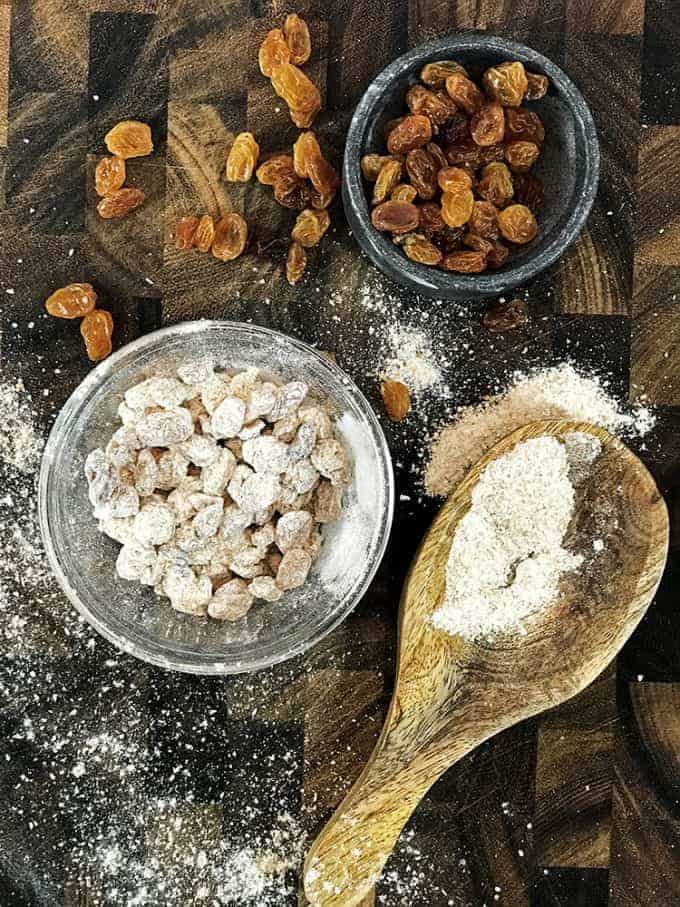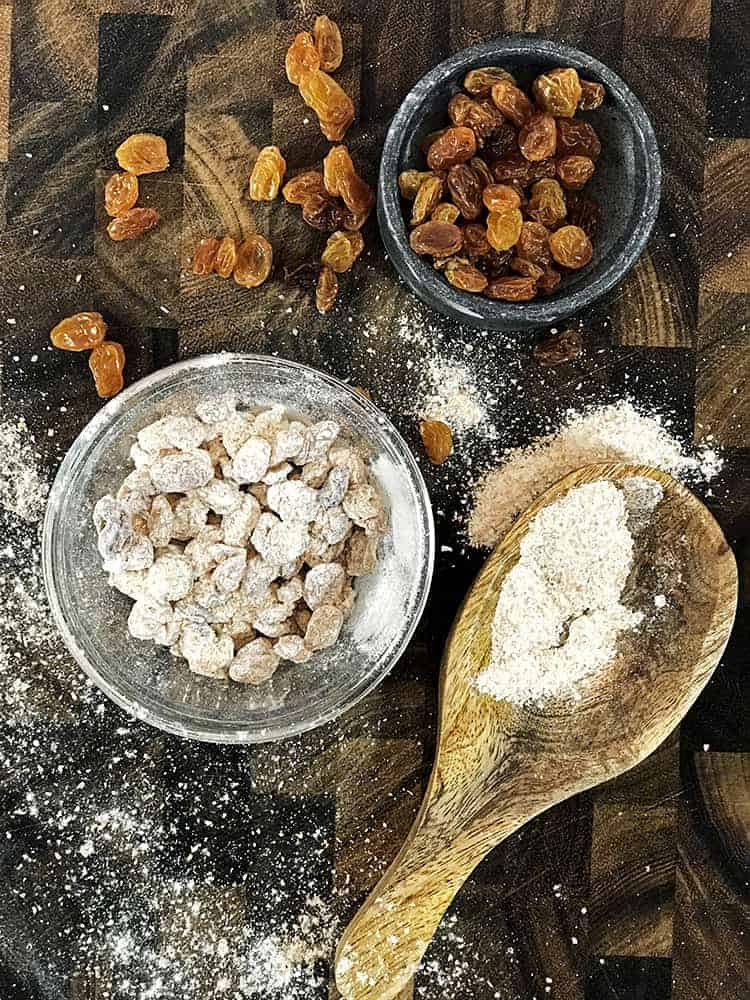 I put this recipe for Whole Wheat Irish Soda Bread together as part of the quarterly "Freaky Friday" food blog event that we have been participating in for over a year now. In the last year and a half, we've done covers of some pretty amazing recipes.
Every three months, a group of online foodies secretly recreate the recipe of another group member.
For this winter version of Freaky Friday, we were assigned to cover any recipe of our choosing from one of our favorite food sites, A Kitchen Hoor's Adventures.
Although we are huge fan's of Christie, the lady behind this site, this assignment proved to be too much of a good thing for me.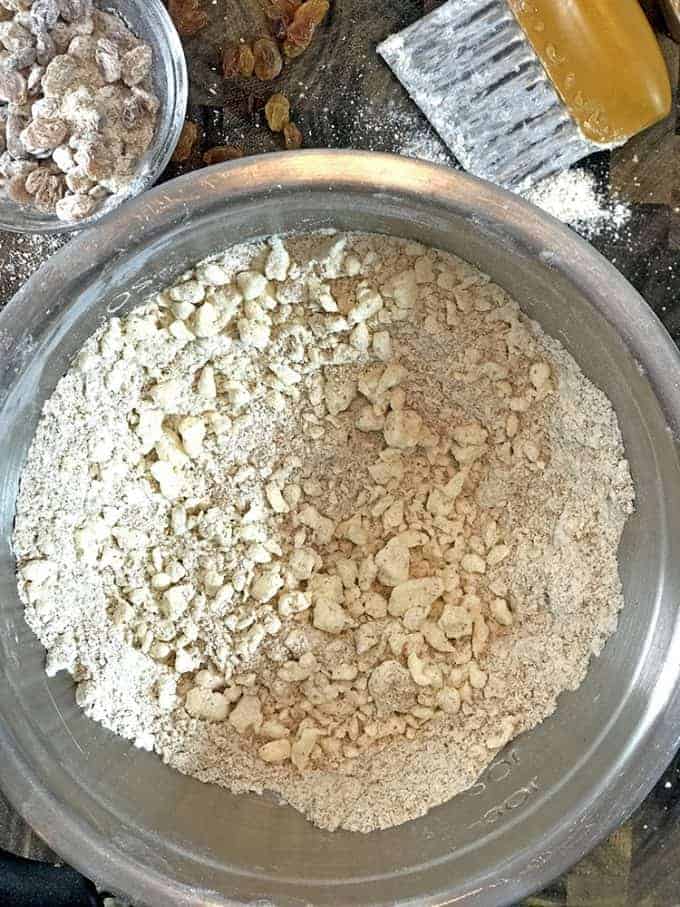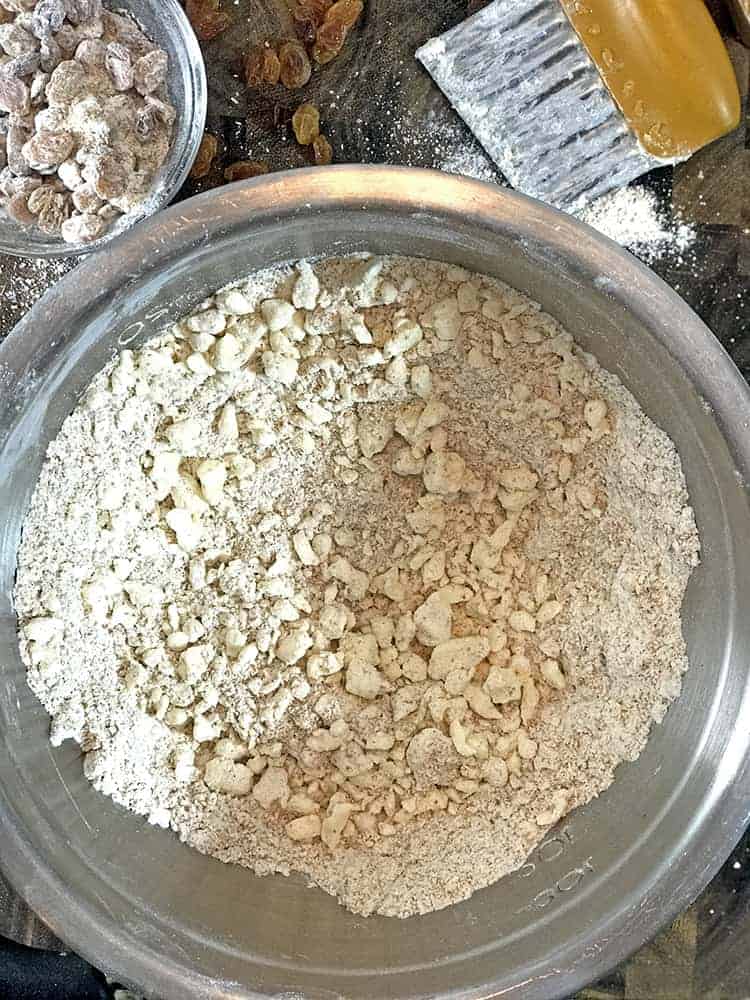 You see, Christie has so many great-looking recipes, I really couldn't decide on which one to make for you today.
Initially, it seemed a no-brainer to me and I would make her Crab Cake Bites.
Damn, if they don't look good. After the decision which seemed pretty easy, I started to ponder the question about what I would be doing with all those crab cake bites.
Inside, I knew exactly what I would be doing: Eating them. 'Switch gears, Dan', I said to myself.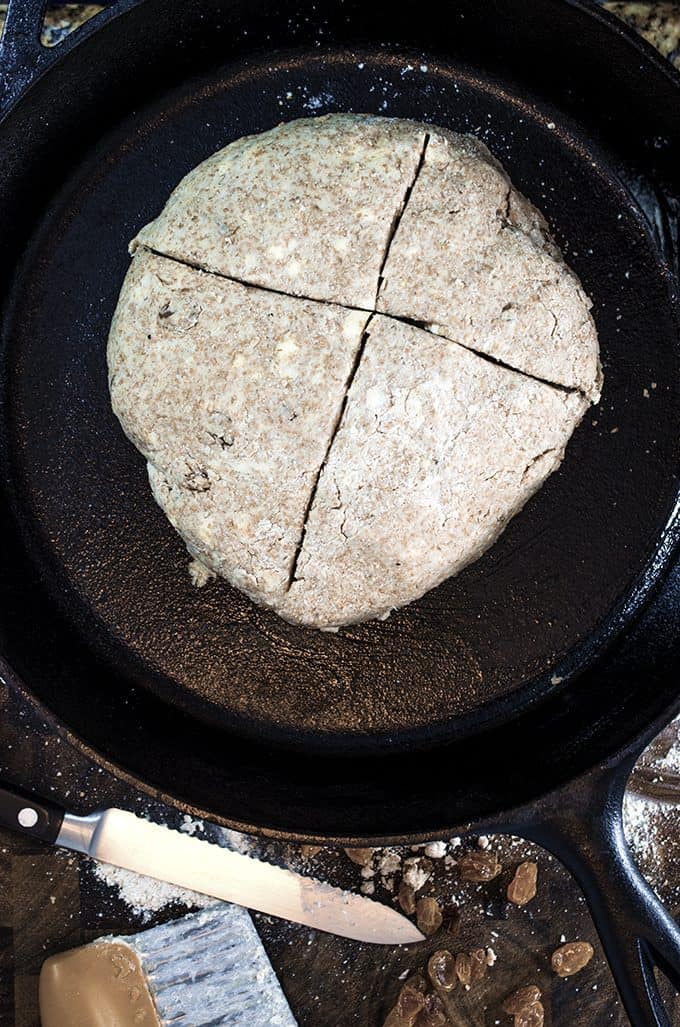 Thus, I settled on her Chocolate Peanut Butter Cookies. I know what you're thinking.
The truth is that they too had very little chance of ever seeing the inside of a cookie jar. Still, I could not get them out of my head, even after deciding to go with this Whole Wheat Irish Soda Bread.
That's where I got into trouble tonight. I have been so fixated on that cookie recipe that I have kept that recipe tab open and active on my laptop, ever since I discovered it.
Even while preparing this bread recipe. Oops.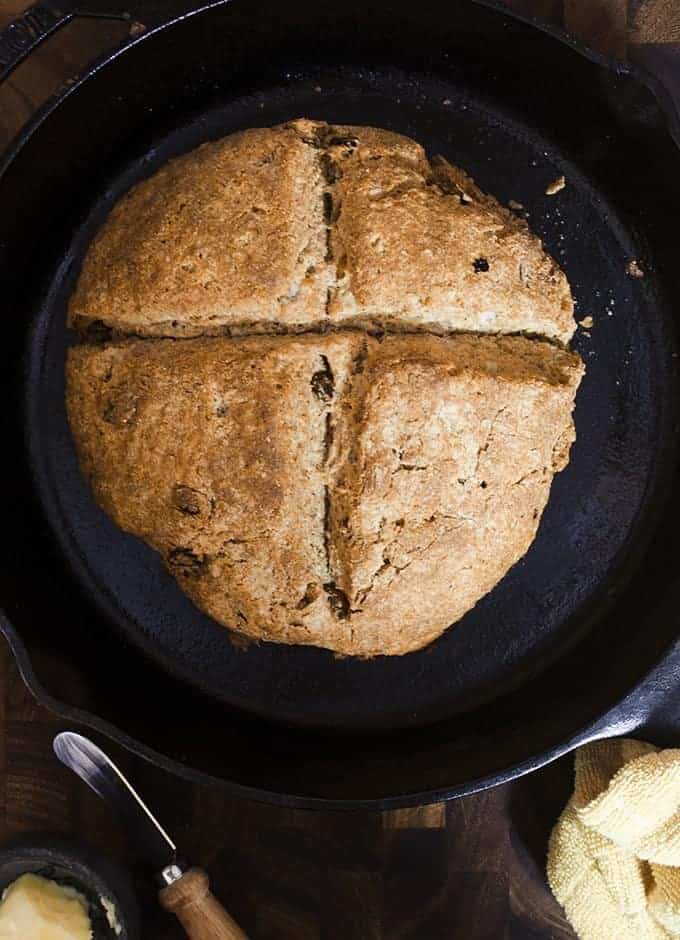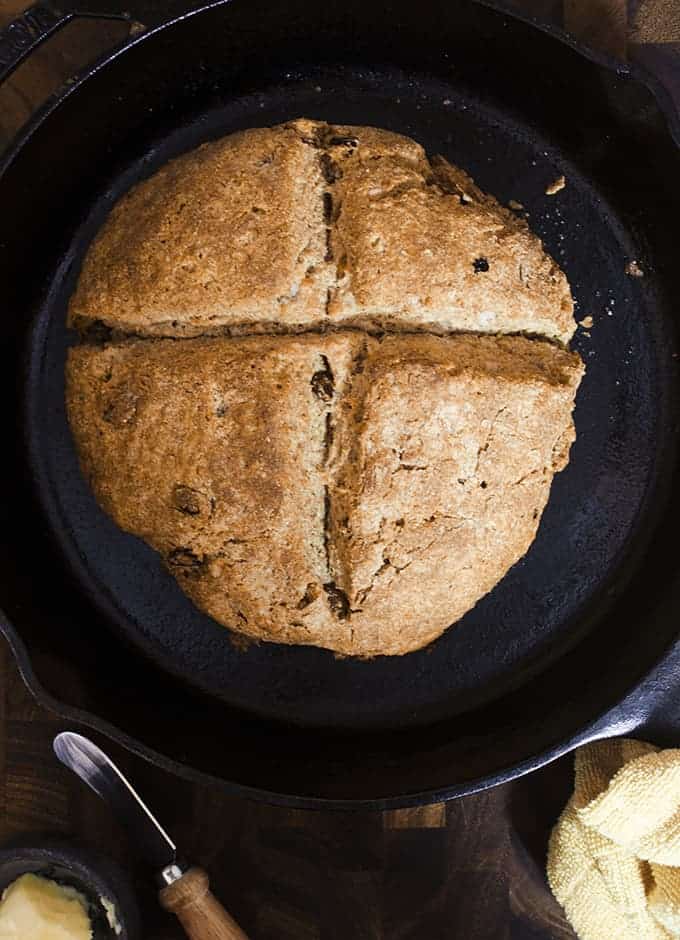 I've been baking a long time.
Almost 50 years, no joke. Never do I remember having two recipes in front of me at the same time as this.
If you're wondering if I'm going to sleep with her cookie recipe tonight, the answer is, in all likelihood, yes. So, maybe I put a whole cup of butter in this bread when it only calls for 2 tablespoons. It could have happened to anyone, but if you stick to reading one recipe at a time while baking, you will probably be safe.
Lesson learned.
OK, the results are in. Even with eight times the amount of butter that this recipe calls for in its original form, it is frickin' delicious.
This turned out so good that after my first bite, I wanted to call Christie and thank her for the inspiration, right then and there.
It has a nice crumb, a wonderful flavor with a hint of salt, undertones of ground caraway and the taste and texture of sweet, pillowy golden raisins in every bite.
I love how the golden raisins don't all sink to the bottom of the loaf, but rather are evenly dispersed, due in large part of coating them with flour in the beginning.
I added a step to this Whole Wheat Irish Soda bread, a trick that I learned from one of our most popular recipes, our Homemade Crispy Bread.
As with that recipe, I created a steam bath in the oven by pouring hot water into a (preheated skillet), on a rack below the bread.
It works wonderfully for a crisp finish in both of these recipes.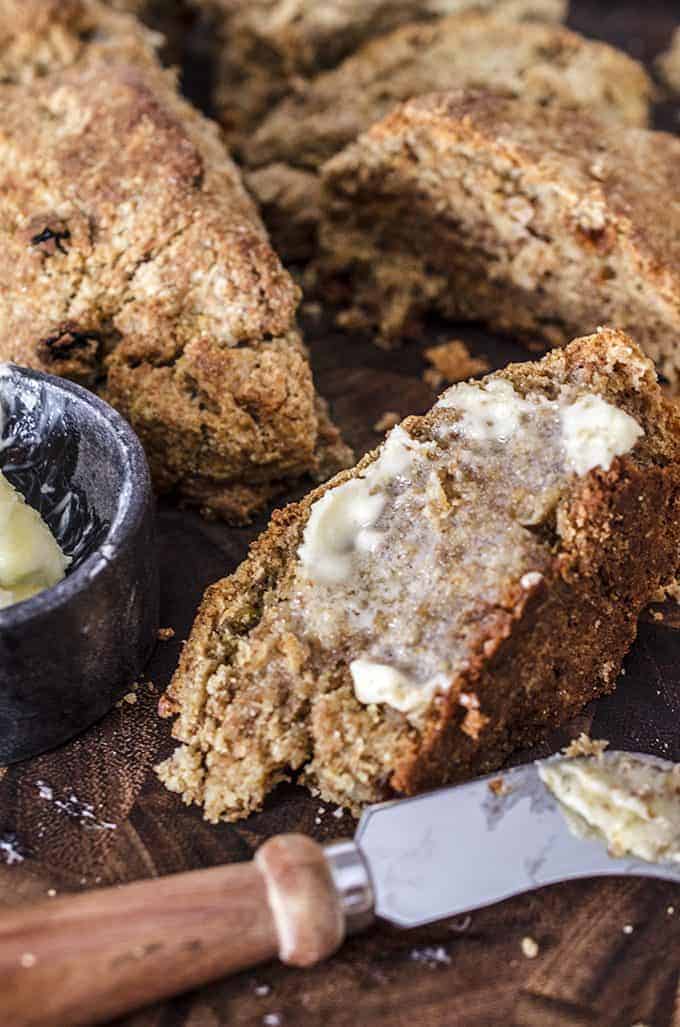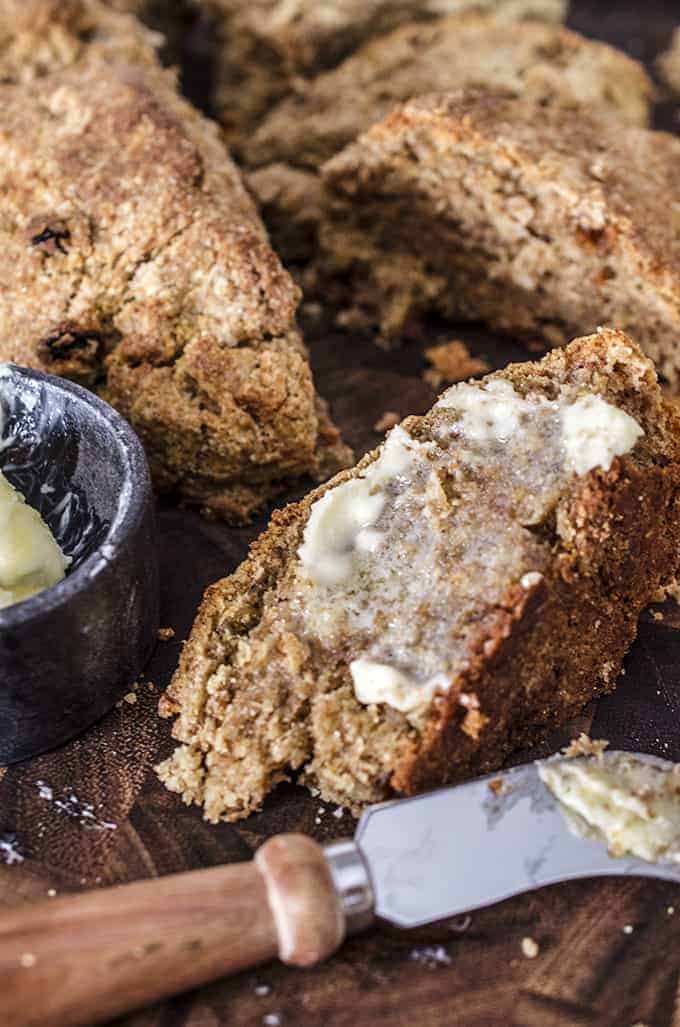 You will also note that I used an iron skillet for my Whole Wheat Irish Soda Bread.
Somewhere, I read that this is the traditional method of making it. Additionally, I learned that although there is no yeast in this recipe, a chemical reaction occurs between the base properties of the baking soda and the acid found in the buttermilk, causing a beautiful rise in the loaf.
I've never considered myself to be much of a bread maker and in fact I've always thought of this particular art of baking as a prominent weakness of mine.
With that said, I can honestly tell you that things are looking up in that department.
Give this brown whole wheat version of Irish soda bread a try and don't lose too much sleep about how much butter goes into the dough.
I'm here to tell you it doesn't matter all that much.
See more of our bread recipes here, and be sure to check out my good friend Christie's site, the delicious A Kitchen Hoor's Adventures.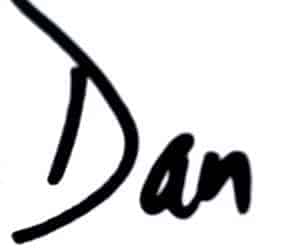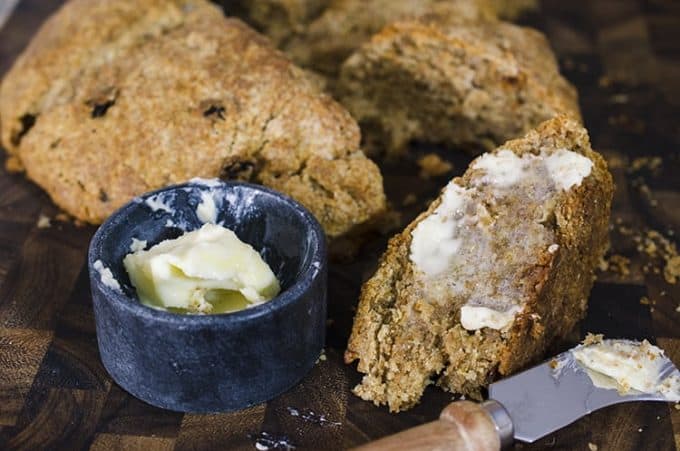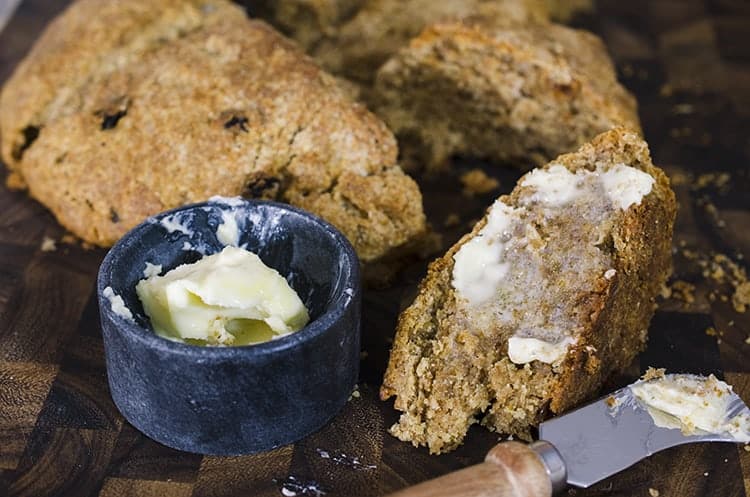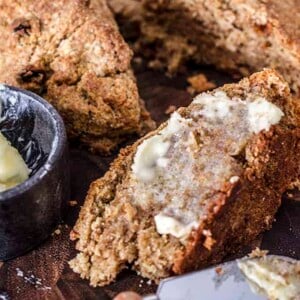 Whole Wheat Irish Soda Bread
Made with caraway seeds and golden raisins, this Whole Wheat Irish Soda Bread is a savory brown bread with a hint of sweetness. Don't forget the butter on this one!

Ingredients
2

cups

whole wheat flour

1

cup

all purpose flour

1

cup

golden raisins

1

teaspoon

salt

1

teaspoon

baking soda

1

tablespoon

caraway seeds

,

We substitued with 1 teaspoon ground caraway seeds

2

tablespoons

butter

,

chillled and diced (We useed 1 cup!)

1 1/4

cup

fat-free butter milk

2-4

cups

hot water

,

for oven steam bath
Instructions
Preheat oven to 425° F. Toss golden raisins with 1/8 cup of the whole wheat flower and set aside.


In large mixing bowl, combine remaining flours, salt, baking soda and caraways seeds. Stir until thoroughly combined. Add butter and using pastry cutter, incorporate the butter into the flour mixture until a pebbly consistency is attained.


Created a well in the center of the flour and butter mixture and pour the butter milk into this well. Fold the flour and butter mixture into the butter milk just enough ensure it is evenly mixed together.


Next, kneed the dough 6 or 7 times either in the bowl or on a lightly floured surface. Do not over-kneed or the bread will turn out tough. From an oval shaped loaf, 6-8 inches in diameter and place in a lightly greased iron skillet or on a baking sheet. Use a serrated knife and create two cuts, perpendicular and down the center. This will allow the dough to bake more evenly.


Pour hot water into a second (preheated) skillet, on the oven rack below where you will be baking the bread. Then quickly place bead in oven and close door. Bake for 40-45 minutes, until a toothpick placed in the center comes out clean.


Place on cooling rack for 15 minutes, serve immediately with more delicious, creamy butter.

Nutrition
Calories:
204
kcal
,
Carbohydrates:
40
g
,
Protein:
6
g
,
Fat:
3
g
,
Saturated Fat:
1
g
,
Cholesterol:
6
mg
,
Sodium:
391
mg
,
Potassium:
216
mg
,
Fiber:
3
g
,
Sugar:
10
g
,
Vitamin A:
70
IU
,
Vitamin C:
0.9
mg
,
Calcium:
26
mg
,
Iron:
1.8
mg
Nutrition information is automatically calculated, so should only be used as an approximation.