Swedish Limpa Bread
on Mar 17, 2014, Updated Nov 13, 2016
I put together this loaf of savory Swedish Limpa Bread, more than a few months ago. For one reason or another it is just getting posted now, in mid-March.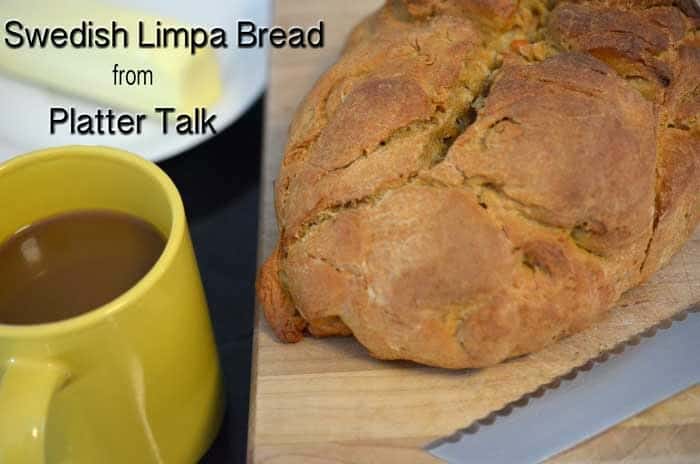 In retrospect, I'm happy I waited until now to feature this bread as it is a good reminder of warmer days and a good reminder that this recipe is never more appropriate than this time of year when the ground is still white and the mercury remains low.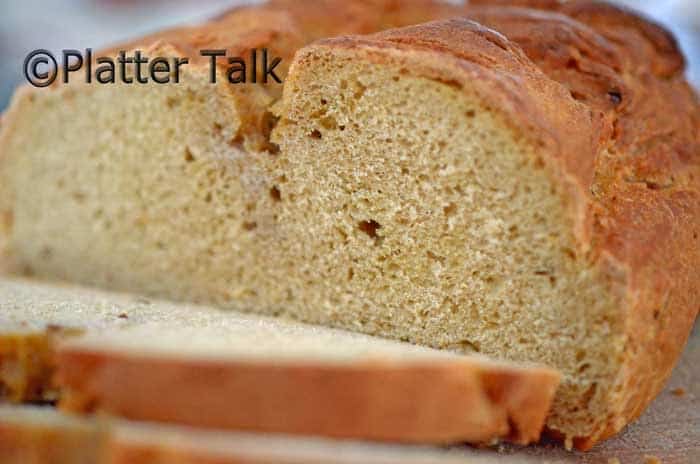 The day I put this together was a long-awaited and glorious Tuesday morning here in north eastern Wisconsin. We had been promised for days that the day's temperature would climb to 80 degrees, but in the days leading up I remained skeptical of the forecast.
With a reported low of 30 just one day prior, I couldn't envision a dramatic warm-up of that magnitude. Turns out I was right, but that wasn't a bad thing by any means. During our morning coffee and wakey-wakey time, our patio doors were open, fresh spring morning sunshine filtered through, and a melodious choir of song birds accompanied the morning news.
I was reading about a delicious sounding concoction on Chocolate and Zucchini when Scott posed a question about fennel, one of the featured ingredients. As often happens with any topic, one thing led to another and soon anise came into the discussion.
Before my salivary glands had a chance to kick into high gear, I envisioned a plump loaf Swedish Limpa bread, my favorite food with anise, and I knew that in spite of our temperatures falling short of their predicted high of 80, the mid-70's would serve just fine and this particular day, way back when, was going to be a great day,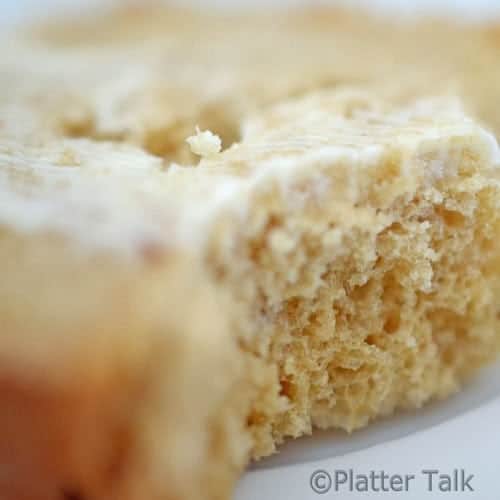 My first taste of Swedish Limpa came from Great Harvest Bread Company, back in the day it was one of their featured breads on Thursdays. Writing that, I find it interesting that I remember this some 12 years after the fact.
Wouldn't it be fun to compose a volume of food-related memories? Some day. A brief mention of anise this morning and the fleeting memory of Thursday afternoons at Great Harvest were all that was need to inspire me to put together some Swedish Limpa.
Admittedly, in the past I failed to hit the bulls eye with this bread, today's version came pleasing close. This recipe calls for a bit of rye flour, central to Swedish Limpa. For those or you who are not fans of rye bread, I urge you to not let that detract you.
The rye here is light, it's mellow, and is only discernible as a background suggestion, almost like a nearly transparent watermark on a photograph. The anise seed and caraway are perfect accompaniments, adding ever so soft notes of licorice and dill-like undertones.
Combined with a dab of soft, fresh butter and good cup of coffee, Swedish Limpa Bread will make a delicious and indelible impression on your palate and your memory.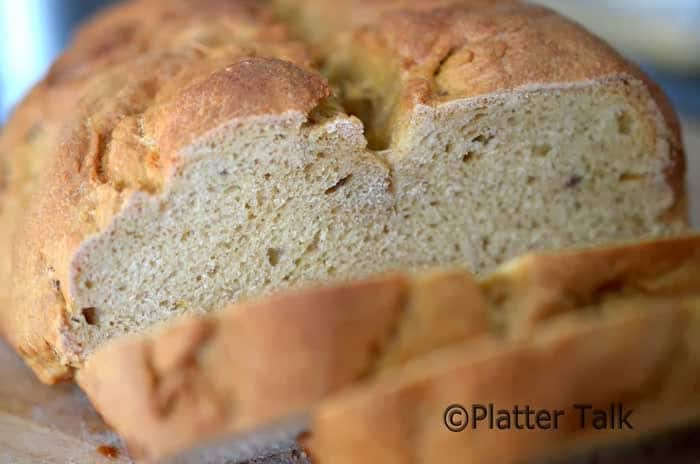 Be Sure and Follow Platter Talk on Facebook and Never Miss A Great Recipe!
Swedish Limpa Bread
from The Doubleday CookbookVolume II, 1975 edition
(my very first cookbook, from the Doubleday Book Club)
Recipe
Ingredients
1/3 cup dark brown sugar
1/3 cup dark molasses
2 teaspoons anise seeds
2 teaspoons caraway seeds
2 teaspoons finely grated lemon or orange rind
2 tablespoons shortening
1 tablespoon salt
1 cup boiling water
1/2 cup warm water (105-115 degrees F.)
1 package active dry yeast
2 1/2 cups light rye flour
3 1/4 – 3 1/2 cups all-purpose flour
Instructions
Mix molasses, sugar, shortening, salt, anise, and citrus rind and boiling water in small bowl.
Pour warm water into a warm, large bowl, sprinkle in yeast and stir to dissolve.
Add cooled mixture and rye flour and beat well.
Mix in 3 cups all-purpose flour, a little at a time, then work in enough additional flour to make a fairly stiff dough that leaves sides of bowl reasonably clean.
Knead until smooth and elastic, 8-10 minutes, no a lightly floured board, adding as little extra flour as possible.
Shape into a ball and place in a well-greased 3-quart bowl, and turn to grease all over.
Cover with cloth and let rise in a warm, draft-free place until doubled in bulk, 1 1/2 to 2 hours.
Punch down, knead lightly 1 to 2 minutes, and divide dough in half.
Shape each into a round loaf about 5 1/2 inches across and place 3 inches apart on a baking sheet sprinkled with corn meal.
Cover and let rise until double in bulk, about 1 1/2 hours.
Toward end of rising, preheat oven to 400 degrees F.
Bake loaves 30 to 35 minutes until brown and hollow sounding when tapped.
Cool on a wire rack before cutting.
Be Sure and Follow Platter Talk on Facebook and Never Miss A Great Recipe!
Recipe
– See more at: https://www.plattertalk.com/2013/12/open-face-apple-pie.html#sthash.4sZGcRx9.dpuf