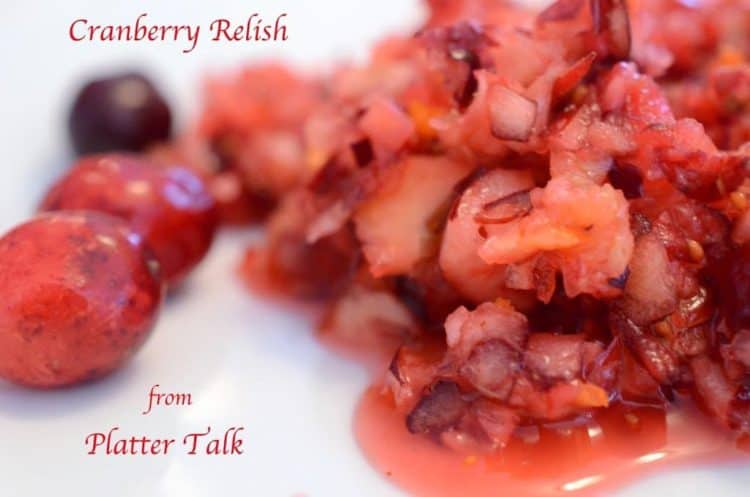 Like many of the things that come out of my kitchen, this is an idea that was planted in my head by my sister, Chef Kathy.  She and I talk about food, a lot.  When we are together, we eat food,  a lot.  Thus, one evening during a protracted conversation about food, food fantasies, and at the height of our long-distance kitchen chit-chat she asked me, "Have you ever had cranberry relish?"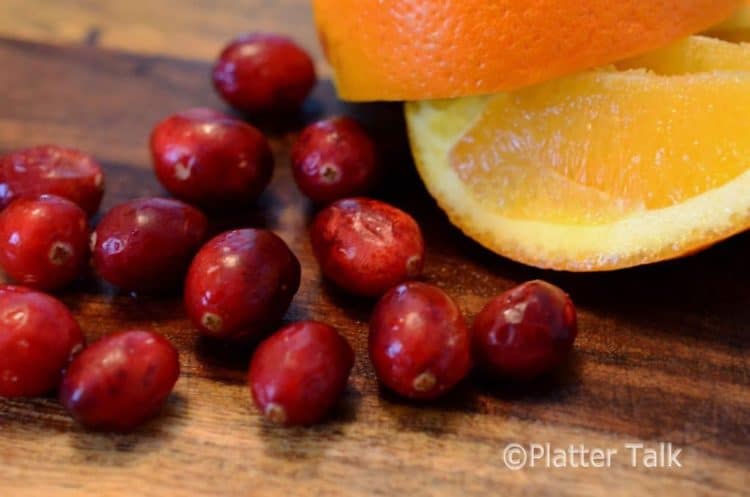 As the holidays approached, over the past month or so, the Wisconsin staple of cranberries began to appear more and more frequently in our kitchen.  As you may recall, I featured some warm and hardy, delicious steel cut oats with cranberries, just a couple of weeks ago.  I followed that up with some cranberry-orange pancakes, served with a cranberry-infused maple syrup.  It seemed that I was on somewhat of a cranberry roll, and with my sister's latest idea there seemed to be only one direction for me to go:  forward.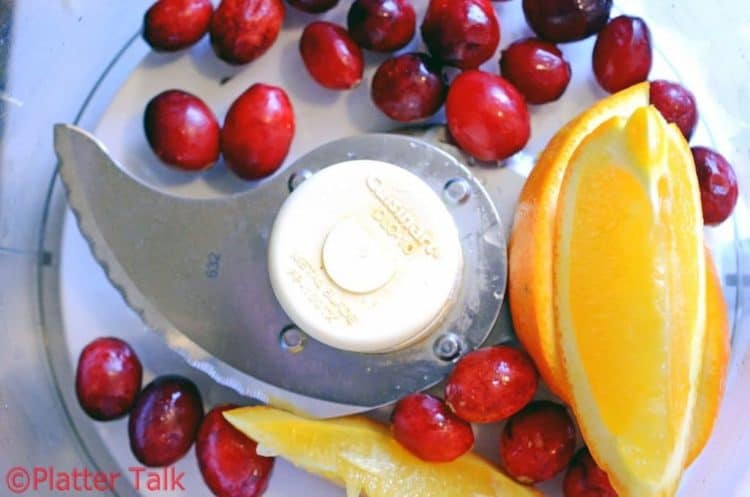 As I did a little more research on this idea, a few things quickly became apparent:  This requires only a few ingredients, this is easy, this is beautiful in color, and perhaps most important – this is absolutely delicious.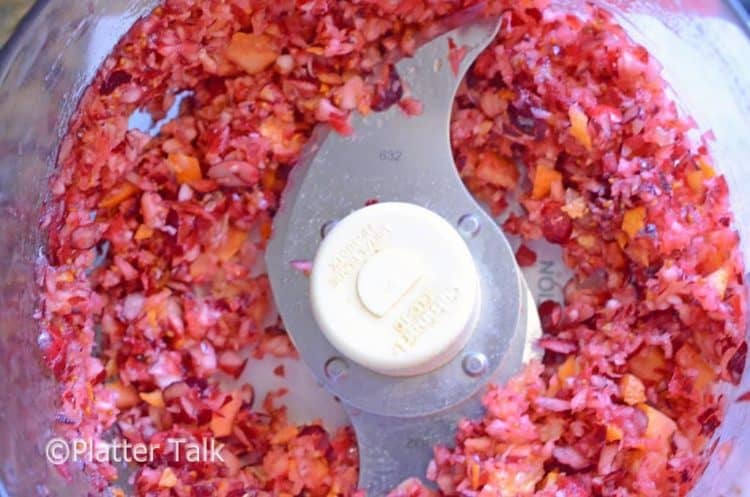 Another nice thing about this recipe is it's versatility.  We brought this as a side dish to our friend's Thanksgiving dinner and a few days later we combined it with a baked brie for a terrific appetizer celebrating Scott's __2nd birthday.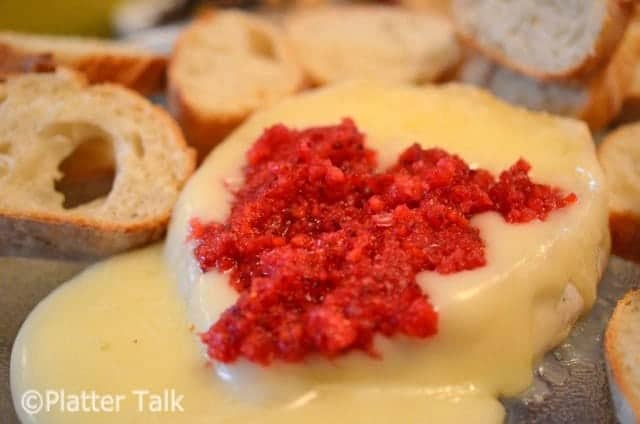 Grab a bag of fresh Wisconsin cranberries, an orange from somewhere warm, and mix the two up for the best of all seasons, over this holiday season.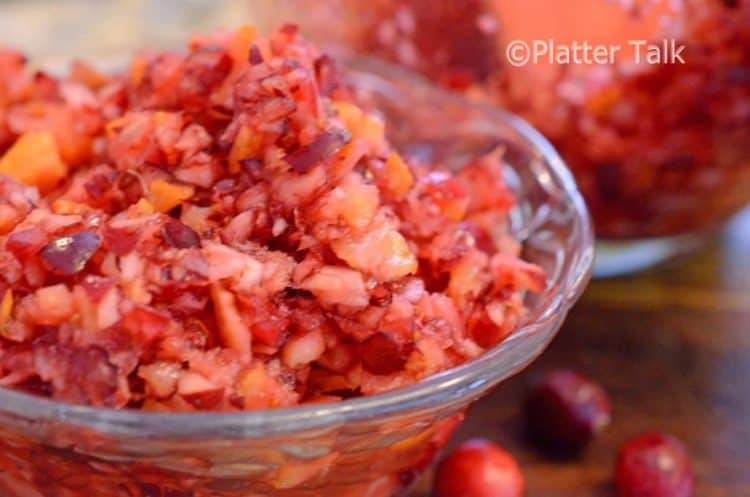 Be Sure and Follow Platter Talk on Facebook and Never Miss  A Great Recipe!
Holiday Wonton Kisses
a Platter Tak Exclusive
– See more at: https://www.plattertalk.com/2013/12/holiday-wonton-kisses.html#sthash.E9Hx6QY1.dpuf
Never miss another great Platter Talk Recipe
Click Here For Your Free and Secure Email Subscription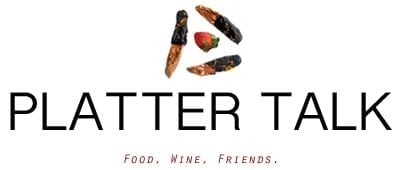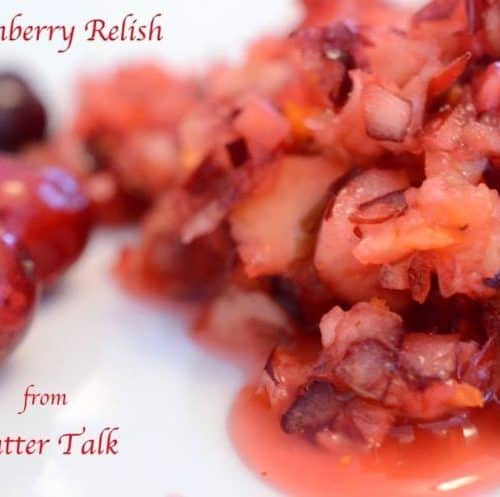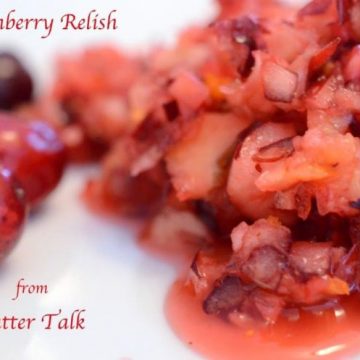 Ingredients
2

cups

washed cranberries

1

seedless orange

peel on, divided in eighths

1

cup

sugar

1

tablespoon

lemon juice
Instructions
Combine cranberries and orange in food processor.

Pulse-process to desired consistency.

Fold in sugar and lemon juice.

Serve chilled or at room temperature.
Nutrition
Calories:
116
kcal
|
Carbohydrates:
30
g
|
Protein:
1
g
|
Fat:
1
g
|
Saturated Fat:
1
g
|
Sodium:
1
mg
|
Potassium:
51
mg
|
Fiber:
2
g
|
Sugar:
28
g
|
Vitamin A:
52
IU
|
Vitamin C:
13
mg
|
Calcium:
9
mg
|
Iron:
1
mg