Easy Cranberry Relish Recipe
on Dec 24, 2013, Updated Oct 29, 2021
If you've ever asked how to make cranberry relish, it could not be any easier. Or more delicious. Using fresh cranberries along with some fresh citrus and a food processor, this basic recipe is a must-make for the holiday season.
The best part: It takes 5 minutes to make! Read on and discover one of your new holiday favorites. This is one of my favorite cranberry recipes.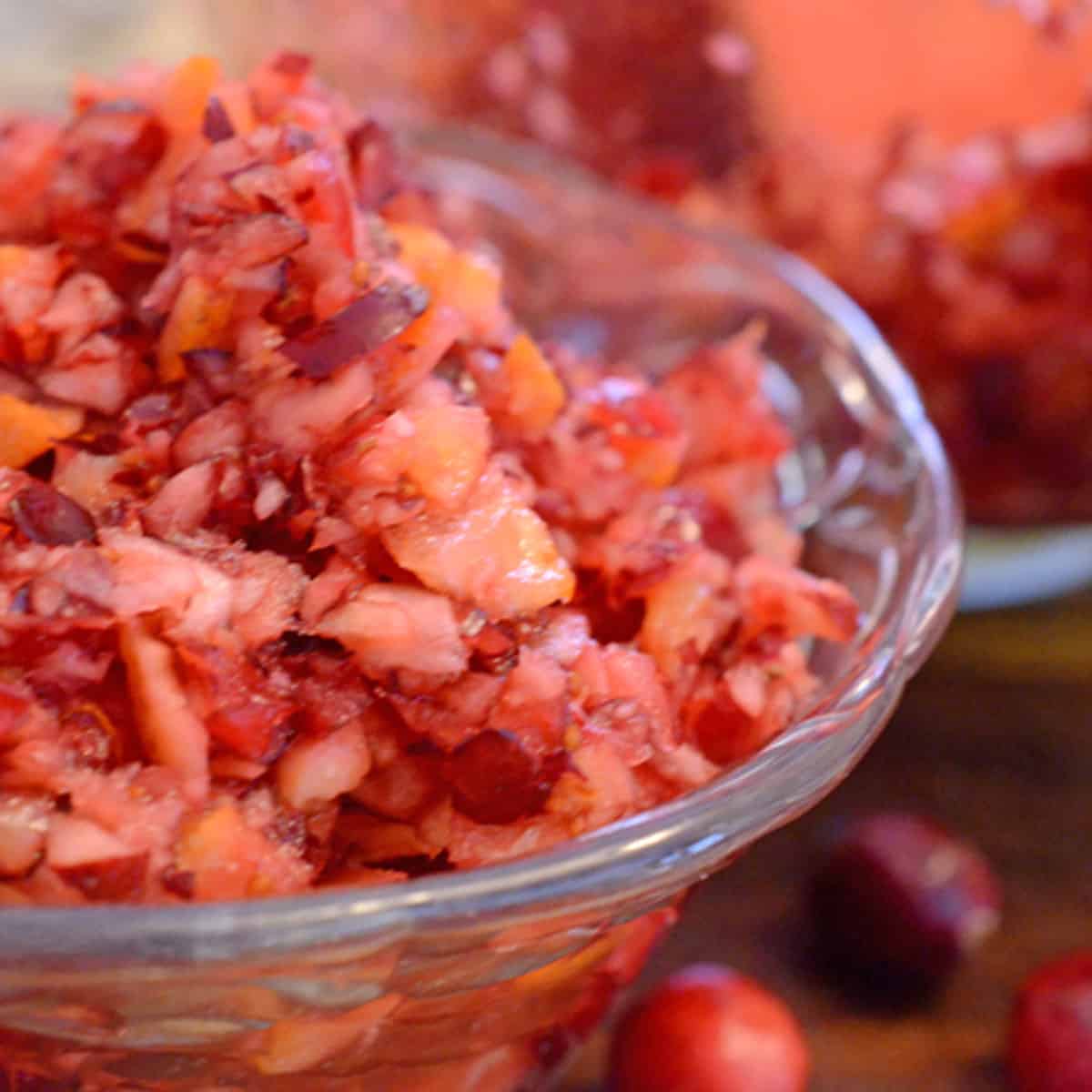 About this
You're going to love this cranberry relish recipe. Why? Because most of us are used to the canned stuff. You know, like cranberry sauce from Ocean Spray.
Let's face it, most of the time it's a part of your Thanksgiving dinner just to make your Thanksgiving table look right. That is not the case with this easy cranberry relish.
Unlike a cranberry sauce recipe that is cooked, this simple holiday appetizer uses raw cranberries. Get ready to learn how to make one of your new favorites!
What's in it
Aside from how easy it is to make, the shortlist of ingredients is another thing that makes this a great recipe for your holiday meal.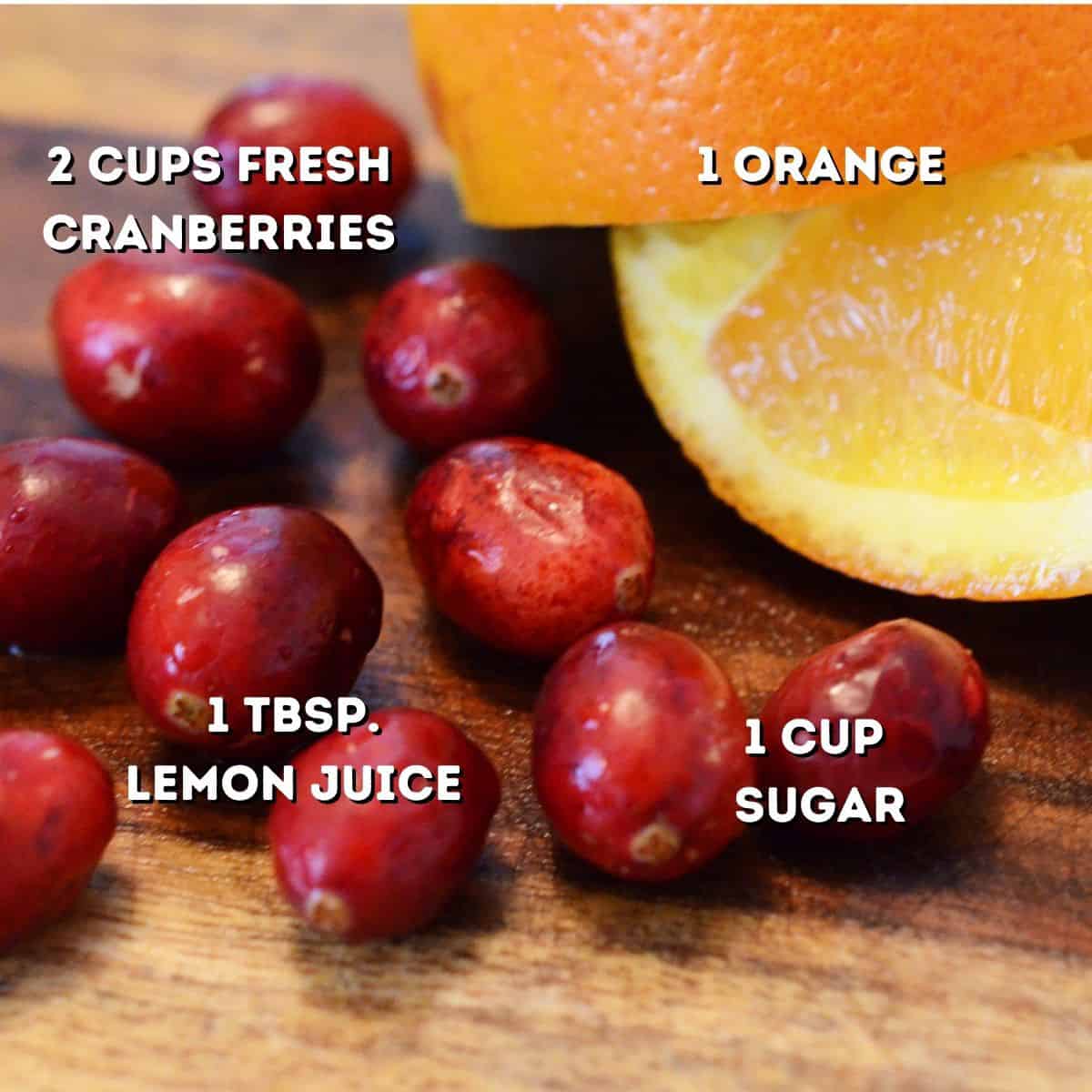 Fresh Cranberries – This amazing relish uses raw cranberries. You'll find these in your grocery store, in the produce section. They come in 12 oz. bags and you'll want to wash them in a kitchen colander before using them. You'll need 2 cups for a single batch of this cranberry recipe.
Good cranberries will have a fresh sheen to them and be free of any spots. Also, they should be firm and not soft to the touch. Get rid of the squishy ones!
Pro Kitchen Tip: – Put the them in a large bowl and fill it with cold water. The good ones will float to the top and the ones you don't want to use will sink to the bottom.
Sugar – Although this basic recipe calls for one cup sugar, you can use less sugar if you are into healthy eating. Sweeten it to your own taste!
Orange – You need one seedless orange for this. No need to worry about orange juice or orange zest, you're going to use the whole thing. Orange peel and all.
Lemon – You only need one tablespoon of lemon juice, so a single lemon should work for this. How do you know which lemons are good? Chef Kat shows you how to choose a juicy lemon.
Kitchen equipment – You don't need much to make this easy cranberry relish recipe.
A cutting board – I prefer a wooden cutting board in my kitchen. Did you know that in terms of food safety, wooden cutting boards are as safe (or safer) as plastic cutting boards?
Pro Kitchen Tip: How to clean a wooden cutting board.
Sharp knife – I recommend an 8″ chef's knife. You need this to cut the orange into a few small pieces.
Food processor – You can also use an old fashioned grinder if you have one. Be sure and get the kids to help you if using one of these. They love to turn that crank, (speaking from experience!)
How to make cranberry relish
(full instructions in the recipe card below.)
Grab the handful of ingredients and let's put this together!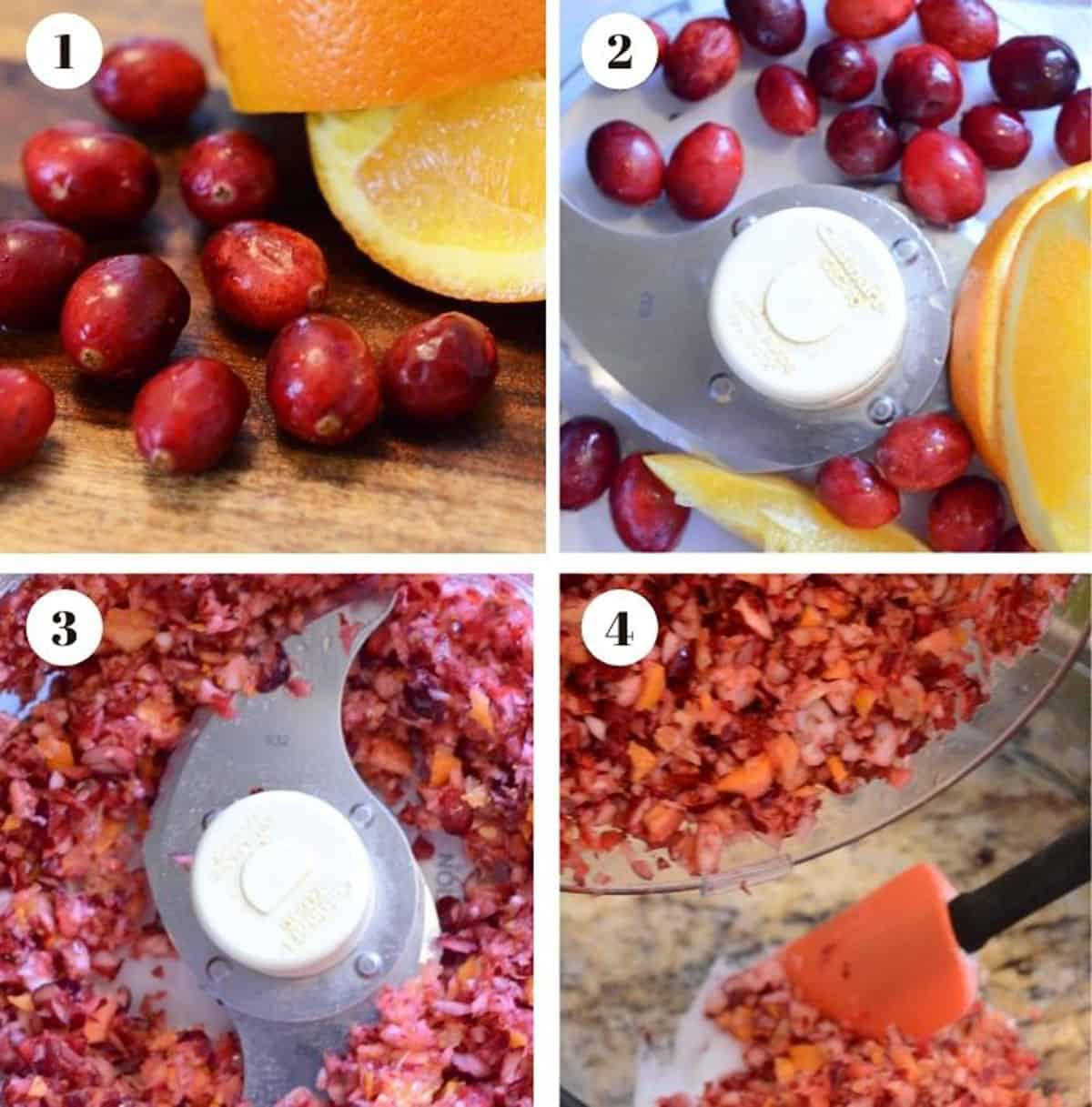 Wash the cranberries and cut the seedless orange into some small pieces. Be sure to wash the orange before using too. (And dry them well.)
Add all of the ingredients to your food processor.
Pulse to your desired consisitency. Be careful not to overdo this or you'll end up with a cold cranberry soup!
Use a rubber spatula and transfer the fresh cranberry relish to another dish. Allow it to chill for at least an hour in the fridge. Here the flavors will have time to meld together as well.
Substitutions and variations
This is an easy recipe to adjust for people on special diets.
You can make this easy cranberry relish recipe keto-friendly but substituting the sugar for 2 tablespoons of your favorite non-carb sweetener. Something with erythritol would work well. Adjust the amount to your tastes.
Other flavors that you can add include:
Ginger – Use 2 tablespoons of crystallized ginger or some chopped fresh ginger.
Pear or Apple – Instead of the orange.
Crushed Pineapple – Use 1/2 cup of this instead of an orange. Just drain and add to the relish.
Toasted Nuts – You can use almost any variety of nuts. Give them a quick toast in the oven and then crush them up and add to the recipe.
Pro Kitchen Tip: Add a shot of Grand Marnier to this cranberry relish. Just a touch of this orange liqueur will take your holiday season to a whole new level!
How to serve this
This easy recipe has so many uses, both during and after your Thanksgiving meal.
Serve it with your thanksgiving turkey.
Spread it on homemade dinner rolls.
Make a holiday appetizer out of it and serve it with some oven-warmed brie cheese.
Use it as a topping for your leftover turkey sandwiches.
Pro Kitchen Tip: If serving this as a Thanksgiving side dish, garnish it with fresh orange slices and a couple of whole mint leaves. This will dress up your holiday table and add a festive tone!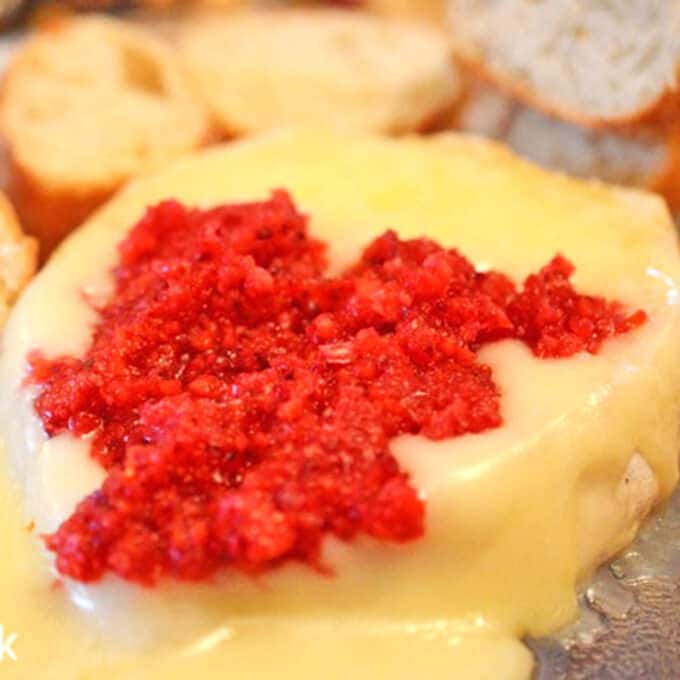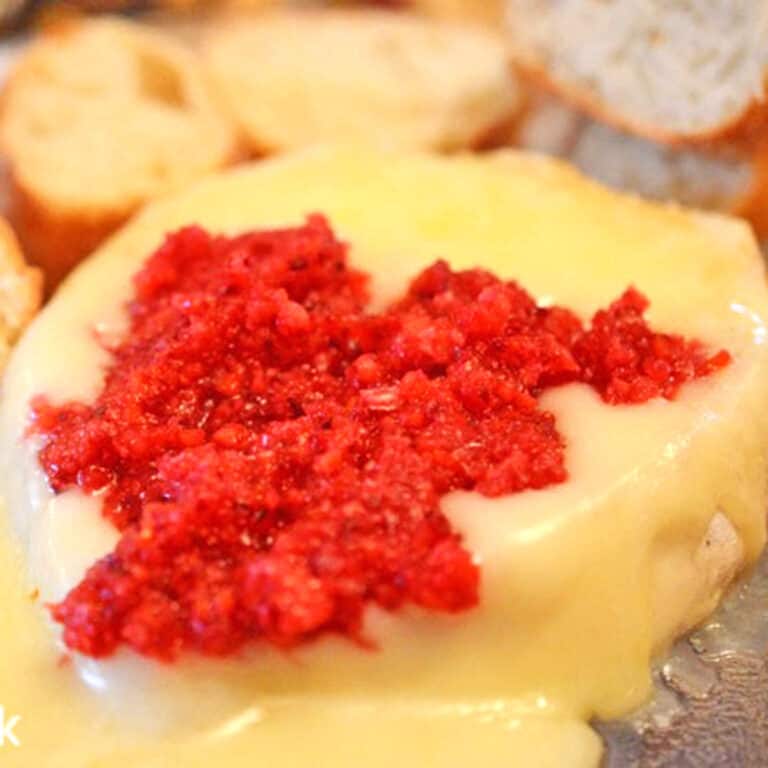 Common questions
Can I make cranberry relish ahead of time?
Yes! This is best if it chills in the refrigerator for at least an hour. But it will last much longer than that if you store it in an airtight container. You can keep it refrigerated this way for up to 10 days and it will still be good.
Can you freeze cranberry relish?
This is not good frozen. It will get watery and mushy.

Can I use frozen cranberries?
Yes but they won't have the texture of fresh raw cranberries. Also, you'll want to thaw them overnight and thoroughly drain them before using them.
Easy cranberry recipes
Learn more with these fun facts about cranberries!
More Thanksgiving staples
👨‍🍳 Tried this Recipe? Please leave a ⭐⭐⭐⭐⭐ rating in the recipe card below and leave a comment. We love hearing from our readers!
⏩ Stay in touch with us on social media by following us on Facebook, Pinterest, Instagram, and YouTube!
📬Get our Recipes delivered to your inbox for FREE!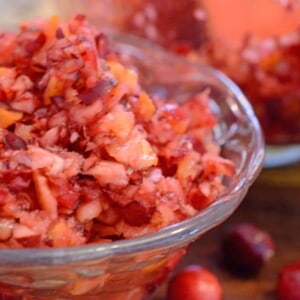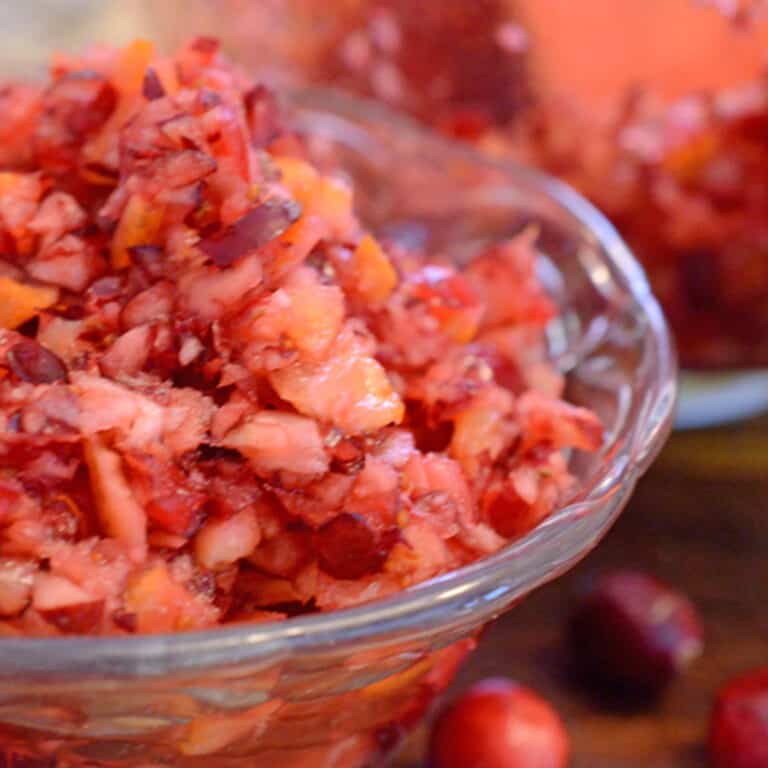 Cranberry Relish
Learn how to make cranberry relish with fresh or frozen cranberries in just 5 minutes.
Ingredients
2

cups

washed cranberries

1

seedless orange

,

peel on, divided in eighths

1

cup

sugar

1

tablespoon

lemon juice
Instructions
Combine cranberries and orange in food processor.

Pulse-process to desired consistency.

Fold in sugar and lemon juice.

Serve chilled or at room temperature.
Notes
This homemade cranberry relish recipe can be made with fresh cranberries or frozen ones.
Be sure to let this chill at least one hour before serving.
Nutrition
Calories:
116
kcal
,
Carbohydrates:
30
g
,
Protein:
1
g
,
Fat:
1
g
,
Saturated Fat:
1
g
,
Sodium:
1
mg
,
Potassium:
51
mg
,
Fiber:
2
g
,
Sugar:
28
g
,
Vitamin A:
52
IU
,
Vitamin C:
13
mg
,
Calcium:
9
mg
,
Iron:
1
mg
Nutrition information is automatically calculated, so should only be used as an approximation.