Celebrate the taste and beauty of summer with this chilled blueberry soup.
Few edibles play a role in my summer like that of blueberries.  Here on Platter Talk, as is likely the case in your kitchen, we've used these sweet and luscious blue globes in salads, desserts, breads and so many other great tasting dishes.

Chilled Blueberry Soup
As wonderfully summer as these all taste, there is yet another course that features our favorite berry of the season.  It's ideal for these hot days of mid-summer, suitable for a fancy dinner party, or simply as a special treat for you and the one(s) you love.   Please, do me this favor and in turn one for yourself:  dip your spoon into this Chilled Blueberry Soup.  Taste the summer.
Summer is my favorite season.   In my own mind, blueberries are as much a part of summer as fresh cut hay, soft ice cream, and leisurely moments of suspension – held by by nothing more than the two roped ends of a canvas hammock.
To me though, blueberries are more than summer.  They are the days of my boyhood, existing now only in my memory.  Back then, in the foothills of New York state's Adirondack mountains, every summer found me at  one point or another picking berries with my family.
It wasn't at a farmer's market, (which I don't think existed back then,) it wasn't in the produce section of the A&P,  P&C,  or the IGA.  Funny, how back then that grocery stores were designated by letters and not names.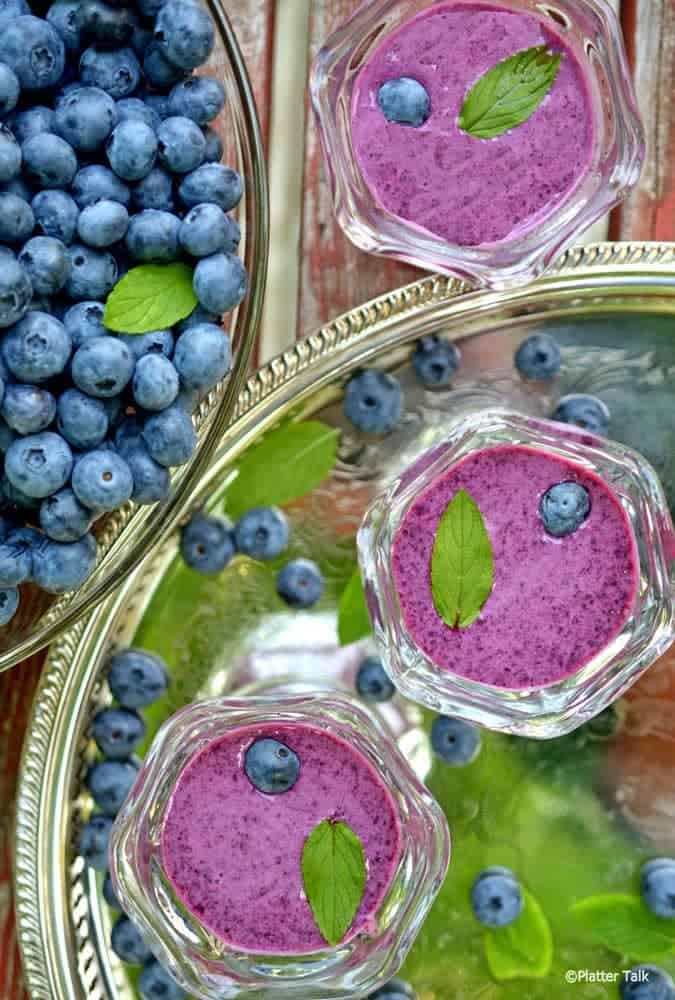 It was in the sandy soil along the shores of Chase Lake, near my grandpa's "camp" and far into northern New York state where we found the best blueberries.
My mom always knew just where to go and if she didn't, my aunt Esther or Rose would guide her.   Donning a tin pail of a quart size or so, held to my waist by baler twine, I would go berrying with my mom, my aunts, and sometimes even my dad.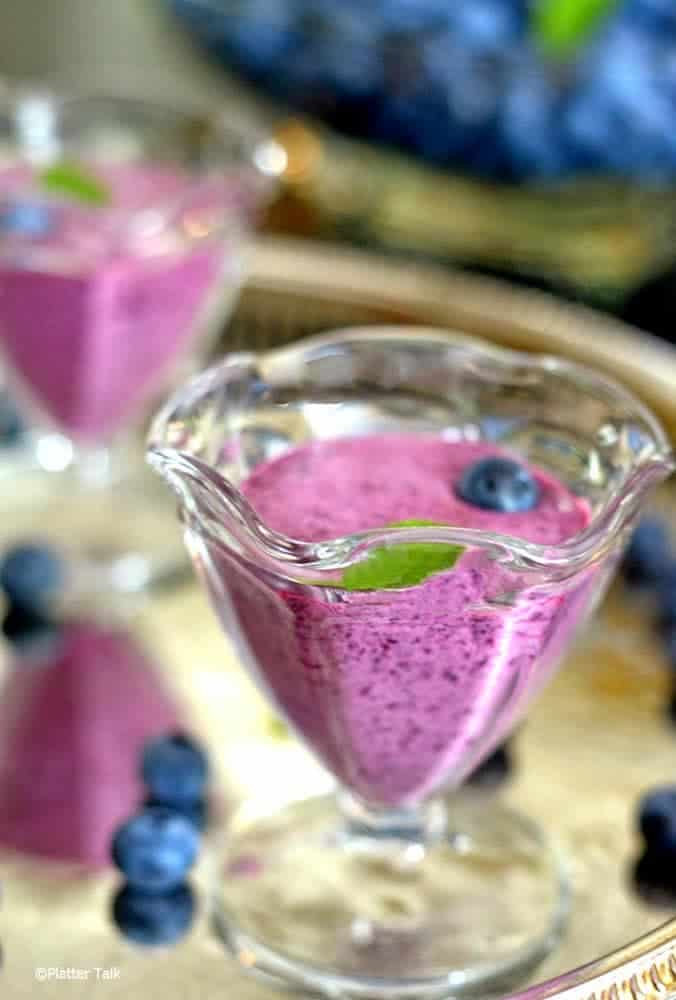 The berries harvested back then were used almost exclusively in my mom's pies or in the jam of my aunts.   The notion of mixing these with some fresh cream, orange juice and the such for a delicious summer soup is something that never crossed the minds of any of us back then.  Of this I couldn't be more certain.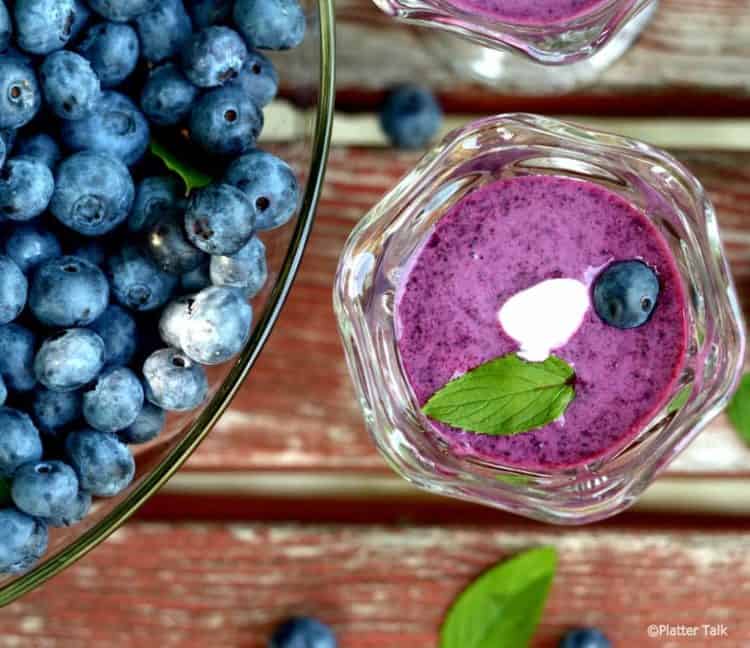 Fast forward a decade or so from that point, and twice as many from the present day, where I found my myself along with my parents at the Hyde Park, New York campus of The Culinary Institute of America, attending the graduation ceremony of my sister.   It wasn't as much as a ceremony as a food orgy of sorts, lasting for what seemed days and countless meals occurring at all times throughout – all prepared by underclassmen, as I recall.
Of all the exotic and artfully prepared appetizers, salads, soups, entrees and desserts, and there were scores – only one stands out in my mind as genuinely unforgettable.   Chilled Blueberry Soup, I recall seeing on the menu.  '
Sounds strange, something I doubt that I will find appealing,' my twenty-something year old mind reflected.   When it was served, my eyes tasted it first and may I just say it was love at first site.  I can't say for certain, but it is more likely than not that I found an additional serving of this soup to lose myself within, to savor for the next 20 years or so.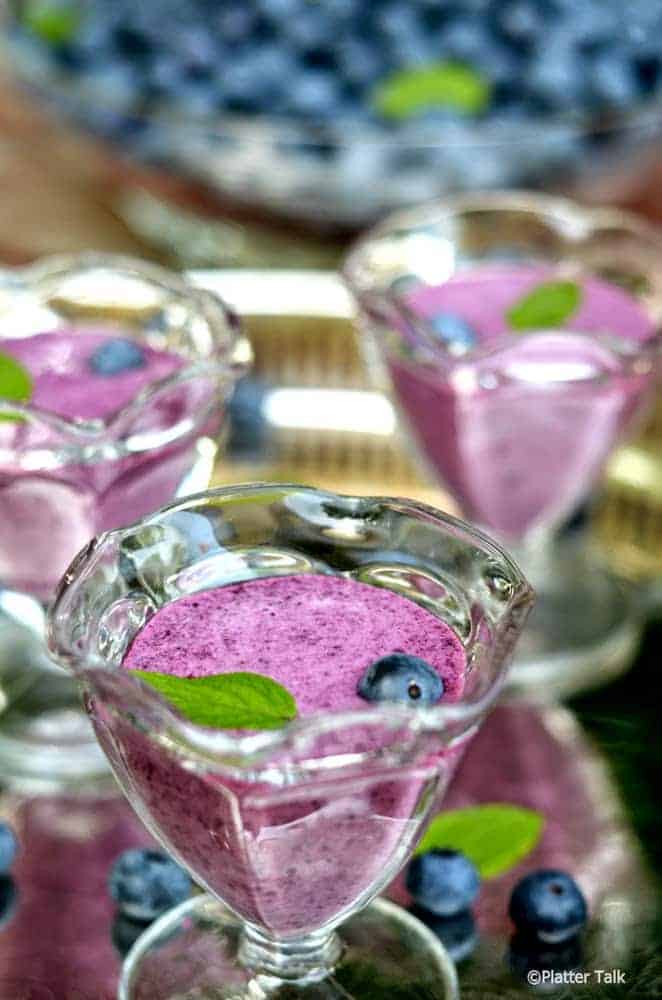 I'm so happy to have put this together, this past weekend at our little cottage on a little lake in the middle of Nowhere, Wisconsin.  We found these gorgeous and fresh berries at one of our favorite farmer's markets on a glorious summer Saturday spent with our boys in tow.  I wasn't trudging along the sandy knolls of northern New York, nor was I with my beloved family members who have long since moved on to their own eternal days of summer.   Instead, I was with Scott and our boys, enjoying the beautiful summer and the blueberries that come with it.  Honestly, I can't imagine anything better.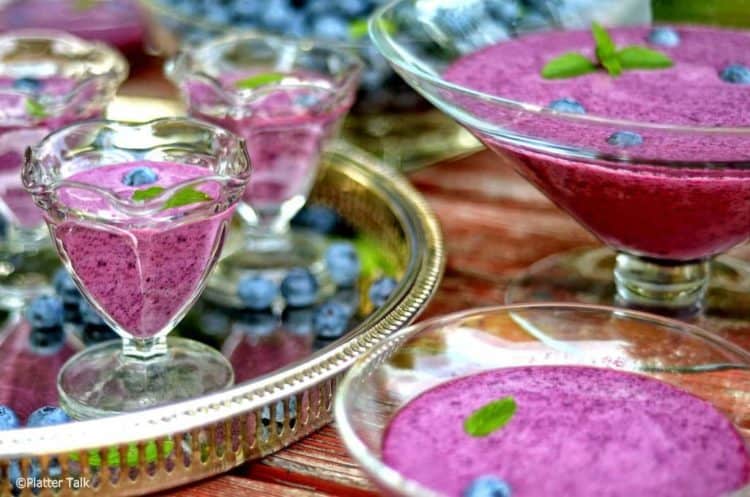 Chilled Blueberry Soup
adapted from Laura Yates
Ingredients
4

cups

two pints fresh blueberries, washed and rinsed.

1

cup

orange juice

1/2

cup

sugar

juice freshly squeezed from 1/2 lemon

1

pint

half & half

1/2

teaspoon

cinnamon

1

pinch

of salt

1/2

teaspoon

nutmeg

fresh mint leaves as garnish

optional
Instructions
Combine berries, orange juice, sugar, and spices in large sauce pan.

Over medium high heat, stir while bringing to a boil. Remove from heat, allow to cool slightly,

Add contents of sauce pan, along with lemon juice to food processor or blender.

Blend or process until liquefied, scraping inside edges of container midway through to incorporate skin filaments.

Refrigerate mixture, to chill, in sealed container.

Immediately prior to serving, stir in half & half.

Garnish with mint leaves if desired.
Notes
Milk or heavy cream may be substituted for half & half.
Add a dollop of yogurt or sour cream for an added element of creaminess and flavor.