Golumpki Stuffed Cabbage Soup Recipe – When the temperature starts to decline, a couple of things happen.  The first thing is that I go right to my closet and get out my favorite flannel shirt.  The second thing that I do is grab a big soup pot so that I can make a wonderful batch of deliciousness for my family.  What's even better is when you can take a great recipe like my Golumpki (Gołąbki, Stuffed Cabbage) and turn it into this Golumpki Stuffed Cabbage Soup Recipe.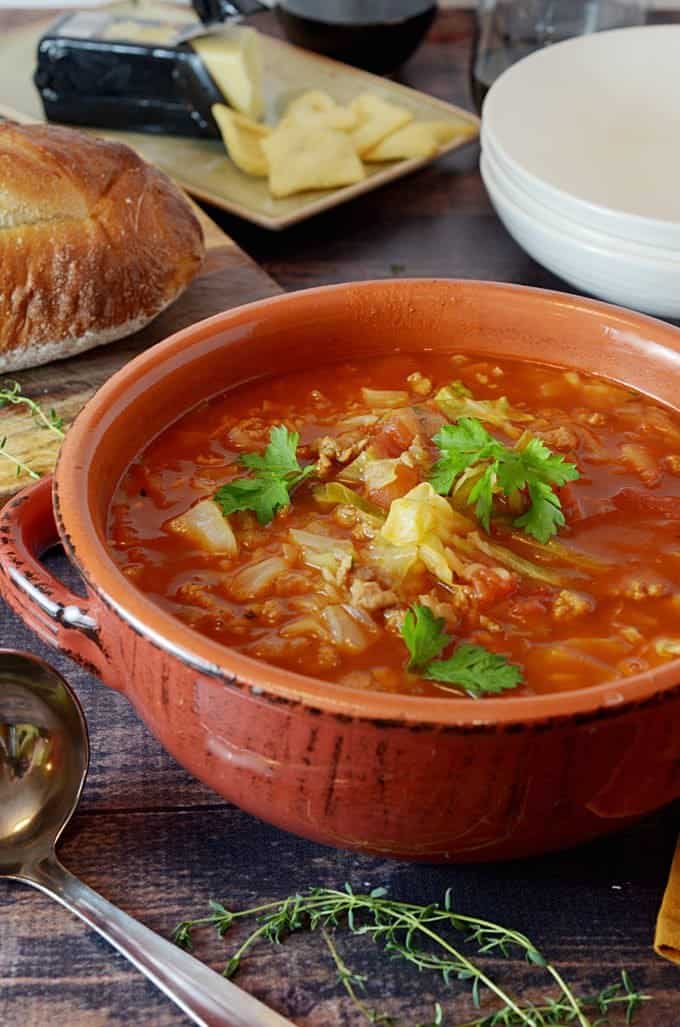 Golumpki Stuffed Cabbage Soup Recipe

My Golumpki recipe is pretty popular here on Platter Talk, but it is also very popular on Google when people are searching for a stuffed cabbage recipe.
Thus, it was a no brainer for me to want to try and recreate our winning recipe into a great Golumpki Stuffed Cabbage Soup recipe.
I know that many people love Golumpki.  I also know that many people shy away from trying to make it.  The simple reason for this is because making Golumpki from scratch requires many steps.  The steps and the recipe itself are very easy, there are just many steps.  Because of this, I created a "lazyman" approach and turned it into a casserole. Now, it gets even easier with our Golumpki Stuffed Cabbage Soup Recipe.
This hearty soup recipe can be put together in a matter of a few minutes.  The longest part of the process will be the 25-30 minutes you have to wait until the cabbage is softened and the flavors have come together.  Because of this, our Golumpki Soup Recipe is great for a weeknight fall and winter meal.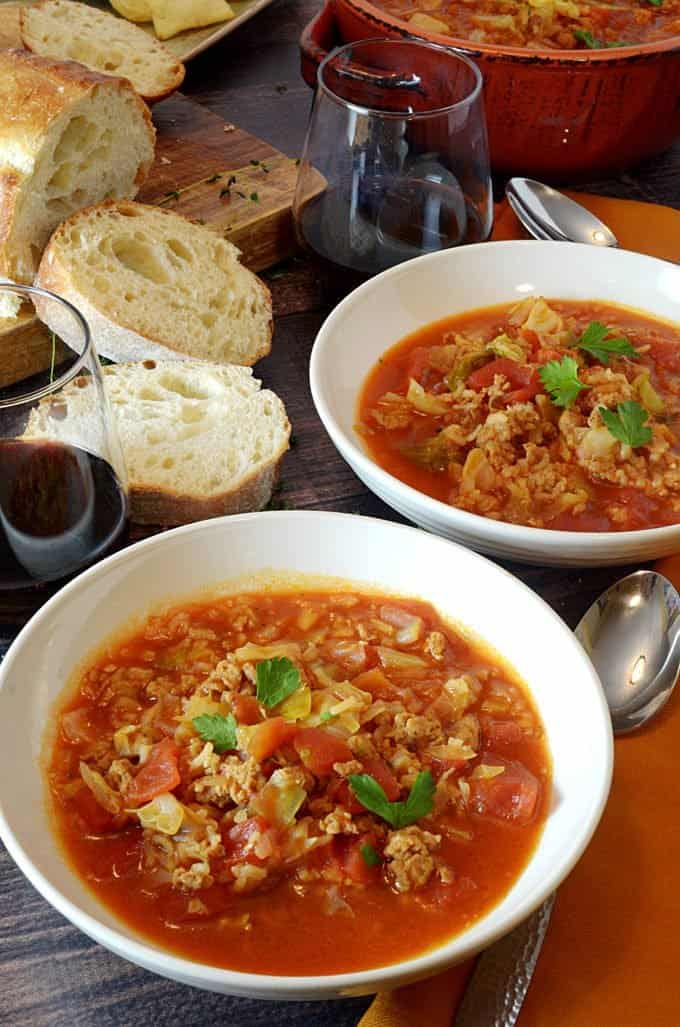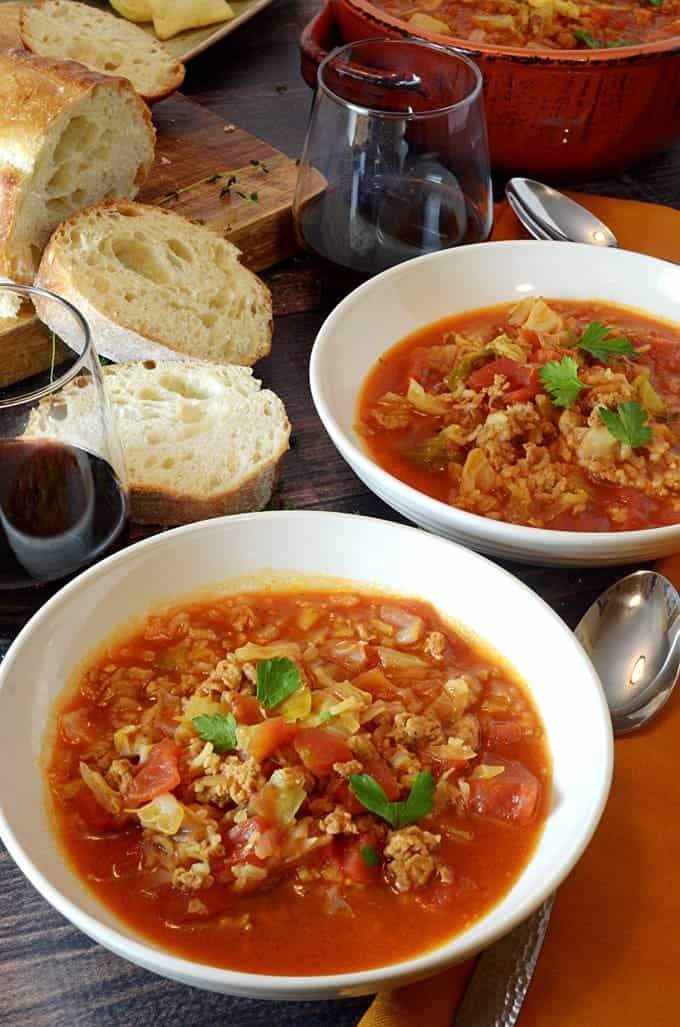 We made this pot of soup on the stove in one of my favorite stock pots.  Pin this recipe here. But, once you brown your meat, you could easily put all of the ingredients in your slow cooker and let it simmer away for hours.  How is that for convenience?
If you have been afraid to make traditional golumpki, our Golumpki Stuffed Cabbage Soup Recipe is for you.  It's a quick way to get the same wonderful flavors you would get from cabbage rolls.  I know that this will become one of your go to soup recipes this fall and winter season.  Enjoy.  -Scott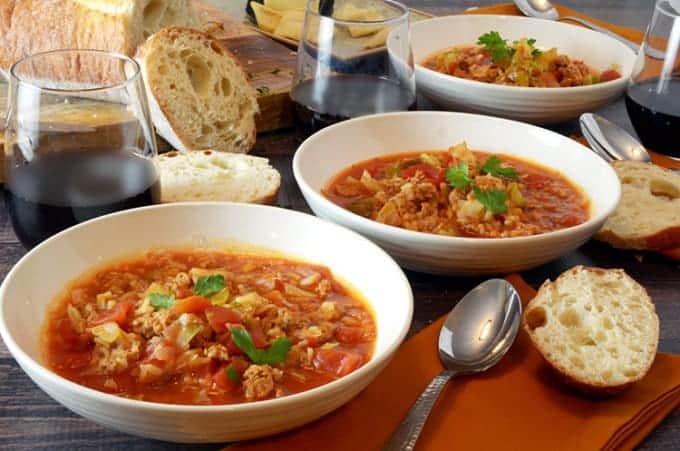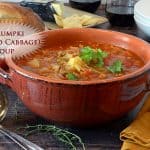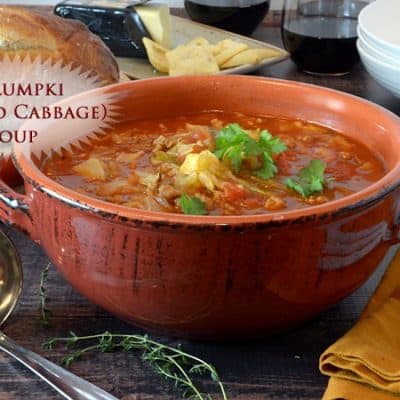 Golumpki (Stuffed Cabbage) Soup
Ingredients
1

lb

ground Italian turkey sausage

1

medium onion chopped

1

small to medium cabbage cut and diced

1/2

cup

uncooked rice

2-3

Tbs

minced garlic

2

Tbs

tomato paste

1 28

oz

can of diced tomatoes

1 1/2

cup

V8 juice

4

cups

beef broth

1

Tbs

Worcestershire sauce

1

tsp

thyme

1

tsp

paprika

1

tsp

salt

1

tsp

pepper
Instructions
In a stock pot, over medium heat, brown the turkey sausage.

Add onions to pot and cook until onions soften.

Add cabbage to pot and cook until cabbage starts to soften, maybe about 2-3 minutes.

Push ingredients to the edges of the pot to create an opening in the middle of the pot.

Add tomato paste and cook until tomato paste starts to darken, about 1-2 minutes.

Stir in remaining ingredients to the pot and allow soup to come to a slight boil.

Lower temperature to a simmer and cover.

Cook for approximately 25-30 minutes or until the cabbage and rice are softened.