Golumpki Soup
on Oct 03, 2018, Updated Jan 02, 2021
Golumpki soup is a warm and hearty soup that is satisfying and nutritious. You can make this easy recipe in just 45 minutes. As a bonus, the leftover soup will taste even better later in the week!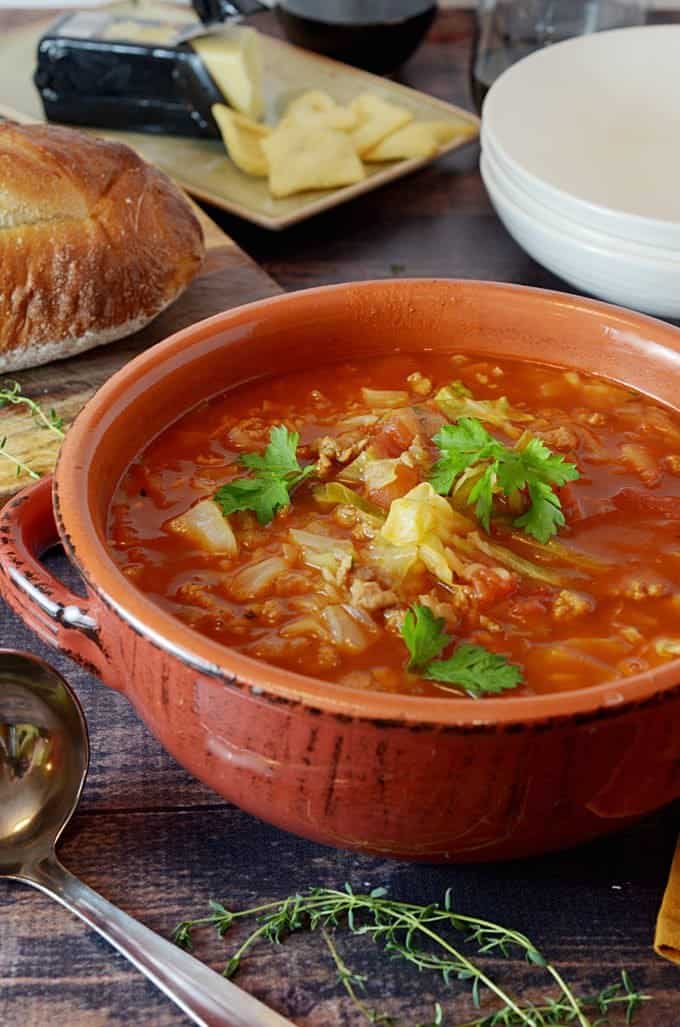 How to make it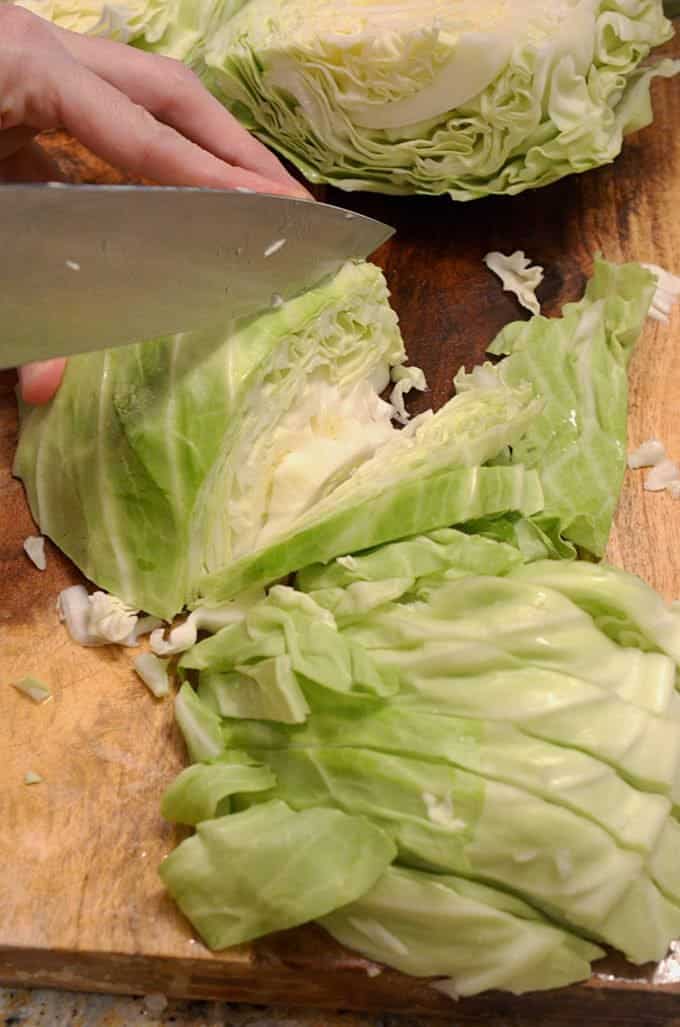 This unstuffed cabbage roll soup starts with fresh cabbage and ends up as a bowl of savory comfort food. This easy soup recipe is ready from start to finish in just 45 minutes!
Ingredients
Cabbage

Italian Sausage

Onion

Rice

Garlic

Tomato Paste

Diced Tomatoes

V8 Juice

Beef Broth

Worcestershire Sauce

Thyme, Paprika, Salt, and Pepper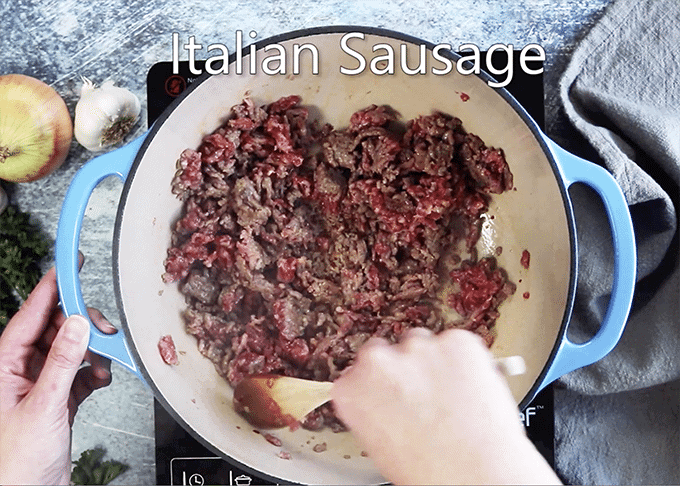 To make this cabbage roll soup, start by browning one pound of sausage. We prefer Italian sausage and to save a few fat calories, we like to use turkey sausage.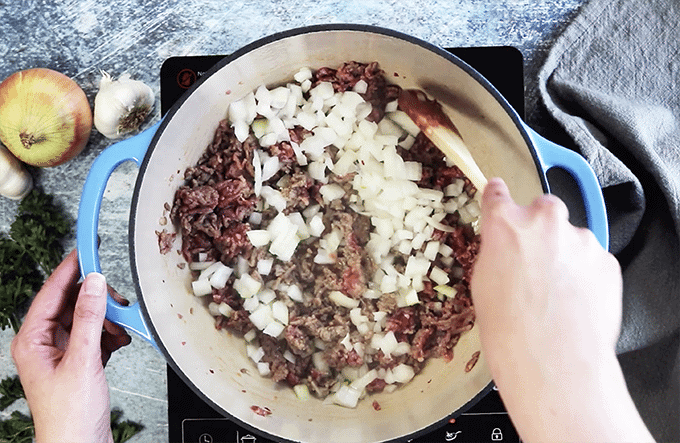 Next, you will add chopped onion to the brown sausage. Stir it around until it softens, and this will add a nice savory flavor to this stuffed cabbage soup recipe.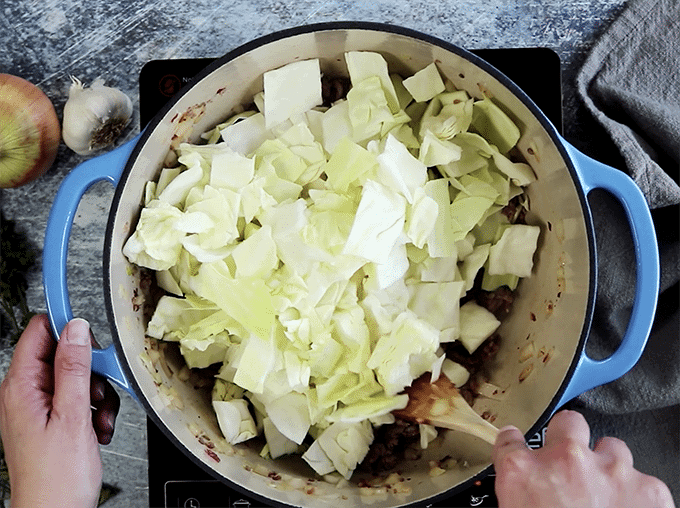 Green cabbage is the most common, but feel free to use a purple cabbage to add some color to this cabbage soup!.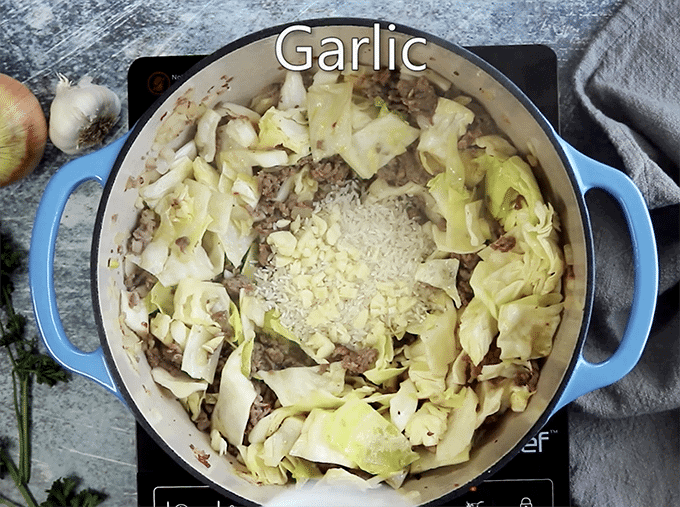 This cabbage soup has a tomato base which is made up of these ingredients:
Tomato Paste

Diced Tomatoes

V8 Juice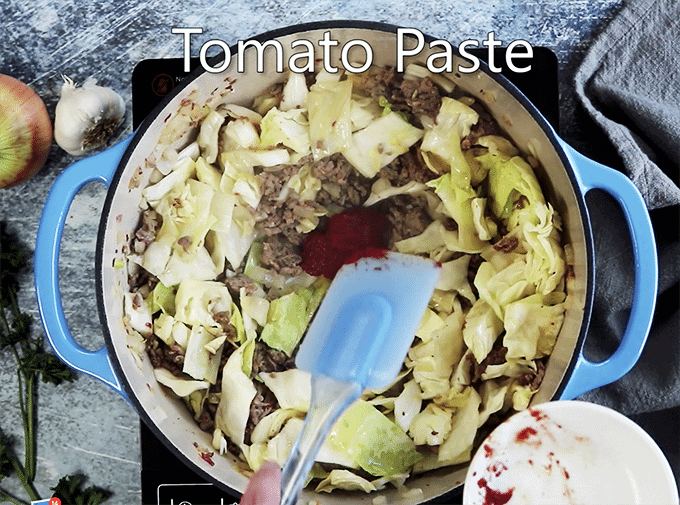 Anytime you add tomato paste to a recipe; you should gently brown it first. Doing so will slightly cook the tomato paste making the flavor a bit sweeter through the caramelization process.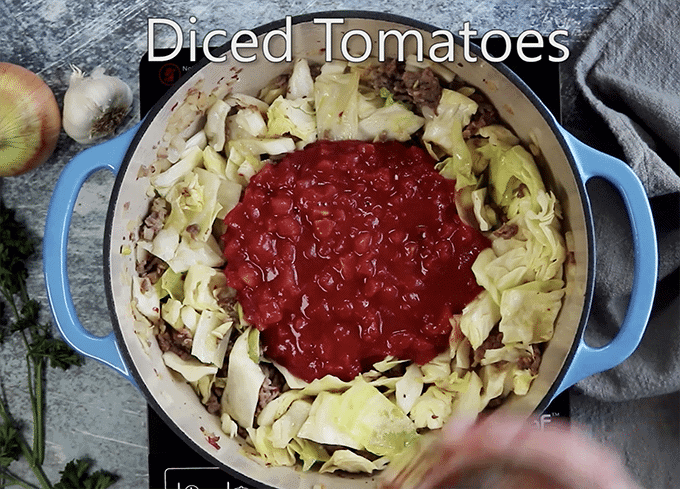 Once the tomato paste is browned and stirred in, add one 28 oz. Can of diced tomatoes to this cabbage soup recipe. If you can find unsalted or reduced sodium diced tomatoes, use those.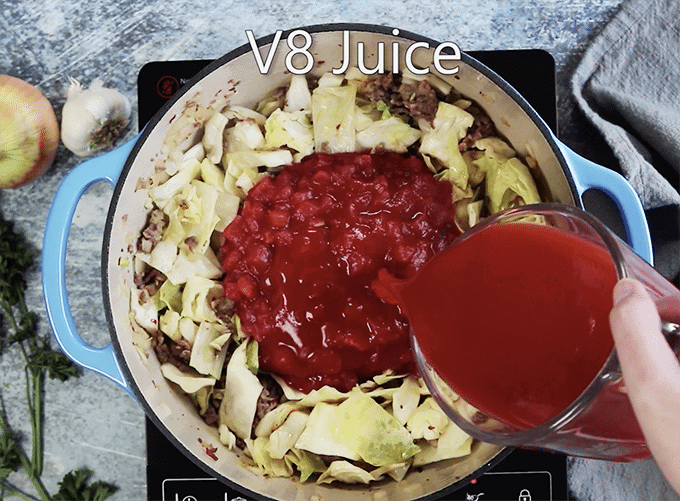 V8 juice will give loads of flavor to this cabbage roll soup recipe. Once again, save a ton of unwanted salt and use the reduced-sodium variety if you can find it.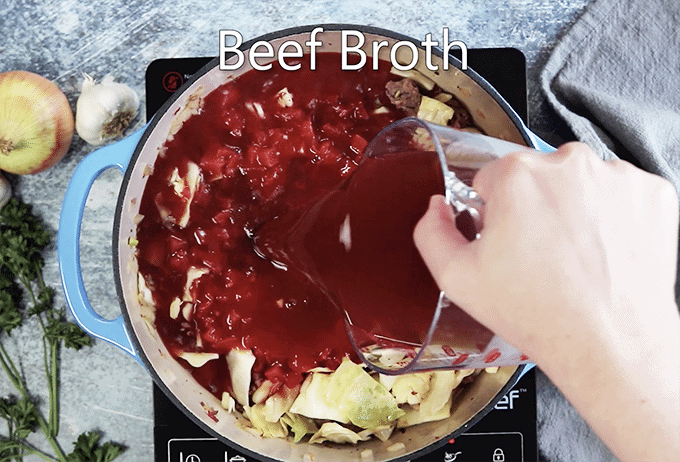 Now you'll stir in some beef broth for this unstuffed cabbage soup. Homemade broth is always best because you know what's in it and what isn't in it, IMHO. If you have to use store-bought beef broth, once again, reduced sodium is best!
Have you ever asked,"What's the difference between broth and stock?" Click the link, and we can help explain it!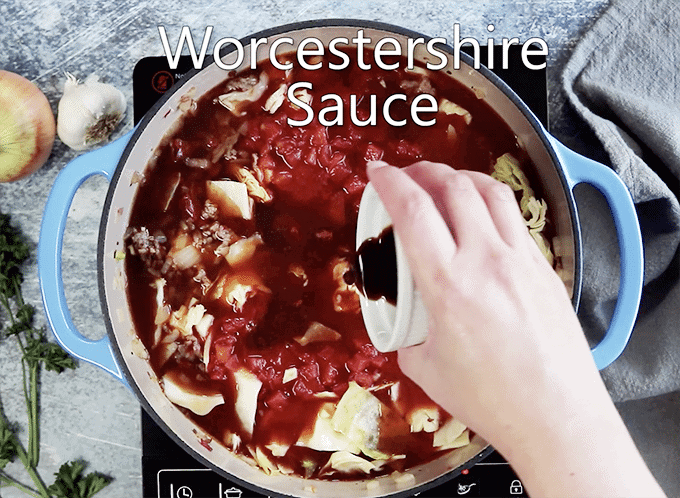 Add a Few Flavor Boosters to this Cabbage Roll Soup
Worcestershire Sauce

Thyme

Paprika

Salt and Pepper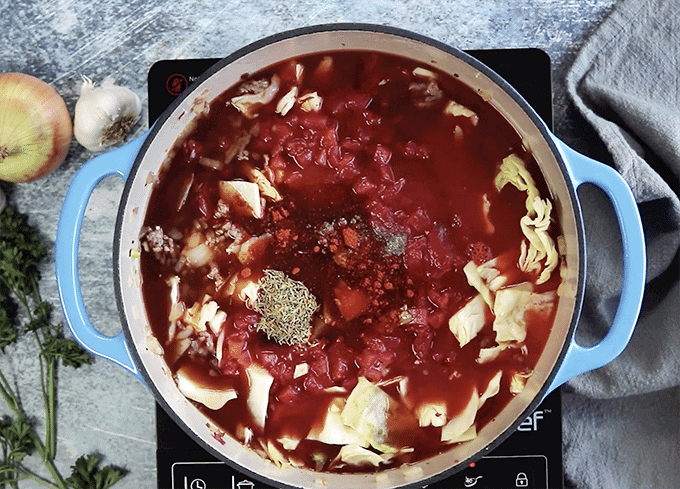 Finally, the hard part about this savory cabbage roll soup: Allowing the ingredients to get to know each other.
Once you have everything in the pot, you're going to cover it and allow it to simmer for about 25 to 30 minutes.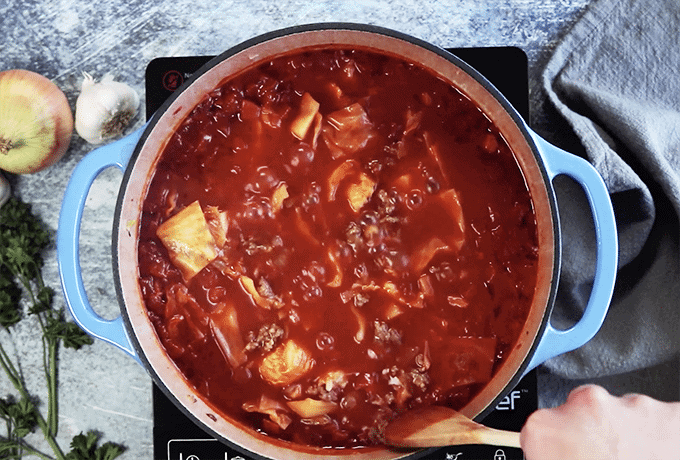 While this pot of cabbage soup is simmering, you may want to consider slipping a loaf of our homemade crusty bread into the oven. I can' think of a better match!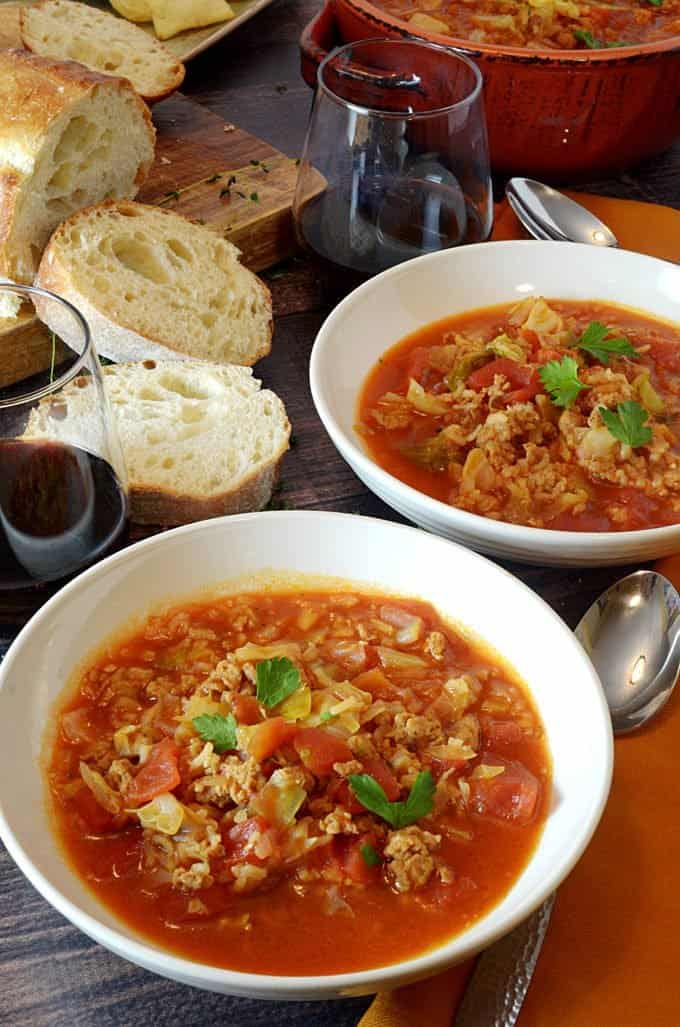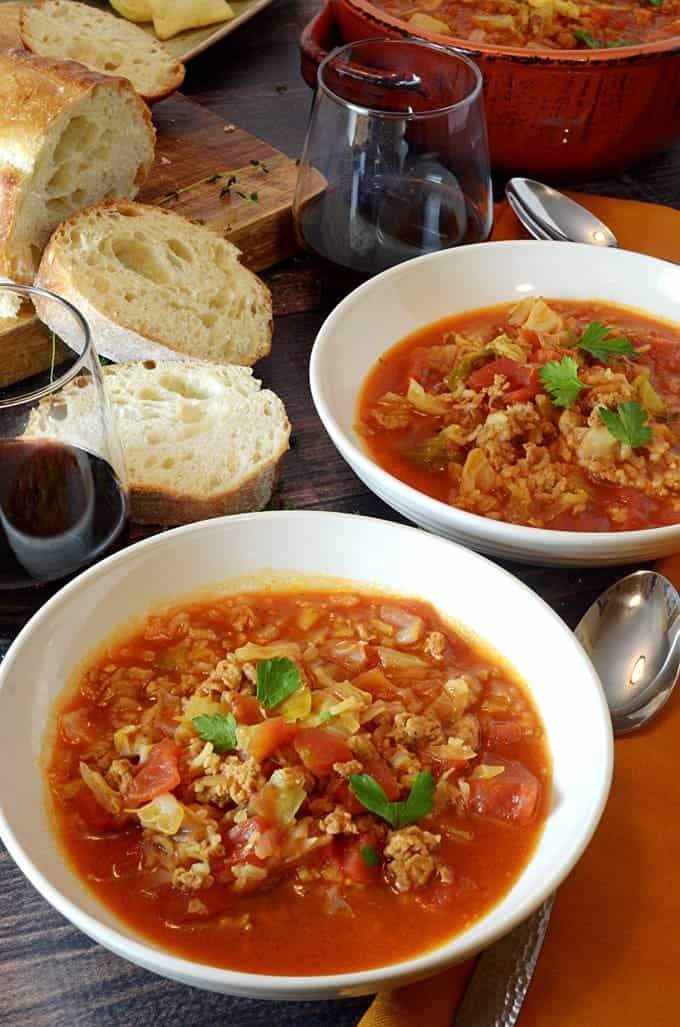 My Golumpki recipe is pretty popular here on Platter Talk, but it is also very popular on Google when people are searching for a stuffed cabbage recipe. It's the most popular recipe for cabbage rolls in the land.
Thus, it was a no-brainer for me to want to try and recreate our winning recipe into a great Golumpki Stuffed Cabbage Soup recipe.
I know that many people love Golumpki. I also know that many people shy away from trying to make it. The simple reason for this is because making cabbage rolls from scratch requires many steps.
The steps and the recipe itself are very easy; there are just many steps. Because of this, I created a "lazy" approach and turned it into a casserole. Now, it gets even easier with this cabbage roll soup!
This hearty soup recipe can be put together in a matter of a few minutes. The longest part of the process will be the 25-30 minutes you have to wait until the cabbage is softened and the flavors have come together. Because of this, Cabbage Roll Soup is great for a weeknight fall and winter meal.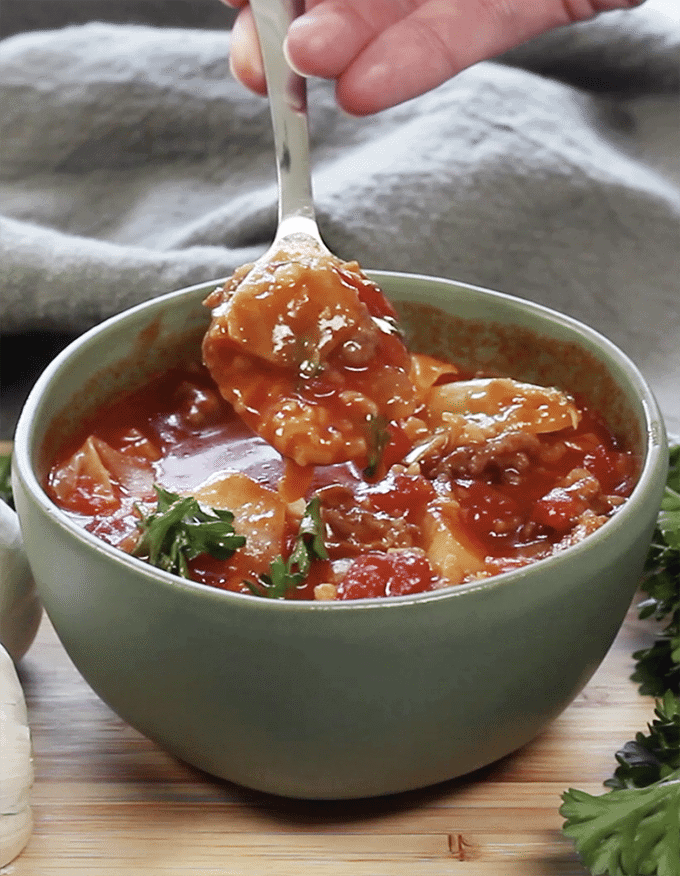 We made this pot of soup on the stove in one of my favorite pots. But, once you brown your meat, you could quickly put all of the ingredients in your slow cooker and let it simmer away for hours. How is that for convenience?
Can You Freeze Cabbage Soup for Later?
Absolutely! This cabbage soup freezes well for an easy and delicious leftover meal.
If you have been afraid to make stuffed cabbage, our stuffed cabbage soup recipe is for you. It's a quick way to get the same beautiful flavors you would get from cabbage rolls. I know that this will become one of your go-to soup recipes this fall and winter season. Enjoy. -Scott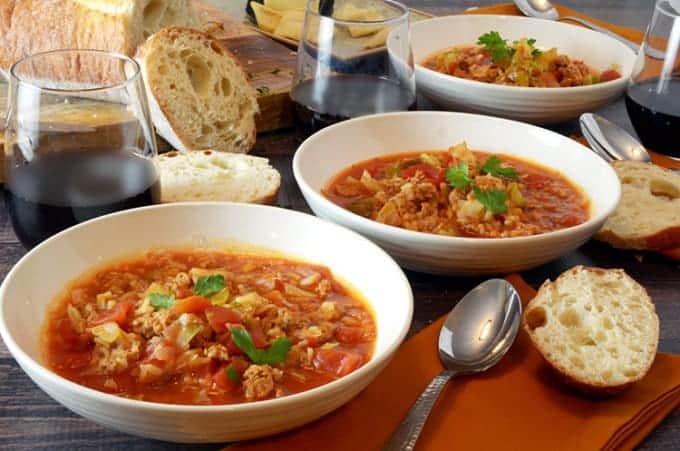 More cabbage recipes
If you love homemade soup, be sure and try our Fennel Soup Recipe. It's perfect for cold weather eating!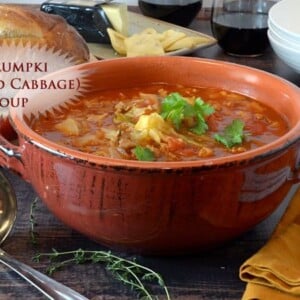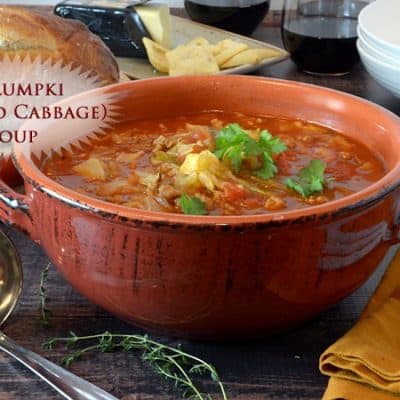 Cabbage Soup
Stuffed Cabbage Soup from Platter Talk features an authentic Polish stuffed cabbage recipe that is made into a soup. Enjoy a bowl of this cabbage roll soup today!

Ingredients
1

lb

ground Italian turkey sausage

1

medium onion chopped

1

small to medium cabbage cut and diced

1/2

cup

uncooked rice

2-3

Tbs

minced garlic

2

Tbs

tomato paste

1 28

oz

can of diced tomatoes

1 1/2

cup

V8 juice

4

cups

beef broth

1

Tbs

Worcestershire sauce

1

tsp

thyme

1

tsp

paprika

1

tsp

salt

1

tsp

pepper
Instructions
In a stock pot, over medium heat, brown the turkey sausage.

Add onions to pot and cook until onions soften.

Add cabbage to pot and cook until cabbage starts to soften, maybe about 2-3 minutes.

Push ingredients to the edges of the pot to create an opening in the middle of the pot.

Add tomato paste and cook until tomato paste starts to darken, about 1-2 minutes.

Stir in remaining ingredients to the pot and allow soup to come to a slight boil.

Lower temperature to a simmer and cover.

Cook for approximately 25-30 minutes or until the cabbage and rice are softened.
Nutrition
Calories:
214
kcal
,
Carbohydrates:
26
g
,
Protein:
16
g
,
Fat:
5
g
,
Saturated Fat:
1
g
,
Cholesterol:
42
mg
,
Sodium:
1211
mg
,
Potassium:
885
mg
,
Fiber:
5
g
,
Sugar:
9
g
,
Vitamin A:
1310
IU
,
Vitamin C:
63.9
mg
,
Calcium:
102
mg
,
Iron:
2.7
mg
Nutrition information is automatically calculated, so should only be used as an approximation.
Updated from the original cabbage soup recipe of October 6, 2016