We are knee-deep in summer heat here in the heartland of America and when we were graciously extended an invitation to a dinner party earlier this week, I volunteered to bring a salad. The kicker is, I had no clue what salad I would prepare to bring. Thankfully, I was not short on ideas.
Throughout the day I considered something with avocados. Our host loves these green over-sized eggs of smooth and soft goodness and what's more, they're versatile in the roles in which they can play - center stage, back-up, and anywhere in between. In spite of my deep admiration of avocados, my mind kept drifting back to that fruit of which we have been enjoying so much lately, the same one that has been featured in the last two posts of Platter Talk.
At the risk of overdoing it with too much of a good thing, I started focusing on ideas of incorporating fresh peaches into a summer salad. As my imagination roamed and my taste buds started to rev-up throughout the day, the tastes, flavors, and colors of summer began to coalesce within my mind. I had never grilled peaches before, but it sounded easy enough and appropriate for the season.
As this production progressed and I made some flavor adjustments, I really wasn't sure how this salad was going to taste, or in all honesty, if it would even be edible. This was not the typical Iceberg or spinach, or romaine lettuce I was familiar working with and serving.
The salad that resulted from the day's pondering turned out to be incredible. Although it wasn't at all that difficult to put together, the incidental obstacles that popped up throughout the process were relatively daunting. You know the types of unwelcome events that can come along while you're busy trying your best to perform a new and important task First, there was the propane tank that decided to expire while I was preheating my oven and prepping the veggies. No problem, nothing a quick run to the corner gas station would not solve. Then there was the gas grill failure, after the propane tank had been refreshed. Major problem. Thank goodness I recalled stashing a small Webber grill away during a recent garage clean up. Of course all this was occurring during an afternoon where our temperatures were hovering in the mid-80s with humidity that seemed equally high. The fun didn't stop there, however. Before it was all said and done, Scott discovered a window had leaked in our basement during the previous night's torrential rain storm. I would be far less than honest if I said that for a brief moment, the prospect of the wine I had planned on taking with us never making it out of our house did not seem at all plausible.
The 45 minutes or so of profuse perspiration, language I know my mom would have frowned upon, and the "accidental tossing" of a grill grate, all came to fruition with a very happy ending. The creation made it out of our kitchen, along with the Pinot Grigio; both salad and bottle of wine fully intact. This wine in particular was an excellent accompaniment to the salad and perfectly suited for a warm summer evening. Even better, I found it on sale for $8.99 which proved to be a fantastic price for a wine of this caliber. We arrived at our friend's home and soon found ourselves seated with five or six other guests. The first bite of this salad was a veritable celebration of taste - complex with a solid flavor structure, I knew immediately that it all "worked."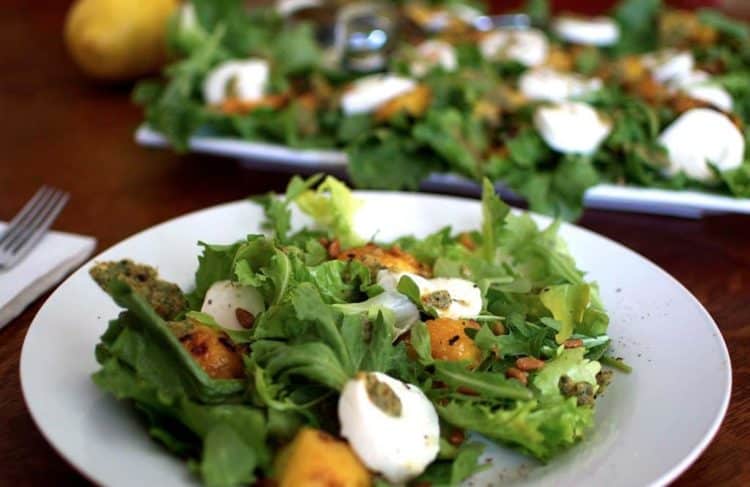 For this recipe, I used a base of Escarole which gave a nice balance to the peppery Arugula. For added interest, I threw in some Water Cress and the three very different greens got along quite nicely with each other, providing a flavor and texture in and of themselves that would have sufficed for a main entry. The grilled peaches and fresh mozzarella made a perfect team to go with the rest and the accompanying pesto dressed it perfectly. Give this recipe a try, either as a side or main course. It's a delicious and wonderful salad, especially for summer. Want to brush up on your lettuceology? This is a great reference site for different greens.
©Platter Talk
📖 Recipe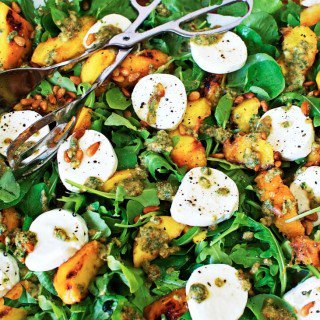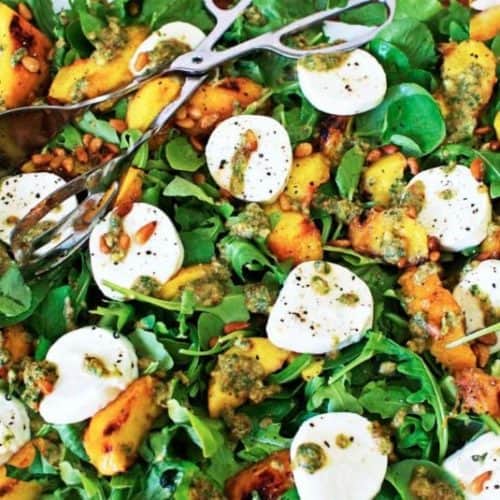 Grilled Peach Salad with Mint Basil Pesto
inspired by Love & Lemons
Print
Pin
Rate
Ingredients
For the salad:
Escarole

Arugula

Water Cress

6

peaches

medium sized

mozzarella cheese

sliced

⅛

cup

pine nuts

toasted

juice from ½ lemon

fresh ground peppercorn
For the Pesto:
½

cup

fresh basil leaves

½

cup

fresh mint leaves

⅛

cup

pine nuts

toasted

1

garlic clove

¾

cup

extra virgin olive oil

2

tablespoons

lemon zest

juice from ½ lemon

kosher salt to taste

fresh ground peppercorn
Instructions
For the salad:
Peel peaches, cut in halves, remove pit. Brush lightly with olive oil.

Place peach halves on grill over medium high heat, about 4 minutes on each side so that both sides are well marked.

Remove peaches from grill and allow to cool, then halves into quarters or smaller and set aside.

Preheat oven to 400 degrees F and roast pine nuts on baking sheet for 4-5 minutes or until golden brown and allow to cool.

Using large mixing bowl, toss greens in olive oil, then arrange on serving platter.

Evenly distribute peaches and mozzarella slices over greens.

Sprinkle pine nuts over salad, add fresh ground peppercorn to taste.

Add spoonful dollops of pesto, as prepared below, as a dressing, and evenly distribute lemon juice on top of salad and pesto.
For the pesto:
Place fresh herb leaves in small food processor along with other ingredients.

Process until desired consistency is achieved, adjust amount of olive oil as necessary.
Nutrition
Calories:
448
kcal
|
Carbohydrates:
18
g
|
Protein:
11
g
|
Fat:
39
g
|
Saturated Fat:
8
g
|
Cholesterol:
26
mg
|
Sodium:
226
mg
|
Potassium:
496
mg
|
Fiber:
4
g
|
Sugar:
14
g
|
Vitamin A:
1842
IU
|
Vitamin C:
20
mg
|
Calcium:
232
mg
|
Iron:
2
mg