Let your slow cooker take care of dessert by making this Bread Pudding; a simple loaf of bread, some eggs, and a few other basic staples. Your whole family will love this special treat!
We are a busy gang, with six kids coming and going, a house in town, one on the lake, and two parents who have full time professions. That said, we have learned to embrace the convenience factor in many facets in our lives, including when it comes to preparing food and feeding our boys. It's no wonder we love good slow cooker recipes and with great desserts like this one, I always have to ask why it is that we don't put this kitchen power player to good use more often.
"…it's fair to say that making dessert in a slow cooker just may be the way to go."
How many times have we heard that simple is best? Bread, eggs, and a slow cooker; throw in a few other goodies and you've got a warm and wonderful dessert, all with minimal effort. How could this be any better?!
What We Love About this Recipe
It's easy with minimal effort and just a few every day ingredients.

Turn your slow cooker on and let it do to work for you.

Throw a dollop of ice cream on this one and it becomes a virtually perfect dessert.
We've made desserts in the crock pot before and our readers have loved the results!
Our Slow Cooker Sticky Caramel Pumpkin Cake is the most viewed recipe on our site. Ever. Having been pinned nearly 100,000 times it's fair to say that making dessert in a slow cooker just may be the way to go and today's feature post provides yet another example of this taste-tested theory.
When I served this bread pudding, our 11 year old foodie son, Isaiah, asked, "What makes this a pudding?" I thought this was a great question and so we did a little research on the history of this sweet creation.
"Almost a thousand years later and this form of dessert is still going strong."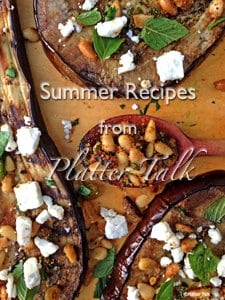 Our latest e-book, Summer Recipes from Platter Talk, is now available as a free download for our readers. Click here to get your copy now!
Turns out, bread pudding dates all the way back to the 11th century, when frugal cooks looked for frugal ways to use stale and leftover bread instead of letting it go to waste. Almost a thousand years later and this form of dessert is still going strong. Our kids loved this one, their parents loved this one, and our little chilhuahua, Buddy, was fantasizing about loving this one. Get your slow cooker out of the cupboard and make this a reality. You're going to love it too.  -Dan
Never Miss Another Platter Talk Recipe
Slow Cooker Bread Pudding
Adapted from All Recipes
Author:
Dan from Platter Talk
Ingredients
1 loaf bread, cubed into 8 cups
2 cups cream
4 eggs
¼ cup melted butter
1 cup raisins or currents (optional)
1 tablespoon cinnamon
1 teaspoon nutmeg
1 teaspoon vanilla
¼ cup granulated sugar
Instructions
Pre-heat slow cooker to high setting.
Place cubed bread in large mixing bowl, set aside.
Combine remaining ingredients in medium size mixing bowl, whisk thoroughly.
Pour liquid ingredients over bread cubes, stir until bread is completely coated.
Transfer bread mixture into slow cooker, reduce heat to low.
Cook for 3 hours or until knife inserted in center comes out clean.
Notes
May substitute whole milk for cream.
For added texture and enhanced floor, place cubed bread under broiler in oven until toasted.