The BEST Rosemary Lemon Chicken Recipe
on Dec 29, 2019, Updated Mar 21, 2023
Rosemary lemon chicken is one of our kids' favorite chicken recipes. This easy dinner is rooted in my passion for chicken and the memories of my mom's routine after church Sunday dinner.
Make this meal and feed 6 to 8 people for under $15. Read on, and you and your kids will be hooked, too; it's a sure bet!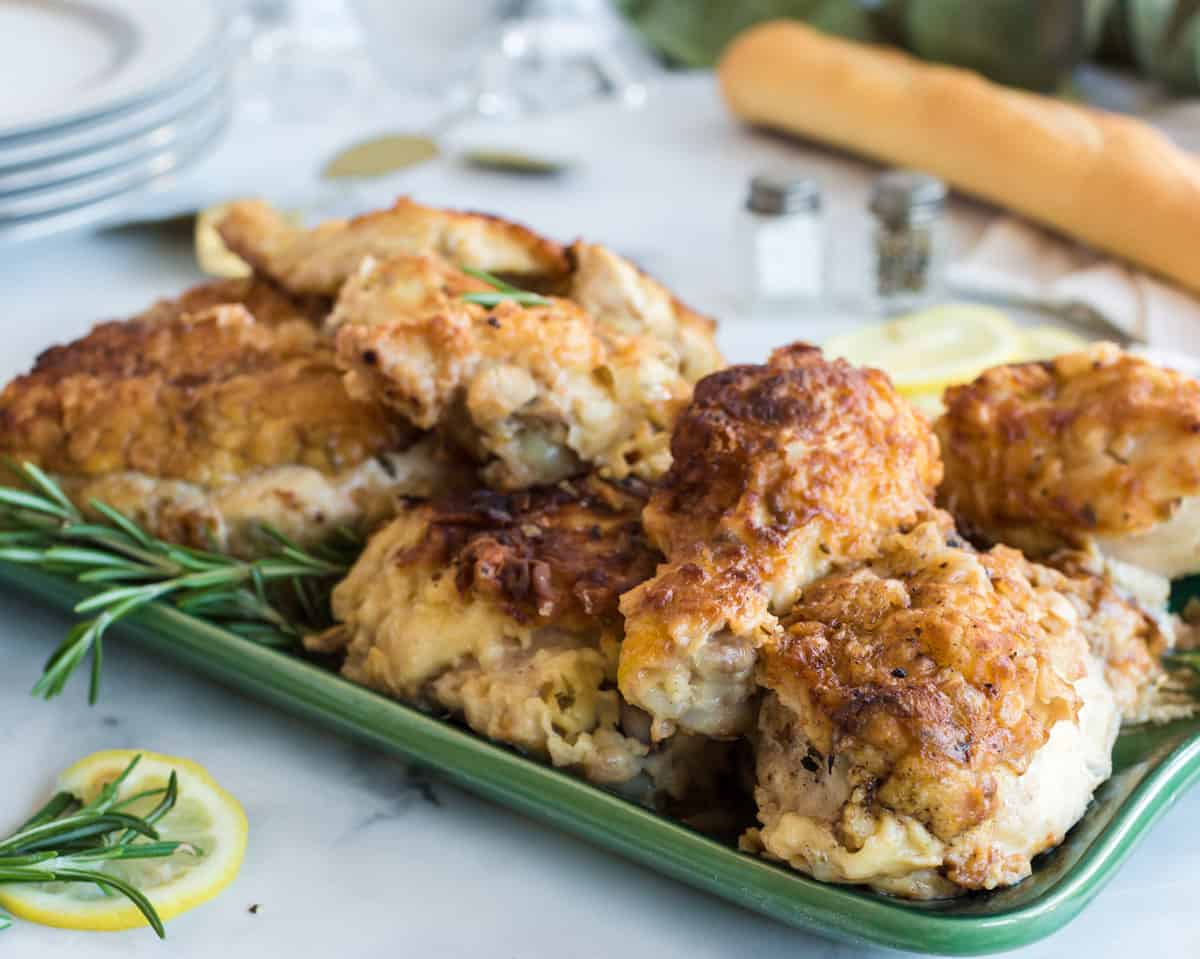 Jump to:
What is this?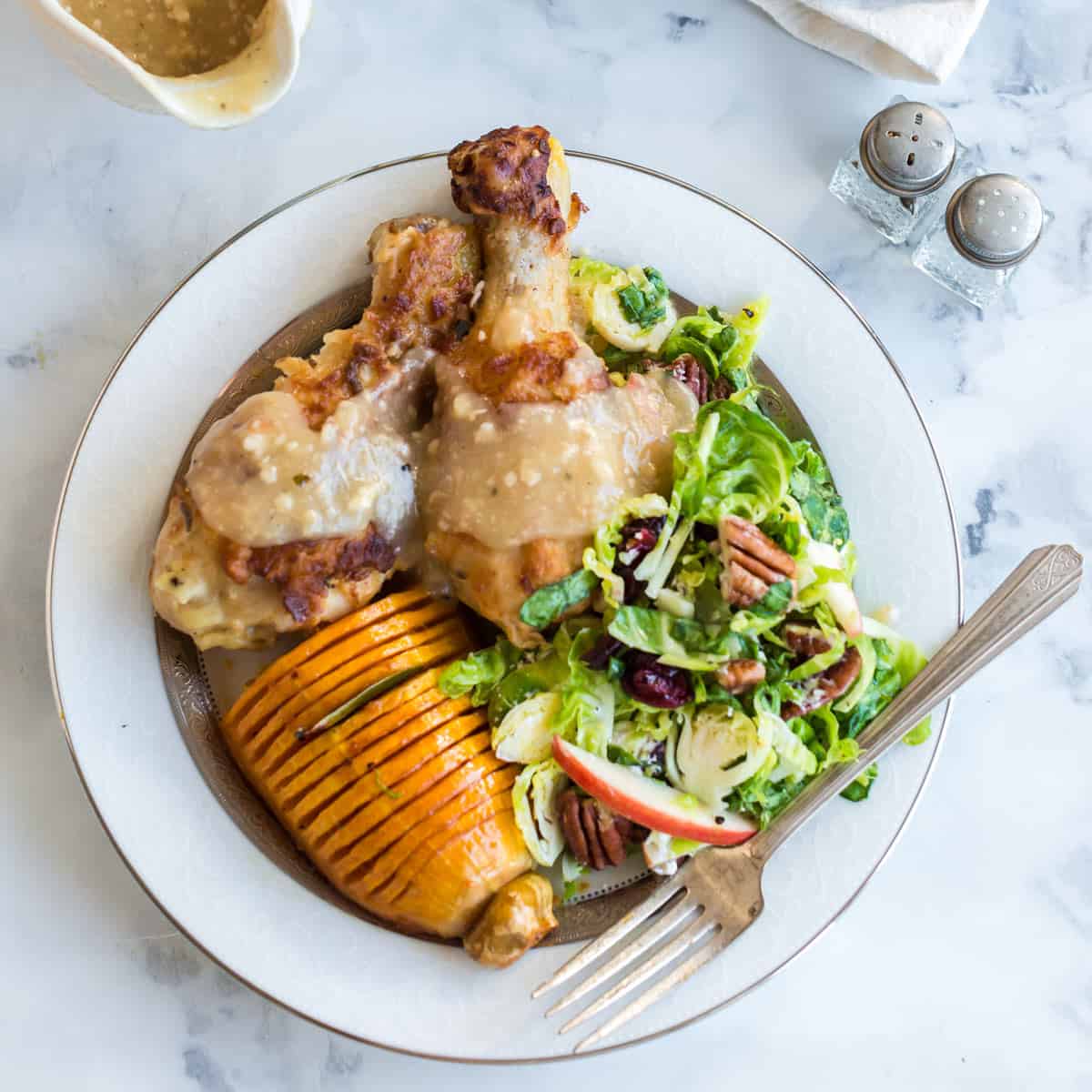 Rosemary lemon chicken is one of many delicious recipes inspired by my late mother. You can make this delicious and healthy meal with simple ingredients like olive oil, fresh rosemary, lemon juice, and kosher salt.
This great recipe requires minimal effort, making it a great way to cook chicken for a busy weeknight or Sunday dinner. Rosemary lemon chicken is also a great meal for the best company in town: your family.
My recipe version of my mom's recipe is a simple yet flavorful family meal that can be put together in minutes. Thanks to the braising process, you let it finish off in the oven.
I have my mom to thank for this wonderful family meal. She's been gone for over 30 years, but the love she put into her dishes still lingers on my palate and soul. I'd give anything if she were here to taste this rosemary lemon chicken recipe.
Ingredients and notes
I modified a few things from my mom's basic recipe in this rosemary lemon chicken. She used only flour, salt, and pepper and put it all together in her big cast-iron skillet.
I add some lemon and herbs and let this finish in a hot oven. Aside from getting my chicken at the grocery store instead of our own farm-raised birds, very little is different about this rendition of my mom's dish.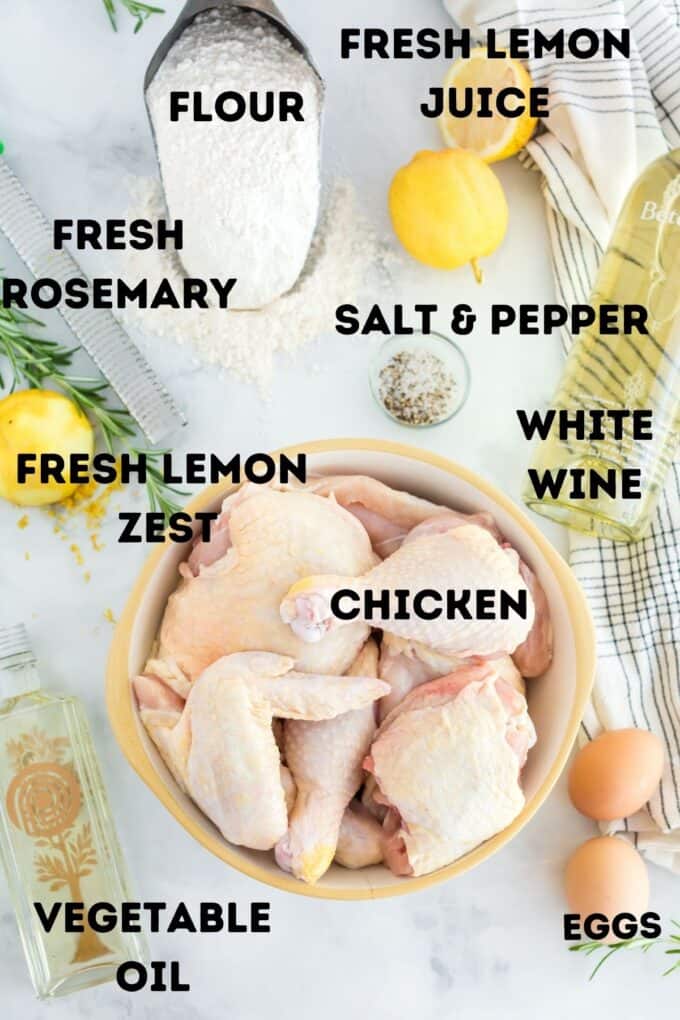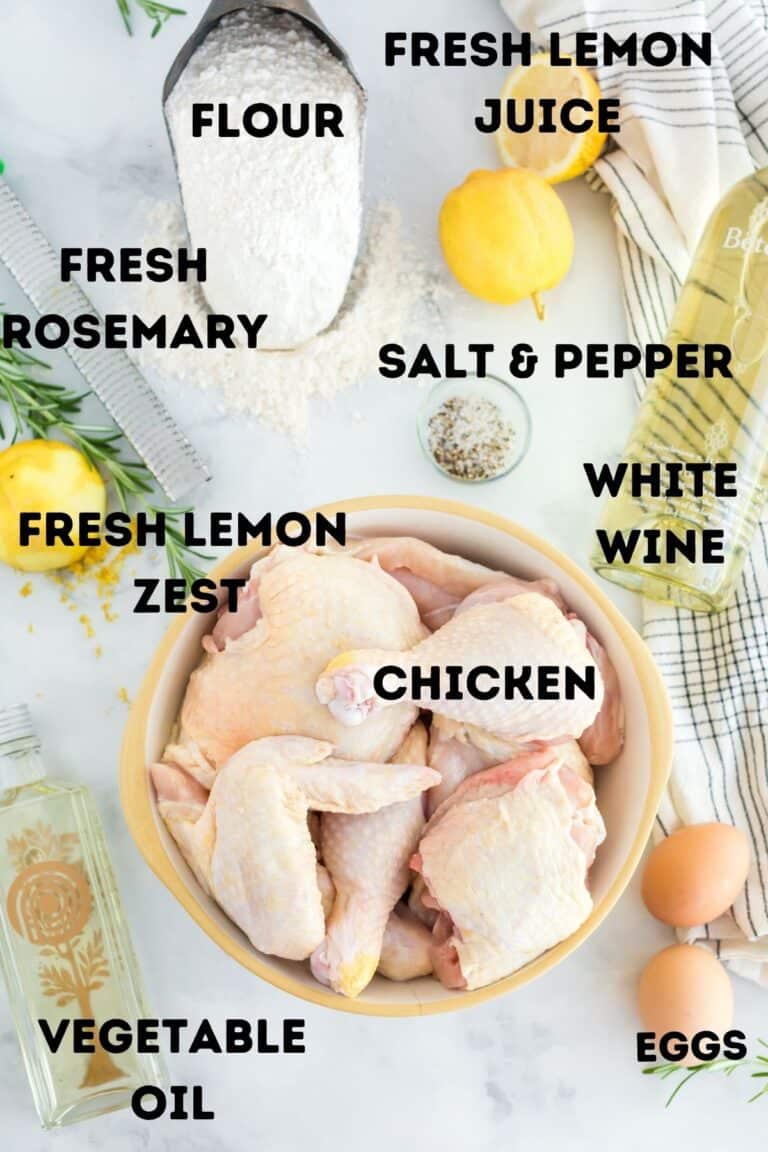 Chicken: provides the main protein source and flavor for the dish. When it comes to poultry, it's always best to know your source. Look for free-range and organic if you can't raise your own or get it from a farmer. The price is higher, but you get so much more for your money. And it's healthier.
Lemon slices: These make colorful garnish and add a fresh tartness, brightness, and flavor to the dish, as well as being used in the lemon rosemary sauce.
Eggs: Use these to create an egg wash that helps the flour mixture adhere to the chicken, creating a crispy coating when baked. I suggest cage-free extra-large eggs for this recipe.
Fresh rosemary: adds an earthy and fragrant flavor to the dish and is used as a garnish.
Lemon zest: adds a concentrated burst of lemon flavor to the flour mixture used to coat the chicken.
Flour: creates a crispy coating on the chicken that turns it golden brown when baked. All-purpose flour works fine in this easy lemon rosemary chicken recipe.
Kosher salt: enhances the chicken's natural flavor and helps season the dish. I like the large crystals and extra flavor you get with kosher salt.
Black pepper: adds heat and complexity to the dish. Fresh ground pepper is always best!
White wine: used to create the lemon rosemary sauce and add depth of flavor to the dish. I suggest going toward the dryer side when adding white wine to this.
Vegetable oil: coats the chicken to help it crisp up when baked.
Expert Cooking Tip
You'll notice the word "fresh" a lot with the ingredients for this rosemary chicken. That's no coincidence. Always use the freshest ingredients you can find for any recipe. The results will pay off in spades.
How to make rosemary lemon chicken
(Complete recipe is found below.)
Start by patting the poultry dry, using some paper towels. Be sure to use hot soap and water to wash your hands and any surface in contact with the chicken. This will help keep everyone safe by preventing food-borne illnesses.
You will prepare the flour and egg wash to dredge each piece. You'll be using three bowls, and you want each of them to be big enough to fit the different chicken pieces.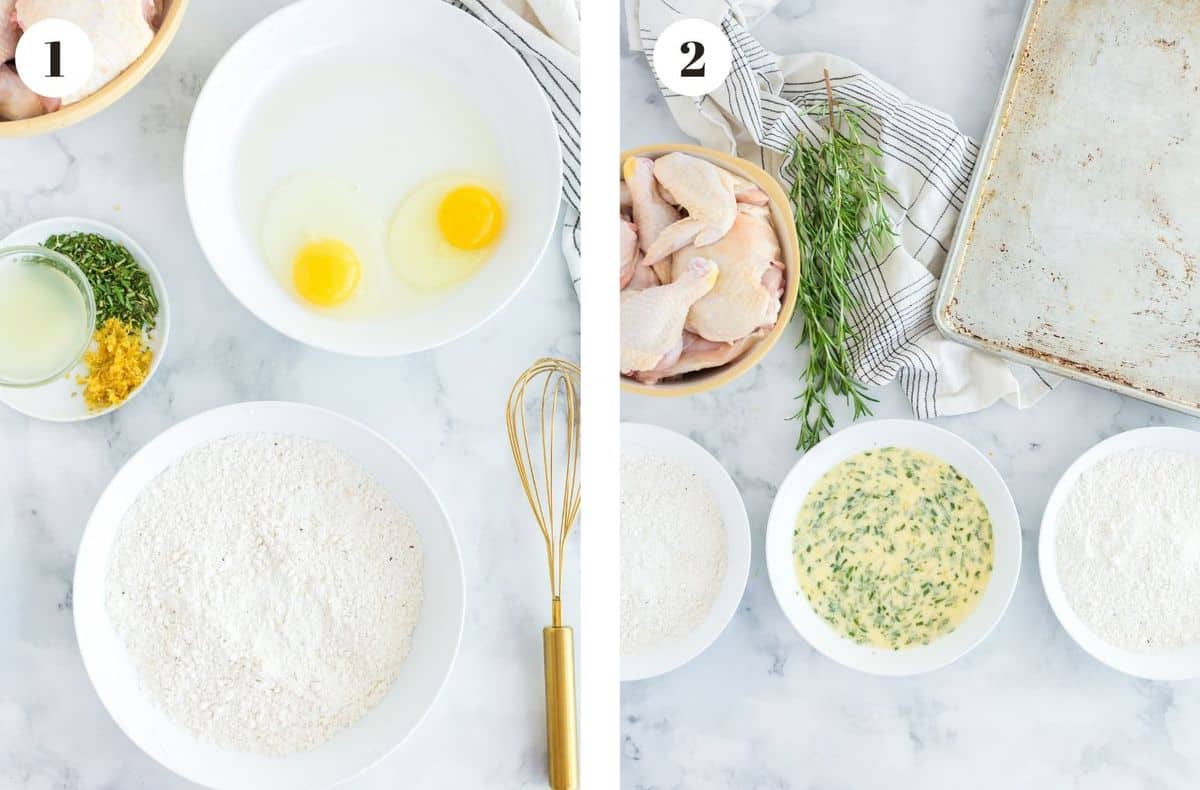 Combine the lemon juice and lemon zest in a small dish, and add the finely chopped rosemary. (You can also use a small food processor to combine these.) In another bowl, add two eggs and beat them together. Then combine the flour and salt, and pepper in a third bowl.
Divide the flour mixture in half and place in two bowls. In the third bowl, combine the egg wash with the rosemary and lemon mixture. Stir the liquid ingredients well.
Now, it's time to dredge the meat.
How to dredge chicken
Dredging is what you do to put a coating of flour or something similar such as breadcrumbs, on chicken and other meats before frying.
Think of dredging as a DRY –> WET –> Dry Sandwich.
The egg will act as a binding agent to help ensure that the seasoned flour will stick to each piece.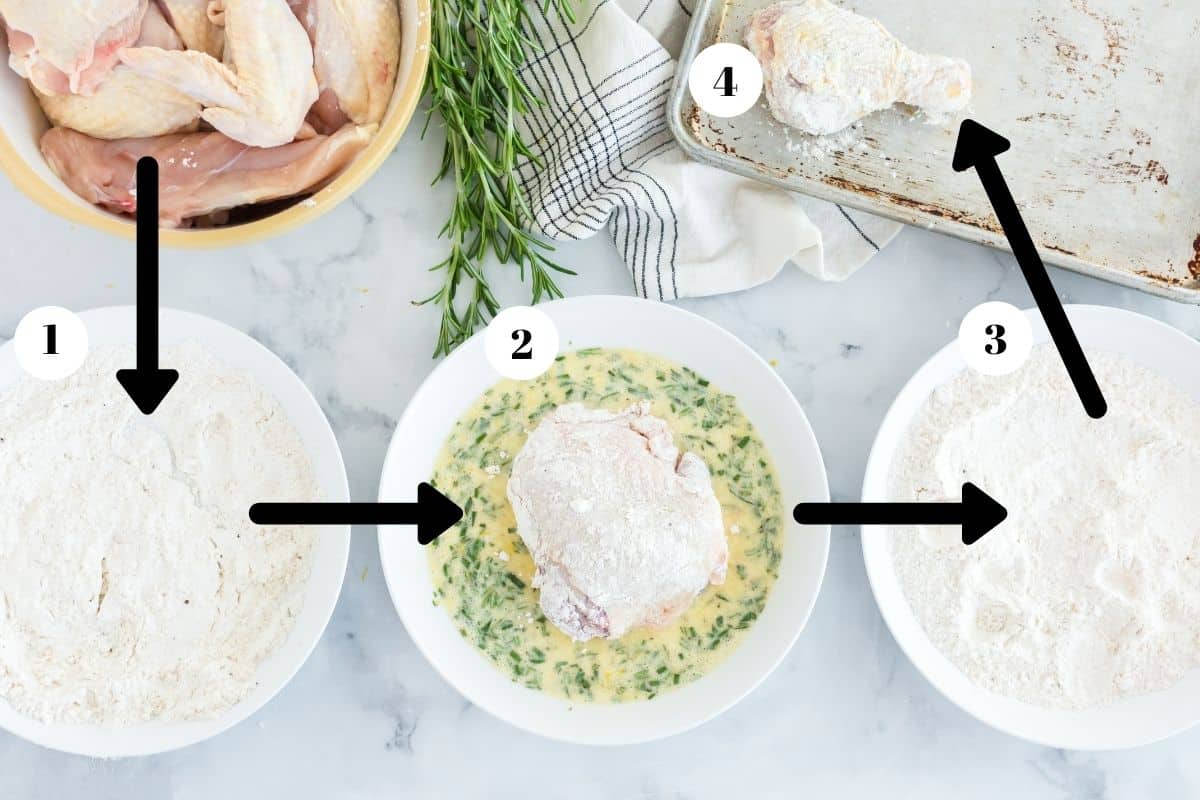 Place a piece of chicken in the first bowl of seasoned flour. Turn it over and evenly coat all sides.
Then dip it in the lemon and herb-flavored egg wash. Next, lift it out of the egg wash and let it drip back into the bowl for a bit.
Then coat with a second layer of seasoned flour.
Place the dredged chicken on a baking sheet.
Learn more about dredging in this article about the standard breading process.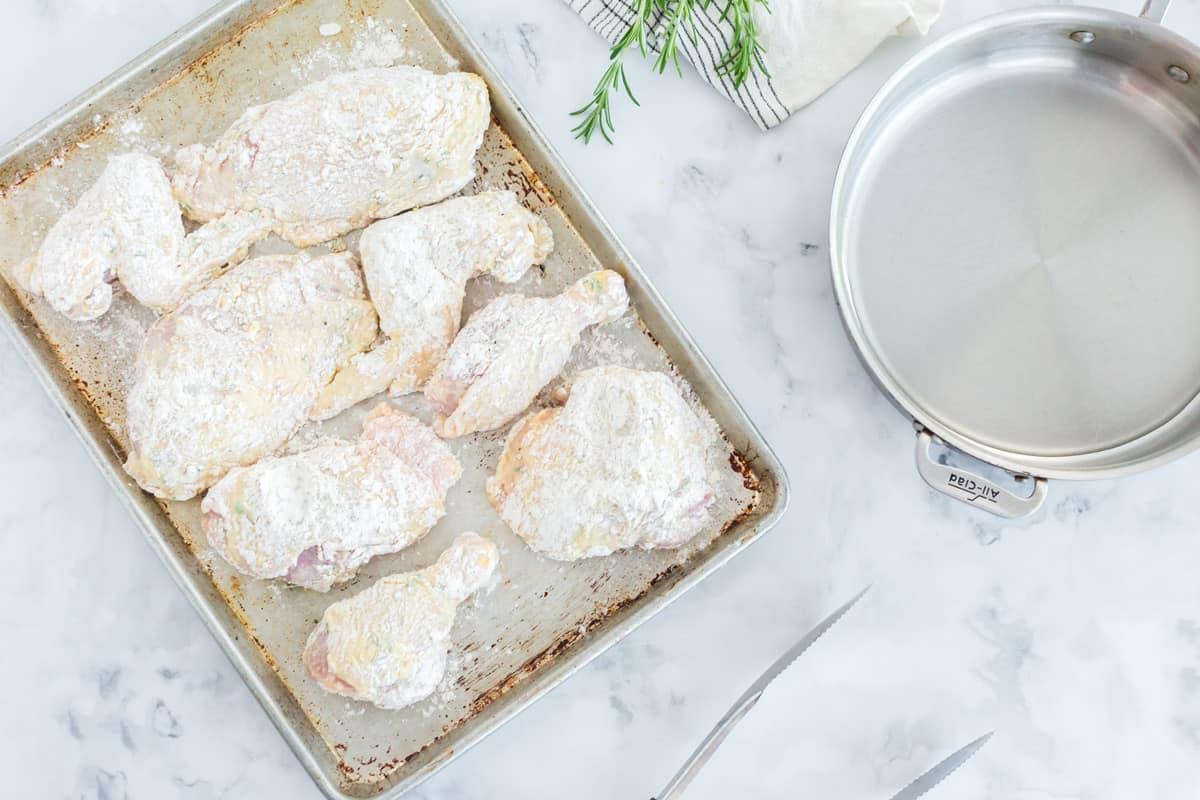 After you complete the dredging, you will give each piece of chicken a brief bath in a skillet of hot oil.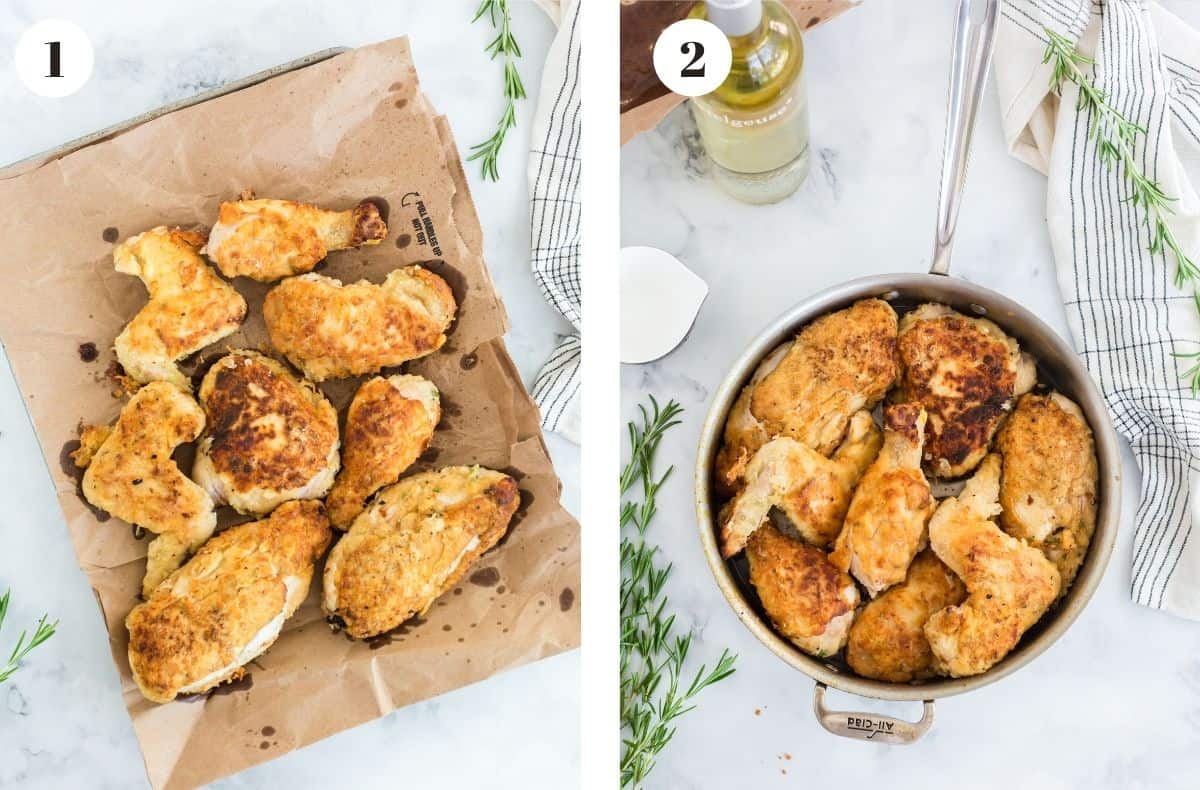 Brown each piece evenly, about 3-4 minutes on each side. Work in batches if necessary to avoid crowding the skillet during this part of the process. Allow the meat to drain on a brown paper bag and be super careful not to burn yourself@
Return the browned meat to an oven-safe skillet and add some white wine to the skillet. Place in a hot oven preheated to 375°, uncovered. Allow the dish to finish cooking for 45 to 50 minutes or until the juices run clear.
Expert Cooking Tip: Bake the chicken in the oven uncovered. This will prevent the breading from falling off due to steaming.
To keep things safe, the chicken should always be cooked to a minimum internal temperature of 165°. An instant-read thermometer is handy for checking the internal temperature of the chicken.
Let it Rest
After the poultry is done, loosely tent it with some aluminum foil and allow it to rest for five minutes before serving. This will allow the meat fibers to reabsorb some of the liquid giving you delicious and juicy chicken.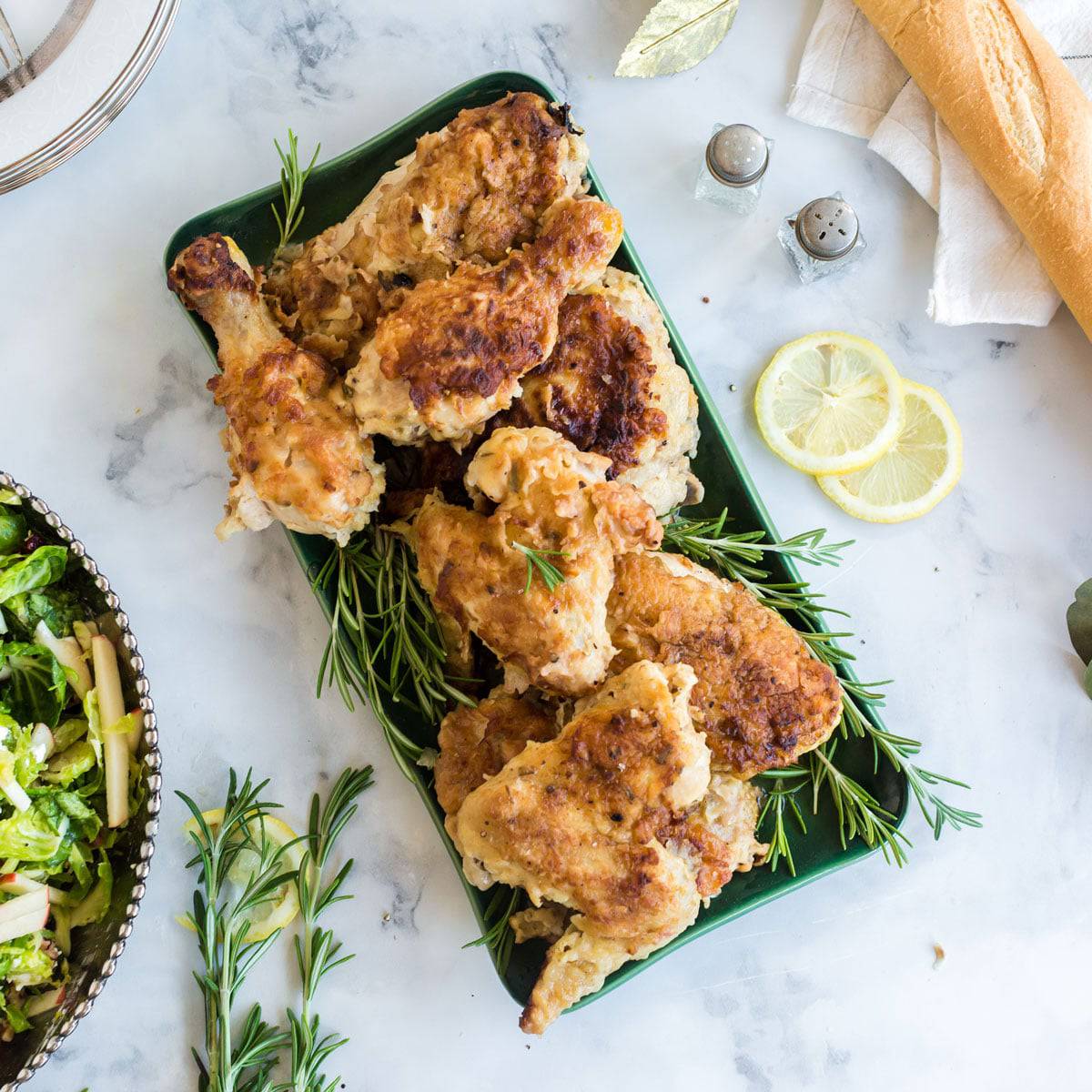 What to serve with this
Make gravy with the pan sauce.
The lemon and wine reduction gradually mixes with the coating of the rosemary lemon chicken as it bastes in the oven. This results in a luxurious and velvety gravy.
This flavorful gravy is perfect for slathering over warm pieces of this rosemary lemon chicken or a few squares of crispy brown potatoes. Be sure to read the notes in the recipe card to find out how I make the gravy to go with this dinner!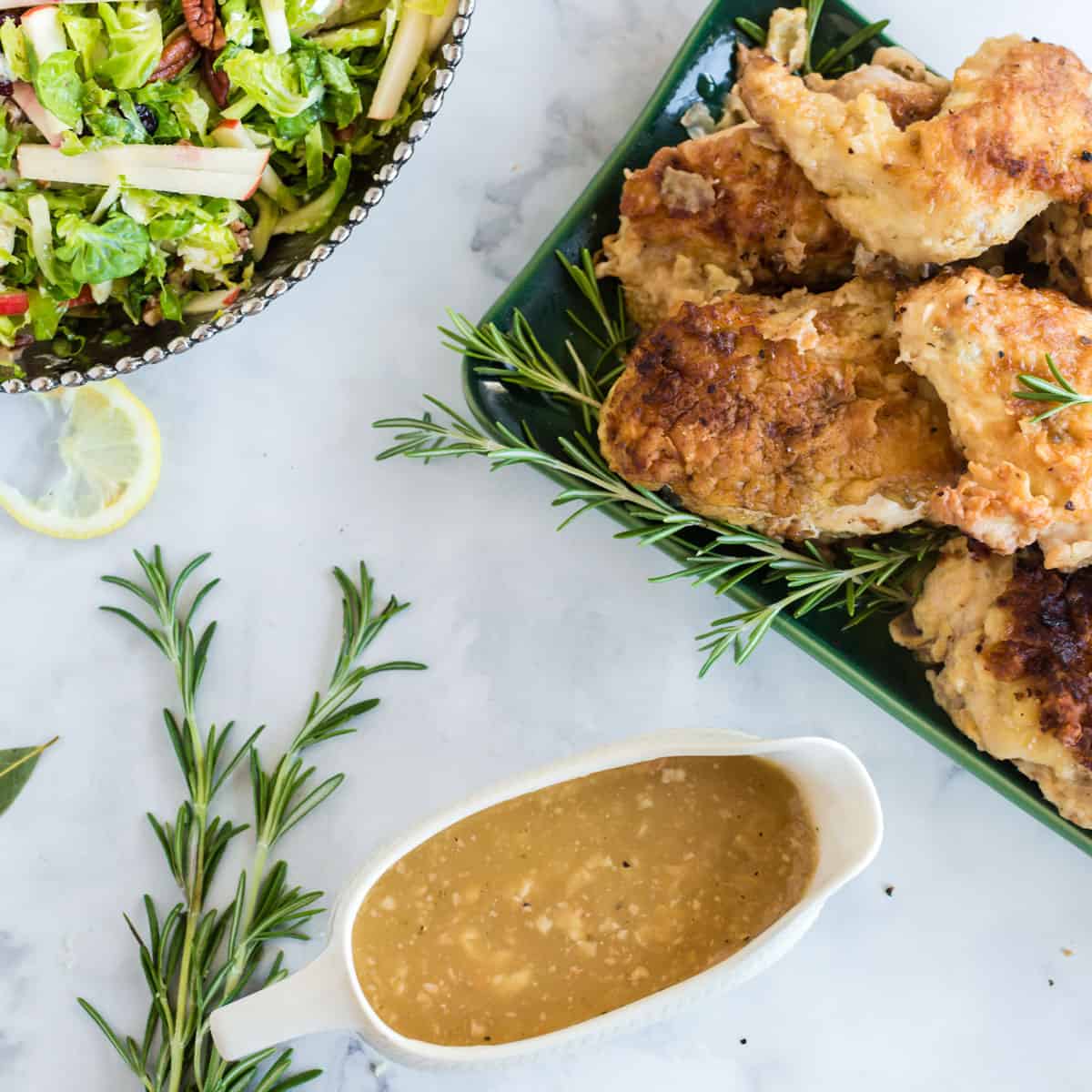 Substitutions and variations
Many substitutions and variations can be made to this rosemary lemon chicken recipe. The possibilities are endless, from different cuts of chicken to other flavorful marinades and herbs!
Substitute the chicken: Instead of using a cut-up chicken, try a whole chicken, bone-in chicken thighs, or drumsticks. These can be a more budget-friendly option. For a lighter and leaner choice, use skinless chicken breasts.
Change up the marinade: While this recipe uses a simple lemon juice and olive oil marinade, other citrus juices like orange or lime can be used.
You can use any herb you want for this rosemary lemon chicken. You can use dried ones from your pantry if you don't have fresh herbs. Other options include thyme, oregano, sweet basil, or Italian seasoning.
Add different spices: While kosher salt and black pepper are used in this recipe, other spices like paprika, garlic powder, or red pepper flakes can be added for more depth of flavor.
Use a different cooking method: While this recipe calls for baking the chicken in the oven, the chicken can also be made in an air fryer or pan-fried on the stovetop for a crispy exterior.
Make it gluten-free. To make this a gluten-free recipe, use almond flour instead of regular flour.
Common questions
More easy chicken recipes

👨‍🍳 Tried this Recipe? Please leave a ⭐⭐⭐⭐⭐ rating in the recipe card below and leave a comment. We love hearing from our readers!
⏩ Stay in touch with us on social media by following us on Facebook, Pinterest, Instagram, and YouTube!
📬Get our Recipes delivered to your inbox for FREE!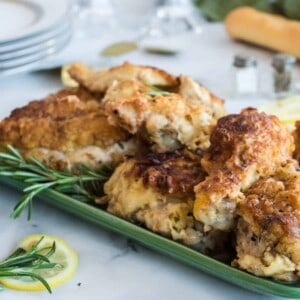 The BEST Rosemary Lemon Chicken Recipe
Rosemary lemon chicken is one of the best chicken dinners you can make for your family and friends. Fragrant rosemary combined with tart lemon will take something like a humble chicken breast to an entirely new level! Serve it with a variety of side dishes. You'll want to lick your dinner plate clean after this incredible recipe; it's a sure bet!
Ingredients
1

whole chicken

,

cut into 8 pieces

juice from 2 lemons

2

eggs

2

sprigs fresh rosemary

,

stems removed and finely chopped, plus more for garnish

zest from 1 lemon

2

cups

all purpose flour

1

teaspoon

kosher salt

1

teaspoon

ground black pepper

1

cup

dry white wine

1/2

cup

vegetable oil
Instructions
Preheat oven to 375 degrees F.

Combine flour, salt and pepper and then divide in two shallow dredging bowls.

In a third shallow dredging bowl, beat the two eggs and then combine and stir lemon juice, lemon zest, and rosemary. Dredge each piece of poultry and then place on a baking sheet.

Meanwhile, place oil in large oven safe skillet and heat on medium-high setting.

Place the meat in the skillet, a few pieces at a time if necessary to avoid crowding. Brown each piece evenly, about 3-4 minutes per side. Allow the meat on a paper bag. Discard oil from skillet and return poultry to the pan. Add wine to skillet and place in oven.

Allow chicken to finish in the oven, uncovered, about 45-60 minutes until juices run clear and internal temperature of chicken is 165 degrees F. Garnish with additional rosemary, if desired.
Notes
Check the chicken after 20-30 minutes in the oven. Add more wine if necessary.
At the end, remove the poultry from the Dutch oven and reserve the drippings to make a delicious gravy.
To make gravy for this rosemary chicken.
Place Dutch oven over hot burner and add more wine or water if necessary.
Using a fine mesh strainer, whisk in a little flour to help thicken it up.
For added flavor, add a tablespoon of Better than Boulon.
Nutrition
Calories:
954
kcal
,
Carbohydrates:
50
g
,
Protein:
45
g
,
Fat:
59
g
,
Saturated Fat:
31
g
,
Cholesterol:
225
mg
,
Sodium:
750
mg
,
Potassium:
500
mg
,
Fiber:
2
g
,
Sugar:
1
g
,
Vitamin A:
385
IU
,
Vitamin C:
3
mg
,
Calcium:
48
mg
,
Iron:
5
mg
Nutrition information is automatically calculated, so should only be used as an approximation.
This post is an update of the original post from June 6, 2015.