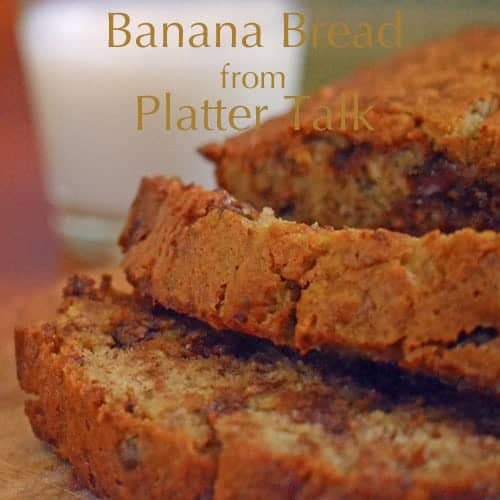 Just a few days back, we were blanketed by the latest weather phenomena to grace our presence, the polar vortex.  While the thermometers outdoors struggled to maintain a postition above the zero mark, (or on several nights and days even about the 15 below zero mark), our furnaces weren't the only thing keeping us warm and cozy indoors.  At our home in town during the week and our cottage getaway on the weekends, our ovens were burning, seemingly non-stop.  This loaf of banana bread was only one of the yummies that resulted.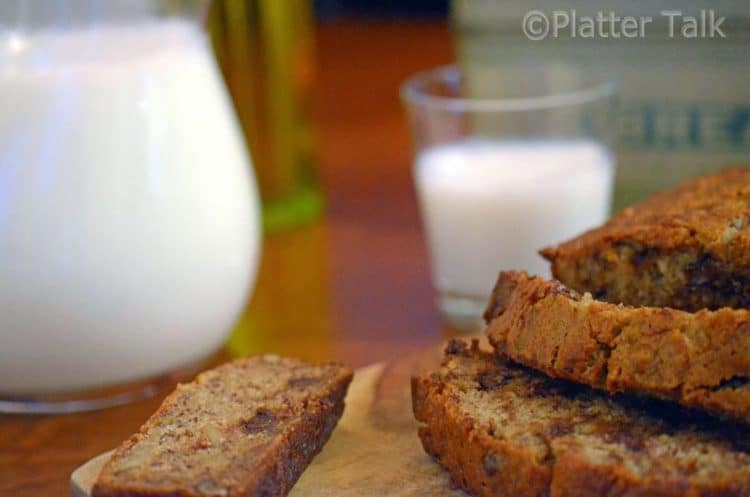 Out of theat cold snap, among other treats of deliciousness, came the likes of Cinamon Rolls, some Oatmeal and Apple Butter Bars, an incredible adult version of Mac 'N Cheese, and of course this addictive and delightful loaf of banana bread.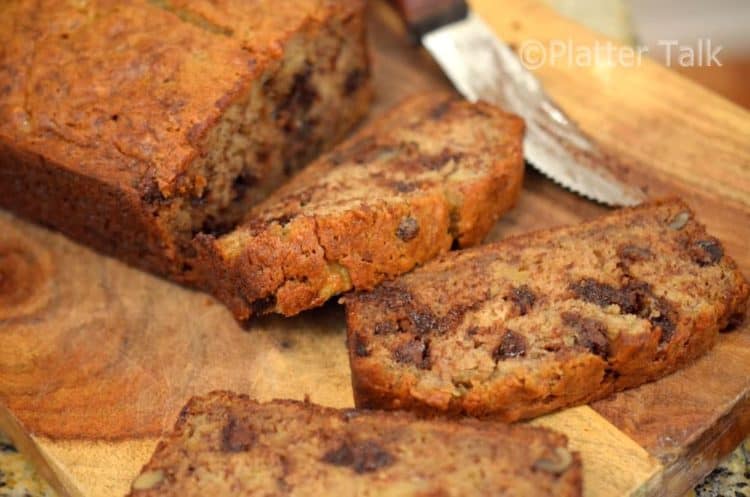 Moist and heavy but not dense, this loaf of banana bread was virtually perfect, by my standard.   Let's be clear, the addition of optional walnuts and chocolate chips certainly did nothing to detract from its high ranking.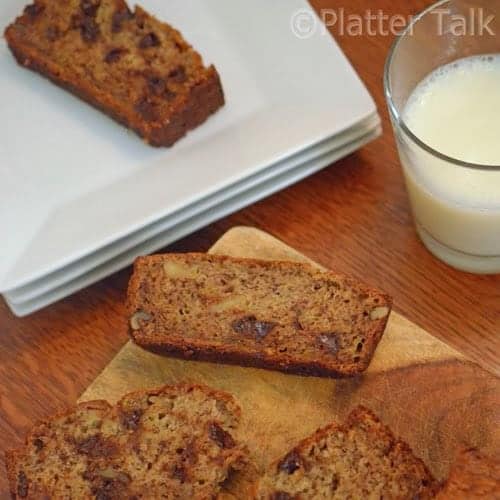 Aside from the taste, the best thing about this bread was that I did not have to make it.  Unbeknownst to me, the other guy behind this site, Scott, worked from home on this day.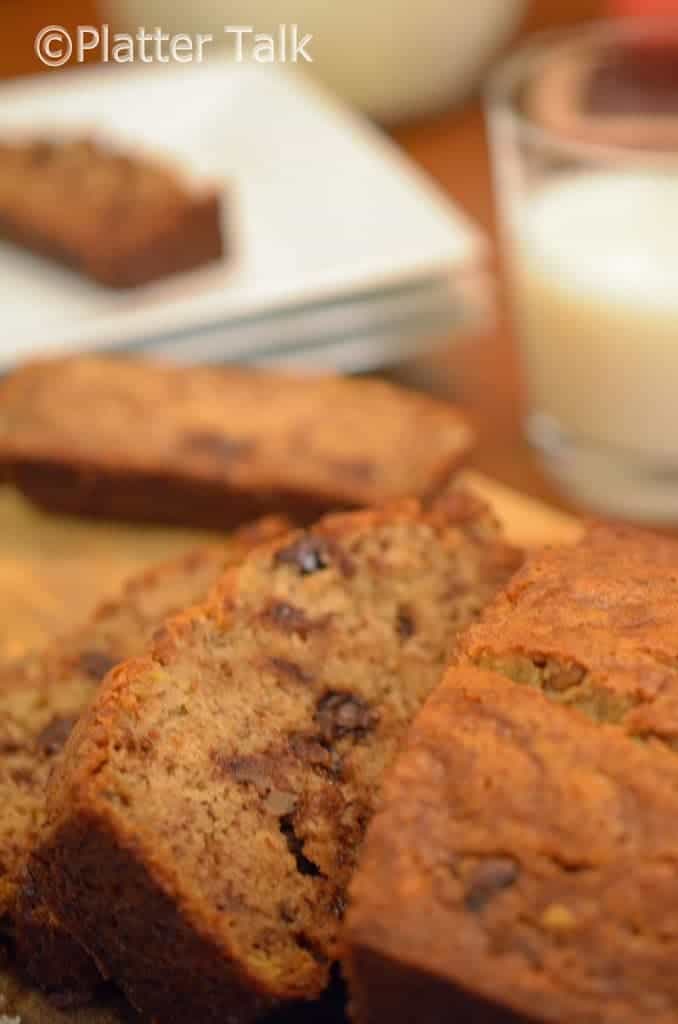 Have you ever arrived home on a cold winter day and had a fresh loaf of this waiting for you?  Friend, you haven't lived until you have had such an experience.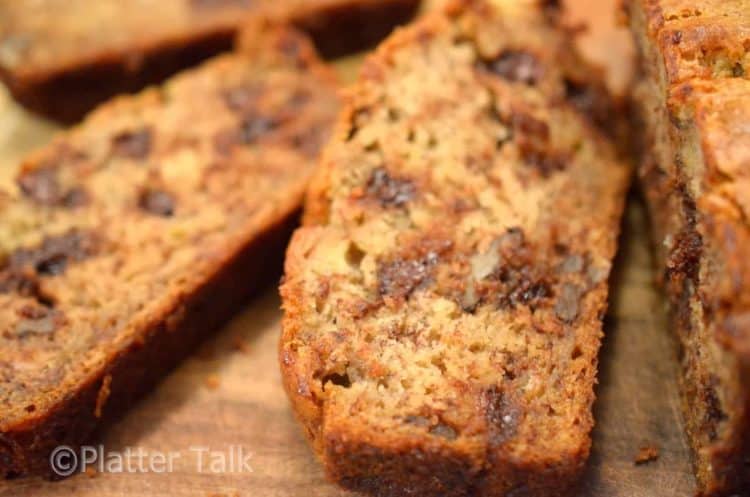 Do yourself a favor and start stashing a banana or two away, inside of your freezer.  You never know when your spouse might get the urge to have a loaf of this waiting for you at the end of a long, cold day.  You can thank me for the tip, later.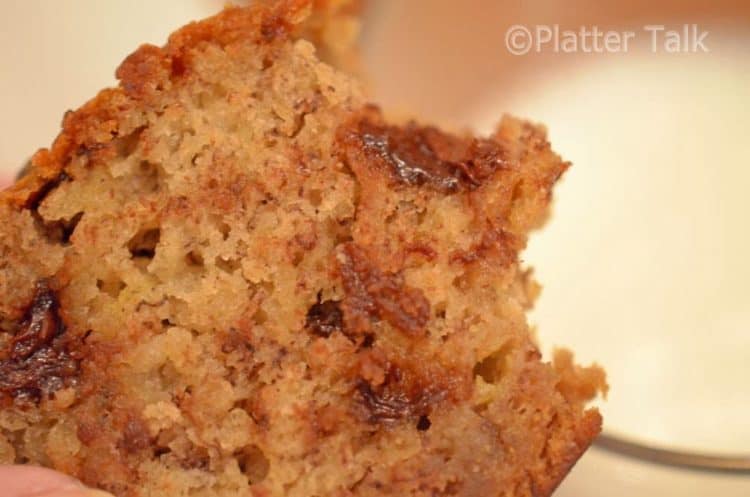 Be Sure and Follow Platter Talk on Facebook and Never Miss  A Great Recipe!
Click Here to "Like" on Facebook!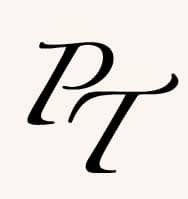 Banana Bread
Recipe
3 or 4 ripe bananas, smashed
1/3 cup melted butter
1 cup sugar (can easily reduce to 3/4 cup)
1 egg, beaten
1 teaspoon vanilla
1 teaspoon baking soda
Pinch of salt
1 1/2 cups of all-purpose flour
1/2 cup chopped walnuts (optional)
1/2 cup semi-sweet chocolate chips (optional)
Instructions
Preheat the oven to 350°F .
Using a wooden spoon, mix butter into the mashed bananas in a large mixing bowl.
Mix in the sugar, egg, and vanilla.
Sprinkle the baking soda and salt over the mixture and stir.
Add optional walnuts and chocolate chips, if desired.
Add the flour and then mix by hand.
 Pour mixture into a buttered 4×8 inch loaf pan. Bake for 1 hour.
Cool on a rack. Remove from pan and slice to serve.