Blueberry-Ginger Bread is replete of color, flavor, and convenience. Rustic and simple, this is an easy bread to put together that takes just a few ingredients but don't expect it to last long.
Blueberry-Ginger Bread
"Take yourself off the grid, even for an hour or two, then make this blueberry-ginger bread."
I'm spending the week with a couple of our guys at our small cottage on a small lake in The Middle of Nowhere, Wisconsin. Our place is rather remote, surrounded by farm fields and dirt roads that sometimes even challenge the GPS ; it's one of the reasons we love it out here. There's no mail, there is no cable television and the closest town is miles away. At night time when it's dark, it's really dark; making it ideal for star gazing and a place that Galileo too would have loved.
Sweet breads are always popular in our family, by the grace of God we don't make them often. I've never met a sweet bread that I wasn't taken with, this blueberry-ginger bread is no exception. It proved to be just the ticket for yesterday's treat at our remote retreat where resources can be limited and our active boys are always hungry.
I love using ginger in the kitchen but I've never put it in bread. The original recipe for this blueberry ginger bread calls for fresh ginger and sanding sugar, two commodities I did not have on hand at our small oasis.
Not to worry, a couple of tablespoons of ground ginger and some powdered sugar did the job, both with flying colors and flavors. This blueberry-ginger bread is soft in texture, color, and flavors. The light purple of the berries seeps into the surrounding light cake-light bread, made yellow from the egg and butter and highlighted with mellow tones of ginger.  My most honest critics, our boys, loved the finished product and I can't imagine that you would disagree with them. Take yourself off the grid, even for an hour or two, then make this blueberry-ginger bread, I think you'll love it.  -Dan
Never Miss Another Platter Talk Recipe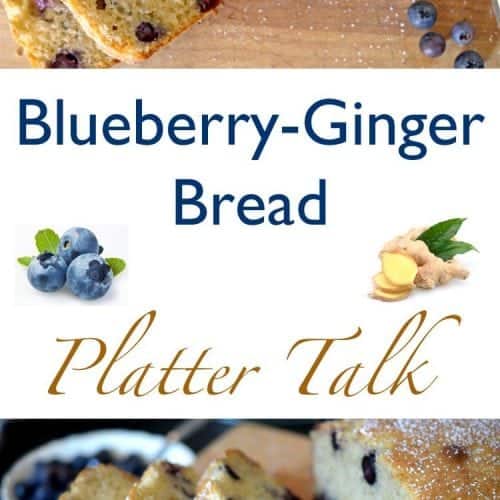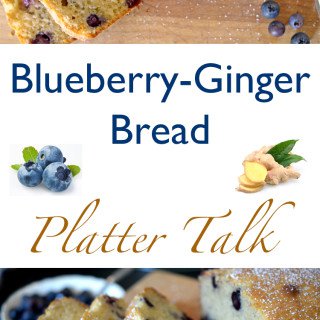 Ingredients
1

tablespoon

unsalted butter

softened for pan

2

cups

unbleached flour plus a spoonful for pan

3/4

cup

granulated sugar

1

tablespoon

baking soda

1 1/2

cups

fresh blueberries

or fresh berry of your choice

1

cup

buttermilk

2

large eggs

at room temperature

2

tablespoons

finely grated ginger

1

teaspoon

pure vanilla extract

1/2

cup

butter

melted and cooled

powdered or sanding sugar for topping
Instructions
Position oven rack in lower third of oven and preheat oven to 350 degrees F.

Butter and then flour a loaf pan, tapping out excess flour.

In large bowl, mix flour, sugar, and baking powder. Stir until well blended, fold in blueberries.

In medium bowl, combine the buttermilk, ginger, eggs, and vanilla, stir until blended.

Pour wet ingredients over dry ingredients and add melted butter.

Use rubber spatula to gently fold ingredients together.

Scrape batter into pan, evenly distributing.

Sprinkle sanding sugar over batter, or wait till bread is done and sprinkle with powdered sugar.

Bake bread for 55-60 minutes, until toothpick inserted in center comes out clean.

Allow to cool for 30 minutes.

Challenge yourself not to eat in one setting.

O.K., skip previous step.
Notes
Rotate bread, halfway through baking process, to help ensure even bake.