Blueberry-Lemon Bread
on Aug 07, 2014, Updated Oct 13, 2021
Blueberry-lemon bread is an easy summer dessert bread that anyone can make. Our family loves using fresh blueberries from the farmer's market for this sweet homemade bread recipe!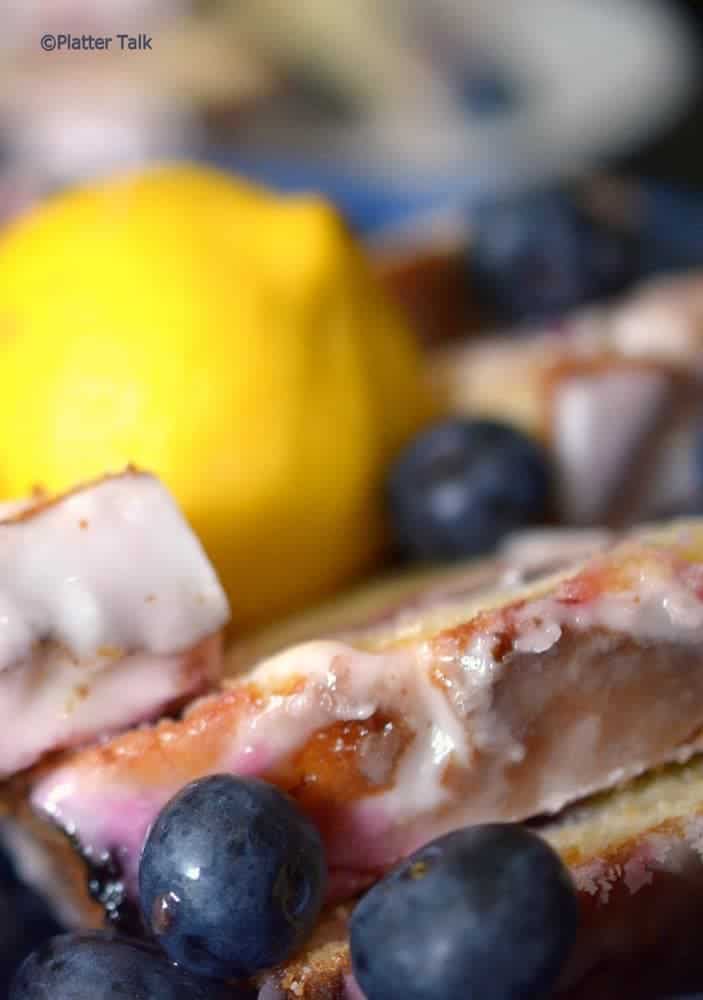 I think by now I we have made it pretty clear that we are ardent fans of both summer and blueberries here on Platter Talk. Although I've heard it said you can get too much of a good thing, I challenge anyone reading this to explain to me how it is possible to have too much summer or too many blueberries. My contention: It cannot be done.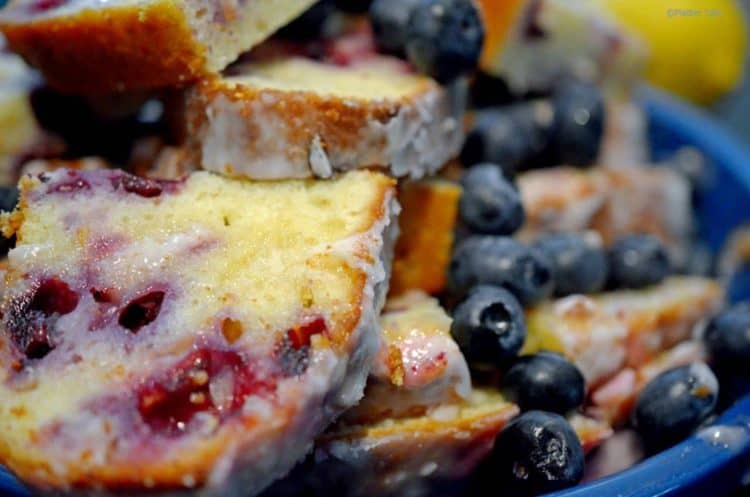 We've had a couple of perfect summer weekends here in Wisconsin, over the last month or so. I'm talking warm days with sunny skies, kids and adults running around the cottage grounds barefoot (don't judge me – that's how I grew up,) and scads of summertime fare – all shared with good friends and family.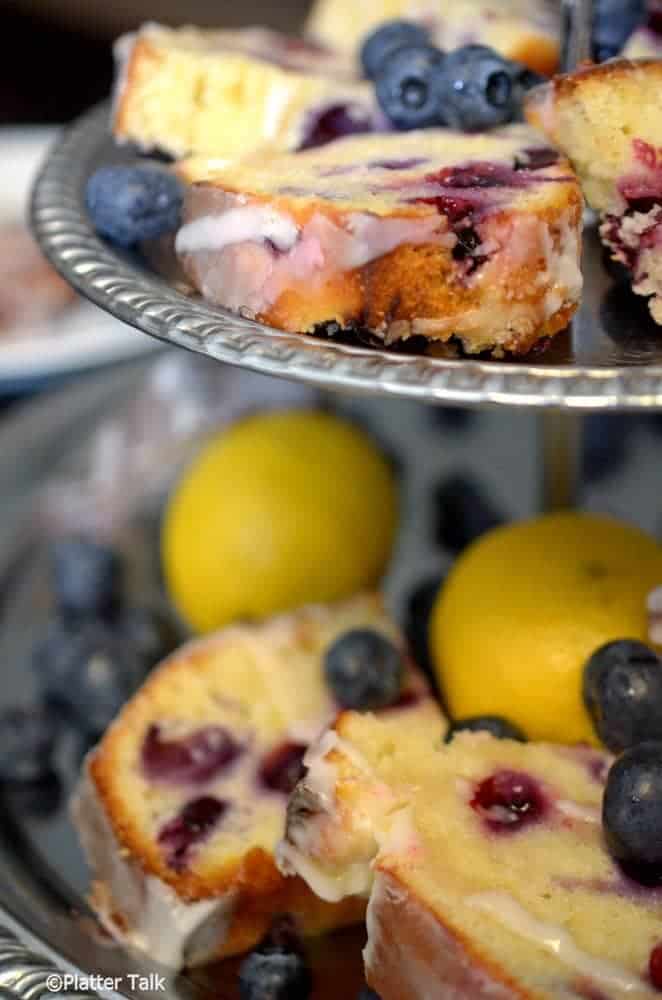 Such was the precise scenario in which we found ourselves just a couple of Saturdays past. Our good friends the O'Connors along with their two boys and two other close friends of our family, Lane and Mike, showed up at the cottage for a relaxing day of swimming, fishing, charcoal grilled food and of course ice-cold beverages.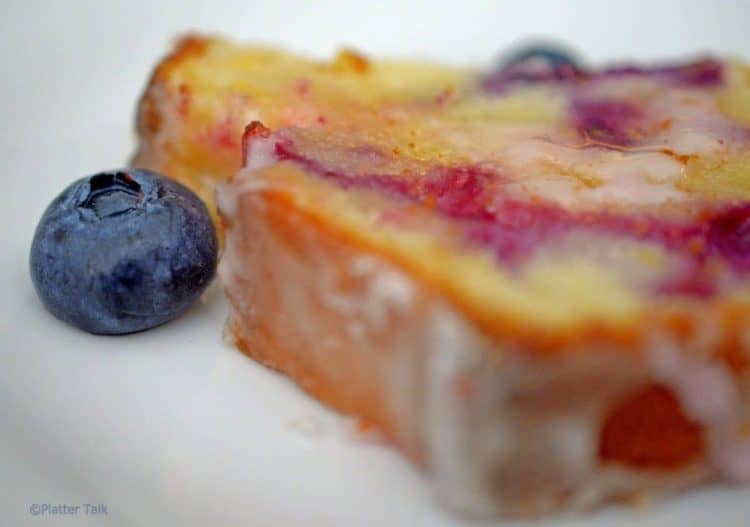 Oh, and lemon blueberry bread – compliments of Deb. Our friend Deb is probably much like a friend that we all know; stellar mom who devotes herself first to her kids, a beautiful lady, and just a really nice person. Aside from those qualities that I'm sure Deb shares with legions of other women out there, she has a couple of other qualities that make her unique. She is an artist; an outlet she uses her talent to occasionally escape from the rest of the world when she feels the need, and she is a master bread maker. How a slender and svelte women (or man) can claim such a feat on their personal resume is well beyond me. I'm here to say that I've had a couple of the breads this gal has put together from scratch and I am always left baffled and deliciously impressed.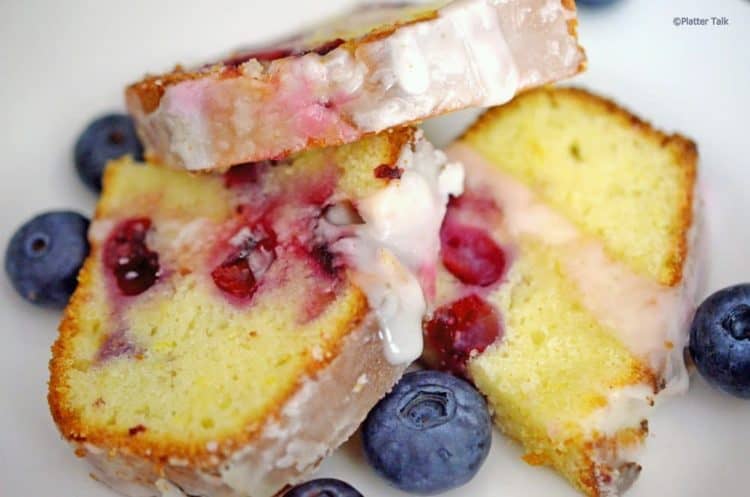 You may recall that a month or so back, we put together another version of this type of bread that goes by the same descriptor. And even longer ago, another talented bread-making friend dropped by the cottage, unannounced and bearing loaf of mouth-watering pumkin-snikerdoodle bread. These are the times in our lives when I say smoke 'em if you got 'em. Good friends, great summer weather, and amazing summertime treats that are enjoyed and shared among friends and family; how can it get any better? It's early August. Summer is still on, do your best and make the most of it. -Dan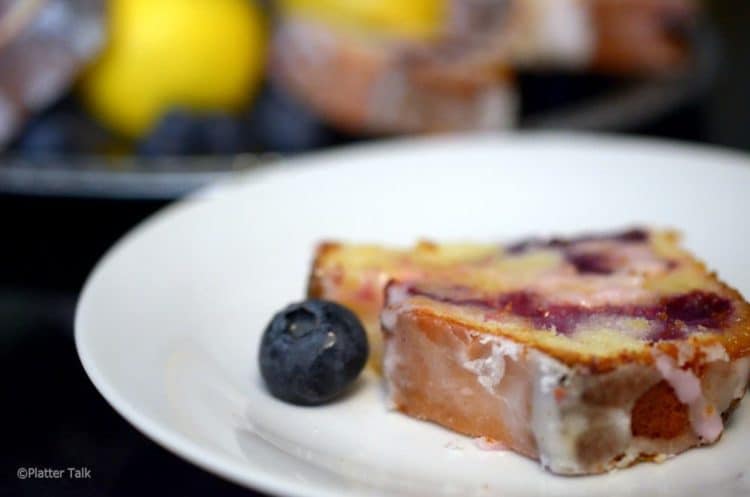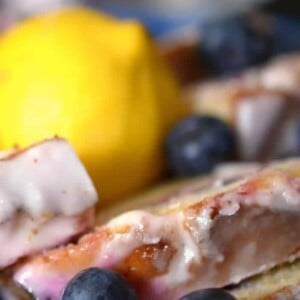 Blueberry-Lemon Bread
This sweet bread recipe is adapted from Marcia Kammann
Ingredients
1/3

cup

butter

,

melted

1

cup

sugar

3

tablespoons

lemon juice

2

eggs

1 1/2

cups

all-purpose flour

1

teaspoon

baking powder

1

pinch

salt

1/2

cup

milk

1

cup

fresh blueberries

2

tablespoons

fresh lemon zest
for the glaze
2

tablespoons

lemon juice

1/4

cup

powdered sugar
Instructions
Preheat oven to 350 degrees F.

Prepare 8x4 inch loaf pan with non-sticking spray

In a large bowl, beat the butter, sugar, lemon juice and eggs

Combine the flour, baking powder and salt; stir into egg mixture alternately with milk, beating well after each addition.

Gently fold in the blueberries, and lemon zest.

Pour batter into loaf pan, bake for 60-70 minutes or until toothpick inserted into center comes out clean.

Allow to cool for 10 minutes before placing on wire rack.

Combine glaze ingredients, drizzle over warm bread. Allow to cool completely.

Tips
Notes
Roll blueberries in flour prior to folding into batter. This will help prevent berries from sinking to bottom.
Nutrition
Calories:
303
kcal
,
Carbohydrates:
51
g
,
Protein:
5
g
,
Fat:
10
g
,
Saturated Fat:
6
g
,
Cholesterol:
63
mg
,
Sodium:
96
mg
,
Potassium:
131
mg
,
Fiber:
1
g
,
Sugar:
32
g
,
Vitamin A:
330
IU
,
Vitamin C:
7
mg
,
Calcium:
53
mg
,
Iron:
1
mg
Nutrition information is automatically calculated, so should only be used as an approximation.