Blueberry Muffins from Scratch will transport you to a heavenly place. To a light, breezy, sunny, and pleasant summer's day. To the middle of nowhere.  To a small lake cottage on a small lake, with the gentle rustling of leaves and the muffled sounds of children playing and enjoying boyhood. These muffins will take you there.
 Blueberry Muffins from Scratch
OK, the location I described is where these blueberry muffins from scratch came to be. At our small cottage on a small lake in the Middle of Nowhere, Wisconsin. It's my happy place, especially in the summertime with our boys. Today, these muffins sealed the deal to my sentiments.
Maybe it's because blue has always been my favorite color. Maybe it's because I grew up picking blueberries in the wild, the better part of half a century ago with my mom at my side and a tin pail tied around my waste. Maybe it's because summer is my favorite season. Truly, it's because these blueberry muffins from scratch are so easy to make and equally wonderful to enjoy.
With just a pinch of a pinch of raw, turbinado sugar as a topping, each bite is met with a light but discernible crunch, followed by the soft, warm explosion of a round of blueberries from within.
If you have fresh blueberries on hand, turn your oven on, dig out a mixing bowl, and find your happy place. These Blueberry Muffins from Scratch will get you there.  Long live summer.  -Dan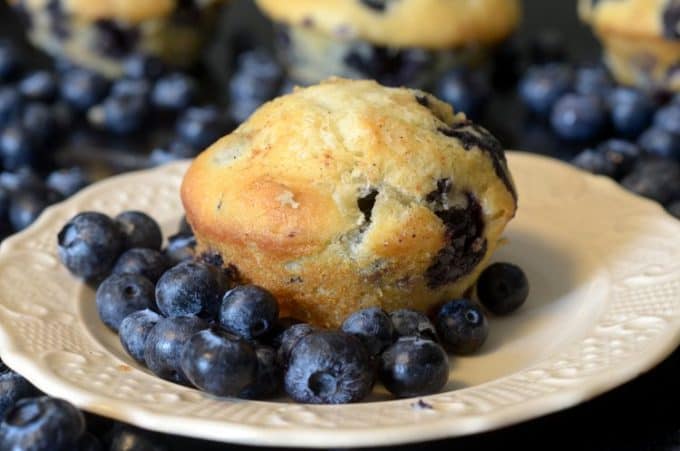 We Want To Know. What's your favorite plastic kitchen wrap. Your Least Favorite?
  Email us here and give us Your Picks!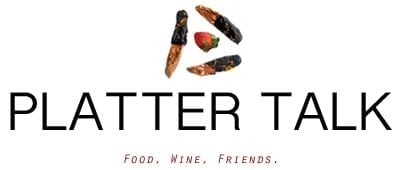 Click Here For Your Free and Secure Email Subscription
Blueberry Muffins from Scratch
Recipe from food.com
Author:
Dan from Platter Talk
Ingredients
½ cup butter at room temp.
1 cup granulated sugar
2 large eggs
1 teaspoon vanilla
2 teaspoons baking powder
1 pinch of salt
2 cups all-purpose flour
½ cup milk
2½ cups fresh blueberries (may use frozen)
1 teaspoon turbinado (raw) sugar
¼ teaspoon nutmeg
Instructions
Pre-heat oven to 375°.
Grease 12 regular-size muffin cups
In bowl, mix butter until creamy. Add sugar and beat until pale and fluffy.
Add eggs one at a time, beating after each.
Beat in vanilla, baking powder and salt.
With spoon, fold in half of flour then half of milk into batter; repeat.
Fold in blueberries.
Spoon into muffin cups and sprinkle raw sugar and nutmeg onto each muffin.
Bake 25 minutes, until golden brown and springy to touch.