Roasted Lemon Chicken, Julia Child Style
on Jan 13, 2016, Updated Sep 15, 2020
Roasted Lemon Chicken , Julia Child Style – If we see a good looking chicken recipe, chances are we are going to try it. If it's one that can be made in an old-fashion cast iron skillet, chances are even better that we will make it. If it happens to be the favorite roast chicken of one of the most famous cooking personalities of all time, consider it a done deal.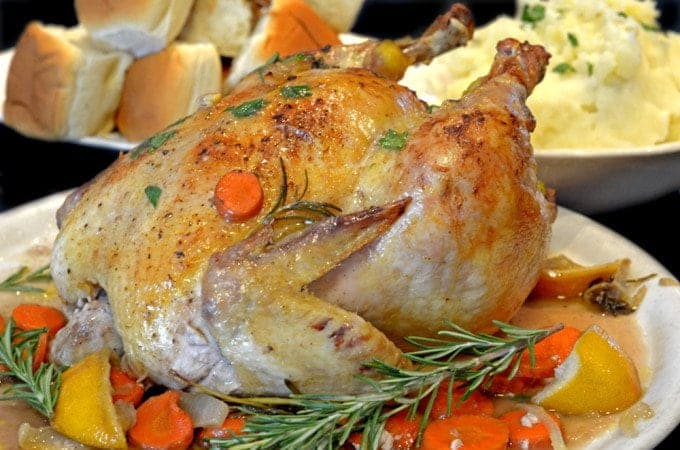 What is this?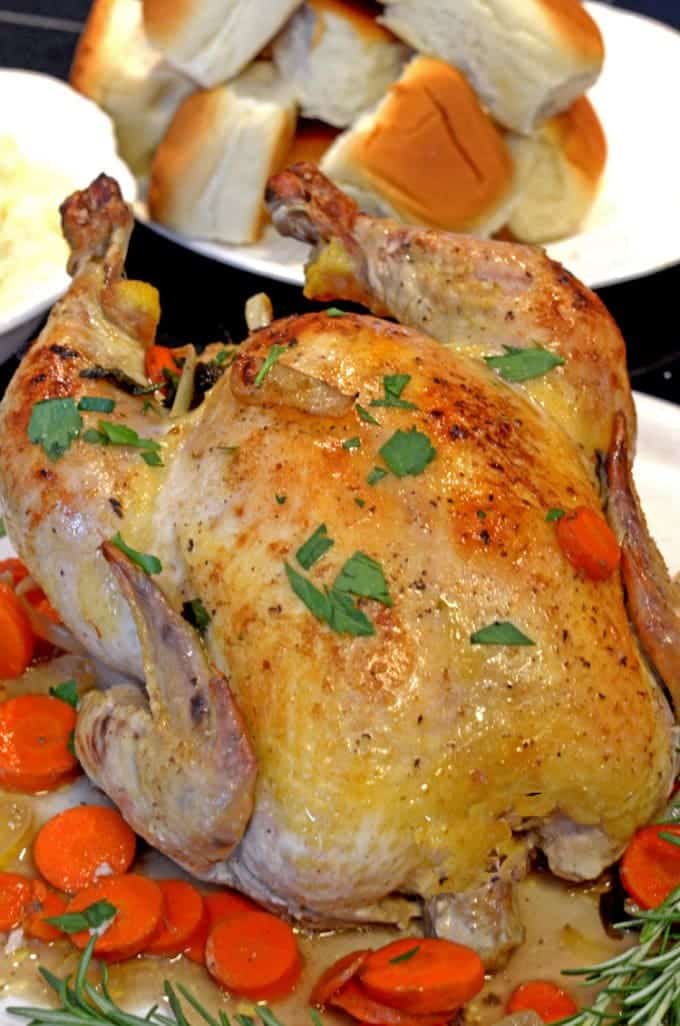 If you know anything about the Guys from Platter Talk, you know that we like our chicken. It's one of our favorite meals and it's almost always a sure hit with our gaggle of six boys. This Roasted Lemon Chicken proved to be no exception. The late Julie Child calls for a savory blend in her favorite roast chicken. We only had some fresh rosemary on hand but we weren't disappointed by the outcome. The dish won particular accolades from our family crowd, for the lemon and savory flavoring of the accompanying carrots. And then there was the aroma that filled our tiny lake cottage as this classic bird roasted. It was otherworldly, much like the lady behind the recipe.

Parsley-Garlic Mashed Potatoes make for the perfect side dish to any chicken dinner.
If you're a chicken lover, this roasted lemon chicken is a guaranteed hit. Among our many chicken recipes, we have a couple of other favorites that we have made. Namely, Thomas Keller's Favorite Simple Roast Chicken, and our very own Rosemary Lemon Chicken.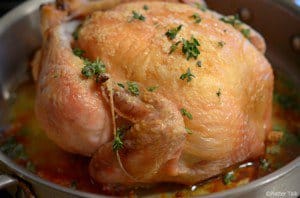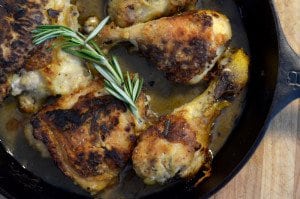 With today's post, we are delighted to add Julia Child's Lemon Herb Roast Chicken Recipe to the mix. Be sure and give this one a try and as always, let us know your thoughts. -Dan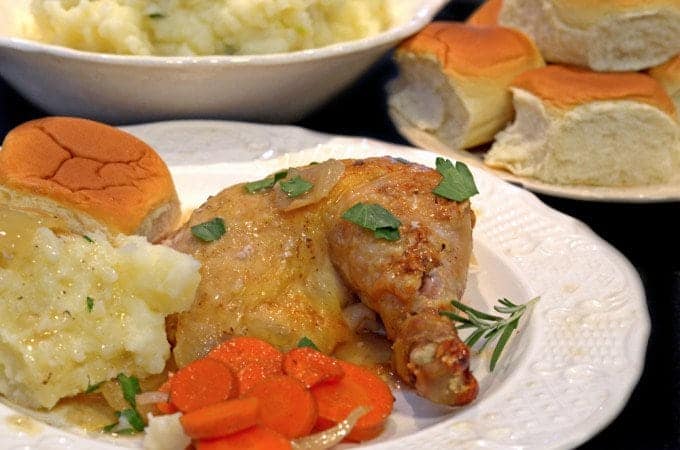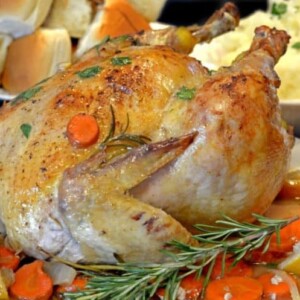 Roasted Lemon Chicken, Julia Child Style
Recipe by Julia Child
Ingredients
2 1/2

tablespoons

unsalted butter

1/3

cup

finely diced carrots

1/3

cup

finely diced onion

1/3

cup

finely diced celery

1

teaspoon

thyme

,

savory or mixed herbs, or 2 fresh thyme or savory sprigs

One 3 1/2- to 4-pound chicken

Freshly ground pepper

Parsley stems

Celery leaves

Six 1/8-inch-thick lemon slices

1/2

cup

sliced onion

1/2

cup

sliced carrots

1

tablespoon

fresh lemon juice

3/4

cup

chicken stock or broth
Instructions
At 1Preheat the oven to 425°. Melt 1 tablespoon of the butter in a skillet. Add the diced carrots, onion and celery and cook over moderate heat until softened. Stir in the herbs.

Wash the chicken rapidly inside and out with hot water and pat thoroughly dry. For easier carving, cut out and discard the wishbone. Pull the neck skin up over the breast and secure it to the back with a toothpick. Salt and pepper the cavity and spoon in the cooked vegetables, a handful of parsley stems and celery leaves and the lemon slices. Massage the chicken all over with 1 tablespoon of the butter, then truss it. Alternatively, tie the ends of the drumsticks together and tuck the wings under the body.

Choose a flameproof roasting pan that is about 1 inch larger than the chicken. Salt the chicken all over and set it breast up on a rack in the pan. (Thoroughly wash all surfaces and utensils that have been in contact with the raw chicken.)

Roast the chicken in the oven for about 1 hour and 15 minutes, as follows:

At 15 minutes Brush the chicken with the remaining 1/2 tablespoon of butter. Scatter the sliced onion and carrot all around. Reduce the oven temperature to 350°.

At 45 minutes Brush the lemon juice over the chicken. If necessary, add 1/2 cup of water to the vegetables to prevent burning.

At 60 minutes Baste with the pan juices. Test for doneness: The drumsticks should move easily in their sockets; their flesh should feel somewhat soft. If not, continue roasting, basting and testing every 7 to 8 minutes, until an instant-read thermometer registers 165°.

Spear the chicken through the shoulders; lift to drain; if the last of the juices run clear yellow, the chicken is done. Let rest on a carving board for 15 minutes; discard the string.

Spoon all but 1 tablespoon of fat from the juices in the pan. Add the stock and boil until lightly syrupy, 5 minutes. Strain; you will have just enough to bathe each serving with a fragrant spoonful.
Nutrition
Calories:
311
kcal
,
Carbohydrates:
7
g
,
Protein:
22
g
,
Fat:
22
g
,
Saturated Fat:
8
g
,
Cholesterol:
95
mg
,
Sodium:
190
mg
,
Potassium:
379
mg
,
Fiber:
2
g
,
Sugar:
3
g
,
Vitamin A:
3331
IU
,
Vitamin C:
16
mg
,
Calcium:
32
mg
,
Iron:
1
mg
Nutrition information is automatically calculated, so should only be used as an approximation.