Bing Cherry and Chocolate Chip Cookies
on Aug 13, 2013, Updated Aug 23, 2022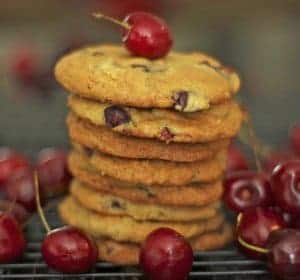 This past Sunday was a rainy, movie kind of a day at our small cottage on a small lake in The Middle of Nowhere, Wisconsin. It provided a nice opportunity to hunker-down after a fun and friend-filled Saturday. There was eggplant parmasiana, there was insalata caprese with burrata, there was sangria, and there were good friends and wet dogs. In the wake of a busy and fun Saturday, the damp and misty second half of the weekend was just fine with me. While everyone else watched The Dark Knight, I sifted through the staples on hand to whip up for a new post for Platter Talk. This is what I came up with .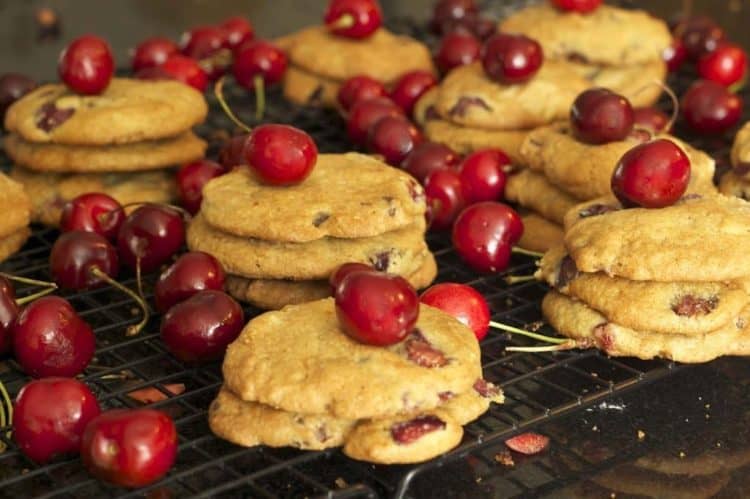 Growing up on the farm, most summers my folks would order a peck or two of bing cherries, I think they came from Oregon – almost as far away as you can get from upstate New York without leaving the lower 48.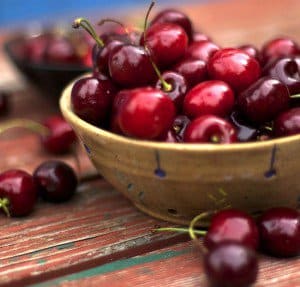 I recall a small bushel basket-like container and learning that was a "peck." We would get cherries by the peck, and peaches and apples by the bushel or half-bushel. Everything else it seemed came from our garden, or "the woods." By the way, in case anyone is wondering – one peck is equal to 8 dry quarts or 16 dry pints.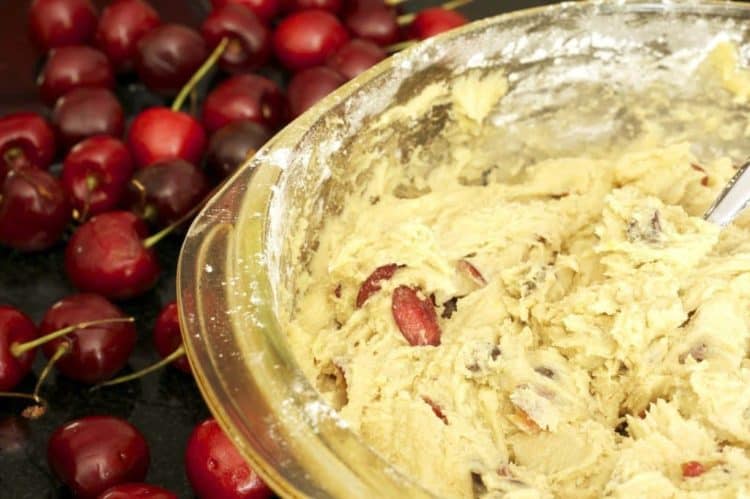 I mentioned that Sunday had been an overcast, on-again and off-again rainy day. Perfect weather for being lazy, for sauntering about, for watching movies, for reading, and for having fun in the kitchen.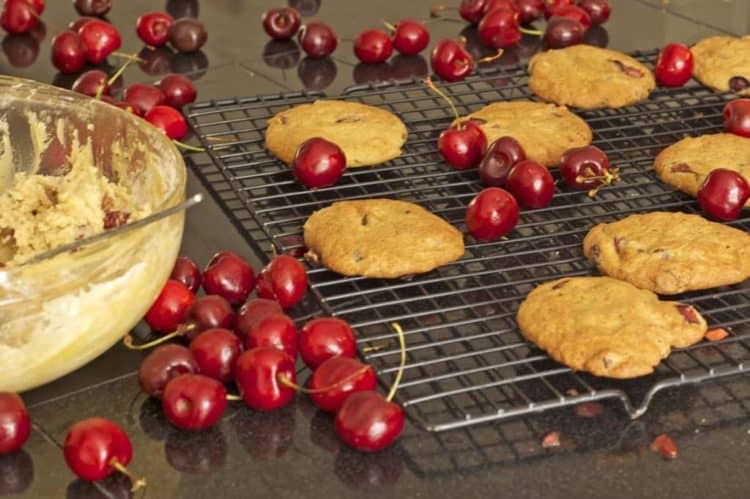 Anyone who had kids probably understands the perpetual parental concern of trying to have healthy snacks and treats readily on hand. I won't lie and say we don't have our share of junk food around to munch on but we make a conscious effort to freely offer fresh fruits and vegetables as well.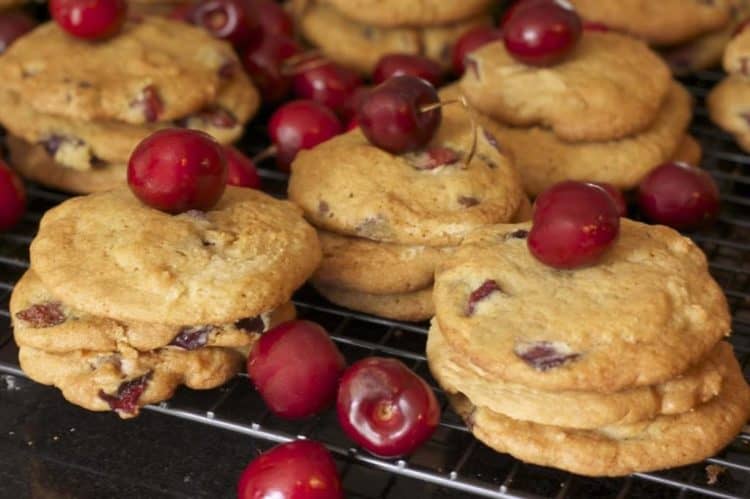 Grapes and bananas are available to us throughout the year and chances are good you will find one or both of those on counters on almost any given day.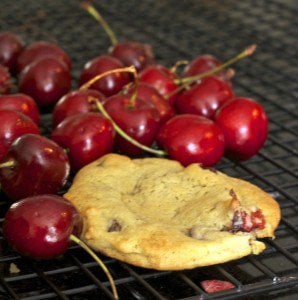 Summer, though, is special to mid-westerners in that we now have access to fresh fruits, vegetable, and berries. To that end, bing cherries are currently the choice lure of both kids and fruit flies among our bowls of fresh fruit.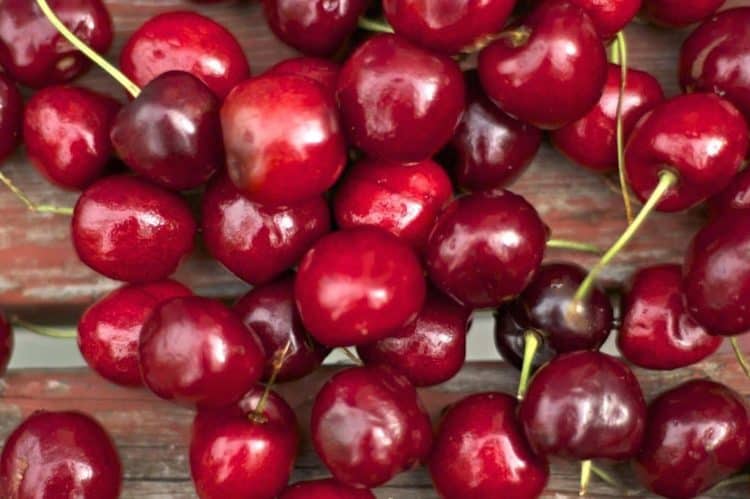 This was a fun little recipe to put together. The cherries added an element of cheer to an otherwise completely colorless day. I could have easily left the chocolate chips out of this mix but those who know me best also understand that just isn't a personal option for me. In defense of my own downright weakness for all things chocolate, I have to say the semi-sweet chips made for great company to these already happy bing cherries.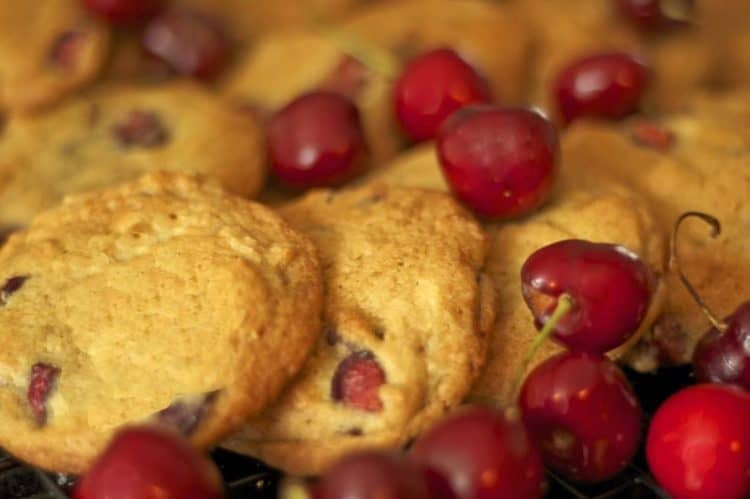 Recipe
Ingredients
2 1/2 cups all-purpose flour
1 cup light brown sugar
1/2 cup granulated sugar
1/2 cup soften butter
1/2 cup shortening
2 eggs
1 tablespoon baking soda
1 teaspoon vanilla
1/2 teaspoon salt
1 cup bing cherry slices
1/2 cup semi-sweet chocolate chips
Instructions
Preheat oven to 350 degrees F.
In large mixing bowl, combine flour, sugars, baking soda, and salt.
In another mixing bowl beat eggs, add butter, shortening, sugars, and vanilla. Mix thoroughly.
Slowly add egg mixture to flour mixture and stir until completely mixed.
Add chocolate chips and cherries, and gently fold to incorporate into dough.
Bake for 15 minutes or until done.
P