Cayenne Toffee-Style Peanut Brittle
on Dec 16, 2013, Updated Aug 07, 2020
If you have ever asked, "How do you make peanut brittle?" then this a recipe that you're going to want to read and then make.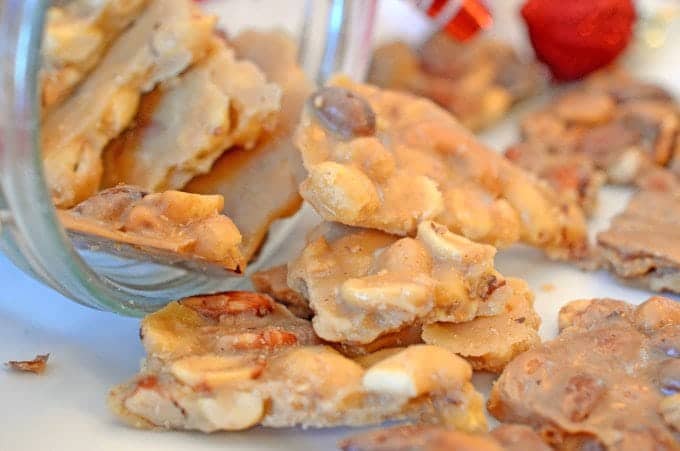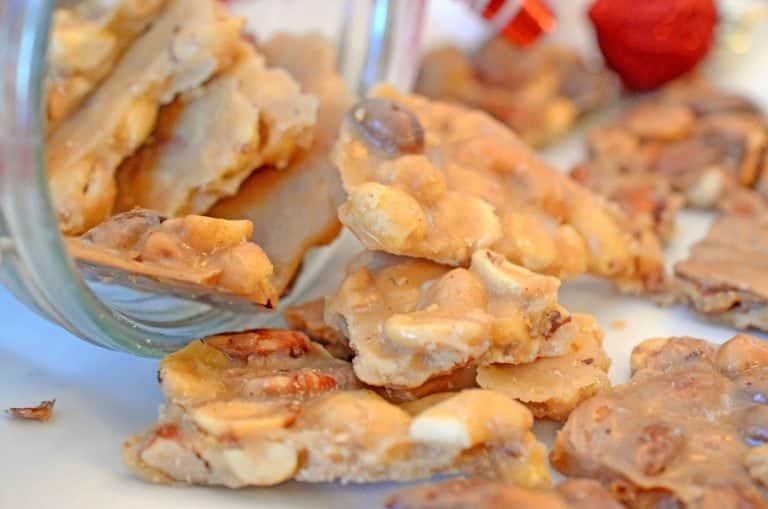 What is it?
Last week I walked into our office at work and found the usual array of papers scattered about. Some notes about vacation requests, a memo from the pharmacy, and some literature from a vendor that had dropped by the day before. Visually, that was all like white-noise to me, what really caught my attention was scattered atop a serving platter. Once again, my friend and colleague Lane had been up to something delicious – this time with help of his mom who was visiting from Wyoming.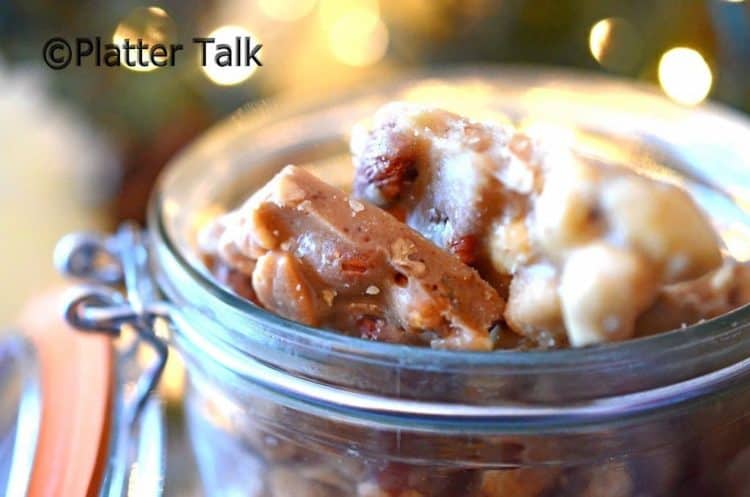 Just ike the workplace of many, mine is a challenging one to be around, with the vast amount and variety of good eats that always seems to make its way through the doors. At no time is this more evident than around the holidays. One of the major contributing factors to the ever-present food at my work locale is the number of excellent cooks and bakers with whom I work. Throw in a visiting family member or two and the phenomenon seems to become even more expansive.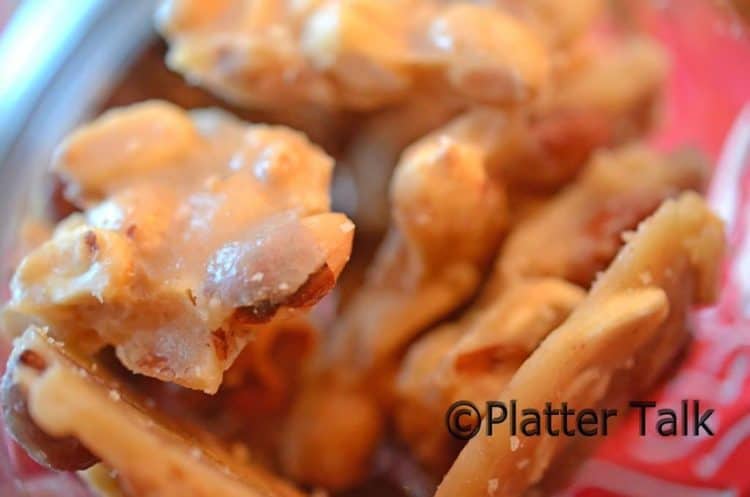 When Lane mentioned that he was making a treat for us and his mom Nancy was helping him put it together, I had a feeling that it would be something pretty special. Lane's folks visit several times a year and over the past 12 months or so we have become both well acquainted and quite fond of them.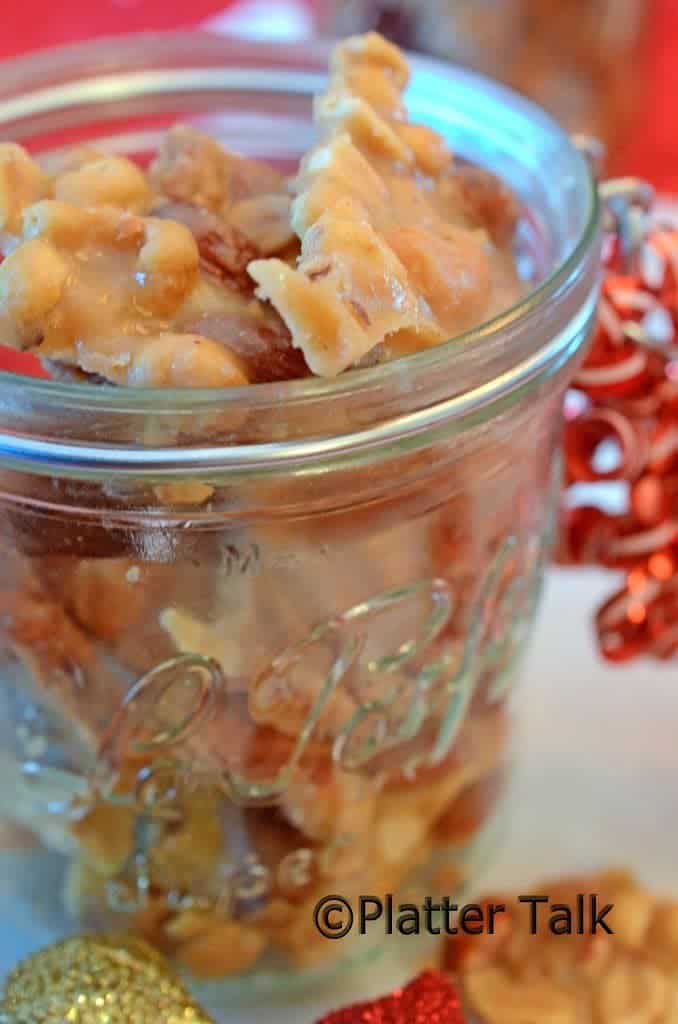 Both Dale and Nancy, Lane's folks, have both laid their claim to fame with signature dishes and we have been privileged to have been served Nancy's Chicken Parisienne and Dale's Chile Relleno. I hope to get both of them to do a guest post, here on Platter Talk, at some point in the near future – which of course will afford me yet another opportunity to enjoy their culinary prowess.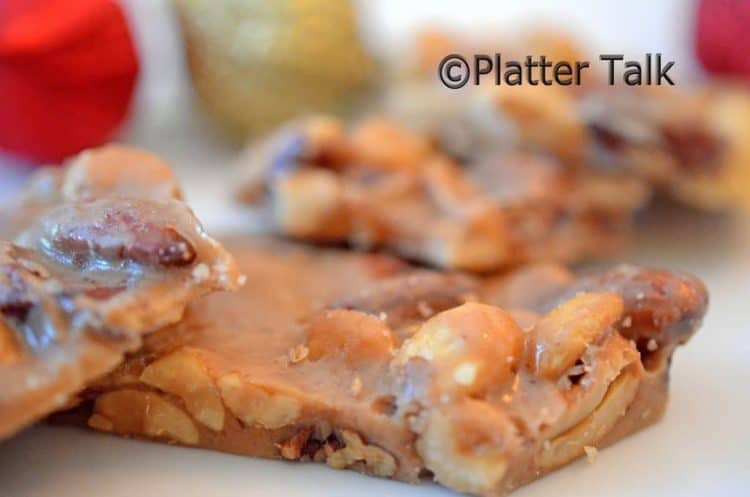 This Cayenne Toffee that Lane and his mom put together is a peanut brittle of gourmet caliber. The cayenne lends an element of zip that when paired with the sweet base and crunchy array of mix nuts, leaves you with just one direction in which to go after your first piece – back for another. And another, and then just one more. I'm not going to deny it, this stuff is dangerously delicious and in my opinion carries a high potential for addiction. What more could you ask for from a homemade treat that is tailor-made for the holiday season?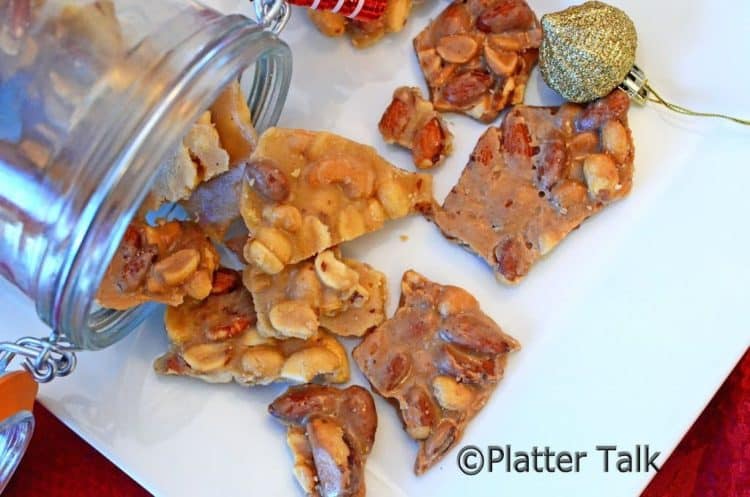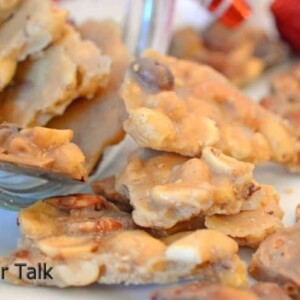 Cayenne Toffee-Style Peanut Brittle
This homemade hoiday treat is brough to us by Nanncy Groutage who made this for us, sometime after I asked, "How do you make peanut brittle?"
Ingredients
1 1/2

sticks butter

,

3/4 cup

1/2

cup

granulated sugar

1/4

cup

brown sugar

1

tablespoon

Karo syrup

1/2

teaspoon

cayenne pepper

2

cups

mixed nuts
Instructions
In heavy sauce pan, melt butter over medium heat.

Add sugars, syrup, and cayenne pepper and mix together until sugars are dissolved.

Gently fold in nuts.

Increase heat and bring mixture to boil and turns a golden brown in color.

Place mixture on cookie sheet and allow to cool and harden.

Break into pieces, using your hands.
Notes
For firmer toffee, use less butter
For softer toffee, use a little more butter
For more zip, add an additional 1/2 teaspoon of cayenne pepper.
Nutrition
Calories:
238
kcal
,
Carbohydrates:
24
g
,
Protein:
5
g
,
Fat:
15
g
,
Saturated Fat:
2
g
,
Sodium:
7
mg
,
Potassium:
179
mg
,
Fiber:
3
g
,
Sugar:
17
g
,
Vitamin A:
42
IU
,
Vitamin C:
1
mg
,
Calcium:
25
mg
,
Iron:
1
mg
Nutrition information is automatically calculated, so should only be used as an approximation.