Chicken and Rice with Crushed Pineapple
on Oct 27, 2013, Updated Jan 01, 2021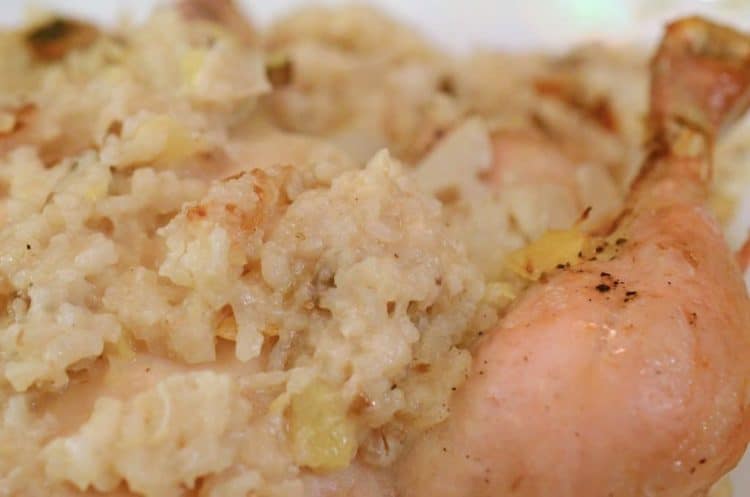 Most of us have a dish that we ate as kids that has left an indelible imprint in our psyche and on our palate. For some of us (myself included) this was much further away in years than others. No matter if it was 50 years that have passed, or 5 years, memories and life experiences associated with those certain foods and dishes remain as crystal clear today as they did the on day they were served to us. One such dish for me is a rendition of chicken and rice with a twist of pineapple, that's how most of you would refer to it. Myself though, I call it Katie Roth's Chicken, and this is the reason….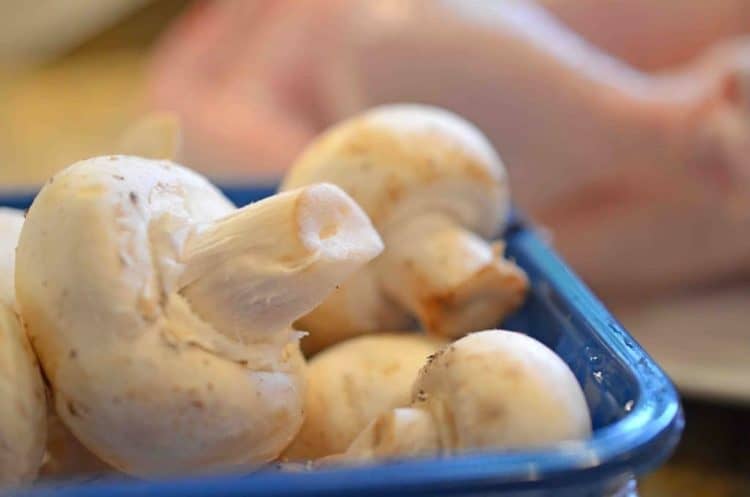 Chicken and Rice with Crushed Pineapple
Growing up, my parents were fairly social people. They loved to entertain others and developed many meaningful and lifelong relationships with people from all walks of life. Don't misunderstand me, they were not bar-hoppers or jet-setters; far from either. Instead, they were just simple folk who never worked on Sundays and knew how to take an occasional day off during the week to smell the roses, while not getting wigged out about other things that just "needed to get done." Consequently, largely because of their approach to living life and allowing the lives of others to flow in and around their own , their life experiences were full and I feel certain, pretty satisfying.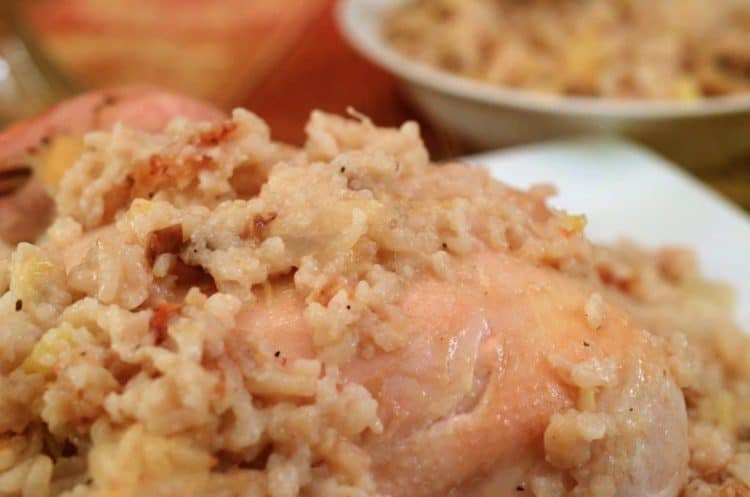 Amos and Katie Roth (pronounced "wrote"), were a Canadian Mennonite couple who my parents became friends with while wintering in the southwestern coast of Florida, in the beautiful gulf-coast town of Sarasota. As a small boy I remember Amos and Katie and the frequent visits we had with them, so long ago. What I remember the most about them most were their very pleasant dispositions, smiling faces, and Katie Roth's chicken and rice.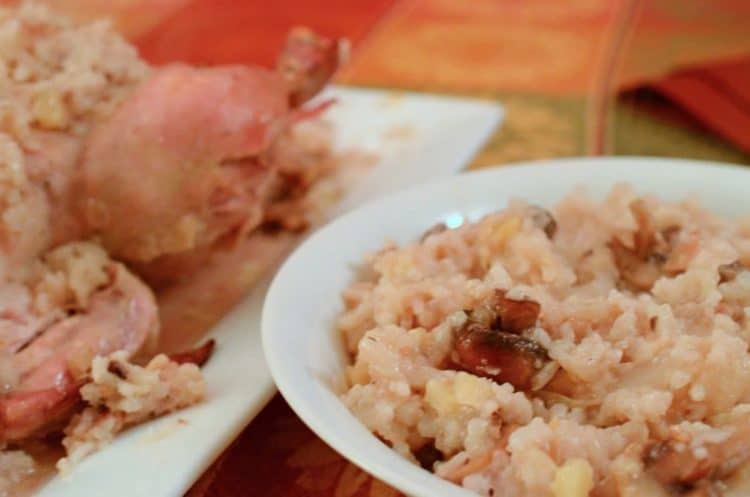 I grew up eating chicken. A lot of it. On the farm we butchered our own chicken and if it was Sunday and it was "dinner time" (always after church), it was a very safe bet that my mom was making chicken, floured, lightly salt and peppered, in her cast iron skillet. Every. Single. Sunday. O.K., maybe I grew a bit tired of the same ole' chicken. Every. Single. Sunday. And maybe I even voiced some minor objection, way back then. My mom kept making that chicken. Every. Single. Sunday.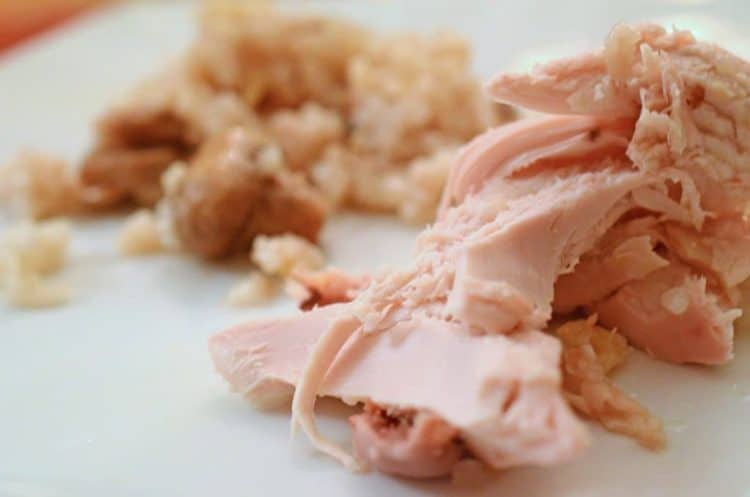 Enter, Katie Roth. I don't know when it first happened but I do know that it was winter and we were in Florida. I'm also pretty sure we were at their house, likely on a Sunday. She served it. Katie Roth's Chicken. Baked, with creamy and flavorful rice, and something entirely exotic to me – crushed pineapples. I was in love. With Katie Roth's Chicken. Thankfully, both of my parents took a liking to it as well. I'm sure that is one of the paths it took to becoming a not infrequent dinner in our household. Katie Roth's Chicken. Always easy. Always welcomed. Always delicious. Katie Roth's Chicken.
As the years have flown by, occasionally I jazz this recipe up a bit. For this post, I sliced and lightly sauteed some baby portabella mushrooms, then added them to the mix. Can you think of a single instance when mushrooms do not nicely compliment chicken or rice, or chicken and rice? I can't either, especially when they are on sale as was the case yesterday while I was shopping for dinner.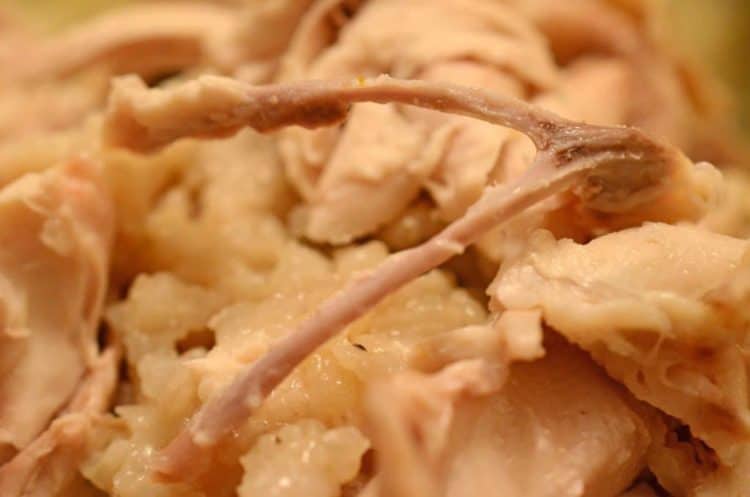 Finally, the kid in me always enjoys a chicken dinner that ends with a wishbone. I'm happy to report that our 7 year olds were just as delighted as I was at their age, to find this prize waiting for them, at the conclusion of this prize-worthy dish, rooted in humility and good taste. Give it a try, and tell me about some of the meals that accompanied you through your childhood and continue to remain dear to your heart and palate.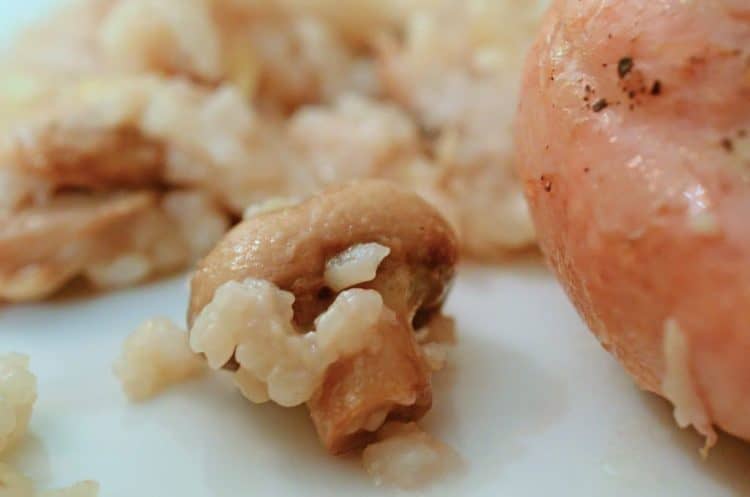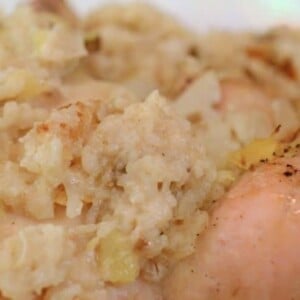 Chicken and Rice with Crushed Pineapple
Inspired by Katie Roth
Ingredients
1

whole roasting chicken

1

family size can cream of mushroom soup

1 1/2

cups

rice

3

cups

water

1/2

white onion

,

finely diced

1

small can crushed pineapples

1

small package baby portabella mushrooms

,

optional

2

teaspoons

salt

fresh ground peppercorn to taste
Instructions
Preheat oven to 400 degrees, F.

Thoroughly rinse and scrub chicken under cold water, in sink.

Prepare a 9"x13" baking dish with non-stick coating.

Slice and lightly saute mushrooms (optional).

In large mixing bowl, combine soup, riced, water, and pineapple, and mushrooms, onions. Stir well.

Place 1/3 of rice mixture in baking pan.

Set chicken on top bed of rice mixture, breast side up.

Pour remaining rice mixture over chicken.

Salt and pepper to taste.

Cover with foil and bake 2.5 hours, or until internal temperature is 165 degrees F and/or juices run clear.

Allow to set for 10 minutes before serving.
Nutrition
Calories:
466
kcal
,
Carbohydrates:
43
g
,
Protein:
27
g
,
Fat:
19
g
,
Saturated Fat:
6
g
,
Cholesterol:
95
mg
,
Sodium:
874
mg
,
Potassium:
348
mg
,
Fiber:
1
g
,
Sugar:
5
g
,
Vitamin A:
194
IU
,
Vitamin C:
6
mg
,
Calcium:
38
mg
,
Iron:
2
mg
Nutrition information is automatically calculated, so should only be used as an approximation.