Chicken Pot Pie with Pate Brisee
on Feb 15, 2015, Updated Oct 13, 2021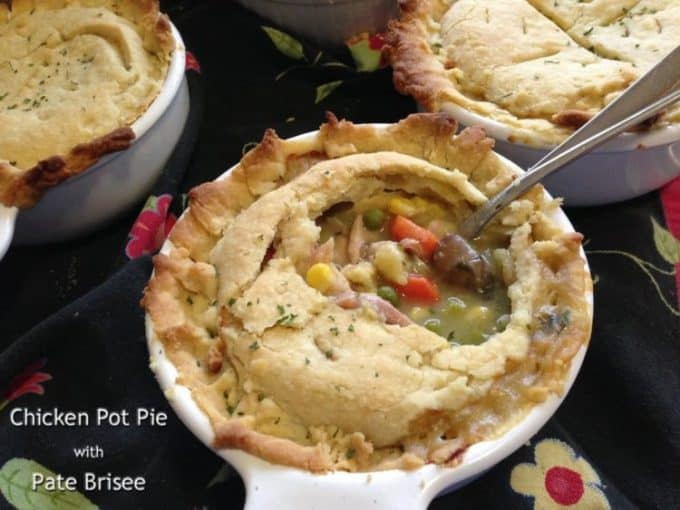 We're so excited to share this recipe with you, written and prepared by our number one resource for all things food and our favorite cook in the whole world. She's an artist, a chef and our very own sister, Culinary Institute of America graduate, Chef Kathy Zehr.
When a rotisserie chicken enters my home, the first welcome it gets is to have the meat separated from its carcass. Sometimes. Depending on the day, I may eat those tasty little wings and then separate the meat from the bones.
A day or so ago, I looked in my fridge after sharing a meal of baked chicken with a friend. Over half was left. I also saw that there was a hearty portion of mashed potatoes and some raw sliced mushrooms, all needing to be used. That's when I recalled the petite pois in the freezer and I knew then and there that I needed to make some chicken potpie.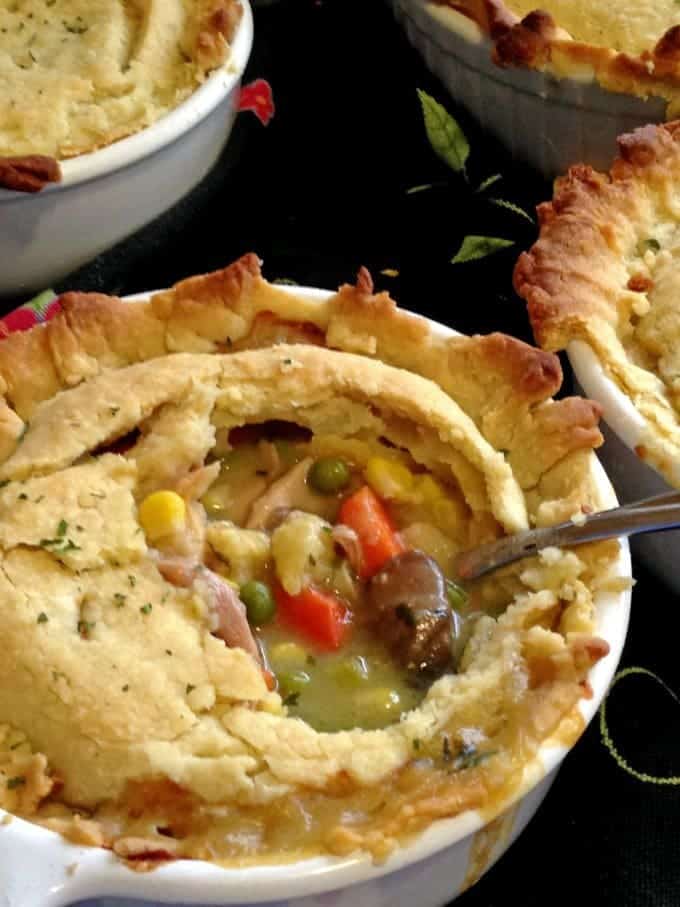 I place the bones in a pot, along with a bay leaf, a small chopped onion, a couple of stalks of chopped celery and some parsley thyme. After filling the pot with cool water to cover the carcass by an inch or two, I heat to medium high to boil and turn down to a slow simmer. This cooks for at least three hours and as long as five. Keep the bones covered with water by adding occasionally as it evaporates. The chicken meat gets returned to its container to set in any remains juices in the fridge. After I pour the hot stock through a colander, I let it cool for a half hour or so and then refrigerate it if I'm not going to use it right away.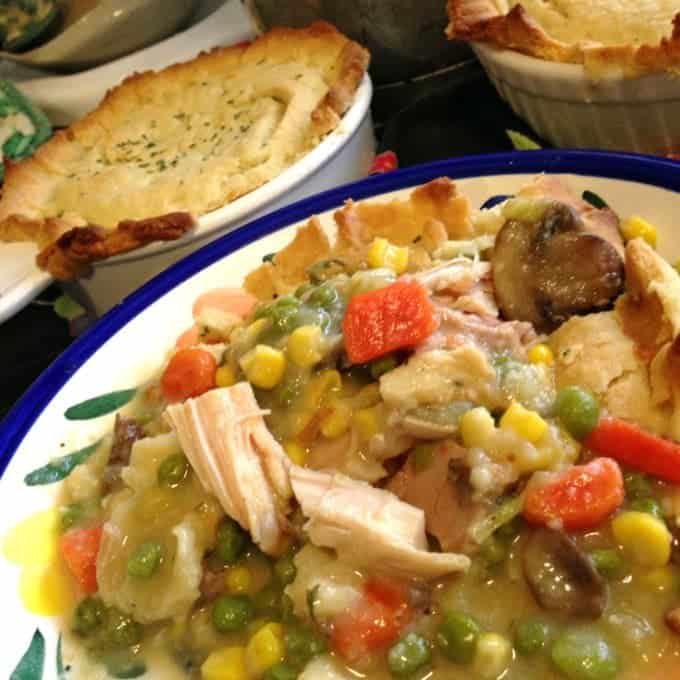 The holidays having come and gone, I still had extra butter from the annual cookie bake off that needed to be used. This is why I decide to use a pate brisee recipe for the crust of my pot pie. Along the way I decided to add some carrots and a few other odds and ends. You will find my recipe below. Once you get the stock rolling you have some options. If you want, you can go ahead and prepare the dough and the filling and place in the fridge for use later in the week. Or, because it needs to be refrigerated an hour or so before being rolled, you can make the dough next. Finally, you can skip the crust making all together and pick one up at your favorite grocery store. The most important thing to remember is that this should be something not only delicious but fun as well. Thus, have a good time with this one. Relax and enjoy!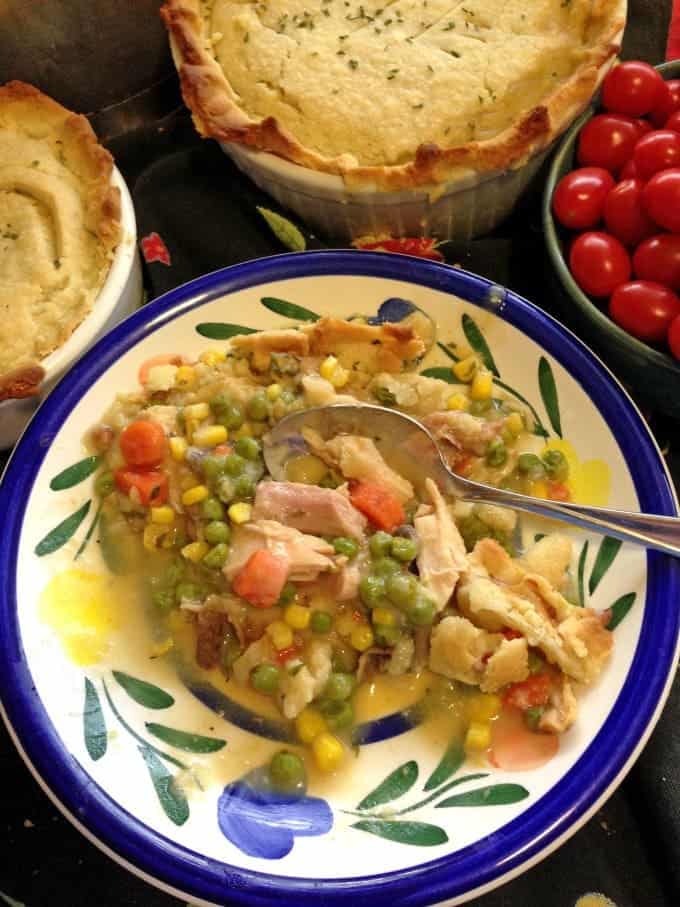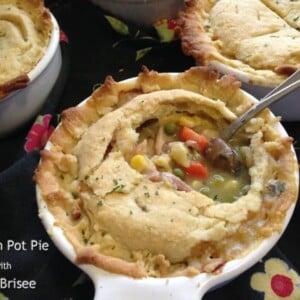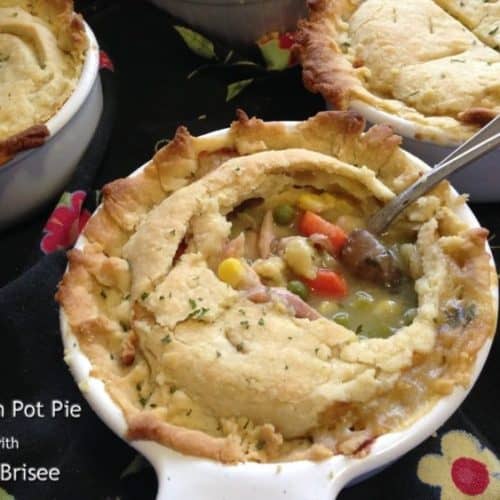 Chicken Pot Pie with Pate Brisee
Recipe by Chef Kathy Zehr
Ingredients
For the Stock
1

chicken carcass

1

small onion

,

medium dice.

1

stalk celery

1

bay leaf

pinch

black pepper
For the Filling
meat from roasted chicken

1

T

butter

1/2

med onion

,

small dice

2

large celery stalks

,

small dice

2

carrots

,

halved & sliced into 1/4" cuts

1

pkg frozen peas

1

c.

frozen corn

11/2 to 2

cups

leftover mashed potato

1

cup

sliced mushrooms.

1

T

better then chicken base

pinch

rosemary powder.

1/2

t.

dry thyme

1

t

dry parsley

1/2

bay leaf

1/2

cup

sherry or chardonnay (which ever you prefer

,

or any white wine that you may have leftover that you would drink with poultry meal)

4

cups

of stock

1/4

cup

all-purpose flour

1/2

c

water

1/4

t.

white pepper
for the Pate Brisee
2.5

cups

sifted all-purpose flour

1

t.

salt

2

sticks butter

,

chilled

1

T

ice water
Instructions
For the Stock
Place all ingredients in stock pot with enough room to add 1 to 2" of cool water above ingredients.

Bring to a boil, then adjust temp to a slow simmer.

Cook 3-5 hrs., occasionally adding enough liquid to keep bones covered.

Strain stock. You should end up with 4 to 6 cups. If you want to reduce stock further (if you have at least 6 cups or you want a little more flavor) just slow simmer while your working on other steps.
for the Filling
Saute onion and celery in butter, until onions are transparent.Don't brown.

Add sliced mushrooms and continue to cook until mushrooms loose their moisture. Add sherry, bring to simmer for about a minute, then remove pan from heat.

Make slurry out of water and flour.

In a pot large enough to accommodate all filling ingredients, heat stock while whisking in slurry. Bring to a simmer until stock starts to thicken.

Add sauteed ingredients to simmering sauce along with chicken base

Add bay leaf and allow to cook for about ½ hour.

Add chopped carrots & pulled chicken meat, dried herbs. Allow to cook until carrots are just tender. Add peas, corn & mashed potatoes.

Taste & adjust seasoning with salt & white pepper to your liking.
for the Pate Brisee
Cut chilled butter into small pieces and add to flour & salt. With fork or pastry blender, work ingredients together until mixture looks like course meal. I usually use my hands at the end. Add enough water so that the mixture just sticks together.

Make a disk and wrap in film and refrigerate at least 1 hr or up to 3 days.

Once dough has rested, remove from fridge, remove wrap and let set on rolling surface for 20 minutes.

While your dough is waiting, preheat oven to 425* and choose your potpie dish. I think a depth of 3" is about perfect.

Place filling in dish. Leave about 1/2" clearance on top.

Lightly flour rolling pin & rolling surface. slowly and gently begin to roll disk. Have a little patience here. When I first starting making this, I would work my pin too fast and too hard. This led to split sides and a mass of dough that was impossible to remove from surface in one piece. Flip back and forth, gently sprinkling with flour prevent the dough from sticking to the surface.

Once the dough is approximately 1/8" thick, it's time to place atop the chicken mixture.

Roll your dough over pin and gently cover the surface of your soon to be pot pie. If you have trouble with this move, use a cereal box side that you've cut apart, and wiggle under dough as you would a peel for pizza.

Pinch dough around sides, venting crust out. Cut vents in crust. I like an S shape with a few small slits.

Place in oven for 25 to 30 minutes.
Nutrition
Calories:
789
kcal
,
Carbohydrates:
77
g
,
Protein:
47
g
,
Fat:
31
g
,
Saturated Fat:
9
g
,
Cholesterol:
141
mg
,
Sodium:
64597671
mg
,
Potassium:
14346
mg
,
Fiber:
8
g
,
Sugar:
8
g
,
Vitamin A:
4584
IU
,
Vitamin C:
43
mg
,
Calcium:
40066
mg
,
Iron:
556
mg
Nutrition information is automatically calculated, so should only be used as an approximation.